RVing is a fantastic way to spend time in the great outdoors.
What makes it even more wonderful? A grill.
After diligent research and testing, I've compiled the list of the best RV grills you can get for any budget and situation.
Here, you'll find all types of grills you can place in an RV:
Gas
Charcoal
Infrared
Electric
Pellet
As a bonus, I also reviewed an RV bumper mount grill arm which I considered the best of the best.
Note: To connect a gas grill to the RVs propane tank, you need a quick connect fitting and hose that these gas grills (apart from Camco) don't have. You must purchase them separately.
How to hook a gas grill to your RVs propane tank, see the guide under the reviews.
Bonus: Best RV Bumper Mount Grill Arm
What Are the Best RV Grills Money Can Buy?
Best Portable RV Grills
Camco 57305 Olympian 5500 Stainless Steel Portable Grill
Best With Quick Connect
Quick to Connect and Set Up: Quick connect hose and quick connect valve included
Even Heat Distribution
Includes: Mounting bracket for hanging on RV mounting rail and folding legs for tabletop use
High-Quality Construction
Cooking Surface Space: 180 square inches
Heat Output: 12,000 BTU
Weighs approximately 26 lb
Specially made for RV-ing and tailgating, the Camco Olympian 5500 allows you to connect it directly to RV's low-pressure propane system and grill in just a few minutes after unboxing it.
This baby performed so well that I already featured it in a previous article about the best portable grills for camping.
Tailored for RV-Ing
In most cases, you need to convert your gas grill so you can actually connect it to your RV and at the very least have the right type of connector.
In this case, all of the work has been done for you.
Even the quick connect adapter and hose are supplied to make grilling as convenient as possible.
To make things even better, it comes with a mounting bracket for hanging on a rail.
Perfect for a Couple
You can feed yourself and your loved one easily with its 180 square inches large cooking area.
The grates are stainless steel.
Included is a smoker plate which is located under the grates.
About the Burners
It features a single 12,000 BTU stainless steel burner that's resistant to rust.
Comes Already Assembled
Another great feature I really like about this one is that it already comes assembled.
You just mount it, hook it up to the RV, and you're ready to put some serious heat to the meat.
Not Just for RV Tanks
You can connect this grill to either the 1 lb or 20 lb propane tank but be aware that you need to purchase a separate adapter first.
My Experience
While cooking, I noticed hot and cold spots.
Even at the lowest temperature setting, this thing gets very hot so don't plan on cooking low and slow.
The Best of the Best RV Camping Grill
Out of all the RV grills (not just on this list), this one wins the race by a mile. One of the reasons is certainly the provided connection fittings and the mount.
Pros
RV and trailer connection fittings provided
Mounting rail and cast iron smoke plate included
Durable construction
Comes pre-assembled
Lightweight
Cons
Very hot, even at low temperature
Hot and cold spots
NOMADIQ Portable Lightweight Tabletop Propane Gas Grill
The Nomadiq is a tiny grill that packs quite a punch.
Unusual Yet Brilliant Design
When folded, it reminds me of a handbag. When opened, it looks just like a clam.
This is not just for looks, though. This is what makes this grill so compact yet so large at the same time.
Read more and you'll find what I mean by this.
Small Size but Mighty Capacity
Despite its tiny size of 14. in H x 16 W w x 5 in D and small weight of 12 lbs, it has the capacity to cook up to 10 burgers on its surprisingly large cooking area of 226 square inches.
Super Easy to Clean
The easily removable non-stick ceramic-coated grates are very easy to clean.
What's more, they're dishwasher safe.
The outside is also non-stick. In most cases, a simple wipe with a damp cloth will suffice.
The excess grease and oil fall into the 2 drip trays that you can easily remove and wipe.
Long-Lasting Burners
There are 2 burners, one on each side.
Each outputs 4.600 BTU, totaling 9.200 BTU.
Both are stainless steel, individually controlled, offer a wide temperature range, and are designed in a way to maximize heat distribution.
Other Noteworthy Features
For easier transportation, the folks at Nomadiq added a padded shoulder strap.
Don't worry about the igniter. It never failed me.
There's Still Room for Improvement
What bothers me the most is the lid. It doesn't have one.
Because of this, it also lacks a thermometer.
Great Addition to a Small RV With an Eye for Design
The small size, almost feather-like weight, and very cool design make this grill one of the best choices for a camper, tailgater, RV enthusiast, and even a small household.
Pros
Compact
Lightweight
Amazing look and feel
Easy to use and clean
Strong and sturdy
Flame King – YSNHT500 RV Or Trailer Mounted Motorhome Gas Grill
The Flame King is another reliable RV-made gas grill but with a lower price tag.
Comes With a Mounting Bracket and Quick Connect Fitting
Just like the Camco, you can easily mount this grill directly onto your RV or trailer with one exception: the quick connect gas hose is not provided.
If for some reason you don't want to do it or decide to go out without an RV, the mount also acts as legs that make the grill free-standing.
Grilling Performance
The cooking surface is 241 square inches large which is quite similar to the Nomadiq above.
Unlike the Nomadiq, this one has a warming rack and a lid.
There is a single burner that outputs 12,000 BTUs of heat.
Other Features
It's fairly easy to clean.
The grill comes already assembled. You only need to mount it to the RV.
What You Should Know Beforehand
Despite being an RV grill, it doesn't come with a quick connect hose.
The lid doesn't have a thermometer.
The grates are a bit tricky to clean because you can't remove the warming rack.
A Perfect Companion for Any Camper, RV, and Trailer
The bumper mount is an excellent addition all by itself. Combined with a reliable grill like this one and the low price tag, I'm safe to say there aren't a lot of better models like this one.
Pros
RV/trailer mounting bracket included
Affordable
Lightweight
Simple setup
Great heat output
Cons
Quick connect hose not included
No thermometer
Warming rack not removable
Blackstone 1971 Heavy Duty Flat Top Grill Station
Expand your cooking arsenal with the legendary Blackstone tabletop griddle.
Not Just for Burgers
There are limitations as to what a grill can cook.
A griddle is not bound by these constraints.
Make eggs, pancakes, saute mushrooms and onions, and other things your heart desires. Heck, if you plug the grease hole, you can even make sauces.
267 Square Inches Large Cooking Area
You can easily place:
9 burgers
9 pancakes
12 eggs
4 steaks
This should be more than enough for a group of 4 people.
Built to Last
The thick durable stainless steel construction makes this griddle resilient to all forms of punishment including rust.
This goes for both the cooking surface and other parts.
Fast and Even Heat Up
The powerful 12,500 BTU burner and the stainless steel cooking surface greatly decrease heating time.
What's more, there aren't any hot or cold spots. The food cooks just as well in the corner as it does in the middle.
Effective Grease Management System
All of the excess grease, oil, and debris collect in the rear grease trap which you can easily remove and dispose of.
Inspect It Thoroughly Once It Arrives
Before ordering it myself, I've read a few complaints about how their arrived bent, dented, or scratched.
They were right as mine came with a warped griddle top.
Fortunately, they were wrong about poor customer service as they responded immediately by sending a new unwarped one.
A Swiss Army Knife of Grilling
It's not just for RV-ing, you can easily use it at home as well. Its versatility doesn't stop here. Because of its design, you can easily cook breakfast, lunch, and dinner. The only thing that's stopping you is your imagination.
Pros
Versatile
Durable
Affordable
Easy to assemble, use, and clean
Even heat distribution
Giantex Portable Cast Iron Barbecue Charcoal Grill
If you think propane doesn't do justice to a BBQ and want that authentic charcoal smokey flavor, then look no further.
Durable and Sturdy
The whole grill, not just the grates, is made from durable cast iron.
This feature retains more heat which in turn means less charcoal to burn.
Convenient Way of Refueling
There's a door in front of the grill you can use to add more charcoal to the fire.
This way, the cooking process isn't interrupted and what's more important, you don't have to worry about burning your hands.
Compact and Lightweight
Weighing in at only 20 lbs and measuring 10.5 in W x 15.5 in L x 7 in H, you won't have issues storing or carrying it.
Don't Expect to Feed Your Whole Family With It
The grill's small footprint does come with a downside, though: a small cooking surface.
It's only 106 square inches large.
It's great for a loner or a couple but no more unless they're willing to wait for a bite of that juicy sizzling burger.
Other Issues I Noticed
Because the body is made from cast iron, it gets extremely hot, including the handles. Be sure to wait quite some time before cleaning and storing it after a cookout.
It doesn't come with a lid.
A Great Little Grill for Smallish Feeds
Despite its small size and other flaws, it's the ideal companion when you want to escape into the wild and enjoy a tasty meal in peace and quiet.
Pros
Compact
Lightweight
Full cast iron construction
Built to last
Easy to clean and use
Front door for convenient refueling
Cons
The entire grill gets very hot
Small cooking surface
No lid
Royal Gourmet GD401C 4-Burner Portable Propane Flat Top Gas Grill and Griddle Combo
Grill or griddle? Why not both?
It Doesn't Get More Versatile Than This
Imagine a breakfast with eggs, pancakes, bacon, and sausages with steakhouse sear marks.
You can't make this with a grill alone and the same goes for a griddle.
While it's true that a griddle is more versatile than a grill, it's still not the same experience. A grill has several advantages over a griddle. One is making sear marks.
Instead of taking a separate grill and a separate griddle with you, combine the best of both worlds in just one unit.
It's cheaper and takes a lot less space.
Another advantage of a grill griddle combo is the increased cooking space.
Generous Cooking Area
Portable grills tend to have a cooking area of about 250 square inches max.
This is great for a couple but if you're planning a larger party or gathering, you need more firepower.
This cooking behemoth has a total cooking area of 584 square inches.
The griddle and grill side are the same size which is 292 square inches.
4-Burner Design
Each side includes 2 independently controlled stainless steel tube burners that output 12,000 BTU each, totaling a whopping 48,000 BTUs.
You don't need a lighter to fire them up as they have a reliable automatic ignition system.
Say Goodbye to Hot and Cold Spots
This combo includes flame tents called the "flame tamers" which are the same as Webers Flavorizer bars.
Their job is to distribute heat evenly, reduce flare-ups, and vaporize anything that touches it.
The latter makes the food even juicier.
What's more, it's coated in porcelain for increased resistance to the elements and easier cleanup.
Hassle-Free Cleanup
The leftover grease and oils that don't get incinerated fall into a grease cup below the grill which you just slide out and dispose of the grease.
Ample Prep Space
The cooking space isn't the only thing that's generous in size.
Each side features a side shelf (the left also includes a bottle opener) and if that's still not enough for you, there's also a towel rack below the grill with 4 utensil hooks.
Collapsible Legs
For easier storage and increased portability, the legs can be folded.
Unfolding is just as simple as folding and it shouldn't take you more than a couple of minutes.
Don't Break Your Back Carrying It
The legs feature caster wheels with brakes for simple transportation.
Let's Talk About the Elephant in the Room
There is a major (and in this case, an obvious) drawback of having a grill with a large cooking and prep space: the size and weight.
First of all, it's quite big. It's big enough to be used in the backyard.
Even when folded, it still takes some space.
The whole thing weighs about 105 lbs. For just one person, carrying it into and from an RV would be an exhausting task.
Get the Best of Both Worlds
Nothing beats cooking anything and everything in the middle of nowhere. This cooking marvel transforms any back of a truck, trunk of a car, motorhome, RV, trailer,… into a 5-star restaurant capable of satisfying every taste bud.
Pros
Highly Versatile
Foldable legs
Ample cooking and prep space
Amazing performance
Durable
User friendly
Easy to assemble and clean
HitchFire Forge 15 | Hitch Mounted Propane Grill
Be it camping, RV-ing, tailgating, or even overlanding, the Forge is there for you.
Grill Where No One Has Grilled Before
Installing a grill on the bumper mount or placing it on the table next to your RV is one thing but mounting it on a trailer hitch?
This is something you don't see every day.
One major advantage this grill has over the Olympian and the Flame King is that you can mount it on other vehicles than trailers and RVs – basically on any vehicle that has a trailer hitch.
Cooking Capacity
For a camping grill, it's quite big in terms of size and capacity.
It features 2 independently-controlled burners that when both fired up, produce 15,000 BTU.
The cooking surface is 355 square inches large which translates to up to 8 full bellies.
For convenience, 2 side shelves are provided.
Convenient and Space-Saving
Once mounted, the racks also serve as storage (unless you have a trailer or something else hitched).
The arm swings in all directions, meaning you can change the grilling position with ease at any given moment.
Easy Installation
You don't need to install to assemble the grill as HitchFire did it for you
Hitching up this grill is just as simple as using it.
You only need a wrench, be it a regular one, an adjustable one, or a socket. No special tools are needed.
Made With the Weather in Mind
Because the grill is intended to be used, transported, and stored mostly outdoors with little to no cover, the folks at HitchFire have taken extra precautions to make this grill as tough as it can be.
Not only they made it from heavy-duty stainless steel but they also covered it in a thick powder-coated finish.
Known Issues
Just because the packaging looks in pristine condition doesn't mean the grill looks too.
In my case, the lid had a dent and the hitch bolt was missing.
Also, test the grill at home before hitting the road. I didn't do this and was pretty upset when I found out that the right burner's igniter wasn't working.
For All the Road Warriors Out There
Both the grill and the swing arm performed surprisingly well. What I really like about this one is when I get home from an RV trip, I just hitch the grill on the back of my car and I am ready for the next short weekend trip.
Pros
Versatile
Hitch mounted
Durable
Easy to use and install
Cleanup is a breeze
Packs quite a punch
Cons
Quality control issues
May arrive damaged
Char-Broil Grill2Go X200 Portable TRU-Infrared Liquid Propane Gas Grill & Char-Broil 4-Foot Hose and Adapter
Already featured as the best gas grill under $150, the X200 is a grilling marvel with its integrated TRU-infrared technology.
It's Not a Regular Gas Grill
Char-Broil has taken gas grilling to a whole new level when they introduced infrared grills.
This new type of grill is called "TRU-infrared" and is basically an improved gas grill.
Among other things, TRU-infrared grilling technology:
Completely eliminates flare-ups
Eliminates hot or cold spots
Decreases heating and cooking times
Reaches higher temperatures
Leaves more noticeable sear marks
Road Worthy
The small footprint of 24 x 15 x 14 inches makes it easy to store and be placed on virtually any location and the light weight of 20 lbs makes it easy to be carried by yourself.
Char-Broil made big and comfortable side handles that are cool to the touch to make transporting even easier.
8 Burger Capacity
The cooking area is 200 square inches large and the grates are stainless steel.
Made for Punishment
If you happen to fall while carrying it or if the grill happens to slip from one of your hands and falls to the ground, you don't have to worry about breaking as both the frame and the lid are made from high-impact cast aluminum.
Additional Features
The lid features an accurate thermometer and 2 latches for more secure storage and transportation.
The ignition system has never let me down and I highly doubt it will.
Being cast aluminum instead of stainless steel or cast iron, it holds more heat in (additionally reducing fuel and cooking time) while making the whole grill lighter and immune to rust at the same time.
The grill comes pre-assembled. Your only task is to hook it up to either your RV's tank, the 1 lb canister, or even the regular 20 lb tank.
What Char-Broil Won't Tell You
Don't expect smoking or going low and slow here. Even at the lowest temperature setting, this thing gets quite hot. You can get around this issue by leaving the lid open.
This issue is not model-specific, though. All infrared grills are plagued by it.
If you're the person who wants to clean every square inch, you're in trouble. In order to do this, you need to take apart a few things and this will take a chunk of your already low free time.
Say Goodbye to Flare-Ups
This is a grill that works straight from the box and it will stand the test of time. Being infrared, it doesn't have the drawbacks that a regular gas grill has but retains all of its advantages.
Pros
Infrared
Durable and lightweight
Compact
Rust-resistant
Even heating
Cons
Hard to clean thoroughly
Gets hot even at the lowest temperature setting
Techwood 1500W Smokeless Grill with Tempered Glass Lid
This electric grill removes the hassle of propane fitting and regulator conversions, ash cleaning, and charcoal/pellet handling, making it one of the most (if not the most) convenient grills on this list.
Simplicity Is Beauty
You just plug the grill in the socket and off you go cookin'.
Most gas grills require some sort of conversion or modification if you want to connect it to the RVs propane tank while charcoal requires you to handle those messy bags of charcoal, start and maintain the fire, etc.
For some (including me sometimes), it's a bit too much of a hassle just to make a few burgers.
You won't have these issues with an electric grill.
No Manual Needed
You only need to set the temperature (220°F to 450°F) and the grill does the rest for you.
4 Steak Capacity
The cooking surface is 135 square inches large.
It's a bit small, even for a portable grill, but you can cook up to 4 steaks if you place them right.
Hassle-Free Cleaning
The grates are non-stick, making cleaning as simple as wiping with a damp cloth.
But what I like more about this grill (not just the grates) is that the parts are easily removable.
They're also dishwasher safe. Once you arrive home, you just place the stuff in the dishwasher and it will do the job for you.
Can Be Used Indoors
The weather isn't always generous and even if the weatherman says that the week will be clear and sunny, a storm can occur and ruin your plans of BBQ-ing.
Not with this grill.
When this happens, you just lock yourself into the RV and fire up the grill.
You Need to Know This
Because it's an indoor grill, smoking is out of the question and the thing is made intentionally to produce as little smoke as possible.
The fan that regulates the airflow can sometimes get a bit noisy. It's not as loud as a blender or juicer but you will still notice it.
Enjoy Tasty Meals Both Indoors and Outdoors Without Any Mess or Hassle
I wasn't really convinced when I first saw it, but after using it I'm a believer. Its convenience, ease of use, and the ability to use it indoors are just a few reasons why I consider this one one of the best RV grills.
Pros
Highly convenient
Can be used indoors
Non-stick grates
Simple to use
Cons
Little to no smoking
The fan is a bit noisy
Small cooking surface
ASMOKE Portable Pellet Grill – AS300 – Electric Smoker Grill with Smart Meat Probe
The AS300 is a small but convenient pellet grill that packs quite a smokey punch.
Nothing Beats the Authentic Hardwood Flavor
True grillers and hardcore smokers argue that even charcoal doesn't come close to pellets in terms of taste. And this is true.
This is also a reason why I featured a pellet grill on this list.
With the right combination of pellets and food, you'll turn your RV into a professional pitmaster restaurant on wheels.
Don't Be Fooled by Its Size
This grill boasts an ample cooking area of 256 square inches which is enough to cook:
8 burgers
12 hot dogs
1 rack of ribs
1 whole chicken
Up to 4 Hours of Uninterrupted Cooking
The hopper holds 4 lbs of pellets.
For low and slow cooking and/or smoking, you can leave the grill alone for 4 hours without refueling.
If you decide to cook burgers or sear steaks, be prepared to add pellets after about an hour and a half.
Wide Temperature Range
Its temperature range of 180°F to 500°F allows you to do anything, ranging from low and slow cooking to high-heat searing, and anything in between.
Other Features
It comes with a meat probe.
The control panel is really simple to use – similar to the Techwood above.
The thermometer is highly accurate.
Preheating is surprisingly fast. You don't have to wait more than 15 minutes.
The Bad and the Ugly Side
The heating is uneven. The right side is hotter than the left one.
As with many other grills, this one also suffers from poor handling. When I opened the box, I noticed a large dent in the lid.
It lacks some features pellet grills tend to have such as WiFi connectivity, readiness alert, and timer. Simplicity does have its limitations.
Asmoke Is Awinner
This little beauty is an amazing pellet grill/smoker that produces perfect results every time, be it at home, on the road, or even in the middle of nowhere.
I was so impressed by its performance I featured it already as one of the best portable pellet grills.
Pros
Simple to assemble, use, and clean
Versatile
Wide temperature range
Outstanding smoker
Durable
Sturdy
Cons
Hot and cold spots
Quality control issues
Quite basic as far as pellet grills go
Bonus Review: The Best RV Bumper Mount Grill Arm
Fleming Sales 52321 Bumper Grill Arm Assembly
Turn any grill into an RV grill with this bumper mount grill army assembly by Flaming Sales.
Will Last You a Lifetime
Made from heavy-duty 14-gauge black steel and powder-coated, you don't have to worry about rust and other damage.
Swings in Any Direction
Grill in the shade behind the camper or move the grill away from it (up to 2 feet) and other vehicles.
Just Leave It There
Once installed, you don't need to take it apart before starting the RV.
Use the provided lynchpin to secure the arm in place.
Not Just for Grills
I'm really surprised by how some people can get creative.
I've seen folks mounting TVs on this thing (I think the last one was a 32″)
Super Easy Installation
It's so simple to set up that you don't even need a manual.
Just secure it to the bumper with the 2 U-shaped bolts and 4 nuts.
For this job you only need a wrench. I used a ratchet and a socket to make the job as convenient as it can possibly be.
A Word to the Wise
With this purchase, you only get the arm itself.
You still need something to mount the grill on, like a table but you need to buy it separately.
The only exceptions to this case here are the Camco Olympian and the Flame King. They come with their own mounts.
Expect missing pieces upon arrival. In my case, a nut was missing.
Pros
Easy to install
Durable
Versatile
Sturdy
Cons
Doesn't rotate a full 180°
Doesn't come with a table
Pieces could be missing
RV Grill Installation Guide – All You Need to Know
Read this short yet informative guide to find out how to successfully and easily connect a gas grill to your RV's propane tank.
Don't forget to check out how to install a mounting rail/bracket.
How to Connect a Gas Grill to an RV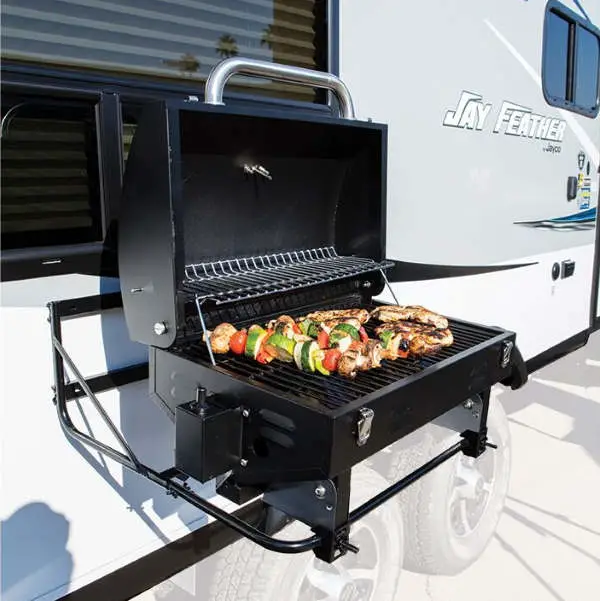 Unfortunately, connecting a gas grill to your RV is not as easy as screwing on a 1 lb propane tank.
The 20 lb and the 1 lb propane tanks are high-pressure systems while the RV's tank is low-pressure.
Why low? Because it has its own regulator.
Now, if you just connect your grill to the RV, the grill simply won't work.
This is because the grill's regulator will further reduce the already low pressure.
In most cases, you need to either modify your grill, RV's propane tank, or both.
To do this, you first need:
Quick connect fitting
LP quick connect hose
Grill with the correct regulator
Tools
Depending on the model, your RV either already has a quick connect fitting installed or it doesn't.
In the former case, hooking up your gas grill to the RV shouldn't be a challenge. The latter is a bit more complicated and you'll need to do some tinkering (you'll find instructions on how to do this below).
Even grills are not made the same.
Some models have the temperature knob separate from the regulator while others have both in one unit.
The process is similar in both cases: you need to remove the regulator and install the right fitting in order to connect the hose.
The latter case is a bit more expensive. You need to add a temperature control valve instead of a regular quick connect fitting. It looks like this:
How to Use RV Propane Quick Connect
If you have an RV that already has a quick connect fitting installed, congratulations as you're almost done.
If your grill already has a quick connect, you just need to plug in the hose and then plug the other end into the RV.
If your grill doesn't have the quick connect fitting, then you need to modify it.
This goes beyond ht scope of this guide, so check other sources for your particular model.
How to Install Propane Quick Connect On RV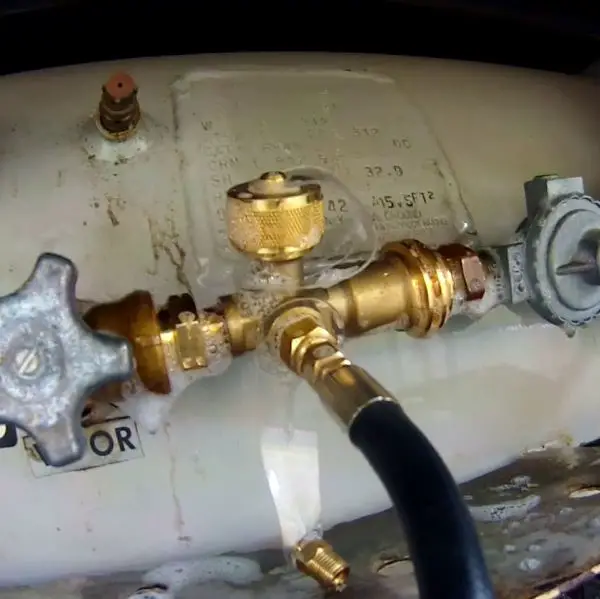 This is where it gets a bit trickier.
In essence, you need to put the quick connect between the propane tank and the pipes.
It sounds easy in theory but the thing is different RVs are made in different ways.
In most, cases, simply removing the tank's propane hose and screwing on a tee fitting won't do.
This is mainly because of the thread sizes.
Here's an overview of how to do this:
Turn off the propane tank/s
Empty the lines by turning on the stove or heater
Remove the tank's hose
Measure both ends to find out what size fittings you need
Get the fittings by either going to your local hardware store or ordering online
Install the fittings, including the quick connect

Tip: use sealant or PTFE tape on the threads to prevent leaks

Check for leaks
Here's an example:
How to Install RV Grill Mounting Rail
The process itself isn't that difficult but you need to be sure there aren't any pipes, wires, or other lines where you're planning on mounting the thing.
The steps are as follows:
Find the correct spot on the RV
Mark the spot
Make sure the rail will be level
Fasten the rail to the RV
Some folks got really creative. They made the rail themselves and attached it to their RV with wood screws.
Take RV-Ing and Grilling to a Whole New Level
Great food goes hand in hand with a great road trip.
With the grills reviewed above and the included installation guide, there's no stopping you.
Now you can cook delicious tasty meals anywhere and everywhere!