Cooking over an open fire with some pots and pans is one option, but nothing beats a grill.
Grilling and camping are some of the best combinations for a relaxing and enjoyable time. You can make burgers and hot dogs in the great outdoors while being surrounded by a beautiful landscape and having peace and quiet.
It doesn't matter whether you're going camping in an RV or boat, tailgating, on the beach, or you just love the open road, there's the best portable grill for everyone here.
What Is the Best Portable Grill for Camping?
What Is the Best Grill for Camping?
The award the best of the best portable grill for camping goes to the Coleman RoadTrip 285.
The reasons are:
It has a decent-sized cooking area
Comes with 2 side shelves
Foldable legs with wheels
3 burners
Fueled by portable propane cylinders that are more convenient than charcoal or pellets
Grates can be changed to griddles (item sold separately)
What Is the Best Portable Propane Grill?
Nothing beats the Weber Q1200 due to its compact, lightweight, and durable nature. And because it's a Weber, it comes with several bells, whistles, and improvements (the cast aluminum body being one of them).
What Is the Best Portable Grill for Tailgating?
Best for Tailgating and Beach
The Cuisinart CGG-180TS Petit Gourmet Gas Grill packs quite a punch despite its small size and lightweight. Combined with a fast heat up and low gas consumption, this grill becomes the ideal tailgating companion.
What Is the Best Portable Charcoal Grill?
Small, lightweight, and cute, the Weber Jumbo Joe is one of the few portable charcoal grills that stands both the test of time and years of abuse.
Best Portable Grills for Camping Reviews
Coleman RoadTrip 285 Portable Stand-Up Propane Grill
This 20,000 BTU portable stand-up propane grill from Coleman has some great features including a collapsible stand frame with wheels.
Portable Despite Its Weight and Size
Granted, this grill weighs a bit more than expected (around 53 lbs / 24 kg) and most of us (including myself) can't really carry it without getting back pain.
The Coleman engineers agree with this and this is why they added wheels and collapsable legs. When folded, this grill looks like airport baggage.
The Closest You Can Get to a Backyard Grill
If you aren't a fan of small grills but would like to barbecue big in the middle of nowhere, then this one might just be the perfect solution.
The Coleman Roadtrip 285 looks and feels like a backyard grill.
It's one of a few camping grills that have side shelves and a large cooking area of 285 square inches.
Can Act as a Griddle and a Stove, Also
Want to wake up your friends at the campsite with pancakes and eggs in the morning? You can by swapping the grates with a griddle top.
If you bring along your best camping cookware, you can make soup and/or sauces along with your barbecue and have a complete breakfast, lunch, and dinner just like you would at home in just one unit.
Both the griddle top and stove grates need to be purchased separately and for this price, they could have included at least one of them.
The Low-Down
The lid lock latch is poorly made and if you aren't gentle you just might break it.
Also, the grease tray is very shallow and the grill needs to be level. Otherwise, it will spill. The same goes if you move the grill around while cooking.
Summary
With its 3 independently adjustable burners that can reach up to 20,000 BTU, a large cooking area, side shelves, and a built-in thermometer this grill can be as good as some backyard models.
Pros
Large cooking area
Foldable legs
3 burner
2 side shelves
Easy to set up, take down, and transport
Built-in thermometer
Interchangeable grates
Cons
Cheap lid latch
Not easy to clean up
A bit heavy
Camco Olympian 5500 RV Propane Grill
Already featured as the best RV grill, the Camco Olympian 5500 is one of the rare gas grills that are 100% RV ready from the box, i.e. it comes with a quick connect fitting, quick connect hose, and a propane regulator that's tailored to the low-pressure system of an RV.
Ideal for RVs
It comes with a mounting bracket and quick-connect hose for your RV's low-pressure system and hooks up with a quick connect valve right to your trailer.
Cooking Specs
It has a single 12,000 BTU burner that lights up using the Piezoelectric ignition system and on top of that a stainless steel cooking grate and a cast-iron smoker plate that's 180 square inches large.
No Assembly Required
This grill is already completely assembled at the factory, so your only job is to take it out of the box.
This feature saves valuable time which today is a luxury.
Connect It to 1lb, 5lb, or 20lb Tanks
You can connect the grill to any of these three propane tanks provided you have the right adapters.
It's Nice and Shiny, But
It has hot and cold spots.
Wear gloves when opening the lid while cooking. You'll burn your hands if you don't.
Conclusion
It's not a perfect portable camping grill but if you have an RV, give it a try. Many gas grills are hard to connect to an RV but with this one, you just connect the hose, and off you go.
Pros
Specially designed for RVs
Powerful and durable construction
Includes a cast iron smoke plate option
Includes folding tabletop legs
Lightweight
Large cooking area
Cons
Very hot, even at low temperature
Hot and cold spots
The lid handle gets hot over time
You need to purchase separate adapters for non-RV propane tanks
THE BEST PORTABLE CHARCOAL GRILL FOR CAMPING
Weber Jumbo Joe 18 Inch Charcoal Grill
The Weber Jumbo Joe is a compact charcoal grill that's tough, durable, and reliable just like the other bigger models from Weber, only smaller.
Spacious
This 18″ grill has a very generous cooking area of around 240 square inches.
It's big enough for 9 burgers, making it ideal for occasions where there are a lot of hungry mouths to feed in a short time.
Very Compact
What I really like about this one is its small size. It's only 20.5 inches / 52 cm wide, 19.7 inches / 50 cm tall, and 19 inches / 48 cm deep.
It's so lightweight (17.5 lbs / 8 kg) that you can easily carry it with one hand.
Shiny and Durable
The lid and bowl are enameled in porcelain, increasing heat retention, resistance to rust, high cooking temperatures, and the elements.
This coating also makes the grill shiny and easier to clean.
Convients Ash Disposal
Like many of Weber's backyard charcoal grills (the Original Kettle being one of them), this one also features an ash collector.
It's nothing special, just an aluminum plate under the grill but it sure comes in handy.
Other Features Worth Mentioning
Plated steel cooking grate
Rust-resistant aluminum dampers
Glass-reinforced nylon handle
Tuck-N-Carry lid lock allows for carrying and doubles as a lid holder
Heat-resistant lid handle
You've Seen the Good, Now for the Bad and the Ugly
It doesn't come with a thermometer like the ones above do.
Every time I rotate the top vent, it scratches the lid. Sooner or later, it will remove the enamel and that part of the lid will begin to rust.
Cooks Exactly Like a Backyard Model – Only Portable
Despite the flaws, this is a nice charcoal grill with a few bells and whistles that every griller/camper who loves charcoal grilling more than anything should try.
Pros
Lightweight
Sturdy
Resistant to rust
Nice size for a family
Easy to put together
Simple cleanup
Cons
Top vent scratches the lid when turning
No thermometer
Cuisinart CGG-180TS Petit Gourmet Portable Tabletop Gas Grill
Best for Tailgating and Beach
This compact Cuisinart grill with its 5.500 BTU burner features a stylish chrome plated look with a locking lid and a generous cooking surface for its size.
Generous Cooking Surface
Although small and compact, you can cook either:
6 steaks
8 hamburgers
6 – 10 chicken breasts
4 lbs of fish
at once with ease. Feed your whole family as easily as 1-2-3.
The cooking grate is porcelain-coated cast iron that's 145 square inches large.
Take It to the Beach, Tailgating, Hiking, Fishing, Camping,…
With its compact size and light design, this unit can easily travel with you anywhere.
Other Great Features:
Durable and foldable legs
Briefcase-like design
Lid latch and spill-resistant drip tray
Twist to start electric ignition
Its Dirty Little Secrets
Some of the parts are made from plastic which will melt with time. I don't know if this was intentional or a design flaw.
Some grillers reported flare-ups. I experienced them myself a couple of times but it was nothing serious.
Despite the fast preheating time, the burner isn't powerful enough for high heat searing.
Tiny but Mighty
All things considered, it's one of the best portable grills for camping you can get for the money at this price range. It's big enough to feed the whole camping party yet small enough to be carried with one hand. But don't expect it to last for years as most of the plastic will melt away.
Pros
Generous cooking area
Compact
Lightweight
Cooks fast and even
Foldable legs
Locking lid
Cons
Some plastic parts may melt
Flare-ups have been reported
Low BTU rating
Lacks a thermometer
Weber 51010001 Q1200 Liquid Propane Grill
The Weber Q1200 is the upgraded version of the Weber Go-anywhere below. It's larger, hotter, and more durable.
Big Enough to Hold 6 Burgers
This grill features a cooking area of 189 square inches.
The grates are porcelain-enameled cast iron.
Innovative Burner Design
The single 8,500 BTU burner is made from a single-piece stainless steel tube without any welds.
This ensures that there are no weak spots, making the burner even more resilient to harm.
Durable and Lightweight
Instead of being made from stainless steel, it's made from cast aluminum.
This feature makes it both durable and lightweight.
Also, aluminum is a greater heat conductor than steel, making the grill even more efficient at cooking.
It Has Just One Minor Issue
Most gas grills have this issue which is that even at low temperatures, it's still pretty hot.
Barbecue lovers might avoid this one.
Final Verdict
This grill is one of the few grills that doesn't have any specific issues. It's a Weber, of course. Great for camping, tailgating, beach and boat parties, and traveling in general, either going solo or in a group.
Pros
2 side shelves
Durable
The electronic ignition works perfectly
Portable
Easy to clean
Features a lid thermometer
Cast aluminum body and lid
Cons
Hot even at low temperatures
Weber 1141001 Go-Anywhere Gas Grill
This lightweight Weber gas grill is perfect for 2-4 people on your travels.
Small Enough to Carry With One Hand, Yet Big Enough to Feed a Small Group
Weighing at only 13.5 lbs / 6 kg, you can carry this grill like a suitcase with ease.
But don't let its compact size fool you. Despite its small stature, you can make up to 6 burgers at once on its 160 square inch large grates.
Durable Grate
The grate is porcelain-enameled which provides even heat distribution and fewer flare-ups.
It's Hot
It has one 6,500 BTU burner that extends along its entire length. This design feature greatly reduces hot and cold spots.
Foldable Legs for an Even Easier Transport
The legs are foldable and when you fold them, they lock up the grill.
Nice.
When you carry it around, there's zero chance of the grill opening itself all of a sudden.
Small or Big Propane Tank, You Be the Judge
This grill uses the small 1 lb propane tank by default but if that's not enough, you can convert it to hold a 20 lb tank.
If you camp alone, then the small tank is more than enough for you. But if you go to the beach with your friends and family then it's a better idea to use the larger tank.
Get someone to help you carry the tank, though. Holding both the tank and the grill is not a pleasant experience.
Don't Use It in the Wind
This baby cooks like a charm when there's no wind but at the slightest breeze, its cooking potential drops significantly. Either wait until the wind blows over or find yourself some cover.
Final Verdict
Being susceptible to winds is an issue most portable grills have so saying don't buy it because of this is just plain wrong. For the price, this grill is compact, lightweight, durable, and gets pretty hot pretty fast. I used it once when I went on a boat ride, and I'll use it again.
Pros
Easy to carry and store
Even cooking
Compact
Lightweight
Durable
Porcelain-enameled body and lid
Cons
Wind sensitive
Hard to clean
Coleman Gas Camping Grill/Stove
Another amazing grill from Coleman. But unlike the Roadtrip 285, it comes with a stove.
Make eggs, sausages, and coffee in the morning, and burgers for lunch without spending a dime more.
It Has Something Others Don't
The wind is a serious issue for any grill, including portable ones.
But not for this one.
It has 2 wind-blocking panels, one on each side.
When there's no wind, you can use them as mini side shelves. Neat.
How Much Can It Handle
It has enough grilling space (130 square inches) to cook 4 burger patties and hold a 10-inch pan at the same time.
The Power
It has two 10,000 BTU stainless steel burners, one for the grill and the other for the stove.
Combined with the wind-blocking panels, this baby can feed both you and your significant other fast.
Griddle Compatible
You can swap the grill grates with a griddle top.
You have to purchase it separately, though.
The Issues I Experienced While Using It
The very first thing I noticed was that there is no ignition system. This one was a first for me. Always carry a lighter or at least a box of matches with you.
The wind screens are a nice addition and they perform really well but they don't latch well at all.
Like many gas grills, this one has issues cooking low and slow. Even on the lowest temperature setting, it's too hot for certain delicate things like slow-cooked ribs.
But what really bothered me the most were the grill grates. They melted after the second use. Luckily, Coleman responded fast with a replacement and since then I didn't have any more problems.
Final Say
It's a nice gas grill stove combo that's lightweight, versatile, and compact. Despite its flaws, it still performs surprisingly well and doesn't cost half a damn.
Pros
Easy to clean and use
Comes with a stove
Lightweight
Compact
Fast heat up
Windscreen
Cons
Gets hot even on the lowest temperature setting
Cheap grates
Wind screens do not latch well
No igniter
Know Your Needs When Choosing the Best Portable Grill for Camping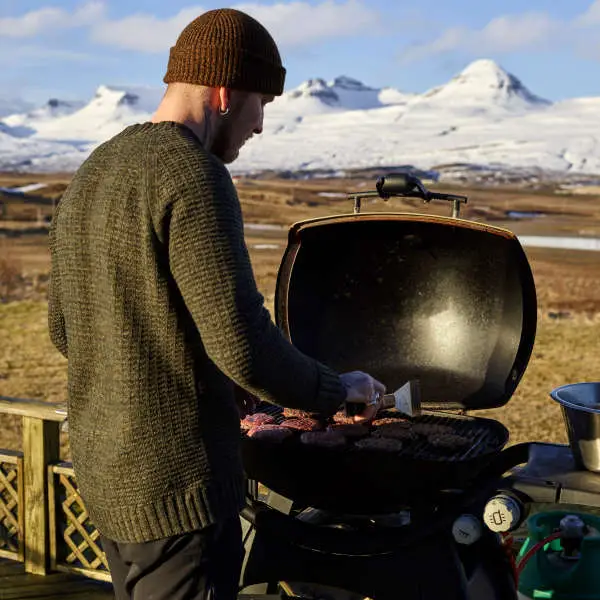 It is best to know what your specific needs are for a road trip grill before you start shopping.
Ask yourself these questions to help narrow down your choices:
How often will I be using a grill?
How many people am I looking to feed?
Do I need a portable grill that is easily transportable?
What is the price range that I am looking to shop in?
How easily can I store a portable grill?
Chances are that if you are looking to use your grill on a regular basis, you want something that is solidly built, easy to move, and small enough to store comfortably in any vehicle.
Grill setups range from anywhere to a moveable stand with the grill attached to smaller tabletop models.
The size of your cooking area is an important specification.
If you are just feeding 1-2 people you can look at some of the smaller more compact tabletop options. But, if you are looking to entertain a group of folks your choices will fall under some of the larger models with multiple cooking surfaces as an option.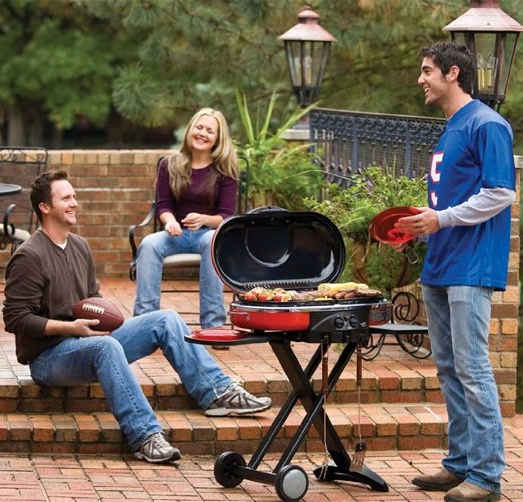 No matter the size, it is still important that you purchase a product that will be durable and solidly made.
Stainless steel burners are preferred over cast iron or aluminum which can eventually corrode and/or flake.
Which Is Better Stainless Steel or Cast Iron Grill Grates?
Cast iron is the choice of cooking grate. It will hold the heat longer and cook more evenly than other materials. Although cast iron may add weight to your unit, the durability and cooking quality can't be beaten with weaker materials.
What Is the Difference Between the Coleman Roadtrip Grills?
Coleman Roadtrip Grill Comparison Table
| | LXE | LX | X-Cursion | LXX | 225 | 285 |
| --- | --- | --- | --- | --- | --- | --- |
| Image | | | | | | |
| BTUs | 20,000 | 20,000 | 20,000 | 20,000 | 11,000 | 20,000 |
| Cooking Space [square inch] | 285 | 285 | 285 | 285 | 225 | 285 |
| No. of Burners | 2 | 2 | 2 | 2 | 2 | 3 |
| Weight [lbs] | 44 | 50 | 43.2 | 52 | 29 | 52.5 |
| Size [inches] | 32 x 35 x 19 | 36 x 13 x 22 | 32.1 x 19.1 x 12.6 | 19.1 x 34 x 13.6 | 28.8 x 18.3 x 10.6 | 45.6 x 19.5 x 35 |
| Thermometer | | | | | | |
Grilling and Camping Made Easy
The market for recreational equipment can be flooded with different models and endless features that can make it difficult to choose from. Consider your grilling needs, and keep in mind that you almost always get what you pay for.
Find the best portable grill that is right for you within your price range and choose among brands that are known for their reliability and well-built equipment.
It's time to go outdoors and cook delicious camping meals for your family and friends.
What's your favorite outdoor grilled food? Share your recipes in the comment section below.