Pellet grills are fantastic on-the-go companions as they combine the smokey-flavored taste that charcoal grills offer and the convenience of a gas grill.
Although portable models are inferior to backyard ones in terms of cooking capacity, performance, and durability, this is not the case here.
Despite their compact size and (relative) lightweight, these 8 portable pellet grills are just as durable and well-performing as their backyard brethren.
With one of these bad boys on your next journey, you'll be cooking steaks and burgers just like you would in the backyard.
What Is the Best Pellet Grill for the Money?
Portable Pellet Grill Reviews
Traeger Grills Ranger Grill TBT18KLD Wood Pellet Grill and Smoker
When it comes to smoking in the wild, nothing beats the Traeger Ranger.
A Perfect Reason to Go Out of the House
If you ever need a reason to just go out and spend some time in the fresh air, just look at the Ranger.
No matter where you go, you can always take it with you.
With a compact size of 13 in H x 21 in W x 20 in D with the lid closed and 60 lbs (it seems a lot but for a pellet grill, this is nothing), you'll barely notice it in the trunk of your car.
Cooking Capacity
On its total cooking area of 184 square inches, you can easily cook:
1 rack of ribs
6 burgers
10 hot dogs
The Ranger can reach a max temperature of 450°F.
Included with the package is a cast iron griddle, expanding your cooking arsenal of recipes. What I especially like about this is that I can make eggs & bacon for breakfast.
Advanced Grilling Logic
The digital arc controller and the built-in meat probe let you precisely control the temperature so you'll never have to worry about overcooking or undercooking again.
It also has a cook timer and it will alert you when the meal is done or when it's time to add sauce.
Once you're done, you can leave your meal inside the grill without letting it get cold. It has a keep warm mode which ensures the food will be ready to eat when you are – just like a rice cooker.
Additional Noteworthy Features
Both the porcelain-coated grates and the included griddle are super easy to clean.
The hopper has a capacity of 8 lbs so you won't have to worry about refueling during mid-BBQ. Your only job will be to relax and enjoy the view.
The lid has latches for safer and easier transport.
Expect a Dent or Two
The product may arrive damaged upon arrival. Mine came with 2 smaller dents on the lid.
A Well Built Workhorse Grill Smoker Combo
When it comes to portable pellet grills, it doesn't get any better than this. The performance is amazing and ever since I tried it, it has never left my sight.
Pros
Compact
Reliable
Durable
Large cooking area
Keep warm function
Cons
May arrive with dents or scratches
Green Mountain Davy Crockett Sense Mate Electric Wi-Fi Control Foldable Portable Wood Pellet Tailgating Grill with Meat Probe
The Davy Crockett is the type of pellet grill that lets you do other things instead of standing in front of it to tend to the cooking process.
The Most Convenient Grill
The digital controller can be controlled and monitored remotely via WiFi through your phone (GMG app available for both Android and iOS).
This grill can run on either 12V or 110V. The guys at Green Mountain Grills are experienced campers – the Davy Crockett is proof of this. You won't always find power outlets while in the open. That's why they've added the 12V socket so you can power the grill right from your vehicle without adapters.
Ample Cooking Surface
This one features a slightly bigger cooking surface than the Ranger above – 219 square inches to be precise.
Can Be Placed in the Trunk of Any Car
The grill measures 31.75" H x 34" W x 23" D but when you fold the legs, it measures only 20.5" H x 27.75" W x 17.5" D.
Versatile
With a temperature range of 150°F – 550°F, you can go low and slow, sear steaks, and anything in between.
Hopper Specs
The hopper can hold up to 9 lbs of pellets.
The auger moves slowly at the speed of about 5 RPMs and the fan for controlling airflow at 4,100 RPM max. Both are carefully regulated by the controller for maximum efficiency.
Complete Pellet Combustion With Minimal Waste
The firebox is designed in a way that creates a cyclone of air, pellets, and fire in an extremely efficient way.
The Downsides
There are hot and cold spots.
The bottom generates quite a lot of heat. When tailgating, plate something heat-resistant between the grill and the bedliner so it won't melt it.
Set It and Forget It
When it comes to convenience, the Davy Crockett wins by a mile.
Pros
Large hopper size
Ample cooking surface
WiFi control
Easy cleanup
Good grease management
Traeger Pellet Grills TFB30KLF Tailgater 20 Grill
Spice up your tailgating experience with the Traegers Tailgater.
Tailgaters Wet Dream
This behemoth of a grill is specially designed for grilling on the back of a pickup truck.
Although you can use it elsewhere, say in the backyard, you'll need to place it on an elevated surface as the whole thing is only 3 feet (about 1 meter) tall with the legs extended.
Massive Cooking Area
Despite weighing the same as the Ranger, the Tailgaters cooking capacity is much greater: by more than 50%.
On its total cooking surface of 300 square inches, you can make:
2 whole chickens
3 racks of ribs
12 burger patties
Additional Features
The Tailgater has, more or less, the same features the Ranger has, with one notable exception: it comes without a cast iron griddle.
Digital arc controller with Advanced grilling logic
Max temperature of 450°F
Built-in meat probe
Keep warm function
Porcelain-enameled grates
Foldable legs
8 lb hopper capacity
This Grills' Ugly Side
You'll need help if you're planning to fold up the legs. Otherwise, you'll struggle – a lot.
Holy Smokes
Take it with you on your next tailgating or RV ride – you'll be sorry that you didn't have it before.
Pros
Massive cooking area
Excellent performance
Great temperature control
Simple to use and clean
Versatile
Cons
It's difficult to fold the legs by yourself
Camp Chef Pursuit Portable Pellet Grill PPG20
"Size matters" is the motto of this Camp Chef grill: the Pursuit PPG20.
Feed the Whole Camping Party in One Batch
On its massive cooking surface of 501 square inches, you can cook:
16 – 24 burgers
2 pizzas
4 whole chickens
4 racks of ribs
4 tri-tips
The cooking chamber features 2 grates for increased cooking capacity and better heat control. Sear burgers at the bottom and smoke ribs at the top at the same time.
Rollin' Rollin' Rollin' Rawhide
What I like about this particular model is that you don't need to carry it around but roll it away once you're done cooking.
Once folded, you can grab the handle at the other end of the grill and drive it around like rolling luggage.
Also, the legs are push-button and snap into place. Say goodbye to those time-consuming screws.
Advanced Gen 2 Controller
The Pursuit comes equipped with state-of-the-art cooking technology and temperature control that includes PID technology and Smoke control.
Tailgate, Campsite, Block Party, and Backyard Approved
Whether you're grilling in the backyard or on the open road, the Pursuit will never let you down.
With its compact size and sheer cooking surface, you can use it either as a full-standing backyard grill or at your next tailgating party.
This versatility comes at a price, though: it's a bit larger and heavier (cca. 100 lbs) than the models above.
Durable
A common issue that plagues portable grills is their durability.
One reason is that they're outside most of the time, including when you're not using them (you can't really put a grill in the shed when you're in the wild). Another reason is the weight. Durable materials are heavier than cheaper ones.
The PPG20 is an exception as it boasts durable construction, including heavy-duty wheels which are usually made from cheap plastic.
Rest assured this baby won't rust away within a year.
Fuel Your Next Adventure With the Pursuit
The massive cooking surface, portability, and durability are some of the reasons why I've chosen the Pursuit as one of the best portable pellet grills.
Pros
Massive cooking surface
Versatile
Easy to transport
Durable construction
Simple to clean
Grilla Grills – Chimp Tailgater Bundle | Multi Purpose Smoker and BBQ Wood Pellet Grill
Can a chimp cook BBQ? This wood pellet grill and smoker from Grilla Grills says a definite YES!
Perfect for Tailgating and Your Backyard
Can't decide between a portable and a backyard model? Then have both in just one unit.
Just like the Pursuit, the Chimp is big enough to be used as a standalone backyard grill or accompany you to the next tailgating party.
Large Interior
The main cooking surface (stainless steel rod grates) measures 22 x 15.5 inches or 340 square inches.
It also features a warming upper rack (something that's uncommon with portable grills) and is roughly 1/3 the size. It's 120 square inches large and measures 22 x 5.5 inches.
Add them both together, and you get 460 square inches of total cooking space.
Even for a backyard pellet grill, this is a lot.
Fuel-Efficient
The cooking chamber is insulated. This not only helps in better temperature retention but also less heat is wasted, meaning you'll save on pellets.
Digital electric temperature controller precisely monitors and controls both the temperature and airflow efficiently and with spot-on precision.
Say Goodbye to Flare-ups
The fan provides convection-style cooking without the fear of flare-ups.
Use It All Year Around
The heavy-duty steel construction, welded, powder-coated, and caulked seams, and the Thermal Metal Jack allow you to grill and smoke even in the harshest wintertime without the fear of rusting.
Hopper Capacity
The hopper on the Chimp can hold up to 15 lbs of pellets.
Introducing Alpha Smoke Technology
This thing right here enhances your BBQ with increased finer smoke and temp control that will infuse your food with authentic smokey flavor.
It's a dual mode controller and features both a PID and the traditional controller in one unit.
Double Check the Hopper Lid When Closing It
I don't know if this is a design flaw or QA fail or something else but the latch of the lid of the hopper on my model doesn't fully clamp down and sometimes it doesn't completely.
Be sure once yours arrives at your doorstep to check for any dents, scratches, and other signs of damage.
A Chimp off the Old Block
Overall, it's an amazing grill that performs even better as a smoker. With a large cooking area, durable insulated construction, and precise monitoring, the Chimp will surpass all of your expectations.
Pros
Sturdy and durable
Double-wall insulation
Precise and efficient temperature control
Fuel efficient
Large cooking area and hopper capacity
Cons
Defective hopper latch
Heavy
ASMOKE AS300 Electric Portable Wood Pellet Tailgating tabletop Grill and Smoker w/ Waterproof Cover and Stainless Steel Meat Probe
If you're looking for a small footprint and lightweight, consider the AS300.
The Most Compact Grill on This List
If you thought the Ranger was small, you're in for a surprise.
The AS300 is even smaller and lighter than the Ranger, making it the most compact portable pellet grill here.
For a lone traveler or even a couple, this baby is ideal.
It Offers a Total of 256 Square Inches of Cooking Space
What surprised me the most about this one is that although it's smaller than the Ranger, you can cook more on it.
The main grilling area is 191 square inches which is a bit bigger by about 5 square inches.
The other 65 square inches belong to the detachable upper rack.
To put things into perspective, it can handle:
1 rack of ribs
1 whole chicken
8 burgers
12 hot dogs
Simplistic Design
As far as the control panel goes, it has just the basics: the temperature settings and the LED display.
The displays shows the temperature of the firebox and and the one you set and alerts you when you're out of pellets.
That's it. No fancy bells and whistles.
My Experience
The assembly was completely straightforward and took me just a few minutes. I only had to install the lid, legs, slider, grease bucket, and the broiler plate.
After I poured the pellets, it took the grill about 15 minutes to fully heat up.
The first meal I prepared with it was a rack of ribs which I slowly BBQ-ed for 7 hours.
It was perfect.
The Issues
When I first got the AS300, it had a pretty noticeable dent on the lid. I notified the support and they responded immediately with a new one.
While the simplistic design and lack of WiFi connectivity is a good thing for me (I actually have a reason to leave the phone in the house), this doesn't mean it's good for you, too. For starters, a timer or at least a preheating alert would be nice.
Simple Grill, Amazing Experience
It's small enough to fit on a table, yet powerful enough to make moist and juicy meals full of that smokey flavor you know and love.
Pros
Affordable
Simple to assemble, use, and clean
Outstanding smoker
Durable
Sturdy
Cons
Quality control issues
Pretty basic controls
Pit Boss Portable Tailgate/Camp With Foldable Legs Pellet Grill
Smoke out the competition with the Pit Boss Tailgater.
Generous Cooking Surface
You can easily fit:
16 – 20 burgers
1 whole turkey
2 whole pork butts (maybe even 3 if you cut them right)
2 14 lb briskets
on its 340 square inches large cooking surface.
The grates are porcelain-enameled wire.
Durable Construction
Thick steel construction and thick powder coating mean this baby will last you for quite some time.
Collapsible Legs
Once you put the grill into the right spot or once you're done cooking and would like to store it, just collapse the legs with a few hand motions – no tools required.
The design of the legs is quite interesting. The ones with the wheels are offset and aren't in a straight line. Although it looks funny, it's very practical: increased stability.
Low Maintenance
The cleanup is a breeze.
Because the grates are coated in porcelain, you can easily and quickly clean them with a brush. It's even easier if the grates are still hot.
What I especially like about this grill is it's large drip pail. Even after a massive cookout it still has space.
Be Ready to Refuel
The hopper only holds 5 lbs of pellets so be near the grill a few hours after you started so it won't run empty.
Have a Friend to Help You Carry It
When fully assembled the whole thing weighs about 95 lbs.
For a portable grill, even for a pellet one, it's a bit one the heavy side.
The Best Portable Pellet Grill Smoker
The Pit Boss Tailgater performed the best in terms of smoking. All of the briskets and ribs I've smoked came out juicy, moist, and tender.
Pros
Excellent smoker
Durable and sturdy
Ample cooking surface
Easy to operate
Cleanup is a breeze
Cons
A bit heavy for its size
Small hopper capacity
PIT BOSS Sportsman 10538 PB206PSP2 Wood Pellet Grill
This Pit Boss portable pellet grill is always ready to travel quickly and easily.
Cooking Capacity
The cooking surface which consists of porcelain-enameled cast-iron grates is 387 square inches large which is more than enough for 2-3 people.
You can smoke briskets or grill burgers to perfection as the digital controller has a temperature range from 180°F to 500°F.
The hopper is unusually large for a portable pellet grill. It can hold up to 19 lbs of pellets. Rest assured you won't run out of fuel with this BBQ giant.
Durable and Sturdy
You won't have to worry about rust and corrosion.
Lightweight Design
Despite its size and high-capacity hopper, the thing is lightweight. It weighs only 80 lbs.
Other Features Worth Mentioning
The controller has a built-in meat probe and also serves as a side shelf.
The legs are foldable and you can roll it around the campsite or backyard just like the Camp Chef Pursuit above.
Carefully Inspect It Once You Get It
In my case, the lid handle was bent and so was one of the wheels. Also, one side had a few shallow scratches.
I don't know whether this is an isolated incident or the factory has issues with QA but I strongly advise you thoroughly check the grill for any forms of damage and immediately notify the customer service.
Innovative Design in a Compact Package
The Sportsman is a force to be reckoned with. Its compact design, reliable controller, interesting look, and ample cooking area are some of the many reasons why I've chosen it as one of the best portable pellet grills of [year].
Pros
Large cooking surface and hopper
Robust digital controller
Lightweight
Rolling wheels
Simple to use, transport, and clean
Durable stainless steel construction
What Should I Look for in a Pellet Grill?
Getting yourself the right portable pellet grill in not an easy task. It's not straightforward, either.
Just as choosing a charcoal grill or a gas one, you need to consider and take into account several factors. If you don't research the topic enough, you might regret your decision.
Those extra few minutes reading about pellet grills are going to be worth it.
It should be noted that I won't go into complete details as this deserves an article of its own but I will highlight the most important features and specs you need to consider if you want to get the best portable pellet grill possible.
Price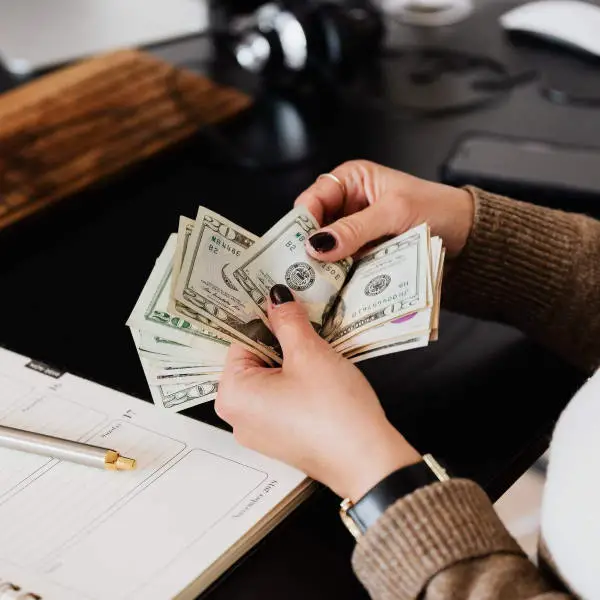 While this is an important factor, it's not the only one. Money plays a huge role in choosing a pellet grill but if you take the cheapest one, you'll end up with a lemon. Instead of saving money, you will throw it down the drain.
Also, even if this grill works fine, it's going to cost you in the long run as sooner or later something is going to break: either the electronics or the whole thing is going to rust.
This is why I always emphasize on planning out your budget before each and every major purchase.
As a rule of thumb, the sweet spot is between $250 – $500 for a quality pellet grill. There are, of course, more expensive high-end models, but for a portable model, this is more than enough.
Size and Portability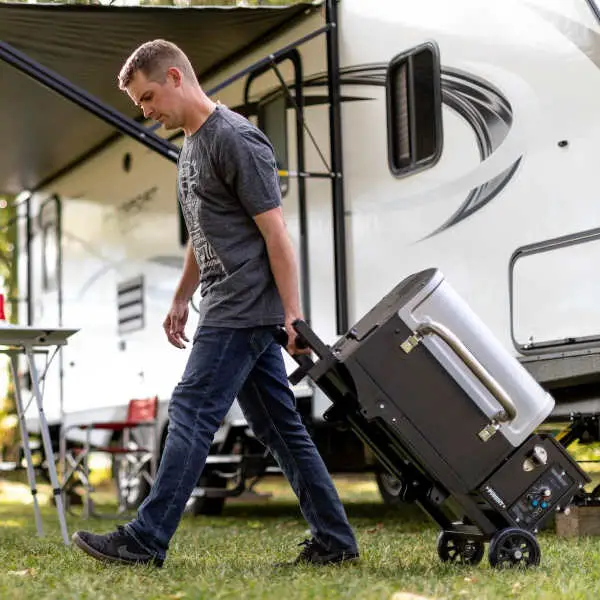 Being a portable grill, bigger isn't always better.
Usually, the bigger the grill, the heavier it is.
Pellet grills are heavy and bulky by design, that's why even the lightest portable models usually weigh around 60 lbs.
If the unit you're interested in is particularly heavy, see it if can be rolled around instead of being carried. The Camp Chef Pursuit, for example, can be rolled around like luggage at the airport or bus station.
Cooking Surface
How big should the cooking area be, solely depends on how much people you are planning to feed.
More people equals a larger cooking area but beware: as the cooking area grows larger, so do the price, weight, and overall size of the grill.
If you take a pellet grill with a cooking surface of 500 square inches and you intend to cook just for yourself or your significant other, you're making a mistake. For a couple, this is way too much. Also, grills this big tend to weigh 100 pounds or even more.
Wasted space, wasted money, and unnecessary back-breaking while carrying it around.
Like other types of grills, pellet grills have more than one cooking area. While smaller camping models tend to have just one, i.e. the grates, some come with a secondary warming rack.
Having a warming rack is a great thing to have since it greatly increases the total cooking area without significantly increasing the overall size of the grill (like putting an extra shelf in the closet).
Controller Type and Voltage
The key to a tender brisket, juicy ribs, and quality searmarks is in the temperature, smoke, and airflow control.
This is what the pellet grill controller does.
A decent controller should keep and hold a constant temperature no matter what. Even if you're in a blizzard or if it's windy like hell it should maintain that ideal BBQ temperature of 225 to 250 degrees.
Be sure to check what kind of controller it is and how reliable is it. Check what other people have to say about that particular model to see whether it actually works and does as advertised.
Some grills have notoriously faulty controllers that give out false errors, show wrong temperature readings, or shut down for no apparent reason. Be on the lookout for these and similar faults.
One of the worst things that can happen at a BBQ is that you spend all your time diagnosing and troubleshooting the controller instead of tending to the food and having a good time.
How and where to plug in the controller is also important.
Portable pellet grills either have a 12V or a 110V plug.
For a portable model, it's best to have both. You don't know where are going to end up next.
12V is super convenient as in a lot of cases, people go with their cars or other vehicles on their trip. Tailgating and RVing are some examples.
While you can get a 12V to 110V converter if your grill doesn't have a 12V socket, keep in mind that this is another expense and these things don't come cheap.
Hopper Capacity
The hopper serves the same function as the gas tank of your car: it holds the fuel.
As a rule of thumb, a pound of pellets should be enough for 1 hour of cooking time.
Bigger hoppers mean longer uninterrupted cookouts but this adds more weight to the grill itself.
Consider the recipes you're going to make with the grill – especially the cooking times.
It would be a really bad idea to get a grill with a 10 lb hopper if you're planning to make burgers and hot dogs most of the time. In this case, a tiny hopper of 5 lbs is more than enough.
Max Temperature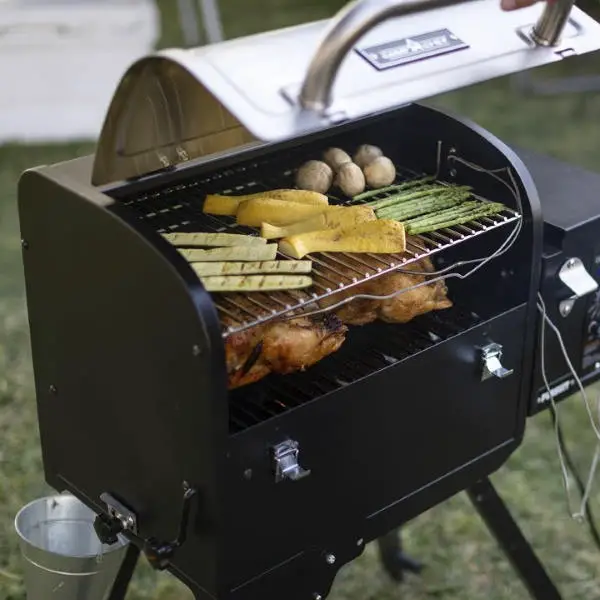 Pellet grills are more smokers than grills and often struggle searing steaks.
In general, they are better suited for indirect cooking rather than direct.
There are exceptions to this case and some models can reach temperatures of 500°F and up.
Also, when looking at the temperature range of a grill, check whether the maximum temperature of that particular model is actual or theoretical. If theoretical, it won't reach it.
Features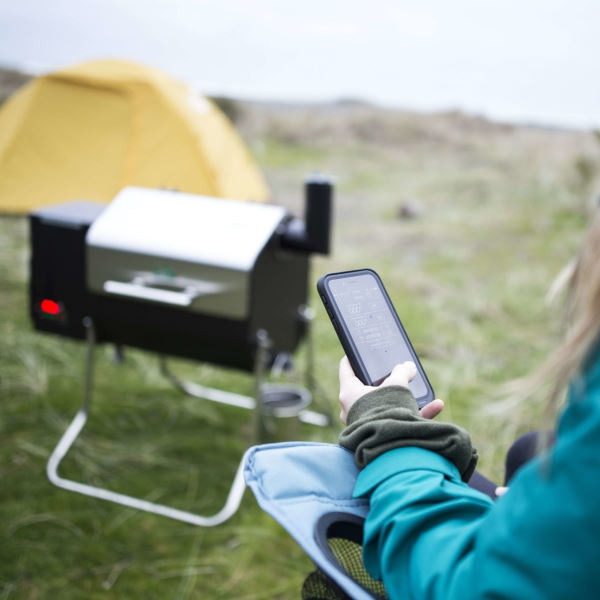 Some models include advanced features like built-in meat probes and phone connectivity.
While these features are highly convenient and cool, they add a lot to the price tag.
It's the Wood That Makes It Good
Portable pellet grills make for exciting on-the-go companions and are a sight to behold when tailgating and RV-ing.
To get the best bang for your buck, choose one of these 8 best portable pellet grill models and you'll be dominating at your next BBQ session.
Don't forget to read the detailed buying guide if you aren't sure what to look for.