Can't decide between a gas grill and a griddle? Only have the money for one?
If you're plagued by either or both of these issues then I have a perfect solution for you: a combo. This combines both a grill and a griddle into one. One unit for twice the fun for the price of one.
What Are the Best Gas Grill and Griddle Combos For The Money?
Why a Grill and Griddle Combo?
While similar, both possess their own strengths and weaknesses. One is better suited for one occasion while the other is more suited for another (I won't go into detail here because I already did it here).
Some folks can't decide on which one while others love both equally – this is where the combo comes in because it includes the best of both worlds.
Another advantage of having a combo instead of a separate grill and griddle is the lower price and less storage space. With a combo, you get both for the price of one and it also occupies the space of one unit.
Consider These Factors
Each one of us has different needs, preferences, and wishes when it comes to cooking on the grill. That's why there are so many different models on the market.
Sometimes, it's hard to choose which one fits your bill perfectly.
Consider these next factors and you won't regret your next purchase:
Location, Location, Location
Where are you planning on grilling: the backyard, patio, in the back of your pickup truck, at a campsite…?
If you're planning on cooking the backyard or a similar location where you won't move the grill around as much, consider a freestanding stationary model. They're larger, bulkier, and heavier than portable ones.
On the other hand, campers, tailgaters, and travelers should go for a tabletop or portable one. They are much more compact and lighter.
Size
The bigger the grill is, the heavier and bulkier it gets. The cooking area also gets larger.
Ask yourself: for how many people are you going to cook for?
There's no point in getting a grill with, for example, a 700 square inches large cooking area if the only one who going to eat off of it is you.
Price
Grills tend to be expensive and should be considered something that will last you for a long time.
Usually, price increases with quality, number of features, and size but that doesn't mean you can't afford one if your budget is tight.
Also, consider the price of other things that you'll need like tools, accessories, the food itself, propane tank, etc. Many of these you'll need to purchase separately – and these items can be just as expensive as the grill itself if you're not careful.
Quality
The higher the quality, the longer the grill will last you.
Both stainless steel and cast iron are great materials but both are susceptible to rust to some degree (cast iron more than stainless steel).
Ideally, the cooking surface should be enameled, and the stainless steel construction powder-coated, and both as thick and heavy-gauge as possible.
Best Gas Grill and Griddle Combos
Royal Gourmet GD401C 4-Burner Portable Propane Flat Top Gas Grill and Griddle Combo
Already declared as one of the best flat top grills of 2023, the Royal Gourmet GD401C is the ultimate gas grill and griddle combo you can get for your backyard gatherings.
A Crowd Pleaser
This one boasts a total cooking area of 606 square inches:
The griddle side has 292 square inches
The grill grates have 314 square inches
Both are made from pre-seasoned ceramic-coated cast iron.
Each side features 2 independently controlled burners that output 12,000 BTU each.
In total, the grill has 4 burners and is rated at 48,000 BTU.
Built Like a Tank
The whole thing (apart from the cooking surfaces) is made from heavy-duty heavy-gauge stainless steel that's resistant to rust.
After a year of constant wear and tear, it's still kicking strong and shows no signs of damage.
It's sturdy just as when I put it together.
Turn It Into a Portable Grill in a Moments Notice
The legs are foldable, meaning you can easily fit it into the back of your truck, RV, or the trunk of your car.
If you're planning to use it solely in the backyard, patio, or deck, this feature still comes in handy because it minimizes storage space and you can easily place it in the garage even though it's full.
Other Reasons Why I Choose This One as the Best
It comes with 2 large side shelves that are big enough to hold anything you need, including plates, condiments, spices, and your favorite beverage.
Under the grill, there's a towel rack with 4 hooks. You can add more, but you need to purchase them separately first.
When unfolded, it still can be easily moved around thanks to its 4 durable and lockable caster wheels. TIP: they roll even smoother once you add a bit of lubrication.
What Needs Improvement
I don't consider it completely portable because of its sheer size and weight. I don't recommend taking it with you if you're camping solo but if you're going tailgating with several friends, it's a must-have.
Don't be surprised you see a dent or a scratch once you open the box.
Despite regular cleaning and seasoning, I noticed a few rust spots on the cooking surface.
Pros
Foldable legs
Ample cooking and prep space
Durable and sturdy
Easy to assemble and clean
Comes with a bottle opener and hooks
Cons
Bulky
May arrive damaged
Cooking surface prone to rust
Blackstone 1555 Tailgater Portable Gas Grill and Griddle Combo
With the Blackstone Tailgater, you don't need a backyard as you can turn any place in the great outdoors into a 5-star restaurant.
Not Just a Grill Griddle Combo
You can remove either the grill grates or the griddle top and use the Tailgater as a stove.
You can't use all 3 of them at the same time, though, because it only has 2 burners.
Its Cooking Potential
It has a total cooking area of 512 square inches:
The grill grates are 256 square inches
The griddle top is also 256 square inches
Each holds 9 burgers which is more than enough for 6 people.
The Tailgater is powered by 2 different separately controlled burners:
One is a stainless steel H-tube burner that outputs 15,000 BTU
The other one is a round cast iron that outputs 20,000 BTU
Combined, this grill outputs a total of 35,000 BTUs.
Can Be Easily Hooked to an RV
You can easily connect it to your RV's low-pressure propane tank with a quick connect fitting (you need to buy it separately, though).
Other Worthy Mentions
The legs aren't only foldable but also adjustable. With this, you can make the grill level on almost any surface.
Its Drawbacks
For a portable grill, this one is a bit heavier and bigger than expected. Most portable grills weigh about 30 or 40 lbs (13.6 or 18 kg) but this one has 75 lbs (34 kg).
The clamp that holds the lid of the grill grates looks flimsy and I have a feeling it's about to break sooner than later.
It doesn't come with a holder for the propane tank.
Pros
Grill, griddle, and stove combo
Spacious cooking surface
Even and fast heat
Adjustable legs
Fast and straightforward assembly
Easy to clean
Cons
Bulky
Lid clamp is cheaply made
No propane tank holder
Camp Chef Tailgater Combo
The Camp Chef Tailgater is the budget version of the Blackstone above.
Extremely Powerful Burners
One of the first things I've noticed with this one are it's 2 highly-powerful burners that output 30,000 BTU each or 60,000 BTU in total.
Such raw firepower means faster preheating, lower cooking time, and higher temperatures.
Spare Parts Are Easy to Come By
Many grills are plagued by the lack of spare parts. This means when something on the grill breaks (for example, regulator, burners, grates), you'll need to buy a new grill in order to fix it (unless you're some kind of DIY expert, but this is beyond the scope of this article).
Not this one, fortunately. The unit is actually made from 3 different units:
Because of this, you can easily remove either the griddle to the grill box (or both) and use it as a stove.
They don't come cheap, though, so take good care of the grill.
Big Enough for 16 Burgers
The cooking area is 448 square inches large with both sides having 224 square inches.
The griddle top is stainless steel and the grill grates are cast iron. Both are pre-seasoned.
Other Reasons Why I Put This One on the List
It's made from heavy-duty heavy-gauge stainless steel. It's also sturdy – something that a lot of portable grills lack.
All 4 legs are adjustable.
The grill box features a lid, thermometer, and a special diffuser plate that turns the flames into infrared heat.
The provided wind guards make cooking during wind possible.
The Downsides
The cooking surface (the griddle top especially) is prone to rust. Mine developed a few rust spots despite regular cleaning and seasoning.
It has a few hot and cold spots. They are noticeable but don't present a real problem (at least not to me).
Like the Blackstone above, this one also doesn't have a propane tank holder.
Pros
Spacious cooking surface
Customizable
Can be used as a stove, also
Adjustable legs
Durable and sturdy
Wind guards included
Really powerful burners
Cons
Prone to rust
Minor hot and cold spots
No propane tank holder
CAMPLUX FMGG302B Gas Griddle and Grill with Lid
The CAMPLUX FMGG302B is a compact outdoor grill and griddle combo that's a perfect fit for a small backyard or patio where there's very little room to spare.
Comes With a Lid
You don't see this every day – most griddles lack this feature.
Perfect for a Couple
Its small combined cooking area of 369 square inches (190 square inches large grill grates + 179 square inches large griddle top) is big enough to cook a romantic meal for two.
Burner Specs
It comes with 2 independently controlled stainless steel burners that are ignited by a single knob and output 11,000 BTU each.
Nonstick and Easy to Clean
Because both the grates and griddle top are nonstick, cleaning this grill is fast and easy.
Made to Last
The entire grill is made from professional-quality powder-coated stainless steel that is built to last.
I still recommend using a grill cover because it will develop rust spots here and there if you don't.
Additional Features
It comes with 2 spacious side shelves.
The propane tank is shielded from both the elements and prying eyes.
Its 2 wheels are robust and durable.
What I Don't Like About It
You need to switch between the grill grates and the griddle top – you cannot use both at the same time.
The cooking area is a bit small for its size.
Once you open the box, inspect the grill in full as you may be missing a bolt or two.
Pros
Compact
Spacious prep space
Durable and sturdy
Easy to assemble and clean
Simple to move around
Cons
Can't use both the grates and the griddle top at the same time
Small cooking area
May arrive with missing hardware
RecPro RV Side-by-Side Griddle and Grill
The RecPro is a portable grill griddle combo that's specially made for RVs.
Connects Directly To the RV
In order to connect your grill to the RVs low-pressure propane tank, you need to convert the grill.
Not this one. It comes pre-fitted with a quick-connect fitting.
Combined Cooking Area of 352 Square Inches
Both the grill and the griddle side are 176 square inches large, measure 11 x 16 inches (28 x 40.6 cm), and are made from cast iron.
Durable Burners That Pack Quite a Punch
The RecPro comes packing with 3 independently controlled stainless steel burners that output 36,000 BTU in total.
Has Additional Wind Protection
It comes equipped with wind guards that also protect the table and you from hot sizzling oil.
Other Great Features
The grill sits on 4 thick and durable rubber feet that don't slip and firmly hold the grill in place.
The Cons
A quick-connect hose would be nice.
This unit suffers from poor quality control. In my case, one of the burners wasn't working. Some grillers also reported warped and/or pitted griddle top but mine was perfectly fine.
Pros
Connects directly to the RV – no conversion needed
Wind guards included
High heat output
Spacious cooking area
Nonslip rubber feet
Cons
Quality control issues
Doesn't come with a quick-connect hose
Royal Gourmet GD4002TB 4-Burner Grill & Griddle Combo
The GD4002TB by Royal Gourmet is s portable tabletop combo that's perfect for a tailgating party.
Ample Cooking Surface
It has a total cooking area of 438 square inches which is enough for:
40 sausages
24 burgers
18 steaks
This should feed 10 – 15 people easily.
Durable & Rust-Resistant
The griddle top is coated in ceramic and the porcelain-enameled cast iron grates will last you for years.
The same applies to the powder-coated stainless steel construction.
40,000 BTUs of Pure Heat
Having 2 burners per cooking surface (4 in total) and outputting 10,000 BTU each, the GD4002TB is just as powerful as many freestanding backyard models.
All 4 burners are stainless steel and ignited by a single button in the middle.
Cleaning Is as Simple as It Can Be
Because the cooking surfaces are coated, cleaning the grill is as simple as wiping it with a sponge.
All of the excess grease and oils fall into the drip pan below that directs the grime into a cup. Both are removable and just as easy to clean, as well.
Other Features That Deserve a Special Mention
On each side, there's a cool-to-the-touch handle that greatly eases transportation.
Have a Friend to Help You to Carry It
It's big, bulky, and heavy. You can injure your back if you try to carry it by yourself.
Pros
Portable
Ample cooking surface
Durable and sturdy
High heat output
Super easy to clean
Cuisinart CGG-999 30-Inch Round Flat Top Surface 360° XL Griddle Outdoor Cooking Station
When it's time to please a crowd, the Cuisinart 360 XL griddle won't disappoint.
Doesn't Look Like a Regular Grill
From a distance, it actually looks like a charcoal grill due to its round shape.
While it doesn't affect the taste of the food or the performance of the grill in any way, it's still a cool feature.
A Real Crowd Pleaser
This 30-inch grill features an enormous cooking surface of 700 square inches.
Combined with 3 burners that output 50,000 BTUs in total, you'll have no issues feeding your entire family and friends in the first round.
The Grease Collector Goes Round and Round
The cooking surface is surrounded by the grease collector from all sides (if you can call it that).
It channels the grease and oil to a single high-capacity cup at the side.
There's Enough Prep Space to Go Around
It comes with 2 ample-sized foldable side shelves with each having integrated tool hooks for additional space.
Other Notable Mentions
It comes with a paper towel holder.
The propane tank is fully enclosed. It's completely protected from the elements and other potential hazards.
The lid is a more than a welcome addition as it serves a double function: as a basting dome and a protective cover. It also features a hook so you won't have to hold it or place it on the ground while tending to the food.
There are 4 casters instead of 2. This makes transportation much easier.
What I Don't Like About This One
The cooking surface doesn't have an edge so you need to be careful when placing and turning food as it can easily fall into the grease tray.
Its performance drops noticeably in the wind.
Shipping and handling should be more delicate as many grillers (myself included) noticed damaged parts while unboxing. In my case, the lid and the gas valve were damaged.
Pros
Ample cooking and prep space
Cool-looking design
Durable and sturdy
Foldable side shelves
Comes with a lid and paper towel holder
Even heating
Easy to clean, assemble, and use
Cons
No edge – food can easily fall into the grease tray
Struggles in the wind
May arrive damaged
Blackstone 36″ Cooking Station 4 Burner Propane Fuelled Restaurant Grade Professional 36 Inch Outdoor Flat Top Gas Griddle with Built in Cutting Board, Garbage Holder and Side Shelf (1825)
Grill like a king (or queen) with the Blackstone 1825 36″ Cooking Station.
Feeds up to 20 People at Once
The 1825 features a 720 square inches large cooking area that holds:
72 sausages
16 steaks
28 burgers
Reaches High Temperatures Fast
With a total heat output of 60,000 BTUs and 4 independently controlled burners, this baby will not only preheat fast but also hold and maintain high temperatures with ease.
The heat is spread evenly across the entire surface – there are no hot and cold spots.
Spacious Storage and Prep Space
It comes with 3 shelves:
2 side shelves
A bottom shelf
and a paper towel holder.
Comes With a Cutting Board and a Garbage Bag Holder
What sets this one apart from the others on this list is the included cutting board and the garbage bag holder.
What's even cooler is that the cutting board serves as a lid for the garbage bag.
Built to Last
The grill is made from heavy-duty powder-coated stainless steel that's both durable and sturdy.
The griddle top is made from cold-rolled 7-gauge carbon steel.
Move It Around With Ease
Despite weighing 134 lbs (60.8 kg), you can easily move it around thanks to its 4 durable and smooth-rolling caster wheels.
The Cons
Even after regular cleaning and seasoning, I noticed rust spots beginning to occur on the griddle top.
I was kind of disappointed when I opened the box and noticed that the cutting board and garbage bag holder were missing. They send me the wrong model by mistake. When I informed them of this, they sent me the real deal quite fast.
Pros
Enormous cooking surface
High heat output
Comes with a paper towel holder, cutting board, and garbage bag holder
Durable and sturdy
Easy to assemble and clean
Even heating
Cons
Cooking surface is prone to rust
May send you the wrong model by mistake
Don't Forget the Accessories and Tools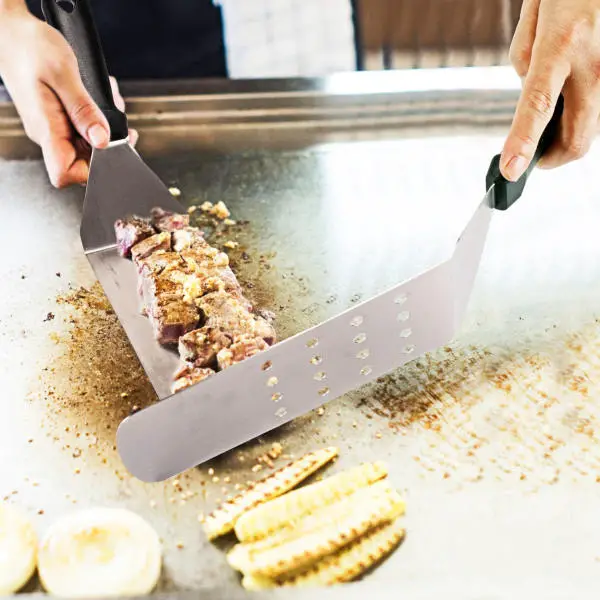 Getting the grill is just the half of it.
In order to actually cook on the grill, you need a few things. You don't need a lot, actually, just a few tools you may already have:
Scraper
Spatula
Tongs
Squeeze bottle
There are, of course, many other flat top grill accessories and tools out there. If you wish, you can check the extensive list here.
Enjoy the Best of Both Worlds for the Price of One
A grill and griddle combo combines the cooking surface of a grill and a griddle. This enables you to cook on both at once and saves quite a bit of money at the same time because you don't have to buy 2 separate units.
In case you missed it (or the reviews seem a bit too much reading for you), here's a quick recap:
The Royal Gourmet GD401C is the winner of this list because of its durable and sturdy construction, plenty of cooking and prep space, and pre-seasoned cooking surface.
If you want to turn any place in the great outdoors into a 5-star restaurant, choose either the Blackstone 1555 Tailgater or the Camp Chef Tailgater Combo. Both have 2 burners, modular cooktops, and can also be used as a stove.
For those with limited space in their backyard, patio, deck,… I suggest the CAMPLUX FMGG302B. It is a compact and durable grill griddle combo that's perfect for cooking a romantic meal for 2. It also comes with a hard top lid which is quite rare.
The RecPro Side-by-Side is a portable tabletop grill that fits directly into the low-pressure system of an RV.
With the Cuisinart 360 XL, you'll please a large crowd in no time thanks to its gigantic cooking area and powerful burners. It's also quite unique – it has a circular cooking surface instead of a rectangular one.
The Blackstone 1825 is also a unique and powerful crowd-pleaser. Its uniqueness is not in its circular cooking surface but in the included cutting board and garbage bag holder.
Grill grates or griddle top? Which one's your favorite and why?