Grill smoker combos combine 2 fundamental barbeque techniques – grilling and smoking – into one. Instead of buying a separate smoker and grill, you get them both in just one unit. This saves a lot of precious money and space.
If you really want to get your money's worth, take a look at these 9 models I carefully handpicked below. I consider these as the best of the best charcoal grill smoker combos.
What Is the Best Charcoal Smoker Grill?
Best Charcoal Grill and Smoker Combos
Masterbuilt MB20040220 Gravity Series 560 Digital Charcoal Grill + Smoker
Best Overall
Reaches 225°F in 7 minutes or 700°F in 13 minutes
Digital control panel or smart device control using WIFI or Bluetooth
Precise temperature control
Built-in temperature gauge and meat probe
Holds 10 lbs of lump charcoal or 16 lbs of briquettes
Includes reversible smoke + sear cast-iron grates
2 porcelain-coated warming/smoking racks for 560 total square inches
Already declared as one of the best grills under 500 dollars, the Masterbuilt MB20040220 Gravity Series 560 has all of the conveniences of a pellet grill while providing your food with the smoke-flavored aroma you know and love.
A Master of Disguise
At a glance, it reminds you of a pellet grill. It even has the same features as one:
Hopper
Built-in meat probe and thermometer
Digital control panel than can be operated using a smartphone
But it's not. It's actually fueled by charcoal (either lump or briquettes).
Convenience at It Highest
Charcoal grills are one of the least convenient types of grills.
But the features mentioned above turn this one into one of the most convenient charcoal grills on the market.
Because it has a gravity-fed hopper, you won't have to monitor and add coals during cooking as the machine does all the work for you.
Set the desired temperature at the control panel or on the phone and the grill does all of the thinking for you.
Ample Cooking Area
It has 2 porcelain-coated grates that you can use for either grilling or smoking and are 280 square inches large each.
Combined, the grill has a total cooking area of 560 square inches which is big enough for:
37 sausages
21 hamburgers
4 racks of ribs
8 whole small to medium-sized chickens
Fast Heat Up
Once you fire it up, it takes this grill smoker combo only 7 minutes to reach the perfect temperature for cooking low and slow (225°F / 107°C).
If you want to sear steaks at ultra-high temperature, say 700°F / 371°C, you only need to wait around 13 minutes.
This low preheating time challenges even some infrared grills which are known for their lightning-fast preheat time.
Cook up to 15 Hours Without Refueling
The specially-designed GravityFed hopper can hold up to 10 lbs / 4.5 kg of lump charcoal or 16 lbs / 7.2 kg of charcoal briquettes.
This means you can smoke or grill for up to 15 hours before emptying another bag.
A Farewell to Dampers
Temperature control on a charcoal grill can be very difficult, especially if you're a newcomer.
If you don't know how to use one, then you're in for a treat. This model has a controller onboard that maintains the temperature and smoke levels for you. Your only job is to set the temperature.
You don't even need to do this in front of the grill but instead from the comfort of your own home. Just download the app and connect the grill to your smartphone.
The Bad Side of This Grill
Without a cover, it will rust much sooner than later. For this price tag, they could have included it in the package.
They need to improve the quality control a bit. Some people have reported dents, scratches, and even rust spots when their grill arrived. I can't vouch for this because mine was perfectly fine.
The app sure comes in handy but from time to time, I experienced a broken connection. It happened without any warning or reason.
Super Convenient, Real BBQ Taste
This is what you get when you combine the convenience of a pellet grill and the smokey flavor of a charcoal grill. Not only it excels at both grilling and smoking but it's also a perfect grill for beginner backyard chefs.
Pros
Versatile
Convenient
Large cooking area
Hopper-fed
Extremely easy to use
Durable
Cons
Prone to rust
Quality control issues
Connectivity issues
Realcook Charcoal BBQ Smoker Grill – 20 Inch Vertical Smoker
This baby right here is a versatile vertical smoker that also acts as a grill.
More Than Just a Grill
This unit acts much more than just a regular grill smoker combo.
Take the top off and you have 2 separate grills. Just like mitosis, but for grills.
Remove the grates from the bottom part so you can use for as a fire pit for cooking on your next camping trip and keeping yourself warm during the winter at the same time.
Made for Travel in Mind
It's made from 4 parts that can be both assembled and disassembled in about 30 minutes with ease.
The latches keep everything in place so you won't have to worry whether you have assembled it correctly or not.
The whole thing weighs 35 pounds / 15.8 kg. Although it sounds like a lot, you won't be needing it whole while on the road. Who smokes in the middle of the beach, anyway?
If you take only the parts you need, it weighs much less.
Also, if you run out of charcoal, you can substitute it with wood which you'll find plenty of it around the campsite.
Large Grilling Surface and Smoking Area
The 2 grill grates have a combined cooking area of 636 square inches and the smoker itself has 4 hooks inside the lid.
It's large enough for whole cuts or slabs of ribs and even large poultry like turkey or chicken.
Control Airflow and Temperature With Ease
On the lid, you'll find an accurate thermometer.
There are 2 dampers on both the lid and the bottom near the ash catcher.
Convenient Way of Restocking Fuel
The doors are big and flexible enough to add charcoal or/and wood without taking the grill apart or interrupting the cooking process in any other way.
Easy and Straightforward Assembly
The assembly is simple and straightforward but time-consuming as there are tons of nuts and bolts.
It took me about an hour and a half to do it.
What You Should Know Beforehand
Don't leave it in the rain as it will rust.
Be careful how you use it (both in terms of cooking and transporting) as the thing is made from thin metal that bends easily.
A Highly Versatile Smoker for the Money
For this kind of money, you won't find a grill that serves as a grill, 2 grills, a smoker, and a fire pit all in one unit. It's not the versatility alone that has convinced me to put it on the list. The compact design and convenience were also eye-catching.
Pros
Large cooking area
Easy assembly and disassembly
Included is a big water pan
Inexpensive
Easy to clean
Portable
Cons
Prone to rust
Made from thin bendable metal sheets
EasyGoProducts Big Bad Barrel Drum Charcoal Barbeque
This smoker is a barrel-style vertical smoker grill that truly deserves the name Big Bad Barrel.
Highly Versatile
Just like the Realcook above, this one is also just as versatile and you can use it as a:
Grill
2 separate grills
Smoker
Fire pit
You can even make pizza with it.
Perfect for Tailgating
Being smaller than the Realcook, it's more suitable for tailgating, beach parties, RV-ing, camping, and traveling.
Spaced correctly, you can fit the entire thing into your car or SUV.
The Assembly Is a Breeze
The parts perfectly fit on top of each other and the assembly is like putting together LEGOs. The same goes for taking it apart.
Expect an hour max to put it together once you first get it.
Ample Cooking Area
You can fit a whole pizza on either of the 2 grilling racks and can hang up to 10 pieces of meat to smoke or even a whole chicken (although only 6 hooks are provided).
Other Features Include
Built-in thermometer
3 utensils + hooks to hang them on
Independent charcoal pit
What I Didn't Like About It
There is no side door that you can open and restock on fuel. You need to lift the entire thing up to do so. This presents a challenge when you're smoking several pieces of meat.
Its low height means you can't smoke whole slabs of ribs because they're too close to the fire.
A Decent Portable Smoker With Lots of Bang for the Buck
The small footprint makes this one a perfect travel companion. Being lightweight means you can carry it around by yourself. The cooking is consistent and even, and the results are surprisingly amazing given the size and price point.
Pros
Lightweight
Compact
Portable
Versatile
Comes with many utensils and hooks
Easy to assemble and use
Cons
No side door for refueling
Quite short
Royal Gourmet CC1830F Charcoal Grill with Offset Smoker
Best Grill with Offset Smoker
The Royal Gourmet CC1830F is a traditional barrel-style charcoal grill that comes with an offset smoker box.
A Grilling Behemoth
This one boasts a total cooking area of 800 square inches:
The main grilling area (the porcelain-coated 1/4 inch wire grates) is 438 square inches
The chrome-plated warming rack has 179 square inches
The last 183 square inches belong to the offset smoker
Fine-Tune Your Cooking
You can adjust the charcoal pan by lifting the handles that hold it.
Adjust the vents to control airflow, temperature, and smoke.
The lid thermometer will tell you exactly how hot is the main chamber at any given moment.
Sturdy, Even While Moving
The whole grill, including the legs and wheels, is made from durable and sturdy material that won't give you that wobbly feeling when cooking or transporting it around the backyard or patio.
Plenty of Prep Space
In front of the main chamber is a shelf that has enough space for seasoning, condiments, and utensils.
What you don't need at the exact moment, you can place it on the bottom shelf.
What Needs Improvement
A side table would be nice.
Although it's supposed to be heat-resistant and paint chip-free, the reality is different. Expect paint to fall off on the bottom of the smoker and around the vent.
An Awesome Little Smoker With Big Potential
Overall, the grill exceeded all my expectations. I had more than enough space to cook and work with, and the offset smoker performed surprisingly well, given the relatively low price tag.
Pros
Large cooking area
Sturdy and durable construction
Classic-looking barrel design
Easy to set up and clean
Fast assembly
Affordable
Cons
No side table
Paint starts to chip off while cooking
Char-Griller E16620 Akorn Kamado Charcoal Grill
This egg-style grill is an engineering marvel. With its quirky look and insulated wall, it's capable of retaining heat for much longer than other "traditional" charcoal grills while consuming less charcoal in the process.
Triple Wall Insulation
Additional insulation means better heat retention, smoke, and flavors for much longer.
Another bonus is reaching the desired temperature faster.
And the best of all this is that you need less charcoal to do so because less heat is wasted.
Durable Construction
It's not made from cheap thin sheets of metal like some grills out there but from thick 22 gauge stainless steel.
The exterior is powder-coated for increased durability and protection from the elements.
The interior is porcelain-coated for even better heat retention and ease of cleaning.
Grill or Smoke – It's Your Pick
Cook virtually anything with this thing. Go as low and slow as 200°F / 93°C or sear steaks at the ultra-high temperature of 700°F / 371°C.
Control the level of smoke, airflow, and temperature with the bottom and top damper with ease for maximum results.
Cooking Potential
The main cooking surface, the porcelain-enameled cast-iron grates are 314 square inches large. You can cook up to 27 burgers on this surface.
It even has a warming rack. This is something you don't see often on a kamado. It's 133 square inches large and if it's in your way, you can just simply remove it.
Add them together, and you get a total cooking area of 447 square inches.
Foldable Side Shelves
On either side of the grill, there's a side shelf that you can fold down when not in use. The great thing about them is the hooks on which you can hang your tools.
Not Suited for Beginners
This grill is a cooking masterpiece – once you get used to it, of course.
Cooking on a charcoal grill is difficult enough for newcomers as it is, but cooking on a kamado is even more – especially if you're going to smoke with it.
Other Things That Bothered Me
The thermometer can be off by up to 50°F / 10°C.
Once I opened the box, I noticed a huge dent on the lid and several screws were missing.
Komado Grilling on the Cheap
What I especially like about this one is that it's a smaller grill, so it takes less fuel to get it going, as I'm not necessarily cooking for a block party every time I fire it up. Sometimes it's nice to just cook for one. I didn't have any problems with the rust, not even after a couple of rainstorms.
Pros
Light-weight
Even cooking
Achieves same cooking potential as grills twice the price
Nice looking
Spacious cooking area
Cons
A bit of a learning curve for setting temperature
Inaccurate thermometer
Problems with quality control
Char-Griller 5050 Duo Gas And Charcoal Grill
Best Gas Charcoal Smoker Grill Combo
The next best one is the Char-Griller 5050. I liked being able to switch between gas, charcoal, and wood, depending on what I'm looking for.
More Versatile Than You Can Hope For
Gas, charcoal, smoker, or a combination of all three, there's nothing this grill can't do.
During the holidays or weekends fire up the charcoal side and smoke some briskets and make some burgers in a few short minutes on the gas side during the week when free time is at a premium.
You can even try Texas-style smoking but for this, you need a dedicated fire-box which you must buy separately. In my honest opinion, for this price tag, they should have included it in the package.
Gargantuan of a Grill
Feed the whole block in a single batch on its massive combined cooking area of 1,260 square inches:
The gas side has 579 square inches (428 primary + 141 warming rack)
The charcoal side has 681 square inches (580 primary + 101 warming rack)
The gas half of the grill features 3 burners that can be independently controlled and output 40,800 BTUs in total and are ignited with a simple push of a button. If you want more, use the 12,000 BTU side burner that acts as an additional side shelf when not in use.
On the other side you'll find out that you can control the height of the charcoal pan and this way, you'll be able to fine-tune the cooking process. This pan also acts as the ash catcher – when done, simply lift it, and voila.
To add more charcoal during the cookout, you need to lift the grates. While this is not very convenient, the supplied grate lifter makes this task a bit simpler.
Plenty of Prep Space
The side burner, condiment basket, and the 2-story shelf underneath the grill make plenty of space for you to work with and store things you'll need.
What I especially like is the condiment basket in front. Unlike a normal shelf, this one has walls so there's no chance your spices, condiments, and favorite drink might fall.
This Grill's Bad Side
Even with wheels, this thing is a pain to move around. This shouldn't come as a surprise as it weighs 168 lbs / 76.2 kg.
If you're not careful how and when you use and store it, it can rust. Also, don't leave it and cook with it in the rain.
Gas for Convenience – Charcoal for Flavor
Having 2 grills means that I can grill on one side and smoke on the other. Both sides performed surprisingly well and the ribs I've smoked last weekend were mouth-watering terrific. I recommend this beast to anyone who likes the best of both worlds of gas and charcoal grilling.
Pros
Gas, charcoal, and smoker all-in-one
Large grilling surface
High-quality ceramic grates
Mobile
Durable
Cons
Heavy and difficult to move
Prone to rust
Texas smoker sold separately
PK Grills PKO-SCAX-X Original PK Grill & Smoker
The original PK grill & smoker is exactly what you'd expect: a regular charcoal grill with no bells and whistles. I felt that it brought me back to an age where grills didn't have all sorts of fancy buttons and knobs and the real skill was in the technique itself.
A Minimalistic, Pure Grill
It looks like a meat baby carriage wheeled into your bedside by an imaginary nurse serving you your fix of grilled goodness. Despite this, it still had that classic, simple, minimalist, yet familiar feel.
No fancy bells and whistles, it's just you, the grill, and the food.
Thick Aluminum Fire Box
The firebox is made out of very thick cast aluminum which retains heat almost just as well as the Akorn above, distributes it evenly across the entire grill, and doesn't rust like iron or steel.
It can withstand high temperatures, anything from 180°F – 700°F (82°C – 371°C).
Patented Improved Ventilation System
The folks at PK have worked tirelessly on getting the best grilling and smoking experience possible.
After years and years of hard work, they've done it with their own patented 4-point venting system: 2 vents are on the top of the lid, and the other 2 are at the bottom.
This system dramatically improves airflow and is way more effective than those on a Weber.
Better airflow means easier temperature and smoke regulation. This is the reason why briskets and ribs are always smoked to perfection.
Large Cooking Surface
You can cook
2 spatchcock chickens
A whole turkey
15 large burgers
on its grilling area of 300 square inches.
Other Notable Features That Make It Stand From the Crowd
The hinges are made from the same rustproof thick aluminum that is impossible to break under normal wear and tear.
Looong Warranty
This company firmly believes in everything stated above, that's why they've included a whopping 10-year warranty against rust, burnout, or breakage.
Not So Much Fun to Clean
There is no ash catcher or other ash management system so you need to clean this one completely old-style.
I tried it with a spatula, gathering the ash, dirt, and grime on one spot and then shoveling them into a container, vacuuming, and tipping over the whole grill.
Using an ash vacuum has proven the best and most convenient option. I know some of you don't have it, so I suggest tipping it over slowly and carefully.
Note: if you don't like these methods, then check out other ways to deep clean a charcoal grill, including the grate.
The Welterweight Champion of Grills
It's an amazing all-around grill that grills just as well as it smokes. The unique vent system makes smoking tender meat a delicious delight, and the minimalist look and feel make me completely focus on the cooking. The assembly was a snap – only a few nuts and bolts for the frame in just under 5 minutes. All I can say is .. WOW.
Pros
Minimalist grill – no bells and whistles
Holds the heat without any problem
Durable
Super quick assembly
Cons
Difficult to clean
Small – only 27 inches tall
Dyna-Glo Signature Series DGSS1382VCS-D Heavy-Duty Vertical Offset Charcoal Smoker & Grill
To get the true flavor that only a smokehouse provides, consider this smoker and grill combination by Dyna-Glo.
Smokehouse on Wheels
This beast has a total smoking/grilling capacity of 1,382 square inches and 5 stories on which you can smoke food for the whole family.
Each story has its own chrome-plated grate that's approximately 276 square inches large.
Although it's both a grill and a smoker all in one, it's more of a smoker than a grill.
You can grill in the offset fire-box but don't expect much as it's not that really big.
Other Neat Features
The spring handles ensure that you won't burn your hands while cooking.
On the top, you'll find 6 preinstalled hooks.
The offset fire-box offers a pull-out tray for convenient refueling and ash cleanup.
The integrated thermometer includes smoking, BBQ, and grill zones indicators so you'll know exactly how hot it is at the moment while getting the maximum results. It's also stationed at a comfortable height so you won't have to lean forward.
Bad Shipping Practice
This grill is both large and huge, so don't be shocked if yours arrives with a dent or bend. In my case, there was a big dent on the top but I wasn't bothered by it.
So when yours arrives at your doorstep, inspect every piece in detail.
Take Your Time Putting This Thing Together
It took me quite some time to put all of the pieces together.
A Solid Multi-Purpose Smoker at a Low Price
Actual smokehouses cost an arm and a leg while this Dyna-Glo comes at a fraction of this price and performs just as well. Trust me, you won't get such a well-built smoker with such a large cooking area for this kind of money.
It exceeded all my expectations, and I'm not easy to please when it comes to food.
Pros
Ample cooking space
Multi-tier smoker
Easy to use and clean
Can refuel charcoal without interrupting the cooking process
Cons
May arrive dented, scratched, or bent
Bulky and heavy
Time-consuming assembly
Cuisinart COS-118 Vertical 18″ Charcoal Smoker
Last, but not least: the Cuisinart vertical charcoal smoker/grill.
Big Enough to Smoke Anything, Versatile Enough to Cook Everything
Whether it's cheese, veggies, or meat there's nothing this one can't smoke (except a cigarette, of course).
You can fit a whole chicken or fish on either one of its two 18-inch steel wire grates that give out a combined cooking area of 510 square inches.
With the 2 air vents (one on top and the other at the bottom), you can easily manage the temperature and airflow for the best smoking and grilling results.
Super Easy to Use
The assembly is a breeze and it took me about half an hour (coffee break included). It' wasn't anything special, just a couple of nuts and bolts.
To begin smoking, just light up the charcoal and wood chunks, add water to the bowl, and you're done. Lastly, place your favorite food on the grate and you're all set.
Ash disposal is as simple as it can be as this one has a convenient ash catcher.
When you need to add more charcoal to the mix, simply open the vertically hinged lid. Here, there's no need to remove half of the smoker.
Highly Portable
Weighing in at only 25 lbs / 11.3 kg, measuring only 25 x 25 x 45 inches / 63.5 x 63.5 x 114.3 cm, and being modular, you can easily load in the trunk of your car.
Not That Durable
This grill smoker is one example of "You get what you pay for". For this kind of grill, the price tag is kind of low. Unfortunately, so is the construction.
You can easily bend or scratch the surface and if you leave it in the rain, it will rust.
A Decent, Inexpensive Bullet Style Smoker
It's cheap and it works. While some may like its compactness and portability, others might not. For me, I like the idea of taking it with me everywhere I go.
Pros
Inexpensive entry-level smoker
Compact
Lightweight
Extremely easy to use and clean
Holds a lot of food
Cons
Cheap construction
Prone to rust
Buyers Guide: How to Get the Best Charcoal Grill Smoker Combo and Not Regret Your Decision Later
Read this guide in full if you don't want to regret your purchase.
Everyone wants restaurant-grade BBQ meals at home. That's why there are many charcoal smoker grills out there.
Some are great, some are bad, and there are quite a few that are worse than terrible.
To prevent this shopping catastrophe, I've made this guide to simplify both your life and purchase.
A lot of die-hard grilling fans swear by charcoal because the smoke enhances the flavor.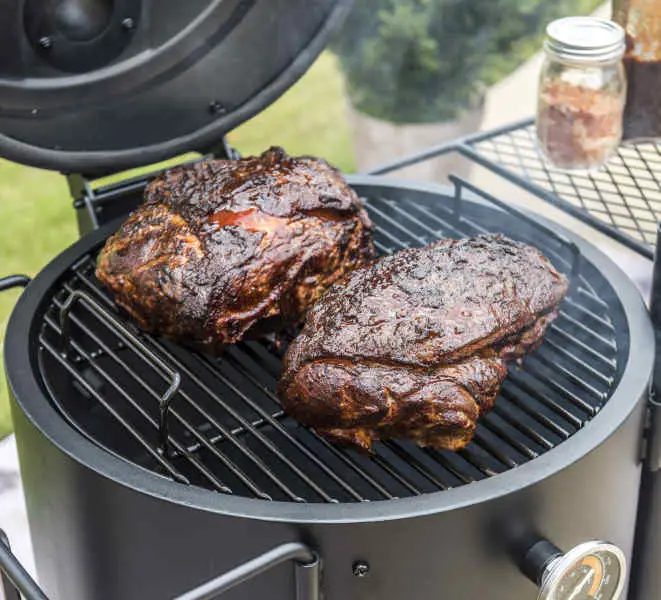 Consider These Factors
#1: What Do You Prefer More: Grilling or Smoking?
Not all of us are grilling fanatics and want to make simple burgers during the weekday, and when the weekend and/or the holidays start we can use the extra time to smoke some sausages and steaks.
If the particular grill smoker combo has an emphasis on smoking and you grill most of the time, you'll have a bad time.
#2: Space
Unfortunately living in a small apartment building is not as fun as it used to be.
Especially if you want to grill.
Some people can't afford to live in suburban areas where they have a big backyard.
#3: Ease of Cleaning
Is it easy to clean? Do you want to spend hours scrubbing the grates and the lid after a huge BBQ party?
Some grates are porcelain-coated. Porcelain is a fantastic non-stick surface able to withstand high temperatures.
#4: Quality
Don't go for the cheapest one you can get.
You'll get inconsistent cooking – hot and cold spots, it will be difficult to assemble, and will fall apart after a year at best.
If you can't afford a better charcoal grill smoker at the moment, I suggest you wait a few months more and save up for a better quality one. Your wallet will thank you for this.
#5: Temperature Regulation
To get the perfect smoked ribs which the meat will melt in your mouth and you'll tear it from the bone just by touching it, the temperature needs to be consistent.
If the grill smoker doesn't have a temperature gauge, you need to get one.
#6: Price
Last, but not least. While your budget is an important factor to consider, it's not the most important.
Why? Just read #4 again.
Smoking on a Charcoal Grill
What Is The Difference Between A Grill And A Smoker?
Short Answer
Grills use high heat and/or flames to cook food quickly, and smokers use smoke at low temperatures to cook food slowly.
Long answer
A grill cooks hot and fast and keeps the heat in an open space, directly under the food.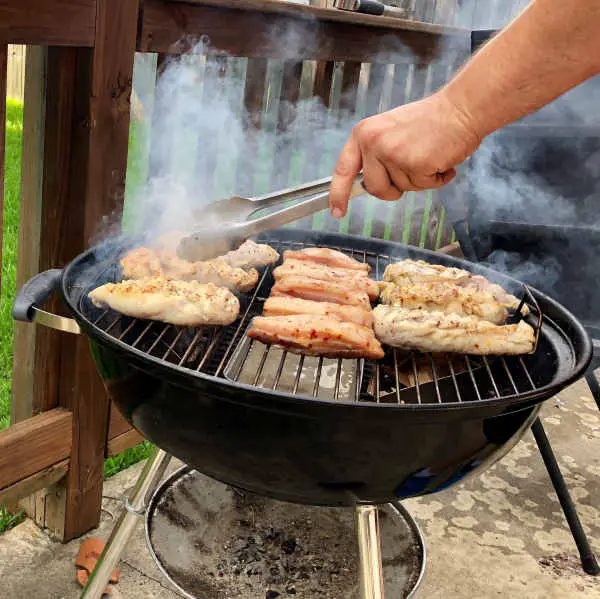 There are many types of grills:
Direct heat
Indirect heat
With or without the lid
Flat top
They have many key differences but the cooking principle is the same.
Smokers rely on smoke and low temperatures to cook meat. This requires quite more time than grilling – from several hours to a whole day, and a lot of patience.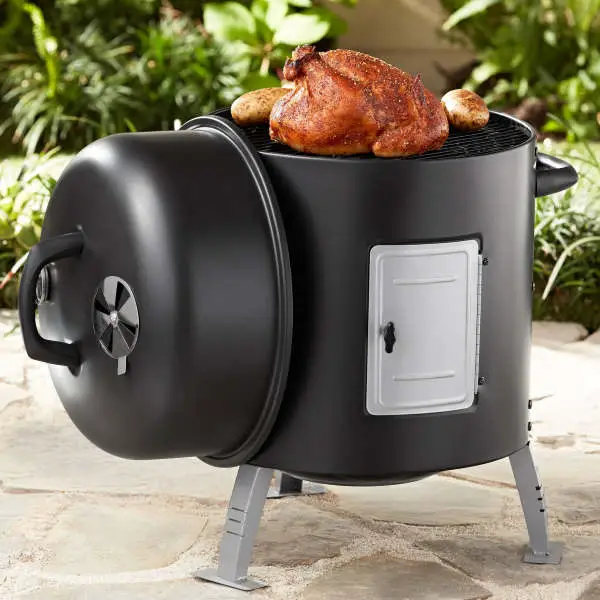 There are 2 types of smoking:
Cold smoking uses even lower temperatures (125 – 175°F / 51.6 – 79.4°C) than hot (200 – 250°F / 93.3 – 121.1 °C). Because of this, the food needs to be cured unless you want to spend a month in a hospital due to food poisoning.
How Do You Use A Smoker Grill Combo?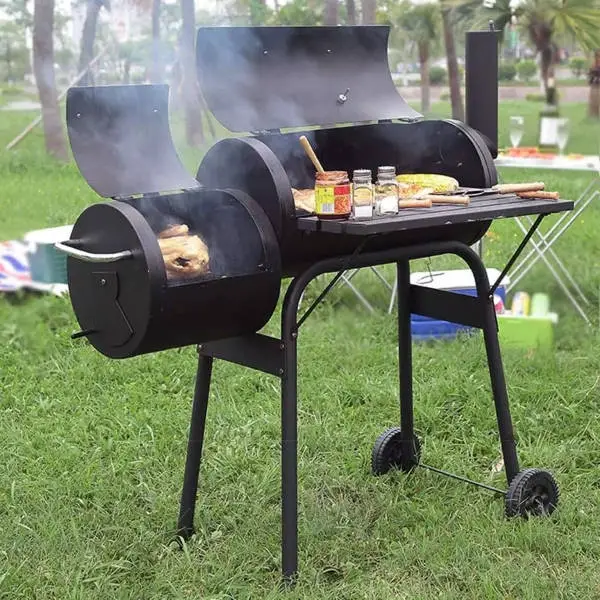 A smoker grill is more complex to use than an ordinary grill. That's why it's important to take your time.
If you're going to use it as a grill, i.e. just start it up and throw some meat on it, you'll ruin your barbeque.
Preliminary preparations: Marinade the meat and soak some wood chippings. Light the charcoal in the firebox and after 20 minutes add the chippings
Add moisture: Once the smoker is preheated, place a hard foil bowl filled with water below the grill grate
Place the meat: You didn't forget to marinate the meat, did you? Once the grill is heated to about 250°F / 121°C, place the meat on the grate just above the water bowl
Wait: Close the lid and leave the meat to cook for about an hour and a half per pound

Avoid opening the lid. This prevents heat from escaping and lowers cooking time

Control temperature and airflow: regularly check the temperature with a meat probe or thermometer and airflow with dampers.
Check fuel and food temperature: Check under the lid for food temperature (stab it with a meat thermometer), water (pour some if the bowl is almost empty), and fuel (add some in the smoker box).
That's it. Don't forget to clean the grill smoker afterward.
Can I Use My Charcoal Grill as a Smoker?
You can turn almost any charcoal grill into a smoker.
The main difference between smokers and grills is where the fire is placed. Smokers have it in a different place or as far away from the food as possible
How Do I Use My Grill Like a Smoker?
Fire up some charcoal in a chimney
On one half of the grill, place some unlit charcoal and wood. On the other half, place an aluminum pan
Empty the chimney on top of the unlit charcoal
Pour water into the pan
Close the lid
Open the vent to about a ¼
Wait until you reach the desired temperature of 225-250°F / 107-121°C
Tip: Don't know how many charcoal briquettes you need to reach 250 degrees? Then check out this guide.
A Few Tips on Smoking
Smoking, in general, is not difficult.
If you want to perfect this cooking technique, see this video below on how to get the best smoking results and what you need to avoid. After the video, see the answers to the most common questions people ask about smoking.
Is Smoking Better Than Grilling?
It depends on your taste and time.
Smoking not only enhances the food with, well, smoke but also with moisture (smoked food tends to be moister than grilled. That's why you can pull off the bones from ribs so easily). But this takes time, up to a whole day.
Grilling, on the other hand, is much faster but tends to dry out the food.
What you smoke or grill is also a factor. Different food produces different results. For example, burgers are better when grilled and ribs smoked.
I like smoking way more than grilling. I'm sold by the taste. But I don't always have time for this.
Why Does Smoked Meat Taste Good?
It's the aroma: a combination of gases, water, fire, and fuel (charcoal, wood, food,…).
This article from House Rock Kitchen explains it in detail, and it's worth reading it.
Why Is Meat Pink When Smoked?
When burning, wood and charcoal produce nitrogen dioxide or NO2. When it enters the meat, it reacts with it and loses an oxygen atom, turning it into nitric oxide or NO.
The NO combines with the myoglobin in the cells and forms this pinky ring around the meat.
BTW, this pink part of the meat is called a smoke ring.
What Is Smoked Beef Called?
Pastrami.
What Is The Easiest Meat To Smoke?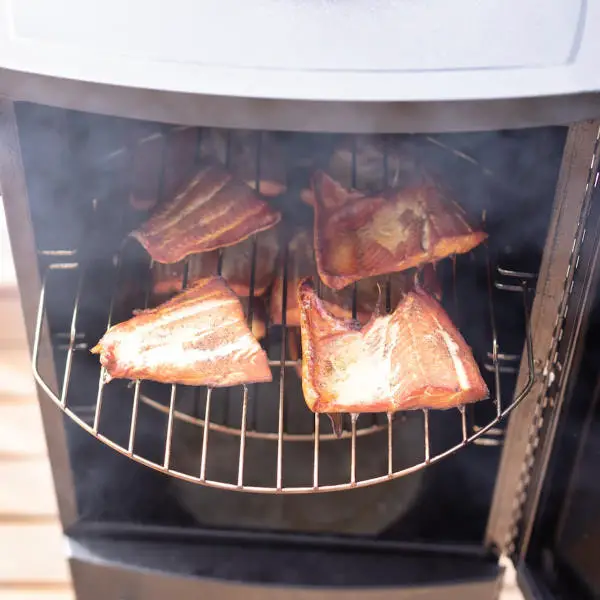 Beef
Tri-tip
Ribs
Brisket
Chuck roast
Lamb
Salmon
Turkey, Chicken
Pork
Sausages
Get the Best of Both Worlds
My award for what I personally felt was the best charcoal grill smoker combo goes to the Masterbuilt Gravity Series 560 because of its unique design, versatility, convenience, and outstanding performance.
The Char-Griller Akorn Kamado deserves a special mention. Its tiny, rocket-ship launching design fits a corner perfectly. I found myself using it even after I'd finished reviewing all the others.
If you love cookin' on gas as much as charcoal, consider the Char-Griller Duo 5050. This baby combines a charcoal grill, a gas grill, and a smoker all into one unit.
Budget-oriented grilled should try the Royal Gourmet CC1830F and/or Cuisinart COS-118. Both perform surprisingly well, have a large cooking area, and are durable despite their low price.
The Big Bad Barrel is a wonderful barrel smoker that's ideal for grillers just stepping into the world of smoking.
For the purists, I recommend the Original PK Grill & Smoker. Its only bell and whistle is a side shelf. Here, it's you and the food.
If you want to turn your backyard into a smokehouse, the Dyna-Glo Signature Series DGSS1382VCS-D has you covered.
What is your best smoked meat? Share your recipes in the comments below.