To crush ice you need a blender with a powerful motor and blades to match.
Not all blenders are up for this task. If you put ice into a cheap underperforming blender, expect trouble: the motor will burn out, the blades will become dull or break, or both.
To make ice-cold smoothies and tasty margaritas without ruining your precious machine, take a look at these best personal blenders for crushing ice below.
Which Blender Is Best for Crushing Ice?
The Best Personal Blenders for Crushing Ice
Nutri Ninja BL642 Personal and Countertop Blender with 1200-Watt Auto-iQ Base, 72-Ounce Pitcher, and 18, 24, and 32-Ounce Cups with Spout Lids
The Nutri Ninja BL642 is the ultimate answer when it comes to crushing ice.
Hulk With an Electric Cord
This blending monstrosity features a powerful 1,200 watt / 2 HP motor that spins the sharp blade assembly up to 20,000 RPMs.
This, combined with Total Crushing Technology, is more than enough to turn ice into snow and both fresh and frozen ingredients into consistent silky-smooth smoothies.
Unlike the original Hulk which comes in green, the Nutri Ninja comes in a combination of shiny silver and black.
High Capacity Pitcher
The 72 oz BPA-free Tritan pitcher has a blending capacity of 64 oz (1.9 L).
You can make up to 8 cups of smoothies at once.
Drink at Home or on the Go
If you don't have the time to enjoy a glass of your favorite smoothie, take it with you on the road with one of these 3 supplied travel cups:
18 oz (0.5 L)
24 oz (0.7 L)
or 32 oz (1 L)
Modern-Looking Control Panel With 5 Intelligent Preset Programs
The control panel comes with 5 intelligent preset blending programs (the Ninja's very own patented Auto-iQ Technology):
Frozen Drinks / Smoothies
Blend
Ultra Blend
Puree
Pulse
Other buttons include:
On / off
Low, medium, and high speed
The timer above the on/off switch shows in how much time your smoothie will be ready. It's a countdown timer for the specified program.
What to Consider
It doesn't come as a surprise that this 1,200-watt blender is loud.
It's very tall: 17.5 inches. This may present a problem for people with a small kitchen and storage.
The Creme de la Creme of Ice Crushers
When it comes to crushing ice, the Nutri Ninja wins the race by a mile. It doesn't excel only at this, though, but at everything you throw at it (or in it, to be precise).
Not satisfied with this Ninja? Then take a look at its brother: the BL660.
Pros
High-capacity pitcher with 3 smaller travel cups
Powerful motor and sharp blades
Easy to clean and use
Cool looking
Smashes ice with ease
Nutribullet RX Personal Blender for Shakes, Smoothies, Food Prep, and Frozen Blending (N17-1001)
Eat well, lose weight, and live healthy with the NutriBullet Rx. It's like the original NutriBullet but on steroids.
Ice Crushing 1,700 Watt Motor
There's nothing the Rx can't do, including crushing ice. With its 1,700-watt motor and sharp blades, this NutriBullet turns ice into snow soup.
Button-Free Blending
Instead of searching the control panel for the right button, this nutrition extractor turns on and off automatically.
Convenience at its highest.
Make Soups With This Thing
It's able to make hot soups in the blink of an eye.
This is a great feature for anyone with a busy lifestyle who can't afford the time to make a hot soup on the stove.
The Cleaning Is a Breeze
Put some warm soapy water into the container and start the blender. That's it.
If you're still not satisfied, put everything (except the motor base, of course) into the dishwasher.
Wide Variety of Cups
Included with the blender are 3 different cups:
24 oz (0.7 L)
30 oz (0.89 L)
45 oz (1.3 L)
With travel lids.
Insider Scoop
It's quite loud. One reason is the powerful motor, and the other is the metal gears instead of plastic.
The Most Efficient Nutrition Extractor
Like other NutriBullets, the Rx is a thing of beauty. With its unique look, powerful motor, sharp blades, and many different-sized cups, you can make anything from icy margaritas to hot vegetable soups.
Read more about this blender in this in-depth review.
Pros
Very powerful
Easy to clean
Can make hot soups
Cheap compared to other blenders of the same power
Vitamix Professional Series 750 Blender
The Vitamix professional series 750 (model 1957) is a powerful versatile Cadillac of a blender that not only looks great but delivers amazing results.
2.2 Hp of Unstoppable Raw Blending Power
This ice crusher has a powerful 2.2 Hp (=cca. 1640 watt) high-performance motor capable of turning rock-solid ice cubes and frozen fruit into consistent creamy ice cream.
It spins the blades so fast that it can cook hot soup in under 10 minutes.
Built to Last
The whole blending system: the blades, motor, and drive system are completely metallic.
Feed the Whole Bunch
The 64 oz (1.9 L) pitcher can make up to 8 cups in one batch.
What makes this one stand out from the rest is that its low profile: instead of being thin and tall, it's short and wide. This is great if your kitchen has low space between the overhead cabinets and the counter.
Razor Sharp and Durable Blades
The blade assembly is made from laser-cut stainless steel that's resistant to dulling, bending, and breaking.
Highly Versatile
Besides making hot soup, smoothies, and crushing ice, this kitchen tool can grind nuts (including coffee beans), mix batter, knead dough, and make dips, sauces, dressings, and baby food.
There's nothing this blender can't do.
Easy-to-Use Control Panel
The control panel has 5 preset programs. You can fine-tune the speed of each with the speed dial.
The Caveats
It doesn't perform well with small batches. While making a smoothie for one cup, it tends to explode the ingredients all over the pitcher. I had to stop the machine, scrape the fruit down, and start over.
It's quite expensive. Most decent blenders cost from $100 to $200 but this one costs even more. Whether it's worth the price, it's entirely up to you.
It's loud. Now there's a shock.
The Cadillac of Blenders
If you consider the price tag, it really is one. But you won't have to replace it after a few years as this thing will last you a lifetime if you properly use it and care for it. In the end, you'll decide whether it's worth spending $100 every few years for a new blender or paying a little extra and being worry-free for the rest of your life.
Pros
Long-lasting
Powerful
Versatile
Easy to use and clean
Excels at crushing ice and other frozen ingredients
Cons
Noisy
High price tag
Not good for small batches
Breville BBL620SIL the Fresh and Furious Countertop Blender
A powerful piece of machinery, this ice crusher by Breville truly deserves its nickname: The fresh and furious.
A Name You Can Trust
It doesn't come as a surprise to me that this powerhouse is made by Breville, a brand whose products have never disappointed me.
I have tried their several other products, including juicers and espresso machines, and was impressed just as much.
Turns Ice Into Snow in Seconds
With its 1100 W motor and specially designed blades, this blender will process anything you throw into it (not just ice) into a thick and consistent paste.
The blades are as sharp as a scalpel and made from surgical-grade stainless steel.
High-Capacity Pitcher That Feeds up to 6 People
The fresh and furious features a 50 oz (1.5 L) pitcher that's made from BPA-free Tritan.
Not Just for Ice and Smoothies
It's capable of doing more than this. It comes with several other pre-programmed settings that greatly increase its versatility, including:
Mixing
Chopping
Blending
Pureeing
Liquifying
Super Easy to Clean
Just pour some warm soapy water into the pitcher and turn it on for a few seconds.
Voila! Both the blades and the pitcher are spotless.
Vac Q Compatible
You can attach a special high-pressure vacuum pump called the "Vac Q" to the pitcher.
This thing sucks all of the air out from the blender which greatly enhances flavor, texture, and colors.
It doesn't have any effect on ice but for other things like smoothies, cocktails, soups, and dips it's a marvel.
Too bad it doesn't come with the package. You have to purchase it separately for an additional $150.
Special Gift Included
You get 10 recipe cards that include smoothies, marinades, and dips.
What I Don't Like About It
Despite being advertised as quiet, it's not. It makes quite a bit of noise, especially when making hard foods.
While the pitcher and the blades are easy to clean, the lid gasket is not. You need to remove it and clean it thoroughly after every use. Otherwise, mold might begin to develop.
Pros
Powerful
Easy to clean
Sleek modern design
Durable
Versatile
High-capacity pitcher
Cons
Loud
Lid gasket is a pain to clean
KitchenAid Diamond Vortex 5-Speed Blender, KSB1575 (Aqua Sky Blue)
This KitchenAid blender is a retro-looking blender available in a pallet of colors.
Durable High-Capacity Pitcher
The 60 oz (1.8 L) pitcher is made from robust BPA-free plastic that's resistant to scratches, shattering, and stains.
It's also safe to clean in the dishwasher.
Simple and Elegant Controls
The control panel has 6 preset programs:
Stir
Chop
Mix
Puree
Liquify
Crush ice
and the pulse function.
Amazing Ice Crushing Power
Despite its 550-watt motor, it handles ice surprisingly well.
Bigger isn't always better, you know.
Long Warranty
It comes with a 5-year limited warranty.
Sturdy Metal Base
The base is made of die-cast metal, making it more sturdy and durable than plastic.
Poor Quality Control
When I tried it for the first time, it died after a few minutes. While I got another one immediately without any complications, it was still an unpleasant experience.
Save the receipt and packaging, and make a few test smoothies to see if yours need a replacement, too.
A Great Looking Blender Worth Every Penny
A nice, retro-style-looking blender that packs quite a punch. Even though it may look like it has an underperforming motor, don't be fooled by the wattage as it can crush ice and pulverize frozen produce with little to no sweat.
Pros
Versatile
Available in many colors
Durable high-capacity pitcher
Great looking
Crushes ice and makes smoothies very nicely
Cons
Quality control issues
Loud
Blendtec Total Classic Original Blender
The Blendtec total classic original blender is an American classic with a unique design and a powerful motor capable of turning any ingredient, no matter how solid, into mush.
Be There or Be Square
This one wasn't there and maybe that's why it's four-sided instead of round.
Pretty unconventional for a blender, but the unique look makes it stand out.
Unstoppable Blending Power
Ice is no match for the 1560-watt powerful motor which can turn it into snow in mere seconds.
The blades cannot become dull – they are already blunt. This is intentional as the motor spins the blades so much it appears they're razor-sharp. They're also thicker than usual blades for increased durability.
It Has Proven Itself on Many Occasions
This blender is so popular, reliable, and durable that it has found itself in many known restaurants like:
Peet's
Dunkin' Donuts
Panera Bread
Checkers
Jamba Juice
Baskin Robbins
Bahama Bucks
Planet Smoothie
This is more than enough proof to show you that this blender is professional-grade material.
Ideal for 4 People
Make up to 4 cups or 32 oz in its BPA-free 75 oz jar.
Looong Warranty
This one is backed up by an amazing 8-year warranty.
Because it's completely made in the US and not in China, you won't be needing it.
One-Touch Buttons for a Convenient Blending Experience
The Total Blender Classic features 6 preprogrammed cycles:
Ice Crush
Smoothie
Hot Soup
Ice Cream
Whole Juice
Batters
My Experience With This Blender
The first thing I've noticed is the size of the jar vs how much you can actually make in it. The jar is 75 oz but you can only make 32 oz. The difference is big.
It's very loud. Louder than you'd expect. It's even louder when grinding grains. Thank goodness this doesn't happen when crushing ice.
The Muscle Car of Blenders
It's an amazing blender that excelled at all tasks which I've given it. The smoothies were silky smooth, ice cream had a consistent texture, and the ice turned to snow. I wish they would have done about the noise. Or maybe this was intentional…
Pros
Blends without overheating
Truly high powered
Easy to clean
Will blend anything
Fit's under the counter
Unique look
Oster Pro 1200 Blender with Professional Tritan Jar and Food Processor attachment
Best for Bulletproof Coffee
The Oster Pro 1200 is a professional personal blender food processor combo with exceptional ice-crushing power.
Made for Crushing Ice
The 1,200-watt motor is more than powerful to crush ice and other rock-solid ingredients.
The sharp blades spin in both directions. You will never have to worry about the machine jamming.
Increased Versatility
This particular blender comes with a 40 oz (1.2 L) food processor attachment.
Easy-to-Use Control Panel With Many Settings
The buttons are large enough to find them in the dark and light up when you press them so you don't push a different program by mistake.
These programs are:
Green/frozen smoothies
Food chop/salsa
Milkshakes
Low
Medium
High
Pulse
Wide and Durable Jar
The main jar is 64 oz (1.9 L) and made from BPA-free Tritan plastic that's not only food safe but extremely durable. It's also dishwasher safe.
Drawbacks
The food processor attachment is made from cheap plastic materials and there's a chance a piece might find its way into the food.
While processing, it tends to shake a lot and you have to place your hand on top to stabilize it.
A Decent Powerful Blender for the Price
While there are other blenders on this list that perform better than this one, the Oster is a darn great blender compared to others with similar specs and price tags. It does an amazing job crushing ice and making smoothies. Just don't place too much trust in the food processor, though.
Pros
Comes with a food processor attachment
High-capacity pitcher
Amazing ice-crushing potential
Easy to use
Cleanup is a breeze
Cons
Cheaply-made food processor attachment
Unbalanced
JAWZ 83515 High-Performance Blender
With this much ice-crushing power, the JAWS truly deserves its name.
Ultra-High Performance
This blender features a commercial-grade motor capable of outputting 3.5 Hp or 2,600 watts of raw ice-crushing and blending power.
Durable Tritan Jug
In the food-grade BPA-free jug you can make up to 64 oz (1.9 L or 8 cups) of refreshing smoothies. It features a soft-grip handle and a 1.5 oz measuring cup.
It's also four-sided like the Blendtec above.
Variable Speed Control Dial
This particular model features a minimalistic control panel:
10-speed control dial
Pulse button
Timer
My Experiences
It struggles to blend thick spreads and dips.
Be careful when placing the pitcher into the base as there's no locking mechanism. If you put it at an angle, you'll damage the blender.
It's quite noisy when crushing ice and other tough ingredients.
Nice Blend of Technology and Power
If you've seen the video above, you'd know why it's called JAWZ with all caps. The powerful motor and high-performance blades make this one the perfect ice crusher.
Pros
Exceptionally powerful
Durable
Minimalistic easy to use control panel
Simple cleanup
Cons
Loud
Has trouble blending thick recipes
No locking mechanism
Ninja Nutri Pro Compact Personal Blender
The Ninja Nutri Pro Compact is small enough to accompany you on your journey yet big and strong enough to pulverize anything you throw into it.
Travelers Best Friend
Being only 6 x 6 x 14 inches and only weighing 4.80 pounds, you can take it with you on your next business venture, vacation, road trip, etc.
It comes with 18 oz (0.5 L) and 24 oz (0.7 L) dishwasher-safe cups with sip and seal lids so you can drink as much or as little as you want.
Simplistic Design
There are no buttons, no pulse function, and not even a start button.
You just plug the machine in and push down the cup.
At a glance, it reminds me of NutriBullet.
900 Watts of Raw Blending Power
You'd think a blender this size would be weak and feeble, but you're mistaken. Even I was surprised at how well it crushed ice and frozen fruit.
It's Noisy
The first time I started it, I was startled by the noise it made as I haven't expected it to make such a ruckus.
A Fantastic Travel Blender
This one is the most compact and portable blenders on this list. Despite its size, it packs quite a punch and can blend frozen fruit and ice into tasty smoothies with a silky smooth texture.
Pros
Compact
Portable
Lightweight
Easy to clean
Simple minimalistic look
Zwilling Enfinigy Personal Blender, Piranha Teeth Cross Blade for Ultimate Blending, Smoothies, Shakes, and More, 20 fl oz Breakproof Travel Cup with Lid, BPA Free
Best Budget
Single-serve blender with high performance
Razor-sharp cross blade with piranha-serration
Smoothie and Pulse settings
500 W, 110-120 V
Break-proof, heat- and cold-resistant, and easy-to-clean BPA-free 20 fl. oz. Tritan jar
Non-spilling
Developed by ZWILLING with German engineering, designed in Milan, Italy
Sleek design
This personal blender by Zwilling is a powerful single-serve blender that pulverizes anything that comes into contact with it.
Blades as Powerful as Their Knives
The brand (Zwilling) is a prized knife manufacturer well-known for its durable and sharp knives.
I personally own one of their knife sets. It performed so great that I declared it one of the best knife sets under $200.
The blender's blade has piranha-like serrations making it highly effective at blending tough ingredients (not just ice).
Don't Be Fooled by Its Wattage Rating
Despite being rated at only 500 watts, it still makes silky-smooth smoothies, turns since into snow, and even blends spinach and kale.
Sturdy and Durable Jar
It features a single 20 oz (0.6 L or 2.5 cups) Tritan jar that's break-proof, cold-resistant, and easy to clean.
One-Touch Operation
This is one of the things I really like about this one: its simplicity.
The blender only has 2 settings:
Both are activated with a turn of the knob.
Say Goodbye to Spilling During Blending
Don't you just hate it when you forget to put on the lid or don't tighten it all the way? I do, I really do.
Fortunately, this won't happen here though because the blender has a safety lock. The blender starts only when the jar is correctly inserted. It will also stop immediately should the lid open while blending.
Ideal for Those With a Hectic Lifestyle
This baby comes with a to-go drink lid that turns the jar into a spill-proof to-go bottle.
Surprisingly Quiet
This is the quietest blender on this list.
It still makes some noise, though, just less.
The Cons
The locking mechanism can sometimes be a pain as the jar needs to be inserted at just the right spot for the blender to work. It took me a few tries to get the right feeling.
Measuring lines are sometimes really hard to see and you need to look at them at a certain angle to see them properly.
Pros
Modern design
Simple to use
Easy to clean
Powerful ice-crushing blades
To-go drinking lid included
Surprisingly quiet
Cons
Fiddly locking mechanism
Hard to see measuring lines
Not Every Blender Is the Best Personal Blender for Crushing Ice
You can't just pick the cheapest blender you can find and crush ice with it.
Well, you can technically but it will surely be a one-time thing as you'll surely damage it beyond repair.
In this regard, I've gathered the most commonly asked questions people ask when searching for a blender powerful enough to pulverize ice.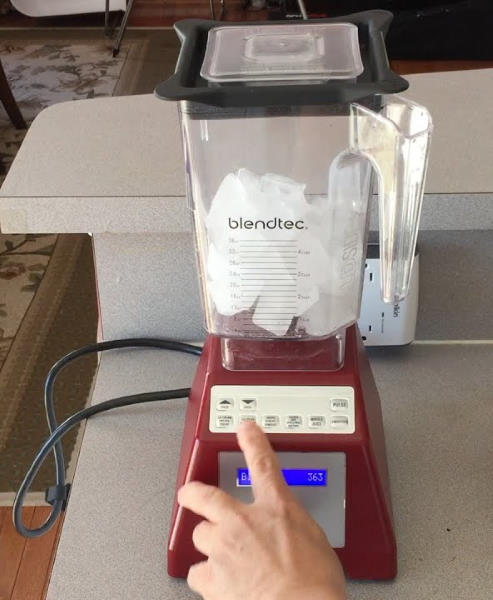 Can You Use a Blender to Crush Ice?
If it's designed for this, yes. By "designed", I mean it has a strong enough motor and the right blades.
Cheaper models with underpowered motors have a tendency to overheat and/or even burn out the motor. You also risk dulling or breaking the blades.
But you can get around this: leave the ice (and other frozen ingredients) out of the freezer for about 10 – 15 minutes to soften it up.
How Do I Know if My Blender Can Crush Ice?
One way is to check the manufacturer's website or the packaging. If it says it's up to the job, then this is a good sign.
Although this is not always the case. Some specify that you need to add liquid to the mix, thaw the ice before throwing it in, or use a very small amount.
To be 100% sure that it can crush ice with ease, see what other people have to say about this particular model. Read as many reviews as you can find.
Can All Blenders Crush Ice?
By default no. As mentioned earlier, some aren't designed for this and you can actually break them if you do this.
You can thaw it for about 10 minutes before putting it into the machine but not everyone has the time for this.
How Many Watts Do You Need in a Blender to Crush Ice?
At least 300 watts – this is the absolute minimum. The sweet spot is between 600 – 1,000 watts. Note that the wattage itself isn't the only factor you need to consider for blending ice.
The blades play an important role, too: not only the sharpness but also the shape and thickness.
For example, the Blendtec above has dull blades by design but excels at crushing ice.
Can a 300 Watt Blender Crush Ice?
Possibly, but I don't recommend using such a low-wattage blender even though the manufacturer says it can do it.
But if you're really intent on crushing ice, thaw it on the counter for about 10 minutes so you don't overheat the motor or damage the blades.
Can a 500w Blender Crush Ice?
Highly more likely than a 300-watt one. Just to be safe: see what the manufacturer and other people have to say about this model.
500 watts is something in between "there's no way in hell I can do this" and "Ice, you mean this squishy thing over there?".
Can a 700 Watt Blender Crush Ice?
Now we're talking! 700 watts is a very high power when it comes to crushing ice.
The ideal wattage is 1,000 and above but some of us can't afford one.
Will a NutriBullet crush ice?
This depends on the model.
The Rx does the job remarkably well, but the Pro 900 struggles:
Why? It's not the wattage (Rx has 1,700w and the Pro 900w) but the improved overall design.
Can You Crush Ice With a Ninja?
Just like with the NutriBullet, it depends on the model. Some perform this job remarkably well while others do not so much.
For example, the Nutri Ninja Auto IQ crushes ice with ease, just like the Nutri Ninja Pro Compact reviewed above:
The same goes for the BL660:
Also, the Kitchen System Pulse, KS1200, and the BN701 performed surprisingly well.
Crush Ice With a Push of a Button
Now that you've reached the bottom of this guide, you know exactly which blender turns ice into snow and what to look for when searching for the best personal blender for crushing ice.
In case you missed it or you intentionally scrolled down to the bottom, here's a quick summary:
If you're looking for an overall blender that does other things just as well as turning ice into snow, go for the Nutri Ninja Bl642, Vitamix 750, or Oster Pro 1200. The latter also comes with a food processor attachment.
The NutriBullet Rx, Nutri Ninja Pro Compact, and Zwilling Enfinigy are perfect for making smoothies on the go and for those with little kitchens where every inch of space matters. NutriBullet also has the ability to make hot soups.
Both the Blendtec Total Classic and JAWZ 83515 are powerhouses, capable of pounding any tough ingredient (not just ice) into dust. This makes them both perfect for blending frozen fruit, nuts, and green veggies.
KitchenAid Diamond Vortex is a retro-looking blender that comes in a variety of colors and will turn your kitchen into a 50's diner.
Last but not least is Breville the Fresh and furious. A compact blender that packs quite a punch at a relatively low price – ideal for budget-conscious individuals.
Did I miss a model? Recommend a blender down in the comment section below and I might just add it.