'Tis the season to be grilling. Whether you're just starting out grilling or need to replace an old rusty gas grill, getting a new grill is kind of like a new chapter in life. You start with a new grill, waiting for you to fire it up.
For $400 you'll get a pretty decent gas grill that won't rust away or had its paint chipped off after the first barbecue session.
But not all grills are made equally. While the above holds true, you still need to be careful when getting yourself the best gas grill for $400 or less. Some stores are selling grills that you can get somewhere else for half the price, while others sell them either poorly made or hastily constructed so that they can get them from the factory to the store as fast as possible.
I don't want you to get screwed like I got when I first bought my gas grill. I was saving them $400 for almost half a year! Because of this I've made my homework and gathered 6 top rated gas grills under 400 bucks. Check them out below.
Best Rated Gas Grills Under $400
What Are the Best Gas Grills to Buy?
What Is the Best All Around Grill?
What Is the Best Weber Gas Grill to Buy?
Which Gas Grills Last the Longest?
What Is the Best Outdoor Gas Grill to Buy?
Reviews
You've seen which gas grill is best based on a category. Now read why they are. Read them carefully and be on the lookout for their special features that make them stand out.
Weber Spirit II E-210
The Weber Spirit II E-210 is a handsome liquid propane grill that comes in black or mocha.
The Power
This grill comes with 2 cooking zones controlled by 2 temperature gauges, which are heated by 2 burners. But each burner delivers a whopping 13,250 BTU, keeping up with the competition from other grills.
The Features
It has 2 side tables that fold down and have hooks at the end for your utensils. The grease pan at the bottom easily slides out for cleaning. Because this Weber is in their GS4 grilling line, it comes with an Infinity electronic ignition system and flavorizer bars. The grilling grate is porcelain-enameled for easier cleaning, giving the grilling area 20 inches long by 17 inches wide, which is plenty for a big party, and there is even a warming rack that can be folded out of the way.
Connect It to Your Phone
It's iGrill 3 compatible meaning that you can download a phone app to see if your grill is heated up enough, or how your meal is doing as it cooks, especially for longer cooking times. This grill is a newcomer on the market and it's a great buy.
The Low-Down of this Weber Grill
This grill takes about three hours to set up, so set aside a time block and go slow and steady. The instructions are fair, with no major issues and easy enough to understand. Mine was missing a screw, and I was able to call up the company to get a new one sent, but in the end, I ended up going to the hardware store to finish up my assembly instead of waiting for it to arrive.
This grill is susceptible to problems with the plastic parts snapping off in the delivery process, as well as other dents and dings from the delivery trucks. If you do encounter any issues with your grill, just contact Weber's awesome customer service support line and they'll send you a new one. You'll definitely want to get a grill cover for this grill to save it from the rusting.
Final Verdict
The cooking process on this Spirit II grill is simple and easy and all of my food came out tasting great. My char marks were perfect and my steaks and chicken were done to my exact preferences. This is a great grill with no major issues.
Royal Gourmet Classic
The Royal Gourmet SG6002 Classic isn't just a regular propane grill but a cooking limousine! If you want big space and lots of burners to cook for a royal wedding banquet, this grill is the man.
Hot Damn!
It's got 5 burners at 10,000 BTU and a 6th side burner for searing at 12,000 BTU. Let's not forget the side burner which has 9,000 BTU. Add this together and you get 71,000 BTU. That's pretty hot.
How Much Can You Cook With This Baby at Once?
The grilling area is 598 square inches, enough for:
12 giant-sized burgers
3 – 6 racks of ribs
5 salmon halves
15 – 18 chicken quarters, and
at least 5 porterhouse steaks
It also has a warming rack 199 square inches large, totaling 797 square inches. This gargantuan is more than enough to feed the entire block.
Other Features Worth Mentioning
It has 2 side workstations that can be folded away, with the right workstation hosting the 7th burner. The burner's under a flap so you can have that workstation end cook stuff, or you can use it as an extra surface.
What Others Don't Tell You
This grill has some issues, such as being constructed form very lightweight metal and not feeling sturdy. The legs and wheels aren't very durable and can snap off with time. There are some factory quality control issues like parts not fitting correctly or being bent. Like all grills, it will rust if left exposed to the elements, so get a grill cover.
Summary
The grill is easy to put together and the instructions are pretty clear. The 2 workstations are fabulous and having such a large cooking area means you never have to mentally plan out your grilling spaces. The grill cooks well, heats up reasonably fast, and has no issues with hot or cold spots.
Dyna-Glo Smart Space Living
Don't Let the Size Fool You
The Dyna-Glo Smart Space Living is a propane grill with 2 workstations that fold inwards and have a towel rack, a thermometer in the lid, and 3 separately controlled 12,000 BTU burners. The warming rack can be moved out of the way and is 21.7 inches long by 5.4 inches wide for 117 square inches of space. The main grilling area is 21.7 inches long by 18 inches deep for 390 square inches of cooking space, which is plenty for cooking for a family of 4 -6 adults.
A Critical Look
Like all grills, this one needs a grill cover to save it from the elements and all the rust they will bring on. The grill has some assembly line issues that can result in dented or dinged parts, but this is purely aesthetics, and if it bothers you, you can simply call up the customer support line for replacement parts. It's also prone to not heating evenly, creating hot spots on the grill grate.
A Decent Grill Despite a Few Dents
If your Dyna-Glo DCB390SNP-D arrives in good shape, it can be a great grill for a number of years. It cooks well and the lid is extra tall so you can roast beer can chickens and even smaller turkeys.
Blackstone Griddle Cooking Station
This Griddle Cooking Station from Blackstone is the perfect choice for everyone who doesn't like cleaning up after a party. Because it doesn't have grates, you can clean it in minutes.
Generous Cooking Space
This baby has 720 square inches of cooking area, perfect for events and parties. With this much space, you can feed the whole block in one batch without having to worry about how you're going to place your food.
Burn Baby Burn
It's got 4 independently controlled burners, each having 15,000 BTU, with a total of 60,000 BTU. Because the burners are independently controlled, you can set up heat zones and can cook burgers with high heat on one side, and slowly cook ribs on the other. This feature saves up valuable time.
Other Features Worth Mentioning
The assembly is child's play. 15 – 30 minutes and you're done. Nothing special. Usually, gas grills take several hours to set up, but not this one.
Its 4 wheels are durable and 2 of them of lock-up. Great if you move the grilling location from one part of the backyard to another.
The 2 side shelves have enough space for the cook to have everything they need on hand.
The only real thing you need to clean is the griddle top. The engineers at Blackstone have taken this into consideration and made it completely removable.
Too Big for Camping
While this griddle is can be used for camping, it's way too big and heavy in my book. Weighing 120 lbs and being as large as some built-in grills, I'd take this one camping with me if I were pitching a tent in my backyard.
The Dirty Little Secret
Every product has its own defects and/or weak spots and this one has the grease trap. I don't know what the designers were thinking during development but the legs catch more grease than the pan itself.
If you're a welder, you can weld a small steel pipe to direct the flow of grease.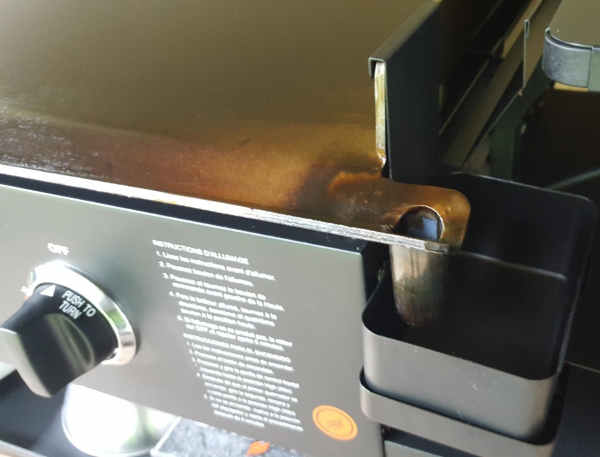 I'm not, so I glued a rubber hose. It's not pretty, but it gets the job done.
Summary
While not technically a grill, I still put it on this list of the best gas grills you can get for $400 or less because you can still have a great barbecue party for all your friends and family and clean it with little to no effort in record time.
Camp Chef Flat Top Grill
Enhance your cooking experience with Camp Chef's Flat Top 600. If you want to feed yourself and the whole block fast, then look no further.
Make Pancakes for Breakfast and Burgers for Lunch
This cooking station has both a griddle top and grill grates, making it the most versatile grill on this list. It is one of the best grill and griddle combos you can get for this price range.
Ever made breakfast in the backyard? I did a couple of times and the experience is amazing. Cool fresh air, birds singing, and the sun shining just enough to make your skin warm. Before trying out this outdoor grill griddle combo, I had to set up the camping burner which took me some time. Not here though, I just fire this baby up and I am enjoying eggs and toast with fluffy pancakes in no time.
The versatility of having both a grill and a griddle in one unit is kinda self-explanatory, but it's still worth mentioning: you save a ton of space and most important – money.
See What This Flat Grill Expert Has to Say About This Cooking Station
Blackstones Baby Brother
Even though it has 4 independently controlled burners like the Blackstone above, they output a little less (12,000 BTU each) heat. The difference looks big, but in reality, it's not. For lovers of barbecuing*, this is a great feature.
*Grilling and barbecuing are not the same. If you want to know the difference, check out this guide.
Although it has a generous cooking area of 600 square inches, it's smaller by 120 square inches compared to the Blackstone. If you enjoy quiet time at the grill with the family and are not a great fan of large BBQ parties, then this grill is still large enough to fill every tummy.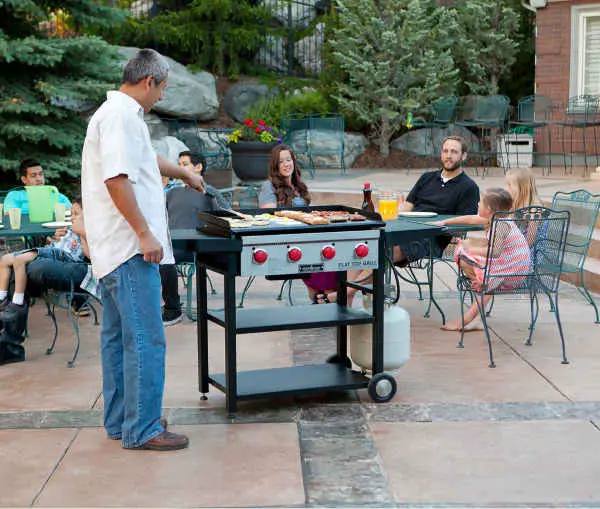 The Low-Down
Like most other grills, it is susceptible to rust if you leave it out uncovered. The griddle top is no exception. Even if you season it regularly, rust spots will occur and there's nothing you can do about it, unfortunately.
The other issue is the grease collector. Now, I don't know if Camp Chef has the same designers as Blackstone, but given the fact both their grills have the same issue, I wouldn't be surprised if they were.
Final Word
If you can't decide between a grill or a griddle, then why not have both? This grill griddle combo is perfect for everyone who wants to cook everything they want to outside and not just burgers and hot dogs. This one has a few chinks in its armor, but which one doesn't, right?
Remember, even the grills that cost several thousand dollars have some defects.
Fuego Element Hinged Propane Gas Grill
If you want to stand out in the grilling world and in your backyard, then the Fuego Element Hinged is your answer.
Unique Design
This one doesn't look like your average gas grill. It reminds me of a trash can from a distance and the wheels look like they have been taken from an office chair. Kinda quirky if you ask me.
But this interesting design isn't just for the looks, it's also quite practical. The designers made this grill as compact as possible. That's why this one perfect for cooking in the great outdoors, i.e. camping.
Never Again Burn Your Face When Opening the Lid
The engineers at Fuego (or at least one of them) have burned their faces when they opened the lid. That's why they have designed the hinged lid to open at 45° to the right.
Because of so much attention to detail, this grill has gained so much popularity in such a small time.
It's Compact but Not Small
Don't let the small size fool you. This baby is big enough to feed a dozen people at once with it's 346 square inch cooking area.
What's the Firepower?
It has 22,000 BTU and 2 grilling zones: direct and indirect. Great for both grill and barbecue enthusiasts.
The burner is so efficient it can reach 500°F in 5 minutes. Because of this, it consumes less propane. Talk about low mileage. See the heat chart below to see how much time other grills need to heat up to this temperature.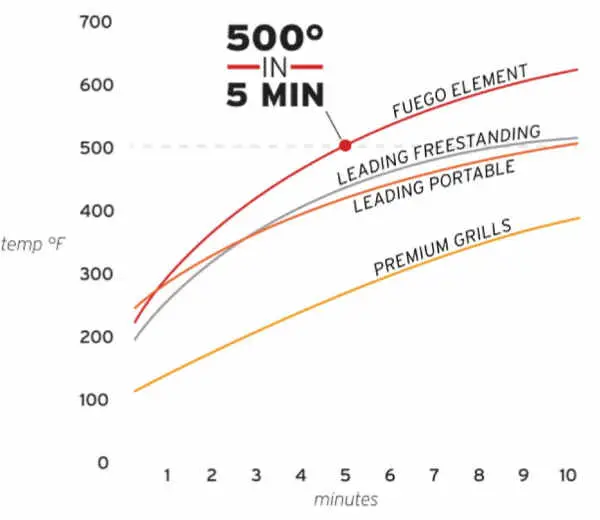 Grill, Griddle, and Pizza Oven all-in-one
Make eggs, pancakes, and even pizza with this grill. Both the griddle top and the pizza stone kit are sold separately. For this price, they could have included at least one of these accessories.
Other Features Include
Lightning-fast assembly
Electronic ignition system
Removable grease tray
Hinged propane storage door
Hidden Issues
Due to low quality control at the factory, some bits and pieces can be missing in the box, the grill could be badly assembled, or you just might find a crack or two. That's why I urge you to check the grill completely twice and contact the manufacturer immediately.
Conclusion
The grills not only looks nice and unique, but it cooks like a charm. It has some problems but the features and the performance make them look insignificant.
Gas Grill Tips
How Hot Should a Gas Grill Get?
Depends on whether you're grilling directly or indirectly.
Direct: around 500°F
Indirect: around 350°F
There are also several heat zones and each of them is suited for one type of food:
High: 450 – 550°F
Medium: 350 – 450°F
Low: 250 – 350°F
Low and slow: 200 – 250°F
For instance, it's best to cook burgers on a high heat zone while ribs and brisket are best suited for low and slow cooking.
Can You Leave Propane Attached to Grill?
Of course. Just close the tank valve before putting away the grill, and don't expose it to direct sunlight for long periods of time.
Is BBQ Propane and Forklift Propane the Same?
One and the same. The tanks are not interchangeable, though, because of different fittings, regulators, etc.
Can You Use PAM on Grill?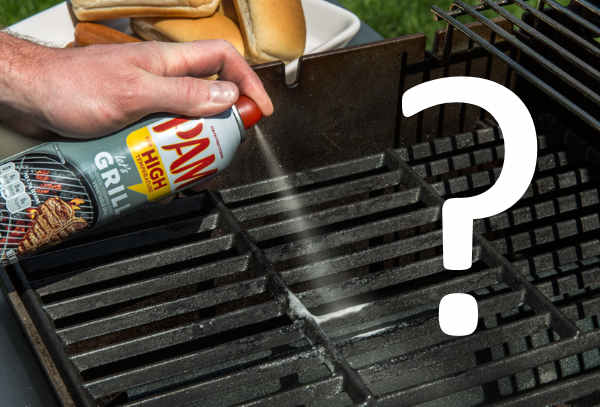 PAM is a very convenient way to season your gas grill. Instead of applying oil with a brush which is messy and time-consuming, spray the grates with some PAM.
How Do You Break in a New Gas Grill?
Read the manual
Check for leaks
Season it
Fire it up
Preheat it for at least 20 – 30 minutes at max heat to remove any packing or oil residue and other unwanted guests
That's it. Now your gas grill is ready to cook some food.
Serve Yourself the Best Grilling Experience
Now that you have search results narrowed down to 6, you are able to choose the gas grill that works the best for you. Take advantage of my best gas grills under 400 guide and decide which grill will fit on your backyard perfectly.
Do you grill on the deck, patio, or in the backyard?