Unlike regular grills, flat tops (or griddles) are much more versatile (you can cook much more stuff on them) and easier to clean.
These models listed here are the best of the best flat top grills that you can get for this kind of money.
Here, I have included many different types that suit different budgets, needs, preferences, and cooking styles. No one will leave here disappointed or empty-handed.
Some of these grill types are:
Outdoor
Indoor
Gas
Electric
What Is the Best Flat Top Grill to Buy?
The Best of The Best Flat Top Grills
Blackstone 1984 Original 36 Inch Front Shelf, Side Shelf & Magnetic Strip Heavy Duty Flat Top Griddle Grill Station
Among the hundreds of different griddles out there, I consider the Blackstone 1984 the crème de la crème of flat top grills.
Cooking Capacity
The griddle surface is 768 square inches large and has enough space for:
28 burgers
72 hot dogs
16 steaks
This should be more than enough to feed up to 20 people.
It features 4 independently controlled burners that output 60,000 BTU in total.
Has Plenty of Prep Space, Too
It features 2 spacious side shelves, one on each side and if this is still not enough, the bottom shelf should satisfy your needs.
Simple and Straightforward Assembly
It took me about an hour to fully assemble it (including unboxing at the beginning and cleaning up the packaging in the end).
The assembly instructions were easy to follow and everything went smoothly.
Easy to Move Around
It has 4 wheels instead of 2.
The wheels are durable and roll smoothly.
No Mess Cleanup
Cleaning the griddle top is remarkably easy to clean.
The grease pan is located at the back.
Built Like a Tank
The entire thing is made from heavy-duty stainless steel that's built to last.
Natural Gas Compatible
You easily hook this griddle up to your natural gas by separately purchasing a conversion kit.
Other Features Worth Mentioning
It comes with 4 hooks, a spice rack, a magnetic strip, and a paper towel holder, making cooking that more convenient.
2 of the casters are lockable.
The propane tank is held securely by the holder.
There Are a Few Issues, Though
It appears that my grill wasn't properly handled during shipping because it arrived with several dents. Luckily, customer service responded immediately with replacement items.
If the griddle top isn't cleaned and seasoned on a regular basis, it might develop rust stops.
A Fully Functional Kitchen Outside the Kitchen
For this kind of money, it doesn't get better than this.
Despite its minor flaws, it's the most durable and reliable flat top grill I have ever tried – and I've tried tons of them.
Pros
Ample cooking and prep space
Even heating
Easy assembly and cleanup
Durable and sturdy
Features hooks, towel holder, and magnetic strip
Cons
May arrive damaged
Cooking surface is prone to rust
Camp Chef FTG600 Flat Top Grill
If you're a die-hard of Camp Chef griddles, then the FTG600 is right up your alley.
Not Just a Griddle
This baby also comes with grill grates so you don't have to buy a separate grill.
This feature saves you plenty of money and space. Neat.
It's not an actual grill griddle combo, though, because you can't use both surfaces at the same time.
Ideal for Large Gatherings
With its 604 square inches large cooking area, you can easily feed a large crowd of people as the size translates to 24 burgers.
Be In Full Control
The grill's 4 burners can be controlled individually and each has its own igniter.
Each burner outputs 12,000 BTU, meaning that this grill is rated at 48,000 BTU.
Has More Than Enough Prep Space to Go Around
Regarding prep and storage space, it's more spacious than the Blackstone above which itself has plenty of it.
The FTG600 has 2 large side shelves and 2 bottom shelves.
What's more, each side shelf features a towel rack.
Make It Level, Anywhere
The legs are adjustable, meaning you can cook on almost any surface.
Comes Pre-seasoned
There's no need to clean and season it before your first use because Camp Chef has already done it for you.
See It in Action (Cooking Smash Burgers)
What Needs Improvement
The grease drain hole is quite small and can clog easily. I solved this problem by drilling a larger hole (warning: this voids your warranty, you have been warned).
If you want to cook on the grill grates you need to remove the griddle top first which is a bit heavy, as far as griddle tops go.
The burners can blow out during winds. A set of windscreens is a must with this one.
Hot Damn
The swappable cooktop is just of many awesome features this baby possesses. All in all, it's extremely versatile, durable, and built to last. When it comes to Camp Chef griddles, this one is the winner.
Pros
Spacious
Fast assembly
Super easy to clean
Each burner has its own igniter
Adjustable legs
Comes with grill grates
Cons
Grease drain hole could be bigger
Griddle top is a bit heavy
Susceptible to winds
VEVOR LD-610 Commercial Electric Griddle
The LD-610 by Vevor is a compact yet powerful commercial griddle that packs quite a punch.
Ideal for Indoors
The griddle is electric, making it ideal for cooking inside your home where there's nice, warm, and comfy.
It's best suited for apartment dwellers that don't have a backyard, patio,… to place their outdoor grill on or their landlord/community doesn't allow one.
Has Plenty of Space to Feed a Small Family
The cooking area is 408 square inches large and measures 26 x 15.7 inches (66 x 40 cm)
Powerful Burners That Evenly Spread the Heat
The 2 powerful 3,200 W burners will make short work of anything you put on it.
Wide Temperature Range
It's just as versatile as any outdoor griddle as you can go as low as 122°F (50°C) or sear steaks at 572°F (300°C).
Gift Included
Included with the package are 2 basting brushes and 2 spatulas.
Other Notable Features
It sits on 4 skid-proof solid and thick rubber feet. Once you place the grill on the counter, it won't budge.
Excess grease and oils drip into an enclosed grease tray that can be easily cleaned.
The Caveats
Despite being stainless steel, the cooking surface will "stain" and develop a rust spot here and there.
Don't be surprised if you see and dent or scratch once you open the box. Immediately notify customer service and they'll send you a replacement. They did it to me.
A Commercial Griddle With a Not-so Commercial Price Tag
Don't let its small size fool you. This baby packs quite a punch and even though it's electric, it's just as good as a Blackstone or Camp Chef.
Pros
Compact
For indoor use
Easy to clean
No assembly required
Decent-sized cooking area
Durable and sturdy
Even heating
Cons
Prone to rust
May arrive damaged
Blackstone 1555 Tailgater Stainless Steel 2 Burner Portable Gas Grill and Griddle Combo
Spice up your next outdoor adventure with the Blackstone Tailgater.
An All-Purpose Outdoor Cooking Unit
Griddles are fun and all but nothing beats those famous grill marks that you get when cooking on grill grates.
And unlike the Camp Chef above, you can use both the grates and the griddle at the same time.
What's more, if you remove either the grill box or the griddle, you can use the Tailgater as a stove.
Ideal for Any Outdoor Activity, Including RV-Ing
Having foldable legs and being somewhat compact makes the Tailgater an ideal camping compaction.
Take with you on your next camping trip, tailgating, or beach party. You can even pack it up in your RV and hook it up to its low-pressure propane tank (if you purchase the correct fitting beforehand, that is).
Feeds up to 6 People
The grates and the griddle are 256 square inches each, which totals 512 square inches.
Each surface fits:
9 burgers
4 steaks
20 hot dogs
Different Burners for Different Tasks
This combo features 2 independently controlled burners.
They aren't the same though. One is a stainless steel H tube that puts out 15,000 BTU and the other is a 20,000 BTU round cast iron.
Fire them both, and the grill has a total heat output of 35,000 BTU. For a portable grill, this is quite a lot.
Demonstration of the Tailgater
The Cons
Being a combo with a large cooking surface, it has an obvious drawback: its size. For a portable grill, it's a bit larger and heavier than expected.
The clamp of the lid of the grill box looks like it will fall apart sooner than later.
A propane tank holder would be nice.
At Home or on the Road, the Tailgater Doesn't Disappoint
Just because you're in the middle of nowhere doesn't mean you shouldn't make and enjoy restaurant-quality meals. This baby can do anything: it's a grill, a griddle, and a stove – all in one unit.
Pros
Grill, griddle, and stove combo
Spacious cooking surface
Even and fast heat
Adjustable legs
Fast and straightforward assembly
Easy to clean
Cons
Bulky
Lid clamp is cheaply made
No propane tank holder
Royal Gourmet GD401C 4-Burner Portable Propane Flat Top Gas Grill and Griddle Combo
Can't decide between a grill and a griddle? Then have both with the Royal Gourmet GD401C for the price of one.
I was so impressed by it, I already declared it as one of the best RV grills currently on the market.
Cook and Grill at the Same Time
Having both a griddle and grill grates, you can cook virtually anything your heart desires: from eggs and pancakes for breakfast, to juicy fish with grill marks for dinner.
Ample Cooking Space
The griddle is 314 square inches large and the grates are 292 square inches.
Combined, this grill has a total cooking area of 606 square inches.
4 Independently Controlled Burners
The burners are made from rust-resistant stainless steel and provide a total heat output of 48,000 BTUs or 12,000 BTU each.
Fits Into Tight Places
You can easily store it in the back of your truck or RV thanks to its foldable legs.
Additional Features
On each side, there's a spacious side shelf. They can't be collapsed, though.
The left side shelf features a bottle opener.
There's a towel rack under the grill that runs the whole length of the grill and has 4 utensil hooks.
You can easily move it around thanks to its 4 caster wheels. They are very durable and each features a locking mechanism.
What I Don't Like About It
It's a bit too bulky and heavy (at least for me) to be used as a portable grill unless you're going with a larger group.
Despite heavy packaging, a dent or two might find their way onto the grill. Mine came with a large dent on the control panel and the griddle top.
Although I clean and season the grill on a regular basis, I noticed some rust spots on the griddle and the grates.
Enjoy the Best of Both Worlds for the Price of One
This cooking behemoth is an ideal grill for folks who can't decide between a grill or a griddle or love to cook on both.
Pros
Grill and griddle combo
Foldable legs
Ample cooking and prep space
Durable
Easy to assemble and clean
Cons
Bulky
May arrive damaged
Cooking surface prone to rust
Cuisinart Flat Top Professional Quality Propane CGG-0028 28″ Two Burner Gas Griddle
The Cuisinart CGG-0028 is a portable flat top grill that serves as an ideal camping companion.
Fits Your Car's Trunk Easily
Due to its compact design and foldable legs, you can easily place it in the trunk of your car.
Once folded, it measures only 25 x 28 x 17.5 inches (63.5 x 71 x 44.5 cm).
Don't Let the Small Size Fool You
Although it looks kinda small, it still has a larger cooking area than the Royal Gourmet GD401C above.
The cooking area is 644 square inches large which is huge given the fact that this is a portable grill.
Powerful Burners
This one features 2 H-shaped burners that output 30,000 BTUs in total.
Dual Grease Management System
It has 2 grease cups instead of one. Now you can cook for longer without having to empty the grease tray mid-cookout.
Prep Space Is Included, Too
What really surprised me about this one is not that it has a shelf but two of them: a side shelf and a bottom one.
Most camping grills lack such a feature, making this one even better.
There's Still Room for Improvement
Before your first cookout on this thing, I highly recommend doing a test to check for hot spots because the heating is uneven.
I couldn't get it lower than 200°F (92°C). For some delicate foods, this is a bit too much.
The grill suffers from poor quality control. In my case, most of the screws were missing.
The Best Portable Grill for Camping in This Price Range
This baby is small enough to fit in a car yet bit enough to feed an entire group of campers. Its robust and durable design means it will last you for quite a while.
Pros
Compact
Foldable legs
2 grease cups
Huge cooking area
Built like a tank
Sturdy
Easy to clean, assemble, and disassemble
Cons
Uneven heating
Hot even on the lowest temperature setting
Quality control issues
BLAZE 30-Inch Built-In Natural Gas Outdoor Griddle with Illuminated Control Knobs
This 30-in built-in natural gas griddle by BLAZE is the perfect griddle for your outdoor kitchen, whether you're upgrading it or planning on building one.
Ample Cooking Surface
It boasts a huge cooking area of 495 square inches which is enough for 17 burgers.
Highly Durable
The whole thing is made from thick and commercial quality 304 stainless steel.
High Heat Output
The BLAZE features 2 U-shaped burners (also made from durable and high-gauge stainless steel) that provide 36,000 BTU and distribute heat evenly across the entire surface.
Both are ignited by a flame thrower which is far more reliable than your standard Piezo igniter.
Don't Worry About Overflowing the Grease Cup Here
Most flat top grills have a grease collector that's about the same size as a cup or a little bigger.
Not this one. It has a tray the same size as the cooking surface located directly underneath the burners that has a much larger capacity.
About the Warranty
What really surprised me the most about this grill is the lifetime warranty. This is something you rarely see on a grill.
You need to register the griddle within 30 days, though, in order to get it.
Other Great Features That This One of the Best Flat Top Grills
Included is a hard cover that protects the griddle top from the elements.
The knobs have LED illumination.
The Drawbacks
This model is natural gas only.
They need to increase the quality control at the assembly line as one of the LED lights around the knob wasn't working.
The issue with the provided cover is that it only covers the cooking surface. It should also cover the grease hole because it can fill up with water during rain and overflow. I learned this the hard way.
The Best Upgrade You Can Get To an Outdoor Kitchen
I don't see a better add-on to one's outdoor island. This baby is made exactly for this. It fits perfectly, it's durable, and has plenty of space.
Pros
Large cooking area
Even heating
Built like a tank
High performance
Easy to clean
Lifetime warranty
Cons
QC issues
The provided cover doesn't cover the grease trap
Natural gas only
Razor Griddle GGC1643M 37 Inch Outdoor Steel 4 Burner Propane Gas Grill Griddle with Wheels and Top Cover Lid Folding Shelves
The Blue Rhino Razor GGC1643M is a behemoth of a grill that comes with its own hard cover.
Feed a Crowd in a Flash
With a 750 square inches large cooking surface, you will feed the entire family, friends, and even the block in a few minutes.
The griddle has the capacity to hold up to:
57 burgers
46 pancakes
27 steaks
Innovative and Genius Workstation Design
It features 2 side shelves, one on each side, that fold up and cover the griddle top when not in use.
The shelves not only serve as a hard cover but also make the griddle more compact for easier storage and transportation.
Puts Serious Heat to the Meat
Having four 15,500 BTU stainless steel burners that output a combined power of 62,000 BTUs, this griddle will soften up even the toughest steaks in a pinch, leaving them with delicious caramelized sear marks.
If this is still not hot enough for you, then fire up the searing burner.
Other Features
The griddle top comes pre-seasoned.
The grill sits on 4 wheels, 2 are lockable.
There's a shelf under the griddle for extra storage space.
See It in Action
What I Don't Like
There are hot and cold spots.
Once I opened the box, I noticed a large dent on the griddle top, and one of the legs was bent. A few nuts and bolts were missing, too.
A Top-Notch Crowd Pleaser
The GGC1643M is a durable and reliable griddle that whips up a whole family's mean in a jiffy. Its solid construction, foldable shelves, and pre-seasoned large capacity griddle are one of the many reasons I included it in this list.
Pros
Gigantic cooking area
Durable and sturdy
Side shelves double as a hard cover
Comes pre-seasoned
Includes a sear burner
Easy to clean and setup
Cons
Uneven heating
May arrive damaged and/or with missing parts
Wolf Gourmet WGGR100S Precision Electric Indoor Griddle
The Wolf Gourmet WGGR100S is a compact electric flat top grill that's ideal for indoor cooking.
Perfect Choice for Apartment Dwellers
Don't have a backyard? Your landlord doesn't allow a gas griddle on the balcony? Then the Wolf is your perfect solution.
Being electric, it can be used indoors without restrictions.
Compact
This griddle is a great fit for a loner, couple, and folks with a small kitchen with low counter space.
It measures only 17 x 18 x 8 inches (43 x 46 x 20 cm).
Its Cooking Potential
The cooking area is 204 square inches and is big enough to hold 4 sandwiches or 6 pancakes. It's made from thick and durable cast aluminum and is coated with a non-stick surface.
It has a temperature range of 150°F – 450ºF (65°C – 232°C). You can cook delicate foods like eggs and pancakes on low and sear burgers.
Its 1,500 W "burner" is integrated directly into the griddle top. This eliminates hot and cold spots and maintains consistent temperatures for longer.
Comes With a Lid
The lid serves a double purpose: as a hard cover and a basting cover.
It's vented, has soft-grip handles that are cool to the touch, and is 1.85 inches (5 cm) high.
Other Great Features
Cleaning is remarkably simple and fast, thanks to its non-stick coating and integrated grease tray.
There's a cord wrap at the back for easier storage and safer transportation.
It has indicator lights, so you'll know exactly when the griddle is preheating and when is it ready.
Its heavy-duty heavy-gauge stainless steel construction makes it extremely durable and good-looking.
What Needs Improvement
It takes a minute or so more than expected to fully heat up.
For its size, it's quite heavy. It weighs 21 lbs (9.5 kg). Most indoor electric griddles of similar size are half as heavy.
Its maximum temperature is a bit low for searing. It gets the job done, don't get me wrong, but the sear marks aren't special.
The Griddle Who Cried Wolf Gourmet
By far, the WGGR100S is the best indoor electric flat top grill you can get. It's eye candy, durable, and spells luxury to everyone seeing and trying it.
Pros
Durable
Lid included
Easy to clean and use
No assembly required
Even heating
Holds temperature quite well
Cons
Takes longer to preheat
A bit heavy for its size
Not ideal for searing
Razor Griddle GGC2030M 25 Inch Outdoor 2 Burner Portable LP Propane Gas Grill Griddle w/ Top Cover Lid, Wheels, and Shelf
The Razor GGC2030M is an all-around portable gas griddle that comes with its own cart.
Freestanding or Tabletop, The Choice Is Yours
It has its own cart with foldable legs, meaning you can use it on virtually any surface and occasion, be it in the backyard, on the back of a pickup truck, or at a campsite, to name a few.
Holds 12 Burgers
The griddle top is 318 square inches large and comes pre-seasoned so you can rock and roll the very first moment you put the last screw in.
2 Burner Design
Both are independently controlled, stainless steel, and produce 20,000 BTUs of heat.
Additional Features
It comes with a latched lid and a side table that features a towel rack.
By default, it runs on a camping (i.e. 1 lb or 16 oz) canister but you can hook up a regular 20 lb tank, provided you have the right adapter.
You don't have to carry it around. Once folded, you can roll it around like luggage.
Inspect Every Inch of It Once It Arrives
This particular model suffers from poor quality control, resulting in dents and scratches. Also, check the hardware to see if there are any parts missing.
Your Next Travel Buddy
With the razor standing by your side, you'll turn the campsite into your next 5-star restaurant.
Pros
Foldable legs
Portable
Compact
Comes with a lid and side shelf
More than enough cooking space
Easy to set up and clean
Cons
May arrive damaged with missing pieces
You Got the Grill, Now What?
Consider these few steps before firing it up.
Check for Leaks After Assembly
If yours is a gas model, check for leaks after assembling it.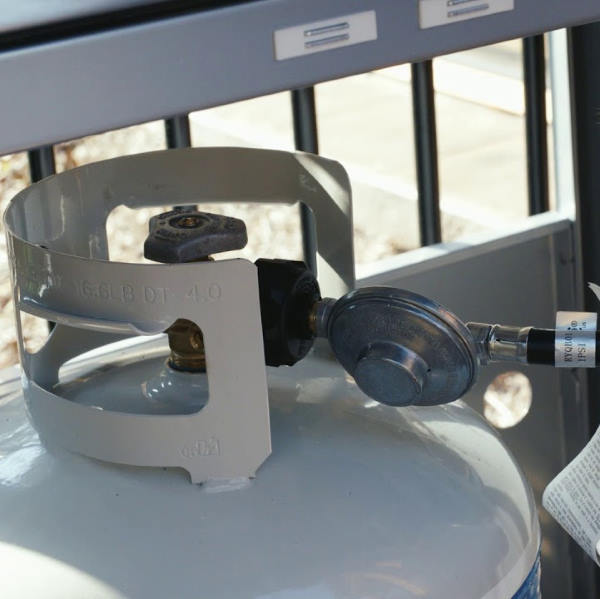 How you do it doesn't really matter. I use a spray bottle filled with soapy water but if you don't have a spray bottle, you can use a brush or a paper towel.
Clean and Season Before First Use
Now it's time to break the baby in by cleaning and seasoning it before your start cooking on it (some models come pre-seasoned but I still highly suggest cleaning it to remove any residue and other potentially dangerous stuff from the manufacturing and handling process).
Learn the Difference Between a Grill and a Griddle
Despite having the word "grill" in it, a flat top grill is quite different from a "regular" grill.
Know What a Flat Top Grill Can Handle
A flat top grill is much more versatile than a regular grill.
Having a solid flat surface, you can cook on it more or less anything than you would on a pan in the kitchen.
See this exhaustive list of what can you cook on a griddle.
Master the Art
Just like cooking in the kitchen, cleaning the house, or driving a motorbike, there are many different ways, techniques, tips, and tricks on how to do it.
Instead of ruining your very first cookout because you didn't do "this" or "that" properly, read this list of flat top grill cooking tips and techniques. It will cost you only a few minutes.
Getting the Grill Is Just Half of the Fun
In order to actually cook on the griddle, you need a few tools.
You don't need much to get you started, a spatula and a scraper are more than enough.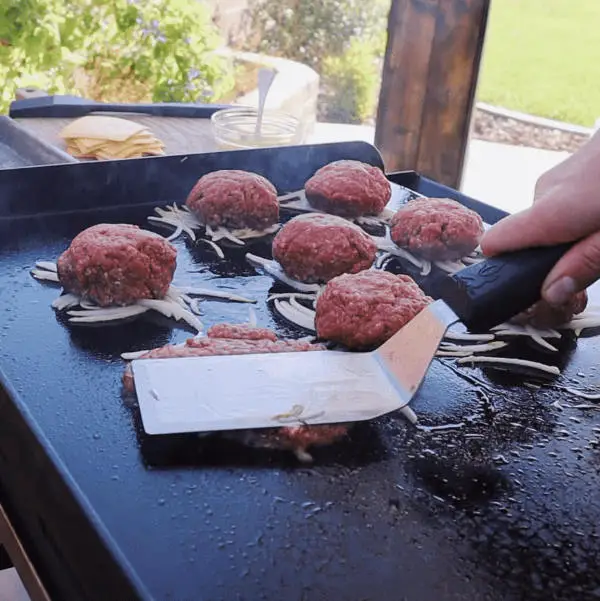 There are, however, many more useful flat top grill accessories and tools on the market that will make your job a lot more easier and convenient. There are too many of them to list here but you can check out the list here.
Get the Best Griddle Out There and Experience a Whole New Level of Cooking
Getting a flat top grill that will suit your needs, preferences, and budget at the same time is no easy task.
I made this guide to make the job a whole lot easier. Here, I reviewed 10 of the best flat top grills that will give you the best bang for your buck.
They are different types of grills for different tastes and budgets, meaning that there's a grill here for everyone.
Got a new candidate that I should include in the list?