$150 is a sweet spot for folks who don't grill often or travelers who like to make some burgers out on the open road.
In this gas grill buying guide, I'll show you these 7 gas grills that I've handpicked after diligent research and testing as the best gas grills under $150.
Portable, tabletop, or free-standing; pick the one that suits your needs and preferences the most.
What Is the Best Inexpensive Gas Grill?
Best of the Best Gas BBQs Under 150 Dollars
Below are the reviews; pay special attention to the features.
Char-Broil Grill2Go X200 Portable TRU-Infrared Liquid Propane Gas Grill
Whether you're going on the road or intend to spend a couple of hours in the backyard surrounded by fresh air, the Char-Broil Grill2Go x200 TRU-Infrared Portable Gas Grill has you covered in both cases.
Cooking Capacity
I was able to cook 8 burgers on its 200 square inches large cooking surface.
The grates are stainless steel.
The single burner can output 9,500 BTU
Great for Tailgating
Weighing in at only 20 lbs and measuring 23.7 x 15 x 13.6 inches, it's a perfect grill for all sorts of traveling, including tailgating, camping, RV-ing, etc.
TRU Infrared
This unit is not a regular propane grill but an infrared one. And not just a regular infrared but a TRU Infrared which is known for:
Eliminating flare-ups
Lower fuel consumption
Faster cooking times
Faster and even heating
Retaining the food's moisture and juices
Reaching higher temperatures
Other Features That Made This Grill My Best Choice
The whole body, including the lid, is made from die-cast aluminum. Stainless steel has a tendency to rust and isn't a great insulator. Cast iron is very heavy. Die-cast aluminum combines the pros of both metals: it's lightweight, effectively holds heat, and doesn't rust.
The lid thermometer is easy to read and accurate.
It's compatible with 1 lb propane tanks but if this is not enough for you, then you can easily convert it to hold the standard 20 lb tank (conversion kit sold separately).
Comes pre assembled.
Common Issues
Being an infrared grill, it's hard to cook at low temperature as even on the lowest setting, it's still pretty hot. To solve this, you have 2 choices: the simplest and the cheapest is to cook with the lid open. The second and more expensive option is to replace the regulator.
Because of its design, it's really hard to clean it thoroughly. If you really want to make it squeaky clean, you need to remove a screw a two.
Final Say
Don't expect a gas grill without issues for $150 or less. It's also hard to find an infrared grill for this kind of money. Despite its small size, it packs quite a punch and makes for a heck of a great camping buddy.
Find out more about Char-Broil's TRU Infrared Grilling Technology.
Giantex Propane TableTop 2-Burner Gas Grill
Giantex Propane TableTop Gas Grill Stainless Steel Two-Burner BBQ, with Foldable Leg, 20000 BTU, Perfect For Camping, Picnics or any Outdoor Use, 22" x 18" x 15", Silver
【Giantex Tabletop Grill】: Giantex 2-Burner stainless steel tabletop grill is built for the BBQ-grillers, Construct of 430 stainless steel offers durability and easy-to-clean surfaces.

【Easy To Operate】: Two push-and-turn ignition burners for quick and easy start-ups. It offers 20,000 total BTUs and reaches high temperatures quickly with each burner independently adjustable.

【Foldable Design】: Foldable legs and lockable lid for portable transport and storage. Also make it more easily transportion or storage.It is perfect for dinner party and camping.

【Light-weight & Safety Use】: CSA standard approved gas grills. Light-weight and with locking hood for transport and storage.

【Widely Use】: Perfect for tailgating, camping, picnics, boating or anywhere your travels take you. Overall dimensions: 22" x 18" x 15" (L x W x H) is suitable for home using, Easy assemble is required with all hardware packed in the package.
This Giantex Propane Grill (model OP3243) is not a full freestanding grill but a tabletop unit that's meant to sit atop another surface.
The Cooking Capacity
It's got 20,000 BTU of heat to cook with, (10,000 BTU for each burner), which is substantially more than other grills that you will see in its competition category.
The cooking surface is 266 square inches and measures 20.5 inches long by about 13 inches wide. This is enough to cook about 10 chicken quarters with a thigh and leg.
Additional Features Worth Mentioning
For ease of storage, the legs of the grill can be folded under to make the unit smaller and easier to store.
The lid can be locked so that the grill can be carried easily around like a briefcase, making it a good candidate for barbeque cooks who like to cook in different places, such as the outdoors, or traveling to small family gatherings.
It's Difficult to Clean
Although it has a grease collector, because of the design of the grill (there is no drop leading to the grease pan), the grease just collects in the bottom, creating a potential fire hazard. The only thing you can do if you want to clean it completely is to break it down.
Other Issues
The temperature gauge doesn't have many settings, so it can be hard for very skilled chefs to cook at a single specific temperature.
In the End, Is This Grill Worth It?
Giantex isn't specifically a grill manufacturer but rather a home and outdoor goods manufacturer. That doesn't necessarily automatically mean that the grills are less-worthy, though.
Despite these things, this Giantex propane tabletop grill still performs very well, giving consistent slow-cooked barbeque, and the perfect fast cooked steaks. This grill would be great for a person on the go, especially if space is a concern and for frequent campers.
Blackstone 1666 22″ Tabletop Griddle
Blackstone 1666 22" Tabletop Griddle Outdoor Grill, 22 inch, Black
PERFECT SIZE - With 330 sq. inches cooking surface, this portable grill makes it easy to cook a quick, full meal wherever you are without the hassle of setting up a full sized grill

ADJUSTABLE HEAT ZONES - Two independently controlled H burners makes for a versatile cooking surface where you can cook several foods at once and not burn a thing! Also allowing the option to keep certain foods warm while others cook.

REAR GREASE MANAGEMENT SYSTEM - Built in grease channel and catch draws grease away from your food. Allows for easy clean up at then end of each use

PORTABLE - Super convenient portable griddle for tailgaters, parties, backyard barbeques and camping

GRIDDLE COOKING - Allows you to cook without the worry of flare ups or flavor loss from leaked juices, and helps keep meats ten
Tired of making burgers all the time? Want to cook more: like eggs and pancakes for example? Then consider this Blackstone Griddle, model 1666.
It's More Versatile Than a Grill
You can cook many more recipes on a griddle than on a grill. Things like stir fry, fried rice, pancakes, and eggs are impossible to cook on a grill, for obvious reasons.
On a griddle, you can cook basically anything you want to. It's like cooking in a kitchen, except you're outdoors.
Spacious Cooking Area
It's 330 square inch large griddle top can accommodate up to:
12 burgers
30 hot dogs
16 eggs
2 Burner System
Most grills this size have a single burner. This one has 2 H-style burners that can be controlled individually and can output up to 24,000 BTUs.
Features
Integrated grease management system
Adjustable height rubber feet for stability on uneven surfaces
Can be converted to hold 20 lb propane tank
See How Well This Griddle Performs
Cover It When Not in Use
Grills in this price category have a tendency to rust, including this one. Even if you clean and season it after each and every use, without a grill cover, the elements will tear it apart in about a year.
The Verdict
I like griddles because you can cook many more foods than on a grill. Be it breakfast, lunch, dinner, or something in between, there's nothing this griddle won't cook.
Dyna-Glo DGC310CNP-D 3-Burner Open Cart Propane Gas Grill
The Dyna-Glo DGC310CNP-D is an open cart full standing gas grill available in charcoal black.
Generous Cooking Area and Burners to Match
The primary cooking surface is 310 square inches large and the warming is 139 square inches. Add them together and you get a total cooking area of 449 square inches. Both areas are made from porcelain-coated steel.
The 3 burners output 8,000 BTU each, or 24,000 BTU total, are individually controlled, and fire up with a simple push of a button.
Other Features Include
Porcelain-coated heat tents
2 large side shelves
Porcelain enamel steel lid and firebox
Removable grease cup
Consider These Caveats
Spread your food carefully on the grill as heating is uneven.
It's prone to rust, especially the lid.
Should You Get It?
This one is a pretty standard open cart gas grill that you can get for under 150 dollars. Despite uneven heating, it works just as advertised, looks neat, and feels sturdy.
MARTIN Portable Propane Bbq Gas Grill
MARTIN Portable Propane Bbq Gas Grill 14,000 Btu Porcelain Grid with Support Legs and Grease Pan
U-SHAPE BURNER - 14000 BTU Even cooking the porcelain cooking grid and closing stainless steel lid mean your food gets cooked evenly from the get-go

FOLDING SUPPORT LEGS - Quick deployment you can have this grill out of the garage and fired up in less than one minute

ADJUSTABLE TEMPERATURE - If you like to cook different types of meats when you host a Barbeque; sear in the juices of every steak you cook, make slow-grilled chicken perfectly every time and even grill buns and vegetables without disaster striking

GREASE PAN - Quick clean grease tray keeps your grilling area clean

354 Square Inches of total Cooking Surface, Retractable warming rack and Piezo-ignition system no need external power source
Another great portable grill for either camping or the patio: the MARTIN GR14 Portable Propane Bbq Gas Grill.
The Cooking Area
The main cooking surface – the porcelain coated grates – is 237 square inches large. That's a bit more than the Char-Broil Grill2Go above.
The retractable warming rack is 117 square inches large, enough for 4 – 5 bread slices.
In total, the combined cooking surface is 354 square inches. For a camping grill, this is a lot.
Capable Burner
The single 14,000 BTU tubular burner is capable of even heating and fast heat up.
Features
Foldable legs
Piezo ignition system
Lid-mounted thermometer
Side handles for easier transport
What I Don't Like About This Grill
It's made from thin flimsy metal sheets – that's why it's so lightweight.
The assembly instructions are badly written. Fortunately, the assembly itself is pretty straightforward and you don't really need them.
Even on the lowest temperature setting, it's quite hot.
Yes or No Then?
The grill is pretty decent: fast heat up, even heating, spacious grilling area, and a looks sleek. The foldable legs are a nice addition – many portable grills lack this.
MASTER COOK 3 Burner BBQ Propane Gas Grill
MASTER COOK 3 Burner BBQ Propane Gas Grill, Stainless Steel 30,000 BTU Patio Garden Barbecue Grill with Two Foldable Shelves
❤ STAINLESS STEEL BURNERS: This propane gas grill has 3 Stainless Steel burners, can put out 30,000 BTU-per-hour with integrated piezoelectric ignition system, quick start up with the push &turn of a control knob

❤ FEATURES: The whole Stainless steel control panel with chromium plating control knob makes this propane gas grill more study and delicate, a stainless steel handle and a built-in stainless steel thermometer on the cover lid, two foldable tables and two heavy duty wheel casters for storage and moving

❤ PORCELAIN-ENAMEL WIRE COOKING GRATES: The cooking area of our propane gas grill is 471.8 include 339 square inches for cooking and 132.8 square inches for warming

❤ ASSEMBLED DIMENSIONS: 46.46 L x 20.87 W x 41.14 H inch, and 29.5 inch Length when folding both of the side table of the propane gas grill

❤ MULTIFUNCTION AND PRACTICAL: This propane gas grill is perfect compliments any outdoor space like backyard, garden, courtyard, terrace and balcony of most family, alternative all season for outdoor cooking
I really enjoyed my time with the Master Cook 3 Burner propane grill.
Spacious Cooking Area
The total grilling space is 472 square inches.
The grates are porcelain-coated for ease of cleaning and better heat distribution and are 339 square inches large. Which is enough to hold about 10 chicken leg quarters depending on your spacing preferences, and 8 porterhouse steaks.
The warming rack can be folded out of the way, and it's 133 square inches large – enough to hold about 6 slices of bread.
How Hot Can This Grill Get?
It delivers 10,000 BTUs on each of its 3 gas burners, and each burner has its own temperature knob for better control and mastery of your grilling surface.
Features
The unit is free-standing and has 2 collapsible side workstations.
The bottom of the grill unit is empty and shielded for your propane tank.
The lid has a temperature gauge.
How Does This Grill Compare to Expectations?
The grill has a Piezo ignition system which is known for being unreliable and failing early on. To counter this, simply save your receipt and take advantage of the warranty information offered by the manufacturer.
The other issue is that this grill tends not to be as hot burning as its competitors despite having a similar BTU per burner.
Final Say
This grill has 3 burners, not 2 like its usual competitors in this price range, and it's also free-standing with 2 collapsible side shelves, giving it a major edge.  The porcelain grill top coating is wonderful. For a full grill that's packed with features, the Master Cook is still a great buy for its budget category.
Char-Broil TRU-Infrared Patio Bistro
Char-Broil TRU-Infrared Patio Bistro Gas Grill, Black
Small on size, mighty on features - perfect for a patio or balcony

Cooking System:Gas TRU-Infrared

Electronic ignition integrated into gas control knob for a wide range of temperatures

320 square inches of cooking area
Char-Broil's TRU-Infrared Patio Bistro is a free-standing propane-powered infrared grill.
Cooking Specs
The primary grilling surface has 240 square inches, which breaks down to a circular diameter of 17.5 inches.
The grill comes with an 80 square inch large warming bench a few inches above the main grated grilling surface.
You can fit 6 – 8 chicken quarters on the grill at once depending on how you arrange them and 3 standard slices of bread on the warming grill. For more flavor, you can add some wood chips to the grilling grate.
It has one circular 13,000 BTU burner. Don't let that fool you. Being an infrared grill, it's constructed differently than a traditional gas grill: it's much more efficient, meaning better cooking for the same heat output.
Additional Features
It comes with an electric push-button ignition system – the Piezo ignition system.
It has temperature control on the front of the grill controlling the entire cooking area.
This grill utilizes the space below the grill as a shelf for the propane tank, with a metal ring to hold the bottom of the propane tank steady.
What's Good and Bad About the Patio Bistro Infrared?
Advertising for the Patio Bistro implies that infrared grills prevent flare-ups completely, but this isn't completely true. There will definitely be fewer flare-ups than a propane or charcoal grill, though.
Another issue is the infamous Piezo system which is prone to fail and included in most push-button start grills in the lower pricing ranges. Simply save your receipt and take advantage of the 1-year parts warranty and excellent customer service included with Char-Broil grills.
Over an extended period of time, the metal paint will begin to chip away, but this is purely aesthetic. Simply purchase a grill cover to extend the exterior life of your grill and protect it from the elements.
The Verdict
Aside from that, the Patio Bistro is an infrared grill that performs admirably and reliably. The grilled vegetables, meat – especially chicken, and seafood produced by infrared cooking are always especially juicy. Wood Chips help to heighten the flavors to a new level.
Are Cheap Grills Worth It?
If you don't intend to grill regularly, absolutely yes.
The main problem with cheap grills (especially gas) is that they tend to rust away in a season or two. If you're lucky, it can last a season longer. Covering with a grill cover will prolong the lifespan but it won't make it last forever.
The same thing can be said for other components, like the burners and heat tents.
Even if you clean the inside of the grill thoroughly after each and every use, you won't make it last forever.
The reason is the materials used to make the grill. To be more specific, the quality of these materials.
Most cheap grills are constructed from stainless steel. But there are many types of stainless steel:
Type 2xx and 3xx: Austenitic (the most known and common being 304)
Type 4xx and 6xx: Ferritic and Martensitic
Type 5xx: Heat-resisting chromium alloys
Some are more resistant to corrosion, others are more to heat, while others are resistant to both.
What's ironic here is that not all stainless steel is "stainless" and will actually rust.
To repeat myself, cheap grills are worth it if you fire up the grill on special occasions and not every week. This makes sense – why spend over a grand for some Weber if you're going to make a few burgers on your birthday or 4th of July, or some other special occasion.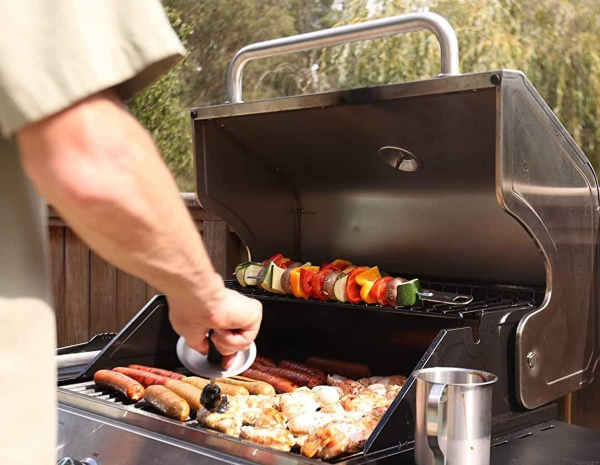 The Best Affordable Gas Grills You Can Get for Under $150
I really enjoyed all these 7 grills and I felt that each one was for a different person and type of griller, but that all of them have superior features and performance for their price range.
Now that most of your grill shopping is done and all that's left is to pick one of the 7, crack open a nice ice-cold beer and enjoy the time that you've just saved!
Traditional gas or infrared? What is your preference and why?