Both juicing and blending are great ways to increase our fruit and vegetable intake while having fun in the kitchen. With fresh juices and smoothies not only will you enjoy a glass of freshly-squeezed orange juice at breakfast but also you clear the body of toxins while feeding it all the essential nutrients it needs.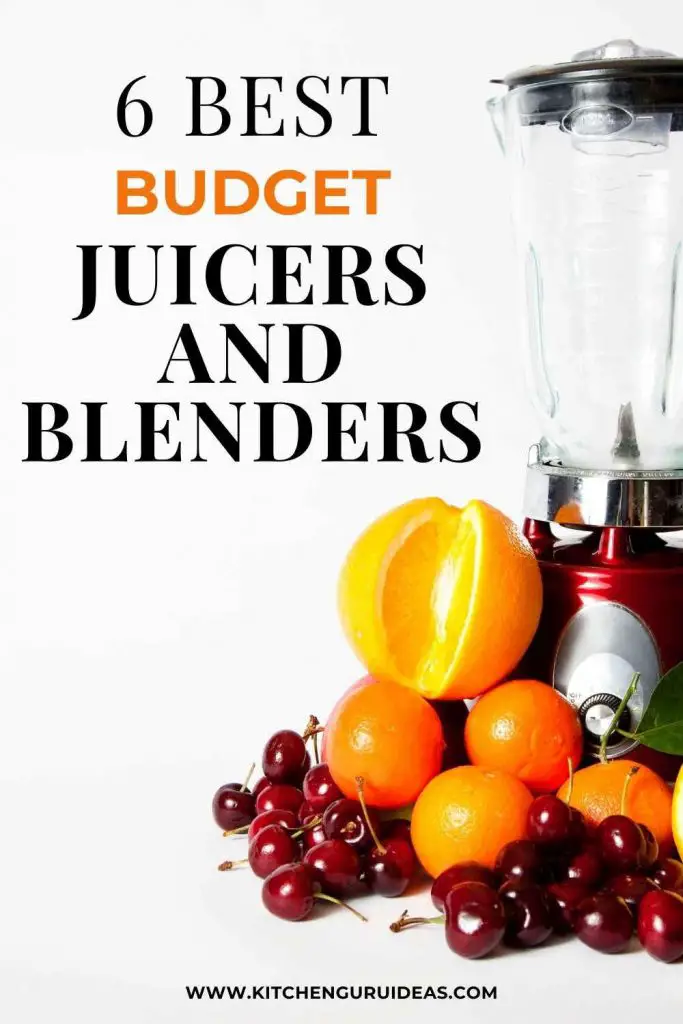 That's why investing in a blender or juicer is a great idea. But where to start looking? There are many types of blenders and juicers and each type has its own bells and whistles, and pros and cons.
To simplify your search and make your life easier, I've gathered these 6 best juicers and blenders that currently dominate the market. As a bonus, I've highlighted the differences between juicers and blenders.
Top 6 Best Juicers And Blenders
You will discover 6 different types of juicers and blenders that make perfect juices and smoothies. Some of them are basic and some of them can even grind nuts and knead dough.
What Is the Best Inexpensive Juicer to Buy?
What Are the Best Personal Blenders?
Reviews
VonShef Professional Whole Fruit Juicer Machine
Great Britain Food Magazine voted this juicer among its top 5 juicers on the market. It is a juicer that is user-friendly and cost-effective. It works with 700 W and has numerous parts for enjoying your homemade juice.
An extra-large transparent and detachable pulp container
Juice collector
Cleaning brush
Plunger
Transparent blade
This centrifugal juicer is made from stainless steel. This means it works with the power of a centrifuge (you get the juice due to the high speed of the blades).
With VonShef Profesional Whole Fruit Juicer Machine you don't have to chop the fruits and vegetables into smaller pieces. It has 2-speeds; it is easy to assemble and is dishwasher safe. It is appropriate for everyone and has a low price.
You can read a more detailed and in-depth review here.
Pros
No need to chop fruits and vegetables (you can use whole)
Stainless steel blades (shred ingredients effortlessly)
Dishwasher safe
More quiet juicing than with other juicers
Easy to work with
Easy to wash
Stylish
Cons
Doesn't juice well herbs or really small veggies
Bigger than your average juicer
Ninja Master Prep Professional
Best Blender Food Processor Combo
This is a professional kitchen tool that is indispensable in the kitchen. With it, you will be able to prepare juices and also many other delicious meals. It has the ability to chop, blend, mix, and make purees. And is perfect for making smoothies.
It is a multifunctional kitchen tool that will relieve your work in the kitchen. If you will have an idea for a party with small sandwiches, this tool will be handy. You will prepare the salsa dip in no time. With Ninja master prep professional you will be able to chop meat, cheese, fish, vegetables, and much more.
And yes, you can prepare beverages also. It is powerful enough to crush ice, so refreshing summer drinks will be your new hit. It is easy to operate with, versatile, has convenient storage lids, and is free of BPA.
You can read a more detailed and in-depth review here.
Pros
Easy to use and clean
Dishwasher safe (except power pod)
Nice modern stainless steel design
Powerful
NO Big chunks of food
Convenient storage lids
BPA free
Cons
Pitchers are made of plastic instead of glass
Only two of the containers have storage lids
Cleanblend 3HP Commercial Blender
Do you lack the time and want to be healthy? Well, Cleanblend has developed a blender that will help you in both ways. This commercial blender will help you to prepare nutritious smoothies, pasta, sauces, ice creams, hummus, baby food, and many more dishes!
You can surprise your family with fresh and healthy meals that everyone will remember. It is very powerful (1800 W) and is made of Triton plastic. It even grinds seeds and nuts.
Your children will love this machine. You can involve them in the kitchen while preparing food or making fresh beverages. I am sure you will have a lot of fun and they will also learn about healthy eating habits.
It has:
Stainless steel bearing and blade
Virtually unbreakable container
and is BPA free. It is less expensive than other blenders with the same characteristics.
You can read a more detailed and in-depth review here.
Pros
Powerful
Lightweight
Does a great job of blending
Chops smooth and even
Efficient
Cons
Loud
Sometimes vibrates like crazy
NutriBullet Rx N17-1001 Blender
NutriBullet is well known among health enthusiasts and smoothie lovers and many have it at home as one of the best blenders on the market. This blender is the most efficient best-in-class nutrition extractor. It has 1700 watts of power and hand-free SMART technology.  The heating cycle is appropriate for making hot soups and sauces.
And what can you put in this blender? You can put in the blender whatever you want: nuts, vegetables, fruit, ice, and seeds. Exclusive extractor technology breaks down and pulverizes stems, seeds, and the skin of the whole food. In these parts, there are the most vitamins and minerals that will boost your immune system and improve your health.
NutriBullet Rx has:
A high-torque power base
Stay-fresh lid
A short cup
A comfortable lip ring
The company offers you a gift when purchasing the blender. You get NATURE'S prescription book, so you will get ideas for preparing vitamin-rich beverages.
It is an elegant blender with a modern design that everyone loves.
You can read a more detailed and in-depth review here.
Pros
Extremely powerful
Versatile
Fast
Cleaning is a breeze
SMART technology
BPA free
Cons
A little loud because of its sheer power
Can sometimes leak at the base
Ninja Professional Blender
This is another product of SharkNinja that inspires people with its power. It is a sophisticated kitchen appliance that is the company's best product. It is ideal for people who are in a hurry.
SharkNinja thought of their customers, so they developed special cups that you can take in your office, on a trip, or in the living room.
This blender is a professional blender that operates extremely fast with 1100 W of power. It blends everything. It has 3-speed settings and a pulse function, so you can regulate the density of your drink.
It has a large container (72 oz.), so it is perfect for making healthy beverages for the whole family. This blender has powerful blades that crush ice, nuts, whole fruits, and other food. It is a good choice if you're not a fan of big pieces of food in your drink.
You can read a more detailed and in-depth review here.
Pros
Powerful
Made from durable materials
Can blend even the hardest ingredients
3 speeds
Removable blades for easy cleaning
Easy to use and clean
Cons
Noisy
Sometimes the single-serve cup's lid makes a very tight seal and is difficult to remove
Vitamix 5200
Best Vitamix
Variable Speed Control
Self-cleaning 64-ounce container is ideal for blending medium to large batches
Design Feature: Radial cooling fan and thermal protection system
From cold to steaming hot in about 6 minutes
Hardened Stainless-Steel Blades
Self-Cleaning
What's in the Box: motor base, 64 oz. container, getting started guide, DVD, classic tamper, Cord: 6 ft
Electrical Ratings: 120 V, 50/60 Hz, 11.5 Amps, and HP- 2-peak
7-year full warranty
The Vitamix 5200 is a powerful and well-known blender that will serve you for many years. Vitamix is a company with a great reputation that operates from 1921. They are market leaders in blender technology.
This is a versatile blender food processor combo that makes great family dishes. You will be able to make drinks, soups, frozen desserts, etc. What is its power? It operates with 2HP, this means it works with 1.491 watts. It is the most powerful blender introduced here.
This Vitamix model has a radial cooling fan and thermal protection system. Why people love it? It has easily adjustable speeds, the ability to pulverize seeds, automatic overload protection, and even turns cold food to hot (perfect for making hot soups!). It is BPA-free and you also get a DVD, a book, and getting started to guide for simple preparations.
You can read a more detailed and in-depth review here.
Pros
Powerful (2 HP) motor
Ability to pulverize seeds
Fast blades that can turn cold food into hot (ideal for making soup)
Automatic overload protection
BPA-free container with a spill-proof vented lid
7-year warranty
Super easy to clean
Build quality is top-notch
Juicer vs Blender: A Simple Buying Guide
Are Juicing and Blending the Same?
At a glance, juicers and blenders are the same things because they do the same thing: turn solid foods into liquid. While this is true, it's not the whole truth. Juicers make juices while blenders make smoothies. If both machines were the same, then we would just have juices (or smoothies). Why have 2 different names for the same thing, right?
Juicers extract juice from fruit and veggies and separate the solid remains – pulp. Blenders, on the other hand, blend both the "juice" and the pulp. So next time when you something like "fresh juice with pulp" at your local grocery store, remember that's just a very diluted smoothie.
Visually, juices are a low-viscosity liquid, while smoothies are a thicker liquid. For a more in-depth comparison, take a look at this article.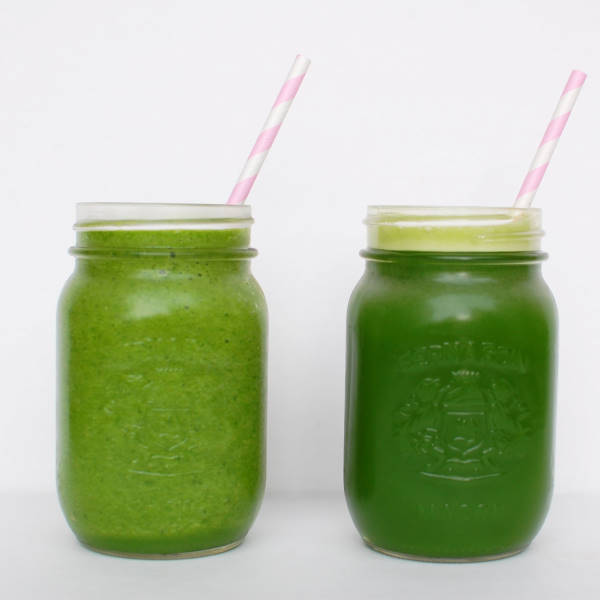 What Is Best: Juicer or Blender?
The answer is the same as with most "something vs something" comparisons: it depends. Because each and every one is unique and has different needs and preferences, it's darn near impossible to say something else.
Simply put, juice if you're:
And blend if you:
Like making more things than just drinks (blenders are more versatile than juicers)
Like pulp
Need fiber
Are trying to lose weight (the fibers fill your stomach much quicker than juice, resulting in lesser appetite)
If you're still completely unsure about choosing either a juicer or a blender, take a look at this video:
Can I Use a Blender for Juicing?
Yes, you can. But you'll need a colander or something similar.
The main difference between juices and smoothies is the pulp. So, to make juice in a blender, you need to:
Make the smoothie
Separate the pulp and the juice
See how to do it with nut milk bag:
Juicing is possible in a blender but you'll have to make a few extra steps.
Is It Better to Juice or Blend Celery?
It all comes down to personal preference.
Both celery juice and smoothie are a great way to stay healthy and lose weight, you won't get any healthier drinking one or the other (unless you have a special condition, of course).
If you're pressed for time, blending celery is less time-consuming than juicing because you just put the celery into the blender, push the button, and there you go. Even cleaning afterward is fast and simple: just put some water into the pitcher and push the button. Nice, fast, and easy.
Can You Lose Weight by Juicing?
Juices are low-calorie drinks and drinking a few glasses at one sitting can quickly fill you up. By dieting on juice alone while avoiding eating solid foods (i.e. juice diet), you'll consume around 600 – 1,000 calories daily.
Which Juice Is Best for Weight Loss?
Carrot juice
Celery juice
Cucumber juice
Red Beet juice
Cranberry juice
Avocado juice
Apple juice
Citrus juice
It's important to note that what you juice is important. For more in-depth information on the best juicing ingredients for weight loss, check out this article.
Juicer or Blender – You Can't Go Wrong Either Way
Smoothies and juices are not just refreshing but also very healthy. The nutrients from vegetables and fruit will feed your body cells and enable them to work properly. If you include freshly prepared beverages at your home and enjoy them immediately after preparation; you will avoid diseases for sure.
I introduced you to some of the best juicers on the market that are perfect for making food and drinks for the entire family. It is your decision which one you will choose. When you are getting this kind of machine, ask yourself what you really need. Do you need a multifunctional machine or just a juicer? Consider your needs and the power of the machine. If you want to crush ice; you should get the machine with as many watts possible (1000+).
Be wise and think about your needs when buying the right kitchen machine that will make you the food and drinks as you want them to be.
What do you like more: juicing or blending?