Healthy living is an ever-increasing trend. One way to achieve this is by using a blender to prepare healthy meals, smoothies, soups, and sauces. Today I will present you with this indispensable kitchen tool that can make your meals both healthy and delicious.
Read this Ninja Master Prep Professional review and find out how this kitchen gadget is going to make you a ninja in your kitchen.
Review Of The Ninja Master Prep Professional
Best Blender Food Processor Combo
Ninja Master Prep Professional is a professional small kitchen appliance that will prepare delicious meals and smoothies in no time. It is perfect for chopping, blending, mixing, and pureeing.
This professional kitchen tool includes:
450-Watt Power Pod
16 oz. Chopper Bowl
Chopper Splash Guard
40 oz. Processor Bowl
Stacked 4 Blade Assembly
48 oz. Pitcher
Pitcher Splash Guard
Stacked 6 Blade Assembly
2 Storage Lids
Technical Details
This kitchen system has the next technical details:
Model number: QB1004
Voltage: 120V., 60 Hz.
Power: 450 Watts
Item dimensions: 7.12 x 19 x 11.12 in
Item weight: 7.08 lbs
Material type: Plastic
Size: 48 Ounces
Bowl Capacity: 500 ml (16 Ounces) (2 cups)
Pitcher Capacities: 1.5 L (48 Ounces) (6 cups) + 1.2 L (40 Ounces) (5 cups)
What Can The Ninja Master Prep Do?
This appliance allows you to prepare your favorite meals and smoothies in no time. With it, you can blend, chop, mix and puree, so it is a multifunction device that shortens your preparation time.
It will save your precious time in the kitchen and help you to enjoy all the nutrients that you need for normal functioning.
Is Ninja Master Prep A Food Processor?
Not just a food processor. Chop the onion and carrot for a sauce, puree your favorite vegetable soup or salsa, blend a smoothie bomb full of nutrients and mix your milkshake for a perfect meal on the road. This is possible with Ninja Master Prep Professional.
How Do I Use My Ninja?
Tips And Hints
With the chopping blades, you can chop meat, fish, cheese, vegetables, etc. If you want to mince, chop and make a puree, you should increase the length of pulses. Use short and quick pulses for coarse chopping.
It is better to chop larger pieces of food into 1-inch cubes; this is especially recommended for hard foods like meat and cheese.
Can You Crush Ice In The Ninja?
This kitchen expert crushes ice too. If you want to get snow from ice just start with short pulses and watch the ice change into it. This technique is excellent for smoothies, beverages, and cocktails.
Strengths And Weaknesses
Do The Pros Outweigh The Cons?
For this price range, more than yes. Most of these blender/food processor combo appliances are made from cheap plastic and aren't strong enough to be used daily. Not only it has tons of pros but those little cons that it has, are negligible. Check my list below and you'll definitely agree with me.
Pros
Easy to use (only one big start button)
Easy to clean (no parts that food can stick to)
Dishwasher safe (except power pod)
Nonslip bottoms (pitcher & bowl)
Nice modern stainless steel design
Powerful
Evenly chopped food
Versatility of usage
NO Big chunks of food
Faster food preparation
Convenient storage lids
BPA free
Cons
Pitchers are made of plastic instead of glass
Only two of the containers have storage lids
Is The Ninja Master Prep Dishwasher Safe?
Yes, you can put all parts except the power pod into the dishwasher. If you don't have one, you can just pour water into the bowl or pitcher and pulse it a few times. Simple.
What Does BPA Mean?
The best benefit that this product has is the fact that it doesn't include BPA. It is a chemical that many manufacturers include in their plastic products. BPA is a chemical with estrogenic activity (EA) that affects our health badly.
Dr. George Bittner states that this compound is causing altered functions of reproductive organs, it causes early menarche, reduces sperm counts, and increases the rate of cancer.
I am really glad that this company doesn't use this dangerous chemical in its products, it shows respect for both its customers and the environment.
Who Can Use the Ninja Device?
There are no limitations on who can use this professional kitchen multifunction product. Who has the most benefits from using it?
Beginner Cooks
Professional chefs
Children (they should use the item ONLY with parents or with an adult)
People with no experience in the kitchen
overweight people who want to lose weight
Athletes
Diabetics
People with cardiovascular problems
…and others, so make delicious meals and beverages in a matter of seconds!
How Much Does it Cost?
You get the Ninja Master Prep Professional package for a super low price. It is a good price for the chopper bowl, processor bowl, and pitcher that are powerful to blend, mix and chop.
Other Equally Import Commonly Asked Questions Regarding This Device
Why Does My Ninja Blender Smell?
This is quite a common question and not just for Ninja blenders but for all well-known blender brands.
If you smell electrical burning, then it's probably coming from the motor. Turn off the machine immediately. A lot of blender motors don't use grease or similar lubrication. If you're brave enough (BEWARE: you're going to void your warranty by doing this), open the blender and check the motor bearings. If there's a strong burning smell coming from it, then it's toast. Your only option is to replace it (the model is different but the procedure is the same).
The motor is fine, you say? Moving on to the blades. They have bearings inside that can seize over time – the seals can brake and liquid starts seeping through.
When crushing lots of ice the blades become dull and the motor has to output more and more power to compensate. Unplug the machine and spin the blades by hand to check if they are the culprit.
With heavy use, carbon brushes inside the motor get worn out, resulting in a burning smell and possibly some smoke.
Last but not least, couplers: being plastic and close to the motor, they melt and harden over time. When they deform they overload the motor.
How Do You Clean A Ninja Lid?
The fastest and most convenient way to do this is to put it in the dishwasher.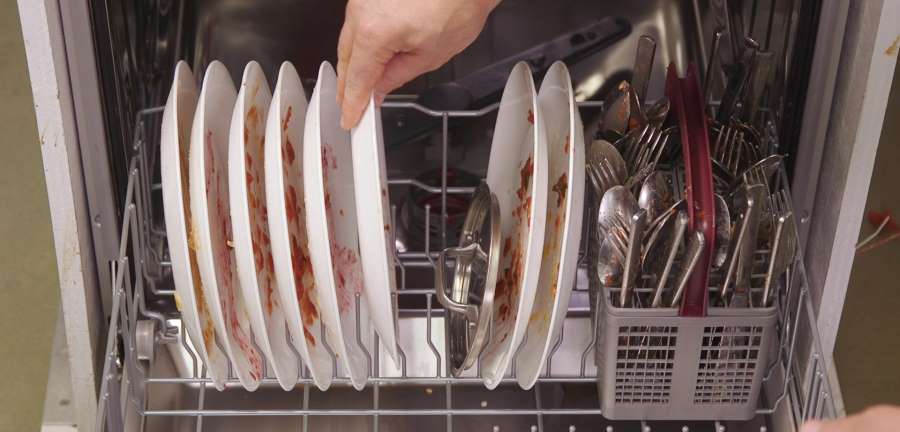 If you don't have this luxury, and assuming you're cleaning the whole appliance regularly, then just pour some warm soapy water in the pitcher, put on the lid, and start the machine. The inside of the lid is now clean as a whistle. For the outside just clean it with the same soapy water and a sponge.
If you want to be through, then grab a bottle of vinegar. It's an amazing cleaner and disinfectant. Pour it into the pitcher and close it with the lid. Now leave it for about an hour or 2. Grab an old toothbrush and start scrubbing. When you're done, rinse with lots of water.
Why Is My Ninja So Loud?
There are several reasons why it does this. I'll show you the most common ones:
You're Too Close To A Wall Or A Corner
Walls, especially corners amplify noise tenfold.
The Counters Surface Is Too Hard
Some surfaces increase noise (like granite and wood).
"Engine" Trouble
The noise is coming from the motor assembly. Do you hear grinding or squealing? Do you smell something burning? Quite often bearings seize or some food gets stuck and this is causing the noise.
How Do I Make My Ninja Blender Quieter?
Move it away from walls and/or corners
Place a towel or a rubber/silicone mat underneath
Inspect the motor assembly*
Use earmuffs
* BEWARE: you're going to void your warranty by doing this
Check the blades first. Either something got stuck or the bearings are worn out or seized. Then move on to the base. If broken or cracked, the pitcher won't seat properly on the motor, causing excessive stress.
Be A Ninja In Your Kitchen
This was the Ninja Master Prep Professional review. It is an amazing kitchen tool to have because you get 3 different food-making containers. You can make soups, smoothies, cocktails, and salsas; chop the food for further cooking, etc.
It is affordable for any person and it doesn't mean that it's bad quality. The blades are made from stainless steel and the plastic is BPA-free.
It not only blades, chops, and mixes but the 450-watt power pod crushes ice perfectly. This is a multifunctional kitchen helper that will spare your time spent in the kitchen and also provide you with nutritious meals and drinks for your health.
Choose to be healthy and vital with Ninja Master Prep Professional.
📌 Pin Me for Later Reading! 📌
Pin this image to Best Blenders or Best Food Processors on Pinterest.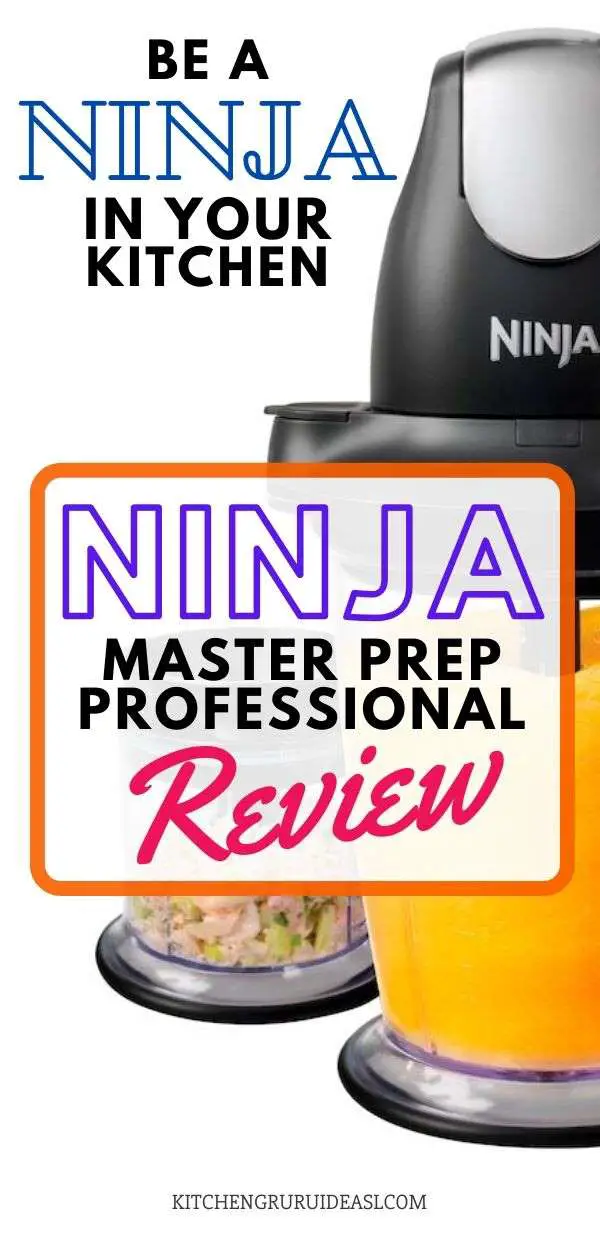 When did you decide to live healthily?