Do you love making fresh juice at home? You don't like to buy juices from stores that are full of added sugar and harmful chemicals? If you want to lose weight, boost your well-being, or just live healthier in general, then read this VonShef juicer review.
You now have the option to consume healthier food without compromising the taste.
VonShef Professional Whole Fruit Juicer Machine
VonShef professional whole fruit juicer machine was voted by Great Britain Food Magazine as one of their top 5 juicers on the market.
It has features that make this juicer user-friendly and effective. VonShef`s juicer has 700 watts of power and has numerous removable parts so you can enjoy quality homemade juice.
This Is What You Will Get With The Juicer Machine:
Extra-large transparent 70 oz detachable pulp container
Juicer collector
Cleaning brush
Plunger
Transparent blade
Blade
Product Information
These are the characteristics of VonShef`s professional juicer:
Power: 700 W
Material type: stainless steel
Dimensions: 14.2 x 10 x 17.3 inches
Weight: 12.3 pounds
Item model number: 07/061
Color: silver
What is VonShef?

Most people think of Vitamix, NutriBullet, Ninja, or Cleanblend when they hear the word "juicer" or "blender".
VonShef is a less-known juicer brand but it's a great entry-level choice for beginner healthy-life enthusiasts, fitness goers, or people who just like a glass of orange juice in the morning.
It's an underrated brand in the juicing industry but they have achieved quite a reputation with its high-quality and fancy-looking serverware and picnicware.
Is VonShef A German Company?
Although the name sounds German, it's actually British.
It was founded by Craig Foster and Mark Januszewski in Manchester and is part of the DOMU Brands family.
How Does This Juicer Work?
It has 700 watts of motor power that has the ability to extract juice from vegetables and fruits in two separable containers. The food pulp goes to the detachable container (70 oz) and juice into the other. Robust stainless steel blades work at high speeds to shred fruits and vegetables into small pieces.
Its centrifugal force extracts juice and presses the pulp through the mesh filter. It has 2 speeds:
Speed 1 (14000 RPM) is appropriate for soft food extraction
Use speed 2 (18000 RPM) for juicing hard food
RPM stands for Revolutions Per Minute.
Check Out Other Amazing VonShef Products
How Does Centrifugal Force Work?
This juicer works on centrifuge. It means that it spins the pulp so fast around in its chamber that juice is extracted.  When you put food in the juicer it goes to the mesh chamber that has extremely sharp blades. Blades shred food into pulp. Next, the pulp is spun at high speeds so you can get juice from it.
Juice goes in one container and the pulp in the other one. Centrifugal juicers are the best for extracting juice from soft and hard food.
Are Centrifugal Juicers Bad?
In short, centrifugal juicers aren't bad. They are an affordable way to get the healthy life you deserve.
There's an interesting debate circling around centrifugal juicers about whether they destroy nutrients.
Centrifugal juicers spin at thousands of revolutions per minute and this produces heat. Some people are concerned that this heat alters the molecular structure of the nutrients and destroys it.
This is the theory, but the reality is different. While it's true that some enzymes and vitamins get warmed up during juicing, they don't get destroyed in any way. If this were true, then cooking would be even worse because here the food is being cooked at much higher temperatures.
VonShef Juice Extractor Benefits
The VonShef professional juicer has 12 benefits worth mentioning:
No need to chop fruits and vegetables (you can use whole)
Without any mess
Stainless steel blades (shred ingredients effortlessly)
2-speeds (for soft & hard food)
Dishwasher safe
More quiet juicing than with other juicers
User-friendly
Easy to assemble
Easy to work with
Easy to wash
Stylish
No fear of cutting yourself when washing manually
Is It Right For You?
This juicer is the best choice for beginners who want to start juicing. It is also appropriate for all people who love fresh orange (or other) juice in the morning.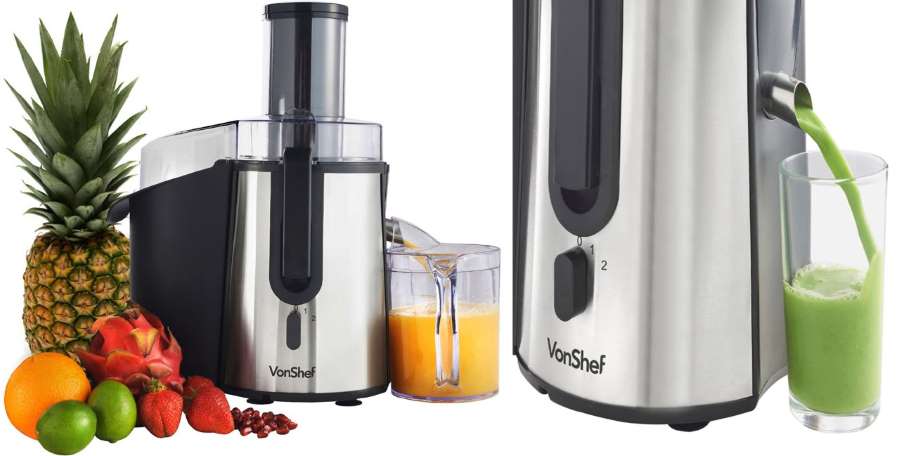 If you are in a hurry this juicer should fit you. It is a good solution for people on the diet, people who don't want to pay for expensive juice in the store, and for all the people who work out.
If you are short on money but you still want to drink fresh juice, this juicer is the perfect choice for you.
What Is The Price?
This juice extractor is relatively cheap compared to other juicers of the same caliber.
Despite the low price it still brings results. Its 700 watts of power will make your juice in minutes.
Is It Worth Buying A Juicer?
If you want to live a healthy life by drinking juice, then you have only 2 options:
Make it by yourself
Buy it already made
Store-bought juice is only healthy because it's advertised this way. It's actually just as dangerous to your health as soda. You'll find a more thorough explanation below. Keep reading.
To make juice by yourself in the comfort of your own home, you can make it:
Manually using a citrus juicer or a lemon squeezer or a similar kitchen gadget
With a juicer machine
The short answer is yes, juicers are worth buying.
You see, squeezing that orange or lemon in a citrus juicer is fun at first but you'll need to put a lot of effort and time just into 1 glass of juice. You'll also make a big mess and if you have any cuts on your fingers, you'll scream in agony when the lemon that you're squeezing hits that wound.
This technique is fine if you drink juice occasionally, i.e. a couple of times per month in the summer.
But if you drink juice more often, for instance, daily, then investing in a juicer is your best choice. You'll not only get your juice done in seconds but the juicer machine extracts more nutrients out of the food than manual juicers.
You'll have more time to enjoy your free time and less food will be wasted.
Can You Lose Weight By Juicing?
Juicing is a wonderful and fun way to lose weight. It's wonderful because you can the juice from the ingredients you choose by yourself, and fun because juice is tasty and naturally sweet.
The problem with store-bought juice is the high amount of artificial sweeteners they have. Combined with tons of chemicals, they will do you more harm than good in the long run. There's a high risk of gaining weight than losing it this way.
Fruits and vegetables contain not only natural sugars, but also vitamins, minerals, fibers, and similar natural ingredients that will help you lose weight.
Losing weight is a simple concept: you burn more calories than you consume them. Juice (depending on the ingredients you choose, of course) is a low-calorie food. Some fruit has a lot of fiber that reduces appetite and you won't have the tendency to overeat.
Return Policy
If you are ready to buy the VonShef professional whole fruit juicer machine, you will get a 30-day money-back guarantee. If you are not satisfied with the product or it didn't meet your expectations; you can return it and get a refund.
But you won't. I assure you.
Summary
Pros
No need to chop fruits and vegetables (you can use whole)
Without any mess
Stainless steel blades (shred ingredients effortlessly)
2-speeds(for soft & hard food)
Dishwasher safe
More quiet juicing than with other juicers
User-friendly
Easy to assemble
Easy to work with
Easy to wash
Stylish
No fear of cutting yourself when washing manually
Cons
Doesn't juice well herbs or really small veggies
Bigger than your average juicer
A Good Juicer For Beginners
If you want to extract your juice at home fast and easily, this juicer machine from VonShef might be the right solution for you.
It uses centrifugal force and power of 700 watts that extracts juice from any soft or hard fruits and vegetables. It is perfect for people who are on a diet, people who work out, and those who want fresh juice without any mess.
If you like the features, you can order VonShef Professional Juice Extractor and start preparing delicious and healthy drinks in a matter of minutes.
📌 Pin Me for Later Reading! 📌
I suggest you save this one to Best Juicers on Pinterest.
What's the best juice to drink in the morning? Share your recipes in the comments below.