This is a Cleanblend model 3HP blender review. Are you tired of headaches, have a weak immune system, and are sick all the time? Do you have a busy schedule and no time for cooking healthy meals?
If you said yes to any of these questions, read this Cleanblend 3HP commercial blender review.
Time is a major factor in our lives, we lack it and we don't have time to cook healthily. Food companies and the media don't help, they manipulate us with unhealthy choices that make us vulnerable to diseases like cancer, Alzheimer's, and cardiovascular diseases.
Let's be honest here: if you want to be healthy and live a quality life, you should take care of yourself. Every problem has a solution – you just have to find it. If you decided to take care of yourself and eat healthy, here is a blender that can take you on the journey of your new life.
Cleanblend Blender Review
Cleanblend Commercial Blender
Cleanblend 3HP commercial blender is a blender that will help you and your family make delicious and nutritious meals, sauces, pasta, smoothies, salsas, baby food, ice cream, hummus, and much more.
This Cleanblend 3HP commercial blender has:
2L (64 Oz.) Blender Jar
Power Pod (3HP-1800 Watt and 120V plug)
Blade Assembly
Filler Cap
Lid
Locking Nut
Drive Socket
Temper
Technical Details
Model: 3HP Commercial Blender
Voltage: 120V
Power: 1800 Watts
Item dimensions: 14 x 17 x 12 in
Item weight: 11 lbs
Material type: Tritan
Size: 64 Ounces
What Is This Blender For?
With 3 HP this blender can do anything you want. It blends all types of food, grinds nuts and seeds, and even crushes ice. This blender would be perfect for you if you have kids. You can make healthy snacks and meals for them in a matter of seconds.
You can make meals and beverages for the whole family and they will love it. Make morning smoothies for a good day start, soups for lunch or dinner, hummus for a healthy snack, and homemade ice cream for dessert.
Blending Tips
Follow these 5 steps to blend your food perfectly. When you will use the Cleanblend blender for the first time, wash the blender jug, blades, temper, and lid/cover with warm water and a little soap.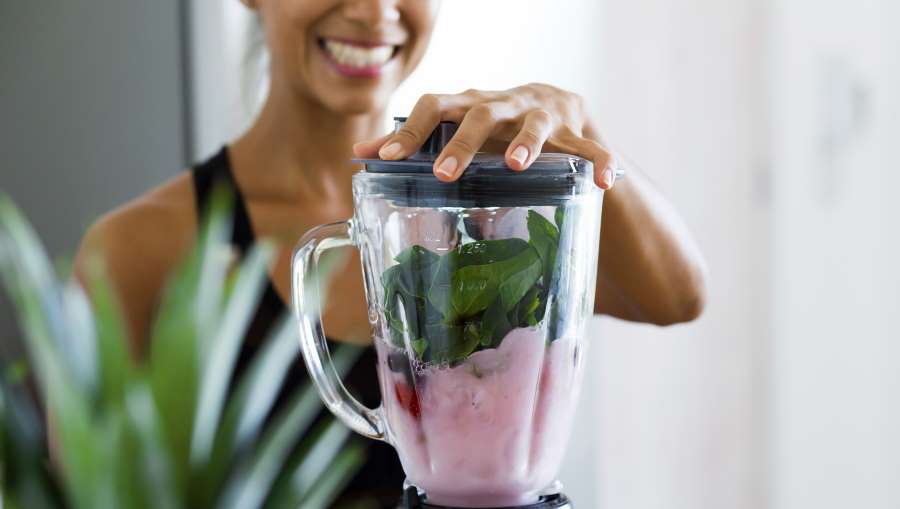 Place the blender on a level surface
Add the ingredients to the jar and clip the lid securely into place. Position the jar onto the centering pad. Put the filter cap in its position – push it down firmly into the lid.
When you blend you should use the filter cap and a lid together unless the temper is inserted through the filter cap opening. This is important to know when you blend hot ingredients.
Set the variable speed control to LOW and start the blender. You can slowly increase the speed until the consistency of the food is reached.
Watch your blending time and avoid over-processing.
Finish your blending by switching the power switch to OFF. Unplug the power cable and remove the jar.
TIP
Soft and liquid ingredients should go into the blending jar first, then solid items and ice (if you will add it).
Why Is Cleanblend 3HP Commercial Blender The Best On The Market?
This blending machine has a lot of benefits for your good blending experience:
3 HP (1800Watts) (one of the most powerful blenders on the market!)
Oversized, virtually unbreakable 64-ounce container
BPA free
Includes temper wand for extreme processing power (for nuts, ice cream, and soups)
5-year warranty
Tritan material – clear, durable, stylish, and safe (NO BPA, BPS, or any other bisphenols)
Stainless steel bearing
Stainless steel blade
Less expensive than its competition but with the same features
More About Tritan Material
Not all plastic products are safe; I think you already know this. Tritan material is free of BPA, which means it doesn't contain a chemical that affects our bodies negatively.
This Blender from Cleanblend is made from Tritan material and this means that it is not manufactured with bisphenol A (BPA) or other bisphenol compounds (such as BPS).
Tritan is impact-resistant so you have no fear of shattering. It is tough, and dishwasher safe; it looks like glass but is much lighter. The most important thing is that it hasn't got any estrogenic or androgenic activity.
Who Can Use It?
This blender is for every person who wants to prepare fast and healthy food or beverages:
Athletes
Busy people
Teenagers
Parents
People on diet
Overweight people
People with chronic diseases
Chefs in restaurants
Beginner Cooks
People without teeth
Is It Expensive?
In this Cleanblend blender review, I also talk about price. according to the blender market, this is one of the best blenders regarding the price-to-power ratio. The Cleanblend 3HP Commercial blender has 3 HP or in other words, 1800Watts and this means it blends virtually everything.
The price is reasonable and the effectiveness of blended food isn't questionable.
How Do I Choose A Good Blender? – The In-depth Blender Buying Guide
Blenders come in many shapes and sizes. From chopping and crushing to mixing and puréeing, blenders can do it all. It's hard to find the perfect blender to suit all your needs – there are thousands to choose from. With my short but highly informative buying guide, I will make your job of finding the best blender a breeze.
Size Matters
This is one of the most important factors to consider. It makes a huge difference if you live by yourself or have a small family – you can't make enough juice for a family of 5 with a single-serve blender. Consider guests too – do your friends and relatives come often?
You'd be a bad host if you promised your guests each one glass of refreshing healthy juice and you couldn't make more than 2 cups because your blender is too small.
How Much Should You Spend On A Blender?
Another important factor – but not the most. Most blenders cost $40 – $150 but there are some "professional" ones that can cost up to half a grand. The good news is that unless you're a healthy life fanatic, this kind of blender won't do you much good. If you drink juice once or twice a day then your sweet spot is $50 – $120.
On the other hand, professional-grade blenders are made from more durable material – in most cases metal over plastic and will last you quite more time.
Take your time assessing your budget and your other needs. Remember – a blender should be a one-time purchase.
Are Expensive Blenders Worth It?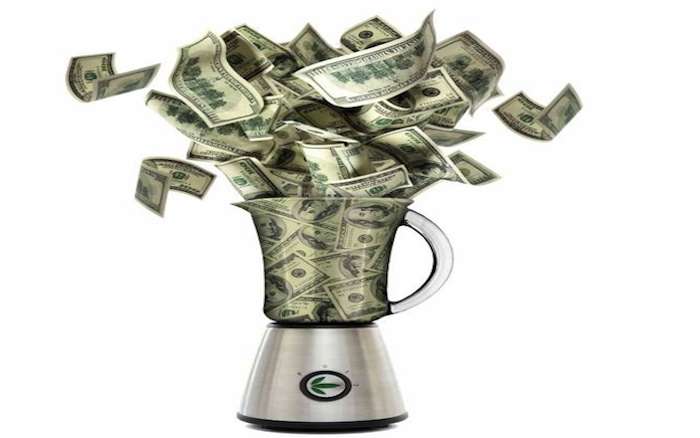 If you can afford it, a big yes. It's better to spend 50 bucks more on a blender made from quality components that won't fall apart after a year or so.
Let's do the math: paying $100 for one blender that will last as long as you, or a $40 cheap knock-off brand you never heard of and will break down after a year. Repeat this for 3 consecutive years and what do you have? You've already spent way too much money than you would have on the $100 one. Not only that, you wasted all that time searching for a new "budget" blender – not to mention the nerves you lost when your current blender broke down.
It's not worth it.
Scotty, We Need More Power! – Do You Really?
Blender power varies quite a lot from model to model. From as low as 300 watts to 2000 and even higher. Most household models fall within 500 to 750 watts.
Do Watts Matter In Blenders?
Bigger isn't always better – that's exactly the case here. Just like with cameras: more megapixels don't mean better quality images. Wattage actually doesn't affect performance that much.
The Blender Beast
You just read the Cleanblend blender review and now you can draw the line. This blender with 3HP is exceptionally strong so you can blend almost everything. From soft to hard food, nuts to ice – it works with all.
Price is reasonable regarding steel blades and bearings plus the Tritan container that has no dangerous chemicals like some other plastic blenders. Because of this feature, the price could be even higher.
After reading testimonials I can conclude that customer service is doing a great job, they are responsive and ready to help. A 5-year warranty is also a big plus if something goes wrong, so you can contact them and fix the issue.
I don't see any bad features in this blender, quite the opposite, I like it because it is one quality product that does all, so thumbs up for this smart and very powerful blender.
📌 Pin Me for Later Reading! 📌
Pin it to Best Blenders on Pinterest.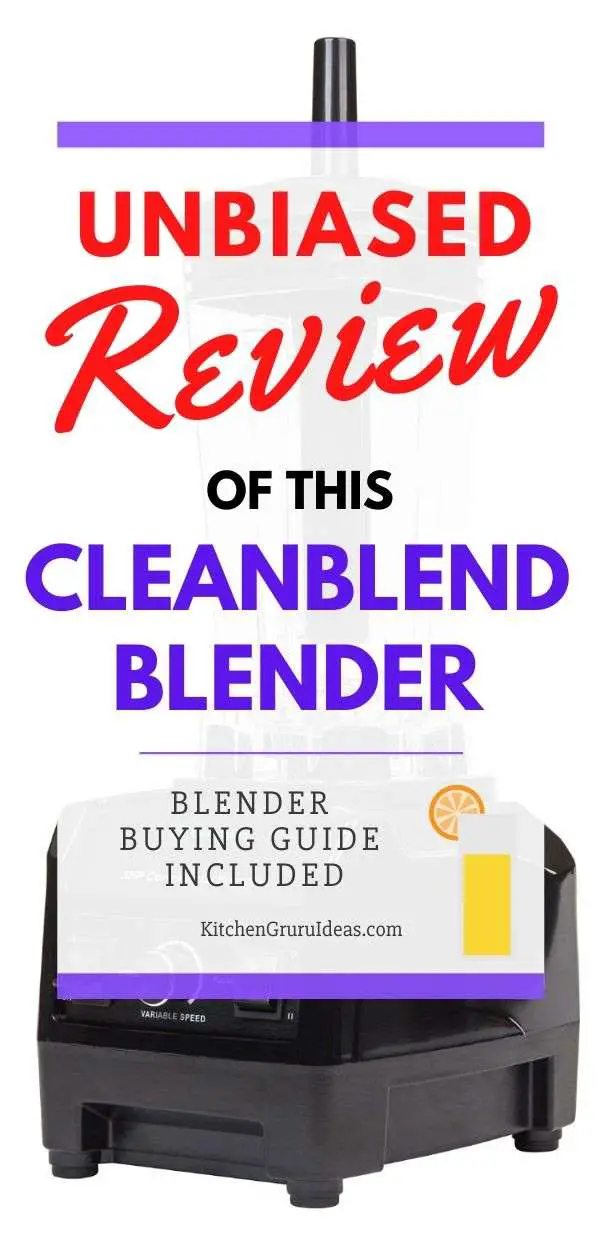 What's your take on this amazing blender? Share your opinion in the comment section below.