Do you want to grill but don't want to plunge into debt? Or you simply don't see a reason to shell out half a grand for a grill that you'll only use a couple of times per year? You're in the right place as I have answers to both of these questions.
Grilling on gas is much more convenient than on charcoal, don't get me wrong but with greater convenience comes a greater price. It's difficult to find a gas grill for or under this price and damn near impossible to find one that won't disappoint you when you taste your first burger.
Just like you, my budget is more or less the only thing I can consider when buying something. But I don't want you to get conned like I was many times.
That's why I've gathered these 3 best gas grills under 100 dollars that actually work and won't fall apart or rust away after the first grilling season.
What Is A Good Inexpensive Gas Grill?
Top 3 Best Gas Grills Under 100 Dollars
Masterbuilt SH19030819 Smoke Hollow Propane Tabletop Grill
The SH19030819 Smoke Hollow is an amazing budget gas grill that's great for both backyard and on-the-go cooking.
Don't Let Its Size Fool You
Although the grill is compact and portable, it still has plenty of space for cooking (for a portable grill, that is).
It measures only 17 X 27 X 12 inches / 43 X 69 X 30.5 cm and weighs 18 lbs / 8 kg, yet it has a total cooking area of 305 square inches.
The stainless steel grates are 205 square inches large and hold 8 – 10 burgers at once.
Not only that, but the grill also features a warming rack (this is something many portable grills lack) that is 100 square inches large.
Incredibly Hot
Despite having a single 10,000 BTU burner, the grill gets incredibly hot incredibly fast.
It can reach 600°F / 315°F in a matter of minutes.
Reliable Igniter
The push-button ignition system works surprisingly well.
I was convinced that it will fail sooner than later because of the price tag (manufacturers tend to cheap out on igniters when it comes to budget grills). Lucky me, I was wrong.
Even after a year of abuse, it still works like a charm.
Even if the worst should happen and the thing breaks, the folks at Masterbuilt included a match holder and made a hole in the grill next to it so you won't have to remove the grates to start it up.
Shiny and Durable
The whole grill is made from durable stainless steel that will rust only if left in the pouring rain.
I noticed a few rust spots on the lid (I cooked on it only when it's sunny and dry outside) but they are tiny and only on the surface. A gentle wipe with a towel and some WD-40 removed them.
Other Notable Mentions
Foldable legs
Lid thermometer
Latched lid for safer and easier transportation
It Also Comes With a Few Issues
The grill is too hot, even on the lowest temperature setting. With the lid closed, I couldn't get it cooler than 450°F / 232°F which is a bit too much for delicate foods like chicken. I solved this issue by leaving the lid open (then the temperature dropped low enough.
The warming rack sure comes in handy but it's too low. It's difficult to flip burgers under it.
Pros
Fast preheat
Powerful burner
Ample cooking area
Compact
Portable
Lightweight
Durable
Has a warming rack
Cons
Gets hot even on the lowest setting
Warming rack is too low
Royal Gourmet PD1301S Portable 24-Inch 3-Burner Table Top Gas Grill Griddle with Cover, Hose, and Adapter
Breakfast, lunch, or dinner. Nothing is impossible to make with this propane-powered griddle from Royal Gourmet.
Highly Versatile
You can cook food on the griddle that you'd never dream of putting on a grill.
These things include:
Eggs
Pancakes
Stir-fry
Waffles
just to name a few.
I always take my griddle along with the grill when I hit the road because I want to cook more than burgers, hot dogs, and steaks.
Spacious
The griddle top is 316 square inches which is more than enough for about 15 burgers.
It's also enameled in porcelain which makes it non-stick, easier to clean up, and makes it more resistant to rust.
Gifts Included
The grill comes with a waterproof grill cover and a 38-inch long hose for your 20 lb or 5 lb propane tank.
Delivers a Total of 26,400 BTU
The 3 stainless steel burners are not only durable but also heat up the griddle very quickly.
All 3 of them have a separate knob and are ignited by the Piezo ignition system.
No Assembly Needed
Your only job is to pull it out from the box.
What Needs Improvement
The grease hole is not completely aligned with the grease tray and if you're planning on cooking something really greasy like bacon, there's going to be a hell of a mess to clean up. I solved this issue by drilling a larger hole and making a small funnel out of aluminum foil just to be safe(r).
Despite the porcelain coating, there are noticeable hot and cold spots. I suggest you do a bread test before you actually place some food on it.
This flat top griddle doesn't actually sit flat (ironic, don't you think?). It's an easy fix, though, place a few washers or something similar under the short leg(s).
Pros
Versatile
Large cooking area
3-burner
Fast heat-up
Durable
No assembly and seasoning needed
Hose and cover included
Cons
The grease hole is not aligned with the grease tray
Hot and cold spots
Doesn't sit flat
Coleman Fold N Go Propane Grill
When it comes to compact size, lightweight, and tasty results, the Fond N Go grill by Coleman is your sure bet.
You Won't Even Notice It
This baby is so compact, you can put it in the trunk of your car even when it's full.
It measures just 6.5 X 13.6 X 15.2 inches / 16.5 X 34.5 X 38.6 cm.
It's also so lightweight, your muscles will barely move when you pick it up and carry it as it only weighs 10 lbs / 4.5 kg.
It's worth mentioning that this model is highly popular among Youtubers who travel a lot with their RVs so if you own one, you might consider it. If you don't like it for any reason, see this list of other more suitable RV grills.
Fuel-Efficient
16-oz propane bottles usually last about 2 hours but here, it lasts about an hour more, i.e. 3 hours.
It's officially stated that it lasts up to 3.5 hours but mine never lasted more than 3 hours (and I tested many bottles). Maybe I was doing something wrong…
Cooking Capacity
The cooking area is 105 square inches large which is large enough for 4 – 5 burgers.
It doesn't sound much but for a tiny grill such as this one, it is.
The grill is powered by a single 6,000 BTU U-shaped burner that heats up the grill fairly quickly. It's highly efficient, even in bad weather when there's windy and cold.
It's so powerful, it leaves beautiful sear marks
Super Easy to Clean
Because of its shape and burner placement, cleaning this grill is a breeze: no tight spaces, and no maneuvering.
What's more, the removable grease tray and the grates are both dishwasher-safe.
Known Issues
The first thing I noticed (even before buying it) was the lid thermometer: it doesn't have one. For me, it's not that big of a deal but I know some of you take this more seriously.
As with many gas grills, this one also has never heard of low heat. The difference between low and high isn't substantial, so cooking low and slow is pretty much out of the question.
Don't rely on the lid latch. It's flimsy. However, there's an easy fix: lightly bend that tab the latch engages downwards. Be gentle, though, as the thing is made from thin metal. I had to rebend it three times but now I can carry this grill with peace of mind.
Have a lighter nearby as the ignition system let me down a couple of times.
Pros
Small footprint
Lightweight
Easy to clean
Fast heat up
Fuel-efficient
Makes good sear marks
Dishwasher-safe grates
Cons
Lacks heat control
Igniter is inconsistent
Flimsy lid latch
No thermometer
Grilling on a Budget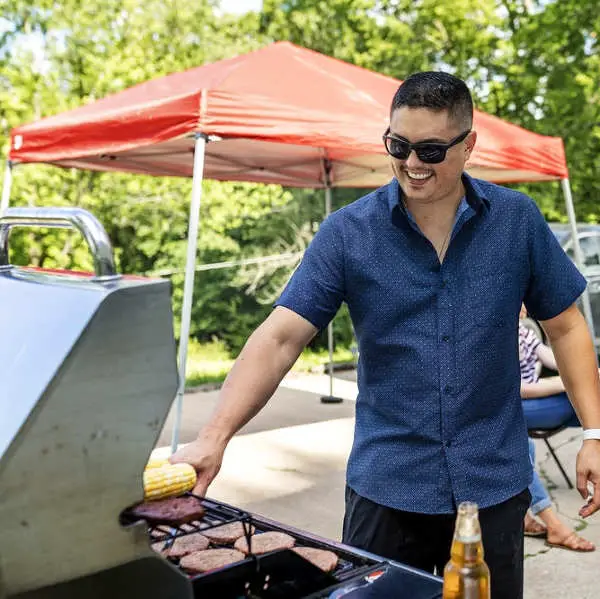 Grills aren't the only thing that's expensive at a BBQ.
See the reasons below why grilling is considered expensive, what other things increase the cost of having a BBQ and the tips and tricks on how to make this event more affordable.
Why is BBQ So Expensive?
The price manufacturers charge for BBQ grills ranges from a few dollars to several thousand, depending on the equipment.
I really enjoy cooking outdoors on a BBQ grill and I know lots of other folks do too. I was wondering how I can own, maintain, and use a BBQ grill without breaking the bank so I decided to do some investigating to find the answer.
Are Cheap Grills Worth It?
Absolutely! Just because a grill isn't expensive doesn't mean it isn't a great value.
What I found with the research I conducted was that there are dozens of options for grilling and most of them are built sturdy and intended for multiple uses.
How Do You BBQ on a Budget?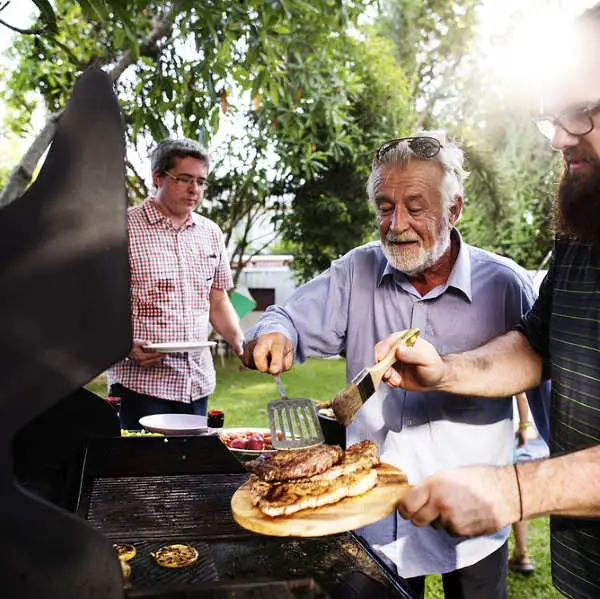 Save money by conserving fuel. Adding additional insulation is one of the options. It may cost a bit more money but you'll save big bucks in the long run.
I also find that I can keep my BBQ costs down by keeping the grill clean so it doesn't have to be replaced or repaired.
Once the cost of the equipment is handled, it comes down to the cost of the food. For this part, it's always a good idea to purchase the best quality ingredients and items at the best prices, but that's up to the BBQ chef.
What Can I Cook on a Tight Budget?
Bread
Potatoes
Corn
Onions
Salads
It may not be the tastiest list but you can still have a good time if you're short on cash.
Grill Out and Still Save Money
Although $100 does not sound like a lot when it comes to purchasing a gas grill, you can still get a decent one if you do a little digging and weed out the bad ones.
All in all, if you want the best bang for your buck, go for the Masterbuilt SH19030819 Smoke Hollow. This impressive little beauty is tough, durable, handy, and has a large cooking area.
If you're sick and tired of constantly making burgers, steaks, and hot dogs and want to make more or less everything you can make in the kitchen, consider the Royal Gourmet PD1301S Griddle. This baby is highly versatile and offers an ample cooking area, among other things.
Campers, travelers, tailgaters, and RV enthusiasts who know the value of portability, lightweight, and compactness should include the Coleman Fold N Go in their next trip.
Do you know any other grills that I should mention here?