Smoothies made from frozen fruit are a delight, especially in the hot summer. But to make them properly and extract as many nutrients as possible while turning the still-frozen fruit into liquid you need a blender with a strong motor and sharp blades.
These 9 blenders below fit both criteria and make the best frozen fruit desserts possible while being able to crush ice, make ice cream and sorbets, and other recipes.
Check out these best blenders for frozen fruit in the table below and read the detailed reviews.
What Is the Best Blender for Frozen Drinks?
The Best Blenders for Frozen Fruit, Ice, Smoothies, and Everything in Between
Ninja BL660 Professional Countertop Blender
With its 1100-watt motor and sharp 6-blade assembly, the Ninja BL660 professional is tailor-made for pulverizing thought and frozen ingredients.
On the Go Blending
If you don't have the time to enjoy your smoothies at home, take them with you on your journeys with the two 16 oz cups with to-go lids.
Highly Versatile
Besides crushing ice and making frozen fruit smoothies, you can also make various drinks, dips, and dressings with it.
Single-Serve or Fun for the Whole Family
Make either single cups for yourself and your significant other or serve the whole family or guests with its 72 oz XL pitcher.
Other Neat Features
Dishwasher safe parts
BPA free
3 speeds
The Issues
Sometimes the machine makes a very tight seal around the single-serve cups which makes them difficult to remove.
It's quite loud – a drawback of having a powerful motor.
Final Say
This blender is the creme de la creme of blenders for frozen fruit. With its powerful motor, sharp blades, and pulse feature, you can make the best frozen fruit recipes ever.
Interested more in this blender? Then read the in-depth review here.
Pros
Amazing blending power
3 speeds
Powerful motor and sharp blades
Easy to clean
Dishwasher safe
Cons
Loud
Single-serve cups are sometimes difficult to remove
Cleanblend 2001 Commercial Blender
The Cleanblend professional blender (model 2001) is a powerful heavy-duty blender able to make anything from frozen desserts to hot soup.
Hulk Smash!
This blender comes with an extremely powerful 1,800-watt motor with thermal protection. Combined with a razor-sharp stainless steel 8-blade system, this baby is able to crush ice and other frozen ingredients with ease.
Extremely Versatile
On those cold winter days, a nice bowl of warm soup or a cup of tasty cappuccino is surely a blessing.
This blender is capable of both as it can warm up anything you're blending.
Other Amazing Features Worth Your Consideration
64 oz jug
Variable speed control
Pulse switch
5-year warranty
Be Wary of This
Being large and powerful, it can sometimes vibrate (not to mention it's loud). It happened to me a couple of times. I've just put a towel underneath it and most of the vibrations went away.
It's quite big, almost twice the size of the Ninja above. If your kitchen is small, carefully plan where you're going to put this one.
The Verdict
Cleanblend is well-known for its durable and reliable blenders and this one is no exception. Able to crush ice and turn frozen fruit into a nice warm smoothie, this blender truly deserves the title "professional".
Check out this article for more details and an in-depth review.
Pros
Incredibly powerful 3HP motor
Solid feel & appearance
Durable jug
Easy to use and clean
Vitamix E310 Explorian Blender
The Vitamix E310 Explorian is a built-to-last blender capable of turning frozen fruit into ice cream or warm smoothies.
Able to Replace Many Appliances
If you're low on counter space, then this versatile kitchen tool is your answer.
It's not only capable of making:
Smoothies
Dips
Spreads
Sauces
Baby food
Hot soups
Frozen desserts
but also:
Grinding nuts and coffee beans
Making butter and spread
Mixing pancake, waffle, cookie, muffin, crepe, and cake batter
Kneading bread and pizza dough
Tough as Leather
The blades are made from hardened aircraft-grade stainless steel, capable of smashing through even the toughest ingredients.
The 48 oz jug is made from toughened Tritan plastic, so you don't have to worry when it slips from your hands down to the floor.
Super Easy to Clean
It's remarkably easy to clean. Just pour some lukewarm soapy water and in about a minute the machine is as clean as a whistle. You don't have to disassemble a thing.
It's Loud
Given its raw blending power, you shouldn't be surprised to hear it from the next room.
Last Say
Vitamix never let me down and it never will. A mighty and versatile blender that can even knead dough. I recommend this one to anyone, especially those who live in small places where space is at a premium.
If this Vitamix doesn't convince you, then take a look at the model 5200.
Pros
Easy to clean
Powerful
Great for soups, coffee beans, and dough
Amazing blending performance
Built to last
NutriBullet ZNBF30500Z Blender Combo
Best Blender Food Processor Combo
Versatile
3 precision speeds, pulse function, and the extract program
1200 watts
64 oz pitcher with lid and vented lid cap
Included tamper, 32 oz cup, 24 oz cup, to-go lids, easy-twist Extractor blade, and recipe book
Made of powerful stainless steel and designed with cyclonic action
BPA-free pitcher and cups
Hassle-free cleaning
Take your nutrition extraction to the next level with this NutriBullet ZNBF30500Z Blender Combo.
Bigger and More Versatile Than Rx
Compared to NutriBullet Rx, the largest jug is bigger by 19 oz, comes with more accessories, has pulse control, and more speeds.
The Blender combo has a lower wattage motor, though – 500 watts less, to be precise.
Fine Control
Crush ice with the pulse function, mix delicious and nutritious smoothies with the Extract program, and fine-tune seed grinding and soup and sauce making with its 3 speeds: low, medium, and high.
Go Solo or Feed the Whole Party
If you have a family or host many parties, create smoothies for the whole bunch in its 64 oz pitcher.
If you want to enjoy your smoothie on the road, take one with the supplied to-go cup.
Noisy
Like all powerful blenders, this one is also loud.
The Real Deal When It Comes to a Heavy Duty Blender
Despite its noisy mixing, it's a powerful and versatile blender that can make smoothies from frozen fruit like a snap.
Pros
Powerful
Easy to clean
Versatile
Comes with individual cups
COOCHEER 1800W Blender
Best Cheap
1800W power
6 blade assembly
Acts as a juicer, nuts and coffee grinder, and ice smoothies machine
German Standard Stainless Base
4 rubber anti-slip feet
6-speed control and 3 pre-programmed settings
The 68oz/2L BPA-Free Tritan jar
Self-cleaning function
2-year replacement/refund and 24/7 professional customer service
If it's price you're worried about, then consider this professional stainless steel 1800-watt blender by COOCHER.
Durable Body
Most of the blenders on this list are made from some kind of plastic. This one is made from stainless steel, increasing its durability while giving it a shiny silver look.
Easy to Use
It comes pre-programmed with 3 settings for making smoothies, crushing ice, and the pulse function. Each of these has additional 6 speeds.
How Well Does It Mix Frozen Fruit?
With its powerful motor and specially designed stainless steel blades, it's able to turn frozen fruit and ice into tasty smoothies, sorbet, and ice cream.
Other Ingredients and Tasks This Blender Can Handle
Dips
Sauces
Dressings
Grind nuts, coffee beans, seeds, and spices
Hot soup
What I'd Change
The quality control is lacking improvement. There's a chance yours might arrive with a defective motor that will die out after a couple of tries. Save the receipt and contact the manufacturer immediately when this happens.
A Professional Blender at an Entry-Level Price
What makes this blender stand out is the shiny silver look of its stainless steel body. It's capable of processing both fresh and frozen fruit remarkably well for its price tag.
Pros
Stainless steel design
Powerful
Easy to clean and use
Versatile
Variable speed control
WantJoin Professional Commercial Blender With Shield Quiet Sound Enclosure
The WantJoin commercial blender is the perfect choice for anyone who enjoys peace and quiet while making their favorite smoothie.
Remarkably Quiet
One issue that plagues blenders – especially those with powerful motors – is the excessive noise they produce. The engineers at WantJoin know very well how annoying this is and made this baby quiet.
It's not exactly soundproof, but it's way quieter than other blenders.
Powerful Motor With High RPM Rating
Being a commercial blender, it comes equipped with a 2.200-watt motor capable of spinning at 38.000 RPMs.
Combine this with an 80 oz jug and the sound enclosure, you can make frozen fruit smoothies or frozen desserts for the whole house.
Reinforced Jug
The large 80 oz jug is made from hardened 3-layered plastic that can withstand both impacts and the test of time.
What Bothers Me About This Model
It's huge, bulky, and heavy. It should be for a commercial blender – it's designed for very large groups and constant use.
For someone living alone or having a small kitchen, this blender could be a bit too much.
Peace and Quiet and Smoothies
This is the quietest (and only quiet) blender on this list. I love drinking smoothies in the morning but I also like silence. This blender has me covered in both cases and so will you.
Pros
Extremely quiet
Very efficient at blending frozen fruit
Large capacity jug
Easy to clean and use
Reinforced jug
Amaste MR-01 Professional High-Speed Blender with 9 Pre-Programmed Settings
The Amaste MR-01 is a modern sleek blender with a 68 oz pitcher that's available in colors red, silver, or gray.
Touch Panel Controls
Unlike most blenders on this list, this one has a control panel that is touch-sensitive with 9 pre-programmed settings.
Make everything from smoothies, baby food, to hot soups with a simple touch.
Sharp Blades & Powerful Motor
This model has an 8-blade assembly made from stainless steel and a 1.200-watt motor capable of delivering 40.000 RPMs.
It has more than enough power to turn ice into snow, pulverize frozen fruit, cook hot soups, and more.
The Issues I Had With This Machine
The first thing I've noticed is its large size. For a blender, this thing is quite big.
It's also ridiculously loud and you might wake up your upstairs or downstairs neighbors when using it.
Summary
It's a blending behemoth. Big, loud, and super effective at mixing both frozen and fresh ingredients. Given its versatile and powerful nature, it's able to replace several kitchen appliances that would take valuable counter space.
Pros
Sharp blades
Powerful motor
Easy to use and clean
Touch screen control panel with many programs
The pitcher is made from thick glass
BlenderX MC-PRB-01 CORDLESS HOME, PORTABLE & TRAVEL Blender
Best Portable
ONLY PORTABLE BLENDER THAT CRUSHES & BLENDS STANDARD ICE CUBES
6X MORE POWERFUL than most USB blenders
LONGER LASTING single charge BATTERY LIFE
WINNER BEST PORTABLE BLENDER 2020 BY CUISINEBANK
PREMIUM WATER RESISTANT BAG FOR TRAVEL & STORAGE
Included 20 OZ BPA free TRITAN PLASTIC JAR w/ convenient measurements & easy on-the-go travel lid
STAINLESS STEEL MOTOR BASE
Non slip rubber feet
This cordless portable travel blender by BlenderX (model MC-PRB-01) is a traveler's best friend. Combined with a portable grill on a camping trip, you'll experience an unforgettable vacation.
Battery Powered Beast
Take this blender with you and make a refreshing smoothie on your way to work or school. When going on a camping trip with your friends or family, make some fresh ice cream in the afternoon or a cup of nice warm coffee in the morning.
Most blenders in this price range have issues with low battery life and die out after a serving or two. This one has a remarkable battery life – its lithium-ion battery can make 4 or 5 drinks before needing a recharge via USB.
You'll have to wait about 3 to 3.5 hours to be fully charged.
The battery cannot be replaced, but it's backed by a 2-year warranty.
What About Frozen Fruit and Other Hard Ingredients?
I was surprised at how well this blender performed crushing ice and blending frozen produce.
It made a bit more noise than when blending fresh fruit but the smoothies and sorbets I've made were delicious and nutritious.
What's Included in This Package
20 oz jar with on-the-go travel lid
Water-resistant travel bag with shoulder strap
Charger
What Bothers Me About This Product
They could have put a bit more effort into quality control. When I got this blender for the first time, the battery discharged soon after the first blend. I immediately notified the manufacturer and they sent me a new one. Since then it's working as advertised.
When yours arrive at the doorstep, test the battery life. I don't want you to experience the same discomfort as I did when I learned the hard way the battery was bad. When you're in the great outdoors, charging ports are hard to come by.
An Amazing Portable Blender for Both Frozen and Fresh Ingredients
Reliable and powerful cordless blenders are hard to come by and this one is the best of the best in this price range. Whether you're at home, on your way to work, or enjoying the open road, the BlenderX is always here for you.
Pros
Battery operated
Long battery life
Powerful
Compact
Lightweight
Portable
Cons
Bad Quality control
Doesn't completely crush ice – leaves little bits of ice
Dessert Bullet DBR-0101 Blender
Best for Frozen Fruit and Ice
Enjoy guilt-free healthy desserts with the Dessert Bullet.
Unique Non-Blender Design
If you look at the machine from the side, it reminds you more of a masticating juicer than a blender.
Turn Frozen Fruit Into Frosty Desserts of Your Choice
When buying desserts from the store, you can't really trust the ingredients the manufacturer put inside.
One benefit of having your own dessert maker is that you're in control of the ingredients. It's a must-have for anyone allergic to gluten, dairy, lactose intolerant, or diabetic and who craves sweet desserts.
Make sorbet, ice cream, cookies, sundaes, mini pies, and cakes,… Anything your heart desires.
For Frozen Desserts Only
One big drawback this blender has over the others is its limited versatility. Most other blenders on this list can make hot soups, mix batter, crush seeds,… This one can't even make smoothies.
So, if you're planning to blend frozen fruit and nothing more, then this is the one. If you're looking for versatility, then you're out of luck here and should see other blenders on this list.
A dessert lover's wet dream
You can make tasty desserts from the comfort of your own home. The best part is that you control the ingredients and know exactly how much sugar, calories, and nutrients it has. Too bad it can't do other things.
Pros
Great for people on diets craving desserts
Quiet
Dishwasher safe parts
Simple to use
A Few Words on Frozen Fruit
Is It Safe to Put Frozen Fruit in a Blender?
If your blender is designed for this kind of job, yes.
The problem with frozen fruit is that it's rock solid. This has the potential of destroying the blenders' blades, either by making them dull or breaking them completely.
If you're not sure whether your blender is up to the task, let the fruit thaw for a bit to soften it up. You can also cut it into smaller pieces as the blades will have to work less to liquify all these ingredients.
A rule of thumb: if your blender can crush ice, it can blend frozen fruit too.
Is It Better to Use Frozen Fruit in Smoothies?
Yes, in many ways. There are several reasons why is this so:
Frozen fruit lasts longer than its fresh siblings. Also, you don't have to worry about fruit flies and other insects
The fruit is washed (and in some cases cut to pieces) before frozen, meaning less work on your side
Smoothies made from frozen fruit are colder, creamier, and thicker
Fresh fruit is more expensive than frozen
Before being frozen, fruit is picked ripe and stays this way while in the freezer
Which Frozen Fruit Is Best?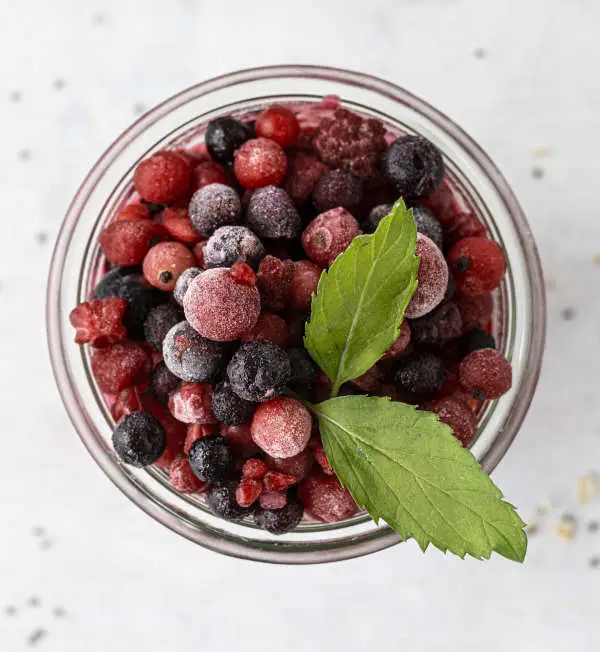 Cherries
Bananas
Berries
Peaches
Mango
Pineapple
Pomegranates
Papaya
Is Frozen Fruit High in Sugar?
The freezing process itself doesn't increase sugar levels. A lot of manufacturers add sugar or some sort of sweetener while freezing the fruit. Why? Because sugar is a natural preservative and is also addictive.
If you don't want sweetened frozen fruit, just check the packaging. If you're buying online, read the reviews and see the manufacturer's website.
Can You Put Frozen Fruit Straight Into a Smoothie?
Adding frozen fruit to a smoothie is much better than ice: it will cool the smoothie without diluting it and adds some excitement to the smoothie.
Should You Wash Frozen Fruit Before Eating?
It's already washed at the plant. Washing it again would be redundant.
How Long Does Frozen Fruit Last?
Anywhere from 6 months to up to a year. If unopened, it can last even longer.
Many factors affect this, like how the fruit was prepared and stored at the plant. Untawing and refreezing also shorten the lifespan of the fruit.
How Do You Thaw Frozen Fruit?
Place it in the fridge the night before. I do this with meat and veggies all the time.
Put the fruit in a ziplock bag and either submerge it in lukewarm water or the microwave. If there's warm and sunny, place the bag outside near a window or door. Just don't forget to pick it up.
Create the Best Frozen Fruit Recipes With These Blenders
To get the best bang for your buck when processing frozen fruit, you need to use the right blender for this job. In this list, I've gathered the best of the best blenders for frozen fruit so that you can enjoy frozen desserts for years and years.
How often do you make smoothies, ice cream, or sorbets with frozen fruit?