NutriBullet Rx will change your view about blenders and superfoods. The brand is well-known worldwide, and millions of people use its products. It's fast, user-friendly, effective, and has a specific, modern design that many people love.
Do you want to get healthier, fit, and have the beach body you always wanted? You can with this nutrition extractor. Learn all about this nature's prescription while reading this NutriBullet Rx review and see that it is the most powerful among NutriBullet's blenders.
The Most Powerful NutriBullet
NutriBullet Rx
1700-watt motor
The short cup is 30 ounce and the pitcher is 1 liter
Hands-free SMART technology
Single servings and family-sized servings
Heating cycle for soups & sauces
This product is manufactured in compliance with US & Canadian Electrical Standards
Smart Technology with Auto Start/Stop Functionality
This blender is the most efficient nutrition extractor. It has a 1700-watt power motor, hands-free SMART technology, and a heating cycle for making hot soups and sauces.
It is a system that will help you make healthy, nutritious drinks out of whole foods, veggies, nuts, and seeds. Exclusive extractor technology breaks down and pulverizes the stems, seeds, and skin of whole food, where the most nutrients are.
This is what you get with NutriBullet:
High-torque power base
Extractor base
SouperBlast Pitcher with 2-piece lid
30oz short cup and comfort lip ring
45oz oversized cup
Stay-fresh lid
User-guide
BONUS Nature's prescription book
Technical Details
Model #: N17-1001
Motor: 1700 watts
Capacity: up to 45 oz
Dimensions: 15.2 x 15.2 x 13.1 inches
Weight: 14.7 pounds
Color: Elegant black
Heating cycle
SMART technology
Auto on-off
How does SMART Technology work?
NutriBullet Rx was designed by the best engineers, doctors, and nutritionists to provide nutritious meals.
It all starts when you fill the pitcher with your favorite foods. When you put the extractor cup on the base, the blender starts by itself! So this means that your Rx model will do the work alone, no need for you to stand by and monitor it.
You don't need to press the start button or set the time for blading, all is programmed. It was re-programmed to turn at exactly the right speed and slow down at the exact right intervals.
SMART technology of NutriBullet Rx also comes with a 2.3 HP motor that helps blades to extract the nutrients of the food.
The result is a juice that contains 100% vitamins, nutrients, and fiber. Fine-extracted food is a perfect way for your body to process the nutrients and give it all that it needs for day-to-day activities.
What Can NutriBullet Rx Do?
In my NutriBullet RX review, I will discuss what can you prepare with this blender. It can make you healthy and fresh beverages, cocktails, soups, sauces, dressings, and much more.
It is different from other blenders. It has revolutionary SMART technology that will extract your drink for the exact amount of time at the exact speed it needs for giving you all the nutrients from the food.
It has a great feature for making hot soups: a 7-minute heating cycle that creates fresh hot soup and beverages for you, with no need for reheating it on the stove or microwave.
Make smoothies, morning drinks, soups, dressings, protein, and milkshakes that will retain all nutrients from the food.
You can easily take your drink to the balcony or terrace and enjoy it while relaxing; a short cup will make this happen for you.
This is not it, look what this revolutionary blender will do for you:
Extract nutrition from foods
Break down seeds, stems & skins of fruit and vegetables
Breaks ingredients like wheatgrass & whole fruit
Give A Treat To Yourself Today
Will It Fit Your Lifestyle?
Extracted food is nutritious for everyone and NutriBullet Rx will provide it for you. Food that is extracted is virtually predigested, so it helps your body absorb and utilize nutrients much easier.
Did you know that even if you eat a light meal like a salad; the body has to do a lot of work to digest it? No problem with this blender.
When you prepare your food and drinks with Rx you will help yourself to consume food at its most absorptive state.
This means it is perfect for health-conscious individuals who want to get the best from their food. There are no limitations; everyone can use this simple blender, from athletes to someone who suffers from fibromyalgia.
Its extracting ability is also perfect for people with:
Diabetes
High cholesterol and blood pressure
Asthma
Allergies
Migraines
Insomnia
Joint pain
Stress
Bloating
Constipation
B.S.
Inflammation and more
Tip
If you have some of these diseases try to consume at least one NutriBullet Rx drink per day and your condition should change.
Try to replace a standard meal with this drink for even better results. If you do this, don't forget to include all the macronutrients in your beverage (proteins, carbohydrates, and healthy fats) and you will have a perfect drink.
Is NutriBullet BPA Free?
All 3 cups are made from non-toxic high-impact plastic. This shows the brand's care for the health of its consumers.
Why plastic and not glass? Simple: glass is brittle. It also shatters on impact – plastic doesn't.
How Much Is The Nutribullet Rx?
Get your most powerful nutrition extractor with SMART technology and 1700 watt power motor for an affordable price.
With the machine, you get a pitcher, short cup, oversized cup, user guide, and a BONUS – Nature's prescription book.
What Is The Difference Between NutriBullet And NutriBullet Rx?
I've been using the original 600-watt NutriBullet for 2 and a half years almost every day. I got NutriBullet Rx for Christmas from my sister.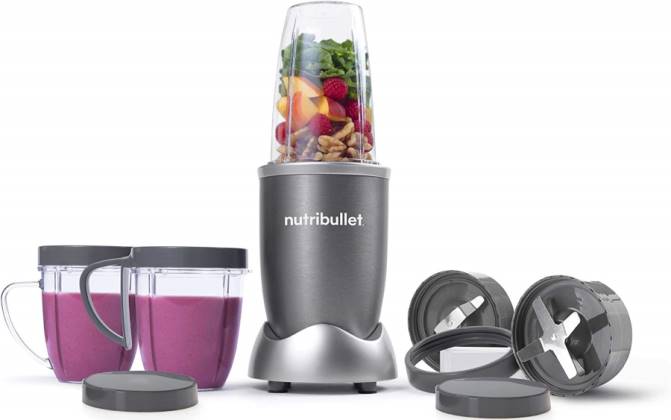 The difference is huge.
The very first thing I noticed was the difference in size. The Rx is quite bigger than its older sibling. The cups are also larger. Rx's smallest cup is 30 oz, while the other's is 18. It took me a few days to get used to the larger Rx cup.
The Rx's stronger and faster motor is a great improvement (especially for me) because it blends harder ingredients like nuts quicker and more efficiently. I also like the idea of making soups with it using the built-in heater.
But because of its giant strength, the Rx is much louder than the original NutriBullet and this is a turn-off for me.
Product
Watts
RPM
Size [inches]
Size [inches]
12.9 x 9 x 13
15.16 x 15.16 x 13.11
No. Of Cups
To summarize, NutriBullet Rx is stronger, faster, and larger than the original design and has 1 cup less to blend with than the original 600-watt NutriBullet.
Why Does My Nutribullet Rx Leak?
This is quite a common issue. So common it happened to me also.
My first idea was just to tighten the lid more. It didn't completely stop – it was still leaking a little. After making my smoothie I encountered another problem. I tightened the lid so much I couldn't unscrew it! I tried putting a cloth over it so my hand wouldn't slip but I couldn't budge it. So I asked my neighbor (who has more experience with blending and juicing than me). She told me to place the lid in a bowl of hot water for about 10 – 20 minutes. It worked like a charm.
Time well wasted.
My second idea was a crack in the screw cap. So I checked around the blades and I found it. But not on the cap itself – it was on the seal.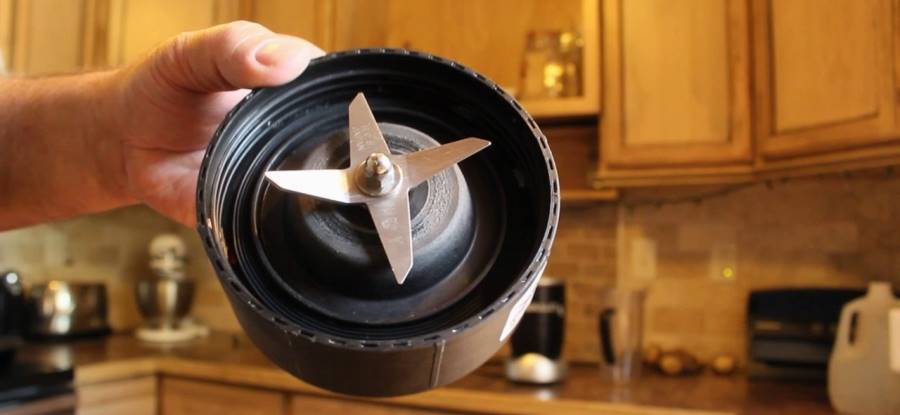 How Do You Fit A Nutribullet Seal?
Using pliers grab the gasket at the lip and pry it out. Carefully place the new one in. Done.
The manufacturer doesn't recommend replacing the seal because it can be easily damaged during installation and suggest buying a new blade assembly every 6 months. Why? Because new blades cost $50 that's why.
I did some research on why this is so common and it turns out it's a design flaw. Most blenders have the screw cap at the top – the NutriBullet has it at the bottom. So changing the seal is just a temporary fix. But this won't stop me from living my life healthy.
To Quickly Summarize The NutriBullet Rx
Pros
Extremely powerful
No lumps
Versatile
Heating element for soups
Fast
Cleaning is a breeze
SMART technology
BPA free
Cons
A little loud because of its sheer power
Can sometimes leak at the base
Good Nutrition Is Nothing But In Your Hands
Everyone who prepares smoothies and drinks will love this blender. It's easy to use, powerful and gives you all nutrients from the food and the perfect texture. It will prepare you a hot soup in 7 minutes, how amazing is this?
I like its design, it is simple and attractive. But the most important thing is that it works with 1700 watts of power. SMART technology allows the user to go away when the drink is blending. It works with 30000 rpm and it gives drinks their perfect texture.
For an affordable price, you get a great blending machine with an additional short cup that you can take outside and drink on your terrace or backyard.
You can decide to help your body stay young and vital and have the NutriBullet Rx in your home. It is the perfect way to consume vitamins and minerals for staying healthy or help your body to heal.
📌 Pin Me for Later Reading! 📌
I suggest you save this image to Best Blenders on Pinterest.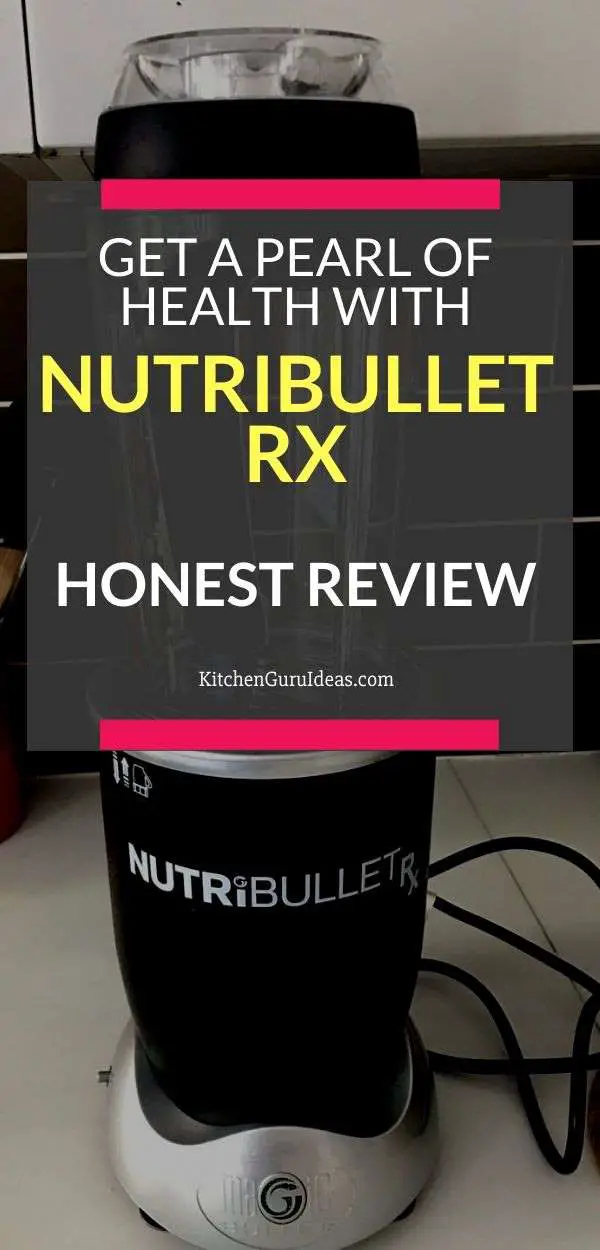 What's your favorite smoothie recipe? Share yours in the comment section below.