Most people do not understand why they need a boning knife and use any knife they find on the counter for cutting.
What many do not realize is that using the right knife makes your meals even tastier. The perfect flavor combination of fat, bone, muscle, and blood can only be achieved with precise cuts.
Without a good knife, you will not get the right flavor because most of the flavor is left on the bone. That's why you need a boning knife. And to get the best boning knife, keep reading.
What Are The Best Boning Knives?
Shun Classic Gokujo 6-inch Boning and Fillet Knife
When working on a budget, it should not limit you from getting the best things in life or using quality products.
For your sake, the Shun boning and fillet knife is here to give you professionalism and value for your money. It is super affordable, and the amount of work that it will save you in food preparation and sharpening is enormous.
Unique Shape, Designed for Cutting
This knife's blade has an elegantly contoured shape to easily, safely, and effectively cut meat away from bones, joints, and tendons. However, even with all the cutting, the last thing you want is to cook meat that has lost its integrity.
This is the kind of promise you get with investing in this knife.  It guarantees to maintain the quality of your meat, which ensures that you will serve your guests with excellent food at no extra cost.
Sharp as a Scalpel
With a super sharp blade, nothing can be difficult to prepare.
Shun has its own "gokujo" design that makes it perfect for fish filleting, deer, chicken, trimming brisket, etc.
The unique shape ensures that you are able to navigate the knife through anything within a convenient time.
Ergonomic and Safe Handle
Another good thing about this knife is the handle. Its ergonomic design gives you the confidence of using it even when your hands are wet.
As Safe as It Can Be
Additionally, its full tang blade gives you an assurance that even if it's not firm at hand, it will not slide off and cause any accidents in the kitchen.
What Dulled My Blade
The knife is very brittle, especially at the edge. One drop to the floor at the wrong angle and BOOM.
Super Freaking Sharp Knife
Even for a boning knife, this thing is quite sharp. Not only that, it holds the sharpness for quite a long time and when it becomes dull, you don't need a lot of effort to restore its functionality.
Pros
Super sharp
Ergonomic design
Non-slip handles
Full tang blade style
Very easy to re-sharpen on a whetstone
Global G-21 6.25 Inch Flexible Boning Knife
The thought that you are about to prepare a nice dinner for your friends and family should not stress you simply because you don't have a quality knife. This is where the Global flexible boning knife comes in and saves the day.
Not Some Chinese-Made Trash
This knife is made in Japan, which guarantees that quality is not compromised in any way.
Since its innovation, the Global knife has taken the culinary stage by outdoing traditional European-style cutlery.
Therefore, when you invest in this flexible boning knife, you are sure that you are signing for a better deal.
Made From Special Durable Stainless Steel
It is made of hard vanadium/molybdenum stainless steel for durability, flexibility, and precision in service.
This material makes sharpening super easy and it will maintain its sharpness for a longer period.
High-Performing Sharp Blade
Its edge is razor-sharp, which guarantees to give you the power you need to make a difference in any kitchen experience.
The thin blade design also ensures that the knife has the ability to penetrate through boning meat and fish filleting. Its razor-sharp factory blade assures you that with the knife at hand, it will only take a few minutes to cut anything.
Comfy and Safe Handle
The most striking feature of the Global G-21 is its stainless steel handle.
This handle is manually molded to fit perfectly at hand for easy usage.
Additionally, to avoid slipping from the hand while in use, the handle is well-dimpled to build resistance.
Another advantage of this knife is that the dimpled handle design allows you to use it under any condition conveniently. Its resistance from slipping allows you to use the knife even if your hands are wet or for cutting oily foodstuffs.
What Bothered Me
It feels like a feather. It's too lightweight for my taste (the Shun is almost twice as heavy).
Your All-Time Favorite Kitchen Partner
Despite being lightweight, it's super sharp, flexible, and durable. I've cut many types of meat with this knife, including chicken, fish, and brisket, to name a few, and the cutting went smoothly and without any resistance.
Pros
Flexible
Made in Japan
Durable
Razor-sharp edge
Easy to sharpen
Metal handle
How Do I Choose a Boning Knife?
A wide variety of boning knives has infiltrated the market. It is, therefore, difficult to know what features to look for when buying.
Flexibility
One important thing you need to consider when purchasing the best boning knife is flexibility.
Flexible blades give you more control and allow you to cut any meat from poultry to beef and even fish.
Quality and Shape of the Handle
Another essential thing to consider is the handle. The quality of the handle determines how long the blade will remain intact.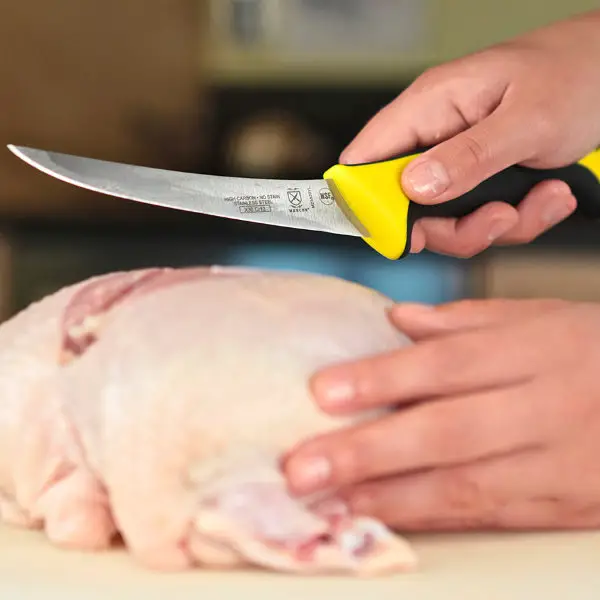 A good quality handle looks stunning and complements the cutlery in your kitchen. It's a wonderful feeling to use a knife that looks good and is comfortable to hold.
Blade Sharpness
The most obvious feature of the blade is its sharpness: how sharp it is and for how long can it hold its sharpness.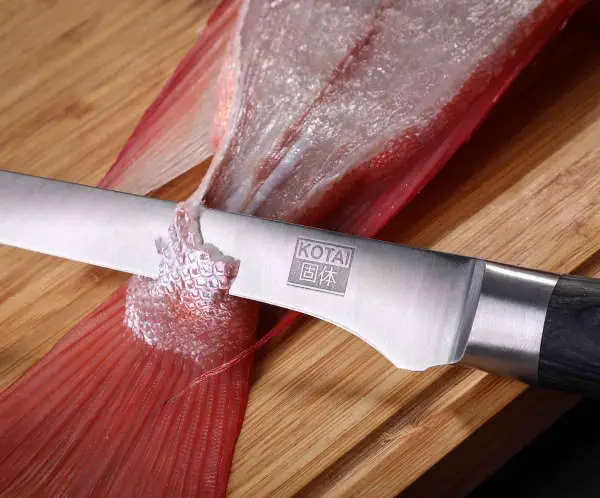 Another thing you should be on the lookout for is how much time and effort you need to sharpen it: a couple of strokes on the whetstone or the whole afternoon.
Size Matters
How long a blade is should be proportional to what you're cutting. For the home, a 6-inch blade should suffice most, if not all, your cutting needs. For cutting whole animals, like deer and pigs, I recommend at least an 8-inch blade.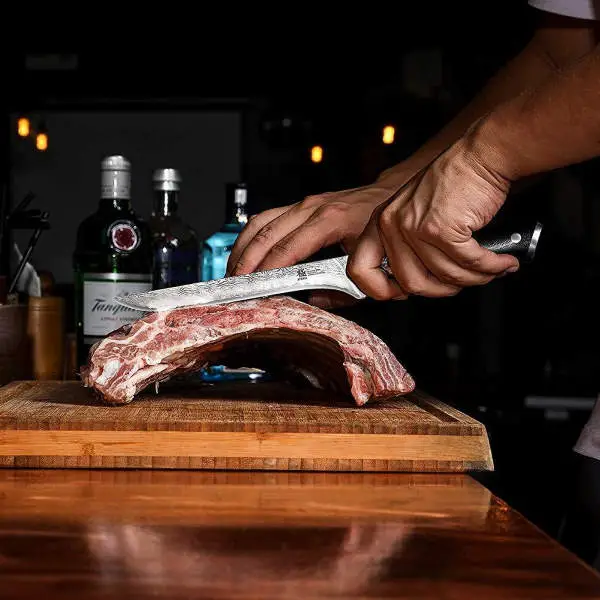 Cut Through Meat With Ease
When you know what to look for when buying, the process is so much easier. The best boning knife will save you a lot of time, money, and energy. It will also feel more comfortable for you to use.
The knives reviewed in this article have been tried and tested and are the best in the market.
📌 Pin Me for Later Reading! 📌
Save this pin to Best Boning Knives or Best Meat Knives.