Infrared grills are the new craze in the grilling world. No wonder: they're even more convenient than gas grills, require less time to preheat and cook, greatly reduce flare-ups, reach higher temperatures, and don't dry out the food like other types of grills do.
With thousands of models currently on the market, it's very difficult to choose one that suits your needs, preferences, and budget with your first purchase.
That's why after extensive research and testing, I've gathered these 7 models as the best infrared grills you can get for the money. Check them out below and pick the one that's most suited for your budget and needs.
What Is the Best Infrared Grill to Buy?
Best of the Best Infrared Grills Currently on the Market
Napoleon Prestige 665 RSIB Propane Gas Grill + Infrared Side and Rear Burners
Best Gas Grill with Infrared Burner
The Prestige 665 from Napoleon truly deserves the title "prestige". This massive grilling Cadillac will transform your backyard, patio, deck,.. into a luxury steakhouse.
2-in-One
The Prestige is both a gas grill and an infrared one – 2 grill types in one unit.
The main cooking chamber acts like a regular gas grill with an infrared rotisserie infrared burner in the back.
The side burner is a true infrared one, capable of reaching 1472°F/800°C in 30 seconds, leaving your steaks with authentic steakhouse sear marks.
A Grilling Beast
You can cook up to 41 burgers on its main cooking area of 665 square inches which measures roughly 18 x 37 inches.
The side burner is 475 square inches large.
Combine both, and you get a total cooking area of 1,140 square inches.
Unique Grates
The grates aren't your regular porcelain-enameled cast iron but are specially designed Napoleon exclusive cooking grids.
They are made from 7.5 mm (or almost 1/3 inch) thick stainless steel and are waved instead of straight for even better heat distribution. Smaller food is also less likely to fall, reducing flare-ups and minimizing cleaning.
Improved Ignition System
Instead of a regular piezo which is notorious for its unreliability, the Prestige has its very own Instant Jetfire igniter.
This innovative and easy-to-use ignition system shoots a jet of flame to light each gas burner individually for quick start-ups.
Rotisserie Kit Included
With the grill, you'll get the whole kit needed for rotisserie cooking.
I managed to cook a whole 15 lb turkey on this thing.
Specially Designed Center-Gravity Lid
The lid doesn't have hinges in the back like the others. Instead, the hinges are in the middle at the sides.
This makes lifting the lid much easier and it also does not extend past the back of the grill, saving valuable space.
Safety Glow Night Light Knobs
The knobs have LED lights that turn color when in use.
The red light indicates that the burner is on.
This is not just for looks, it's a safety feature as well. Now you know exactly when and which burner is on. You'll never forget to turn off a burner again.
Other Notable Features
The lid has an accurate and easy-to-read thermometer.
The heat tents are made from durable dual-level stainless steel.
The side table folds down.
Take Your Time to Assemble It
There are tons of bits and pieces. Don't be fooled by this video as it makes the job much faster than it looks.
It's also a two-man job and you'll need a few tools that aren't included but should have been IMHO given the price.
Upgrade Your Grilling Game
With tons of innovative features and design upgrades, there's no reason not to have one. It looks just as well as it cooks. It feels like a Weber but doesn't cost as much as one.
Pros
Ample cooking and prep space
Durable and sturdy
Rotisserie kit with infrared rear burner included
Infrared side burner
Improved ignition system
LED knobs
Cons
Tedious assembly
High price tag
Solaire SOL-EV17A Everywhere Portable Infrared Propane Gas Grill
If you want to sear steaks at the campsite, beach, or anywhere else on the open road, then the Solaire SOL-EV17A is what you need.
Specially Designed for Traveling
With the hood down, it measures only 20 x 16 x 19.5 inches or 1.7 x 1.3 x 1.6 feet (50.8 x 40.6 x 49.5 cm).
You can easily carry it by yourself at it weighs only 15 lbs / 6.8 kg.
By default, it holds 1 lb propane cylinders. You can purchase a separate adapter that holds larger tanks. Or if you have a natural gas line nearby, use that instead (again, conversion kit sold separately).
It's even suitable for low-pressure propane systems that RVs have.
Big Enough to Hold 6 Burgers at Once
Its 140 square inches large cooking surface can hold up to 6 burger patties at once.
It doesn't seem much but for a compact infrared grill, this is a lot.
Burner Specs
This grill features Solaire's very own infrared ceramic and stainless steel burner capable of outputting 14,000 BTUs.
V-Grate Grid
Just like the Napoleon above, this one also features innovative grill grates.
Instead of being round like classic ones, the ones are V-shaped.
The sear marks are more evident and all the drippings fall down to the burner below, instantly incinerating them for increased flavor.
Model Specific Issues
The edges are very sharp and you can easily cut yourself if you aren't careful. I got a small cut and after this, I've learned my lesson.
Take care of it as replacement parts tend to be expensive.
A Portable Grill That Cooks Like a Big Boy
This unit is a game-changer. It can handle even the toughest of steaks and despite its small size, can outperform some backyard gas grills in the middle of the beach.
Pros
Portable
Lightweight
Large cooking area for a portable grill
Compact design
Easy to assemble and disassemble
Cons
Sharp edges
Replacement parts tend to be expensive
Char-Broil 463370719 Performance TRU-Infrared 3-Burner Gas Grill
The Char-Broil 463370719 Performance TRU-Infrared is a thing of beauty and performance. For under $500, it doesn't get better than this.
Generous Cooking Area
The main cooking area has the capacity to cook up to 24 burgers at once.
It's 450 square inches large and measures 26.6 inches x 17.3 inches.
The grates are cast iron and coated in porcelain for simple cleanup, rust resistance, and non-stickiness.
The swing-away warming rack is 150 square inches large and porcelain-coated as well.
3 + 1 Burners
This particular model has 3 independently-controlled stainless steel burners that output 8,000 BTU each or 24,000 BTU total.
On the left, you'll find a lidded 10,000 BTU side burner that's just perfect for making sauces or side dishes. If it's in the way, simply close the lid and you'll have extra prep space.
Other Features
Reliable ignition system
Lid thermometer
2-wheel cart design
Stainless steel heat tents
Simple Assembly
The assembly was a breeze. It didn't take me long enough to put this thing together and the only tools I needed were a crescent wrench, a screwdriver, and a knife.
Don't Forget a Grill Cover
Even though it's stainless steel, it will still rust if left exposed to the elements.
Nice Grill, Great Sear, Excellent BBQ
For a 3-burner grill, it has a very large cooking area and the infrared technology makes it even better. Once you get it, it will be the last grill you'll get.
Pros
Affordable price
Elegant design
Ample prep and cooking surface
Fast heat up
Char-Broil TRU-Infrared Patio Bistro Electric Grill
Whether your apartment complex doesn't allow gas grills or you just love the convenience electric grills have to offer, the Char-Broil TRU-Infrared Patio Bistro is the perfect choice.
The Ultimate Grilling Convenience
With electric grills, there's no shortage of fuel (unless there's a power outage).
Because there are no flames, flare-ups are a thing of the past.
Specs
It has a total cooking area of 320 square inches:
The main cooking surface (i.e. porcelain-enameled grate) is 240 square inches; big enough for up to 12 burgers.
The secondary warming rack is 80 square inches large
There's a single 1,750-watt burner. If it were a gas burner, it would be rated at around 6,000 BTU.
Noteworthy Features
Precision dial
Lid-mounted temperature gauge
Cool-touch handle
Porcelain-coated body for easy cleaning and additional protection
Storage grate under the body
2 wheels for easier mobility
Short Cord
The cord is 6 ft long.
You either have to grill very close to a socket or get yourself an extension cord which is an additional expense.
A Must Have for Apartment Dwellers
Not everyone has a backyard or patio but still wants to make steaks and burgers on a grill. This is where the Patio Bistro comes in. It doesn't look much but this infrared electric grill packs quite a punch.
Pros
Heats up quickly
Easy to move around
Cleanup is a breeze, especially on the outside
Looks and feels durable
Compact
Highly convenient
Char-Broil 463280419 Performance TRU-Infrared 4-Burner Cabinet Style Gas Grill
Out of all Char-Broil infrared grills, I'd say the model 463280419 is the best one with its simple, yet effective design and affordable price.
Plenty of Space to Feed a Crowd
The cooking space consists of a primary cooking area (porcelain-coated steel cooking grates) and a warming rack that swings away when not in use.
The primary cooking area is 500 square inches large and the warming rack has 180 square inches.
In total, this grill has 680 square inches of cooking space.
Plenty of Burners to Go Around
The 4 main burners can output a total of 27,000 BTUs, or 6,750 BTUs each.
The side burner is 10,000 BTU.
Total heat output: 37,000 BTU.
This doesn't seem much but because of how TRU-infrared grills are designed, they don't need to output a lot of BTU – This type of grill cooks in a much different way than classic gas grills.
Other Remarkable Features
The cart-style design increases storage space and hides the propane tank from sight and the elements.
When not in use, the side burner acts as a side shelf. Combine with the other shelf on the other side, and you have plenty of prep space.
You can easily move the grill around on its 4 durable wheels (2 of them are lockable).
The lid has an integrated easy to read and accurate thermometer.
What Bothered Me
Mine came with a large dent on the lid. After notifying customer service, they immediately sent a replacement one. Kudos!
Makes Even a Lousy Griller Look Like a Master Chef
After an hour of assembling it (coffee break included), I put it to the test, and the steaks, burgers, and veggies tasted delicious. The food was moist and the sear marks were so nice, it reminded me of a painting in a gallery.
Pros
Great design
Durable
Plenty of cooking and prep space
Zero flare-ups
Simple to use and clean
Char-Broil Grill2Go X200 Portable TRU-Infrared Liquid Propane Gas Grill
Already considered as the best gas grill under $150, the Grill2Go by Char-Broil is the perfect travel companion with its small footprint, small weight, and durable construction.
Die-Cast Aluminum Construction
Most grills on this list are made from stainless steel. The problem with stainless steel is that although it's stainless, it can still rust. Also, bigger models and those made from thin sheets that often come dented or bent at your doorstep.
Die-cast aluminum doesn't have any of these issues. Being aluminum, it can't rust. And because it's thick, you can't dent or bent it (unless you're really stubborn).
Cast aluminum also has another advantage: better heat retention and distribution.
High Cooking Capacity
You can make up to 8 burgers on its grilling surface of 200 square inches.
It features a single 9,500 BTU burner.
Reasons Why You Should Take It With You on Your Travels
It weighs only 20 lbs / 9 kg and can be easily carried by just one person.
It's compact: 23.7 inches wide x 15.7 inches deep x 13.6 inches tall / 60.2 x 40 x 34.5 cm.
It runs on 1 lb or 16 oz camping propane canisters. If this is not enough, you can easily convert it for use with a regular 20 lb tank (converter sold separately – serial no. 5584623).
The lid has 2 hinges in front for safer transportation.
Additional Features
The ignition is tucked inside the right front leg for maximum protection.
There's a thermometer on the top of the lid.
Grates are stainless steel for reduced weight and simple cleanup.
It's Hard to Clean Thoroughly
Because of its compact design, it's really hard to clean every square inch of the inside of this grill. You'll be forced to remove a screw or two in order to achieve this.
Powerful, Quick, Great Flavor, and Energy-Efficient
If you're looking for a durable, compact, and powerful camping grill, then this is it. Even when left outside in the rain and snow, this thing won't rust. I was glad I took it with me on my week-long camping adventure.
Pros
Durable and lightweight
Compact
Portable
Batteryless ignition
Decent cooking surface
Flame King Scorch Smokeless Infrared Electric Broiler
Don't like cooking outside? Want to make juicy steaks and burgers right in the kitchen? Then consider this indoor electric infrared grill broiler from Flame King (model FK-BEEF-110 a.k.a. Scorch).
Cook From the Comfort of Your Own Home
Not everyone doesn't have time to step outside and prep the grill for a few burgers. Also, the weather isn't always on your side: freezing temperatures, rain, dark, etc.
The flame King enables you to cook 24/7, regardless of the type of day and weather. You just step into the kitchen, turn it on, and voila.
Heck, you can even cook in your undies or nightgown.
Max Efficiency
Because of the powerful electric infrared burner and thick insulation, this baby can reach temperatures of up to 1,500 °F / 850 °C in mere minutes.
There are 9 rails inside so you can fine-tune the cooking and searing process.
You won't have to worry about making a mess as there's a drip pan at the bottom that catches excess grease and oil.
Cooking Capacity
Because it's designed to be used on the kitchen counter, it's not as spacious as the other outdoor grills on this list.
The broiler tray can handle 3 medium or 4 small steaks at a time as it's just 110 square inches large.
Remarkably Easy to Use
The control panel in front features a dial with which you set the temperature and cooking time.
That's it. It doesn't get simpler than this.
Amazing Countertop Infrared Grill
Despite its tiny footprint, it packs quite a punch. Maintaining and using it is quite simple and the best part about it is that I can use it in the kitchen where there's warm and comfy.
Pros
Made for indoor use
Lightning-fast heat up and cooking
Easy to use and clean
Sear marks are absolutely fantastic
How to Choose the Best Infrared Grill for the Money
Just like choosing a charcoal grill, there are some factors you need to consider when looking for the best infrared grill. These include:
Price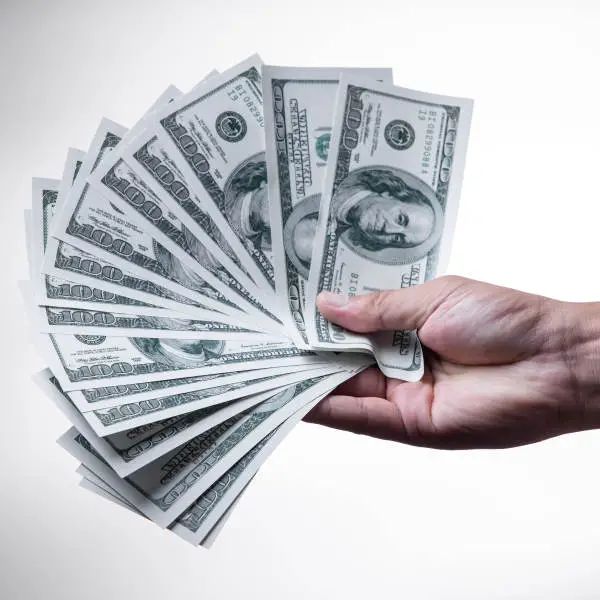 Infrared grills tend to be the most expensive type of grill.
But this doesn't mean an average Joe can't afford it.
A lot of the time, different models are on sale and be purchased surprisingly cheaply.
Size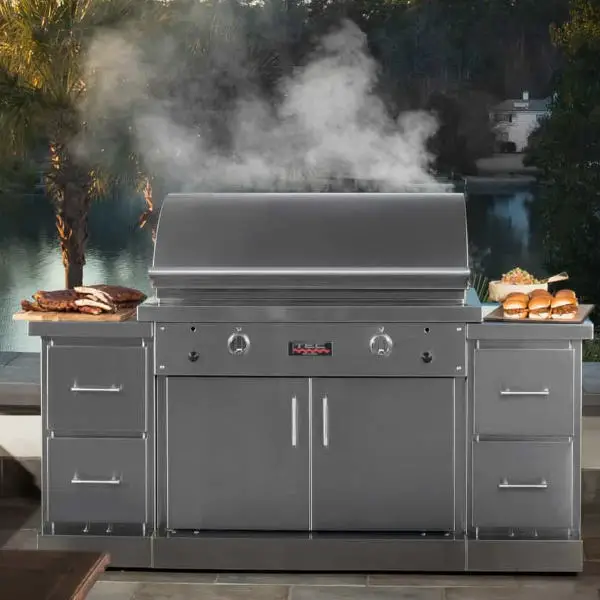 Bigger isn't always better. Also, the bigger the grill, the higher the price.
If you're living by yourself or traveling a lot, getting yourself a portable camping grill is the most reasonable option.
One person or a couple doesn't need 700 square inches of cooking space. That's just wasting money and space.
Where you're planning to cook is also an important factor regarding the size of the BBQ grill.
There's no way you can put the model pictured above on a small patio.
Also, portability is another factor. Bigger means heavier and if you're an avid camper, a 100 lb grill will do you more harm than good.
Cooking Surface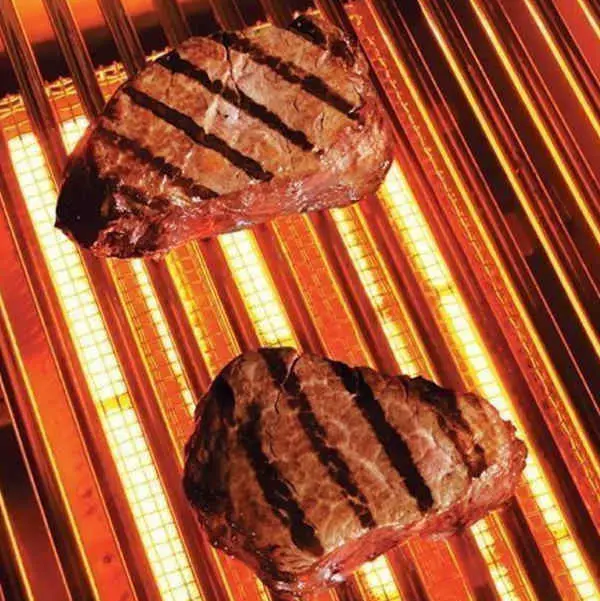 The more people you're planning to feed, the larger surface you're going to need.
For a loner, a countertop version is more than enough.
But if you're planning to invite the whole family, friends, or an entire block, then you're going to need something much bigger.
Some come equipped with a warming rack. Take this into consideration as well.
Prep and Storage Space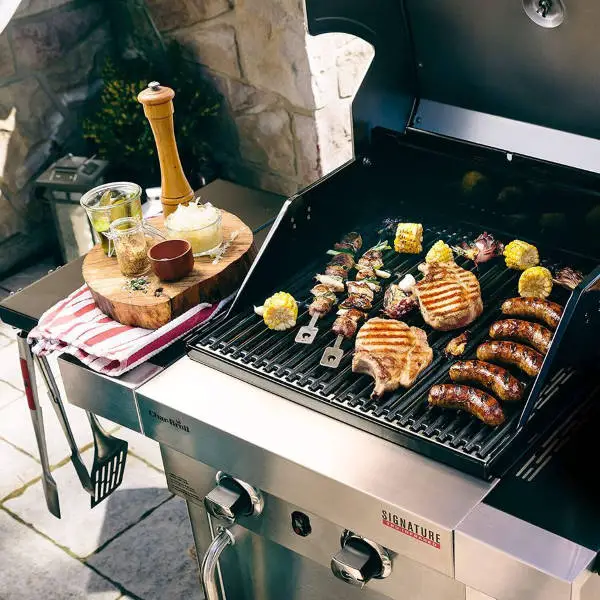 Backyard models come equipped with at least a side shelf and a rack at the bottom while portable camping ones don't have this kind of luxury.
Some cart-style grills have side shelves on both sides and multi-story trays below the grill. And if you're lucky, the one you're looking at also has utensil hooks.
Be aware that the more prep space a grill has, the more expensive and larger it will be.
Type of Fuel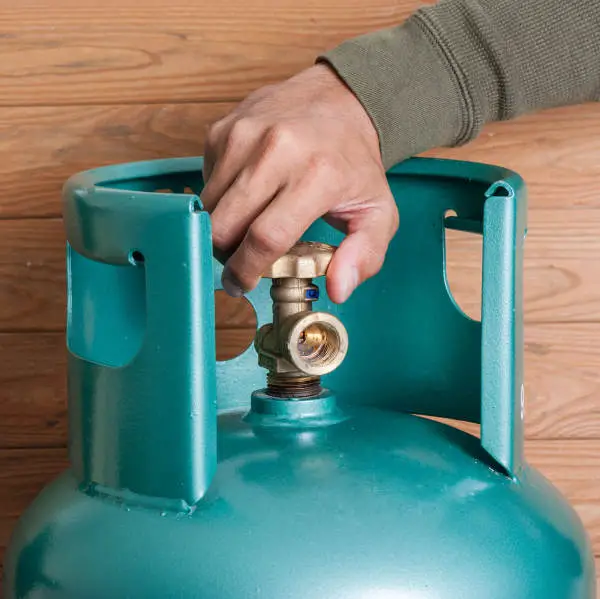 In most cases, infrared grills are fueled by gas: either propane or natural gas.
There are some models that are electric and even charcoal powered but they aren't as quite as common.
Each fuel type has its own pros and cons. Weigh all of them carefully when looking for your next grilling companion.
Ignition Type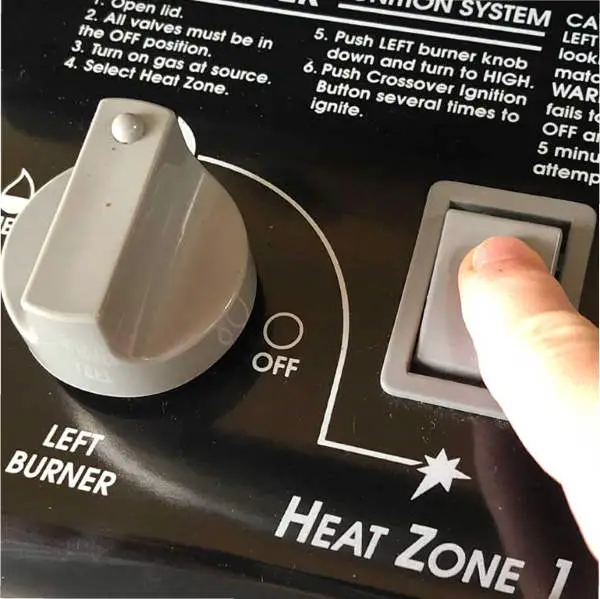 This factor concerns gas-powered infrared grills.
These grills come equipped with some sort of electronic ignition system.
Pay special attention to what kind.
The most common ones are piezo which are the cheapest and most common ones. They tend to be pretty unreliable and can die out at a moment's notice.
The last thing you'd want to experience is a grill not wanting to start in the middle of nowhere while camping.
Assembly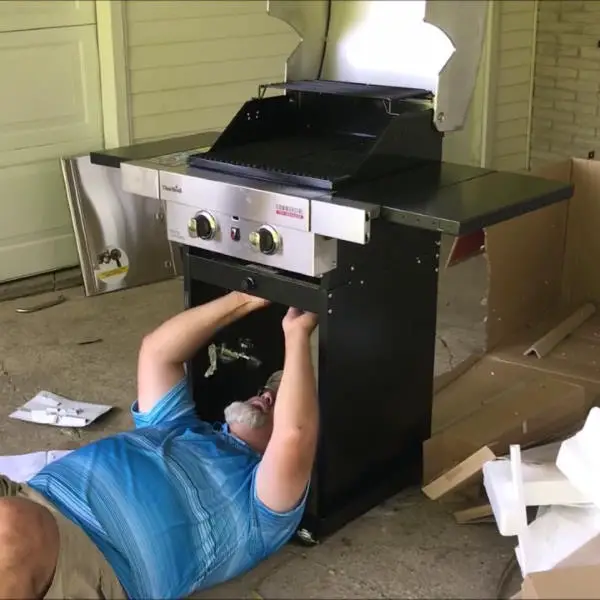 Bigger grills usually have more parts than smaller ones. Also, some are really tricky and tedious to set up (either by design or the instructions are badly made).
Expect at least an hour or two to assemble a full-sized model.
The tools needed for assembly aren't usually supplied. These include but are not limited to:
Screwdriver
Hex wrench
Sockets
Adjustable wrench
Combination wrenches
See what exact tools you need for your particular model so you'll be prepared when the thing arrives at your doorstep.
On the other hand, you can hire someone to do the job for you (Amazon offers expert assembly for most of the grills they sell) but this is going to cost you extra.
Additional Features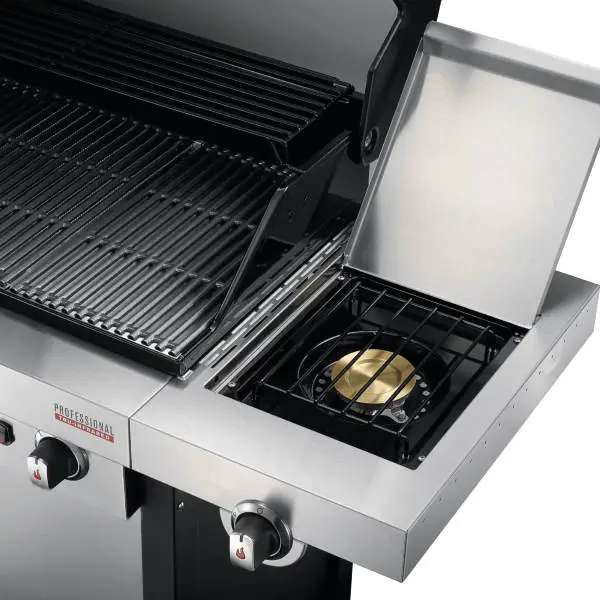 A lot of grills come packing with extra features like:
Side burners
Thermometer
Meat probe
Grill cover
See-through lids
Warming racks
Lights around the knobs
Ability to connect to your smartphone
All of these features are great and some sure come in handy but be aware that they aren't free.
Generally, the more of them a grill has, the more it's going to cost.
Why Infrared and Not a Regular Gas Grill? – Gas vs Infrared Grill
Gas-fueled infrared grills are technically gas grills (they even look the same on the outside) but they cook very differently than regular gas grills.
This grill comparison is a perfect example of "it's what's inside that counts".
What Is the Difference Between Infrared and Gas Grills?
Gas grills use convection and conduction as their primary heat transfer method to cook food while infrared grills use radiation.
Which Are Key Benefits of Infrared Grills Over Traditional Grills?
Faster preheat and cooking time
Reduced or no flare-ups
Can reach higher temperatures
Lower fuel consumtion
Better sear marks – steakhouse quality
Doesn't dry out the food
Consistent and even heating
Easier temperature control
This is just a quick summary of gas vs infrared grills. To find out more, check this comparison guide.
Also note that like other types of grills, infrared ones also have their downsides. See them here.
The Finest Infrared Grills Money Can Buy in 2023
Infrared grills are a cooking marvel. That is why they're becoming ever more popular.
But not every model is made the same.
That's why if you want to get the best bang for your buck, try one of these best infrared grills.
Happy grilling!