Choosing a blender with a glass jar has many advantages over plastic ones: It's completely 100% free of BPA and other harmful materials that may find their way into your smoothies, has better scratch resistance, doesn't retain smells, and doesn't fade away over time.
Glass also looks more attractive and adds class to your kitchen.
For whatever reason you picked glass over plastic, see these 10 best glass blenders below that I've handpicked, tried, and tested.
What Is the Best Glass Blender?
Best of the Best Blenders With Glass Jar
Oster BVCB07-Z00-NP0 Reverse Crush Counterforms Blender
Best Oster
1000 power watts/ 600 blending watts
Pre-Programmed Smart Settings
Dual Direction Blade Technology
Uses stainless steel, 6-point design
10-Year DURALAST All-Metal Drive Limited Warranty
7 Speeds from LOW to HIGH PULSE
6-Cup Boroclass Glass Jar is dishwasher safe for easy clean up
2-ounce filler cap has built-in markings
My favorite in terms of power, durability, and price. This glass blender comes equipped with a specially designed all-metal drive and blade assembly that can last for many years.
Boroclass Glass Jar
The 6 cup or 48 oz jar isn't made from standard glass but from a specially hardened glass called Boroclass.
In short, this kind of glass is dishwasher safe, shatterproof, has improved resistance to chemical corrosion, and can withstand both freezing cold and boiling hot temperatures.
Duralast All Metal Drive
Most blenders have a plastic drive system. This one is completely metal.
The problem with plastic is that it loses strength over time and eventually cracks. Metal doesn't have this problem and is able to outlast plastic by far.
Powerhouse of a Blender
Despite its compact size of 10.2 x 8.5 x 13.8 inches, it packs quite a punch with its 600-watt motor and sharp blades.
Dual Direction Blades
The blades alternate between forward and backward for better mixing consistency, reducing jams, and crushing ice with ease.
Easy One Touch Controls
On the control panel you'll find 2 pre-programmed settings:
and 5 manual:
High speed
Medium speed
Low speed
High Pulse
Low Pulse
Loooong Warranty
The Oster brand vouches for this versatile kitchen tool and backs it up with a 3-year guarantee and a whopping 10 years for the All-metal drive.
My Personal Experience
I've tried making smoothies from both fresh and frozen ingredients and the blender performed remarkably well. What I've noticed is that the smoothies are smoother if I mix tough ingredients first and then add the soft ones.
It struggled a bit with peanut butter and hazelnut spread. I don't think this blender was designed for anything as thick as this, though.
Loud as Thunder
I didn't expect a small blender like this to make such noise while doing its magic. It's even louder when blending harder ingredients.
Just What You Have in Mind When Looking for a Glass Blender
It's hard to find a decent blender with a glass jar for this price. The all-metal drive mechanism and auto-reverse motor make it even better. The 10-year warranty makes this the best glass blender currently on the market.
Pros
Inexpensive glass blender
Auto-reverse function
All-metal drive
Simple to use and wash
Compact
Ninja Foodi HB152 Blender
Hot or cold? Icy smoothie or warm soup? The Ninja Foodi cold & hot blender has you covered in all cases.
A Blending Beast
It doesn't only look badass with its 64 oz glass jar. but also blends like one with its 1400-watt motor, 800-watt heating element, and stainless steel blades.
Extremely Versatile
Crush ice, liquefy whole fruits and vegetables, make cocktails, sodas, cook soups, sauces, dips, and melt chocolate and cheese. There's nothing the Foodi won't do.
The option of producing heat has an additional advantage that is often overlooked: cleaning. Cleaning with hot water is more effective than cleaning with cold water.
More Programs Than an App Store
This thing has more settings than my old Sony Ericsson phone.
The control panel looks futuristic – something you don't see that often on a blender.
It has 12 auto-IQ intelligent programs that do the job for you with a push of a button. These programs are:
Smoothie
Extract
Frozen drink
Ice cream
Saute
Sauce/dip
Smooth soup
Mixer
Water
Cocktail
Clean
What Awaits You in the Box
Motor base
Glass pitcher with a heating element
Tamper
Cleaning brush
Recipe guide
How Well Does It Perform?
The powerful motor and sharp blades are able to pulverize anything from frozen solid fruit to leafy vegetables.
This blender is a great way to sneak hot meals into your hectic-lifestyle diet.
The cleaning program is quite effective and you won't need the brush most of the time.
The Downsides
It's heavy, especially the jug. So, don't be embarrassed if you're having trouble lifting it up with just one hand.
You can't clean the jar in the dishwasher because the heating element is embedded.
Like all powerful blenders, this one is also loud.
Better and Cheaper Than Vitamix
Vitamix blenders are one of the best blenders you can own but are also very expensive, especially the higher-end models. What's great about this Ninja is that it's way cheaper and performs remarkably well, even for a Ninja.
Pros
Powerful
Consistent blending
Versatile
Super easy to use and clean
Looks sleek and not bulky
Cons
Loud
Heavy glass jar than can't be washed in the dishwasher
Cuisinart SPB-7CH SmartPower Blender
This Cuisinart SmartPower Blender is the best choice when you're looking for a glass jar blender on a budget.
Specs
This blender has a 500-watt powerful motor capable of crushing ice.
The glass jar has a capacity of 48 oz or 6 cups and is dishwasher friendly.
The blade assembly is made from stainless steel and is capable of creating smooth textures.
Control Panel
It has 7 settings to choose from:
Stir
Chop
Mix
Puree
Liquefy
Pulse
Ice crush
You can pulse at any of these programs.
It's Loud
Like all other blenders, this one is loud as well.
A Great Addition to the Kitchen Without Overspending Your Budget
Spec-wise, it's a pretty standard blender. What makes it stand out are the glass jar, the 7 pre-set programs, and of course, its affordable price.
Pros
Cheap
Solid base
Sturdy
Dishwasher safe glass jar
7 settings
WantJoin Professional Commercial Blender With Shield Quiet Sound Enclosure
If you like hearing the birds singing in the morning while enjoying your favorite smoothie, then consider this ultra-quiet professional commercial blender from WantJoin.
Enjoy Peace and Quiet
The folks at WantJoin were very annoyed by the noise blenders produce, so they put a lot of effort into making theirs as quiet as possible.
They have succeeded.
Thick Glass Jar
Being a commercial blender, it's made for punishment – the 80 oz glass jar included.
It's made from 3 layers of thick glass – you'll need a hammer to break it.
Powerful Fast Spinning Motor
This blender is one of the most powerful machines on this list.
With a 2,200-watt pure copper motor, it can spin the blades at 45,000 RPM and smash anything it comes into contact with.
Speed-Only Control Panel
Besides the on/off switch and the pulse function, the only program this blender offers is the speed knob.
What I Disliked About This Model
It's a behemoth of a blender: 21.65 inches tall. That's a bit more than half a meter.
If you're new to blenders, then you'll have to set aside some time so you can learn which speed is suited the most for which ingredient.
This Blender Makes You Feel Like a Professional Bartender
This is what professional commercial blenders do. But this is just the tip of the iceberg. It can liquefy the toughest of ingredients into a smooth paste while being quieter than you talking on the phone.
See other best blenders for frozen fruit. Note: not all blenders here have a glass jar.
Pros
Insanely quiet
Extremely powerful
Hardened and enormous glass jug
Easy to clean
Cons
Requires a learning curve
Large and bulky
Instant Ace Plus Hot and Cold Cooking Blender
This Instant Ace blender is made by Instant Pot, a well-known manufacturer of rice and pressure cookers.
A Tough Nut to Crack
The 56 oz or 7 cup pitcher is made from borosilicate glass just as the Oster BVCB07-Z00-NP0 above.
Highly Efficient
With its powerful 1,300 watts 26,000 RPM motor and 8-blade assembly, this blender makes tasty, nutritious, and silky-smooth recipes – anything from smoothies to hot soup.
The Control Panel
The control panel includes 8 smart programs:
Smoothie
Crushed ice
Nut butter
Nut/Oat milk
Soy milk
Rice Milk
Puree
Soup
Each of these settings has 10 speeds which you can adjust at will.
There are a few things unique to this blender:
It displays real-time temperature
Delays cooking up to 12 hours
Keep warm function
Keep Warm Function
The Instant Ace can keep the food warm for up to 2 hours. This feature also have rice cookers and pressure cookers – something this company makes also.
Combine this with delayed cooking, and wake up to nice, refreshing, and warm drinks.
Insider Scoop
It's loud.
It's difficult to completely clean the pitcher. This is especially true when crushing seeds as they can find their way into many nooks and crannies. Because the heating element is fused to the pitcher, you can't wash it in the dishwasher.
If You Love Your Instant Pot, Then You'll Also Love the Instant Ace
It's an amazing and efficient versatile kitchen tool of almost industrial strength. The keep-warm and delayed start functions come very handy if you don't want to bother with cooking after a long day of work or after getting out of bed.
Pros
Has unique features
Powerful fast-spinning motor
Durable and sleek
Tough high-capacity glass pitcher
Tons of programs
Cons
Loud
Difficult to clean completely
Tribest PBG-5050-A Personal Blender
Best for Bulletproof Coffee
The Tribest is a compact personal blender that comes with 3 different glass containers.
Perfect for One or a Small Family
Whether you live alone or with your significant other, this small compact blender is a great choice.
Make smoothies, salsas, dips, and even bulletproof coffee.
This blender includes 8 oz, 16 oz, and 24 oz jars made from tempered glass, 2 sports lids, and a storage lid.
Blending Strength
This Tribest model comes with a 500-watt motor and stainless steel blades.
Lengthy Warranty
The company believes in the satisfaction of its customers. That's why they've placed a 5-year warranty on this one.
Variable Speed Dial
It has only one program (not including the pulse function): the variable speed.
What I'd Change
The jars, except for the 24 oz one don't have handles. And even the handle here needs improvement. The problem with glass is that it's slippery when wet. There's a risk of your glass of your favorite smoothie falling on the floor, shattering into a thousand pieces. Now there's a great way of starting your day.
It struggles to blend frozen fruit and other tough ingredients.
A Perfect Small Glass Blender
If you like to drink on the go and don't like those giant blenders that take half of your valuable counter space, then this one just might be right for you. It's small enough for you to take to a hotel or a camping site.
Pros
Compact
Lightweight
Portable
Sleek design
Simple to use
Easy to clean
Cons
Doesn't blend tough ingredients that well
Slippery jars
KitchenAid KSB565WH Blender
This 5-Speed KitchenAid Blender provides outstanding performance, durability, and easy-to-clean design.
A Well-Known Brand That Has Proved Itself Many Times
KitchenAid is a very respected brand in the kitchen industry. They produce many appliances, including mixers, fridges, microwaves,… If it belongs in the kitchen, KitchenAid has made it.
I've reviewed some of their other products, including an espresso maker and grill, and they have never let me down.
Easy to Use Control Panel
The control panel includes the following pre-set programs:
Stir
Chop
Mix
Puree
Liquefy
Crush ice
Pulse mode
720 Watt Motor With 0.9 Hp
Despite its compact size of 9 x 8 x 15 inches, it packs quite a punch. The motor is strong enough to crush ice and turn fruit and vegetables into delicious smoothies with silk texture and nutritious baby food in no time.
48 oz Glass Jar
The blender is capable of making 8 cups of smoothies in one batch.
If you're living by yourself, this may be a bit too big.
Be careful handling the jar, though, as it can break easily.
Not for Frozen Fruit
It struggles to mix frozen fruit and other tough ingredients, so I advise against it if you have a freezer filled with frozen produce.
A Great Aid for the Kitchen
Pun intended. This nice-looking blender does s pretty good job making smoothies, baby food, chopping, and pureeing at an affordable price.
Pros
Easy to use and clean
Powerful motor and sharp blades
Dishwasher safe
Sleek look
Cons
Not so good for blending hard ingredients
Brittle glass jar
Razorri RFHE800A Heated Countertop Blender
The Razorri is an extremely powerful countertop blender that has the ability to pulverize and liquefy even the toughest ingredients.
Insanely Powerful Motor
The 1,400-watt motor is able to spin the 8 blades at 26,000 RPM.
It has more than enough juice to crush ice and turn any frozen produce into a warm refreshing smoothie.
Tough Glass Pitcher
The 40 oz pitcher is made from very tough and thick glass that can withstand both freezing and boiling temperatures.
Just don't put it in the dishwasher as the heating element is attached to it and cannot be removed
Drink Ice-Cold Smoothies in Summer and Eat Hot Soup in the Winter
The 800-watt heater is capable of making boiling hot soup – it can actually reach 212 °F.
Make soup, milk, dips, sauces, you name it.
Touch Screen Control Panel With an Assortment of Settings
The touch screen control panel includes 6 preset programs:
Crushed ice
Smoothie
Juice
Soup
Puree
Soy Milk
blending and warming mode, and speed and time adjustment.
The display shows for how long you have set the blender to cook or mix and at what speed.
Heavy Jar
The jar itself is quite heavy. And because it has the heating element attached, it's even heavier.
A Good Balance of Performance and Price
It's hard to find a blender that's so versatile and powerful as this one for this price. The ability to crush ice and boil soup is a great addition to making smoothies. Not to mention it also looks great on the kitchen counter.
Pros
A bit quieter than other blenders of the same power
Easy to clean
Sturdy durable pitcher
Powerful motor
Oster Precise Blend 300 Blender
Best Blender with Food Processor
This 700-watt Blender by Oster is a compact versatile blender with 16 pre-set programs and a food chopper attachment.
Food Processor Attachment
This blender comes with a 32 oz food processor attachment.
With it you can chop and dice. This is a great feature for anyone who loves salads and pesto.
Unlike the jar that's Boroclass glass, the food processor is made from plastic. Keep this in mind.
16 Settings With Variable Speed
The control panel comes with 16 pre-programmed settings:
Easy Clean
Beat
Mix
Puree
Cream
Chop
Whip
Ice Crush (with or without Pulse)
Mince
Grind
Milkshake
Fruit Smoothie
Frozen Drink
Green Smoothie
And 2 variable speeds for each one: Low and High.
Shiny Chrome Base
With a shiny glass jar and stainless steel silver chrome base, this blender will look sleek on any counter.
What Needs Improvement
Sometimes it's hard to fully seat the pitcher in the base and this produces excessive noise.
If the pitcher is glass, then why isn't the food processor?
Great Versatile Blender for Everyday Use
It has some downsides but for this price tag, you should expect it. It doesn't bother me this much and neither should you. This blender does an amazing job at mixing, blending, and crushing ice, and also comes with a food processor.
Pros
Comes with a food processor attachment
Durable all-metal drive and glass pitcher
Tons of settings
Easy to use and clean
Strong and sharp blades
Cons
The attachment is made from plastic
Noisy
Kacsoo S610 USB Rechargeable Portable Blender
If you enjoy the great outdoors, then consider this rechargeable travel blender: the Kacsoo S610.
Travel Buddy
This personal blender is a great addition to your camping party, gym session, or even at home.
Without a cord and a convenient USB charging port, you can use it anywhere and everywhere.
The whole thing is 9.45 x 3.07 x 3.07 inches large and weighs just 2 lbs. You won't even notice it in the bag or backpack.
Make up to 15 Smoothies Without Recharging
It comes with a long-lasting 5,200 mAh lithium-ion battery capable of making up to 15 smoothies, milkshakes, dressings, dips, etc.
When completely empty, it needs about 4 hours to fully charge.
Durable Glass Container
The 15 oz container is made from durable and sturdy Boroclass glass just like the Osters above.
Quiet Motor
Because of the lower wattage and improved copper motor, this blending machine makes about 60 – 65 dBs of noise.
To put this in perspective, it's as loud as a normal conversation which is quieter than most blenders on this list.
What I Disliked
You need to tilt the blender 45 degrees and shake it several times during blending to get a consistent smooth texture.
The Best On-the-Go Companion
There's no better way to make and enjoy tasty, refreshing, and healthy drinks outside of your home. Whether you're at the gym, stuck at the airport, or on a camping expedition, the Kacsoo S610 will make your day more enjoyable.
Pros
Portable
Compact
Lightweight
Long-lasting battery
Tough glass jar
Quiet
Cons
You need to tilt and shake the blender during blending
Glass Blender vs Plastic
Most blender jars are made from either glass or plastic. But does it really matter which one should you choose?
Are Glass Blenders Better Than Plastic?
Glass
Plastic
Weight
More
Less
Price Tag
Expensive
Cheap
Durability
- Resistant to discoloration and scratches,
- Doesn't absorb food smells,
- Tough,
- Can shatter on impact
- Can get discolored over time,
- Can get scratched,
- Weaker,
- More resistant to impacts
Health Issues
Free from BPA and other harmful chemicals
Even if 100% BPA free, there are other chemicals that might leech into the food.
In short, yes. Blenders with glass jars are better in the long run but they do have some downsides.
Glass is more tough than plastic and resilient: it cannot be scratched and dented like plastic. It's also more resistant to hot and cold temperatures and cannot melt as quickly as plastic (the melting point of glass is around 3,000 °F, while plastic's – Tritan included – melting point is around 480 °F). Because glass can't be scratched, it retains its clarity.
Another issue is odor retention. Plastic has a tendency to absorb food odors over time. These smells are difficult to remove.
Also, glass is completely free from BPA and other chemicals that might leech into the food during blending.
BPA isn't the only harmful chemical found in plastic. Even if the jar is stated as "BPA-free", that doesn't mean it doesn't contain other toxins. That's why it's healthier to have a glass jar blender than a plastic one.
But, just like everything, glass has its downsides: the main cons are a higher price, increased weight, and brittleness.
Also, markings are more visible on plastic.
Can You Blend Ice in a Glass Blender?
If the blender is designed for this, yes.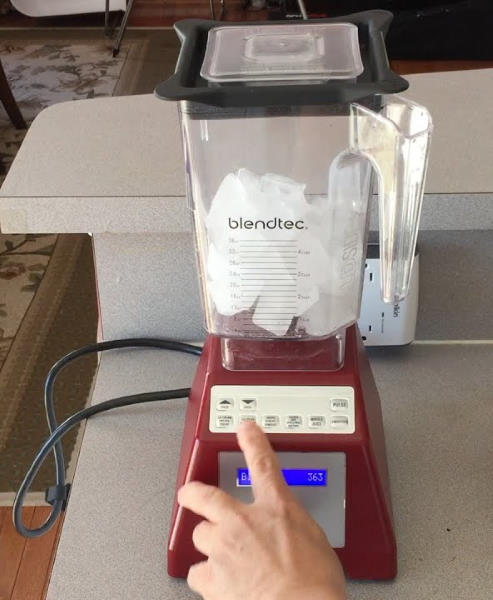 Cheaper glass blenders are made from a flimsy plastic base, thin glass jars, and underperforming motors. While it's theoretically possible to crack a glass jar while crushing ice, that would be the least of your worries.
Overheating or burning of the motor would be more likely in this case. Also, the blades can break during this process.
Fortunately, all of the blenders above are more than capable of crushing ice.
Are Ninja Blenders Glass or Plastic?
Most of them have Trian (a plastic polymer) containers. Some models (like the Foodi HB152 reviewed above) are glass but this is rare.
Does Vitamix Have Glass Containers?
No. Most of them are plastic and some are stainless steel.
About Boroclass Glass
What Is Boroclass Glass?
Boroclass glass is a type of borosilicate glass: a type of tempered glass that has at least 5% boric oxide.
Boroclass is to borosilicate glass as Teflon is to PTFE: both are registered trademarks that include this element.
Is Boroclass Glass Safe?
It's safer than regular glass as Borclass has improved resistance to extreme temperatures and chemical corrosion.
Despite this, it's not invincible and will break if you forcibly throw it to the floor or intentionally damage it in any way with brute force.
Will Borosilicate Glass Break if Dropped?
If you dropped it by accident, highly unlikely (unless you were on a skyscraper or something). So, when this happens, don't worry.
If you dropped it intentionally with brute force (in a fit of rage, for example), shattering can occur.
What Is the Difference Between Glass and Borosilicate Glass?
Borosilicate glass is an improved version of glass that's more hardened, durable, and resistant to physical, chemical, and thermal stress. It can also be molded into more complex shapes and sizes.
Glass Blenders Are the Healthiest Blenders
For the sake of health, blenders with glass jars are the way to go.
But not all glass jars are made the same. In this list, I've gathered the best of the best glass blenders with the most durable glass containers, powerful motors, and sharp blades.