Buying a quality charcoal grill can be a challenging task, but buying the best charcoal grill under $300 dollars is an even bigger challenge.
Of course, you can get a charcoal grill for 200 bucks or less but these grills tend to be of poorer quality and don't have as many, or any, features to offer. If you want to get the best charcoal grill that will stand the test of time, you'll have to consider other factors and not only your budget.
In this regard, I've gathered 7 best of the best charcoal grills you can get your hands on for $300 or less. What else you need to consider, you'll see in the buyer's guide below.
What Is The Best Charcoal Grill On The Market?
My Top Picks For The Best Charcoal Grills Under $300
I would not blame you if you think that finding the right one for you is a challenging task. With the number of brands and models in the market, it's not surprising for you to have trouble choosing.
So, to help you, below are my top 7 recommendations along with the information as to why I like them.
Weber Performer Charcoal Grill
I'll start with my favorite. The Weber Performer is the most durable, powerful, and convenient charcoal grill on this list.
Big Enough for 13 Burgers
The 22-inch plated steel cooking grate is 363 square inches large.
Highly Convenient
To clean the ashes, you just need to swipe the ash and debris into a removable ash catcher.
The lid handle has a heat shield. No more burned hands while lifting the lid. You don't even need to put on gloves.
Instead of placing the lid on the ground while cooking (think of all the dirt and bacteria down there), the grill has a lid holder on the side.
The built-in thermometer accurately displays the temperature.
Plenty of Prep Space
Kettle grills don't usually have side tables. The ones that do, aren't that big.
This particular model is an exception. Not only is the side table big enough for platters, seasonings, and condiments, but it also folds down for easier storage.
Other Reasons Why It's the Best
The lid and bowl are porcelain-enameled. This finish increases heat retention and even heat distribution while providing additional protection from the elements.
The 8-inch wheels are rubber molded and not made from cheap plastic that cracks after a season or two.
Refuel Without Removing the Grate
You don't need to remove the grate to add more charcoal to the fire.
To do this, you have to lift the plate in the center instead of the side. This is not all that great because you need to move the food to the side. This presents a challenge when you are using every inch of the grate.
Hank Hill's Worst Nightmare
The Performer is a fantastic charcoal grill in terms of performance and reliability. The best thing about it is the convenience it offers and the rare spacious side table. If you want a grill that will last you for years at a low price, this is it.
Pros
Convenient
Accurate thermometer
Built to last
Easy to assemble and move around
Excels at both grilling and smoking
Cons
You need to add coals from the center of the grate instead of the side
Dyna-Glo DGN486DNC-D Heavy Duty Charcoal Grill
Best with Adjustable Tray
The Dyna-Glo is a behemoth of a charcoal grill that not only looks badass but also makes you feel like a seasoned backyard chef.
Ample Cooking Space
This grill has a total cooking area of 686 square inches.
The primary cooking area which consists of porcelain-enameled cast iron grill grates is 486 square inches while the porcelain-enameled steel wire warming occupies the other 200 square inches.
Lots of Prep Space
If the 2 side tables don't give you enough space, feel free to place the things you'll need in the basket at the bottom, below the grill.
Fine-Tune the Temperature
You can raise or lower the charcoal tray with the crank in front of the grill. With this feature, you can dial in the perfect temperature and sear marks.
Smokin' Hot
On the top of the lid, you'll find a chimney-like vent (=smokestack) that features an adjustable flue for controlling both the airflow and temperature.
This enables you to smoke food with ease.
Convenient Way to Add Coals
On most charcoal grills, you need to remove the grate or a part of it to refuel while cooking. This is not only time-consuming and sometimes awkward but it also interferes with the cooking process.
This one, however, has a door at the front for safe and easy refueling.
Hassle-Free Cleanup
Below the charcoal access door, you'll find a handle. Pull it and in your hands, you'll have the large-capacity pan that holds the ash, debris, and leftover grease which you can dispose of easily.
Carefully Monitor the Temperature
Like most high-end charcoal grills, this one also has a temperature gauge built-in to the lid.
The Issues You Should Know
Quality control needs to improve. When the package arrived at my doorstep, I noticed several dents and bends on the body and lid, and a couple of screws were too short.
A grill cover is a must if you wish to use it for as long as possible.
A Reasonable Grill for a Reasonable Price
The Dyna-Glo DGN486DNC-D is a very well-designed and engineered grill for its price tag. The instructions were easy to follow and the charcoal tray crank and access door made the cooking a fun backyard experience.
Pros
Plenty of grilling and storage space
Convenient way to add more charcoal
Smokestack flue control
Heavy-duty surface
Outstanding temperature control
Cons
Prone to rust
Quality control issues
Char-Griller AKORN Jr Kamado Grill
The Char-Griller AKORN Jr is an exceptional Kamado-style grill that is made impervious to harm with its high-quality build and impressive performance.
Use It Anywhere and Everywhere
This grill is big enough for both backyard grilling and traveling. Tailgaters and campers are going to love this one.
Because it's travel-friendly, it only has 153 square inches (enough for 3-4 steaks or 2 racks of ribs) of cooking space which is made from 14-inch cast-iron grates with a hole in the middle for adding fuel.
The 2 durable side handles make moving this one pretty easy.
With these sturdy and durable legs, you can even cook on the grass. You don't have to look for the right spot to place it as every spot is the right one.
Built to Last
The kamado kooker is made from triple-walled 22 gauge steel. The exterior is powder-coated and the interior is porcelain coated.
The interior porcelain coating and triple wall construction have an additional bonus besides durability: better heat retention and distribution.
Better heat retention means increased fuel efficiency. You'll be able to cook for longer using the same amount of charcoal.
Versatile
Whether it's searing steaks at 700 °F or smoking ribs low and slow at 200 °F, this kamado can do both and everything in between.
This is possible due to the adjustable top and bottom dampers, and the built-in thermometer.
Not Suitable for Beginners
It's difficult to maintain temperature, especially the lower end.
This is especially true if you're new to cooking on a kamado.
Good Things Come in Small Sizes
This compact grill is a wonderful addition to both a backyard gathering and a camping trip. With its compact size, durable construction, insulated design, and fuel efficiency, it's able to satisfy the needs and preferences of virtually everyone.
Pros
Large cooking area
Compact
Very fuel efficient
Heats up extremely fast
Perfect starter Kamado grill
Expert Grill Heavy Duty 24-Inch Charcoal Grill
This Expert Grill Heavy Duty Charcoal Grill is designed for people who take their grilling seriously.
Large Grilling Area
On its 372 square inches large main cooking surface (the cast iron grates) you can grill about 20 burgers at the same time.
The warming rack measures 201 square inches and is chrome plated.
The total cooking area measures 573 square inches.
Charcoal Access Door
Just like the Dyna-Glo, the Expert grill also features a front door for adding charcoal during a cookout for convenient refueling without interrupting the cooking process.
Made for Punishment
Even at a glance, you can see it's made for punishment.
That's true because it's made from heavy-duty powdered steel.
Other Important Features
Foldable side shelf
Adjustable charcoal pan
Bottle opener
Lid thermometer
Slide-out ash pan for quicker cleanup
Tedious Assembly
Assembling this grill may take you quite some time as there are many bits and pieces.
A Quality Grill at a Low Price
If you're looking for a grill and a smoker combo, this one won't disappoint you.
Pros
Good size warming racks
User-friendly and easy-to-adjust charcoal pan
Extra features such as a bottle opener
Durable solid cast iron grates
Cons
Assembly may be time-consuming
Weber Original Kettle Premium Copper Charcoal Grill
The model 14402001 is one of the best models offered by Weber for this price range. It looks like a regular kettle grill, but there's more than meets the eye.
Generous Cooking Surface
It has a 22-inch diameter heavy-gauge plated steel grate with a total cooking area of 363 square inches.
Porcelain-Enameled Bowl and Hood
Both the bowl and lid are made from resistant steel and enameled in porcelain for increased protection from heat and the elements, and better heat retention.
Angled Lid Hook
The lid has an angled hook inside the lid. With it, you can hang the lid on the grill instead of placing it on the ground, the table, or holding it in your hands.
Hang 'Em High
The side handle has 2 hooks for hanging utensils such as tongs and a spatula.
One-Touch Cleaning System
The ash pan at the bottom makes cleaning and disposing of ash simple, convenient, and safe.
Easily Add Fuel While Grilling
The grate is hinged at the side, making refueling an easy, fast, and convenient process.
Vs Performer
Compared to the Performer above, they are similar in specs & features at a glance but differ greatly in some areas.
Visually, they look quite similar:
Identical kettle look
22 inches in diameter
Both have an ash catcher at the bottom
Heat-resistant handle
And in some specs, too:
Tool hooks
Damper placement
There are some noticeable differences, though:
The color, obviously
The Performer has 4 8-inch wheels (2 of them are rubber molded), and this model has 2 plastic 6 inch
The lid holder is on the outside of the grill on the Performer
The Premium has fewer tool hooks and no side table
In short, the Premium is more basic and cheaper than the Performer.
Bottom Rack Needs Improvement
The storage rack at the bottom is small and doesn't look sturdy. The most use I have for it is holding the bag of charcoal.
A Fantastic Weber With a Fantastic Color
Instead of being black like most charcoal grills (which is becoming a bit stale, frankly), it comes in shiny copper that lives up my backyard. The assembly was easy and fast, and the cooking experience was amazing.
Pros
Simple but elegant design
Easy to assemble
Outstanding surface coatings
Huge grilling space
Cons
The bottom rack could be better
Char-Broil TRU-Infrared Kettleman Charcoal Grill
The Kettleman is a grilling marvel with its TRU infrared grilling technology.
TRU-Infrared Cooking System
This is not an ordinary charcoal grill but a charcoal grill with TRU-infrared grilling technology that enhances flavor, reduces cooking and preheating time and fuel consumption, and eliminates flare-ups.
Hinged Lid
While the Webers uses hooks for catching the lid, the Char-Broil goes a step further and puts a hinge on the lid – just like gas grills have.
Another great feature they added to the lid is the latch which not only seals the temperature and juices more but also makes it much more secure during transportation.
Special Cooking Grate
Just like other infrared grills, this one also uses a special type of grate.
It's so densely constructed that food can't fall to the blazing charcoal below, preventing flare-ups.
It's porcelain-enameled for easier cleanup, better heat distribution, and increased resilience to rust.
On its 360 square inches large cooking surface you can cook:
16 burgers
10 chicken breasts
Or 8 steaks
The Dampers
The top damper is a standard vent.
The bottom one is not. It rotates 360 degrees and also serves as an ash catcher.
Extra Long Warranty
Char-Broil places a massive 10-year warranty on the firebox and lid, a whopping 5 on the ash pan, and 2 on the other parts of the grill.
What I Didn't Like About It
Because of the design, it's really hard to clean every nook and cranny of the grate.
There are no side tables or hooks.
A Meat-Searing Machine
Compared to Weber, it's cheaper and better at searing. What's more, the flare-ups are history, the heating is more even, and it uses less charcoal.
Pros
10-year limited warranty
High, even heating
Whole stainless steel construction
Separate burner temperature meters
Shell is solid and sturdy
Easy coal management
Cons
No side racks or hooks for grilling utensils
Cleaning is not an easy job due to the shape of the grate
Royal Gourmet Charcoal Grill with Offset Smoker
Best for Smoking
Total 800 sq inches
438 sq inches of main chamber + 179 sq inches for chrome warming rack
Offset smoker provides extra 183 sq inches
Combination offset smoker
Heavy-duty lid with professional thermometer
Big capacity charcoal pan, contains 5 lbs charcoal at once
Steel mesh front table and bottom shelf
Side door for easy adding charcoal


Last on my list is another fantastic product that will make any barbecue party more fun and enjoyable. The Royal Gourmet BBQ Grill with Offset Smoker can function as a charcoal grill and a smoker as the name suggests. Therefore, you can take advantage of these two cooking styles.
Classic-looking Barrel Design
This grill has a barrel shape, so assembling it should be easy.  Furthermore, it's made of high-quality cast iron and stainless steel, so you can rest assured that it will stand the test of time.
Cooking Potential
This behemoth of a grill smoker combo has a total cooking area of 800 square inches:
The primary cooking area (1/4″ diameter porcelain wire cooking grates) is 438 square inches large
The swing-away warming rack has 179 square inches
The offset smoker with porcelain steel grates provides the rest of the 183 square inches
You can feed up to 8 people at once with this one.
The charcoal pan is big enough to hold 5 lbs of charcoal.
Lots of Prep Space
There's a mesh shelf in front of the grill and another one underneath it.
Other Features Include
Adjustable charcoal pan
Built-in thermometer
Side tray for a convenient charcoal refill
Be on the Lookout for Paint Chips
Although it's advertised as paint-chip free, the reality is different.
Expect some paint to melt and fall off once you start cooking.
An Inexpensive Introduction to Smoking
If you're looking for a cheap grill with which you intend to cook on special occasions without breaking the bank, this is it. Despite the paint falling off, it's considered by some grillers to be one of the best inexpensive grills.
Pros
High-quality coating
A solid connection between the side smoker and the main chamber
Sturdy and heavy-duty hood
Excellent airflow
3 Things You Must Consider
When buying a grill for your cooking, you need to consider these 3 factors.
Your Specific Needs
The first question you want to ask yourself before deciding to buy a charcoal grill is "how would I use my grill?".
If you like to constantly change grilling spots in your yard, then a heavy-duty portable grill would be enough to get you what you need.
On the other hand, if you are looking for an outdoor grill, carrying around a heavy grill would be difficult.
So, for a start, you must look for a grill that is suitable for your specific needs.
The Size Of The Cooking Area
The size of both the grill and your grilling area are 2 important things to consider.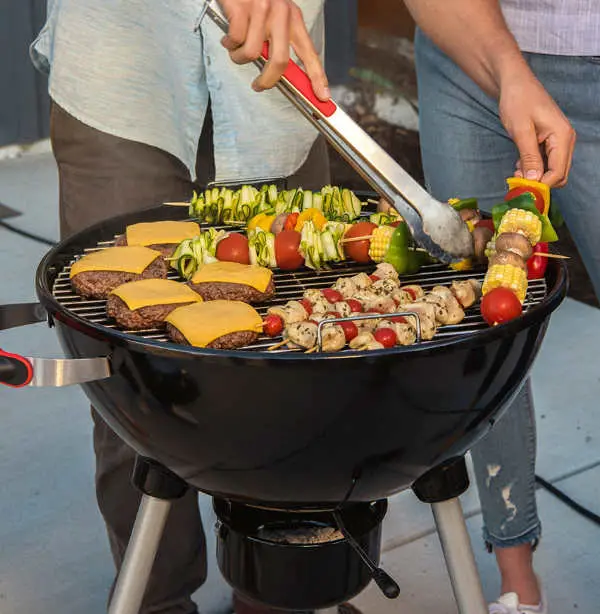 You don't want to buy a grill that is too large for your small yard. While buying one that is too small, you can have issues with grilling food for your whole family and friends.
In order to make sure, you may want to check how much you're going to cook in the first place. This way, you will be able to know the right size of the grill you need.
Extra Features
Depending on your needs and preferences, there are special features to look out for when looking for a grill that works on charcoal. These features include:
Air control system
Damper control
Thermometer
Warming racks
Wheels
Frequently Asked Questions About Charcoal Grills
Are Weber Charcoal Grills Worth The Money?
In my previous article, I mentioned that Weber grills are expensive. But unlike some other grill brands out there they make durable grills that won't fall apart after a season or two.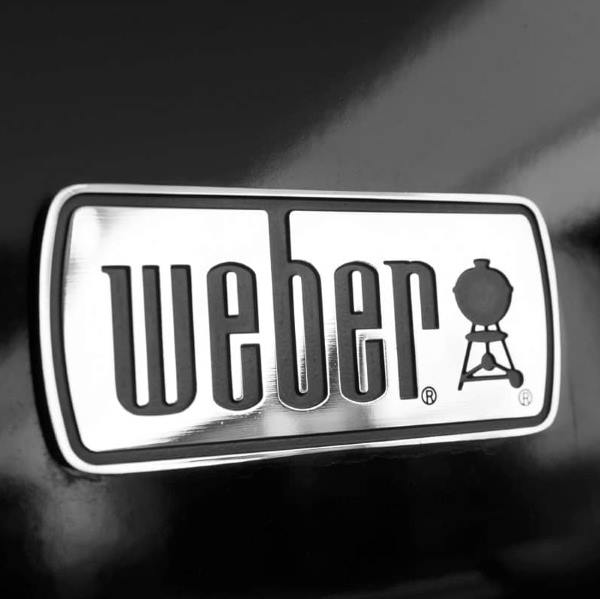 The designers at Weber really know what they are doing and are fully aware that a lot of people can't be bothered to clean their grills. They've also considered the most common faults found in charcoal grills and have made improvements.
So, to answer the question, Weber charcoal grills are worth every penny. If your budget doesn't limit you, it's best to shell out $100 more for a grill because it will cook like a charm every time you fire it up.
Are Charcoal Grills Easy?
For beginners, no.
It takes quite a while to get the right grip. First, you need to know how:
Much charcoal do you need
To ignite it
To get, check, and maintain the right temperature
To clean it afterward
and so on
I admit, charcoal grills aren't simple to use but once you know the basics, you'll be good to go.
How Long Will A Charcoal Grill Stay Hot?
As long as you keep adding briquets.
If you stop adding, it will stay hot for about an hour. The actual time depends on:
How hot the grill was in the first place
The outside temperature
How ventilated the grill is
When the fire goes out, the grill will cool down in about 15 – 30 minutes.
How Do You Keep A Charcoal Grill Going For Hours?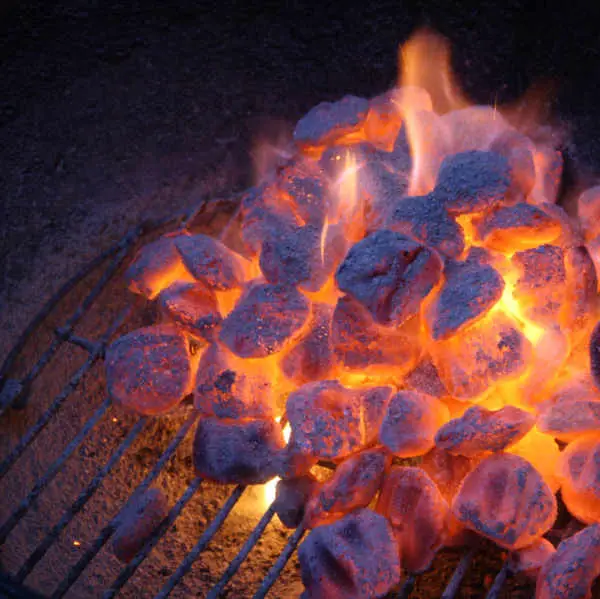 To add as little charcoal as possible after starting the grill, you need to know how to properly start it.
To do this, place the briquets in a pyramid shape and add some lighter fluid. The briquets need to be placed as tight as possible. Start the fire immediately after adding the lighter fluid. If you wait, the fluid might evaporate.
Once the briquets start turning grey at the side, start poking them with tongs or something similar and spread them out. This step is crucial because you introduce airflow and this is what keeps the fire going.
You need to be aware that there are several other factors that affect how long the charcoal grill fire will last. One of them is the quality of charcoal. This one is often overlooked. Be sure you're using quality charcoal briquets if you want to keep the grill going for hours and hours.
Real BBQ Is All Smoke
So, there you have it! Hopefully, my tips and suggestions for the best charcoal grills under 300 bucks helped you decide on where to invest your hard-earned money on.
As you can see, you don't really have to spend a lot in order to reap the features that more expensive grills have to offer. Consider my guide and pick the right one for you.
Do you prefer a grill with a smoker or without one?