So you've decided to invest in an infrared grill. Great decision. This best infrared grill under $500 guide will help you choose the right one for you. Whether you're a camper, traveler, live in the suburbs,… It doesn't matter because there's a grill here for everyone.
When it comes to different makes of infrared grills, the sky's the limit. There are hundreds of them on the market and to fish out the best ones, you'll spend a quite lot of time. Why waste valuable time when you can just read this handy guide?
Believe me, your grilling experience will change dramatically after purchasing one of these 7 grills. Welcome to the world of infrared grilling!
Top 7 Infrared Grills Under Half A Grand
What Is The Best Infrared Grill To Buy?
See reviews below for more details and specifications.
Grills, Grills, And More Grills!
Infrared technology grills will make your food juicy and soft. Let's take a look at the features of these 7 great grills.
Char-Broil 463280419 Performance TRU-Infrared 4-Burner Cabinet Style Gas Grill
Once you try this TRU-Infrared 463280419 Performance you'll never go back to conventional grilling.
680 Square Inch Total Cooking Area
With such a big combined cooking surface, there's no reason not to invite your friends and family to your next BBQ gathering.
The primary cooking area consists of porcelain-enameled stainless steel grates that are 500 square inches large.
The swing-a-way warming rack is 180 square inches.
Durable and Reliable Burners
It has 4 main burners with heat tents and 1 side burner, all made from stainless steel.
The main burners output 6,750 BTU each, or 27,000 BTU total.
The side burner outputs 10,000 BTU and is perfect for making side dishes, soups, and sauces. It has a lid that when closed, creates additional prep space.
Warranty
Char-Broil places an astonishing 5-year warranty on the burners, 2 on the lid and firebox, and 1 year for the other parts.
Other Features Include
Reliable electronic ignition
Additional storage space under the grill
Thermometer
4 wheels, 2 of them lock
Pros
Ample cooking and prep space
Durable and sturdy
Easy to use and clean
Outstanding performance
Straightforward assembly
Northfire Inferno Single Propane Infrared Grill
In the backyard or on the open road, the Inferno by Northfire is a cooking marvel.
Looks Can Be Deceiving
Although it appears small and weak, looks aren't everything.
In a blink of an eye, this grilling baby can reach temperatures of up to 1,500 °C or 800 °C and cook a whole steak to medium rare in 2 – 3 minutes.
That's German engineering for you.
Travelers Best Friend
Because of its compact size of 17 x 10 x 14 inches and small weight of 24 lbs, you can easily carry it by yourself virtually anywhere.
Go camping, RV-ing, tailgating, to the beach, boating,… The choice is yours and yours alone.
Cooking Specs
The infrared burner can output a maximum of 8,500 BTUs.
The grates are 66 square inches large and measure 6 x 11 inches.
What's Included
The Inferno
Grates with handle
2 drip trays
39.5 inches long propane hose
Pros
German design
Hot as hell
Compact
Durable
Portable
Magma Newport 2 Infrared, Gourmet Series
Spice up your boat trip with the Magma Newport.
Made for the Sea
This sea dog is specially designed for barbecuing on the sea.
It's constructed from 18-8 marine grade stainless steel so you don't have to worry about rusting or corrosion.
Monitor the Cooking Without Opening the Lid
The lid has a hardened tempered glass viewing window that's resistant to high heat just like ovens have.
You'll save on time and fuel (every time you open the lid, the grill loses heat).
Grilling Capacity
The cooking area is 162 square inches large and the grates are made from durable stainless steel.
Propane or Natural Gas
This grill uses the standard 1 lb canisters but if you have an onboard LPG or NG system, you can also connect it there.
Nifty Features
Hermetically sealed thermometer
Dependable electronic ignition
Smooth edges
Foldable legs
Full-length stainless steel handle
Dual-element infrared radiant plate
Redesigned combustion system
Pros
Durable stainless steel design
Portable
Ideal for boating
Smooth edges
Impressive cooking performance
Cons
Mounting accessories sold separately
GASPRO Multi-Tasking Propane Infrared Outdoor Cooking Master
Best Tabletop
Reaches an incredible 1500°F, serves up steakhouse-quality steaks about 2 min per side
6-notches in the grill rack offer different heat zones
Built-in standard 3/8" male flare fitting in the valve and regulator
Constructed of premium 304 stainless steel
Pass CSA certified, safety use for outdoor backyard grilling, RV traveling, camping...
Create the restaurant experience without ever leaving your home with this GASPRO Infrared Grill Broiler.
Cooks Like a Restaurant Salamander Broiler
You'll be amazed at how close this model is to an actual Salamander.
With its powerful 15,000 BTU infrared burner, it can fully preheat to 1,500 °F in just under 4 minutes and can cook a steak with steakhouse sear marks in the same amount of time.
The 125 square inches large grate is large enough to feed a couple or even 3 people at once.
Included is a 117 square-inch cast iron griddle which is perfect for making eggs and pancakes.
High Temperature Range
It offers an enormous versatile temperature range: from 200 °F to 1,500 °F.
Either quickly sear steaks and broil chicken thighs or sous vide them.
Uses 1 Lb Cylinders
By default, this grill uses the classic disposable camping propane tanks.
You can convert it to hold larger tanks and hook it up to the RV but the sets are sold separately.
Pros
Well built
Easy to use and clean
Cast iron griddle included
Fast preheat and cooking time
Ideal for cooking steaks
Char-Broil Performance TRU-Infrared 450 3-Burner Liquid Propane Gas Grill
Best For The Money
525 square inches primary cooking
Porcelain-coated cast iron grates
200 square inch porcelain-coated warming rack
4 top-ported 443 stainless steel tube burners
Surefire Electronic ignition system
13,000 BTU side burner
Easily converts from liquid propane(lp) to natural gas(ng) with natural gas conversion kit (sold separately)
The Performance TRU-Infrared 450, by Char-Broil, is a serious grill that packs some heat on your meat.
It's got a porcelain-coated grill surface space of 20.5 inches long by 22 inches wide for a total of 450 square inches of cooking space.
It has a warming shelf above the main grill that's 20.5 inches long by about 6.9 inches deep that can swing back for the unimpeded area.
Also, the 450 has a 10,000 BTU side burner with a lid if you need the workspace instead.
The main grill burners are comprised of 3 independently controlled tube burners and are fired up by electronic ignition. This means that you can adjust the temperature of each burner to your own desire for cooking different things at once. The main grill has a temperature gauge mounted in the lid.
The bottom space of the grill is nicely made into a cabinet so you can store all of your stuff.
What's Good And Bad About This Grill?
The major downfall of the Performance TRU-Infrared is that the assembly instructions aren't written well. Let's be honest: you're only going to use them once.
If you purchase your grill online, it's also liable to arrive with a few dents or dings depending on how the delivery service cares for your package.
How Much Can You Cook On This Grill At Once?
When it comes to a full-size grill like the Performance 450, how much you can cook becomes trivial as it would take a pretty big dinner party to get low on grilling space.
You're more likely to run out of hands for flipping and turning and brain space for measuring times and doneness than you are likely to run out of space on the grill.
You can easily fit:
4 porterhouse steaks or
2 large-sized pizzas
I Recommend It!
This is a great grill that really keeps your food juicy as you cook it, and cooks evenly and true without zapping out all of the moisture like other grills. I do recommend purchasing a grill cover as all your outdoor investments deserve to remain rust-free.
Pros
Enormous cooking area
Easy to read lid-mounted temperature gauge
Made from durable material
Reliable ignition system
Plenty of raw grilling power
Side burner
Solaire SOL-IR17BWR Portable Infrared Gas Grill
Best Portable
Ceramic and Stainless Steel burner
Electronic push-button ignition
140 Square inches primary cooking area + 67 Square inches warming rack
Special v-grate
Use made by a 100-plus-Year-old family business
Includes carrying bag
A variety of accessories are available, including a tank adapter, tripod, portable stand, natural gas conversion, low-pressure propane kit, mount adapter plate, and grid scraper
20 lbs
The Solaire SOL-IR17BWR Portable Infrared Grill is a USA-made portable infrared grill compatible with propane gas, and also with natural gas with a separate converter kit (sold separately). This isn't a full grill as it's only 20 lbs – it's something you'd move around and set on a table. Say, if you wanted to cook out at a grilling competition or out camping without compromising your food cooking techniques and station.
The grill is 20 inches long by 13 inches wide, with the entire unit being 12 inches tall, and entirely made of durable steel. Despite its small size, it's still capable of delivering up to 14,000 BTUs of heat and power. It ignites with a push button. The lid has a warming rack that's about 20 inches long by 4 inches deep.
How Much Can It Cook?
6 reasonably sized burger patties at once
4, maybe 5 chicken leg quarters or
Even a smaller whole chicken
So this grill could perform well for a family of 4 people, or possibly 5 if you're clever with item placement.
Is This Grill Worth It?
If you've got your heart set on a full-size grill that's man-height and doesn't need to be placed on anything, then this grill won't make you happy.
If you're the type that moves around frequently, or if you're looking for a starter infrared grill, that this Solaire is a great purchase.
Pros
Large cooking area for a portable grill
Made in USA
Made from durable stainless steel
Can be converted to natural gas
Lightweight
Cons
Very hot even on low temperature
Sharp edges
Char-Broil Signature TRU-Infrared 525 4-Burner Liquid Propane Gas Grill
Char-Broil's Signature TRU-Infrared 525 is the next upgraded model of the Performance 450.
Comparison to the Performance 450
It's a bit bigger than the 450, with the main grill top coated in porcelain and measuring about 22 inches deep by 24 inches long, heated by four 443 stainless steel tube infrared burners.
The warming rack is about 9 inches deep by 22 inches long for 200 square inches of space.
Like before, each burner can be controlled independently. The side burner has a closing top and its lid is raised instead of flush, delivering 13,000 BTU of heat, which is about 30% more than its predecessor, the Performance 450.
If you change your mind about the heat delivery method, you can purchase a converter kit separately to cook with propane or natural gas.
Even though the Signature 525 has the extra burner and the side worktable swapped from its previous rendition, it has the same cabinets and temperature gauge. Food-wise, it adds a few more inches of space that you might need if you're hosting a big party and want to slip in an extra few burgers, hot dogs, a rack of ribs, chicken, seafood, or veggies.
How Much Can You Grill On This Grill At Once?
You can grill everything that you can grill on the Performance 450 but because the 525 is slightly bigger, you have even more room.
Is The Signature 525 Worth It?
For someone who just wants a basic to mid-size infrared grill, they might be better served with the lower model.
But if you really want to show off, if you're used to your side grill being on the other side, or if those last few inches are really important for you, then go ahead and get the grill. Having more room never disappointed anybody!
Pros
Huge cooking area
Surefire Electronic ignition system
Can be easily converted to natural gas (kit sold separately)
Powerful main burners
Side burner included
Cons
Prone to rust
Tricky to clean thoroughly
Infrared Grills Change the Grilling Game
The latest and greatest technology in backyard grilling is the invention of the Infrared Grill. This new player takes grilling to a whole new level with many grilling issues eliminated and some real advantages built-in.
Despite the fact they've been around for a while, Infrared Grills have become quite popular in the last few years.
Let's take a look at the technology and how it takes grilling into the 21st Century. Listed below are the most common questions and answers surrounding Infrared Grills.
Why Are Infrared Grills Different From Traditional Gas Grills?
Infrared Grills place a metal grate between the gas burner and the grill surface to distribute heat more evenly.
By placing a heat-transferring grate between the gas burner and the grill surface, the gas flames heat the grate which then distributes the heat more evenly and more broadly. By spreading the flames over a wider area, more of the grilling surface can be used to cook food.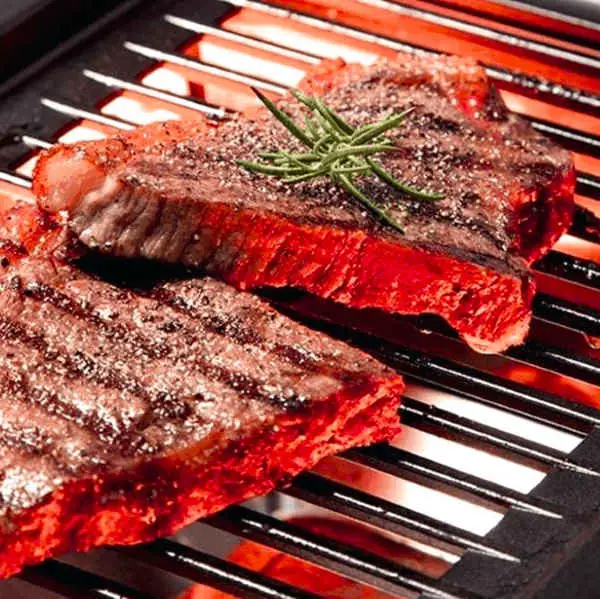 Because the intermediate surface transmits the heat and redistributes it more evenly, flare-ups and charred food are more easily avoided.
Traditional gas grills take more time to heat up than infrared grills require as the flames coming from the burner cover less overall area than an infrared surface.
Are Infrared Grills Worth the Money?
Yes, they are worth the money because they make the experience of grilling more enjoyable and the quality of the food cooked with Infrared technology is much better.
Granted, Infrared Grills cost more money than traditional charcoal or gas grills. Due to the technology and engineering, there is more to an Infrared Grill than charcoal or traditional gas grill. The construction requires more parts and pieces to assemble and therefore, it will cost more money.
When it comes to having better control over the heat source, the Infrared Grill wins hands down. Flames and flare-ups are a thing of the past, so the cook doesn't need to worry about burned surfaces that aren't edible and don't look very appealing.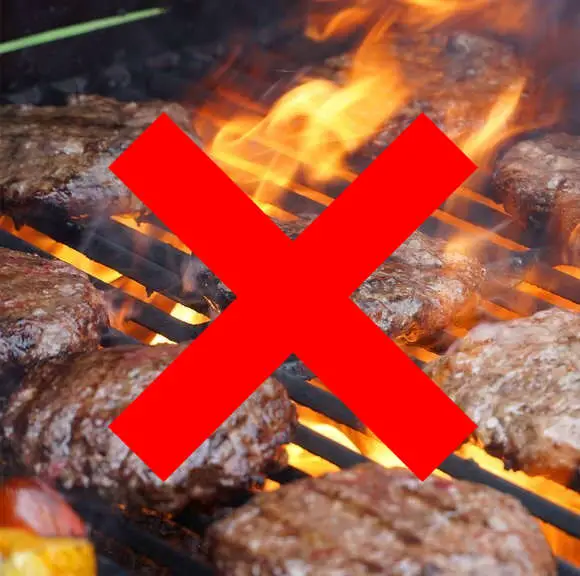 What is the Difference Between Infrared Grills and Regular Gas Grills?
The difference is the heat distribution produces a more consistent temperature across a larger area of the grill.
Traditional gas grills use a series of ports distributed around the perimeter of a burner bar resulting in a ring of fire that concentrates the heat directly over the flaming area.
An Infrared Grill takes that same idea to the next level by distributing the heat from the flames across a table that heats the food rather than heating the grill with the flames directly.
Spreading the heat across the grill surface provides more controlled cooking and searing.
Why is an Infrared Grill Better?
The available cooking area is much larger by comparison.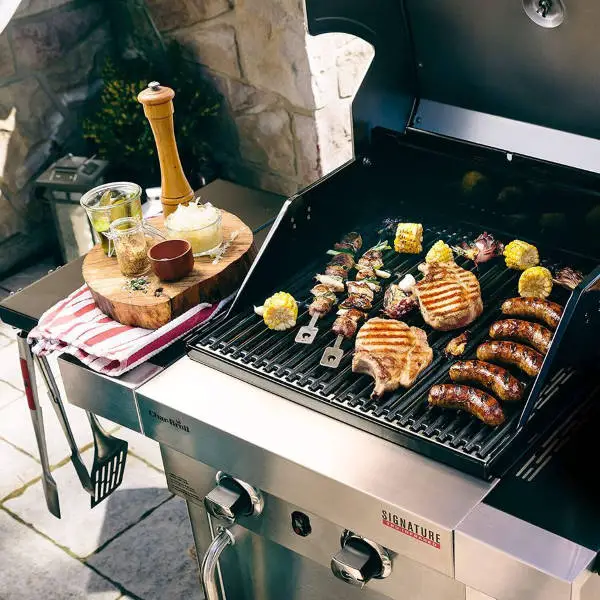 A larger cooking area increases the ability to place more food onto the grill. It also means there aren't large flames licking the food or flames flaring up where the food is concentrated on the grill.
When most traditional gas grills focus heat on a smaller grill area, less food is cooked and more gas is required to cook all the menu items.
What is the Advantage of Infrared Grilling?
Better heat control, fewer flare-ups, and larger cooking surface give Infrared Grills a real advantage over traditional gas grills.
Time is also an advantage for many cooks due to the ability to cook several items simultaneously rather than having to prepare items one after the other.
Infrared Grills allow the cook to control heat levels more accurately on different areas of the grill so that multiple menu items can be cooked and served with less delay.
Grilling everything at the same time will save having to keep food warm in an oven or food warmer.
Life Is Too Short For Ordinary Good – Start Grilling
There are some best infrared grills under 500 bucks for every stage and skill of cooking.
If you're looking for something more affordable, portable, or just looking to try infrared cooking, the Solaire SOL-IR17BWR or Magma Newport 2 is right for you.
Do you want the steakhouse experience without leaving the home? Then try either the Northfire Inferno or the GASPRO XL Cooking Master.
If you're looking for more of a grill that's visually impressive and can stand up to your grilling sprees, then you'd be pretty happy with the Char-Broil Performance 450 or the Char-Broil Signature 525.
But if you're looking for the Cadillac of infrared grills and need those extra few inches of space, take a look at the Char-Broil 463280419 Performance.
Would you tell the difference between a gas-grilled burger and an infrared-grilled one?