Grilling shouldn't be expensive.
The $200 price range is more than enough money for a decent reliable charcoal grill that won't let you down.
The market is saturated with cheap-built grills that only look good. That's why I've done my research on the best charcoal grills under 200 dollars and found these 3 winners worth trying out.
What Is The Best Charcoal Grill Under $200?
Best Charcoal Grills for Under 200 Dollars Reviews
Weber 14501001 Master-Touch Charcoal Grill
The Weber 14501001 Master-Touch is a traditional kettle-style charcoal grill with so many features that you'd think it was on sale when looking at its price tag.
363 Square Inches Large Main Cooking Area
With a 22-inch diameter cooking surface, it's big enough to fit 13 full-sized burger patties.
Unlike many other charcoal grills, this one also features a warming rack that's 80 square inches large.
In total, this grill has a combined cooking area of 443 square inches.
The grates are plated steel.
Modular Grates
There's a smaller grate inside the grates (inception) which you can remove and replace with a:
Pizza stone
Griddle
Sear grates
Waffle and sandwich maker
Poultry roaster
Wok with a steaming rack
Dutch oven
that is part of the "Gourmet BBQ System".
Keep in mind that these accessories do not come with the grill. They aren't cheap either (between $50 and $150).
Porcelain-Enameled Bowl and Lid
Both the lid and bowl and coated in porcelain.
This has several benefits:
Better heat retention
Even heat distribution
Improved resistance to the elements and high heat
Hassle-Free Cleanup
On the bottom of the grill is a catch mechanism where you can easily empty out the ashes without too much trouble, called the "One-touch cleaning system".
Handy Gift Included
The grill comes with 2 char baskets.
These are baskets in which you place your charcoal and make arranging 2-zone cooking much easier and more convenient.
Other Features That Make It a Weber
The lid handle is heat shielded for added protection.
The bowl handle has hooks on each side (2 in total)
Instead of placing the handle on the ground or holding it with one hand while tending to the food with the other, simply tuck the lid to the side of the grill.
Unlike many charcoal grills in this price range, this one actually features a lid thermometer.
The grates are hinged on both sides so you won't have to take apart half of the grill when adding more charcoal while cooking.
What's Bad About It
Weber should improve their quality checks. When I opened the box, I immediately noticed that one of the legs was so crimped I couldn't repair it myself. Not cool Weber!
Also, the lid had several scratches on it, despite the box looking untouched.
Check the grill thoroughly once it arrives and contact Weber's customer care ASAP.
Pros
Large cooking area
Convenient ash cleaning system
Included warming rack
Modular and hinged grates
Rest-resistant and fuel-efficient
Cons
Quality control issues
May arrive damaged
Char-Griller E1224 Smokin Pro Charcoal Grill with Side Fire Box
The Char-Griller Smokin' Pro 1224 is a Texas-style charcoal grill that also doubles as a smoker.
Get Smoked
While it's true that you can smoke on virtually any charcoal grill that has a lid, the end result won't be as tasty as using an actual smoker.
But the problem with smokers is that they are an extra expense and take up additional space (space that many of us don't have laying around).
The Smokin' Pro solves both issues by combining the best of both worlds in one unit, without increasing the cost.
This solution is a side firebox that Char-Griller added that enables you to truly put the smoke to the meat. You can even have Texas-style BBQs.
What's more, you can use it as a regular grill when not smoking – more space for your food.
A Cooking Gargantuan
There are no empty mouths around this grill.
There can't be with its ample total cooking area of 830 square inches.
The primary grilling area is 580 square inches large and should hold about 20 burgers (I managed to put 21 of them but they were packed really tight).
The side firebox is 250 square inches – this is enough for 8 burgers.
Easily Refuel Without Disturbing the Cooking Process
If you need to add more charcoal during the cookout, simply pull out the tray from the sidebox and add the coals, wood chips, pellets, etc. without having to touch the lid let alone lift it.
Fine-Tune Your Cookin'
You can easily adjust the height of the grates in the main grill.
Fire too hot, lift the grates up. Not enough heat, lower the grates.
You're in complete control here.
Plenty of Prep Space
The side, front, and bottom shelf should be more than enough space to hold the plates, dishes, and spices, plus your favorite drink.
The side shelf also features 3 utensil hooks.
Both the side and the front shelf deserve a special mention because they are made from wood. This not only makes the grill more classy but also brightens the overall dark paint job.
Durable and Sturdy
Made from heavy-duty powdered steel, this grill is made to last.
The grates are cast iron.
Other Features
The wooden handles are cool to the touch and, like the shelves, brighten up the pitch-black color.
There's a thermometer on the lid.
Instead of tipping over the grill or vacuuming it in order to get rid of the ashes, you just pull out the ash pan.
The Cons
No grill is without issues, including this one.
These units are fraught with all kinds of quality control issues, especially with pieces not fitting right, not being the right size, the lid not fitting properly, and missing pieces.
But don't let that keep you from buying one, as they're covered by the warranty.
Due to the lack of insulation and proper sealing, the grill loses quite a lot of heat during cold and windy times, especially during the winter. Don't be surprised if you find out that during the winter this grill eats through the charcoal faster than you can say Jack Robinson.
This, and some other minor issues, can be fixed with a few mods.
Pros
Ample cooking and prep space
Durable and sturdy
Doubles as a smoker
Convenient refueling and ash disposal
Easy to clean
Fast and straightforward assembly
Cons
Quality control issues
Struggles during wintertime
LotusGrill G-AN-34 Portable Charcoal Grill
The G-AN-34 Portable Charcoal Grill is a perfect choice for campers, students, and travelers.
Portable
It's so compact (14 X 10 X 9 inches / 35.5 X 25.4 X 23 cm) and lightweight (8 lbs / 3.7 kg), you can use it as a portable grill for any outdoor activity, including camping, RV-ing, tailgating, beach parties, and traveling, to name a few.
Perfect for 2-4 People
Despite its tiny size, this 12.6-inch grill has a generous cooking area of 115 square inches.
It's really small compared to the other two, but this is a portable grill.
Super-Fast Preheat
What's really great about this one is that you only have to wait 4 minutes to get started cooking.
This is made possible thanks to its patented design to force air over the charcoal creating heat quickly and efficiently using a fan.
Another bonus of this fan is simpler temperature control – a feature a lot of portable charcoal grills lack.
Dishwasher-Safe
This is something you don't see every day with a charcoal grill (or any grill, for this matter).
The inner bowl and the grates are dishwasher-safe.
Downsides
This grill has some problems, it's biggest being short usage time. Because it's small, you can't put a lot of charcoal there (up to 1/2 lb or 250 g). This means you'll have to refuel quite often if you're planning on cooking large.
Also, the supplied batteries don't last very long. They should last 40 – 60 hours, but in my case, they lasted only about 35 hours. Quite a disappointment.
Pros
Decent size cooking area
Compact
Innovative design
Easy to clean (some parts are dishwasher safe)
Even heat distribution
Lightweight
Fast preheating time
Cons
You need to constantly add charcoal to keep the fire going
The supplied batteries don't last long
What Kind of Charcoal Grill Should I Buy?
A simple question with a not-so-simple answer.
I love to grill, just like the rest of America.
The question is, which charcoal grill should I buy given all the choices?
Size Matters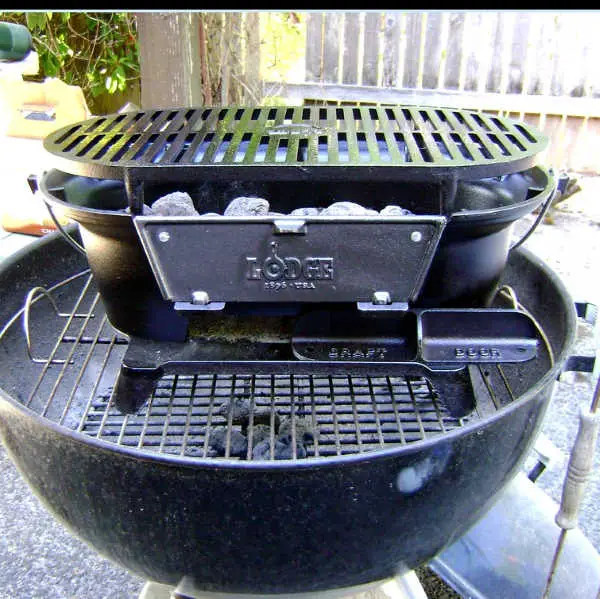 I've seen everything from tiny little Hibachi grills that sit on top of the dinner table to huge backyard monstrosities that resemble a battleship.
Where I want to use my grill determines many of the characteristics I'm looking for.
Folks in an apartment or condo can use smaller charcoal grills that fit easily on a patio or balcony.
Homeowners with backyards and decks can go a little larger with an eye toward mobility or built-in, depending upon their tastes, yard size, and budget.
While a gas grill may not give off a flavor or taste to the food, I've found that charcoal gives my dinner a smokier, more robust grilled taste than gas.
I also like the charcoals that are available with Mesquite or Hickory wood chips included to add even more flavor.
While some cooks prefer gas grilling to charcoal (about 2/3 of America grills over gas) I think charcoal offers benefits that gas grills don't.
Pick a Style, Any Style
Ever since George Stephan created what would become the Weber Grill in 1952, designs of grills have covered a range of ideas and concepts.
The basic design remains the same with charcoal below and the grates above, but the variations on the theme are impressive.
I prefer a larger surface area rather than a smaller one so I can distribute different items to hot or not-so-hot locations around the grill.
With a larger grilling area, I can also feed more people more rapidly and not in shifts.
Round or Square Will Get You There
Consumers can decide between round or square grills with equal results.
More important is the mobility of the grill.
Many grillers prefer wheels to roll around on, saving their back muscles from distress.
Other grillers like the built-in variety of grill set up which can increase the grilling area substantially.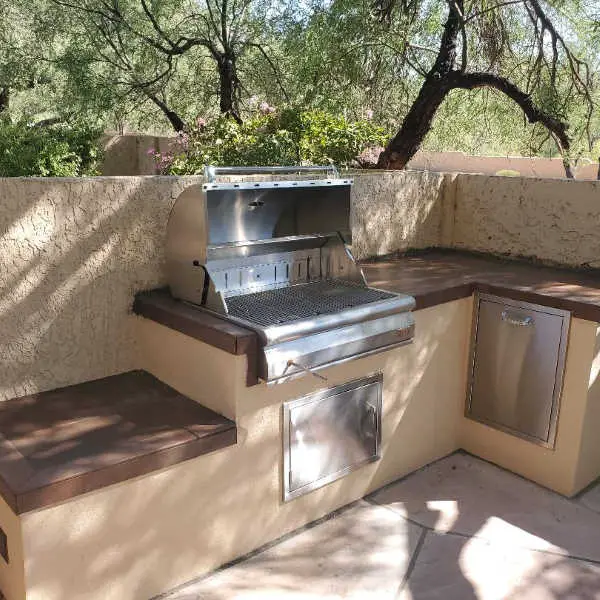 In any case, it's the skills of the grill master that will make the biggest difference.
Lots of Options
Grilling food is always enjoyable and eating it is even better!
When considering a grill, I look for helpful options that upgrade my skills.
Warming shelves and adjustable vents are the primary ingredients on my shopping list.
I also look for a thermometer that helps me control the cooking temperature.
One thing I think is important is an ash catcher because nobody likes hot ashes falling on their nicely varnished wood deck or staining the patio cement.
Side tables are nice for holding dishes and sauces nearby.
Different Strokes For Different Folks
Charcoal grills are designed and constructed from different materials and with varying design features.
Consumers can choose between lightweight, rust-free aluminum grills and powder-coated or stainless steel-bodied grills.
Charcoal has been updated to pelletized fuel in some models of grills.
With all the features and benefits available on today's charcoal grills, I'm looking forward to discovering new ways to enhance my grilling skills.
Interesting Facts About Charcoal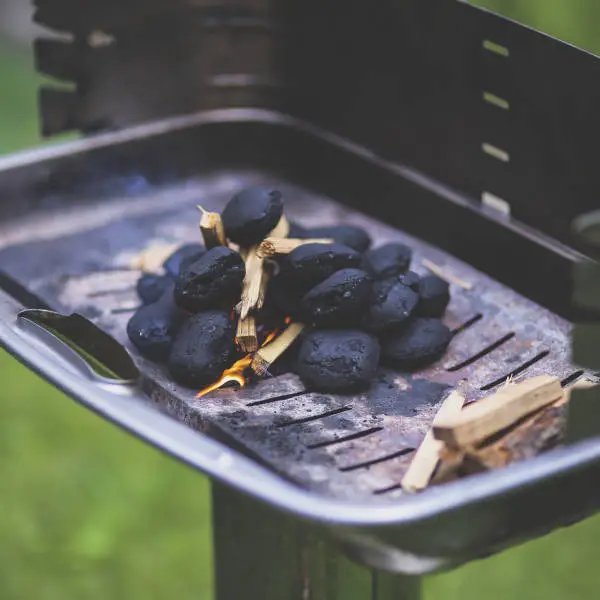 Does Charcoal Expire?
No, charcoal does not have a shelf life. It expires only when it is burned.
If you have some charcoal left after a barbeque session, just wrap it up and put it in a dry place.
The only real threat to charcoal is moisture – and only when you leave it in the rain. If it's hot and moist outside, and the charcoal is in the bag, then you have nothing to worry about.
Self-lighting briquettes are a bit more delicate than regular charcoal. They need to be stored in a sealed container and you shouldn't open the bag for any reason other than using it on the grill.
Why? Because lighter fluid evaporates over time and when this happens, you'll end up with plain charcoal briquettes.
Is Charcoal Ash Good for Anything?
There are several things you can do with charcoal ash, aside from throwing it in the trash, of course.
These include:
Fertilizer
Neutralizing odor
Pest control
Absorbing moisture
Slowing algae growth
Fertilizer
You can use the ash as a fertilizer for plants and vegetables in your garden as long as you use natural wood charcoal without additives.
If you don't, you'll do more harm than good.
Remember, ash increases the pH level of the soil, so don't use it around plants that thrive in acidic soil, like blueberries.
Neutralizing Odor
Charcoal ash absorbs any smells around it.
If your compost is starting to smell, for example, just place a bowl of ash and it neutralizes the smell.
If it stinks really bad, add some unused pieces of charcoal.
Pest Control
Got snails in your garden?
Sprinkle the ash around the garden (or plants) to make a barrier.
Absorbing Moisture
Both charcoal and ash are very good at absorbing moisture.
Got tools rusting in the shed? Just place a bowl of ash inside.
Because unused charcoal is more absorbent, people use it more than ash in this case.
Slowing Algae Growth
Charcoal ash is rich in potassium. Add some of it to your pond to encourage the growth of other plants.
This growth prevents algae from spreading.
Choose The Best Charcoal Grill For Your Needs
I hope you will consider my suggestions and the features of these grills and decide on the best.
If you have any questions or suggestions, type them below in the comment section.