Do you want to grill but are limited by your budget? I've talked a lot about high-end grills in the past, but today I'd like to focus on best grills under 200 bucks that are currently available.
This price range is generally for folks who would like a little bit more than the bare minimum, or who are upgrading or replacing a previous dilapidated or poorly performing grill.
Here are the 3 grills I picked for you today.
Top 3 Budget Grills Under 200 Dollars
| Image | Title | Buy |
| --- | --- | --- |
| Top | Weber Q1200 Liquid Propane Grill | Check Price |
| | Char-Griller E3001 Grillin' Pro 40,800-BTU Gas Grill | Check Price |
| | Weber Original Kettle Premium Charcoal Grill | Check Price |
What Is A Good Gas Grill For Under $200?
Although both gas grills reviewed below are worth way more than their $200 price tag, the best grill (at least for me) is the Weber Q1200. Although it looks small, this baby is hot, has a large surface area, and is lightweight – a perfect choice for travelers and those living in an apartment building.
Reviews
Take a look at what these 3 grills have to offer and what features they have.
Weber Q1200 Liquid Propane Grill
Weber 51010001 Q1200 Liquid Propane Grill, Black
One stainless steel burner produces 8500 BTU-per-hour to heat 189 square-inch total cooking area

Porcelain-enameled cast-iron cooking grates and cast aluminum lid and body

Dimensions - lid closed and tables out (inches): 15.5H x 40.9W x 16.5D inches. Fully assembled out of box. Uses disposable 14.1 or 16.4 oz. LP cylinder (sold separately)

Easy-start electronic ignition and infinite control burner valve settings

Care instructions: Handling the brass material on this product exposes you to lead, a chemical known to the State of California to cause cancer, birth defects or other reproductive harm. (Wash hands after handling this product.)

GLASS-REINFORCED NYLON FRAME
The Weber Q1200 (model 51010001) is a compact liquid propane budget grill that comes in purple, black, blue, green, yellow, pink, red, and white. It has a stainless steel burner at 8,500 BTU that is started by a push-button ignition system.
The grilling grates are cast iron and porcelain-enameled, with the cooking space measuring 21 inches long by 16.5 inches deep – big enough for :
4 decent-sized pork chops
3-4 chicken quarters
2 small chickens,
The lid isn't tall enough for beer can chickens though.
This grill has 2 side workstation tables that can be folded down for a more compact size when storing. The lid has a built-in thermometer, the push button to ignite is on the front, and the control dial for the burner is actually on the side of the grill.
What Issues Does This Grill Have?
Now, normally a common problem with little grills is that plastic parts will melt or catch fire, but the Weber Q1200 does not have this problem. It does have a problem that hits every now and then with a bad regulator attaching to the liquid propane tank.
For What Type Of Person Is This Grill?
This grill really only has space for 1 or 2 people, so it's not a good fit for a whole family. Because of its compact size and ease of storage, it would do well for someone who doesn't have space for a full-size grill, or who can't leave their grill outdoors.
RVers, camping folk, and apartment dwellers might find this grill as a perfect choice.
At 8,500 BTU it will do a pretty decent job cooking and it won't take too long.
Char-Griller Grillin' Pro
Char-Griller E3001 Grillin' Pro 40,800-BTU Gas Grill, Black
40,800 BTU gas grill with 438 square inches of main grilling area

192 square inch warming rack, 12,000 BTU side burner

Durable steel construction; side shelf for handy workspace

Electronic ignition; porcelain-coated cast-iron grates; utensil hooks

Measures 48 x 28 x 48 inch
The Char-Griller Grillin' Pro (model 3001) is a propane grill with 3 burners 40,800 BTUs strong and a 4th side burner at 12,000 BTU, started by a push-button electronic ignition system.
The grilling grate is 438 square inches big and porcelain-enameled, with a swinging warming rack that's 192 square inches large. The grill is big enough to cook 8 to 12 very large hamburger patties at once (depending on your spacing) and warms about 5 slices of bread at the same time.
This is a full grill that's free-standing at a comfortable height. It has 2 side tables with hooks at the ends, one of which has a closing compartment for the 4th burner, so that it doubles as both. The lid has a thermometer.
The front of the grill is heat shielded, but it is big enough to put your propane tank on the bottom shelf.
Is This Grill Really A Good Buy? What Problems Does It Have?
This grill has some issues that aren't quite a fault of the grill itself but are more common for all grills. For example, the Amazon free assembly program isn't quite streamlined right. Another issue is that grills that are returned sometimes aren't properly processed, resulting in new grills being shipped out with used ones on occasion.
The grill assembly process is okay, set aside a few hours to get it ready. The wheels aren't the best, and like all grills, it will rust if left outside and exposed to the elements. When not in use, put it in a cool, dry spot with its grill cover to help preserve its life.
What Kind Of Person Is This Grill Best For?
The Grillin' Pro is great for someone who wants an upgrade or replacement propane grill. It's got enough room for 4 to 20 people and its side burner is a great place for cooking skillet dishes with the main meal. This would be a good backyard grill for someone who likes the convenience and control of propane burners.
Check other gas grills that are available on the market.
Weber Original Kettle Premium Charcoal Grill
Weber Original Kettle Premium Charcoal Grill, 22-Inch, Black
Holds up to 13 burgers made with a Weber burger press; Built-in lid thermometer

One-Touch cleaning system with high-capacity ash catcher provides hassle-free ash cleanup

Porcelain-enameled lid and bowl retain heat, and won't rust or peel

Use the lid hook to avoid placing the lid on the ground while grilling

Cooking grate is hinged for easily adding charcoal while grilling
The Original Kettle Premium Charcoal Grill by Weber is a classic-looking charcoal grill with a one-touch cleaning system. The porcelain-coated grilling grate is about 363 square inches. It's so large you can cook 13 burgers at once.
The grates are hinged so you can add charcoal without interrupting the cooking time. The lid has a hook so you won't have to place it on the floor. The grill rests on 2 durable wheels. At the bottom of the grill, there is an ash catcher.
Any Issues?
Like all charcoal grills, this one can't be used indoors because of the smoke produced by it.
Also, controlling the temperature is a bit tricky because the vents at the bottom are quite small and get sometimes clogged up.
Who Is This Grill For?
The Original Kettle Premium Charcoal Grill is made for the traditionalist grillers and is the best choice for them. It's a classic charcoal grill. No bells and whistles, except the thermometer built in the lid.
It's also a great choice for people who have large BBQ parties often as this grill has a large cooking area.
Weber Vs Char-Griller
I've included quite a few grills from these 2 brands in my previous articles and with a very good reason. Both brands focus only on grills. When a company specializes in just one thing, they invest all their time and effort into it. Naturally, the product is more advanced and improved than the ones made by a company, that makes several things at once.
Is Char Griller A Good Brand?
If it wasn't, then I wouldn't include them in this article.
If you're new to the world of grilling or don't want or can't spend a fortune on a grill, then Char-Griller would be the perfect choice.
Char-Griller makes some of the best entry-level charcoal grills. They also make high-end, gas, dual fuel, and kamado grills as well.
The name is a reference to chargrilling which means grilling over charcoal.
Are Char Griller Grills Made In USA?
Although the company operates in Atlanta, their grills are actually made in China.
This business model is getting more and more popular every day but that doesn't mean that their grills are poorly constructed. If you haven't noticed, more and more things are manufactured there and a lot of them aren't that bad. I'm not talking only about grills, but other things as well.
Are Weber Grills Worth It?
Weber is a synonym for durable and long-lasting grills. They are well known for their high-end expensive grills. They do make cheaper models, but most of them aren't worth mentioning. The exceptions are listed above.
You can kinda say they are the opposite of Char-Griller.
Why Is Weber Grills So Expensive?
The brand is notorious for its high price tag. As I've said before, they do make some pretty good cheaper models as well.
The main reason is they're made for punishment. Judging by their quality-made grills, the engineers are experienced grillers and are aware grills take a lot of punishment, both form the griller and from the elements. So they designed grills with this in mind.
Summary
All in all, if you're limited by your budget for whatever reason, go for the Char-Griller. You won't be sorry.
If money is not your concern, go for the Weber. You'll get a grill that will outlive you and will cook like new even decades after you've bought it.
Grill Like A King
Remember that some grill problems will persist universally through every grill make and model, such as rust, and that their problems are simply solved by taking good care of the grill, such as putting it away in a quiet spot away from the weather, and using a grill cover.
Regulators and ignition systems are prone to fail either early on or to last many years before needing replacement parts, and this is a normal occurrence, too.
📌 Pin Me for Later Reading! 📌
Pin this image to Best Budget Grills on Pinterest.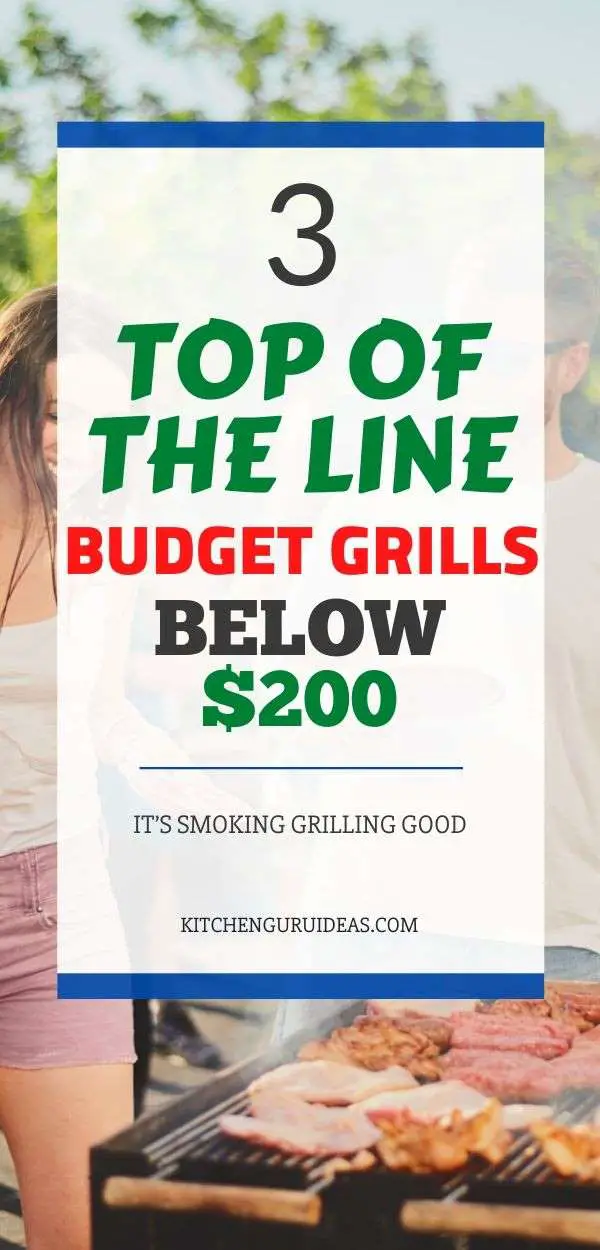 Is this your first grill?