Do you want to grill without spending all your life's savings? It doesn't really matter if you can't afford to spend more than $100 on a grill or if you can't see the point in shelling out $300 or more just to enjoy a few burgers here and there.
To get the best charcoal grill on the market that's worth every penny and won't let you down, take a look at these 8 best charcoal grills under $100 and grill away.
Top 8 Best Charcoal Grills Under 100 Dollars
What Is the Best Charcoal Grill for the Money?
Reviews
Now let's take a look at the features of these quality charcoal grills that you can find for under $100.
Weber Original Kettle 22-Inch Charcoal Grill
The Original Kettle 741001 is made by Weber, a renowned grill and smoker manufacturer who's been in the business for a long time. The Original Kettle is exactly what you'd think of when you picture a grill, except that this one is about twice as big as the LavoHome grill reviewed below.
Features
The Kettle has a 22-inch diameter (1.8 ft) steel grate for the cooking surface. The grate itself is porcelain-enameled, as is the standard, with glass-reinforced nylon handles with heat shield technology, all of which is a fancy way of saying that this grill is pretty normal where the bowl-grills are concerned.
It also has an ash catcher tray beneath the grill and a wire rack on the bottom.
Its Cooking Potential
You can fit:
2 to 4 whole chickens
2 enormous racks of ribs, or maybe 4 medium-sized ones,
20 chicken breasts
10 ears of corn
or a number of other foods, especially if you arrange them so that they lay along their side, mostly facing upwards.
What Makes This Grill Better or Worse Than the Others?
Along with its affordable price for the size, it also has a better cleaning and ash management system. Most newer Weber grills have this technology now where you can simply twist to remove an ash and debris catcher, which looks a lot like a cooking pot.
But this grill has its downsides like manufacturing quality control issues, such as a missing screw or two. They also tend to have stability issues if you're moving them around a lot, so just let it sit wherever it belongs in your backyard.
Who Is This Grill For?
This grill is best suited as a starter grill for someone who's just learning how to hone their skills but wants to have more room on their grilling grate to serve a few more people. The ash cleaning system is convenient, but the rest of the grill is pretty vanilla standard stuff.
There's really no shame in that, as even the best grill will still produce sub-par meat if the cook hasn't learned all of their skills for the grill. Cooking takes a while, and grills have their own learning curve. Be patient, my skilled flame chef! 
Pros
Convenient ash disposal system
Easy to assemble
Simple to clean
Great for smoking
Lightweight and easy to move
Royal Gourmet CD1824E 24-inch Charcoal BBQ Grill
If you're a fan of "bigger is better", then consider this grilling giant from Royal Gourmet: model CD1824E.
Spacious Cooking Area
This grill has a total cooking area of 474 square inches: the primary cooking surface is porcelain-enameled grates that are 368 square inches large (22.2 x 16.5 inches). The other 106 square inches (22.5 x 4.7 inches) belong to the warming rack.
Other Features That Make This Grill Stand Out From the Rest
The charcoal pan is pierced, allowing for better air circulation. This makes heating faster and more even.
Control the height between the grates and the charcoal with the twist of the front lever. Say goodbye to burn marks.
The 2 foldable side shelves are big enough for the cook to have everything they need on hand.
When you need to add coals or stoke the fire, just open the front charcoal access door. This way the cooking process is not interrupted.
There's an ashtray under the grill that you simply pull out to dispose of the ashes and debris.
It has a thermometer built into the lid.
With two large wheels, the grill can be easily transported from place to place.
What I Don't Like About This Grill
This grill looks like it's worth more than $100. To achieve this, the manufacturer used very thin metal sheets. You'll see that I mean when you put this grill together: it's flimsy.
Don't be scared when you first fire up the grill and see the paint falling off. This issue is not grill-specific, though, as most cheap grills are affected by this.
Summary
Despite its flaws, it's still a pretty decent charcoal grill you can get for this kind of money. It's big enough to feed the entire family and the height-adjustable charcoal pan is a great feature. It also has a thermometer – a rarity among cheaper grills.
Pros
Spacious cooking area
Lost of prep space
Height-adjustable charcoal pan
Built-in lid thermometer
Cons
Flimsy construction
Bad paint job
Weber Jumbo Joe Portable 18 Inch Charcoal Grill
Grill on the go with this Weber Jumbo Joe Portable Camping Grill. It's small enough to be carried with one hand, yet big enough to feed you into oblivion.
The King of the Road
Campers are going to love this one. With its compact size of 19.75 x 20.5 x 19.75 inches and a small weight of 18 lbs, you'll be able to carry it around on any camping trip.
On its 18-inch large cooking surface which equates to 254 square inches, you'll be able to cook up to 8 burgers at once.
The lid and bowl are porcelain-enameled, meaning this grill will retain heat longer and also makes it more durable.
You don't need to place the lid down on the ground when opening the grill as the lid locks into place then you lift it up.
All of this makes this grill the perfect camping companion.
The Low-down
The vent at the bottom is packed really tight – you need a spatula or something similar to adjust it.
The handle is made from cheap plastic and can melt over time. Be careful when picking the grill up.
The quality control is bad and you may find out that there are some screws or other pieces missing upon arrival.
The Best Portable Grill for Camping You Can Get for $100 or Less
Is not jumbo when you're cooking in the backyard but for cooking on the road is perfect. Take it on the beach, tailgating, camping, etc.
Pros
Lightweight
Compact
Portable
Large cooking area
Easy to assemble and clean
Cons
Plastic handle
The bottom vent is hard to adjust
ISUMER Hibachi Grill
This Stainless steel charcoal hibachi grill by ISUMER is a great combination of portability and ample cooking space.
What Is a Hibachi Grill?
A hibachi grill is a type of grill (usually cast iron or stainless steel) that cooks food using direct high heat and is usually fueled by charcoal (and rarely wood). They're small, portable, and don't have a lid.
Grill and Griddle Combo
This is something you don't see every day. This hibachi has a grill pan that also acts as a griddle. It's made of high-quality refined iron that is nonstick and heat resistant.
How Big Is This Grill?
Big enough for the whole family. You can feed up to 15 people at once.
Other Great Features
The storage rack below the grill has enough space to have all the ingredients you need for a successful cookout. The 2 smaller side shelves can hold your spices, drink, and utensils.
It has 2 adjustable vents on each side of the grill for more effective air circulation.
The legs are foldable. Once folded it's small enough to be packed in the back of a car. And because it weighs only 13 lbs. it's great for camping.
What Issues Does This Grill Have?
The legs aren't adjustable so you need to find a flat surface before you can grill.
The edges are razor sharp so be very careful when unpacking the grill. This issue, however, can be easily resolved with some sandpaper.
The Best Hibachi Charcoal Grill Under $100
If you're familiar with this type of grill and especially love steaks, chicken breasts, hamburgers, sandwiches, and fish and shrimp, then this one is the perfect choice. It's compact and lightweight enough to be taken camping with yet big enough to feed the whole group.
Pros
Hibachi-style grill
Compact
Lightweight
Large cooking surface
Easy to assemble
Ample prep space
Char-Griller E82424 Side Fire Box Charcoal Grill
The Char-Griller E82424 is small looking barrel-style charcoal grill that you can use as a portable tabletop charcoal grill or as a horizontal Texas-style smoker.
Attach It to the Grill or Use It as a Standalone Grill
If you already own a barrel charcoal grill by Char-Griller, then it's most likely that you can attract this grill as an offset smoker.
It's not compatible with the following models:
Large Cooking Capacity for Its Size
Despite its small size of 19.3 x 17.5 x 16.2 inches, you can still cook up to 12 burgers on its 250 square inches large primary cooking area. The grates are the standard porcelain-enameled cast iron.
Other Features Worth Mentioning
Heavy-duty steel construction
Powder coating finish
Easy dump ash pan
Dual damper control
The Hidden Issues
The powder coating is a joke. You'll notice the color of the grill fading away pretty soon after the first cookout.
Expect dents and missing hardware (like screws) upon arrival.
Final Say
Discoloration is a pretty common issue with cheap grills. Personally, this never bothered me because the cooking wasn't affected by it. If you want to upgrade your existing Char-Griller barrel to a smoker or like smoking in general without spending too much of your hard-earned cash, then this grill could be the right one.
Pros
Cooks efficiently
Large grilling surface
Portable
Easy assembly
Tepro Vista Charcoal Funnel BBQ Grill
The Tepro 1066 Vista is a funnel-looking stationary charcoal grill that comes assembled right out of the box.
Unique Design
Most charcoal grills have a barrel or kettle design, but this one has its own look.
This look has also a function (besides looking different, of course). It acts like a chimney starter and heats up the charcoal very fast.
The Cooking Potential
The grilling surface is about 325 square inches large which is a bit smaller than the Royal Gourmets' primary cooking area.
Other Amazing Features
At the bottom, you'll find the ash collector that is easily removable.
Despite its size of 24.2 x 18.9 x 35.6 inches, it's remarkably lightweight: it has only 20 lbs.
Its Dirty Little Secret
It's made from thin sheet metal that bends easily.
Final Word
This is a simple charcoal grill with no exceptional features except the funnel look. If you're looking for a simple grill with no bells and whistles, then this is it.
Pros
Comes already assembled
Fast heat-up due to its funnel design
Large grilling surface
Easy to clean
LavoHome #1  Portable 18″ Charcoal Grill
This Portable 18" Grill is made by LavoHome, a manufacturer that makes a bunch of different things for the home, tool shed, and garden. When you picture a grill in your head, this grill is pretty much exactly what you'd come up with.
Specifications
It's a circular orb grill in all shiny reflective black porcelain enamel-coated steel (which is the standard for this type of grill), about 18 inches in diameter of cooking space (or 255 square inches), and it stands 30 inches high which is 2.5 ft tall.
Additional Features
Its handle is heat resistant, which is a good feature to have.
It has a side vent, too.
Directly beneath the grill is a circular tray for catching the ash and grease drippings.
And below that, connecting the four legs in both stability and function is a bottom shelf, which is just tall enough for a big bag of charcoal briquettes.
It also has 2 wheels for added portability.
The Insiders Scoop
The quality control at the factory is terrible. Items such as screws and nuts can be missing, and the grill itself can be dented or damaged during transport. It's important that you inspect every nook and cranny when it arrives at your doorstep and contact customer service immediately.
What's So Great About This Grill?
You have to understand that grills can get pretty expensive the more you look for features and size. This grill is quite efficient in price versus size and features, which isn't always given when it comes to grills. Even if you purchase this grill and decide that you don't like it, it comes with a 100% satisfaction guarantee, so there's no risk for you in trying out something new.
Is It Worth It in the End?
If you just want "a grill", this guy here will do the trick without breaking the bank.
Pros
Large cooking surface
Simple to clean and assemble
Portable
Compact
Lightweight
Cons
Pieces could be missing from the box
May arrive dented
Char-Griller Patio Pro
The Char-Griller 1515 Patio Pro is a charcoal grill with an ample side workstation shelf ( 11 inches by 18 inches) and a drum-shaped barrel design.
How Big Is This Grill?
It's just big enough for cooking for a family of 4 or 5, with a bit of space left over for vegetables.
The Patio Pro's cooking surface measures 18 inches wide by 31 inches long for a total of 250 square inches, or 1.5 ft wide by 2.6 ft long.
When I used this grill I was able to fit:
8 generously sized hamburger patties
20 hot dogs, sausages, or chicken drumsticks
10 or so full-sized kebabs
6 porterhouse steaks
a whole chicken
Other Features Worth Your Consideration
The bottom of the grill is nicely made into a wire rack for larger things, such as your charcoal briquette bag.
Getting down to the brass tax on what this thing is and does, it's made of sturdy heavy, solid steel. That's why the unit weighs about 50 lbs.
There's a hook on the side shelf for hanging utensils
Store a whole bag of charcoal underneath the grill on the rack.
Great for Small Patios
Space-wise, it does just as well as any other grill, taking up a corner that's 31 inches wide by 21 inches deep, and for the tall folks out there, it's 44 inches high. In feet, that's 2.6 ft wide by 1.8 ft deep by 3.7 ft tall, which is modest considering all of the things that you can cook.
You've Seen the Good, Now Get Ready for the Bad
Like most budget grills, this one has cheaply-made wheels.
But most people aren't moving their grill units all around – just save yourself some anxiety and buy a grill cover, instead.
It also has some quality control issues from the manufacturing plant.
Best Charcoal Grill for Small Patio Under $100
Aside from that, it's a sturdy little grill that still packs a good punch when it comes to cooking for a small outdoor food party.
Pros
Does a good job grilling and barbecuing
Compact
Easy empty ash draw
Attractive appearance
Well built
Cons
Prone to rust
Cheap wheels
Tips for Picking the Best Charcoal Grill – A Short Video Guide
A Few Words About Cheap Grills
Are Cheap Grills Worth It?
That depends on how often you're going to use it and how big is your budget.
Of course, more expensive grills are more sturdy, reliable, and durable than their cheaper counterparts, but not everyone can afford them. Another reason why cheap grills are worth your consideration is if you don't regularly cook.
If you fire up the grill on special occasions, like your birthday, the 4th of July, or some other holiday, then a grill under $100 (or even under $50) is more than enough.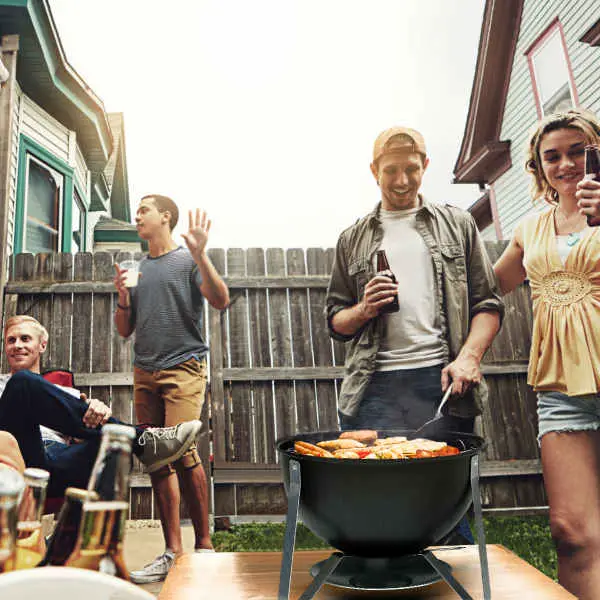 Why Are Some Grills So Expensive?
It all comes down to better engineering, higher quality parts, and better rust protection. The brand also affects the price.
High-end grills are more efficiently designed as engineers and designers have more time to devote to the grill. Also, the materials are of higher quality, including the grates (most cheap grills are made from thin metal sheets while more expensive models tend to have cast aluminum, cast iron, or thicker stainless steel).
If you have ever used a cheap charcoal grill, you noticed that the paint started falling off immediately when the grill got hot. It's a more-or-less universal issue among budget grills. This exposes the bare metal to the elements, making it prone to rust. Expensive grills tend to have thicker and more durable coats of paint and rust protection.
If you compare the prices of grills of the same or similar quality, you'll notice that grills made by Weber, Char-Broil, or other better-known brands have a higher price tag than the ones made by lesser-known brands like Dyna-Glo.
How Can I Make a Cheap Grill Better?
Fire Bricks
They add insulation to the grill, reducing the use of charcoal. You only need a couple of them, and they aren't expensive (your local masonry supply or woodstove/fireplace shops tend to have them at much lower prices than Amazon or eBay).
Master the Art of Grilling
A $100 charcoal grill can cook just as good as a $1000 one if you know how to use it.
To grill like a pro, you need to learn:
How a charcoal grill works
The difference between indirect and direct cooking
What foods to marinade and how to do it
How to clean and season the grill
…
The list goes on and on.
Pimp Your Ride
If the grates don't have handles, add them. It's simple, cheap, and adds value to the grill.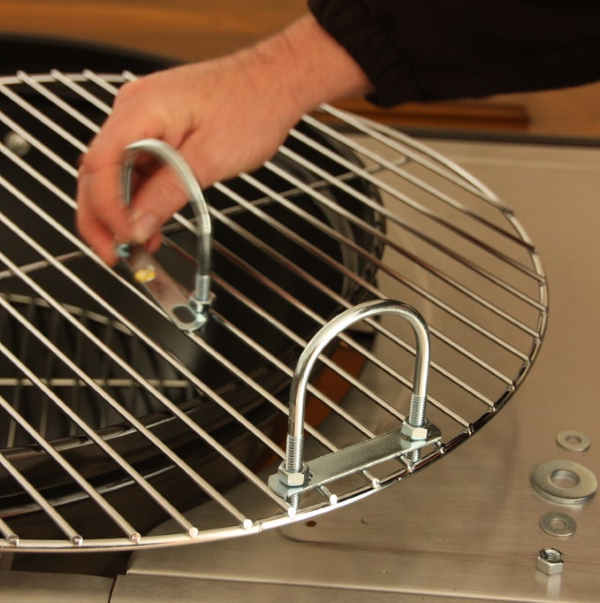 The same thing goes for the side tables. Some grills don't have them and if they do, they aren't big. This will make the grill more pleasant to work with and more elegant to look at.
Add Additional Rust Protection
I'm not talking about throwing a grill cover on the grill when it's not in use.
Get yourself some BBQ paint and spray paint it. This will add years to the lifespan of the grill and you can paint it your favorite color.
Get the Best Affordable Charcoal Grill for $100 or Less
I hope that you enjoyed my guide for some plain and simple grills, but still the best charcoal grills under 100 dollars that are out there.
How often do you fire up your trusty grill?