It's that time of the year again – the time for a barbecue. But why spend your entire life's savings (or even more) on a grill? It's just not worth it. Even on a budget, you can get a decent charcoal grill that will feed both you and your friends and/or family.
Take a look at this list of the 9 best charcoal grills under 150 dollars and pick the grill that suits you the most.
Best of the Best Charcoal Grills Under $150
What Is the Best Charcoal Grill on the Market?
Product Reviews
I am presenting you with nine decent grills that you can get for a reasonable price.
Char-Griller E06614 Akorn Jr. Kamado Kooker
The Akorn Jr Kamado Kooker E06614 is a familiar name because anyone who knows the sport of grilling has heard the name Kamado.
This is the smaller, budget-sized version with a lower price and smaller grilling space with all the same great features.
Specs
For grilling space, it's got 14 inches in diameter, for a total of 153 square inches.
It's not a full-bodied grill in the sense that it has shelves and wheels, it's just the grill, so you would need to put it on top of a table to use it. But, for that tradeoff, it's also more portable – hello, hiking trail, good morning breakfast!
Going camping or hitting the road? See the list of the best portable grills for camping.
What Is So Great About a Kamado Grill?
Kamados are known for their cast-iron even cooking, with their special triple-wall design to keep heat in and give that extra boost to flavor, and can reach temperatures up to 700 F degrees!
It has a thermometer on the outside along with multiple air vents for better control of the temperature.
The bottom of the grill is an ash catcher that is easily emptied.
A grill like this doesn't need a bunch of fancy features, and it is known for its "it just works" that enables even average-skilled cookers to get more bang for their buck and skill set.
What's Not So Great About It
Like the other grills in this price range, the Akorn Jr can suffer from missing pieces, quality control issues, and stripped screw holes.
Char-Griller offers at least a standard 1-year warranty on all the Kamado products, so if your product arrives defective or with missing pieces, simply return it in exchange for a new, better one.
The other downside of the Akorn is its small size.
You can definitely grill a whole, smaller beer can chicken, but you don't have room for a lot of other foods like a turkey or a rack of spare ribs. But if it's just you and another adult or child, this grill will suit you just fine.
The Best Kamado Grill for the Money
It's almost impossible to find a decent kamado grill in this price range. Despite its tiny size and quality control issues, it's an amazing charcoal kamado grill that does everything it's supposed to.
Pros
Kamado-style grill
Portable
Cute-looking
Can reach a very high temperature
Even cooking
Easy to clean
Cons
Very small
Grates rust over time if not seasoned regularly
Weber 14402001 Original Kettle Premium Charcoal Grill
The Weber 14402001 Original Kettle Premium is a traditional kettle-style charcoal grill that comes in three colors: ebony black, burnished copper, and forest green.
It's a Weber
Unlike the traditional cheap kettle grills, you'd find at your local department store, Weber grills have some amazing features that are easy to miss but make a big difference the more you cook on them.
This grill has a 22-inch diameter grate and a cooking area of 363 square inches, and because of the wire lid catch on the back, it takes up a bit more space to store, 27 inches deep by 22 inches wide by 39 inches high.
It's a full-sized grill with wheels and a triangular rack beneath the ash catcher.
The Great Reasons That Make a Weber a Weber
Firstly, almost all modern Weber grills come with a thermometer attached to the lid, as well as a heat-resistant lid so you can always touch the handle with your bare hands.
Next, there's a special wire running along the back of the grill so that you can set your lid down into the groove, keeping it erect and steady, so you don't have to sit it on the ground where it will get all dirty and inevitably you'll have that one bite of food that's gritty and crunchy with unwanted earth.
The right and left flaps of the stainless steel wire grate can be lifted up so that you can arrange and stoke up your coals without having to remove the entire grill face – and your food too.
Lastly, the special ash-catching mechanism on the bottom can quickly and easily be emptied.
What's Bad About This Grill
Lower-priced products, in general, tend to have assembly line issues, including quality control. The Original Kettle Premium is no exception, and some grills may come with missing parts, misfitting parts, or improper welds.
All delivered products are subject to dents and dings from the assembly line process and long transit in delivery trucks.
But don't worry! Webber has a 10-year warranty for the cooking orb and lid, 5 years for the grates, and 2 years for everything else.
So if you discover that your grill has some issues upon arrival, simply call up the company and they'll send you a new one for free.
Final Word
If you're a traditionalist griller, i.e. you want your charcoal grill to be as plain as possible and without any bells and whistles, then look no further. This grill's motto is: "why improve something already perfect?".
Pros
Classic-looking charcoal grill
Great for smoking and barbecues
Comes with a temperature gauge and an ash catcher
Easy to clean and to move around
Cons
Temperature control is not easy
Royal Gourmet CD1824EC Charcoal BBQ Grill with Cover
This charcoal grill from Royal Gourmet (model CD1824EC) is a grilling behemoth. Never again worry whether you'll have enough space on the grill.
Feed up to 10 People
This gargantuan has a total cooking space of 474 square inches, making it the charcoal grill with the most spacious cooking space on this list.
The main cooking area (the grates) is 368 square inches large, and the other 106 square inches belong to the warming rack.
Genius Coal Management
You can adjust the distance between the charcoal and the food. Talk about micromanagement (pun intended).
With the charcoal access door at the front. you can add coals without interrupting the cooking process.
Shelves, Shelves, and More Shelves
The 2 side shelves and the bottom shelf are spacious enough for you to have anything and everything on hand.
This eliminates the need for placing a table next to the grill or you running up and down like an Olympic gymnast.
Other Features Include:
Lid thermometer
2 large wheels
Airflow damper
Pierced charcoal pan for better air circulation
Draw-out ashtray
Something's Not Right About This One
The assembly is tedious. And the instructions make this job even worse. There are a lot of bits and pieces and the assembly instructions are poorly written. It took me hours to set up the grill.
Final Verdict
If you want to feed the whole party at once very fast, then this gargantuan is probably your best choice. With great heat and charcoal management, you'll cook your steaks in no time.
Your guests will think you're a steakhouse chef. Just assemble the grill at least a few days before as it will take a while.
Pros
Spacious cooking area
Great charcoal and heat management
Easy to clean
Even cooking
Built-in thermometer
Char-Broil TRU-Infrared Kettleman Charcoal Grill
Can't decide between an infrared grill and a charcoal one? Then why not have both with this TRU-Infrared Kettleman Grill by Char-Broil?
Enjoy the Benefits of Both Infrared Grills and Charcoal Grills in One Unit
Infrared grills are well-known for their even cooking, reduced cooking time, and retaining the juices inside the food. They also have low mileage because they're very efficient.
But the downside of this grill type is you can't really smoke. But because this is a charcoal grill you can enjoy the full smokey taste the charcoal provides.
Interested more in infrared grills? Then find out how they work and their other advantages and disadvantages.
Say Goodbye to Flare-Ups and Hot spots
Infrared grills (almost) eliminate flare-ups. This grill is no exception. The porcelain-coated, rust-resistant cooking grate is designed in a way so that no food falls through it on the flames below.
Also, the infrared heat helps prevent hot and cold spots on the grates. You don't have to worry anymore about where to place your food on the grill. Just toss them on the grate and you're done.
Hinged Lid
Instead of placing the lid on the ground or a side table or hanging it off the side of the grill, you just prop it open. Now you have both hands free and can devote all your attention to the food.
You won't find many grills in this price range that have this feature.
You're in Full Control
With the thermometer built-in in the lid, you can fully control the temperature and, consequently, the cooking process.
Increase the heat when making burgers, and lower it when making ribs. Cook anything and everything without either undercooking or overcooking.
This Grills Ugly Truth
The rust-protection coating covering the whole grill is poorly applied, so a grill cover is just as necessary as the charcoal itself.
Also, be on the lookout for any dents and similar deformities as the quality control is terrible. The left leg was so twisted I had to hammer it just to make the grill level.
Yay or Nay?
Despite its flaws, it's still an amazing grill, considering the fact that you won't get an actual infrared grill for $150 or less. And because it's fueled by charcoal, makes this grill even better.
Pros
Infrared grill grate
No flare-ups
Even cooking
Fuel-efficient
Integrated temperature gauge
Cons
Prone to rust
Bad quality control
Expert Grill Heavy Duty Charcoal Grill
If you're worried about the price and upkeep of a charcoal grill in the long run, then try the Expert Grill Heavy Duty 24-Inch Charcoal Grill. Not only is this one the cheapest of this list (or at least it was at the time of writing), but also the maintenance cost is surprisingly low.
Royal Gourmet's Cheaper Brother
This grill is pretty much the same as the Royal Gourmet from above, except it's more affordable and has one side table instead of two.
Spacious Cooking Area
The main cooking area is 372 square inches which is enough to cook up to 20 burgers at once.
The warming rack has 201 square inches.
Combined, you can feed your whole family and friends in no time.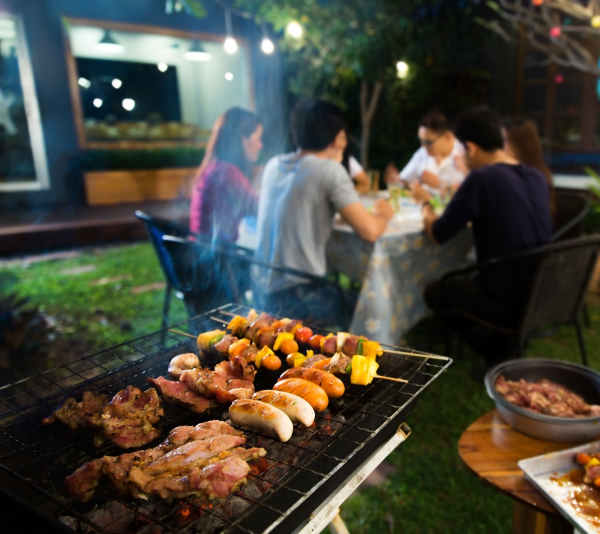 Control Both Charcoal and Temperature
Just like the Royal Gourmet reviewed above, this one also has an adjustable charcoal pan height. If you see that your burgers are cooking too fast, just crank down the charcoal.
The built-in lid thermometer is also a nice addition. Combine this with the vents, and you're in full control of the airflow.
Other Features
Hinged lid
Charcoal access door
Foldable side shelf 
Built-in bottle opener
Slide-out ash pan
The Downsides
Don't be surprised when the paint starts to fall off of when fire it up.
The Verdict
When you buy a grill for $150, don't expect it to last very long. Either they fall apart or rust. If you really want this grill to last you for years and years, you can paint it yourself. If I were you, I'd just save up for a higher-quality grill while at the same time enjoying cooking on it.
It's still not a bad product. It has a big cooking area, cooks like a charm, and has a lot of bells and whistles.
Pros
Easy to assemble and clean
Even cooking
Large cooking area
Portable
Easy ash, coal, and temperature management
Cons
Bad paint job causing the paint to fall off when cooking
Char-Broil 580 Charcoal Grill
Char-Broil's Charcoal Grill 580, named for its cooking area of the same size is also a great introductory grill.
What's So Special About It?
It's a full grill with wheels, 2 workstation tables on either side of the grill, and a small shelf at the bottom. The full size of the grill is 47 inches long by 44 inches wide by 28 inches high. You can purchase the double workstation version or the version with one workstation and one side burner.
Char-Broil is a renowned name in outdoor grilling and this grill proves just why that is with a convenient and movable charcoal pan, a crankshaft to adjust the pan height and thus the cooking temperature and speed, and multiple air dampers to control the airflow and temperature inside the cooking area.
A front-facing side door can be opened to stoke the fire, replace charcoals, or rearrange them as needed without disturbing the food cooking inside. A different side door allows you to pull out the ash catch and empty it. The lid has a thermometer.
Downsides of the Grill
This grill, like many others in its category, has issues with used, refurbished products not being cleaned properly. It also has some assembly issues such as missing pieces, the wrong pieces, and comprehension issues with the assembly instructions.
But, Char-Broil's standard warranty is to cover all of their products from one year from the purchase date. This should give you plenty of time to return an unsatisfactory grill in exchange for a better one of the same model.
Summary
Char-Broil grills are well known for their high quality and outstanding cooking performance. The same goes for this grill. Like all of the grills in this list, it has some issues, but for this kind of money, they should be negligible.
Pros
Adjustable charcoal pan height control
4 large air dampers
Large pull-out ash drawer
580 square inch cooking area
Fast and even cooking
Easy charcoal management
Cons
Quality control issues
Poorly-written instructions
Royal Gourmet CC1830S 30″ BBQ Charcoal Grill with Offset Smoker
When it comes to smoking, nothing beats the Royal Gourmet CC1830S for this price.
Ample Cooking Surface
On its total cooking area of 800 square inches, you can easily feed yourself and the whole party in just one batch.
The main cooking surface is 438 square inches large and consists of porcelain-enameled steel wire grates.
The swing-away warming rack has 179 square inches.
The side box is 183 square inches large and can be used either as a grill or a smoking chamber.
Fine Tune the Cooking Process
You can raise or lower the charcoal pan under the main grates to control the distance between the food and the charcoal.
The side box has an access door for stoking the fire, quick and easy refueling, and air control.
Other Notable Features
This grill has 3 shelves:
One on the side
One in front
The last one is under the grill
The side table has 3 hooks for even more convenient storage.
You don't have to worry about burning your hands while opening the lid as the handles are cool to touch even when searing steaks.
It not only looks durable but it also feels like it's made to last.
On the lid, there's an accurate thermometer.
Known Issue
Even though the manufacturer says the coating is easy to peel off, the reality is quite different. Expect paint chipping off around the burning charcoal.
Great Quality Grill Smoker Combo for the Money
This model is one example of a quality grill that doubles as a smoker that you can get without breaking the bank.
Pros
Ample cooking surface
Side box for smoking
Hooks included
Sturdy and durable
Oklahoma Joe's 19402088 Rambler Portable Charcoal Grill
A barbecue makes every camping trip an enjoyable experience. But if you really want to rock the boat, consider the Rambler.
Hit the Road, Jack – with Joe
The baby is made perfect for all travel-minded individuals.
The whole thing, when assembled, measures roughly 19.5 x 26.8 x 21.8 inches and weighs 50 lbs.
Cook up to 10 Burgers at Once
Although it's portable, it's big enough to be used as a backyard grill as it has a surprisingly large cooking area of 218 square inches.
Made for Punishment
The whole grill is made from heavy-duty stainless steel and the grates are cast iron.
The handles are no exception. They even have a rubber grip so you can easily and safely transport the grill.
This is why it's heavy.
Additional Features
Easily removable ash pan at the front
Glow-in-the-dark temperature gauge
Adjustable charcoal pan
Large air dampers
Super Quality, Functionality, and Design
At home or in the wild, this grilling marvel has you covered in all situations. Because it's built to last, you won't have to worry about rust and corrosion.
Pros
Durable
Portable
Compact
Large cooking area
Easy to clean
TITAN GREAT OUTDOORS Park-Style Charcoal Grill V2 for Camping and Cookouts
Turn a backyard gathering into a walk in the park with this outdoor park-style charcoal grill by TITAN.
Cooking Specs
The grates are made from heavy-duty 9 gauge (3.8 mm) steel and measure 16 x 16 inches or 256 square inches and can feed 4 – 6 people at once.
You can easily adjust the height of the grates on 4 levels for greater heat control. The handles have coiled springs that are cool to the touch.
Super Easy to Clean
Just lift up the grates and off you go cleaning.
There is no removable ash pan, so have a bucket or a similar container nearby.
Features
Rotates a full 360°
Powder-coated finish
Cover It
Like most grills in this price range, this one will rusts eventually if left in the open.
A Sturdy Picnic Grill
The installation was super fast and easy. Once you fire it up, you'll have a feeling you're cooking in the park.
Pros
Park-style look
Durable and sturdy
Spacious
Easy to assemble and clean
What Is the Best Weber Charcoal Grill to Buy?
The award for the best Weber charcoal grill under $150 goes to the Weber Original Kettle Premium. Here's why:
How Do I Choose a Charcoal Grill?
Consider these next 7 factors:
Do you really need one (is a gas or an infrared grill better suited for you)
Size of the cooking area
Your budget
What features does it have to control the temperature
How durable the grill is
Size and weight (whether it's portable or not)
How easy it is to clean
There are many charcoal grills to choose from. Even choosing one of these 6 best charcoal grills can be difficult. If you're still unsure which charcoal grill suits you the most even after watching this video, then check out this detailed charcoal grill buying guide.
The Best Charcoal Grill under 150 Bucks: The Kamado Akorn Jr!
I rated the Kamado Akorn Jr the best grill in this budget charcoal grill category for its unique ability to enhance the grilling results of an ordinary barbecue into something extraordinary thanks to its unique and charming design.
There's nothing wrong with the Weber Original Kettle Premium or the Char-Broil 580 or the others, simply that they are outclassed and outmatched by the Akorn.
Are you a fan of smoking or do you mostly just grill?