Just because you're camped somewhere in the middle of nowhere doesn't mean you shouldn't enjoy restaurant-quality meals. Camping isn't just about sandwiches and trail mixes.
Below, you'll find 8 griddles that are tailor-made for camping and similar outdoor activities including RV-ing, tailgating, and beach parties, among others.
After months of painstaking research and testing, I declared these models the best griddles for camping:
What Is the Best Griddle for Camping?
THE Best Griddles for Camping
Camplux GG201S RV Propane Gas Griddle Grill
The GG201S looks like a regular portable griddle but there's much more than meets the eye.
A True Portable Outdoor Kitchen
The griddle also comes with grill grates which greatly increases its versatility. With it, you can make steakhouse sear marks.
Spacious Enough for up to 8 Burgers
It features a 255 square inches large griddle top that feeds up to 4 people.
Powerful Burner That Packs Quite a Punch
This griddle features a single U-shaped burner that delivers 15,000 BTU which is more than enough for searing steaks and burgers.
Made for RVing
Unlike most gas grills and griddles, the GG201S fits directly into the RV's low-pressure propane system. This feature saves you both time and money since you don't have to spend additional money on an adapter and other things to hook it up to the RV.
Will Last You for Quite a While
After a year of constant abuse, I'm surprised at how well-built this thing is. The griddle top is a bit discolored but that's it.
There are no rust spots and both the lighter and the burner are still kicking strong.
Other Things I Really Like About It
It comes with a 5 ft 20 lb propane tank hose & regulator.
The rubber feet are tough, durable, and skidproof.
Cleaning it is super simple. I use just plain water and a scraper.
What I Dislike
The heating isn't completely even. There are a few hot and cold spots.
You need to buy a separate adapter if you wish to use a 1 lb propane bottle.
It's a shame you can't use both the griddle top and the grill grates at the same time.
Pros
Fits directly into an RV
Grill griddle combo
20 lb propane tank hose included
Spacious
Super easy to clean
Durable and sturdy
Cons
Uneven heating
1 lb propane tank adapter not included
Can't use both the griddle and the grates simultaneously
Camp Chef FTG600P Portable Flat Top Grill, True Seasoned Griddle Surface
Out of all Camp Chef portable griddles, only the FTG600P meet my expectations.
Portable, Yet Freestanding
This griddle features collapsable legs that turn it into either freestanding or portable in just a few minutes.
A Crowd Pleaser
Having a gigantic cooking area of 604 square inches, the FTG600P is able to feed an entire large group of people in one sitting.
Its four 12,000 BTU stainless steel burners will make quick work of anything you put on the griddle including tough steaks.
Ready to Rock and Roll Right From the Box
You don't need to pre-season the griddle top here as the folks at Camp Chef did the job for you.
Once you assemble it, you can go straight to cooking.
Hassle-Free Cleanup
Despite its large cooking area, cleaning it is fast and easy.
Even after cooking on it the whole afternoon, I managed to clean it in just a few minutes with just water, a scraper, and a few paper towels.
Side Shelves That Serve a Double Function
This flat top grill features 2 spacious foldable side shelves, one on each side.
Once folded upward, they act as a hard cover, protecting the griddle top and the burners from all manner of nasty things including the elements and bugs.
Built Like a Tank
This baby will last for quite a while.
The griddle top is surprisingly resilient. I'm using it for a couple of years now, cooking almost on every terrain and even during wintertime and it doesn't have the tiniest bit of rust.
The Cons
The grease hole is a bit small and can clog up fast. Keep an eye on it. Or do as I did and drill a bigger hole (warning: this voids the warranty).
Being durable and large has its downside: the griddle is too bulky and heavy to be carried by just one person. It weighs 100 lbs (45 kg).
Pros
Ample cooking area
Foldable legs
Side shelves that double as a hard top
Durable and sturdy
Easy to clean
Simple and straightforward assembly
Even heating
Cons
The grease hole could be a little bit bigger
Heavy
Bulky
Razor Griddle GGC2030M 25 Inch Outdoor 2 Burner Portable LP Propane Gas Grill Griddle w/ Top Cover Lid, Wheels, and Shelf
The Blue Rhino Razor GCC2030M is a lightweight flat top grill that comes with its own cart.
It's so great, I already featured it as one of the best flat top grills of 2023.
Resembles Rolling Luggage
Due to its design and foldable legs, it looks like luggage at the airport when you fold it.
The side shelf serves as the handle.
Perfect for a Small Group of Campers
Its 318 square inches large cooking area is big enough to hold 12 burgers. This is more than enough for up to 5 hungry campers.
20,000 BTUs of Firepower
The razor comes equipped with 2 independently controlled stainless steel burners that heat evenly.
Other Great Stuff About the Razor
It looks and feels both solid and sturdy.
Cleaning it is super simple and quite fast. It only takes me about 5 minutes to fully clean and season it.
The side table features a towel rack.
There's a latch on the lid that firmly secures it in place.
Lacks Quality Control
After unboxing, I noticed several scratches and dents. A few screws were missing as well.
Pros
Foldable legs
Portable
Compact
Comes with a lid and side shelf
More than enough cooking space
Easy to set up and clean
Cons
May arrive damaged with missing pieces
Country Smokers CSGDL0590 The Highland 4-Burner Portable Griddle
The Highland CSGDL0590 by Country Smokers is a budget portable flat top grill that's perfect for catering to large groups of people either in the backyard or out in the open.
Feeds up to 10 People
This cooking behemoth comes with a whopping 597 square inches large griddle top and 4 powerful burners that output 44,000 BTUs.
Has Additional Protection From the Wind
Gas griddles are highly susceptible to winds but this one is an exception.
I tested the griddle many times during wind and I didn't notice any drop in performance.
Made With Durability in Mind
The griddle top, burners, and body are made from thick heavy-gauge stainless steel. Also, the body is powder-coated for additional protection from the elements.
You Won't Have Trouble Cleaning It
Being nonstick, the griddle top is as easy to clean as it can be.
Even after hours of uninterrupted cooking, I managed to fully clean it with just a few squirts of water and a spatula.
Other Neat Stuff
Griddle top is pre-seasoned
Legs are collapsable
Handles are padded for increased comfort and heat-protection
Grease bucket is spacious enough for an afternoon-long cookout
Lightweight (only 48 lbs / 21.7 kg) for its size
There's Still Room for Improvement
The Highland comes with a few downsides:
While the rest of the flat top grill is well-built, I can't say the same for the legs – they're flimsy. Constantly monitor the griddle for the first few cookouts so you'll get the right feel.
Despite being durable and heavy gauge, the griddle top is prone to rust. Don't be shocked to see rust spots forming despite regular seasoning.
A side shelf would be nice.
Pros
Ample cooking surface
Powerful burners that spread the heat evenly
Easy to assemble and clean
Pre-seasoned griddle top
Lightweight
Cons
Flimsy legs
Prone to rust
No side shelves
Cuisinart CGG-501 Gourmet Gas Griddle
The Cuisinart CGG-501 is a compact portable tabletop griddle that's perfect for a lone wanderer or a couple.
Fits 9 Burgers
Its 285 square inches large cooking area is big enough for a romantic meal for two.
This griddle can also handle:
4 steaks
9 pancakes or
12 eggs
Reliable and Powerful Burners That Spread the Heat Evenly
The CGG-501 features 2 independently controlled stainless steel burners capable of producing 20,000 BTUs of heat.
This is more than enough for any meal. I seared steaks on this baby and the sear marks were amazing!
Compact
Its compact size is perfect for a lone camper, a couple, an RV enthusiast, and folks with limited space in their backyard, patio, deck, or balcony.
Quality Construction
I didn't expect anything less in this department – it's Cuisinart after all.
The griddle's thick heavy-gauge cold-rolled stainless steel griddle top is made for punishment. No matter what I cook on it or for how long I use it (I have had it now for almost 2 years now), it's still kicking strong: no warping, no dents, and no scratches.
Other components like the body, burners, and temperature knobs are also durable and I suspect they will last longer than my backyard griddle.
Easy Cleanup
Even after a long day of cooking and eating, you'll still have the time and energy to clean the griddle since it doesn't require any effort at all: just quirt a bit of water on the warm surface and make a few wipes with the scraper.
It's that easy.
Other Reasons Why I've Put It on the List
It comes with a built-in hose and regulator for 20 lb propane tanks.
It's Downsides
Despite having a virtually unbreakable griddle top, it's susceptible to rust. I left it once in the rain (it was a quick shower that lasted a couple of minutes) and rust spots began to rear their ugly head. I highly suggest getting a cover with this one.
Inspect the griddle immediately upon arrival. Pieces may be damaged (scratched, bent, you name it) or not working. A few grillers reported these issues but mine was perfectly fine.
Pros
Spacious for its size
Compact
2-zone cooking
Durable and sturdy
Comes with a 20 lb propane tank hose
Super easy to clean
Cons
Prone to rust
Quality control issues
Blackstone 1555 Tailgater Portable Gas Grill and Griddle Combo
If you love cooking on the grill as much as you do on the griddle, you'll fall in love with this one: Blackstone 1555 Tailgater.
It was such amazing and well-performing, I already featured it as one of the best gas grill and griddle combos of 2023.
Griddle, Grill, and Even a Stove All in One
The Tailgater is the ultimate camping companion, a literal mobile outdoor kitchen.
It features a griddle, a grill, and even a stove.
Feeds up to 6 People
Its massive cooking area of 512 square inches holds up to:
18 burgers
8 steaks
40 hot dogs
Both the grill grates and the griddle top are the same size (256 square inches).
Features 2 Powerful and Different Burners
The Tailgater comes equipped with 2 different burners, each having its own specific function:
One is a stainless steel H-tube burner that outputs 15,000 BTU
The other one is a round cast iron that outputs 20,000 BTU
The total heat output of this combo is 35,000 BTUs.
Cook Almost Anywhere
The legs are foldable and adjustable.
Long-Lasting and Durable
Although it looks flimsy, the reality is quite different.
Once the legs are extended, this combo doesn't move an inch – there's no wobbling.
No wonder, everything's made from thick high-quality stainless steel that has additional rust-proofing.
Hassle-Free Cleanup
Both the griddle top and the grill grates are super easy to clean.
With the griddle top, all you need is a bottle of water and a scraper. The grill grates are easy to clean as well.
What I Don't Like About This One
It's quite big and heavy. For a portable griddle, that is.
While the whole grill is of impressive quality, I can't say the same for the lid clamp. It looks and feels flimsy.
I wish this thing came with a propane tank holder.
Pros
Grill, griddle, and stove combo
Spacious cooking surface
Even and fast heat
Adjustable legs
Fast and straightforward assembly
Easy to clean
Cons
Bulky
Lid clamp is cheaply made
No propane tank holder
Blackstone 1814 Stainless Steel Propane Gas Portable Flat Top Griddle Grill Station for Kitchen, Camping, Outdoor, Tailgating, Tabletop, and Countertop
The Blackstone 1814 is a compact tabletop griddle that comes with its own lid.
You Don't See This Everyday
Unlike grills, griddles usually don't come with a lid (or hood) and need to be purchased separately.
This one is a rare exception to this case.
Besides protecting the griddle top from the elements, the lid also acts as a basting dome which is perfect for steaming veggies and melting cheese.
Perfect for a Group of 4 Campers
The griddle's 268 square inches large cooking surface is big enough to hold:
9 burgers
4 steaks
9 pancakes
12 eggs
The 1814 features a single stainless steel H-style burner capable of producing 12,000 BTU. It doesn't sound a lot but in reality, it's capable of searing a whole steak while creating beautiful sear marks.
Stable Even on Uneven Surfaces
It has height-adjustable rubber feet that allow you to level the griddle on many surfaces deemed unsuitable for cooking otherwise.
Tough and Sturdy
Like all other Blackstone products, this one will also stand the test of time.
It's made from high-quality and heavy-gauge stainless steel that's made for punishment.
Cleaning Is as Easy as Pie
Being completely non-stick, the griddle top is surprisingly easy to clean.
You only really need some water, a scraper, and paper towels.
The Cons
Despite regular cleaning and seasoning, I noticed several rust spots developing on the griddle surface.
The lid adds a bit to the overall weight. It's portable, don't get me wrong, but you might notice back pain if you're going to carry it around several times per day.
Pros
Compact
Comes with a lid
Ample cooking area
Highly durable
Easy to clean
No assembly required
VBENLEM 30″ Commercial Electric Griddle 110V 3000W Electric Countertop Griddle
The VBENLEM is a commercial electric griddle that can be used indoors.
The Only Griddle on This List That Can Be Used Indoors
Being electric, you can use this one indoors without any restrictions.
Feeds a Whole Family
The griddle's massive cooking area of 455 square inches is capable of fitting:
15 burgers
10 steaks
35 hot dogs
Powerful Burners With a Wide Temperature Range
This baby features 2 burners (or heating elements, to be precise) rated at 3000 W and a temperature range of 122℉ – 572℉ (50℃ – 300℃).
This wide temperature range makes it perfect for cooking virtually anything, from delicate foods like pancakes to thick slabs of meat.
Sleek and Functional Look
The whole griddle (cooking surface included) is made from shiny stainless steel that brightens up even the darkest of kitchens.
The Stainless Steel Is Not Just for the Looks
It's called commercial for a reason. This reason is commercial-grade stainless steel.
Doesn't Come With a Power Plug
You'll need to separately purchase a plug in order to actually use it. They don't cost much but it's an additional expense and you'll have to either wire it up yourself or have someone else do the job for you.
Pros
Electric
Can be used indoors
Even heating
Powerful burners
Huge cooking area
Cool-looking design
Hassle-free cleanup
How to Properly Use a Griddle While Camping to Get the Best Experience Possible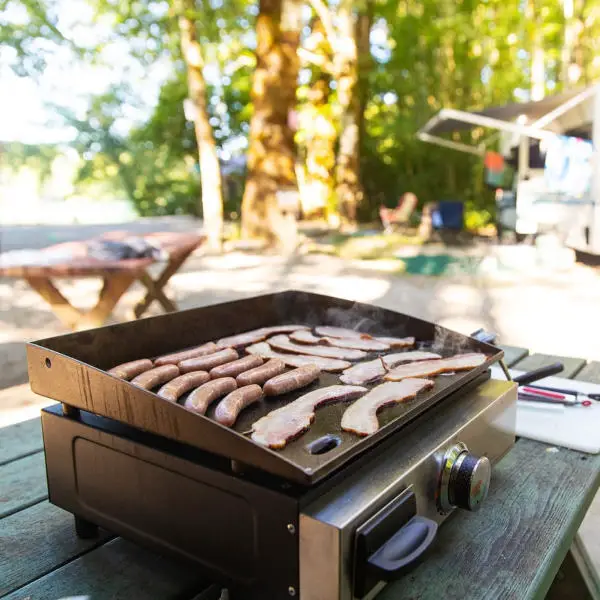 Frequently Asked Questions
Are Griddles Good for Camping?
Griddles are a perfect choice if you want to enjoy warm, tasty, and fresh meals while on the road.
Their portability, compact size, versatility, and low maintenance are ideal for any outdoor activity.
Is a Griddle or Grill Better for Camping?
Overall, griddles are much better for camping than a grill.
This is an oversimplification, though, as there are quite a lot of differences between the two. Also, you have to consider your needs and preferences.
I prefer griddles over grills for camping because they're much more versatile and easier to clean than grills.
What Can You Cook on a Camping Griddle?
What can't you? On a griddle, you can cook almost anything you would on a stove in the kitchen (with the obvious exception being liquids like sauces and soups but in this case, you just place a pan or make a bowl out of aluminum foil).
These are some of my favorite foods to cook on a griddle while camping:
Eggs
Hash browns
Sausages
Pancakes
Steaks
Potatoes
Bacon
Tacos
Veggies
Mushrooms
Pizza
Sandwiches
Fish
Here are a few examples:
For more details and actual recipes, check out this detailed guide.
What Should I Buy With a Griddle?
In order to actually cook on a griddle, you need a few things.
You don't need a lot, actually. The bare minimum should be:
Seasoning oil
Spatula
Scraper
Water bottle
Most (if not all) of these things you already own somewhere in your home. If you don't, they're pretty inexpensive and will cost you just a few bucks.
Turn Any Campsite Into a Luxury Restaurant With These Portable Outdoor Kitchens
I tried many griddles but found only these 8 models as the best of the best griddles for camping.
There are different models for different needs, preferences, and occasions. Carefully read the unbiased detailed reviews in full so you won't regret your decision later.
In case you missed it or are in a hurry, here's a quick recap:
Camplux GG201S is a tabletop gas griddle that's tailor-made for RVs as it connects directly to the low-pressure propane tank without the need for conversions.
Cuisinart CGG-501 and Blackstone 1814 are of similar design to the Camplux except both are made for either 1 lb or 20 lb propane tanks. The latter also features an integrated lid.
Camp Chef FTG600P and Country Smokers CSGDL0590 are cooking behemoths, capable of feeding an entire group of hungry campers. Both feature foldable legs and a pre-seasoned griddle top. The former also has side shelves that fold into a cover.
The Blackstone 1555 Tailgater stands out from the rest as it is the only griddle on this list that also features grill grates and a stove.
If you have constant electricity nearby, choose VBENLEM. It's also the only griddle on this list that can be used indoors.
What's your favorite camping griddle recipe? Do you know any other griddles I should have included on this list?