Are you looking for the best small rice cooker for you and your loved ones? You don't know where to search, what features are important, or what size will fit your and your family's needs?
I'm here to help answer all these questions!
There is a wide variety of rice cookers, ranging in size, accessories, and features.
With so many choices, finding the perfect rice cooker for your family can be incredibly difficult.
My buying guide is the perfect place to find just the best rice cooker you need that you and your family will love!
What Is the Best Small Rice Cooker?
Top Rated Best Small Rice Cookers
From a wide selection of rice cookers, only these fit my high standards.
Read my extensive reviews to see why they stand out from the crowd.
Zojirushi NP-HCC10XH Induction Heating System Rice Cooker and Warmer, 1 L
Starting with my personal favorite rice cooker, this one is perfect if you have a family or frequent guests.
Don't Let the Size Fool You
While still a small rice cooker, it can still make large amounts of rice, which is the perfect size no matter how much your family wants!
Induction
This cooker is incredibly versatile and uses induction heating along with easy controls, to allow no-stress cooking with every batch!
Induction heating ensures the rice is cooked evenly while being energy efficient and fast.
Other Notable Features
What I love most about this cooker is both its large volume and a wide variety of cooking options including, jasmine rice, vegetables, and seafood.
The stainless steel exterior allows this product to be easily cleaned and looks fantastic.
This product can also keep your food warm, so while you're out nothing gets cold!
Pros
Superior induction heating (IH) technology
Easy to use
Versatile
Detachable and washable stainless steel inner lid
Cons
Inner cooking pan's nonstick coating may start to peel off if not cleaned properly
Zojirushi NS-TSC18 Micom Rice Cooker and Warmer, 10-Cups
Made for families that really love rice, this cooker is fantastic for large volumes of incredible rice dishes.
Large Cooking Capacity Despite Its Compact Size
It can hold 5.5 cups of rice which will be more than enough for your entire family.
Versatile
There are many incredible features other than just cooking rice.
You can steam vegetables and seafood, and even bake cakes in the cooker!
Extremely Easy to Clean
All parts are easily removable for cleaning and this cooker is incredibly easy to use.
My Experience With This Model
My favorite feature is the cooker's ability to steam both rice and vegetables at the same time.
This product is truly amazing and versatile for any kind of cooking needs.
Its ability to be cleaned and stored easily, while having inspiring and convenient cooking options, makes this cooker an unbelievable deal!
Pros
Versatile
Incredibly easy to use
Built-in retractable power cord
Fuzzy logic technology
Included steam basket
Cons
Can not change clock format from 24h to 12h
Zojirushi NS-ZCC10 5-1/2-Cup (Uncooked) Neuro Fuzzy Rice Cooker and Warmer, Premium White, 1.0-Liter
Best for Sushi Rice
Computerized rice cooker and warmer with advanced Neuro Fuzzy logic technology
Multi-menu selections
Spherical, nonstick inner pan allows for uniform heating
Menu settings include white (regular/sushi, softer or harder), mixed, porridge, sweet, semi-brown, brown, rinse-free, and quick cooking
Wall mountable
Includes 2 measuring cups, nonstick rice spoon/scooper, rice spoon holder, and recipes


This small rice cooker is one of the most impressive cookers I have ever used.
Neuro Fuzzy Cooking Technology
No matter what kind of rice you want to cook, this cooker will make it perfect every time.
With smart cooking technology built-in, the cooker always knows when your rice is just right and does all the work for you!
Other Features That Make the Best Small Rice Cooker
There are many incredible features this cooker has that will make your rice cooking more adventurous than ever.
Whether you want to try cooking sushi rice, making fluffy porridge rice, notoriously hard wild rice, or steaming some of your favorite vegetables, this rice cooker can do it all!
Along with being easy to use and perfect for your rice cooking needs, this cooker allows quick serving and easy cleaning.
With stay-cool handles and a detachable lid, everything can be cleaned and served with zero stress.
This product can make up to 5.5 cups of rice and is an amazing choice for all its inspiring and helpful features.
Pros
Variety of cooking options
Easy to use and clean
Many accessories included
Wall mountable
Fold-down handle for easy carry and transport
Cons
Non-stainless-steel exterior
Zojirushi NS-LAC05XT Micom 3-Cup Rice Cooker and Warmer
Best for One Person
3-cup capacity
Cooking Functions: White/Mixed, Sushi, Porridge, Brown, and Quick Cooking
Even heating
Features detachable inner lid, easy-to-read LCD control panel, automatic and extended keep-warm setting, reheating cycle, delay timer with 2 settings, and a built-in retractable power cord
Small footprint
If you want lots of features, a large serving capacity in a small size, and fantastic quality, this is the best small rice cooker for you!
Intelligent Micom Cooking Capabilities
The cooker has incredible smart cooking technology, that ensures every dish you're making comes out exactly how you want.
What impresses me most about this product is its use of MICOM technology which makes every dish cooked deliciously, with zero hassle.
Versatile
With a wide range of cooking abilities, you can steam seafood and veggies, make delicious sushi rice, and any other rice dish you love!
Additional Features
The cooker will never boil over, overcook, or make a dish anything less than amazing!
The sleek stainless-steel look and economic sizing are perfect for every kitchen and will be cleaned in no time.
With a 6-cup capacity of cooked rice, and easy-to-use controls, this cooker can cook any rice dish you desire with little to no effort.
Pros
Large cooking capacity
Micro computerized Fuzzy-Logic technology
Minimal counter space
Detachable and washable inner lid
Cons
Slightly longer cooking time
Zojirushi NS-LGC05XB Micom Rice Cooker & Warmer, 3-Cups
Best for GABA Rice
Special settings for white/mixed riced, sushi rice, brown rice, GABA brown rice, long grain white rice, steel cut oatmeal, and quick cooking
Triple heater (bottom, side, and lid) generate heat all around for even heating
Detachable and washable inner lid
Interchangeable melody and beep signal
Micro computer automatically adjusts cooking temperature and time
If you're looking for a small rice cooker that packs a big punch, then this is the cooker for you.
Not Just for Cooking Rice
With a wide variety of rice cooking options, including oatmeal, this cooker will cook any type of rice you love!
A Perfect Addition for a Lone Wolf or a Couple
The cooker has a 3-cup uncooked capacity and can even take as little as 1/2 cup of rice, which is perfect if you live by yourself or have a small family.
Does All of the Thinking for You
Using smart technology this cooker will make the perfect rice every time, and can handle anything from sushi rice to steel-cut oatmeal!
Final Thoughts
I love the quick cook times, and easily understandable controls that allow you to have perfect rice, stress-free!
The small size also allows for easy storage, and the removable lid allows for fast cleaning every time.
I am constantly amazed by its rice cooking capabilities and it's guaranteed to cook you the most incredible rice you have ever had every time!
Pros
Can cook a wide variety of rice/oatmeal
Perfect for small batches
Doesn't overcook or stick
Many accessories included
Cons
Best for cooking rice (no seafood or vegetables)
Too small for larger groups
Zojirushi NP-GBC05XT Induction Heating System Rice Cooker and Warmer
Best for Porridge
700-watt 3-cup rice cooker and warmer with Induction Heating technology
Menu settings include: white/mixed, sushi, porridge, brown, GABA brown, rinse-free, and quick cooking
Accessories include rice spatula, spatula holder, and rice measuring cups
Capacity: Up to 3 cups
Detachable and washable stainless steel inner lid
For rice lovers who value versatility, fast induction cooking, and beautiful stainless-steel design, this cooker is perfect for you.
Small Design That Packs a Big Punch
This small rice cooker can hold up to 3 cups of any type of rice you love, and make restaurant-quality rice dishes every time!
Induction Heating
This product is perfect if you're just looking to cook rice, and utilizes induction heating to cook quick and perfect rice.
Other Features
The cooker comes with measuring cups, and a non-stick spatula, while also being incredibly easy to store!
The inner cooking pan is designed for easy cleaning and even heating.
Summary
While other products have more versatility, this one is quick and easy to use and makes phenomenal rice every time.
I love the medium volume which can allow for small to larger batches which are perfect for small to medium-sized families.
The construction and quality of this product are fantastic, and perfect no matter what rice you love!
Pros
Durable and sturdy
Large cooking area
3 main burners + 1 side
Heats evenly
Easy to clean and assemble
Cons
Prone to rust
Cheap wheels
What Should I Look For When Buying A Rice Cooker?
There are many unique features for each of these products, and choosing between these incredible choices can still be difficult.
To help, here are some main points to think through when deciding what product is perfect for you!
Rice Cooker Size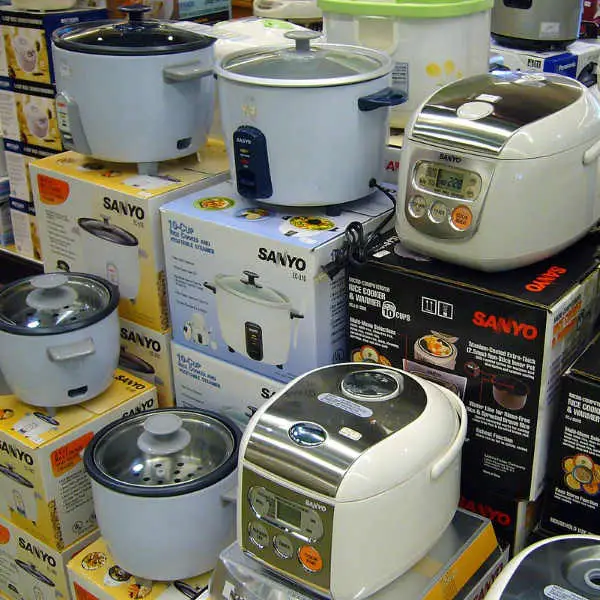 One of the main differences between these cookers is the cooking capacity.
If your family is large or eats lots of rice, buying a product with a larger one is the most obvious choice.
Having smaller cooking needs is also important to consider; if you usually cook for yourself or have a small family, a rice cooker with less capacity will be a far better choice!
Types Of Cooking Options
Many of these products have different types of cooking settings that allow for greater versatility or are made specifically for only cooking rice.
When buying one of these rice cookers, you should consider if you want to cook more than just rice.
Some of the rice cookers allow for the steaming of vegetables, seafood, specialty rice, and even baking cakes!
Deciding if greater cooking options are more useful for your needs, or if you just want to cook rice, is one of the greatest distinctions between these models.
Special Features And Smart Technology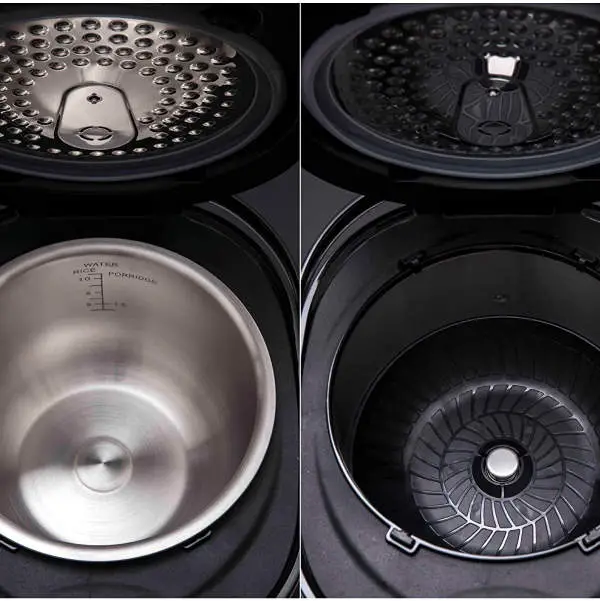 The final considerations for choosing between these incredible rice cookers are the many different special features that they possess.
Deciding if you would prefer to have induction heating vs traditional heating is important for deciding if you'd prefer faster cook times and more efficiency.
Stainless steel exterior can allow for faster cleaning of the outside of the cookers and can be an important distinction for many buyers.
The smart technology prevalent in most of these cookers is what makes these products convenient and fantastic to use every time. Features such as automatic temperature changes, extra warming, and boil prevention, are some of these amazing features.
Think about if you'd like more or less smart features for your cooking, so you ensure you get all the upgrades you'd love to have!
FAQs
Is A Rice Cooker Worth It?
Many people think a rice cooker is exactly what it says – just for cooking rice. That's not true – it's not a "one-use tool".
A rice cooker is one of the most versatile kitchen appliances (if used correctly, of course).
Aside from rice, it can make porridge and soups, steam veggies, and some models can even bake cakes!
Some can even bake bread.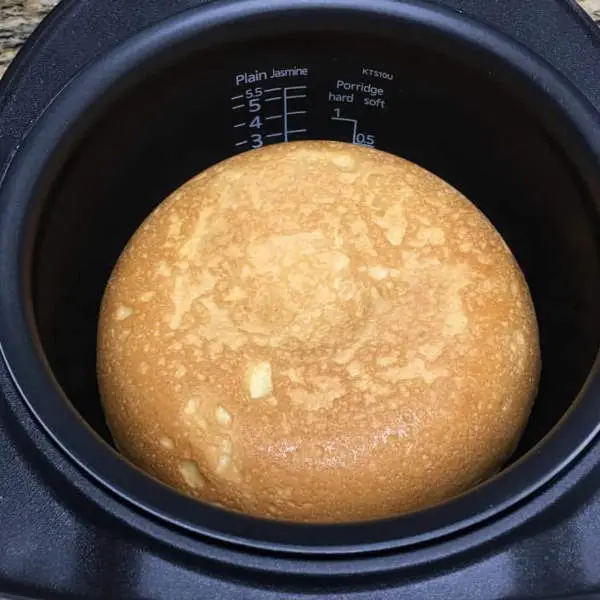 Automatic keep-warm technology is another amazing tool.
Put your dish into the cooker and start it before going to sleep.
When you wake up, you'll have a fresh and warm meal waiting for you.
Add a nice shot of espresso, and you'll have the perfect breakfast.
What Happens If You Leave The Rice Cooker On?
When you leave a rice cooker on for an extended period of time (overnight, for example), nothing bad happens.
There would be no short circuit or any other danger.
Most rice cookers have "automatic keep warm modes" – the cooker shuts itself when the dish is cooked and turns on keep warm mode.
The Teflon coating is not at risk because PTFE breaks at about 500°F – rice cookers aren't capable of producing that much heat.
What Else Can I Cook In A Rice Cooker?
Rice cookers can be use used for many things, including:
Cereal, including oatmeal: just add a little less milk or water than you would make it using on a stovetop.

The "keep warm" function will keep the food from getting cold and gooey – perfect for days when everyone gets up at a different time

Steaming veggies: some cookers come with a steam basket, which makes steaming vegetables much easier and quicker

You can substitute veggies with shrimp or chicken. Go crazy!

Soups: by adding a little more water than usual, you can make fantastic soups without boiling over or scorching. Put in peas, chopped ham, wine, herbs, and anything else your heart desires.
Boiled eggs: try it. You won't be sorry

It won't save you any time over just doing it on the stove, but it's pretty hands-off.

Giant pancake: I was amazed when I first tried it. Here's the recipe I used.
You can make other things as well. I've mentioned the most common ones.
Make Perfect Rice, Every Time
I hope this buying guide will help clarify the variety of features and specialties these rice cookers possess.
Choosing the right small rice cooker for your family is not an easy decision; remembering what features you and your family will enjoy the most, is the best place to start.
The perfect rice cooker can transform your meals and create food you never could have imagined possible!
Each of these products is incredible and is guaranteed to bring your family years of delicious and fantastic meals.
Following this guide will make this amazing purchase easier.
Remember, you and your family are going to love these products!
📌 Pin Me for Later Reading! 📌
Save this pin to Best Small Rice Cookers or Amazing Rice Cookers.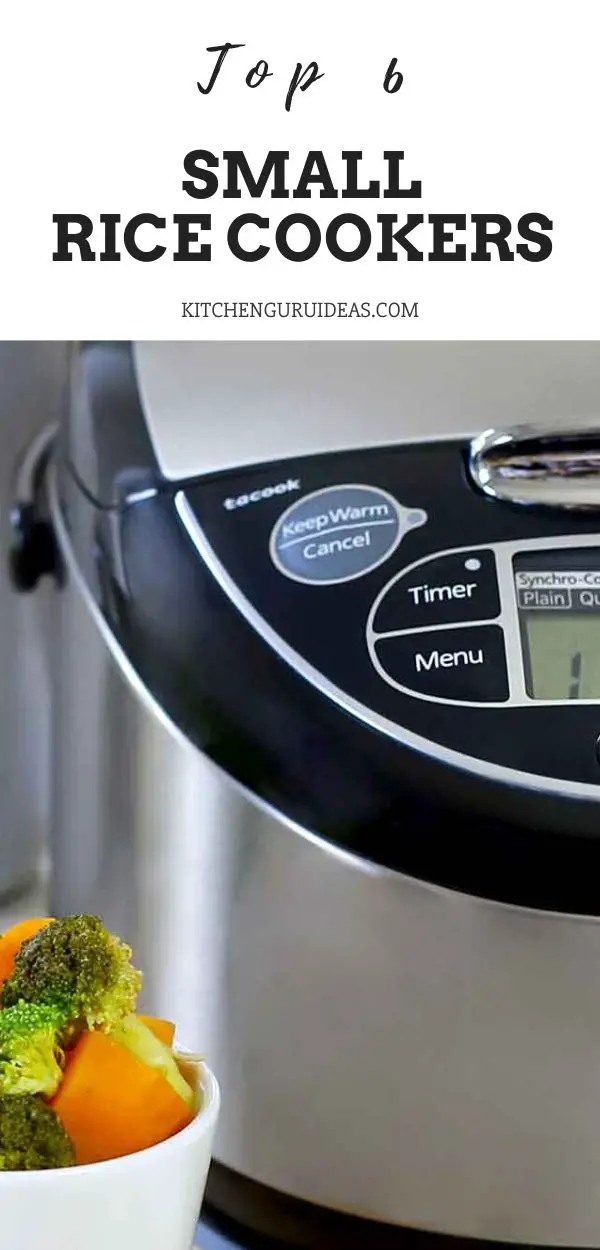 How much rice do you cook for a meal? 1 cup? 2 cups? 2 and a half? Tell me in the comments below.