Buying your favorite beverage every day can be an immensely expensive venture. Having to leave the comfort of your home to get a good espresso can sometimes be a nightmare.
On top of that, it might not be made to your taste.
If you really love good Espresso, you should invest in an espresso machine.
Buying one doesn't have to be a herculean and expensive task.
With this ultimate guide, you can get exactly the kind of Espresso machine that will work for you.
With a quality Espresso machine, you can save money and make that tasty brew that you'll enjoy in your home.
What Is the Best Espresso Machine Under $500?
Best Espresso Machines Under $500 Reviews
What do you want in an Espresso machine?
Efficiency
Quality of the brew
Ease of operation
Suitable size for your kitchen
Suitable price for your wallet
It can be difficult to find machines that fit this bill perfectly.
However, the following espresso makers come extremely close to being the perfect fit. And they are all below $500.
Breville BES840XL Infuser Espresso Machine
Best Semi Automatic
Delivers optimal flavor in every cup
VOLUMETRIC AND SHOT CONTROL
OPTIMAL WATER PRESSURE
PRECISE ESPRESSO EXTRACTION
MANUAL MICROFOAM MILK TEXTURING
AUTO PURGE
INCLUDED: Single & Dual Wall Filter Baskets, Coffee Scoop, Stainless Steel Jug, Cleaning Disc & Tablets, Cleaning Tool, and Water Filter with Holder
61 oz Water Tank
The Infuser, as it is properly called, has 4 main features that make it stand out from the rest of the herd.
Full Flavor Support
It supports a much higher dose of coffee for full flavor.
While most other Espresso machines use 11-14 g of ground coffee, this machine supports and uses a 19-22 g dose which makes the flavor of your coffee richer and stronger.
PID Technology
For a perfect cup of coffee, the temperature and taste have to be considered.
Even with a perfect flavor, if not within the acceptable range of temperature, your cup of coffee can be bland.
That's where the infuser comes in— your cup of coffee is always brewed at the correct temperature.
This is achieved by digital temperature control (PID) technology. This tech is efficient at detecting and minimizing any fluctuation of temperature during extraction.
Great Infuser
There are a lot of factors that affect the quality of your eventual brew, and the quality of the infusion pressure is one of those factors.
The infuser is perfect for carefully soaking and expanding the coffee grounds to produce the perfect flavor.
Smooth Texture
A good shot of espresso cannot exist without that smooth texture in your milk.
This smooth texture can only be achieved with the perfect steam technology, and the manual steam wand of the infuser is perfect for this.
Other Important Features
1600W thermocoil heating system
A stainless steel 2.12 inch (54 mm) portafilter
61 fl. oz. (1.8 L) removable water tank
Removable drip tray
Volumetric control function
Espresso pressure gauge
Auto-purge function
The Drawback
This Espresso machine scores high marks for quality but unfortunately the same can't be said for the simplicity of use.
While many people can handle its many levers and controls, others might find it difficult. This is especially true for people just learning to brew their own coffee.
Pros
Higher dose of coffee for full flavor
Digital temperature control
Quality infusion pressure
Manual steam wand
Cons
Not the easiest machine to operate
Nespresso Lattissima Pro Coffee and Espresso Machine by DeLonghi
The Nespresso Lattissima Pro Espresso Machine is as impressive as its name.
Simplicity and Efficiency
It excels in simplicity and efficiency with its simple design and state-of-the-art touchscreen controls.
At the simple touch of a button, you can make anything from a cappuccino to a Latte Macchiato.
Inbuilt advanced technology makes it easier for the delivery of the perfect milk froth experience.
Milk Froth Technology
The milk froth technology of this Nespresso machine makes every cup a delight.
It has a high-pressure pump (275,5 psi or 19 bars) system that makes your coffee achieve a barista-style level of flavor.
Energy Saving
The Nespresso machine isn't only all about Espresso. It has an energy-saving program that ensures that the machine turns off after 9 minutes of idleness— saving you money on electricity.
Extra Features
Thermoblock heating system
Recyclable aluminum capsules
Patented espresso extraction system
On the surface, it looks like this machine ticks all the boxes. It produces excellent coffee, it's easy to use, not too big, and efficient.
However, it is under the California proposition warning as a probable cancer risk.
Pros
High-pressure pump system
Touchscreen controls
Energy saving features
Cons
Probable cancer risk under the California proposition warning
Nespresso Creatista Uno by Breville
With a small and portable design, the Creatista Uno is proof that big things do in fact come in small packages.
You're in Control
The Nespresso Creatista ensures that every part of your coffee – from the pressure to the temperature, can be decided by you.
If you want to recreate barista-style Espresso, this might just be the one.
With a fast heating system that reaches the ideal temperature within 3 seconds and an energy-saving feature that turns off the machine after 9 minutes of inactivity, the Creatista is a power-saving dream.
Auto Clean Function
In addition to these fantastic features, the Creatista has an auto-clean function that ensures that you never have to "pry it open".
If you cannot be bothered about cleaning the machine, not coming with detachable brew groups can be a source of comfort.
However, this also means that you won't be able to fix it yourself if something breaks and you'll need to call a professional. Thankfully, the machine is covered by a 2-year warranty and free Amazon tech support.
Extra Features
Auto piercing & brewing of capsules
20.3 oz Removable Water Tank
6 used capsules container capacity
Fully-automatic steam wand
All in all, the Nespresso Creatista is efficient, relatively easy to use, produces quality brew, is portable, and packs value for money.
Pros
Portable
Auto-clean function
Saves energy
High-level controls
Cons
Since the parts cannot be detached, a professional is needed to fix even minor problems
KitchenAid KES0503CA Nespresso Maker
The KitchenAid Nespresso maker is the last but by no means the least.
Iconic Design
At first glance, the sharp red color (it also comes in black) and the unique design of this Espresso machine will blow you away.
It has a premium and iconic design combined with innovative tech like the 275.5 psi or 19 bar pressure system that is certain to guarantee world-class Espresso quality.
Simple to Use
Simplicity is the watchword of this machine.
It lives up to its name by having an easy-loading capsule system, a brew strength selector, and a 44 fl oz. / 1.3-liter removable water tank.
Greatest Value for the Money
It is the cheapest machine on this list.
Special Features
While trying to reach a level of simplicity, KitchenAid's Nespresso might have overlooked the magic of having special features.
That is one of the cons of this product; it is utterly and completely ordinary. Of course, that might be suitable for some people who aren't in love with extra features and the like.
However, it is easy for this machine to be second best when placed side by side with a machine with lots of extra features like the other 3 models reviewed above.
In addition, it should be noted that this machine is classified under California Proposition 65 as a probable cancer risk.
Pros
Iconic retro design
Easy to use
Brew strength selector
A Quick Guide For Buying An Espresso Machine
There are some things that you should consider when buying an Espresso machine:
Efficiency
Quality of the brew
Ease of operation
Size
Price
These are the most important factors that you must consider.
It wouldn't be wise to buy a machine that you don't know how to operate or that doesn't make good Espresso. In the same sense, it would not be smart to buy one that's too big for the space you have.
So before you get one, make sure that you strike a balance between these important factors.
The following are answers to commonly asked questions about Espresso machines.
Why Are Espresso Machines So Expensive?
500 dollars is a lot to pay for the privilege of making your own Espresso. Espresso machines are notoriously expensive. 
Why?
The first reason is that Espresso machines need high-quality materials to function well. Without highly specialized equipment like the pressurestat and the boiler, your Espresso is as good as dead.
To add to this, most Espresso machines are put together manually.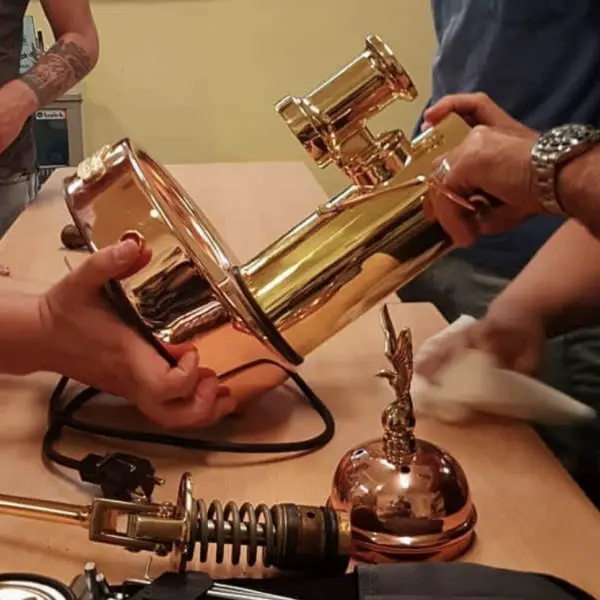 Add these together and you get the reason why Espresso machines can be so expensive.
Does Espresso Wake You Up?
Espresso has caffeine. Caffeine is a very strong stimulant, so yes, espresso does wake you up.
Judging by the number of people who take it as their preferred morning stimulant, it is quite effective at this.
Is Espresso Stronger Than Coffee?
A shot or an ounce of Espresso contains 63 mg of caffeine.
Caffeine is generally used as a stimulant that keeps you awake or wakes you up at any rate.
In comparison, the average ounce of normal coffee packs about 12 to 17 mg of caffeine per ounce.
So it could be argued that not only does Espresso wake you up, it is also more effective at this task than regular coffee.
Although no one ever drinks just an ounce of regular coffee— most people usually take about 8 ounces (1 cup).
So, to an extent, it depends on the type of Espresso and the amount you take.
Brew Your Own Espresso Just Like A Barista Without Leaving Your Doorstep
Buying an Espresso machine can be difficult, no doubt about that. Finding the perfect fit for your taste and wallet involves some heavy-duty thinking.
But once you get it right, you no longer have to wake up and worry about where to get a shot of caffeine from.
So, if you do have the money and the needed knowledge, what is stopping you?
The pros and cons of the best Espresso machines under 500 dollars have been outlined clearly for you.
Choosing one and starting to enjoy your own homemade brew shouldn't be a difficult step to take now.
Thankfully, this article has all the guides you need to make that perfect decision today.
📌 Pin Me for Later Reading! 📌
I suggest you save this image to Best Budget Espresso Machines or Amazing Espresso Makers.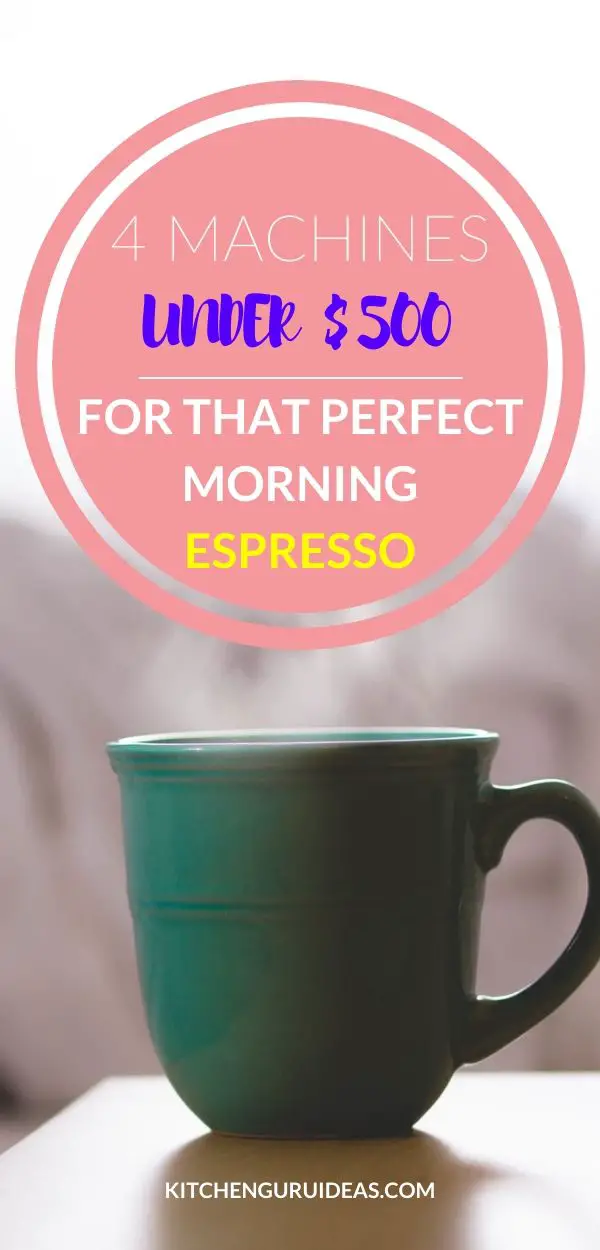 Are 500 bucks too much for you? Write your own budget in the comments below.