$300 is quite a reasonable budget for a grill. With this amount of money, you'll get a decent grill that will not only be durable but also have a few bells and whistles as well.
Still, you need to be careful when choosing your next best grill under 300 dollars because there are tons of cheaply made grills out there that will trick you into buying them because they look and sound good. But looks can be deceiving.
To make your life easier, I've researched, tried, and tested many grills for or under $300, and chosen these 3 candidates.
Which one is the winner is up to you.
What Is the Best Grill Under $300?
Top 3 Best Grills for Under 300 Dollars
Char-Broil 463660421 Performance 2-Burner Cabinet Style Liquid Propane Gas Grill
Best Gas
310 square inches of primary cooking area + 95 square inch warming rack
Exclusive stainless-steel finish
Electronic ignition
No hot or cold spots
Porcelain-coated, rust-resistant, cast iron grates
Simplified design with standardized hardware for quick and easy assembly
4 heavy-duty casters (2 of which lock)
This awesome 2-burner gas grill is compact enough for small patios yet has a big enough cooking surface to be used in the backyard where there's plenty of space for plenty of people.
Total Cooking Area of 405 Square Inches
I was pleasantly surprised when I saw how much cooking space this grill has despite its compact size.
On its 310 square inches large main cooking area, I was able to fit 18 chicken breasts.
The grates are your standard porcelain-enameled cast iron. Why improve something that's already perfect?
The other 95 square inches belong to the warming rack which is ideal for buns and veggies.
High-Performance and Long-Lasting Burners
This grill features 2 stainless steel top-ported burners that output 20,000 BTU.
It doesn't sound a lot but keep in mind that BTUs aren't the only factor that affects the grill's actual heat output.
Temperature control is precise and I was able to reach 600°F / 315°C.
There are some tiny hot and cold spots but the difference is almost negligible.
Shiny
The exclusive shiny silver stainless steel construction and finish offer a shiny, modern, and sleek look.
Plenty of Work and Prep Space
There's a side shelf on each side and both offer quite a lot of space for things like spices, plates, and your favorite beverage.
The right one also has 2 utensil hooks.
Both are collapsable.
Update: the left one started squeaking after some time. A few squirts of WD-40 solved this issue.
There's also some space under the grill inside the cabinet but most of it is taken by the tank.
Compact
The collapsible side shelves make this grill ideal for storing and cooking in places where space is at a premium, like small patios and balconies.
Overall, the grill is about 24 inches / 2 feet / 61 cm wide in this position.
Cleanup Is a Breeze
Most of the excess grease and oil fall into the grease pan under the burners that you can easily remove. It's also porcelain-enameled for fast and easy cleanup and improved resistance to corrosion.
You don't have to spend hours cleaning the other parts, like the inside and the grates. Soak the parts with your favorite degreaser and with a little scrubbing, the grill will look just as good as new.
Other Features
While the ignition system is pretty basic, it still does a tremendous job and is still kicking strong after several years of abuse. Also, the battery (AAA) is included.
The lid features a thermometer.
The lid handle is cool to the touch, even while searing steaks.
Moving the grill does not present a challenge because it has 4 wheels instead of 2.
What You Should Be Aware Of
While the assembly isn't tricky, it takes quite some time to put this thing together as there are a lot of bits and pieces.
Despite being stainless steel, it will rust out fairly quickly if you don't clean it on a regular basis, cover it when not using it, and store it in a cool and dry place.
It doesn't have a side burner.
Side Note
If this particular model isn't right up your alley, then take a look at these other best gas grills under $300.
Pros
Ample cooking and prep space
Compact
Shiny and sleek look
Even heat distribution
Reliable igniter
Easy to clean
Cons
Prone to rust
Time-consuming assembly
No side burner
VESSILS 13 Inch Kamado Heavy Duty Ceramic Charcoal Grill
This small little beast is a perfect companion for someone living alone, a couple, or hits the road often.
Compact and Portable
This little beauty is small enough to accompany you on any outdoor adventure, be it camping, tailgating, picnicking, partying at the beach, or even RVing.
It only measures 18 X 16 X 20 inches / 45.7 X 40.6 X 50.8 cm.
Highly Versatile
Being a kamado, it excels at both searing and smoking, and also everything in between.
This is because of its egg-shaped design, inner ceramic coating, and air vent positioning.
Note: to learn more about kamado grills, check out the guide below the reviews.
Comes Mostly Preassembled
The grill itself is already assembled, you only need to put together the stand and handles.
The process is quite simple but there are a lot of nuts, bolts, and washers. Be careful when handling them so you won't lose them. They're small.
Big Enough for a Whole Chicken
This 13-inch grill features a 10 inch / 25.4 cm stainless steel cooking grate that's around 75 square inches large.
It's not much but you can easily fit a whole chicken or 3-4 burgers.
What I Don't Like About This One
It's quite heavy. For a grill this size I didn't expect to weigh 50 lbs / 23 kg.
Take your time once you got it because you'll need it. The learning curve is much bigger than with a standard charcoal grill. If you already cooked on a kamado, then you're out of the woods and can rest easy.
Side Note
If this particular model isn't right up your alley, then take a look at these other best charcoal grills under $300.
Pros
Compact
Portable
Versatile
Fuel-efficient
Even heat distribution
Looks cute
Cons
Heavy
Small cooking area
Learning curve
Weber Q1400 Electric Grill
The Weber Q1400 is a compact electric grill with an ample cooking area that can be used both inside and outside.
Plug In And Grill Out
Charcoal grills are completely forbidden indoors.
The same goes for gas grills. Some residential areas allow them to be placed on a balcony or patio but this completely depends on their policy and (sometimes) the will of the landlord.
Electric grills don't have such limitations and can be freely used indoors, either on the balcony or inside the kitchen.
Highly Convenient
The supply of fuel is constant, just like owning a natural gas grill (unless you're in a place with frequent blackouts or in the wild).
6 Burger Capacity
With its 189 square inches large grilling surface, it's large enough to comfortably cook for 3 – 4 hungry people.
The grates are cast iron, enameled in porcelain. The best combination there is.
Powerful
It's got a single "burner" that spreads across the entire cooking surface for even heat distribution.
The shape reminds me of a butterfly or an angel.
What's more, it heats up quickly and is resistant to corrosion.
The heating element outputs 1,560 Watts which is the gas equivalent of 5,300 BTU.
Cast Aluminum Body and Lid
Instead of being made from stainless steel(which is more or less the norm now), the body and lid are made from cast aluminum which has several benefits, including:
Better heat retention
Immunity to rust (aluminum doesn't rust)
Lower weight
Improved heat distribution
Easy Grease Management
The excess grease and oil fall into the grease pan below the grill that you easily remove and get rid of.
What I really like about it is that you can add liners so you won't have to clean the thing.
What Need to Be Improved
Because it's electric, it doesn't actually improve the taste of the food. It doesn't have that "grilled" taste.
Unlike other models of the Q series, this one doesn't come with side shelves. They could have added at least one.
Be careful when pulling out the grease tray. The edges are sharp. I learned this the hard way. There's nothing a sheet of sandpaper won't fix.
Because of the shape of the heating element, the thing is a pain to clean completely.
Pros
Highly convenient – even more than a gas grill
Compact
Lightweight
Decent-size cooking area for its size
No charcoal mess
Endless supply of fuel
Cons
No "grilled" taste
A side shelf could be useful
Grease tray has sharp edges
A bit tricky to clean
Beginner's Guide to Kamado Grills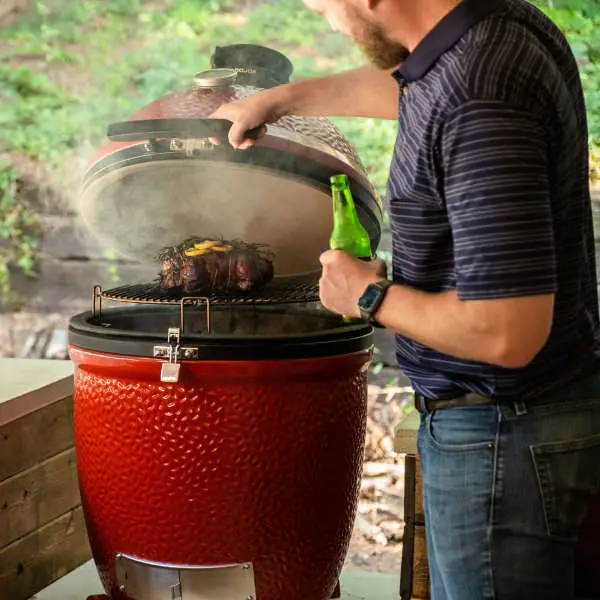 What is a Kamado Grill?
A Kamado Grill is an Asian design that dates back a few thousand years.
Chinese, Japanese, and Indian cooks made rice by placing a clay pot over a fire with water and rice inside. I think somebody dropped a hot clay pot one day and knocked the bottom out of it. Rather than throwing the pot away, the brilliant cook decided to put the pot back over the fire with a grate inside to cook some meat.
From Clay to Ceramic
Modern Kamado grills aren't made out of clay, they're made of ceramic.
When American soldiers brought back Japanese Kamado grills after World War II, the design caught on and good old American ingenuity came into play. The fragile, egg-shaped pots were replaced with more durable ceramic pots.
This not only increased the durability of the grill but also aided in retaining heat more efficiently.
What Is So Great About a Kamado Grill?
Kamado grill enthusiasts report several advantages over steel-bodied bar-b-que grills. Let's take a look at them one-by-one:
Kamado grills can heat up between 175 degrees and 700 degrees Fahrenheit (79°C – 371°C); cooler and hotter than most metal grills
Kamado grills can cook at a lower temperature for longer periods due to the heat-retaining ceramic
Because they use a wood-based fuel and not charcoal briquettes, Kamado grills burn less fuel
The heat-retaining characteristics of ceramic keeps temperatures up without having to add more fuel
A Kamado grill doesn't retain any burned-on bits or pieces inside like a cast-iron pan or griddle. That means food comes out with authentic flavor and better taste
Are Kamado Grills Worth The Money?
It depends. If I had an extra $700 or $800 laying around with nothing else to do, I might consider buying one to use on the patio.
Some smaller models go for around $200 but unless you're on a strict-intake diet, living alone, and never give parties, I'd take a pass on those.
The larger-sized grills run pretty steeply but if you're a true grilling enthusiast with a life-long passion, a fair-sized checkbook, and a few mouths to feed, this is a cool tool.
Kamado Grills Are Game Changers
Despite its cost, the Kamado grill is an easy grill to cook on.
Grill chefs enjoy simple vents on the bottom and top to control airflow and temperature.
The wood fuel is easy to start and burns clean without residue building up on the grill grate or food.
Due to its higher temperature capability, most items that fall through the grill burn off of the ceramic interior surface making clean up much easier.
Big-League Grills for Serious Players
There are many gas grills that you can get for this kind of money but I proudly think that the Char-Broil 463660421 Performance takes the cake. You'll dominate the neighborhood BBQ party with this grill.
For the purist grillers and the ones who love the true and only smokey flavor, my best choice is the VESSILS Kamado Charcoal Grill. It's one of the few good kamado grills that you'll get for this budget.
If you live in an apartment, don't have a backyard in general, or travel a lot to places with electricity, then I suggest trying out the Weber Q1400 Electric Grill.
All in all, I think if you're looking to up your grilling game a notch, commit to the lifestyle in a meaningful way, and impress your friends and neighbors, this is a great way to start.
Ever cooked on a kamado grill before?