Do you want to get a new grill and thinking of an infrared one? Want to break into the world of infrared grills but not sure where to start looking? Well, you are in the right place because here's my guide for picking out the best infrared grills under 300 dollars.
You can pick from the best grills available for this price range depending on what kind of griller you are and what are your situation and preferences.
Top 3 Infrared Grills Under 300 Bucks
I am presenting you three different grills that I'm sure are worthy of your attention.
Image
Title
Buy

Top

Top

Char-Broil Performance TRU Infrared 300 2-Burner Cabinet Liquid Propane Gas Grill
Check Price

Top

Solaire SOL-EV17A Portable Infrared Propane Gas Grill
Check Price

Top

Char-Broil Signature TRU-Infrared 325 2-Burner Cabinet Liquid Propane Gas Grill
Check Price
These grills aren't just capable of infrared grilling they're also darn good at it. Read all reviews in detail to see why.
Char-Broil Performance TRU Infrared 300
Char-Broil Performance TRU Infrared 300 2-Burner Cabinet Liquid Propane Gas Grill
300 square inches of primary cooking over porcelain-coated grates

120 square inch porcelain-coated swing-a-way rack for warming

Two top-ported tube burners for lasting performance and better temperature control

Surefire Electronic ignition system offers a reliable spark at every burner

Easy-to-read lid-mounted temperature gauge
This Performance TRU Infrared 300 is the brother grill to the 325, being slightly smaller and more affordable, but with all of the same features and consistency that you would come to expect. There is also a version that Char-Broil sells with a side burner.
Both models are on my list of the best infrared grills under 300 dollars for their reliable and highly-rated performance. This model is an excellent gateway into the infrared world of cooking, being not too expensive, not too fancy, and not too distracting with all sorts of features that can clutter up your mind while cooking.
Solaire SOL-EV17A Grill
Solaire SOL-EV17A Everywhere Portable Infrared Propane Gas Grill, Stainless Steel
Real infrared ceramic and stainless steel burner with electronic push-button ignition

140 square inches of grilling area that fits six 4-inch burgers on special v-grate that improves flavor and virtually eliminates flare-ups

Use made by 100-plus year old family business

Grill weighs 15 pounds and measures 20 wide by 13.5 deep by 8.25 inches high with hood down, and 20 wide by 16 deep by 19.5 inches high with hood up
Solaire manufactures the SOL-EV17A, a portable infrared propane grill with no stands or chassis, and just pure performance. Many grilling enthusiasts love the portability and durability of this grill and often take it with them on camping or hiking trips, especially as it only weighs 15 lbs.
It's also a fan favorite for grill masters who don't have a large backyard and instead only have a small balcony.
This grill has humorous little snaps on the front, but inside the briefcase-grill is no laughing matter. The grilling area is 20 inches wide by 16 inches deep and delivers a kickin' 14,000 BTUs of power, but the entire unit is only 20 inches high all closed up.
It's outfitted to take the 1 lb camping propane bottles, but it can also take larger tanks with an adapter that is sold separately.
Downfalls Of The Grill
Specific to this unit, it has some manufacturing defects where the edges of the metal can be sharp and it's easy to scrape or cut yourself if your hands are always near it. I don't feel it's a very big issue as I don't naturally put my hands on things that are very, very hot.
Aside from that, it's an infrared grill so it has the adjustments that grillers need to make, such as understanding that food is going to cook faster so cooking times need to be adjusted.
Or that because of the high temperature that creates fast cooking, it's going to be difficult to cook low and slow until you're very accustomed to it.
Who Is This Grill For?
The SOL-EV17A is meant for grillers who only need to cook for themselves and perhaps their significant other. It's very space-friendly, and it cooks reliably, fast, and easily.
This is great for apartment-dwellers and those who wish to travel with their grill. It's also excellent for someone who grills a few things often and wants to just cook fast.
Char-Broil Signature TRU Infrared 325
Char-Broil Signature TRU-Infrared 325 2-Burner Cabinet Liquid Propane Gas Grill
325 square inches of primary cooking over porcelain-coated cast iron grates

120 square inch porcelain-coated swing-a-way rack for warming

Two top-ported 443 stainless steel tube burners for lasting performance and better temperature control

Surefire Electronic ignition system offers a reliable spark at every burner

Folding side shelves for added workspace and easy storage

Easily converts from liquid propane(lp) to natural gas(ng) with natural gas conversion kit (sold separately)

Main Burner BTU is 18000
The Signature TRU Infrared 325 by Char-Broil is the top-of-the-line infrared grill, but I feel that this one is easily worth the extra money for having more grilling space, among a few other features. The "325" part of the name represents a number of square inches of cooking space.
There's also a version that has a side-burner that takes up one of the workstation areas, but I'm just reviewing the no-side burner version.
It's got dual workstations besides with a shiny steel plated finish, where both workstations can be folded downwards to minimize the physical space that the grill takes up.
The grilling area itself is a porcelain-coated cast iron grate for easier cleanup and more even cooking, giving the griller a nice 17 inches wide by 19 inches long for about 325 square inches of grilling space.
The grill can be taken out or moved around to clean the bottom of the grill if needed. There's a warming rack that can be folded backward to maximize the grilling space, that's about 17 inches wide by 6 inches deep.
It's powered by two stainless steel 18.000 BTU tube burners and has an auto-ignition system dubbed Char-Broil's Surefire Electronic ignition system. There's a thermometer built into the grill lid, and the bottom of the grill has been repurposed into a storage area.
This grill is powered by liquid propane, but if you don't like it, you can simply purchase a conversion kit to convert to natural gas.
But How Much Can It Cook At One Time?
This bad boy can grill about eight chicken quarters, or two, possibly three beer can whole roasted chickens. You can fit about two smaller racks of ribs or one very large rack diagonally.
When it comes to burgers and hotdogs, you can fit as many as you can reasonably cook – about 20 burgers and four times as many hotdogs.
What's Great About This Grill?
Infrared grills work differently than wood, charcoal, propane, or natural gas in the way that they cook the meat leaving score marks, but that they don't absorb a lot of water, which shrinks the food and makes it dry.
So the TRU Infrared 325 will give you cooked but juicer meat. Because it's infrared, it heats up to very hot temperatures, and at lightning speed.
What's Bad About It?
Some people may feel that the 300 is a better fit for them as they won't spend money on a larger sized grill. To each his own!
The other bad side about it is that it's an infrared grill, which aims to heat hot and cook even faster. This can be a problem if you want to slow-cook, so patience and studying are advised.
A Helpful Infrared Grill Buying Guide
Now that you have read all three reviews in detail, let's take a look at this short yet informative buying guide.
I more than understand that it's hard to choose a grill. Considering their price, they should be a once in a lifetime investment. Because I don't want you to regret your purchase after the first barbeque session, I've prepared this guide so you can choose one of the three grills above and be satisfied with it for the rest of your life.
Consider These 6 Important Factors And Needs
1. Budget
I'll start with the most obvious one. Unfortunately, these kinds of grills tend to be expensive and if you opt for the cheapest you can get, you'll throw that money away faster than if you'd actually burnt it in a charcoal grill.
A sweet spot is between $300 to $500. $200 is still okay but it's the bare minimum. And don't expect the grill to last more than a season or two.
This factor is closely related to the next one.
2. Quality
Budget and quality go neck and neck most of the time.
Just because the grill is expensive doesn't always mean it's durable. You still need to check if it's made from quality materials or the price is high just because of the brand.
3. Where Do You Intend To Cook
There's a huge difference in cooking in a backyard in the suburbs or on a balcony in a big city apartment building.
Imagine a huge grill on a tiny balcony. How in the heck are you planning to put it there? And what if it's too wide?
Carefully consider the space you have available. Measure not only the area for the grill itself but also everything else, like the space needed for the utensils and the food you're planning to barbeque.
4. How Big Are Your Grill Parties
Do you live by yourself? Do you have a family? Do your friends and other loved ones visit you often?
If you have regular guests, it's wise to have a grill big enough to feed them all. Likewise, it's a waste of money and space buying a grill large enough to feed the whole block if you live by yourself and enjoy eating by yourself.
5. Size
In the last two factors, I've mentioned the size of the grill itself. What I didn't mention is that the bigger the grill the more gas it will consume which adds cost in the long run and it will take you more time to clean it up.
Remember when I said that it's a bad idea buying a large grill if you plan on cooking just for yourself?
6. Portability
The larger the grill, the heavier it will be. Even if you have a backyard, moving a large grill just for a few yards can be a tedious task.
Also, if you're a camper, traveler, or just move a lot in general, consider a portable grill.
Ready, Set, Grill!
These three best-quality grills with infrared technology that you can have for grilling for your family members, friends, and neighbors. Have a great summer and choose one to make a good backyard party that everyone will remember for a long time.
📌 Pin Me for Later Reading! 📌
Why don't you save this image to Best Infrared Grills on Pinterest?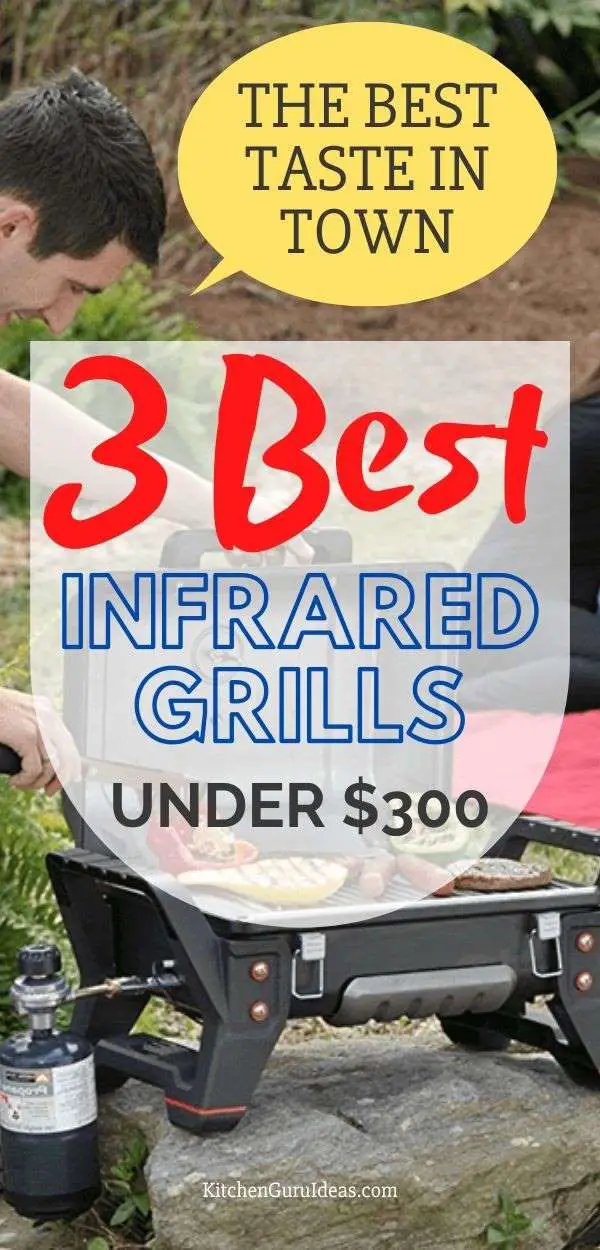 Why do you want an infrared grill? I want to hear you reason(s) for choosing exactly this type of grill.