Infrared grills tend to be pretty expensive. A decent one can cost you as much as half a grand and up.
There are exceptions to this case, however, and these 3 models below are solid proof that you can revolutionize the way you cook (either in the backyard or in the great outdoors) without plunging into debt.
What Is the Best Infrared Grill Under 300 Dollars?
Top 3 Infrared Grills Under 300 Bucks
Char-Broil 463655621 Performance TRU-Infrared 2-Burner Cabinet Style Liquid Propane Gas Grill
Similar to the Signature, this Performance TRU Infrared has a few subtle differences – the darker look being one of them.
405 Square Inches Large Total Cooking Area
The primary cooking area is 310 square inches and features rust-resistant steel grates which are coated in porcelain.
It has enough space to accommodate 16 burgers.
The warming rack isn't that big (95 square inches) but it has enough space to warm a few buns and/or veggies.
About the Burners
This one features 2 independently-controlled stainless steel burners with heat tents that output 16,000 BTUs in total.
Comes With a Gift
The folks at Char-Broil included a nice and useful gift: a nylon brush with red bristles.
Effective Grease Management System
All of the excess oils, grease, and debris fall into a grease pan under the burners that can be easily removed.
Like the grates, it's coated with porcelain for easier cleaning and increased durability.
Cabinet Door
Unlike the Signature, this one has a cabinet door, making tank installation and replacement more convenient.
Additional Features
It has a side shelf on each side and both are foldable for easier storage. The left one also has 2 utensil hooks.
The 4 caster wheels offer easy mobility.
The battery for the igniter is provided.
What Needs Improvement
The grates aren't so simple to clean. Even with the provided brush, you won't be able to scrub every nook and cranny. I suggest soaking them in vinegar. This works wonders for me.
Although the grill looks sturdy, this is not completely true. Some of the parts (I'm looking at you, cabinet door) are made from thin sheets of metal that can be easily bent or dented.
Pros
Perfect size for small patios and decks
Decent cooking and prep space
Quick and easy assembly
Grease pan for convenient grease removal
Rust-resistant
TRU-infrared
Cons
The grates aren't easy to clean
Made from thin metal
Solaire SOL-IR8A Anywhere Mini Personal Infrared Propane Gas Grill
The SOL-SOL-IR8A is a personal portable infrared propane grill that is perfect for grilling on the go.
You Don't See Many Portable Infrared Grills
There aren't many infrared grills that are portable due to their bulky and heavy design.
But his one weighs only 9 lbs / 4 kg and measures just 11.5 wide X 12 deep X 8 inches high / 29 x 30.5 X 20.3 cm with the lid closed.
It's so small and light, you can easily carry it by yourself.
It's outfitted to take the 1 lb camping propane bottles, but it can also take larger tanks with an adapter that is sold separately (item no. SOL-SAHOSE6).
That's why it's ideal for all sorts of outdoor activities like camping, tailgating, boating, and beach parties. You even go RV-ing with it – you just need a low-pressure conversion kit (no. SOL-SMLPC) which is not included.
It's also a fan favorite for grill masters who don't have a large backyard and instead only have a small balcony or patio.
Note: if you're interested more in portable grills, take a look at this exhaustive list.
Packs Quite a Punch
Despite its tiny size and a single 9,000 BTU burner, this baby reaches temperatures of up to 1000°F / 538°C in just 3 minutes.
It's so powerful, it cooks chicken thighs in a matter of minutes and leaves beautiful sear marks
Imagine what would it do to steaks.
Innovative Grates
The grates don't like grates at all but resemble flavorizer bars.
They basically serve the same function as flavorizer bars in this case.
Compared to other infrared grills, the difference is quite noticeable: the taste is improved and the meat is much juicier.
Additional Features
It comes more or less preassembled. You just have to screw on the regulator and handles.
The 24-gauge stainless steel construction makes this one a tough nut to crack.
You can hook it up to a natural gas line (conversion kit no. SOL-SMNGC sold separately).
It's not made in China but in the US of A – and the quality shows.
The legs are adjustable so you can easily make this grill level on most surfaces.
Tiny Cooking Surface
Being small, portable, and personal has its disadvantages: a tiny cooking area.
It's only 48 square inches large which is enough for 2 burgers.
I managed to put (separately, not all at once):
6 hotdogs
2 Hamburgers
1 Ribeye Steak
2 Filet Mignons
2 Chicken Breasts
4 Chicken Legs
10 regular-sized wings (they were packed tight)
Other Issues I Encountered
Some edges are sharp and it's easy to scrape or cut yourself if your hands are always near it. I don't feel it's a very big issue as I don't naturally put my hands on things that are very, very hot.
Aside from that, it's an infrared grill which is a bit different from other types of grills. you need to make a few learning adjustments such as understanding that food is going to cook faster so cooking times need to be adjusted.
Because of the high temperature and fast cooking, it's going to be difficult to cook low and slow until you're very accustomed to it.
Pros
Portable
Lightweight
Compact design
Solid construction
No flare-ups
Cons
Sharp edges
Learning curve
Tiny cooking area
Char-Broil 463632320 Signature TRU-Infrared 2-Burner Cart Style Gas Grill
This Signature TRU Infrared grill by Char-Broil is the top-of-the-line infrared grill and I strongly feel that this one is easily worth every penny for having more grilling space, among other features and benefits.
Quite Spacious for Its Small Size
The main grilling area itself is a porcelain-coated cast iron grate that is 325 square inches large.
The porcelain coating makes the grate nonstick, easy to clean, and rust-resistant. Being cast iron, it holds the heat more efficiently than stainless steel and more evenly distributes it across the entire surface.
You can easily fit:
8 chicken quarters
15 chicken breasts
8 steaks
2 beer can chickens
2 smaller racks of ribs or one very large rack diagonally
16 burgers
There's also a warming rack that can be folded backward to further increase the grilling space by 120 square inches. This is ideal for toasting buns, bread, and vegetables.
Spacious Work Space
It's got 2 large side shelves, one on each side, both having a shiny steel plated finish and can be folded downwards to minimize space for easier storage.
Powerful Burners With an Upgraded Ignition Switch
It's powered by 2 stainless steel 10,000 BTU tube burners and has an auto-ignition system dubbed Char-Broil's Surefire Electronic ignition system.
20,000 BTU doesn't sound a lot but because it's infrared, it's designed in such a way that it doesn't need a high BTU rating to cook efficiently.
Surefire is an improved version of the standard piezo igniter that has fixed some of its issues, including long-term reliability and durability.
Natural Gas Compatible
By default, this grill is powered by liquid propane but if you have a natural gas line, you can easily hook it up (you need to separately purchase a natural gas conversion kit – model #8216842R04, though).
Other Reasons That Made It the Best Choice
Both temperature knobs come with their very own LED lighting which makes them look really cool when cooking, especially in the dark.
The durable and sturdy construction ensures that this grill will last you for a very long time.
The burners are backed up by a whopping 10-year warranty, the firebox (grates included) by 3 years, and other parts by 1.
The lid thermometer looks basic, but it's accurate.
The hose line comes with a tank gauge so you'll exactly know when to replace the tank. No more guesswork and spilling hot water.
Assembly is surprisingly simple. It reminds me of LEGOs because of the keyhole slot design.
Moving it is easy because it has 4 wheels (2 of them are lockable).
The Bad Side
Being infrared, it has a tough time cooking at low temperatures. Cooking low-and-slow is possible but you won't get the same results as on a traditional gas or charcoal grill.
Expect a dent or two once you unbox the grill. In my case, the lid had a big noticeable dent.
Pros
Durable and sturdy
Plenty of cooking and prep space
TRU-infrared
Folding side shelves
Super easy assembly
Dual fuel
Comes with a tank gauge
Cons
Struggles with low-temperature cooking
May arrive damaged
A Helpful Infrared Grill Buying Guide
Now that you have read all of the reviews in detail, let's take a look at this short yet informative buying guide.
I more than understand that it's hard to choose a grill.
Considering their price, they should be a once-in-a-lifetime investment.
Because I don't want you to regret your purchase after the first barbeque session, I've prepared this guide so you can choose one of these three grills above and be satisfied with it for the rest of your life.
Consider These 6 Important Factors And Needs
1. Budget
I'll start with the most obvious one.
Unfortunately, these kinds of grills tend to be expensive and if you opt for the cheapest one you can get, you'll throw that money away faster than if you'd actually burn it in a charcoal grill.
A sweet spot is between $300 to $500.
$200 is still okay but it's the bare minimum. Just don't expect these grills to last more than a season or two.
This factor is closely related to the next one.
2. Quality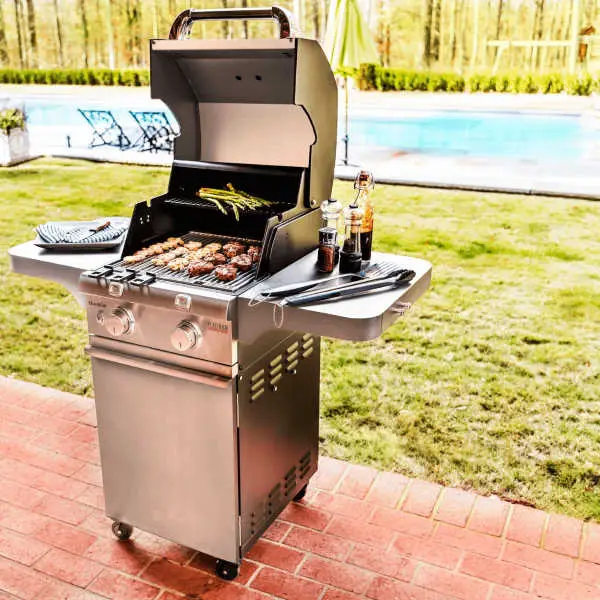 Budget and quality go hand in hand most of the time.
Just because the grill is expensive this doesn't always mean it's durable.
You still need to check if it's made from quality materials or the price is high just because of the brand.
3. Where Do You Intend To Cook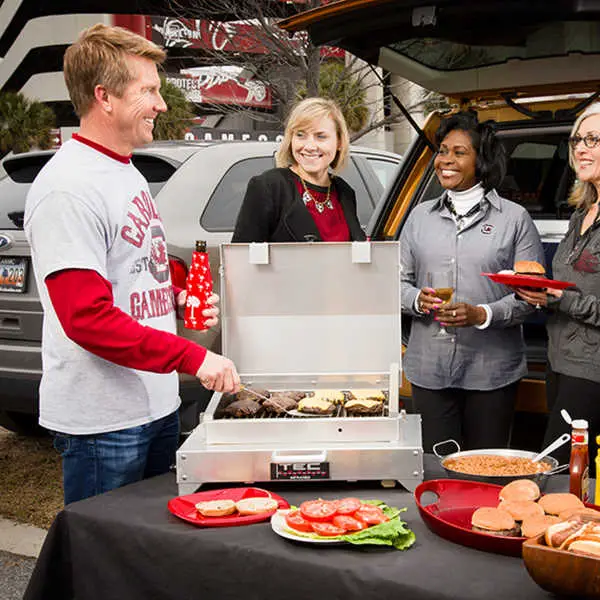 There's a huge difference in cooking in a backyard in the suburbs, on a balcony in a big city apartment building, or on the road.
Imagine a huge grill on a tiny balcony.
How in the heck are you planning to put it there? What if it's too wide?
Carefully consider the space you have available. Measure not only the area for the grill itself but also everything else, like the space needed for the utensils and the food you're planning to barbeque.
4. How Big Are Your Grill Parties
Do you live by yourself? Do you have a family? Do your friends and other loved ones visit you often?
If you have regular guests, it's wise to have a grill big enough to feed them all.
Likewise, it's a waste of money and space buying a grill large enough to feed the whole block if you live by yourself and enjoy eating by yourself.
5. Size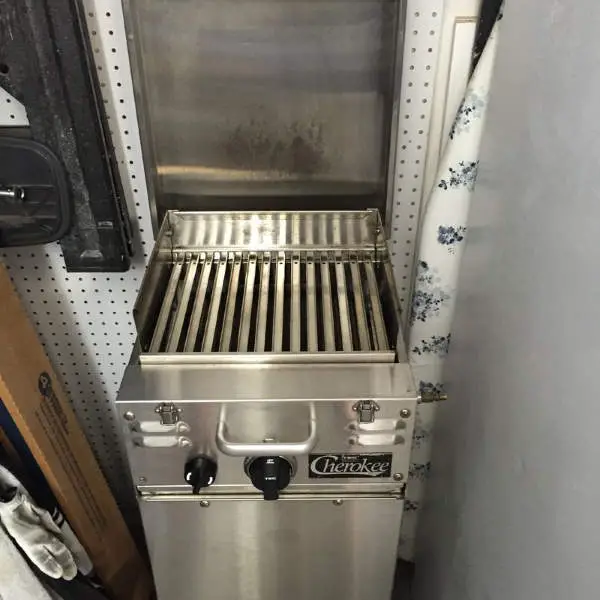 In the last two factors, I've mentioned the size of the grill itself.
What I didn't mention is that the bigger the grill the more gas it will consume which adds to the cost in the long run.
Also, you'll spend more time cleaning it up.
Remember when I said that it's a bad idea to buy a large grill if you plan on cooking just for yourself?
6. Portability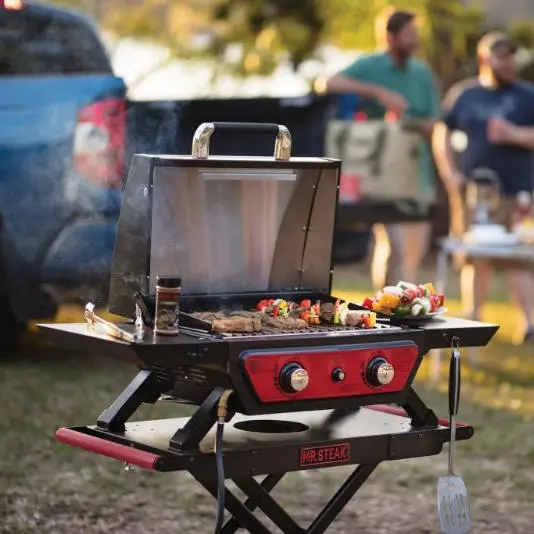 The larger the grill, the heavier it will be.
Even if you have a backyard, moving a large grill just for a few yards can be a tedious task.
Also, if you're a camper, traveler, or just move a lot in general, consider a portable version.
Ready, Set, Grill!
Whether you need a stationary grill or a portable one, this guide includes both versions, for any and every occasion.
These models are the best of the best infrared grills under $300 which will serve you for years to come, producing mouth-watering results each and every time.
📌 Pin Me for Later Reading! 📌
Why don't you save this image to Best Infrared Grills on Pinterest?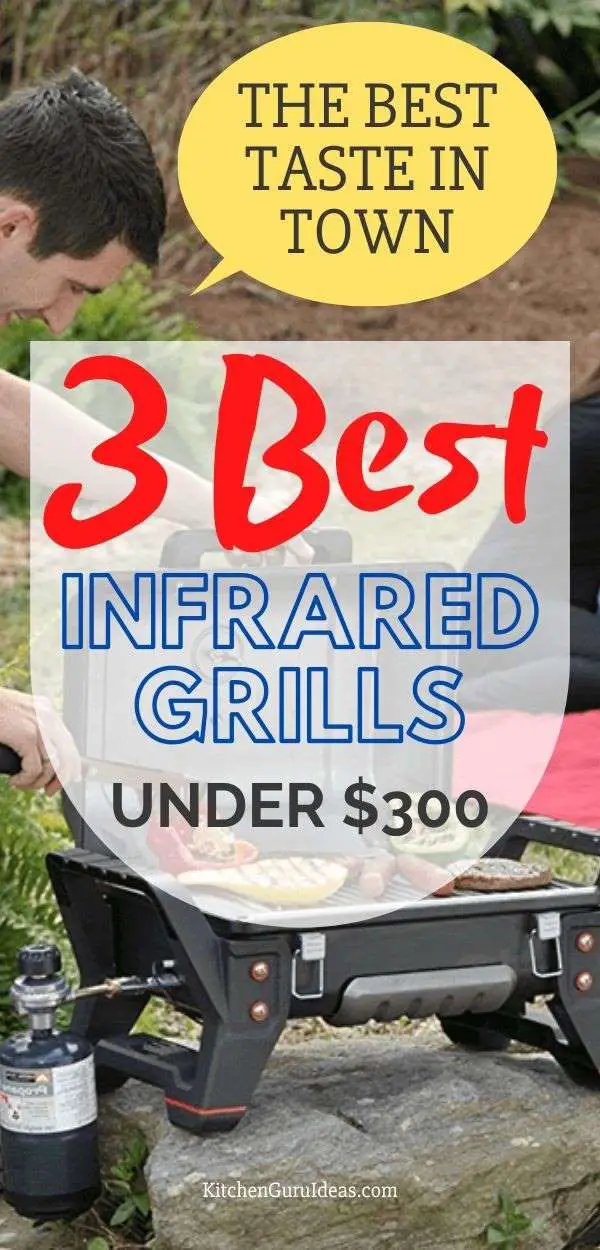 Why do you want an infrared grill? I want to hear you reason(s) for choosing exactly this type of grill.