Do you want a sturdy and durable gas grill but are limited by your budget? I've made this guide of the best gas grills under 200 bucks just for this occasion.
With a gas grill, you just start the fire and off you go grillin'. There are no complications like setting up the fuel, igniting it, and waiting for hours for the temperature to rise like with charcoal grills. It's just you, your meal, and the temperature control gauge.
Instead of spending weeks, if not months, searching for the best gas grill, check out these top six candidates without breaking the bank.
Top 6 Budget Gas Grills Under 200 Dollars
Prices and images pulled from the Amazon Product Advertising API on:
Product Reviews
Here are six grills that run on gas with outstanding features for you to consider.
Char-Griller Grillin' Pro
Char-Griller E3001 Grillin' Pro 40,800-BTU Gas Grill, Black
40,800 BTU gas grill with 438 square inches of main grilling area

192 square inch warming rack, 12,000 BTU side burner

Durable steel construction; side shelf for handy workspace

Electronic ignition; porcelain-coated cast-iron grates; utensil hooks

Measures 48 x 28 x 48 inch
Char-Griller's 3001 Grillin' Pro is a propane grill that gives off a whopping 40,800 BTUs of heat and firey willpower to cook. It has 438 square inches, which translates to 17.5 inches long by 25 inches wide. It's got a warming rack that's 17.5 inches long by 11 inches wide for 192 square inches.
The ignition system is push-button, electronically starting your fire at a comfortable level. The grates are cast iron but coated in porcelain for easy cleaning and even heat distribution. On the left side is a workstation that doubles as a side cooker with its own control knob, and there is another workstation on the right side of the grill. These workstations don't fold down, and neither does the warming rack.
The barrel design of this grill provides smoking, doubling this grill usefulness to an introductory smoker, too. The high lid enables you to cook more foods than smaller grills, from beer can chickens to Thanksgiving turkeys.
Upsides And Downsides
This grill is prone to rust if you don't cover it with a grill cover, and depending on your local weather conditions, it could happen within three months after you ordered it. This is an easy fix: simply get yourself a grill cover.
Another common problem is quality control within the production factory, resulting in missing or broken pieces. Simply follow up with your product's warranty and exchange it for a new, better one.
Aside from these issues, this is a great grill that cooks very well. Temperature control is quite easy. Your food will come out tasting great.
Coleman Roadtrip X-Cursion
The Coleman RoadTrip X-Cursion is a portable propane grill, meaning it is smaller and lighter. It folds up to an easily manageable size, which is about the size of a collapsed vacuum cleaner.
Like other grills in this category, it's prone to rust if you leave it exposed to the elements. Another issue I've found with this grill is the weight to size ratio. Given the small and portable size, the thing is quite heavy. Brace yourself when picking it up.
It's easy to understand the instructions and the assembly process is a breeze. You don't need any tools as all of them are provided for you. It folds up easily. Cooking on the grill goes well and the heat is easy to control, with the temperature controls working flawlessly.
Huntington 30040HNT
Huntington 30040HNT Liquid Propane Gas Grill,Black
Durable cast aluminum oven helps provide even heat distribution, is durable and will never rust

30,000 BTU stainless steel main burner system heats-up the grill quickly and efficiently, features a 5-year warranty

430 sq. in. of total grilling area; 300 sq. in. primary grilling area; 130 sq. in. warming rack

A 10,000 BTU burner allows you to prepare mouth-watering side dishes

Easy to maintain porcelain coated cooking grid

Aluminized cooking system protects the burner and vaporizes juices for sizzling flavor

Weather-resistant side shelves provide additional workspace
This is the Huntington 30040HNT, a liquid propane gas grill, cast in aluminum and steel. It has 30,000 BTUs of heat on its 3 individually controlled burners. The cooking surface area is 420 square inches (21 inches long by 20 inches wide) on porcelain-coated grilling grates for easier cleanup. It has 2 side shelves.
All grills are prone to rust, so simply get yourself a grill cover to keep it sparkly, clean, and new looking.
It's also made fast and cheap, so some parts may be subpar or malformed. Some parts are prone to fail quickly, such as the regulator. For issues with this, simply consult your warranty and exchange it for a free replacement.
This grill reaches high temperatures, making it not a good fit for novice grillers. If you know what to do, you can get tasting food cooked well. It's a great grill for the price.
Giantex Propane Tabletop Gas Grill
Giantex Propane Tabletop Gas Grill Stainless Steel Two-Burner BBQ, with Foldable Leg, 20000 BTU, Perfect for Camping, Picnics or Any Outdoor Use, 22" x 18" x 15", Silver
【Giantex Tabletop Grill】: Giantex 2-Burner stainless steel tabletop grill is built for the BBQ-grillers, Construct of 430 stainless steel offers durability and easy-to-clean surfaces.

【Easy To Operate】: Two push-and-turn ignition burners for quick and easy start-ups. It offers 20,000 total BTUs and reaches high temperatures quickly with each burner independently adjustable.

【Foldable Design】: Foldable legs and lockable lid for portable transport and storage. Also make it more easily transportion or storage.It is perfect for dinner party and camping.

【Light-weight & Safety Use】: CSA standard approved gas grills. Light-weight and with locking hood for transport and storage.

【Widely Use】: Perfect for tailgating, camping, picnics, boating or anywhere your travels take you. Overall dimensions: 22" x 18" x 15" (L x W x H) is suitable for home using, Easy assemble is required with all hardware packed in the package.
Don't let the small size of this Giantex grill fool you. This compact grill can put out 20.000 BTUs, can quickly reach the desired temperature, and has two independently adjustable burners.
The best things I like about this barbeque grill are the stylish design, portability, low weight, and the large cooking area (266 sq in).
Last summer I went on a camping trip with my friends and family to the local forest at a riverbank and took this grill with us. Dinner was as fast and easy as one-two-three. I just unfolded the grill, attached the gas canister, pushed and turned the ignition, and voila! Even the cleanup was a breeze. I only wiped the grates clean and pulled out the grease collector.
It's a perfect gift for any camper, tailgater, boating enthusiast, and other travelers not only because of the reasons above but also because it's so small and lightweight you can just carry it like a suitcase and put it in the backseat.
It's not without downsides, however. It's quite vulnerable to rust, so I suggest getting yourself a grill cover or as I did, apply non-rust coating on the outside. Also, the temperature control gauge is very, very sensitive. Be careful when cranking up the temperature. Do it painfully slowly.
Cuisinart CGG-180
Cuisinart CGG-180 Petit Gourmet Portable Gas Grill with VersaStand, Red
160-SQUARE-INCH PORCELAIN ENAMELED COOKING GRATE: 160-square-inches of porcelain enameled grates give you a spacious cooking surface is able accommodate lots of food at one time while still distributing heat evenly and efficiently.

5, 500 BTU BURNER: Features a 5, 500 BTU burner, a twist to start electric ignition and precision temperature gauge to give you the ultimate temperature control.

COMPACT ENOUGH TO TAKE ANYWHERE: The grill measures 19 x 11. 5 x 10 inches and with stand. The grill weighs only 17 lbs. , making it easy for transport and ideal for decks, patios and balconies, camping, tailgating and more.

USE AS A FREESTANDING OR TABLETOP GRILL: Unique design that allows you to use the grill as a freestanding or tabletop grill Accommodates from 4 to 6 people at once; holds grill at ideal cooking height and telescoping stand

FAST AND EASY SETUP AND BREAKDOWN: Stand sets up and packs away in seconds, and features an integrated lid lock and pronounced briefcase-style carrying handle for easy and secure transport.

Portable gas grill with 160-square-inch grilling area and telescoping stand

Accommodates from 4 to 6 people at once; holds grill at ideal cooking height

Powerful 5,500 BTU stainless-steel burner and even-heating porcelain-enameled grate

Stand sets up and packs away in seconds; integrated lid lock keeps lid secure

Pronounced briefcase-style carrying handle; weighs 17 pounds
The direct competitor to the Giantex above but with a special addition: it has a telescopic stand that you can set at your desired height. This is a big plus when camping/traveling because you don't need to take a table with you or search for an elevated place to put the grill. It has a smaller cooking area (160 sq in) but large enough to feed 4 to 6 people at once.
It has a strong 5.500 BTU burner which you ignite with a twist of the button. Grilling made simple.
The smaller size means lesser weight. Weighing at only 17 lbs, you won't even know you're carrying it. Now for a grill that's lightweight.
It's easy to set up and even easier to pack up. You just fold the legs, lock the lid, and off you go. Because of the suitcase-like design, carrying it will make you feel like a grilling businessman.
Char-Broil Classic 360
Char-Broil Classic 360 3-Burner Liquid Propane Gas Grill
360 square inches of cooking space over porcelain-coated grates

170 square inch porcelain-coated swing-a-way rack for warming

Three stainless steel in-line burners for cooking performance

Porcelain-coated steel lid and firebox stand up to weather and the elements

Metal side shelves measure 12-inches w x 13-inches l providing extra storage and prep space
While the Classic 360 does not deliver as much heat as the Grillin' Pro above (30.000 vs. 40.800 BTUs), it's big and strong enough to feed the whole block with its massive cooking area of 360 sq in and an additional 170 sq in warming rack.
The grates are porcelain-coated which not only prevents food from sticking and even heat distribution but also a simple and fast cleanup.
This grill has three durable in-line burners and features a Piezo ignition system for fast and reliable startups with the push of a button. The two side shelves are time-saving features. No more searching and placing tables or chairs next to the grill so you can have a place to put your utensils and prep your food.
What I disliked the most about this grill is the missing thermometer. But in the end, this didn't stop me from having a good time grilling steaks and burgers.
Gas Vs. Charcoal Grills
Advantages And Disadvantages Of Gas Grills
Advantages
Compared to charcoal grills, gas grills have several advantages, the greatest of them being convenience, ease of use, and low-cost in the long run.
Imagine coming home from a hard day of work and wanting a nice juicy steak or a burger. With a gas grill, you just push a button to start the fire and while preparing the meat the grill will heat up to the correct temperature. It's that simple. And once finished grilling you wipe the grates clean. Simple.
If you have a charcoal grill, you'd need to set up the charcoal, ignite it, and wait quite a while for the temperature to reach the correct level. And to maintain it you'd have to regulate the airflow. But with a gas grill, you just turn the temperature gauge to achieve this. Cleaning a charcoal grill is also more time consuming and tedious.
Though gas grills are more expensive than charcoal ones you'll save tons of money in the long run. The reason being fuel. Gas is cheaper than charcoal, and if you have a gas line, you'll also save on gasoline because it will save you trips to the local supermarket because you don't need to go there to refuel your grill.
Other advantages worth mentioning are:
While cooking, gas grills give off steam which adds moisture to the food
Gas yields very little carbon compared to charcoal when burning
No ash
You can cook indoors
A lot of them have additional features
Fewer flare-ups
Disadvantages
Gas grills are not without drawbacks, however, and in some situations, charcoal grills outperform them.
Limited mobility: In general, charcoal grills are more portable. This is even more true when your gas grill is connected to your gas line.
No smokey flavor: While it's true that some gas grills double as smokers, you still won't get that real charcoal taste
Gas is not as hot as charcoal
Uncontrolled flare-ups are much more dangerous: Gas is more explosive than charcoal. A leak is a disaster waiting to happen.
Gas grills take longer to assemble: They tend to be more complex than charcoal ones, thus significantly increasing assembly time.
Taste The Best
On my list of the best gas grills under 200 dollars, I felt that the Char-Griller grill was the best fit for my skill set and grilling methods, as I like to cook big pieces of food occasionally and even though this grill is not a true smoker, I enjoy keeping the lid down for a more smokey taste.
Now that you've got the market narrowed down to the six best grills in the class, picking out your perfect grill should be splendid and easy. Happy grilling!
📌 Pin it for later reading! 📌
Save this image to Best Gas Grills on Pinterest.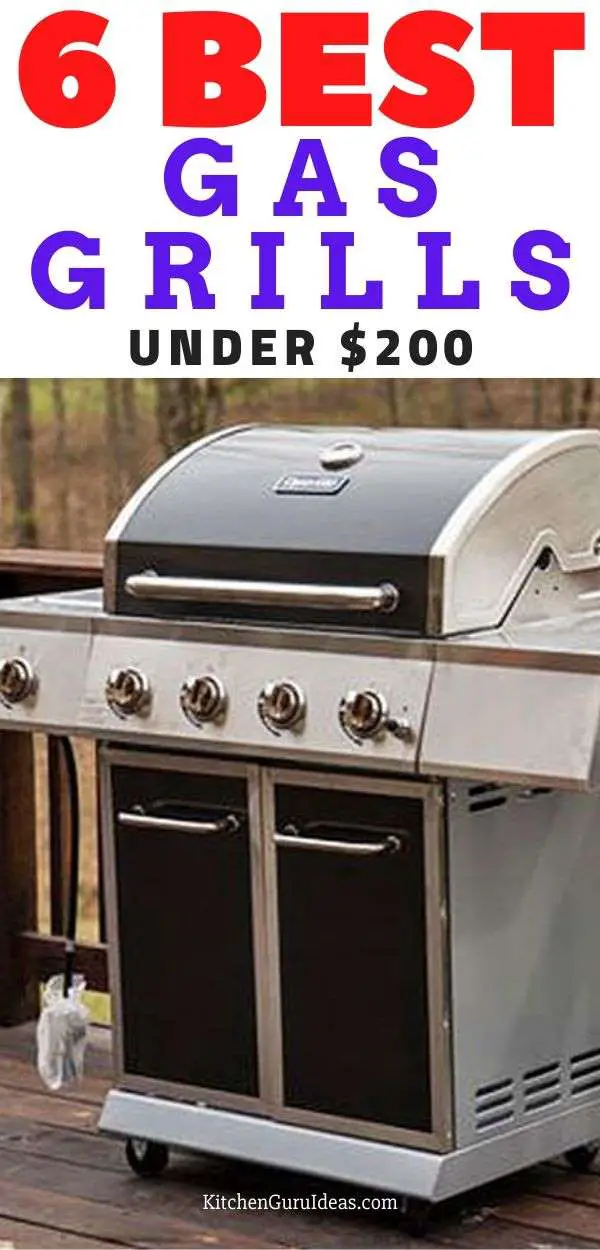 Do you prefer natural gas or propane? Please don't start a fight in the comments. I want a cultured discussion.