A tight budget doesn't mean you can't afford a good grill. Buying one doesn't have to be expensive.
It's true that it's hard to find a decent BBQ grill for this price as you have fewer options than if you'd have a higher budget.
A lot of cheap grills are poorly constructed and won't last very long – a season or 2 max.
Sometimes you just want a grill that's going to get you started, make some steaks and/or burgers, and last a couple of years without falling apart. Maybe you just want to start barbequing with a starter grill. Or maybe you're looking for a gift for someone special.
Regardless of the occasion, I've compiled a list of the 3 best grills for this budget which includes both charcoal and gas types.
All of them are durable, safe, long-lasting, and yet priced enough to not break the bank.
What Is the Best Inexpensive Grill?
Top 3 Budget Grills Under 100 Bucks
Char-Griller E1515 Patio Pro Charcoal Grill
The Char-Griller E1515 Patio Pro is a free-standing barrel-style charcoal grill that does a tremendous job at both searing and smoking.
Perfect for Small Gatherings
With 250 square inches of grilling space, you can easily fit:
10 burgers
1 Beer can chicken
Whole small turkey
1 Tri-tip
6 skewers
which is enough for a group of 3 – 4 people.
The grates are heavy-duty cast iron.
Ideal for Small Spaces
For a free-standing grill, this one is quite compact, making it ideal for tight spaces like small decks, patios, and backyards.
It measures only 31 inches / 79 cm W X 21 inches / 53 cm D X 44 inches / 112 cm H.
Highly Convenient
Refueling mid-cookout can't be more convenient.
Instead of opening the lid and lifting the grates to add coals, you just pull out the ash pan without interrupting the cooking process.
Ash disposal is done the same way with the same ash pan. No more vacuuming, lifting, or tipping over the grill to get rid of the ashes.
Durable and Sturdy
You'd expect a grill with such a price tag to be flimsy and poorly made.
You'll be as surprised as I was when I got my hands on it.
The whole thing is made from durable heavy-duty powder-coated stainless steel.
Just be sure to fairly tighten all of the nuts and bolts. Otherwise, the grill will be wobbly.
Beautiful Wooden Side Shelf
What I really like about this model is its side shelf.
Instead of being from a sheet of metal like many grills have, this one is made from actual wood.
This not only looks nice but will also last longer since wood doesn't rust.
What's more, it features 3 utensil hooks.
Known Issues
It doesn't come with a thermometer. No surprise here as many charcoal grills in this price range don't have it. Still, it would be a nice addition.
There's no separate grease collector. All of the leftover grease, oil, and debris fall into the ash pan where it mixes with the ash, making cleaning a bit more tedious.
Pros
Durable
Compact
Easy assembly
Versatile
Sturdy
Cons
No temperature gauge
No separate grease collector
Char-Broil Portable 240 Liquid Propane Gas Grill
This Char-Broil grill is a tough liquid propane grill that's small and portable enough to go anywhere with you, yet still large enough to feed a small family.
Big Enough to Feed a Small Family
Despite its compact size, the cooking area is almost as large as the Patio Pro reviewed above: 240 square inches.
You can fit about 9 large burgers – which should be enough space to feed the average family or a small camping group.
Made for the Great Outdoors in Mind
The briefcase design is tailor-made for all outdoor activities like camping, tailgating, beach parties, etc. Another bonus of this look is easier carrying.
Made for Punishment
The durable and sturdy construction means it will stand both the test of time and all of those rough car rides in the trunk.
Burner Specs
This grill features a single straight 9,500 BTU burner made from stainless steel which is ignited by a piezo igniter.
Improved Heat Retention
The grill's body is porcelain coated.
This greatly improves heat retention which in turn decreases fuel consumption.
Those 1 lb canisters will now last a bit longer.
Integrated Thermometer
Unlike the other two models, this one features a lid-mounted temperature gauge.
You won't have to spend extra money on a thermometer and guesswork is a thing of the past.
What I Don't Like About It
There are hot and cold spots. I suggest doing a toast test before the first cookout.
Pros
Portable
Perfect size for tailgating and camping
Big enough for a small family
Heavy built
Easy to use and clean
Cuisinart CGG-059 Grillster Gas Grill
This little gem right here is lightweight enough to be carried with just one hand, small enough to fit into really tight spaces (like a storage closet in an RV), yet big enough to turn any place into a romantic picnic for two.
Char-Broil's Baby Brother
If the Char-Broil is too big for you or do you intend to cook just for yourself and/or your significant other, then the Grillster is the go-to choice.
It's way smaller and much lighter, making it ideal for RV-ing, camping, and even small balconies.
Light as a Feather
Weighing in at only 10 lbs / 4.5 kg, you'll barely move a muscle when you'll lift it up.
The large ergonomic handle, foldable legs, lid latch, and suitcase-like design make carrying it even better and easier.
Cooking Potential
The cooking area is 146 square inches large and features porcelain-enameled steel grates.
The grates are dishwasher safe which is something you don't see every day.
It comes with a single 8,000 BTU burner capable of reaching 600°F / 315°C.
Other Features
It comes pre-assembled. Your only job is to take it out of the box.
It's able to hold the heat even during windy conditions.
What Cuisinart Won't Tell You
The igniter is pretty unreliable. At first, it works okay but it soon develops issues. I suggest always carrying a lighter with you.
The cooking area isn't that big (at least not for me). It's great for a loner or couple, but not for anything larger.
There's no lid thermometer. It wouldn't kill the company if they added one (the cheapest ones are, like, $5).
Pros
Very compact
Even heat distribution
Gets very hot
Portable
Lightweight
Easy to clean
Cons
No thermometer
Igniter issues
Small cooking area
What Should I Look For When Buying A Grill? – A Helpful Buying Guide
Looking for a grill that even after years and years of barbequing will still serve you like the first time when you got it is a time-consuming and daunting task.
I remember when I first bought mine: I got it at the local supermarket for $39.99 thinking I got the deal of the century. A few days after my first use I already saw rust forming on the outside and the grates.
Long story short, I threw it away after a year and a half.
It had a 1-year warranty so a refund was out of the question. I was furious.
I don't want you to fall into the same trap as I did. That's why I've made this short yet highly informative buying guide:
Budget
How Much Should I Spend On A BBQ?
This is one of the most important aspects as this will narrow down your search.
There are thousands of grills on the market and when you're completely sure about how much money you can spend, you'll see exactly what you can and cannot afford.
Also, take into consideration any accessories and other parts that come with your grill (propane tanks, for example). If you need to buy them separately, take their cost into consideration as well.
Always keep in mind: you get what you pay for.
Material (Grates Included)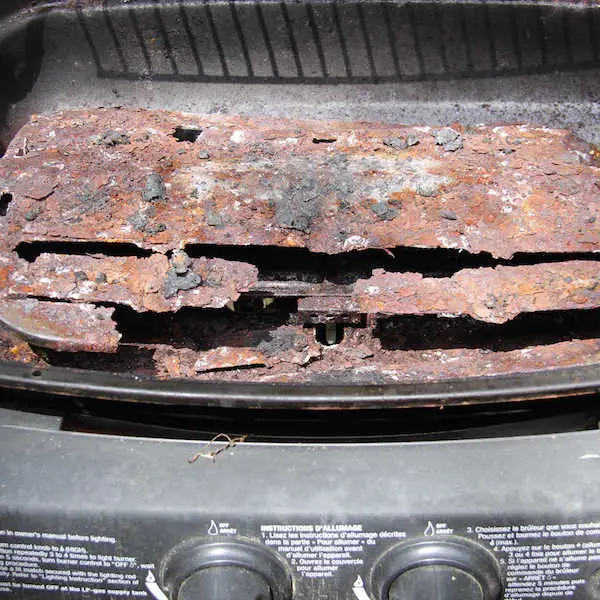 If you want your grill to last more than the warranty, don't go for a stainless steel one.
The truth is that cheaper stainless steel grills are made from very thin sheets that aren't rust-protected (the ones that are, have a very thin protective layer that starts wearing out after a BBQ session or 2).
I highly recommend porcelain enamel or powder-coated grills instead.
What Is The Best Material For Grill Grates?
The same thing applies to grates.
Also, raw cast iron is not that great for this kind of cooking (as opposed to cooking indoors) because you need to season it more often than a skillet – your skillets are in the kitchen, protected from the elements. Otherwise, it will rust quickly.
Propane? Natural Gas? Charcoal?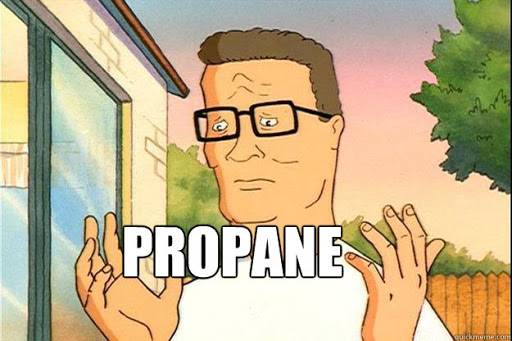 Fuel is also important.
What Kind Of Gas Do You Put In A Grill?
Many budget grills run on propane and can't grill on natural gas by default.
You can convert them but it's not cheap (prices range from $30 to as high as $150 for conversion kits plus labor if you aren't confident enough to do it yourself).
In the long run, cooking on natural gas will save time, money, and gas compared to propane grills because you won't need to go to the propane store every time your tank becomes empty.
What About Charcoal?
Charcoal is a go-to option for die-hard grilling fans because of its taste.
The problem with charcoal is that it's not exactly environmentally friendly. Not to mention the extra time you need to set up and clean afterward compared to other types of grills.
… And Electric Grills?
Electric grills are simple to operate: press a button or 2 and you're good to go.
Problem: the taste is not the same as with the grills mentioned above.
If you live in an apartment and/or don't have the time or space in your backyard (if you have one), this type of grill is a perfect choice.
Consider Your Needs
Ask yourself these questions:
How often you're going to grill: Once, or twice a week? Month? Every day?
What will you be grilling? Chicken, vegetables, steaks, …?
Will you grill just for yourself? Do you have a family? Do you often have guests?
Only when you answered these questions clearly, begin your search for the ultimate grill.
It makes no sense to buy a cheap $50 stainless steel grill with 1 side burner if you're planning a barbeque every weekend for the whole block.
Again (and I can't stress this enough), carefully think about your needs and the needs of your loved ones before making a purchase.
Money isn't everything.
Licensed To Grill
Here are the best grills for under $100 for different kinds of scenarios for different kinds of people out there.
The Char-Broil Portable 240 Liquid Propane Gas Grill and Cuisinart CGG-059 Grillster are great for folks who like to travel around or don't mind cooking wherever they may be.
Meanwhile, the Char-Griller 1515 Patio Pro Charcoal Grill is a classic free-standing backyard grill for a classy griller who likes to keep things simple and focus on the tastiest barbeque there is.
I hope that you enjoyed this grilling article, keep on smokin'!
📌 Pin Me for Later Reading! 📌
Save this pin to Best Budget Grills on Pinterest!
Gas or Charcoal? What do your prefer more?