A tight budget doesn't mean you can't afford a good grill. Buying one doesn't have to be expensive. It's true that it's hard to find a decent BBQ grill for this price as you have fewer options than if you'd have a higher budget. A lot of cheap grills are poorly constructed and won't last very long – a season or 2 max.
Sometimes you just want a grill that's going to get you started, make some steaks and/or burgers, and last a couple of years without falling apart Maybe you just want to start barbequing with a starter grill. Or maybe you're looking for a gift for someone special.
In this regard, I've compiled a list of 3 best grills for this budget: durable, safe, long-lasting, and yet priced enough to not break the bank.
Top 3 Budget Grills Under 100 Bucks
| Image | Title | Buy |
| --- | --- | --- |
| Top | Char-Broil Classic 280 Propane Gas Grill | Check Price |
| | Char-Griller E1515 Patio Pro Charcoal Grill | Check Price |
| | Char-Broil Portable 240 Liquid Propane Gas Grill | Check Price |
Best Low-Cost Grills Reviews
The best grills under $100 are where you'd want to start looking. I've put together the hottest grills this cooking season so that you can pick which one works best for you and your lifestyle.
If you are willing to spend a low budget on a grill, these grills are good to have. Take a look at their features.
Char-Broil Classic 280 Propane Gas Grill
Char-Broil Classic 280 2-Burner Liquid Propane Gas Grill
280 square inches of cooking space over porcelain-coated grates

Two stainless steel in-line burners for cooking performance;Assembly Required

Porcelain-coated steel lid and firebox stand up to weather and the elements

Metal side shelves measure 12-inches w x 13-inches l providing extra storage and prep space

Piezo ignition system for fast and reliable startups. Cooking System: Convectional
The Char-Broil Classic 280 is a full, freestanding liquid propane grill with two burners that heat at 10,000 BTU each. It's got a piezo ignition system that lights the 280 square inches of grill space – 20 inches long by 14 inches wide. The grilling grate is steel and porcelain-coated for ease of cleaning and heat distribution. A grease cup sits below the grill for easy clean-up.
The Classic 280 only comes in charcoal black with a matte finish. It has 2 side tables that don't fold down but can still be removed for the space concerned griller. It has a hinged lid, but at this price point, there's no thermometer. You can fit about 8 giant-sized burgers on this grill, maybe more, depending on your spacing.
Is this a good grill?
The Classic 280 does everything that you'd need of a basic liquid propane grill without too much fuss. That is, once you put it together. It's a little more difficult to assemble than other grills, so plan to spend 2 to 3 hours putting this guy together.
The Piezo lighter used in this grill category is known for failing eventually, so you'd just need to use a normal lighter to start your grill or consult your warranty for an exchange or replacement parts.
Char-Griller E1515 Patio Pro Charcoal Grill
Char-Griller E1515 Patio Pro Charcoal Grill, Black
250 square inches of cooking space, cast iron cooking grates, side drawer

Ideal for small decks or patios

Features Stay Cool wood handle, side shelf, double steel bottom and side air vent

Wheels make this grill easy to move

Assembly required
The Char-Griller 1515 Patio Pro is a barrel-style charcoal grill with 250 square inches of grilling space – 12 inches deep by 21 inches long. It is free-standing with a rack on the bottom for your charcoal briquettes or wood chips. The grill has a workstation on the left side that doesn't collapse or fold down.
Common misunderstandings with the 1515 Patio Pro
Because of the barrel design, it can be easy to mistake the grill as doubling for a smoker. Unfortunately, the grill does not assemble so that the lid is flush by design, as this grill wasn't meant to be a smoker, it simply shares aesthetics with its other siblings in this grill line.
Rust is an enemy of all grill-kind, but it can be avoided by keeping your grill in a protected spot. You want to move your grill someplace dry, preferably with a grill cover. A cover will extend the life of any grill by multiple lifespans, so it is worth it.
Is this grill worth it?
Yes! The Char-Broil 1515 Patio Pro is a great little grill that will get your job done. It can fit about 15 large burgers all in the grilling area at the same time.
Char-Broil Portable 240 Liquid Propane Gas Grill
Char-Broil Portable 240 Liquid Propane Gas Grill
240 Square inch cooking area and built to travel

Sturdy legs for stability on a Table or the ground, carrying handles for easy transport

Lid-mounted temperature gauge, painted porcelain body

For use with 1Lb propane tanks, (Sold Separately)
This Char-Broil grill is a tough liquid propane grill that's small and portable enough to go anywhere with you, yet still large enough to get the job done without too much frustration. It can fit 6 to 8 large burgers – which should be enough space to feed the average family. This isn't a full, freestanding grill but a portable one.
The grill body is made out of coated stainless steel with a briefcase design for easier carrying when folded up and designed with taking hits and bumps in mind for all those rough car rides in the trunk. Its folded size is 25 inches wide by 16 inches deep by 13 inches high and weighs 28 lbs.
The grill is push-button and runs on liquid propane instead of batteries. The burner is 9,500 BTU and 240 square inches large.
This grill would be an excellent fit for someone on the go or active in the outdoors.
It has very little problems, but the one problem that it does have is the regulator going crazy. Regulators wear out over time and this model is prone to get too hot or not hot enough, which in turn tends to produce hot spots.
Rust isn't an issue with this grill as much as with others because of its small size – easy to store away. Its briefcase design also helps the weather from entering once that it is closed – just be sure to put it away when it is fully dry.
What Should I Look For When Buying A Grill? – A Helpful Buying Guide
Looking for a grill that even after years and years of barbequing will still serve you like the first time when you got it is a time-consuming and daunting task.
I remember when I first bought mine: I got it at the local supermarket for $69.99 thinking I got the deal of the century. A few days after my first use I already saw rust forming on the outside and the grates. Long story short, I threw it away after a year and a half. It had a 1-year warranty so a refund was out of the question. I was furious.
I don't want you falling into the same trap as I did. That's why I've made this short yet highly informative buying guide:
How Much Should I Spend On A BBQ?
This is one of the most important aspects as this will narrow down your search. There are thousands of grills on the market and when you're completely sure about how much money you can spend, you'll see exactly what you can and cannot afford.
Also, take into consideration the accessories and other parts that come with your grill (propane tanks when searching for a gas one, for example): if you need to buy them separately, take their cost into consideration as well.
Always keep in mind: you get what you pay for.
Material
If you want your grill to last more than the warranty, don't go for a stainless steel one. The truth is that cheaper stainless steel grills are made from very thin sheets that aren't rust protected (the ones that are, have a very thin layer that starts wearing out after a BBQ session or 2. I highly recommend porcelain enamel or powder coated grills instead.
What Is The Best Material For Grill Grates?
The same thing applies to grates. Also, raw cast iron is not that great for this kind of cooking (as opposed to cooking indoors) because you need to season it more often than a skillet – your skillets are in the kitchen, protected from the elements. Otherwise, it will rust quickly.
Propane? Natural Gas? Charcoal?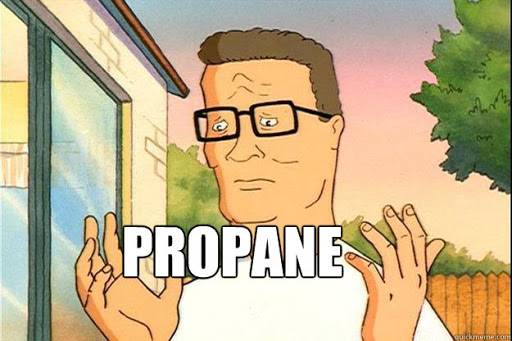 Fuel is also important.
What Kind Of Gas Do You Put In A Grill?
Many budget grills can't grill on natural gas (provided you have a gas line). You can convert them (from propane, for example) but it's not cheap (prices range from $30 to as high as $150 for conversion kits plus labor if you aren't confident enough to do it yourself).
In the long run, cooking on natural gas will save time, money, and gas compared to propane grills because you won't need to go to the propane store every time your tank becomes empty.
What About Charcoal?
Charcoal is a go-to option for die-hard grilling fans because it affects the taste. The problem with charcoal is that it's not exactly environmentally friendly. Not to mention the extra time you need to set up and clean afterward compared to other types of grills.
… And Electric Grills?
Electric grills are simple to operate: press a button or 2 and you're good to go. Problem: the taste is not the same as with the grills mentioned above. If you live in an apartment and/or don't have the time nor space in your backyard (if you have one) then this type of grill is the perfect choice.
Consider Your Needs
Ask yourself these questions:
How often you're going to grill? Once, twice a week? Month? Every day?
What will you be grilling? Chicken, vegetables, steaks, …?
Will you grill just for yourself? Do you have a family? Do you often have guests?
Only when you answered these questions clearly, begin your search for the ultimate grill.
It makes no sense buying a cheap $50 stainless steel grill with 1 side burner if you're planning a barbeque every weekend for the whole block.
Again (and I can't stress this enough), carefully think about your needs and the needs of your loved ones before making a purchase. Money isn't everything.
Licensed To Grill
Sometimes the best grills are right under your nose and sometimes you have to dig for them between a bunch of different ads or magazine clippings. Here are the good grills for different kinds of scenarios for the different kinds of chefs and people out there.
The Char-Broil Portable 240 Liquid Propane Gas Grill would be great for a cook who likes to travel around, or who doesn't mind cooking impromptu wherever they may be. Meanwhile, the Char-Griller 1515 Patio Pro and Char-Broil Classic 280 are 2 classic grills for a normal, classy griller who likes to keep things simple and focus on the tastiest barbeque there is.
I hope that you enjoyed this grilling article, keep on smokin'!
📌 Pin Me for Later Reading! 📌
Save this pin to Best Budget Grills on Pinterest!
Share your best grill recipes in the comments below!