Do you want to make the tastiest espresso at home just like in Starbucks? You are in the right place as I am presenting you with the best espresso machine under 1000 bucks.
Although there are no shortcuts to making a cup, as it's always made with an espresso machine there are also some conventional ways you can use to make your espresso.
Making it with the right machine brings out the best in your drink by allowing the coffee's natural oil and minerals to seamlessly flow into the cup which will, in turn, bring out the best in its taste, nature, and scent.
All this may not be enjoyed to the fullest if the espresso is made with the wrong one.
The Best Espresso Machines for Under 1000 Bucks
What Is the Best Espresso Machine for the Money?
Best Espresso Machine Under $1000 Reviews
Breville BES870XL Barista Express Espresso Machine
Nothing on this list beats the Barista Express by Breville. That's why I've considered it the best espresso machine under 1000 dollars.
Make Fresh Espresso From Fresh Beans
The Barista Express features a special integrated conical burr grinder that grinds coffee beans into fresh ground coffee.
You can even set how fine the beans are ground with a simple twist of a dial.
Make Artistic Lattes Like a Seasoned Barista
The steam wand enables you to microfoam milk like a pro.
The milk itself is steamed in such a way that pressure makes thousands of tiny bubbles and the temperature brings out the milk's sweet flavor.
Once done, your lattes will not only look Starbucks-grade, but also taste like it: golden espresso with rich, full flavor, and sweet milk.
Makes the Richest Espresso, Full of Aroma
This machine is engineered to make the most mouthwatering shot of espresso ever.
One of the reasons is using the right dose of coffee: 19 – 22 grams.
Another reason is the temperature control which the espresso maker does with a complex PID controller. It carefully controls the water temperature, enriching your favorite pick-me-up even more.
Other reasons include:
15 bar Italian pump
Low-pressure pre-infusion
Microfoam milk texturing wand explained above
Get Used to Cleaning It
Even if you make just one shot of espresso, there are a lot of things you need to clean and this may take a chunk of your time.
Luckily, if you know how to do it, you'll be done in no time.
Espresso as Rich as an Espresso Shop
For under a grand, it doesn't get better than this. Thanks to its sophisticated design and easy to use controls, you can say goodbye to your favorite coffee shop and drink rich and creamy espresso every time your heart desires.
Pros
User friendly
Makes barista-grade espresso
Integrated grinder
Fast heat-up
Stainless steel design
Perfect for making latte art
Philips 3200 Series Fully Automatic Espresso Machine w/ LatteGo, EP3241/54
The Philips EP3241/54 is a marvel to behold: A fully automatic espresso and latte maker that's super easy to clean.
Satisfies the Needs of Even the Most Hardcore Cafephiles
Whatever type of coffee beverage you wish, the EP3241 has you covered.
With a simple push of a button, you'll enjoy:
Espresso
Hot water
Cappuccino
Coffee
Latte Macchiato
Americano
in under a moment.
There's also a "My Coffee" option where you can set all the different settings and make your very own shot of espresso.
Enjoy Fresh Coffee
Just like the Barista Express above, this one also features its very own grinder.
It's completely ceramic, making it durable and reliable – for up to 20,000 cups.
You can easily adjust it. With 12 steps, it can grind the beans to either ultra-fine powder to coarse grindings.
Touch Sensitive Control Panel
Instead of regular knobs, the Philips features an intuitive easy to use, and a nice-looking control panel that's sensitive to the touch.
LatteGo Milk System
Besides making silky smooth creamy foam, this system is made from 2 external parts that can be cleaned in just under a minute or in the dishwasher.
If you're not a fan of cleaning, then this is the one.
It Has Its Very Own Water Filter
The machine incorporated its very own water filter: the AquaClean.
You'll still need to descale the machine every once in a while, but you won't have to do it as often. Every 5,000 cups or so.
When you'll need to change the filter, the espresso maker will notify you.
A Tad Loud
Don't be scared when the machine makes noise when making your favorite cup of joe.
It's not as loud as a blender but it's still noticeable.
Great Results, With Minimum Effort
The best thing about it is its simplicity: when you wake up, you just push a button and there it is: fresh espresso, just like at Starbucks. Without actually going to it, of course. Once done, a quick rinse and the machine is as good as new.
Pros
Professional look and feel
Super easy to clean
A lot of options to choose from
Makes coffee as well
Integrated grinder
Makes delicious espresso
De'Longhi Dinamica Automatic Coffee & Espresso Machine
To get the best bang for your buck, look no further than the Dinamica by De'Longi.
Perfect for Those Hot Summer Days
This baby is one of the few fully automatic espresso machines capable of making iced coffee.
With its TruBrew Over Ice technology, the Dinamica makes smooth and creamy iced coffee, full of flavor.
Fast Brewing and Heat-up Time
Once started, it reaches operating temperature in about 40 seconds.
This is possible thanks to the 15-bar Italian performance pump.
Minimalistic Modern Look
Just like the Philips above, the Dinamica also features a stylish, modern look with a touchscreen control panel.
This control panel is minimalistic, with no text whatsoever.
Looong Warranty
Brew with peace of mind as this particular model is backed up by a 2-year warranty and 1 additional if you register it.
Other Features Include
Integrated adjustable manual frother
Steel burr grinder
Consider the Size
It doesn't look big in the video but in reality, it's quite big and may take a chunk of your counter space.
It's also not one of the lightest machines on this list. Pick it up carefully so you won't get a spasm or something similar.
Replaces Your Daily Trip to the Coffee House
Even if your budget is tight, you can still get an amazing espresso maker that will absolutely blow your mind.
Pros
Attractive design
Simple to use and clean
Capable of making iced coffee
Fast and easy setup
Self-cleaning
Jura A1 Super Automatic Coffee Machine
If it's simplicity you're looking for, then the Jura A1 is your go-to choice.
Convenience at Its Finest
Not everyone wishes for a fancy touch screen espresso machine that has more functions than a smartphone but a simple espresso maker that actually resembles one.
The A1 has the most simplistic control panel out of all these models on this list. The best thing about this is that it's hidden from plain sight.
Instead at the front, it's located at the top.
The menus include:
A Purists' Wet Dream
Got milk? No thank you!
A real espresso is just espresso – no milk or froth or other add-ons.
This is the point of Jura: espresso as is ought to be.
Enjoy Barista-Quality Espresso
The engineers at Jura developed their own coffee extraction process called the Pulse Extraction Process (or P.E.P. for short).
This creates the ideal brewing conditions at all times, including extraction time.
In addition, the AromaG3 grinder not only decreases grinding time but also significantly extracts more natural flavors from coffee beans than other brands of the same price range.
In the end, your favorite shot of espresso will be full of flavors.
Minimalist Design, Maximum Flavor
No frills, bells, and whistles. It's just you and the pure shot of espresso.
Pros
Simplistic design
Extremely simple to use
Compact
Easy to clean
Authentic pure espresso taste
Cons
No milk steamer
No hot water dispenser
Breville Barista Touch Espresso Maker
If you want to experience the same feeling when you enter your kitchen as when you enter your favorite coffee shop, the Breville Barista Touch does this job perfectly.
Commercial Grade, Home Use
Even from a distance the Barista Touch looks and feels like an espresso machine that you would normally find in a café or a coffee shop.
It's not just about the looks though. This baby can make Starbucks-quality espresso with a simple touch.
Smartphone Style Touch Screen Display
Instead of touch-sensitive buttons, the Barista Touch has an actual display that's reminiscent of a smartphone.
This feature makes the machines look and feel sleek and compact while adding more features and options without cluttering the control panel with tons of buttons.
Make Your Own Personalized Coffee
In addition to brewing the standard:
Espresso
Americano
Latte
Flat White
Cappuccino
You can also adjust the coffee strength, milk texture, and temperature to create your very own coffee recipe. The best thing about this is that you can save it and add your own image and name.
Up to 8 personalized coffee settings can be saved.
Delivers Barista Quality Micro-Foam
The automatic steam wand allows you to adjust the milk temperature and texture to create works of art.
Innovative Thermojet™ Heating System
Once fired up, this espresso maker heats up in just 3 seconds!
What I Didn't Like About This One
The water tank is at the back and every time I need to fill it, I have to drag the machine out. For a convenient espresso machine, this is quite inconvenient.
It takes some time before you figure out how to use the machine to its full potential.
Turns Any Amateur Into a Professional Barista
Say goodbye to Starbuck and hello to Breville Barista Touch.
Pros
Fast heat-up
Top-notch built quality
Touch screen control panel
Automatic milk frother and self-cleaning function
Customizable coffee settings
Cons
Hard-to-fill water tank
Learning curve
La Pavoni EPC-8 Europiccola 8-Cup Lever Style Espresso Machine
The Pavoni is made for all the traditionalists in mind as it gives that retro old-school feel when making your favorite shot of espresso.
The Benefits of Manual Over Automatic
One benefit is the look. Just look at it: it feels so classic and aesthetically appealing.
But the most important benefit of owning one is the complete control of the brewing process. Although it requires a learning curve, once you figure out the method, you'll make espresso that's even tastier than the one from a machine.
Many models (not this one) don't require electricity to operate it. This means great news for campers, travelers, etc.
Built to Last
The all-steel construction and heavy chrome plating make this model one of the toughest espresso makers on this list.
The base is triple-plated chrome and plated in nickel while the boiler is solid brass. The heating elements are long-life stainless steel.
It's also made in Italy and Italians sure know how to make good espresso.
Easy to Use
First time users might find it intimidating, but it's remarkably easy to use.
What's Included
Tamper
Screen with holder
Measuring ladle
Cappuccino attachment
Automatic milk foamer
2 Stainless steel filter baskets
Learning Curve
Although it's easy to use, to make the tastiest and the best espresso possible, you need time, practice, and a lot of patience to achieve this.
A temperature gauge would have made this job a bit easier. Too bad it's not included.
A Timeless Espresso Machine
Once you try a sip of espresso from this model, you'll never again drink it from a machine. Once you get the hang of it, it's caffeine heaven thereon.
Pros
Outstanding espresso quality
Unique and classic retro design
Built to last
Manual pressure control
Compact and lightweight
Cons
Learning curve
Gets pretty hot
Rancilio Silvia Espresso Machine
Not all of us can bring Starbucks into our own homes. Thankfully, the Rancilio Silvia makes this possible due to its low price and simple compact design.
Compact Design
The unit measures just 11 x 9.5 x 13.5 inches, making it ideal for your home counter.
It doesn't take a lot of space, yet it makes up to 2 cups of espresso at once.
Durable and Solid Construction
The whole body is made from an iron frame and stainless steel. Even the group head and the steam wand are built to last.
The single boiler is made from chrome plate brass.
The Silvia Comes With
Coffee scoop
Plastic tamper
2 filter baskets (single and double)
What Needs Improvement
If the morning latte doesn't wake you up, the machine will. It's quite loud.
The tamper is cheaply made. Don't be surprised if it breaks in a short while.
Pros
Delivers great shots
Will stand the test of time
Easy to use
Simple to clean
Compact
De'Longhi La Specialista Espresso Machine
Always in a hurry? Aren't a single boiler espresso machine fast enough to match your hectic lifestyle? Then consider the La Specialista by De'Longhi.
The Fastest Brew in the West
Before you know it, the machine will be ready to make your favorite cup of joe – literally.
It needs just 1 second to get started.
Having 2 boilers, the brewing time that you're used to with other espresso machines is practically halved because both brewing and frothing are done at the same time.
Precise Grinding, Amazing Taste
The integrated Sensor Grinding Technology ensures maximum aroma extraction from the coffee making, making each and every shot of espresso full of flavor.
Smart Tamping System
The De'longhi engineers have perfected every inch of tamping. Every time the grind is consistently tamped. Your only job is to press the button.
Excellent Temperature Control for Excellent Flavor
The Active Temperature Control mechanism maintains the water temperature during the entire brewing process for maximum and optimal flavor and texture extraction.
Turn Your Cup Into a Canvas
With the Advanced Latte System, you can create works of art with velvety foam that even da Vinci will be envious of.
You have 2 choices:
"Flat" for steamed milk
"Foam" for frothed milk
Choose Between Pre-Set Recipes or Make Your Own
La Specialista offers 3 pre-set coffee recipes:
If you like to spice up your mornings, customize your own unique coffee with the "MY" button.
The stainless steel tray under the spout is fully customizable and you can place either the standard or the espresso shot mug with ease.
Mess-Free Operation
Because grinding and tamping are made inside the machine, you can say goodbye to spills and other forms of mess.
Known Issues
The water tank is at the back and you need to move the machine every time it needs a refill.
While it's not a big deal (at least for me), for this kind of money, they should have made this job a bit more convenient.
Enjoy the Art of Making Your Coffee
Once you'll try a sip of coffee from this machine, you'll never leave your home once you'll start craving espresso. Be ready to inform your favorite coffee house you won't be coming any time soon so they won't worry about you.
Pros
Double boiler
Cleaning is a breeze
Amazing flavor and consistency
Clear and easy instructions
High-quality construction
All of the processes are automated
Cons
Water refilling is inconvenient
No grinding options
How to Choose the Best Espresso Machine Under 1000 Dollars and Get the Ultimate Barista Experience
A grand isn't something all of us have and is becoming ever more difficult to have this kind of spending money.
That's why you should research thoroughly on this subject as a $1000 espresso should be a once-in-a-lifetime investment.
If you aren't careful, you may end up with a lemon and regretting this decision.
Thankfully, you don't need to know every tiny bit about espresso machines as I've done this extensive research for you. These models are the best of the best in their respective categories.
But if you're still unsure or you just want to know more about stuff, I suggest you read this short, yet informative buying guide (video included) below.
What Should I Look for in a Home Espresso Machine?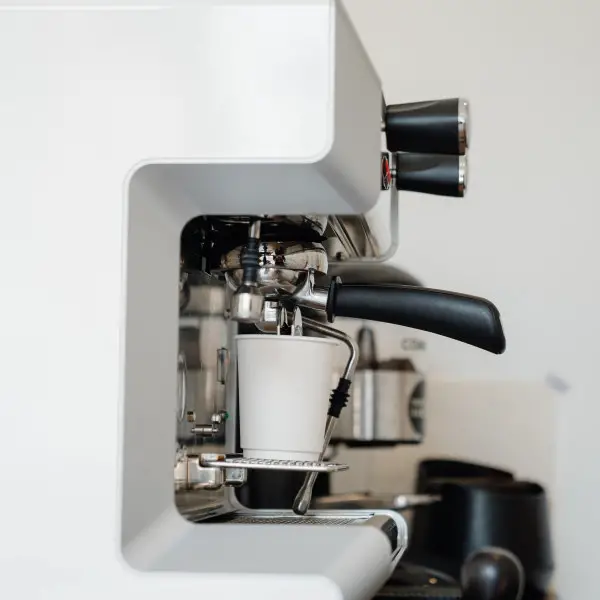 I won't go into all of the details on this subject because it deserves an article of its own, but I'll highlight all of the important aspects of searching for the best espresso machine:
What Can You Make With It
Different machines have different options when it comes to brewing.
Some offer a variety of recipes, including espresso, latte, iced coffee, and regular coffee while others are a bit basic and offer just a few drinks.
There are also some high-end models that let you choose your own preferences like brewing time and coffee quantity.
For a tea lover, a machine with a hot water dispenser would be a great option.
You should pick the one that makes your preferred drinks.
It would be a really bad move if choose an espresso maker without a steam wand if you really love lattes.
Manual or Automatic
While the most obvious choice would be automatic, this is not always the case.
It's true that automatic espresso machines offer more advantages over manual ones (like convenience) but they lack certain features that manuals have.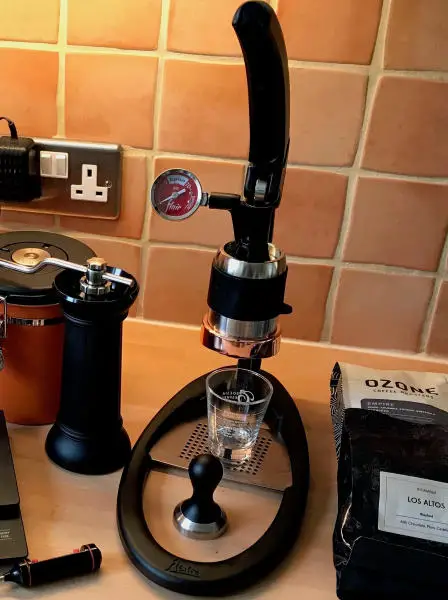 Manual espresso makers offer you complete control over the brewing process. It takes some time and patience but once you get the hang of it, you'll get even more flavor than from a machine.
Also, many lever-style counterparts don't need electricity to function, making them great for certain activities when you don't have an outlet nearby but still want to drink espresso.
Be aware that there are many types of automatic espresso machines, each having its own pros and cons.
Durability
When you spend $1000 on something, it should last forever.
While it sounds right in theory, the reality is different.
If something is expensive, that doesn't mean it's cheaply made.
It's not just about the looks, consider the insides and other add-ons like the grinder and frother, as well.
Grinders
Many models for this sum of money have their very own grinder.
But not all grinders are the same. They differ in size, burr size, capacity, and type, among other things.
While a grinder is a nice addition to the espresso machine as the drinks will be always fresh, it increases the machine's price tag.
Single or Dual Boiler
As a rule of thumb: if you drink coffee regularly (several times per day), invest in a dual boiler espresso machine. If you just want a morning cup, you'll be fine with a single boiler.
Size
Make sure the machine fits the place you're planning on putting it.
A Well-detailed Guide to Becoming an Espresso aficionado
What Is An Espresso?
Espresso is a coffee drink brewed by preparing fine grounded coffee beans through the use of not too boiled water.
Originating from Italy, it is thicker than coffee brewed by other methods because of its ability to give a higher concentration of dissolved and suspended solids and is also creamier.
It's usually made by forcing steam through the ground coffee under pressure.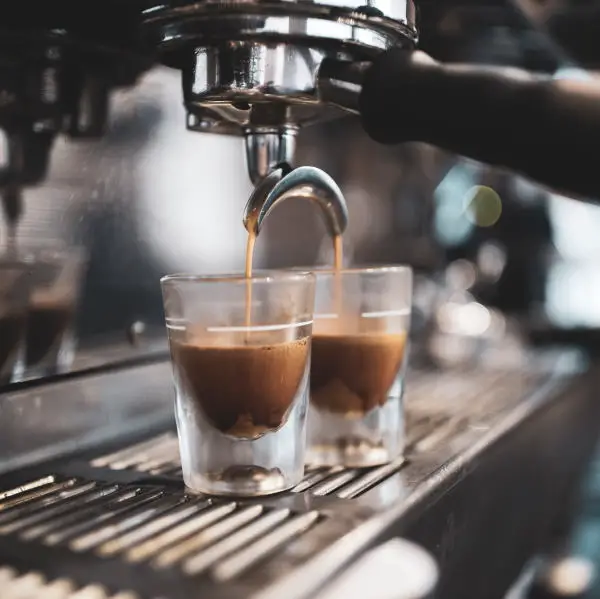 Why Recommend Espresso? Is It Better Than Coffee?
Absolutely yes!
Espresso is known for its fineness, scent, and a higher concentration of caffeine compared to coffee, which makes it healthier and highly recommended by doctors for most users.
Coupled with this, the making of espresso involves a total dissolution of all solid minerals, and this makes it safer and better compared to coffee.
And what's more, it is creamy, which makes it tastier.
What Is The Difference Between Espresso And Normal Coffee?
This topic does spark lots of questions from both users.
My neighbor once asked me: "Aren't both espresso and coffee made from coffee beans? Is there actually any difference between them?"
You might be a lover of coffee and know about the two types of beans (robusta and Arabica) used in making both coffee and espresso.
However, being a coffee aficionado doesn't mean you know the rudiment of these two things as there is more to it than you can imagine. 
There are loads of clear-cut differences between espresso and coffee. Although, I might not be able to take you through all the differences.
Nevertheless, I'll certainly provide well-detailed information on the major differences and also mention other differences between the two.
Without further ado, let's get down to business. The differences between espresso and coffee include but are not limited to the following;
Pressure
Pressure goes beyond a cornerstone of quick brewing; it extends to dispersing the rich coffee oils into the final espresso shot, which, as a result, makes it more creamy and tasty.
The switch of a coffee is a lever to an espresso.
The pressure of most espresso machines has a default of 130 psi or 9 bars. In plain terms, it's the same as diving 300 feet or 100 m into the ocean.
Espresso uses more pressure compared to coffee, which makes it brew stronger and quicker.
Taste
Espresso has a full-bodied, roasty, and well-rounded flavor, which makes it tasty and bolder than coffee.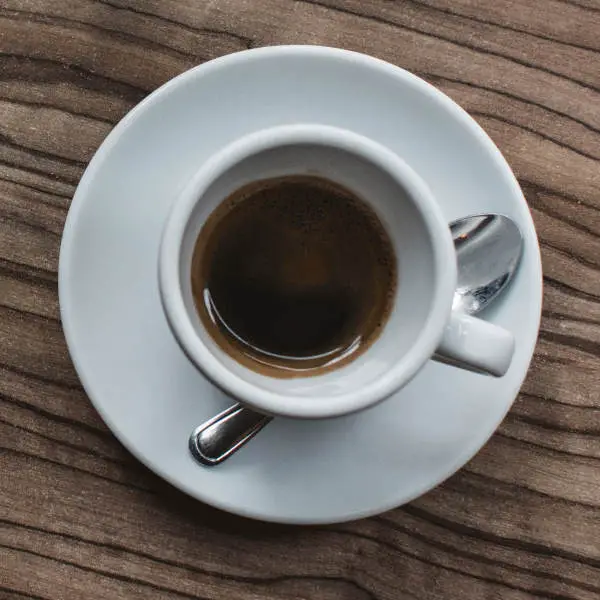 It is also a popular belief that the filter used while processing coffee reduces its flavor.
Espresso, on the other hand, dissolves the solid minerals completely and seamlessly infuses the flow of minerals into the flavor.
This has a lot of differences in taste.
Composition Of An Espresso Shot
If you are frequently visiting an espresso bar, you should know there are differences between coffee and espresso just by their looks.
Espresso is usually brewed in a way that makes it appear as a small and concentrated shot with a concentrated flavor and a syrupy body known as crema.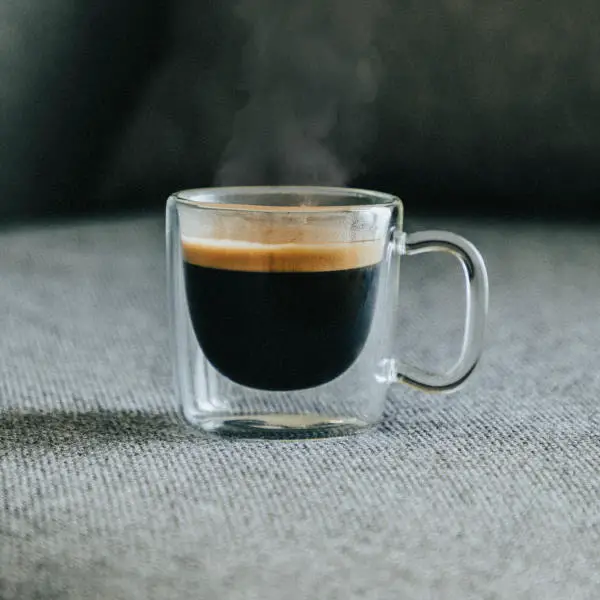 On top of that, the aromatic scent of espresso also makes it unique and inviting to its users.
Amount Of Caffeine Involved
It is a common saying that espresso contains more caffeine than coffee.
However, this solely depends on the quantity. For example; a glass cup of coffee is much more likely to have more caffeine than a shot of espresso.
An average shot of espresso, which is less than 1 oz contains 40-75 mg of caffeine, and a cup of coffee which is around 8 oz contains 85-185 mg of caffeine.
The Process Involved In Making Both Coffee And Espresso
Making coffee is a common thing, and anybody can do this.
There are several ways to prepare coffee including;
percolated
good ol' fashioned dripped coffee
French press and many more.
However, espresso is always made with a machine, and there are tons of them on the market that can get the job done, just be careful when choosing the right one.
Also, lots of espresso machines have their own grinder, which makes it easier for grinding coffee beans you intend to use.
While coffee, on the other hand, is mostly ground using conventional ways, which makes it difficult for the beans to be used for espresso.
There are other differences between these two, but the points above should be able to give you clarity between them and aid your decision in choosing the one to opt for.
Can Espresso Make You Stay Awake?
Yes, and that should be expected as it has caffeine. How long you stay awake depends on how much espresso you drink.
It should be noted espresso is no substitute for a good night's sleep.
Get Your Starbucks Espresso From The Comfort Of Your Own Home
Espresso is a great beverage not only because of its aromatic scent, fineness, great taste, and inviting appearance but also because of its health benefits.
What are you waiting for? It is time to start enjoying your perfect and tasty Starbucks espresso from the comfort of your home.
Is a grand too much for you? Tell me your budget in the comments below.