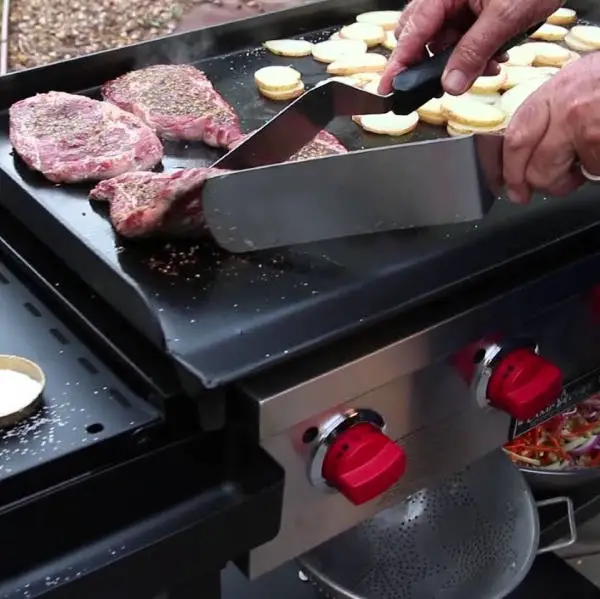 A griddle is highly versatile and can cook much more things than a grill.
I wouldn't blame you if you didn't know what can you cook on a griddle. Even I wasn't aware of how many different types of food a griddle can handle when I first got one.
I designed this guide so that you can fully take advantage of your griddle right from the start.
In short, you can cook on a griddle anything and everything you'd cook on a pan on the stove.
You can either go straight to the point where I have compiled a list of foods that can be cooked on a griddle with a recipe or two for each or have an appetizer and read the tips and tricks for better cooking straight below.
Before We Get Started: Tips & Tricks For Cooking on a Griddle
I strongly suggest you read this in full before firing up your griddle as this will make your cooking easier and more enjoyable.
These are all the tips and tricks I wish I'd known when I first started cooking:
A Clean Griddle Is a Happy Griddle
Make sure the griddle (or at the very least the cooking surface) is clean and seasoned before cooking on it.
This way the food doesn't become contaminated and the cooking surface is less likely to get rust.
Always Add Oil
It doesn't matter what kind.
You don't have to add a lot. A small amount is more than enough in most cases.
Adding oil prevents the food from getting burned.
Preheat It (Slowly)
Just like a grill or an oven, you should always preheat your griddle to decrease the cooking time and prevent the food from sticking to the surface.
Preheating also kills any germs and bacteria.
Don't go full blast, though (this especially is true in the colder part of the year) as you risk warping the griddle.
Don't Be Afraid of Using a Metal Utensils
It sounds a bit counterintuitive at first as I have said many times regarding cookware to avoid metal utensils as there's a high chance you might scratch the surface.
But flat tops aren't like cookware as the metal is much more thicker and durable.
On the contrary, I highly recommend using metal utensils like spatulas and scrapers.
Scrapers are especially useful since they do a really good job of cleaning.
Make Use of Prep Space
Many freestanding griddles (most tabletop and in-built models don't have this feature) come with a side shelf or two.
Some high-end models feature utensil hooks, towel racks, cabinets, and/or drawers.
They are there for a reason: so you can have everything you need at hand and won't have to jump up and down during cooking.
Install a Tank Gauge (Applies to Propane Models Only)
Knowing how much fuel you have in the tank left is a matter of life and death.
I am exaggerating a bit here but it's still a lifesaver.
Now you'll know exactly when to replace/refill the tank and you can do it in-between cookouts and not during one.
Prevent Moisture From Building up on the Cooktop
Griddles are flat and even when covered, water still collects on top of the cooking surface.
This will eventually make it rust.
Place something tall (basting dome for example) in the middle of the flat top before placing the cover on.
Use Disposable Drip Trays
Leftover food, oil, grease, and dirt will eventually find their way into the grease collector which you'll have to clean as well.
Cleaning it can be a pain but if you place a drip tray in the grease collector, you won't have to.
What's great about them is they are surprisingly cheap.
If you don't have the money for it (or you don't want to spend it), use a sheet or two of aluminum foil.
Use Oil Spray Instead of Bottles
This neat little trick can save quite a lot of time and oil in the long run.
Sprays also have more spread than a regular quirt bottle, making them highly economic.
Steam Food
Craving for steamed veggies?
Add some water around the food and cover it with a basting cover.
Don't Spend Money on Specific Cleaning Products
While there are plenty of griddle-specific products on the market that do a terrific job cleaning a griddle, they aren't necessary.
They tend to cost a lot, especially in the long run.
You can completely clean the whole thing with just regular water and a scraper. It's also fast and easy, too.
What Can You Cook on a Griddle
Pancakes
Potatoes
Eggs

Vegetables

Bacon
French toast
Sandwiches
Sausages/Hot dogs
Hash browns
Rice
Stir-fry
Burgers
Steaks
Kabobs
Haystacks
Burritos, quesadillas, and other tortilla-based dishes
Gyros
Crab cakes
Waffles
Desserts
Flatbread
Chicken
Fish
Pizza
Pancakes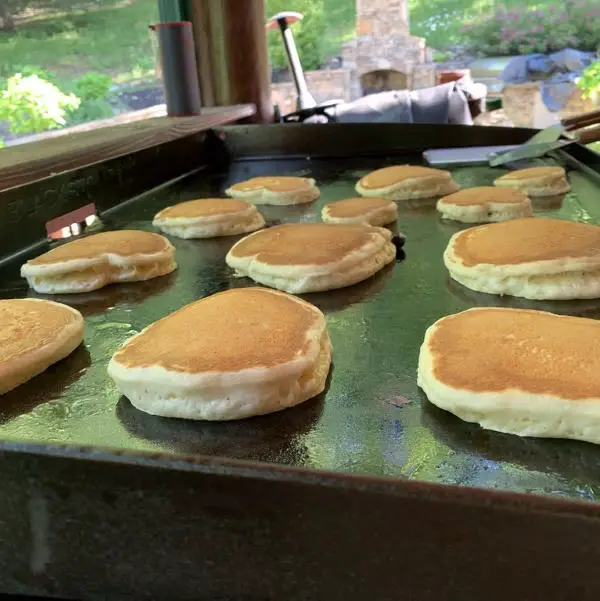 I really love pancakes, and not just in the morning.
I tried many recipes but this one from Gordon Ramsay is by far the best.
Potatoes
The almighty potato.
What you can't do with them really?
The most common thing I do with them is:
Peel
Slice them about 5 mm / 3/16 inch thick
Season with salt, peper, garlic, onion, cayenne pepper, origano, and basil
Cook them for about 30 minutes on high
Other great potato recipes you should try:
Eggs
Like potatoes, eggs can be made in many different ways. Some of these include:
Sunny side up
Omelette
Over easy
Make these scrambled eggs for breakfast. You won't be sorry:
Finely chop an onion, a clove of garlic, and salami

It's up to you to decide on which salami

Season

I use salt, pepper, cayenne pepper, parsley, rosemary, and turmeric powder

Sautee for a few minutes until the onion turns golden brown
Add 2-3 beaten eggs and a few tablespoons of milk into the pan
Start scrambling
A few minutes before cooked, add some grated cheese
Vegetables
Love 'em or hate 'em, vegetables can either be cooked as a side dish to your steak or burger or as the main dish.
You can cook them whole or cut them into smaller pieces.
Here are a few ideas on which vegetables to cook on a griddle:
Peppers
Squash
Mushrooms
Onion
Garlic
Brocolli
Asparagus
Aubergine
Bacon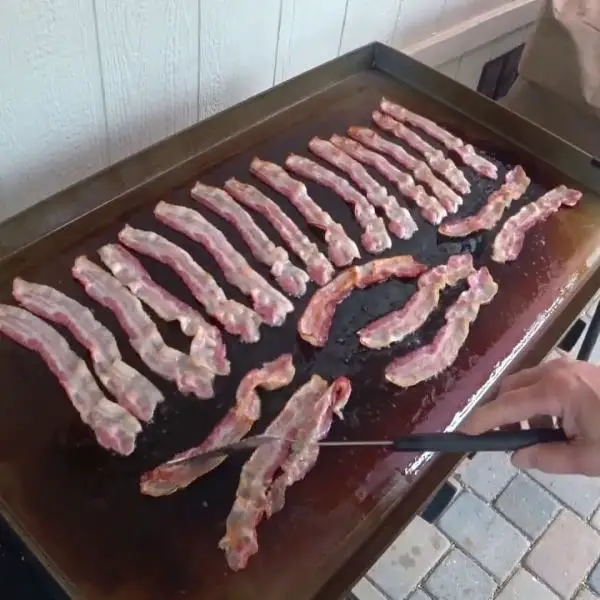 I love the smell of bacon in the morning.
Look at it sizzle.
Cooking bacon on the griddle is nothing special, really.
You only need to preheat the thing and place the strips. You don't need to add any oil because the meat will slowly release it during cooking.
French Toast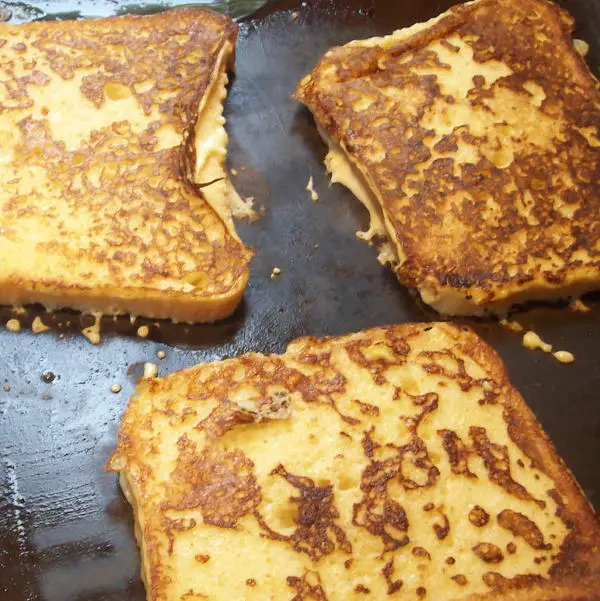 It's easy, tasty, fast, and fun to do.
For this, you need:
Bread
Eggs
Milk
Cinnamon (optional)
Vanilla extract (optional)
Preheat the griddle on medium
Mix all ingredients (except the bread) together in a large bowl
Dip the bread in the mixture
Preheat the griddle on medium high
Add oil to the cooking surface
Place the bread on the griddle
Cook about 5 minutes on each side
Tip: Pour maple syrup on the toast once done for added flavor.
Sandwiches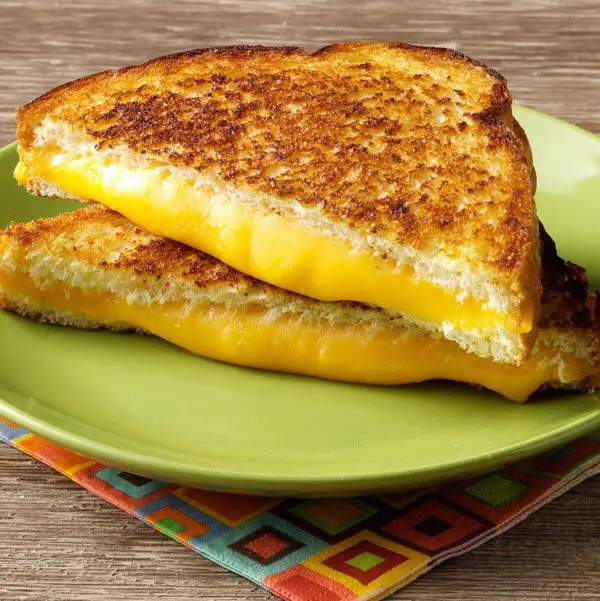 Where do I begin? There are way too many sandwiches to include here, so I suggest taking a look at this list of recipes at Epicurious.
I've done quite a lot of them and they all turned out delicious!
Sausages/Hot Dogs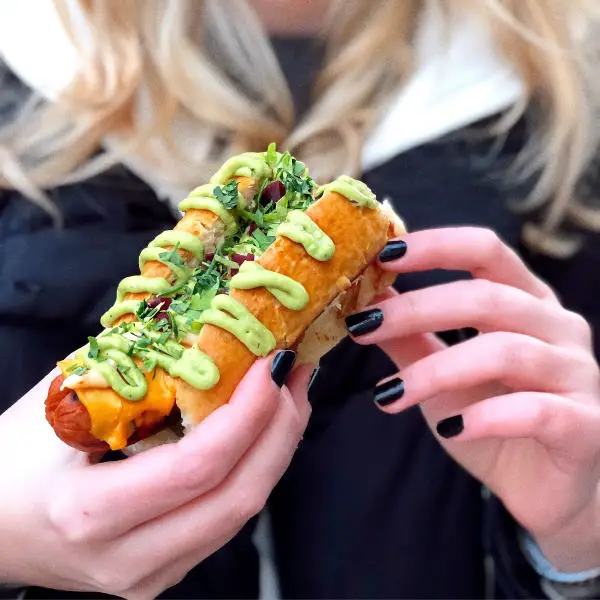 Like bacon, sausages and hot dogs are really simple to make.
You just need to add a squirt of oil to the griddle before placing them.
Don't forget to toast the buns.
One simple and quick hot dog recipe I use quite a lot:
Coat the 'dogs with some oil, peper, and granulated garlic and onions
Cook on medium heat for a few minutes on each side
Spread butter over the inside of the buns and lightly toast them
Add some relish and mustard to the buns
Place the hot dog
Sprinkle some grated cheese and nacho
Hash Browns
They're like burgers, except they're vegetarian.
In its simplest form, hash browns are just grated peeled potatoes.
If you want to get more creative, take a look at this recipe.
Rice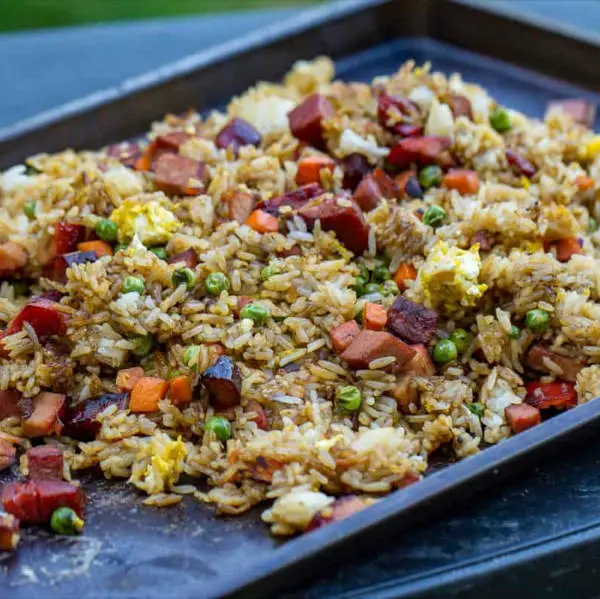 You can make many varieties but the most common one is fried rice.
You need to cook the rice beforehand. I suggest using a rice cooker as they're much more convenient and faster than the traditional stove method.
This chicken fried rice recipe is one of my favorites.
Stir-Fry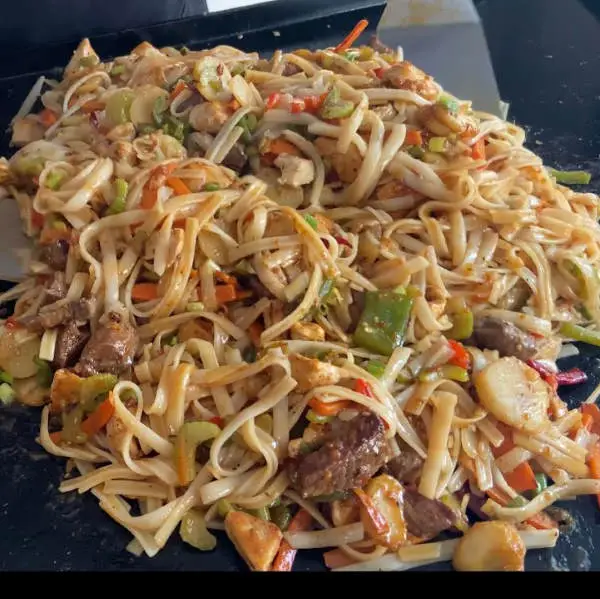 Stir-fry a delicious dish made with a cooking technique of the same name where you fry various foods (noodles, veggies, meat, and fish being the most common) in very hot oil and stir constantly.
It's tasty, nutritious, and includes a lot of different types of food. I make this dish every time I have a craving for Chinese food.
Blackstone has a fast and juicy recipe which I tried many times. I like this one because it's fast, tasty, and there's very little work involved.
Burgers
It's not a barbecue if there aren't any burgers.
They are remarkably simple to make. If storebought, you just preheat the griddle, oil the griddle top, and place the burgers where you cook them for a few minutes on each side.
I prefer to make my own in the style of the traditional Serbian burger called a "pljeskavica". It has much more flavor and texture than any burger I tried.
Try it yourself. For this you'll need:
1 lb (1/2 kg) ground beef

You can substitute it with beef and pork blend but the taste won't the same

1 finely chopped onion, garlic clove, and pepper

Or a tablespoon of each, powdered

1 teaspoon salt
1 tablespoon pepper and cayenne pepper

Cayenne pepper is mainly for the spyciness. Omit it if you don't like it

1/2 teaspoon sodium bicarbonate
A few drops of fizzy water
1 egg
The procedure is simple:
Mix everything thoroughy in a large bowl
Leave in the fridge for a few hours to let the spices do their magic
Cook the patties on the griddle for about 5 minutes on each side, depending on the size and thickness
Toast the buns
Fill it with your favorite toppings

I suggest ketchup, nacho, a slice of cheese, onions, and salad
Steaks
Griddles are a great way to make tender juicy steaks that are ripe with flavor.
You won't get steakhouse sear marks like you would on a grill but still.
Here, it's all in the seasoning. You could cook it as it is but you'll be missing out – a lot.
If you salt and pepper the thing at least an hour before cooking, you'll dramatically improve the flavor.
Depending on how well you want the steak (see this chart for internal temperatures), you need to cook it either a minute or up to 10 minutes on each side.
For thin cuts of about an inch, you should cook them on high. This caramelizes the surface and creates beautiful sear marks.
If the cut is thicker, I suggest reverse searing.
Kabobs
Kabobs (or skewers) are one of my all-time summer favorites.
They're really easy and fast to make and have both meat and vegetables.
You can either buy them pre-made which saves you a lot of time or make them yourself.
I prefer chicken the most because it's the least fatty and this really makes a difference when you're cooking them in the summer during a heatwave.
Most of the time, I combine them with vegetables like:
Onion
Tomatoes
Pepper
Mushrooms
Cucumbers
And sprinkle them with lemon before putting them on the griddle.
Haystacks
To put it bluntly, a haystack is a burrito without the tortilla.
It's not the exact definition but it's pretty close.
I make them a lot for brunch or dinner.
It's time-consuming but there are a lot of different ingredients and therefore plenty of different tastes.
Burritos, Quesadillas, and Other Tortilla-Based Dishes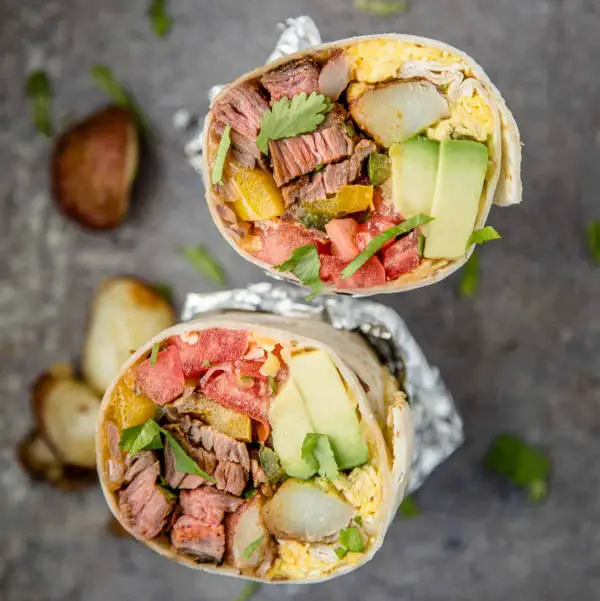 This kind of dish is food wrapped in a tortilla.
You can put anything your heart desires.
Because of this versatility, you can make it on any type of day: from breakfast to dinner, and even a midnight snack.
For breakfast, you can fill a tortilla with eggs, onions, shredded sausage and cheese, and sour cream.
For brunch, make bacon quesadillas.
When it's time for lunch, enjoy a chicken chimichanga.
At the end of the day, try making these quick and low-calorie burritos.
Gyros
Ever had a doner kebab? The gyros are very similar to this except it comes from Greece and not Turkey.
For those who don't know: It's a dish made from roasted meat, vegetables, and yogurt-based sauce wrapped in flatbread (pita is traditional and most commonly used but some folks use naan bread instead).
One quick and tasty gyros recipe is this:
1 lb (1/2 kg) ground beef
1 or 2 peppers and onions
2 minced garlic gloves
Tzatziki sauce
Salt
Pepper
Cumin
Oregano
Juice of 1 lemon
Lettuce
Flatbread
Oil
Mix the beef, spices, seasonings, and lemon juice
Leave it in the fridge for a few hours
Chop the peppers and onions
Fire up the griddle and set the temperature to high
Add a few drops of oil
Cook the meat, peppers, and onions

You can leave the onions and add them raw at the end

Toast the flatbread
Spread the tzatziki sauce, meat, and veggies
Fold it in half like a taco
Crab Cakes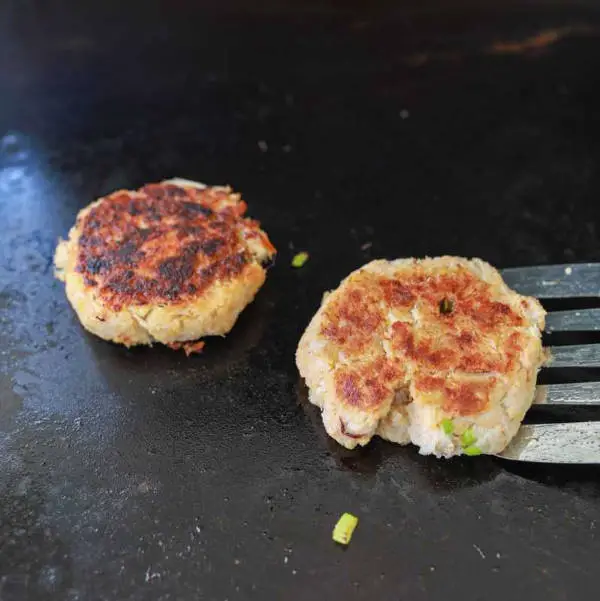 They're like burgers, except they're made from crab meat instead of beef/pork.
This recipe is one of my absolute favorites. Once you'll try it yourself, you'll see I wasn't kidding.
2 eggs
2 tablespoons mayonnaise
1 teaspoon mustard
1 teaspoon Worcestershire sauce
Pinch of salt
1/2 celery, finely diced
2 tablespoons parsley
1 lb (1/2 kg) lump crab meat
1/2 cup bread crumbs
Mix everything together in a large bowl
Make the patties
Place them in the fridge for a couple of hours
Fire up the griddle and set the temperature to medium
Add oil
Cook the cakes 5 minutes on each side
Waffles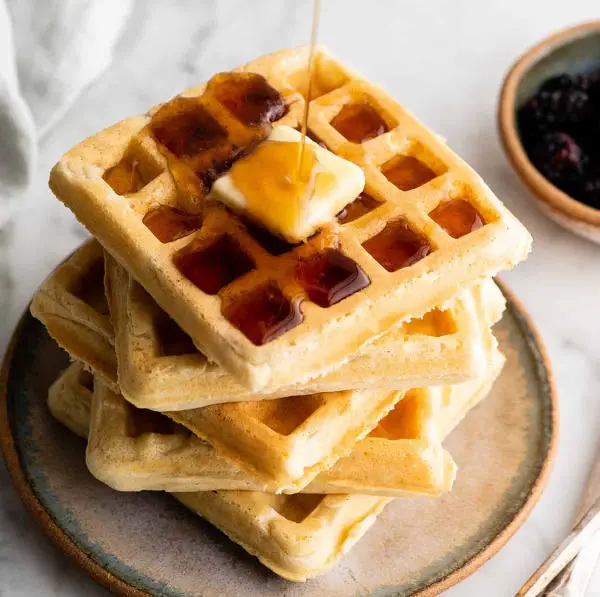 Unfortunately, you can't make waffles from scratch but you can make frozen ones.
You can, however, use a griddle pan for this by simply placing it on top of the griddle. It's not highly effective but it gets the job done.
Jamie Oliver has a simple and tasty recipe that I recommend trying.
Desserts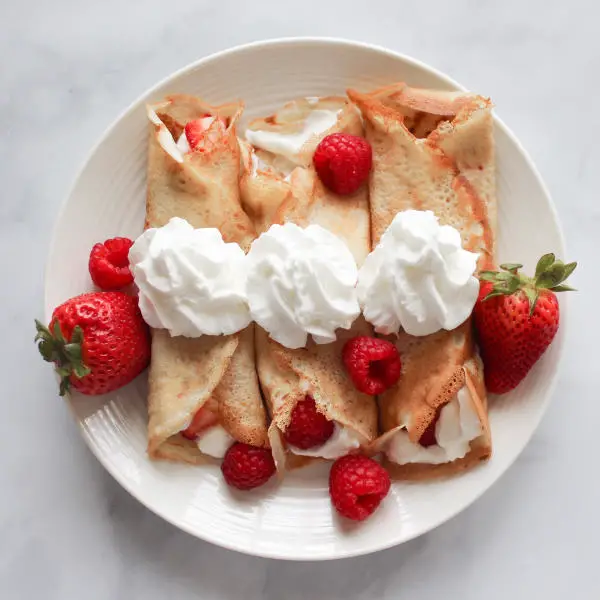 You can make tons of desserts on a griddle and not just the things I've already mentioned.
You can make cookies, cinnamon rolls, pies, and even cakes among other stuff.
Another tasty example that deserves a special mention is this peaches and pound cake dessert. I tried this a couple of times last year in the summer and it was really refreshing. I omitted whiskey because I'm not a fan of hard liquor.
Flatbread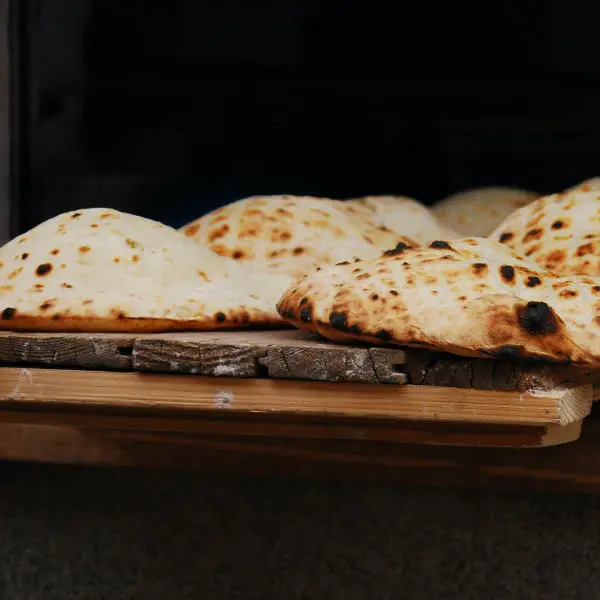 Pita, lepinja, focaccia, yufka, you name it. You can make any of them on your Blackstone (or any other griddle).
I'll include lepinja here because it goes hand-in-hand with the "pljeskavica" burger mentioned above:
1 lb (1/2 kg) flour
1 1/2 cup water
1 packet (0.32 oz) dry yeast
1 tablespoon salt
2 tablespoons oil or lard
Additional flour for dusting
Mix warm water and yeast
Set aside for about 10 minutes to activate
Combine all of the ingredients in a large bowl
Knead the dough
Leave the dough alone for an hour
Cut the dough and roll out to form a thin circle
Leave them for another 15-30 minutes
Preheat the griddle on high
Add a bit of oil
Place the circles and cook them for a couple of minutes on each side
Chicken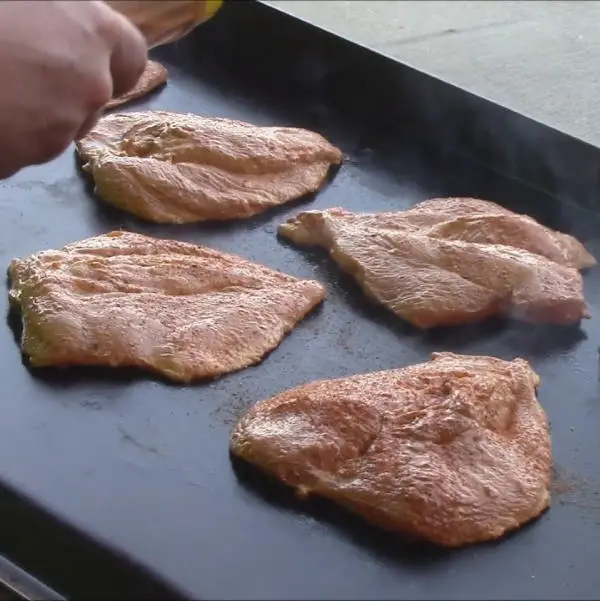 You can try almost every chicken recipe your mind comes across.
One obvious exception to this case is a whole uncut chicken (you'll just have to cook that beer can chicken elsewhere, sorry).
Cooking chicken is not that different from a steak:
Marinade it
Leave it for an hour or so
Preheat the griddle to medium or high
Add some oil
Cook it for a couple of minutes on each side

The cooking time mainly depends on the cut
Spicy lovers should take a look at this spicy chicken breast recipe. It's easy, quick, and not that hot so most people can try it as well.
Fish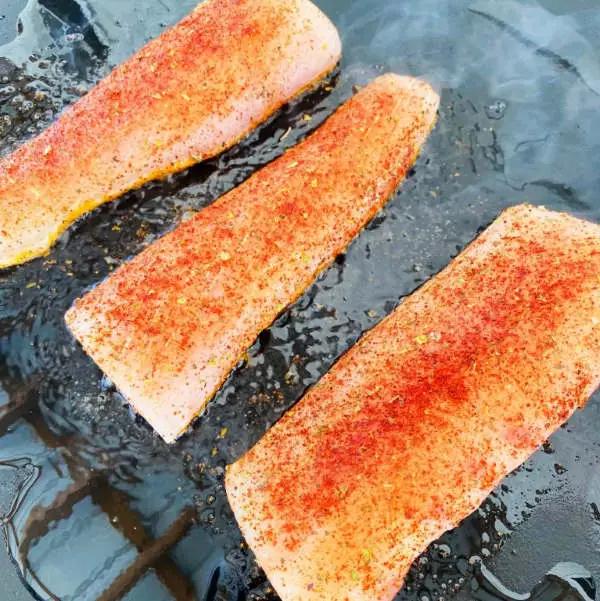 There's nothing like cooking a fresh fish right after you caught it.
If you want to cook a whole fish, I suggest getting a prepared one (unless you like doing this sort of thing – I don't) because you'll save plenty of time and energy.
Making fillets and fish steaks is quite similar to making chicken: just season it and throw it on the griddle.
Blackstone offers tons of tips and tricks on griddling (I don't know if this is a proper word but if it isn't, it should be), picking, seasoning, and preparing fish. Check out their guide if you wish to master cooking fish on the griddle.
Pizza
It sounds a bit strange: cooking something that needs to be cooked from both sides on just one side and without having to flip it.
But it is possible – and darn good.
The trick here is to use thin dough (like flatbread), little topping, and medium heat.
You can make a pizza directly on the griddle surface, there's no need for any special accessories like pizza stones.
Griddles Are Highly Versatile
Compared to a grill, griddles can cook much, much more foods.
You can make virtually anything on them (breakfast, lunch, dinner, brunch, you name it), making them cheap but very effective outdoor kitchens.
What foods do you cook often on the griddle and which ones less?