The market is full of high-end gas grills: some are great, others are not.
Finding the right one for you is quite a time-consuming task: you have to check out all the brands, read their reviews and the reviews of their products, ask others on forums for any defects the manufacturer is hiding, etc.
I did this job for you and gathered 4 of the best gas grills for under $500.
Read the in-depth reviews and the buying guide below. Your search for the best grilling companion ends here.
What is The Best Gas Grill For Under $500?
Top 4 Best Gas Grills Under 500 Dollars
Weber 49010001 Spirit II E-310 3-Burner Natural Gas Grill
My personal top choice. This grill is the winner of this list because I used it almost every day last summer and it never failed me. Even when I made burgers last week it grilled flawlessly just like the very first time I bought it.
Big Enough for 10-15 People
Having a total cooking area of 529 square inches, worrying about feeding your friends and family at once will be a thing of the past.
The cook box is divided into 2 racks.
The bottom rack (primary cooking area) is 424 square inches and the upper one (warming rack) is 105 square inches.
To put the size into perspective, it holds up to 15 burgers.
The grates are cast iron, enameled in porcelain for even heat distribution, easier cleaning, increased durability, improved corrosion resistance.
30,000 BTUs of Raw Cooking Power
It features 3 reliable and individually controlled stainless steel burners.
GS4 High Performance Grilling System
The things that we take for granted in a gas grill (like the burners and the igniter, for example) have been heavily overhauled and much improved by the folks at Weber.
These improvements include:
Infinity™ Ignition
Stainless Steel Burners
Flavorizer® Bars
Grease Management System
Infinity Ignition System
Instead of a regular Piezo igniter that has a tendency to break sooner or later, the ignition system in this grill has been upgraded into a more reliable and more durable one.
The name itself (Infinity) is quite an interesting play on words as this thing is designed to last forever, i.e. infinity.
Some of these upgrades are:
The battery compartment has been placed into a more convenient place
The wires and electrodes are coated that makes them weather- and heat-resistant.
Flavorizer Bars
It's not a Weber if it doesn't come with flavorizer bars.
Most of the drippings that fall down are vaporized by these bars, giving your meals a smokey flavor.
Easy and Simple Grease Management
What doesn't get vaporized, falls into the grease management system below. When you're done barbecuing, you just pull out the drip tray and empty it.
It doesn't get simpler than this.
Compact
It has 2 side tables.
The left one is foldable. A great feature if you intend to cook in tight spaces like decks, patios, and even balconies.
Generous Warranty
The whole grill (legs included) is backed up by a long 10-year warranty.
iGrill 3 Compatible
iGrill 3 is a set of meat probes that you can connect to your phone.
You have to purchase this add-on separately for about $100.
Additional Features
6 tool hooks
Built-in thermometer
Open cart design
10 feet long hose
Also available as LP
What You Should Be Aware Of
I must admit, it took me quite some time to assemble this grill. It wasn't difficult or anything, just time-consuming.
When I opened the box, I immediately noticed a large dent on the lid, and one of the legs was bent. A few other grillers also reported something similar so don't be surprised if your grill comes damaged.
Pros
Large cooking area
10-year warranty
Available in both propane and natural gas options
Durable
Flavorizer bars
Easy grease management
Cons
May arrive damaged
Time-consuming assembly
Char-Broil 463375919 Performance 4-Burner Liquid Propane Gas Grill
The Char-Broil 463375919 Performance is a gigantic liquid propane grill that's tailor-made for medium to large BBQ parties.
A Cooking Behemoth
This 4-burner gas grill comes equipped with a 575 square inches large total cooking area.
Just like the Spirit II E-310 above, this one also features a two-rack cook box.
The main grilling area is 425 square inches large, the grates are porcelain-enameled cast iron, and is big enough for 20 burgers.
The warming rack has 150 square inches which is more than enough for a few buns and veggies.
A True Fire Starter
With 4 individually controlled stainless steel top-ported burners outputting 9,000 BTUs each (36,000 BTUs in total), you'll make quick work of large batches of food.
What's more, the grill also features a 10,000 BTU side burner that functions as a side table when not in use.
It has an electronic ignition system activated by the front button.
Shiny and Durable
The entire grill is made from shiny and polished stainless steel which makes it look really sleek and modern.
Plenty of Prep Space
If the side shelves aren't enough for you, there's additional space under the grill in the enclosed cabinet.
Other Features and Notable Mentions
The lid has an accurate and easy-to-read thermometer.
Instead of 2 wheels, this one has 4, making transportation much easier.
The Cons
The major issue with this grill is that it has the same issues that plague many others.
It will rust if left exposed to the elements (get yourself a grill cover).
Expect a dent or scratch when the thing arrives at your doorstep.
It appears the factory has quality control issues because I was missing a few nuts and bolts.
But this is Char-Broil, so take advantage of the warranty and get an exchange.
Pros
Easy and fairly fast assembly
Ample cooking and prep space
Durable
Super easy to clean
Excellent temperature control
Attractive look
Cons
Cannot be converted to natural gas
Prone to rust
May arrive damaged
Char-Broil Performance 650 6-Burner Liquid Propane Gas Grill
This massive behemoth Char-Broil Performance 650 is the Cadillac of gas grills with 6 separately controlled burners and a gigantic cooking area.
Size Matters!
If you really want to show off and/or host huge BBQ parties, this is the one.
The primary cooking surface is bigger than the combined cooking area of the 463375919 Performance above: 650 square inches.
You can place up to 30 burgers at once on it.
In addition, it also comes with a warming rack that's 280 square inches large.
Add both together, and you get a total cooking area of 930 square inches.
Powerful Burners, Ideal for Making Steakhouse Searmarks
This grill comes with 6 burners that output 60,000 BTU in total.
The far right one is even a sear burner that is perfect for high-heat direct cooking. It's not infrared, though, but it still makes beautiful sear marks.
If this is not enough for you, then fire up the 10,000 BTU side burner. This one is perfect for making soups, sauces, and side dishes. I made my homemade BBQ sauce several times on it and it was done fairly quickly, in 5 minutes.
Built for Punishment
The entire grill (excluding the grates, which I'll get into in a minute) is made from durable thick heavy-duty stainless steel that's fairly resistant to the elements.
It's not completely immune to it, so still cover it.
Plenty of Storage, Work, and Prep Space
Gone are the days when you have to place a table near the grill so you can have everything you need on hand.
The grill has 2 large side shelves (including the side burner when it's not in use) and a huge 2-door cabinet.
Easy Grease Cleanup
All of the excess grease falls into a grease pan under the grill which you can easily remove.
It's porcelain-coated for increased durability and even easier cleanup.
Other Worthwhile Mentions
Having 4 wheels instead of 2, moving the grill becomes much easier and simpler. This is a life-saver in this case considering its massive size and weight (128 lbs / 58 kg).
The lid has an integrated thermometer.
Although the ignition system is pretty basic, it still does the job. It's also durable and reliable.
Take Your Time Putting It Together
It took me about 2 hours and a half to assemble it by myself.
There's a lot of pieces.
Despite this, everything went smoothly and without complications.
What Needs Improvements
Having a massive cooking area and many burners comes with its disadvantages. The main and most obvious one is the size. This grill is massive and quite heavy. It won't fit small spaces and is specifically made for large backyards with room to spare.
This grill may arrive damaged, bent, or banged up beyond repair. This not only happened to me but also to several other grillers.
Pros
Huge cooking area
Ample prep and storage space
Durable and sturdy
Straightforward assembly
Easy to use and clean
Cons
Time-consuming assembly
May arrive damaged
Bulky
Chef's Grill RT2417S-1 3-Burner Liquid Propane Gas Grill
The Chef's Grill RT2517S-1 is a freestanding medium-sized gas grill that's perfect for small spaces like patios, decks, and balconies due to its compact size.
Ideal for Small Patios
This grill is ideal for tight spaces because of its compact size of 51.3 x 22 x 46 inches / 130 x 56 X 117 cm, relatively low weight of 75 lbs / 34 kg, and foldable side shelves.
Don't Be Fooled by Its Compact Size
Despite its small size, it boasts an ample total cooking area of 694 square inches.
The primary cooking surface is 552 square inches large while the warming rack is 142 square inches.
It also packs quite a punch with its three 12,000 BTU burners that output 36,000 BTU in total.
Completely Stainless Steel
The whole grill (grates and burners, too) is made from stainless steel.
The body and firebox are powder-coated and the grates are 7 mm thick.
Super Easy to Clean
Cleaning the grill, including the inside, is fast and easy.
When cleaned on a regular basis, you only need to spray it with your favorite degreaser and wipe the grime away.
All of the oils, grease, and debris fall into a separate grease pan which you can easily remove and clean separately.
A Grill Cover Is a Must
Most of the grill is made from 430 stainless steel which is more susceptible to rusting than the "regular" 304. But this is only true when it's directly exposed to the elements.
That's why you must cover it with a durable grill cover and store it in the shed, garage, or similar enclosed space.
Pros
Compact
Ample cooking area
Foldable side shelves
Great temperature control
Even cooking
Light-weight
Easy to assemble and clean
Cons
Prone to rust
No side burner
What Should I Look For When Buying a Gas Grill?
The most important questions I want to answer when considering a gas grill are:
Where am I going to be using it?
What will I be cooking on it?
Where to Grill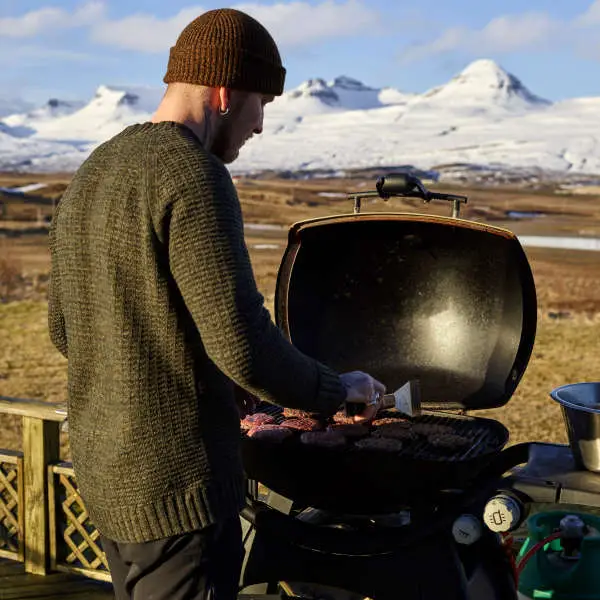 A lot of people use their gas grill exclusively at home. This is why there are a lot of stationary and bulky models.
But some folks like campers, picnickers, and others who like to bring along their Bar-B-Que grill, a portable option is a much better solution.
Portable gas grills can be used at home or on the road, depending on the design and available cooking area.
While smaller grills will be more challenging to use with a crowd, the ability to take your grill along with you is very attractive for true grilling devotees.
What to Grill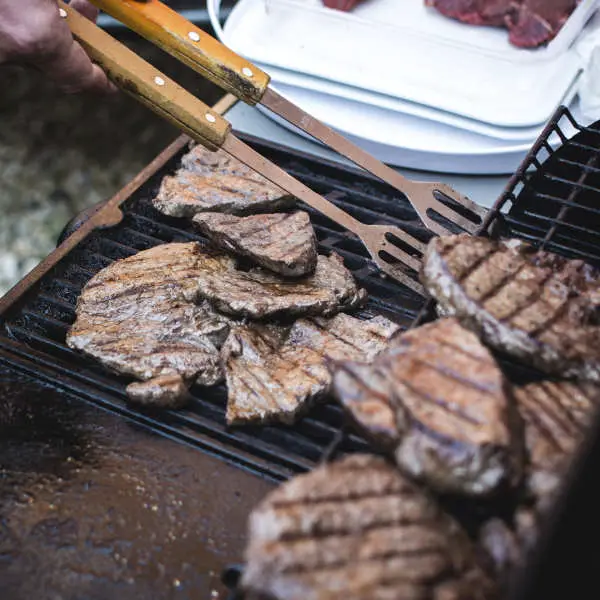 There's a big difference between grilling a couple of thick, juicy steaks and a rack of ribs.
The grill's burners will determine how much you can cook at one time as well as the best method of cooking.
Modern gas grills offer heating elements that distribute heat more evenly than an open flame and can cook with greater accuracy and control.
If I'm looking to fire up some hamburgers and hot dogs, I'm not going to need a high degree of sophistication to accomplish the task.
However, if I'm looking to wow my guests with some grilled swordfish or, perhaps, a special medley of grilled vegetables, the old, traditional gas burner under a grate might not work too well.
Grills Are Not Created Equal
The variety of gas grill manufacturers includes companies that are well-known as well as some lesser-known brands.
Each manufacturer follows strict safety and usage guidelines to ensure consumers can enjoy their grilling experience without worry or concern for their safety.
The main areas of construction and design focus upon:
The Type of Metal Used for the Body
Aluminum, steel, and ceramic are used for grill enclosures.
Each has its own benefits and features with aluminum grills being the lightest in weight and easiest to move around or carry along to go camping.
Steel and ceramic construction tend to increase the overall weight of the grill making it less portable.
Aluminum doesn't rust while steel will if it is not protected from the elements.
Heat Distribution and Flare-ups
Infrared surfaces allow for better control over the food being grilled.
Searing, browning, and gentle warming can take place at the same time with greater control on an infrared grill compared to a traditional gas grill.
Cooking Area
This determines how long your guests will be waiting for their meal.
Smaller areas require multiple waves of cooking while large ones require additional fuel to heat, whether you're using that part of the grill or not.
Determining the optimum size will be dictated by the answers to the first 2 questions of where and what to will grill.
More important than BTUs is the design and burner configuration that determines the cooking efficiency.
Other Factors
I think about other things like rotisserie attachments and fuels that can be used like Propane, Natural Gas, or Pellets.
There's also the decision between having a built-in grill that's a permanent part of the patio or a grill that rolls on wheels so you can set up next to the swimming pool when it's sunny outside or under the deck cover if the weather isn't agreeable.
I also consider product warranty and customer support when looking at a new grill, because you never know what might go wrong.
All in all, I think with a few minutes' consideration, the perfect gas grill can be yours (and your guests) to enjoy for years to come.
Barbeque Experience Made Better
I picked these 4 best gas grills for under $500 for you to consider but which to choose?
For someone living alone, a couple, or a small family, the Chef's Grill RT2517S-1 or the Weber 49010001 Spirit II E-310 might be a perfect fit for your budget and style.
The Char-Broil Performance 650 would be a great choice for a griller who loves hosting parties.
The Char-Broil 463375919 Performance is something in the middle – a great choice for medium-sized parties.
Do you have a natural gas line at home?