If you love cooking as much as I do, then you will agree that chopping boards are one of the most important tools in any kitchen. They are versatile and can be used for most chopping jobs.
Naturally, it is essential to know everything you can about them so that you always make the right decision when buying.
In addition to reviewing 8 of the best raw meat chopping boards, this article will also give you a brief overview of what to consider when buying them.
Top 8 Best Cutting Boards For Raw Meat
What Cutting Board Is Best for Raw Meat?
Best Chopping Boards for Raw Meat
Out of hundreds of cutting boards, only 3 were best suited for cutting raw meat.
Index Plastic Cutting Board Set with 4 Matching Knives and Storage Case
Best Plastic
Designed to prevent messes of different food types
Index-style tabs on boards and color codes on the knives
4 color-coded knives: 7 chefs knife, 3.5 paring knife, 6.5 all-purpose knife, 5 fish knife
Board size: 12 x 8 inches, Case size: 13.25 x 9.25 x 4
Cutting boards - dishwasher safe. Storage case - wipe clean with a damp cloth. Knives - hand wash only
For the ultimate kitchen experience, I consider this cutting board set with knives not only the best cutting board for raw meat but also the best cutting board for cutting everything.
The Swiss Army Knife of the Kitchen
This set is made for anything and everything you wish to cut, chop, dice,… including raw meat.
There are 4 cutting boards and each is color-coded for fast identification:
Green is for veggies
Blue is for fish
Red is for raw meat
White is for cooked food
Each also has a tab with the food-type icon so you can pull it out from the case with ease.
All of them are the same size: 13.25 x 9.5 inches.
To make this product even more versatile, the Joseph Joseph included a small but useful set of knives which are also color-coded:
All of this is housed in a folder-like case that not only transforms your counter into an office but also makes the set easy to carry and store.
Ideal for Kitchens With Small Counter Space
Because of its versatility and compact design, it's made for small kitchens where space is at a premium.
The whole thing is just 13 x 4 x 12.5 inches.
Built to Last Boards
All 4 boards are made from durable and thick plastic that's BPA-free and dishwasher safe.
The edges are sloped to catch crumbs and liquids.
Pros
Versatile
Knife set included
Amazing look
Durable and dishwasher-safe boards
30 x 20 Inch MASSIVE XXXL Extra Large Bamboo Cutting Board
Best Bamboo
MAKE SURE YOU UNDERSTAND HOW LARGE THIS IS BEFORE ORDERING
THE KING OF MEAL PREP – LIGHTWEIGHT YET MASSIVE WITH HANDLE GROOVES
FREE FROM formaldehyde, chemicals, solvents, adhesives, stains, lacquers, sealants, and 100% BPA Free
4oz CORNER SPOUT & DEEP JUICE GROOVE
GORGEOUS ECO-FRIENDLY BAMBOO
1 YEAR WARRANTY
When you're looking for size, this XXXL bamboo cutting board by Greener Chef wins the race by a mile.
It's Huge
The first thing you'll notice is its enormous size of 20 x 30 inches.
To put things into perspective, you can carve 2 whole large turkeys on it.
For a large home with a big family, or if you host parties often, this board is a must-have. If you're living alone, it's a bit of an overkill.
Deep Grooves With a Deeper Reservoir
Cutting large chunks of meat means a lot of juices. This results in a huge mess and could mean a cleaning disaster when spilled.
The designers at Greener Chef are very aware of this and surrounded the board with deep and wide grooves so you can cut with peace of mind.
Safe, Durable, and Healthy
It's made from thick (0.75 inches to be precise) raw moso bamboo that's free from not just BPA, but also many harmful chemicals that might leech their way into your food while cutting, including:
Dyes
Solvents
Adhesives
Stains
Sealants
Lacquers
Formaldehydes
Because it's all-natural, it's also completely environmentally friendly.
Bamboo is also a soft material, meaning your knives will hold their sharpness for a very long time.
Pros
Lots of space to chop and maneuver
Deep and wide groves
Durable
Well made
Cons
Hard to clean because of its sheer size
Daddy Chef End Grain Butcher Block Wood Cutting Board
If you're looking for durability, then look no further as the Daddy Chef's butcher block is one of the toughest cutting boards on this list.
What Is a Butcher Block?
In short, a butcher block is a larger and thicker version of a cutting board.
As the name implies, it was and is used by butchers, making it ideal for cutting raw meat.
Non Slip Feet
This one includes 4 silicone non-sliding feet at the bottom so you don't have to worry about slipping during cutting.
Also, these feet elevate the board a bit (0.2 inches) above the countertop, meaning the board won't leave any scratches or other marks on the countertop.
Versatile
Besides cutting raw meat, you can also cut other things like:
Fruit
Veggies
Cheese
Bread
Salads
And other things.
Once you're done cooking, just grab it at the handles and use it as a serving tray.
Pros
Solid
Thick
Durable
Knife-friendly
Non-slip
Cons
Comes unoiled
No Juice groves
Notrax Restaurant Rubber Cutting Board
This is something you don't see every day: a cutting board made from rubber.
Why Rubber?
There are several reasons why rubber is considered better than wood and plastic:
It's completely non-porous
Ages well (can last forever)
Remarkably easy to clean
No-slip
Very soft material
The Most Knife-Friendly Board
Out of all of the boards in this list, your knives will stay sharp the longest on this board.
Rubber is extremely soft, even softer than bamboo.
Slip-Free
Just like your car and/or your bicycle won't slip off the road, this board won't too.
The reason is that rubber isn't slippery.
Germ-Free and Easy to Clean
Rubber doesn't absorb any liquids, even when scratched. The germs will only stay on the surface which you can easily get rid of with regular soapy water and a sponge.
It's not dishwasher safe, however.
Can Be Used Over the Sink
If you have ever touched a tire before you've noticed it's soft and malleable.
Although this board is made from the same material as a tire, it's stiff and hard, meaning it won't bend if you place it over the sink or counter.
Pros
Strong and stiff
Durable
Non-porous
Easy to clean
Knife-friendly
Cons
Dishwasher will destroy it
TeakHaus Edge Grain Teakwood Cutting Board with Hand Grips & Juice Canal
If you love wood more than other cutting board materials, then this edge grain 15 x 1.5 x 20 inch teak wood cutting board is just the right choice for you.
Made From Special Type of Wood
This particular cutting board isn't made from regular wood but edge-grain teak wood.
At first, this doesn't sound like anything special but in reality, it is. Teak is very resistant to moisture and is full of natural oils. The meat's juice won't be able to penetrate the board's surface and turn it into a cesspool of bacteria and diseases.
Features
It has juice canals and hand grips for easier carrying around the kitchen.
Hand Wash Only
Like other wooden cutting boards, this one isn't also dishwasher safe.
Pros
Reasonable size
Beautiful look
Non-porous
Durable
Has juice grooves
Cons
The grooves are difficult to clean
Thirteen Chefs Commercial 6 Multiple Color Plastic Cutting Boards Set
Nothing does the work better than these commercial plastic cutting boards. They come in a pack of 6 pieces to ensure there is always something to use for any cutting activity.
Versatile
If you often find yourself cooking for large groups of people, then you need to invest in cutting boards that are convenient for all-time use.
Unlike other boards, these have color variations to avoid contamination while cutting. Additionally, the different colors make it easy to designate one to just cutting raw meat.
In my kitchen, I comfortably pick the red one and be sure that my meat will cut at ease.
Super Easy to Clean
Another interesting feature of these boards is that they are dishwasher safe. After using them, it only takes a few minutes to clean them for the next job.
When I feel like I don't have the time to clean them with a cloth separately as I would with wooden ones, I just place them in the dishwasher with other dishes and still feel comfortable using them for the next cutting adventure.
Made for Punishment
Durability is another added advantage of these boards. They are designed using a multi-process injection molded manufacturing process.
This method guarantees heat tolerance and superior durability.
Additionally, the simple design guarantees that the board is strong and will withstand numerous kitchen accidents.
Non-Slip
They have a surface that is lightly textured to prevent slipping while preparing your meals.
Pros
6 different color-coded boards
NSF Certified
FDA Approved
Dishwasher safe
Made from food-friendly and durable plastic
Cons
Due to their large size, they don't fit into some dishwashers and sinks
Large Walnut Wood Cutting Board by Virginia Boys Kitchens – 17×11 With Juice Drip Groove
While sampling various boards, I come across this walnut wood cutting board from Virginia boy's kitchen and the experience has never been the same. Walnut wood has an incredible design, and it serves as a great piece in any kitchen.
Eye Candy
The board's elegant chocolate color with seasoning makes a good serving platter, and it looks presentable on any table.
Knife-Friendly
Another challenge of investing in raw meat cutting boards is getting a product that will maintain your knife's blade. With this one, the search for a knife-friendly board was over. It has an amazing softness that guarantees to keep the knife's blade in shape all through.
The soft, porous, and straight grains provide an ideal cutting surface and guarantee to retain the blade's sharpness.
Great Gift Idea
Additionally, the board serves as a good gift for any occasion. Whether it is for a wedding, housewarming party, or looking for a gift for mother's day, walnut wood will fit any description.
Additional Features Worth Mentioning
It has a sturdy design and is durable, something that will make it look awesome in any kitchen setting.
The fact that it comes in several shapes and sizes also makes it convenient for any kitchen and family.
Pros
Sturdy and durable
Nice looking
Optimal size
Has juice grooves
Perfect idea as a gift
Cons
Takes some time to season it
Personalized Cutting Board From Blue Ridge Mountain Gifts
Personalizing your kitchenware gives you a sense of belonging and gives you a pleasant feeling every time you are in the kitchen. This is what I have discovered with this personalized cutting board.
Makes an Amazing Gift
I received this board as a gift from a friend, and since then, it has been my all-time chopping board and serving platter.
Engrave Your Most Precious Memories on It
The best thing about this board is that it has your name on it and the occasion through which it was given. Therefore, every time you draw it for use, it reminds you of the event and gives you a connection with the person who gave it to you.
Keeping a memory of a day and showing your love to people who matter is a desire everyone has. Nothing does that better than having a board specifically engraved with details that strictly focus on the occasion.
Many Options to Choose From
Depending on preference, the board comes in 3 different colors ranging from walnut, cherry, and maple. The color variations take customizing to the next level and give you the opportunity to explore your expectations.
Additionally, the different colors guarantee that you get a board for any job and it prevents contamination while in the kitchen.
Made to Last
Durability is another effective feature to look for while customizing a cutting board. With my experience with these boards, it is evident that they are strong and neatly designed to withstand heat and kitchen vigorous uses.
Pros
Laser engraved personalization
Perfect as a gift
3 types of wood to choose from
Durable
Cons
A bit thin for my standards
What to Look For
What Makes The Best Cutting Board For Raw Meat?
The first thing you must do when buying one is to pay close attention to the material used to make the board.
What Type of Cutting Board Is Best for Raw Meat?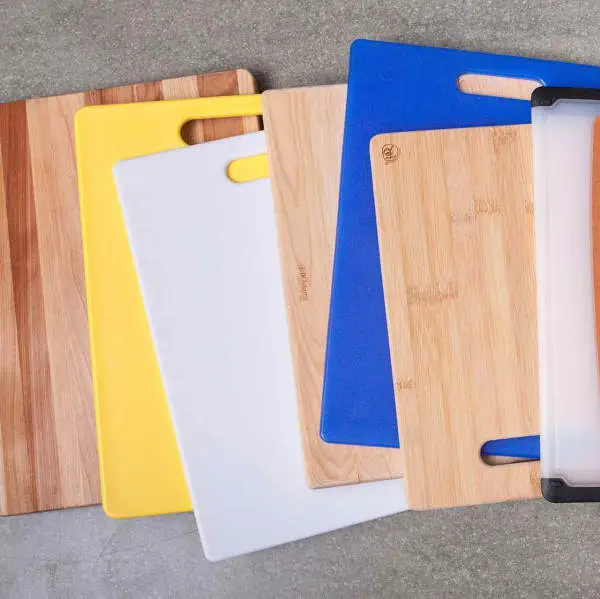 For raw meat, avoid glass and some types of wood that absorb moisture.
Is It Better to Cut Meat on Wood or Plastic?
Some advise that you go for plastic when choosing raw meat boards. This is because plastic is dishwasher safe and thus easier to sanitize.
However, the USDA recommends that you use bamboo because it is less porous and firmer and will not absorb any moisture from the meat. It also is very resistant to scarring from knives.
The New York Times, on the other hand, suggests using cutting boards made from rubber because they're highly resistant to bacteria and are durable, among other reasons.
Butchers usually cut their meat on massive cutting boards called butcher blocks which are made from wood.
As you can see, everyone tells differently: some prefer plastic over wood, while others swear by wood. In the end, all of these materials are just as good just as they are bad.
You'll be fine cutting raw meat on plastic, wood, bamboo, or rubber as long as you practice good hygiene.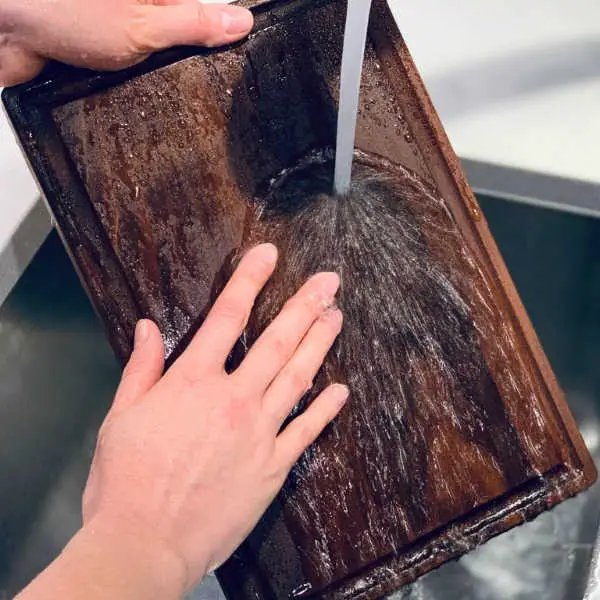 Tips and Tricks on Cutting Raw Meat and Cutting Boards
Can You Cut Raw Meat on Wood Cutting Board?
There's nothing wrong with cutting raw meat on wooden cutting boards as long as you avoid cross-contamination and thoroughly clean and disinfect them after use.
How Do You Clean a Wooden Cutting Board After Cutting Raw Meat?
The Academy of Nutrition and Dietetics recommends firstly cleaning it with soap and hot water and then disinfecting it with chlorine bleach. Lastly, rinse.
While this is an effective way of cleaning, most of us don't have the time or the bleach for doing so.
Generally, a simple cleaning with hot soapy water is more than enough.
But if you really want to clean and care for yours but can't or don't want to use bleach, see this video below:
Can You Get Salmonella From a Cutting Board?
While it is technically possible, the reality is different.
You'll actually get salmonella if you drink the juice from the board.
As long as you regularly clean your board, you don't need to worry about it
When Should You Throw Away a Cutting Board?
When you see obvious damage. These include:
Deep scratches or grooves
Cracks
Discoloration
Dents
And others.
Can You Use the Same Cutting Board for Meat and Vegetables?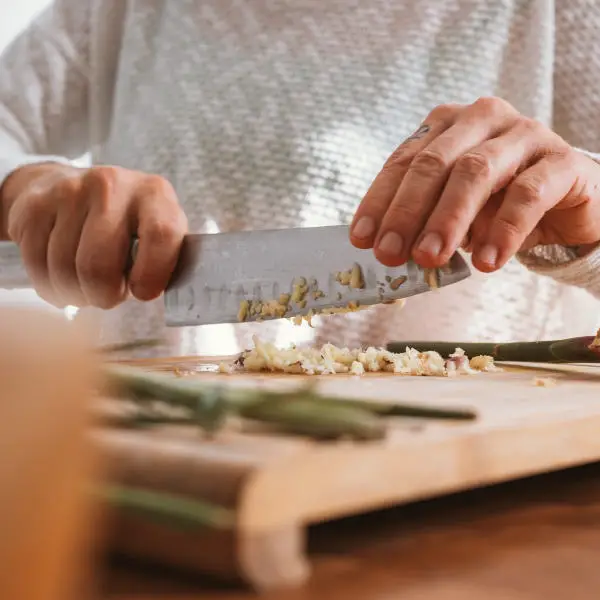 While it's best hygienic practice that you use a separate cutting board for meat, you can still cut both meat and veggies on the same board. Just avoid cross-contamination.
In most cases, both of these ingredients will go in the same pot.
What Type of Cutting Board Is Most Sanitary?
The award for the most sanitary board goes to Joseph Joseph and Thirteen Chefs.
Both products are sets that include separate cutting boards for different occasions for avoiding cross-contamination.
About Butchers Blocks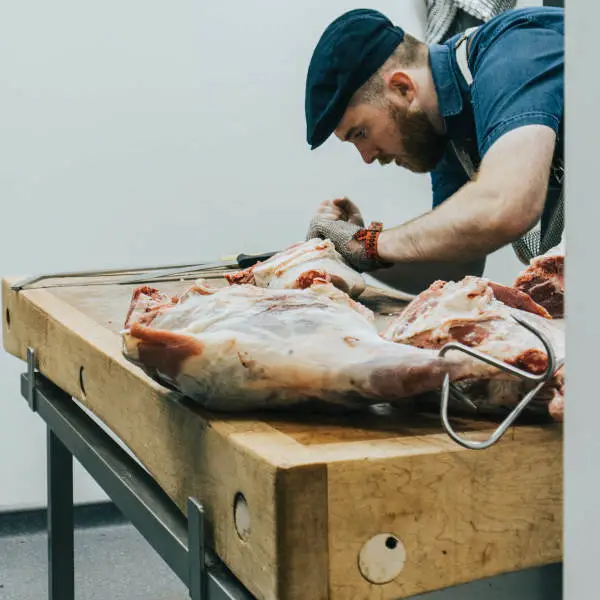 What Is the Block for a Butcher?
It's a heavy-duty wooden chopping board that butchers and meat processing plants use for cutting meat but are becoming more and more popular in home use.
Why Do Butchers Use Wooden Blocks?
Contrary to popular belief, wood is more hygienic than plastic. Also, plastic wasn't readily available in the past and wood was the only suitable material for chopping and cutting.
What Are Butchers Blocks Made From?
Tough and thick wood. In most cases, they are made from:
Can You Cut Raw Meat on Butcher Block?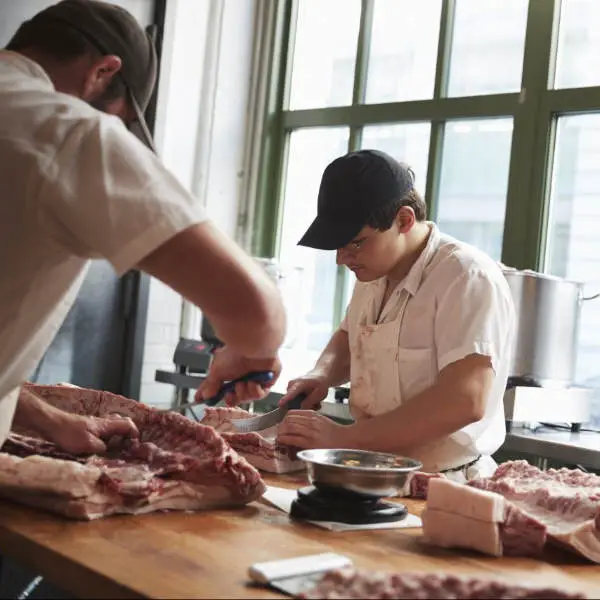 If butchers do it, so can you.
Are Butcher Blocks Sanitary?
If you clean them regularly, yes.
They do hold a lot of germs because they're porous, but so is your toothbrush. Not all germs are bad and because a cutting board or a butcher block contains some, it doesn't mean that it poses a health risk.
Are Butcher Blocks Worth It?
Definitely.
Butcher blocks will last much longer than regular wooden cutting boards because they're thicker, better constructed, and used from better-quality wood.
Remember, butchers cut and chop meat every day for hours and hours. That's why butcher blocks are made for punishment.
Final Word
It is essential to buy a chopping board that is easy to clean. The last thing you want is contamination that will cost your family's health.
Making the right purchase choice is critical because, with proper maintenance, the cutting board will last for years.
That is why you need to consider buying these cutting boards and from the products highlighted above, you will definitely find the best cutting board for raw meat.
Do you prefer wooden or plastic cutting boards? Tell me why in the comments below.