Espresso is to coffee what symphonic music is to a marching band; they may do the same thing but they do it in vastly different ways with very different results. Espresso machines have been around since the late 1800s and have evolved into a variety of technologies and methodologies.
Many coffee lovers feel like Espresso is an enigma, wrapped in a conundrum, and surrounded by mystery. It's not, but it seems that way because of the fervor of its followers. I am one of them but I'm not ready to shell out a couple of hundred, or even a few thousand bucks for a morning cup of get-up-and-go.
Best Espresso Machines Under $100
Top-rated Budget Espresso Makers
Call me frugal or call me cost-conscious; in either case, the word "cheap" quickly enters the picture and it's accurate to say that I don't want to spend any more than I have to in order to get what I want.
And I wanted a good Espresso machine on my kitchen counter for less than $100. Sounds impossible? Not by a long shot. It turns out there are some really good Espresso machines available for this budget.
Here's my list of the five best candidates to consider.
Sowtech 4-Cup (240ml) Espresso Maker With Steam Milk Frother
Sowtech 4-Cup (240ml) Espresso Maker With Steam Milk Frother
EASY TO USE - Single switch knob with indicator light for easy operation with function transform-coffee/steam selector and on/off. Also, accurate temperature control can ensure the best taste

COMPACT DESIGN - The stainless steel compact design of the espresso coffee machines saves lots of space, smaller and lighter. The removable, washable drip catcher collects coffee drips and keeps brew space tidy, best for home and kitchen use

YOUR FOAM, YOUR WAY - Coffee espresso machine with frothing arm makes creamy froth to top off your cappuccinos and lattes. Velvety smooth espresso will make mornings so much better

BREW LIKE A PRO - Powerful 3.5 bar pressure espresso coffee maker can make 1-4 cups (240ml) espresso coffee and rich smooth cream. Easy-pour glass cup is clearly marked to serve the perfect amount every time, delivers a truly rich espresso in just seconds

WHAT YOU GET: 1 x Steam Espresso Machine, 1 x Filter and Funnel, 1 x Spoon, 1 x Carafe, 1 x Manual. Tips: Screw tightly all the parts for safety using
This little jewel is like having a barista sitting on the kitchen counter. The Sowtech Espresso Maker has a 4-cup capacity which means a couple of people can have a nice cup together. It has some great features:
4-Cup capacity
Easy pour Glass Carafe included
Accurate temperature control
Detachable filter
Removable Frother Nozzle and Steam Tube
Small footprint – 7.2″ x 9.0″
Stainless steel exterior surfaces
This compact Espresso machine acts like one of its bigger brothers, making Espresso without the huge expense and complicated equipment. The Frother Nozzle works perfectly to make a nice, foamy topping that perfectly compliments the Espresso flavor. With a price of less than $100, I don't see how you can go wrong with this excellent Espresso machine.
Mueller Espresso Machine
Mueller Espresso Machine
COMPATIBLE: Mueller Ultima is designed to fit ALL 1.0 & 2.0 pods as well so you can have your cup of coffee the way you want it!

VERSATILE: With 4 different brew sizes available, you choose the strength you want. Can be programmed to brew 6, 8 ,10 & 12 oz cups.

RAPID BREW: Proprietary technology ensures coffee brews quickly and at the perfect temperature - no more cold coffee

LARGE 48 OZ REMOVABLE WATER TANK: With a large opening it is now much more convenient to fill it with water and clean. Great for when you have family & friends over and no more having to re-fill with water.

CERTIFICATION: BPA-free material for water tank and UL, ETL, certification for coffee brewer give you peace of mind and comes with LIVE friendly Customer Support.
Austrian manufacturer Mueller produces a very nice and compact Espresso Machine with several convenient features. Despite its small footprint, this Espresso machine holds up to 48 ounces (1.4 liters) of water, so making multiple cups of Espresso is easy. This Espresso maker works with the Nespresso Cartridge system as well as 1.0 and 2.0 pods. The Mueller Espresso machine has some other very attractive features:
High Pressure 20 Bar pump
60-Second Heat-up time
Programmable for Espresso or Lungo
Energy-saving automatic shut-off
Easy One-Touch buttons
Removable Drip Tray
What I like about this Espresso machine is that it works with pre-made cartridges eliminating the need for a coffee grinder. Just pop in a cartridge, push a button, and voila' – you've got smooth, tasty Espresso ready for foam. For a price of under $100, this is definitely a contender in the battle of the low-cost Espresso makers.
Staresso Portable Espresso Maker
STARESSO Portable Espresso Machine – Manual Espresso for Rich & Thick Crema Mini Espresso Maker Compatible with Nespresso Pods & Ground Coffee Small Hand Espresso Maker for Travel Camping Office
☕☕ (RICH & THICK CREMA FOR REAL ESPRESSO) - STARESSO Manual Espresso Maker can give you the rich espresso taste with a thick layer of crema just like the ones you can get from an authentic Italian cafe.

☕☕ (COMPACT, LIGHTWEIGHT & PORTABLE) - STARESSO Portable Espresso Maker only takes up little space. It weighs 0.97 lb, and it is small and compact (8x2.7 inches), but it can hold up to 80 ml water and a maximum of 0.53 ounces ground coffee. STARESSO Portable Espresso Machine is the perfect companion on the go. With the access of hot water, you can enjoy real tasty hand espresso at home, in the office or during hiking, camping and traveling.

☕☕ (COMPATIBLE WITH NESPRESSO PODS) - STARESSO Mini Espresso Maker is compatible with both Nespresso pods and ground coffee. Follow the instruction, poke a few holes at the bottom of the pods, or press loose ground coffee and make hand espresso as usual.

☕☕ (EASY TO USE & CLEAN UP) - STARESSO Espresso Coffee Maker is intuitive and straightforward to use. With the newly patented pumping system (gives 15-20 bar pressure), you can make manual espresso effortlessly with no electricity. The highly modular coffee maker is also painless to clean up. A few rinses and you can pack away the machine, without taking up much space as the big chunky coffee machine.

☕☕ (BPA-FREE MATERIAL & PREMIUM QUALITY) - STARESSO Portable Coffee Maker is made of BPA-free material with the highest standard. The pressure pump and the coffee chamber are made of high-quality stainless steel. ❤STARESSO provides 2-YEAR hassle-free warranty and 24/7 responsive customer service. Please do not hesitate to contact us with any problems.
This is a really unique kind of Espresso Maker that no one else has been able to duplicate. I like the Staresso Espresso machine because it is portable and manual which means you don't require electricity to make it work. Espresso lovers simply push down on the plunger to press hot water through the ground coffee. This Espresso maker also uses pre-made Nespresso cartridges or hand-pressed grounds and it also makes foamy froth to top off the Espresso. Other cool features make this Espresso maker worth looking at:
Lightweight – less than 1 lb (1/2 kilo) in weight
Large capacity – holds 2.7 ounces (80 ml) of water
High Pressure 15 – 20 Bar pump
Stainless Steel and BPA-free materials
For campers, concert-goers, and others that crave a great cup of Espresso without the bother of trying to hunt up a coffee stand, this is the answer. The option to make your own hand-pressed coffee gives this little gem a customizing feature a few espresso makers can match.
Electric Portable Espresso Machine By Aicok
Electric Portable Espresso Machine For Espresso Compatible Capsule By Aicok
☕Automatic Portable Espresso Machine - AICOK portableespresso machine is new design portable espresso machine for nespresso machine, unlike other portable manual coffee maker, you don't need to pump to get coffee.

☕On The Go: AICOK portable espresso machine allows you to brew espresso with nespresso capsule when you are in camping, travel . Compact and light-weighted(1.9 lbs and 9.8" tall)

☕2 Charging Ways: Built in rechargeable lithium battery, and comes with both wall charger and car charger.

☕15 BAR HIGH-PRESSURE PUMP: Unlocking the delicate flavor and premium aromas of the coffee capsule during the brewing process and creating an incomparably dense and unctuous crema. Just enjoy your high-quality coffee time.

☕ 100% GUARANTEE: Our item have CE,Rhos,UL,FCC,FDA,MSDS,VI,UN 38.3 certification pro, we offer 2 years quality guarantee and solve any quality problems within 24h. Absolutely RISK -FREE purchase for you.
Here's a great twist on an even greater idea. An electric portable Espresso coffee machine that heats the water before making the Espresso all in one unit! I think this is the way to go if you just gotta have your Espresso right away! The Aicok Espresso Maker uses Nespresso cartridges so there's no need for a coffee grinder to get started. There are some other great features as well:
Lightweight – less than 1.9 lb (1 kilo) in weight
Large capacity – holds 1.5 ounces (45 ml) of water
High Pressure 15 Bar pump
DC 12V Car Power Jack
Built-in Espresso cup
If you want your Espresso on the way to work, this is the Espresso maker for you. It easily fits in the car coffee cup holder and can make hot, fresh Espresso with cold or hot water while you drive. No matter where you want to drink your Espresso, this little wonder can make it in minutes anywhere! The amazing part is it costs less than 100 bucks to achieve coffee Nirvana.
Kava' Mini Espresso Machine From ChefWave
Kava' Mini Espresso Machine From ChefWave
THE PERFECT ESPRESSO MAKER: Making espresso at home is quick and easy! The Káva espresso machine delivers you a delicious cup of Espresso (1.3 oz) or Lungo (3.75 oz) every time. Compatible with Nespresso pods. Side rack provides ample storage for your capsules. Pods not included.

POWERFUL PERFORMANCE: Brew rich, flavorful espresso that competes with the likes of popular coffee shops! Our machine can deliver up to 20 bar pressure for high quality, barista-style taste. Energy saving with an automatic 2-hour shut off and standby mode.

COMPACT DESIGN: A lightweight yet powerful design looks great and doesn't take up a lot of counter space in your kitchen. Machines parts are detachable and easy to clean. This one-touch espresso machine features a 27 FL oz. water tank so you don't need to refill too often.

EVERYTHING YOU NEED: Everything you need to start enjoying a smooth espresso is included with the best coffee machine. It includes a capsule holder for 40 pods and a pair of double wall glass espresso cups. Each single cup has a capacity of 2.7 ounces.

1 YEAR WARRANTY: We want to ensure that you're satisfied with our products. With our 12 month failsafe warranty, we guarantee that it will work exactly as it should. This warranty covers parts and labor so that you can enjoy using it worry free!
This is another countertop Espresso machine that I think deserves some attention. I like the ease of use and the compatibility with Nespresso cartridges or hand-packed grounds. I also like that the Kava' Mini Espresso machine has a convenient storage rack for the Espresso pods. It keeps things clean and organized where I can see the inventory of pods rather than rooting through a kitchen drawer. This Espresso machine also has some other nice features:
High Pressure 20 Bar pump
Can make Espresso or Lungo
Energy-saving automatic shut-off
27 ounce (0.8 liter) water capacity
Includes 2 – 2.7-ounce glass Espresso cups
This is another countertop Espresso Coffee maker that has the kind of features home brewers want to have. Easy one-button operation makes brewing the perfect cup of Espresso easy and fast. With a quick warm-up cycle and large capacity water tank, Espresso drinkers can make cup after cup to their heart's content!
The Ultimate Espresso Machine Buying Guide With Q&A.
All of the Espresso machines listed above are available online from Amazon. That makes it easy to find and get the right machine on its way fast. If you're not sure which machine is best for your situation, there are also comparative charts of the features and benefits for the machines on the site itself.
Don't forget, some of the Espresso makers use Nespresso or other manufacturer's pods or cartridges exclusively while other Espresso machines can use any pod or cartridge, and have universal coverage. There are additional items that can be purchased and used with the Espresso machine including specialized coffee bean mixes and coffee grinders able to produce the finest and smoothest grounds for percolating.
Convenience In A Cup
The thing I like the most about Espresso is the flavor intensity and the creamy foam on top. It may seem a little childish, but the foam sticks to my upper lip and makes me smile. The contrast between the crema and the coffee makes each sip special.
The problem is that I don't want to take a shower, get dressed, and drive down to the coffee shop to get my morning boost, I want it at home without all the hassle. And I'm not going to spend more money on the Espresso machine than I spent on furnishing the living room.
A Little Advice Before Making Espresso
It's always a good idea to check with family and friends to see if any of them have experience with home Espresso Coffee machines. They can have valuable insights and experiences to draw upon. Checking with reliable online resources that provide honest testimonials and ratings is also good to do before jumping into the pool.
I would also recommend beginners look at the lower-cost machines to start. You can spend more, but I think it's better to find out if you enjoy the flavor, aroma, and experience of Espresso coffee before investing too much capital.
What Does "Bar" Mean For Espresso Machines?
Bar (sometimes BAR) is a unit of measuring pressure – just like PSI. 1 bar is the same as 14.5 PSI. For better understanding, think about pumping your car's or bike's tires. Most cars specify about 2.2 bars (give or take 0.1 or 0.2 bars) or 32 PSI.
Pressure varies quite a lot from one espresso machine to another, from 7 bars to 15 bars and even higher. The majority of them have 9 bars or 15 bars (130 PSI or 217 PSI). Ever felt a race bike tire? Quite hard, isn't it? That's because they are pumped 8 bars (sometimes 9). Now that's a lot of pressure!
What Does 15 Bar Pressure Mean?
15 bars (217 PSI) just mean a heck of a lot of pressure for an espresso maker.
Espresso machines aimed at the consumer market are a lot smaller than their coffee shop counterparts. Professional espresso makers are also constantly turned on, while domestic ones aren't.
For making espresso, 9 bars is more than enough. Then why do some brewers have more? The answer is simple: warm-up. You see, the higher the pressure, the quicker the machine warms up.
Is Nespresso As Good As Real Espresso?
Nespresso is a Switzerland-based brand specialized in making proprietary coffee pods and pod-based coffee machines.
Real hardcore espresso fans will argue that all capsule-based espresso is not as near as good as an actual traditional Italian espresso (which is made using a completely different technique). I myself have tasted both and here's the verdict: the traditional real espresso has a more rich and intense flavor and packs a stronger caffeine punch than Nespresso. It's still stronger than your regular cup of coffee though.
Nespresso is not that bad, actually. One major advantage it has over real espresso is the cost – it's much cheaper and your wallet will appreciate this. Especially if your budget is around 100 bucks. The other is convenience: you just put a capsule into the appliance, press a button and voila! You're good to go.
What Causes Crema In Espresso?
Crema is the dark foam found on the surface of a shot of espresso When hot pressurized water comes into contact with coffee grounds, a small amount of carbon dioxide (CO2) is released. This makes the foam.
It is a great indicator of how good the rest of the espresso will be.
For more info take a look at this video:
What Is The Best Inexpensive Espresso Machine?
I have to say my choice for the best espresso coffee machine overall has to be the Sowtech 4-Cup espresso maker. With all the features, the ease of use, a great design, and a fantastic price, there's not much out there that compares equally. I like the built-in Frother. It makes me feel like a professional barista finishing off my perfect Espresso.
The Staresso Portable Espresso Maker can make foam too, which is cool for a portable machine. For my money, it's the Sowtech Espresso machine I want to wake up to in the morning to start my day with a frothy smile.
Pin it to Best Budget Espresso Machines or Amazing Espresso Makers.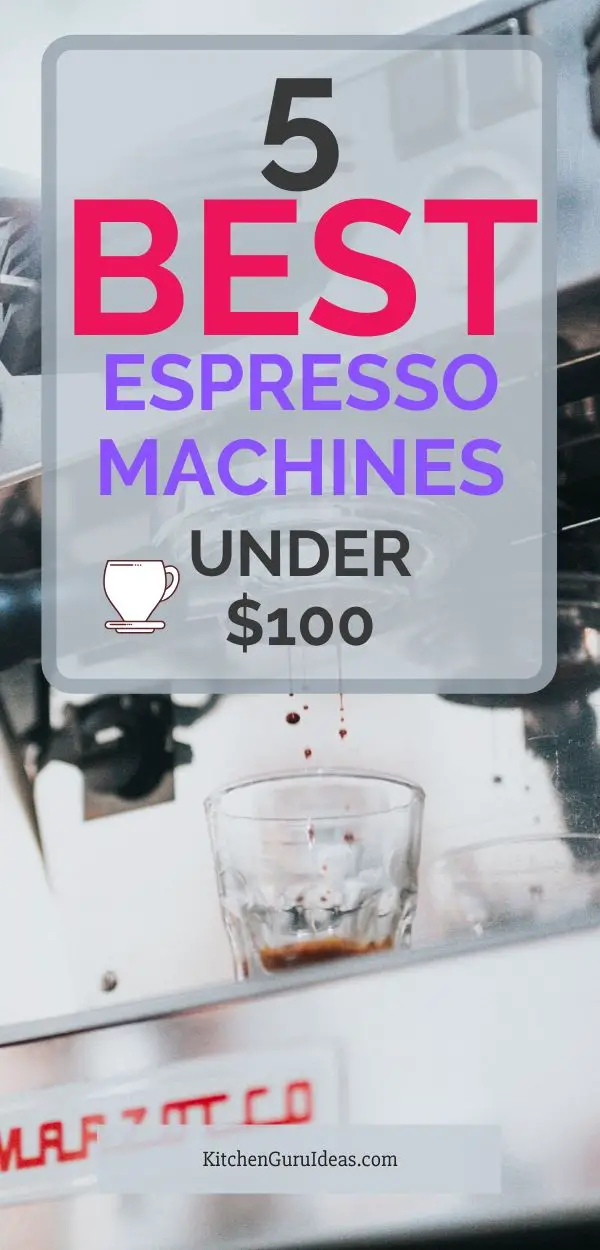 What's your take on crema? Do you like it or not? Personally, I love it – it reminds me of Guinness and my college years.