As an outdoor camping enthusiast, I have come to realize that camping cookware is one of the most essential items you can have at your disposal.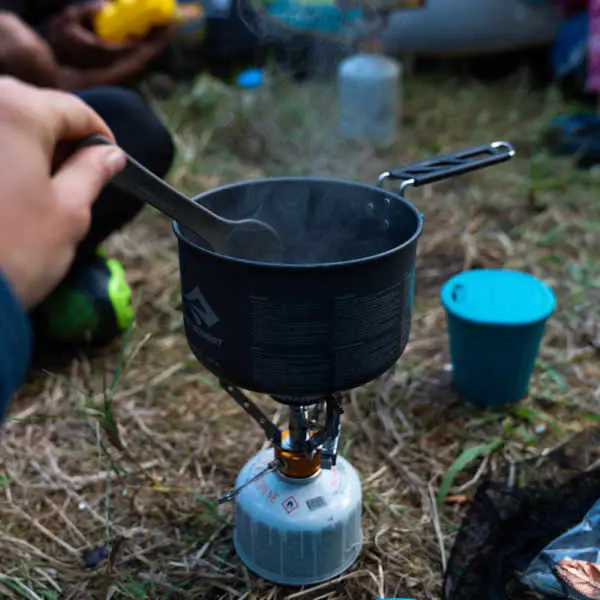 It will allow you to easily prepare a meal, as you can boil, grill, or fry any type of food.
Today's camping cookware is designed with outdoor living in mind, and is not only built for travel but is lightweight, features multifunction parts, and comes with highly insulated handles for safe handling.
With tons of options to choose from, finding the best campfire cookware can be a daunting task. That's why I am here to help you find a great set that suits your cooking requirements.
Below is a list of my best camping cookware for open fire:
What Is the Best Cookware for Camping?
6 Outstanding Open Fire Camping Cookware
Here are the top 6 camping cookware sets which cook best over an open fire.
Solo Stove Campfire Outdoor Kitchen Kit
Having used the Solo Campfire Outdoor Kitchen Kit a couple of times, I can boldly say that it is among the best camping cookware for open fire I have ever had for my camping activities.
What's Included
The Solo stove campfire
3 L / 101 fl.oz. pot
1.5 L / 51 fl.oz. pot
Lid
About the Stove
This stove uses wood as its source of fuel which means that you can easily find it anywhere your adventure takes you. Any dry leaves, twigs, and pinecones will all burn up to maximum efficiency.
Featuring a double wall, this stove boasts unique airflow properties that make it highly efficient.
The air intake holes at its bottom direct air to the base of the fire while at the same time channeling heated air up between the stove's walls.
This ensures complete combustion implying that there is very little smoke during full burn.
Weighs Only 5.75 Lbs
Its robust yet compact design allows you to easily carry it along.
What I Didn't Like About This One
The set doesn't include everything you need to cook in the wild, like plates and flatware.
Amazing Little Stove
For its size, it's a very efficient stove that can cook most camping recipes with ease with their pots. The best thing about this one is that the fuel is abundant and free. Say goodbye to alcohol and gas tanks.
Pros
Durable stainless steel material
Pots feature double fold-out handles
Lightweight design
Wood as a fuel source
Burns cleanly and efficiently
Stylish design
Pots have volume markings
Cons
The set doesn't include all the essential camping cookware
Trangia 25-6 Ultralight Non Stick Stove Kit
This Trangia is one of the best open-fire camping cookware sets worth your hard-earned cash.
What This Set Contains
The stove comes equipped with:
Two 34 fl oz. anodized saucepans
A frying pan
20 fl oz. kettle
Windshields
A burner
strap
A pan grip
Specs
This set has ventilation holes in its lower windshield which are turned to face the wind to enhance the supply of air to its burner for optimal efficiency. And if the wind becomes too strong, all you need to do is to turn your stove to maintain the required flame.
Fueled by Alcohol
It runs on methylated spirits or denatured alcohol, which are both readily available. This stove can also be used with a gel burner, multifuel, or gas.
Insider Scoop
The set is made from aluminum, unlike the Solo stove above.
Aluminum wins against stainless steel when it comes to weight but this advantage has its downside: it's less resistant to scratches and dents.
Be careful when using and don't be too rough.
All You Could Ever Want
It is an amazing set that I would highly recommend to any outdoor camping aficionado.
Pros
Super lightweight design
Uses readily available fuel
Features anodized aluminum utensils
Includes other essential accessories
Compact design
Cooks fairly faster and easily
Cons
Aluminum construction means scratches and dents
Trangia 27-3 Ultralight Stove Kit
The Trangia has years of reputation for producing high-quality products and awesome customer service. So, definitely, in regards to quality, I have full confidence in this brand, including this set: the 27-3 Ultralight Stove Kit.
What This Kit Brings on Board
An alcohol burner
Two 34 fl oz. ultralight, hard-anodized aluminum saucepans
A single 7.25'' non-stick frying pan
Aluminum windscreens
Light as a Feather
It is extremely lightweight and you would be surprised that at 1.6 pounds, you already have your stove and 3 pans included.
No Flatware Included
While this kit is all that gorgeous, don't forget to come with your dinnerware and a few cooking utensils because they aren't included in this pack.
You Just Can't Beat Trangia
You can enjoy hot and satisfying meals at your campsite with the Trangia 27-3 at your disposal.
Pros
Uses alcohol as a fuel source
Wide variety of pans in the set
Makes cooking possible even when campfires are not feasible
Lightweight and compact design
Easy handling thanks to aluminum construction
GSI Outdoors Bugaboo Camper 4 Person Camping Cook Set
If you don't have a tight budget and are the one who enjoys using reliable cookware at an affordable price, then this particular set is meant for you. The Bugaboo also boasts a glossy yet compact design ideal for easy travel.
About the Firm
Established in 1985, the GSI Outdoors brand is known for its technical, innovative, and top-notch products for the outdoor lifestyle.
Don't Let the Small Size Fool You
I can proudly confirm that the Bugaboo is among the most versatile cookware sets for outdoor camping available on the market right now. It can prepare a meal for up to 4 campers.
What Awaits You in This Set
The whole set comes equipped with:
101 fl oz. pot
68 fl oz. pot
9-inch frying pan
4 mugs
4 plates
4 bowls
2 nylon strainer lids
A pot handle
4 sip through lids
A sink for keeping things organized and washing
This is a truly fantastic piece of camping cookware that you can ever dream of.
Something You Don't See in Every Camping Cookware
It's designed with a highly advanced tight-fitting lid, a luxury that you actually can't find in many other camping cooking sets.
A Bit Heavy
All this equipment comes with one disadvantage: the weight.
At a glance, 3.2 lbs don't look much, but this isn't the only thing you're going to carry with you.
Being a 4-person set, it's not designed with a solo camper in mind.
So Many Great Items in One Compact Set
When it comes to versatility, nothing beats the Bugaboo. This set has everything you need to cook like a pro in the great outdoors.
Pros
Excellent nonstick coating
Ideal for family camping
Compact design
Aluminum utensils
Teflon-coated
Food-friendly plastic plates
Cons
It can be heavy for one camper to travel with
GSI Outdoors Pinnacle Base Camping Cook Set
The Pinnacle is another great camping cookware worth your consideration. It strikes a great balance between convenience and versatility, bringing on board nearly everything you would want from a performance-oriented set.
This Set Features
Main pot of 101 fl oz.
Secondary pot with a capacity of 68 fl oz.
8″ frypan
2 nylon strainer lids
Cutting board
Folding pot handle
Specs & Features
It is highly compact yet versatile enough to feed 4 people if need be.
The Pinnacle base camper coating is Teflon, a non-stick coating that boasts even heat distribution while reducing hotspots. Its 3-layer coating is designed to survive the test of time.
This incredible camping cookware set also enhances your confidence even as you cook thanks to its hard-anodized aluminum which is non-reactive. It not only protects your set from scratches but also supports even heat distribution.
For easy transport, the Pinnacle is equipped with a rugged, welded stuff sack that not only holds the set safely during storage but acts as a wash basin.
One's a Crowd
Just like the Bugaboo above, this set is a bit too large for one.
While it's not as heavy as the Bugaboo, the whole set is a bit large if you're going solo – especially if you're carrying heavy things like a tent.
Just Because You're Camping Doesn't Mean That Cooking Has to Be Difficult
It's an amazing lightweight cooking set that is able to make a fantastic dinner for up to 4 people. It has everything a camping chef needs (except the cutlery, of course).
Pros
Perfect for a group of campers
The versatile carrying case also serves as a washbasin
Durable
Even heat distribution
Resistant to scratches
Compact storage for grab-and-go convenience
Cons
It is a bit large for solo backpacking
GSI Outdoors – Pinnacle Dualist
You kinda notice the trend here, being this is the third camping cookware set by GSI Outdoors. This is because this brand makes outstanding cooking sets for camping. The Pinnacle Dualist is no exception.
An Ideal Set for 2
It includes:
1.8-liter pot lid,
2 mugs with insulated sleeves
2 sip through lids
2 bowls with graduations
2 telescoping foons
A Stuff/sink sack
It's perfect for any couple wanting to make delicious romantic meals over a campfire.
Made From Specially-Designed Material
The 1.8-liter pot is made out of lightweight Halulite material which is GSI's own proprietary alloy that also conducts heat better and more evenly than Titanium, and a Lexan pot lid with an integrated strainer.
The lid itself is made free from BPA and is resistant to heat, crushing, and similar deformation.
Special Features
The set is completely non-stick, coated with 3 layers of Teflon with Radiance technology that has been tested and approved especially for camp use. It will not only survive the toughest conditions but also the test of time.
The mugs are insulated, keeping your drinks hot and cold for longer. They also double as bowls.
Last but not least, the waterproof welded stuff sack not only keeps this set organized but also doubles as a washing sink.
Fuel Sold Separately
To get it to cook, you need to separately buy a gas canister. For this price, they could have included it in the package.
A Very Complete Cooking Kit
You can't go wrong with the Dualist. It's the perfect size for a romantic dinner for two. It's also very compact so you'll not even notice it when carrying it. And because it's durable I can safely say it will last as long as your love for cooking in the great outdoors.
Pros
Portable
Lightweight
Compact
Beautiful design
Perfect gift for a camping couple
Built to last
Cons
Fuel canister not included
Buying Guide For The Best Camping Cookware For Wildfire
Read my guide thoroughly to see what to look for when getting the best cookware set for your expedition imaginable.
Material: Over the years, companies have worked hard around the clock to manufacture camping cookware that is durable and offers great performance. Different materials used to design camping cookware include:
Aluminum: Camping cookware set made of this material heats up quite fast and evenly. Aluminum is among the most lightweight materials hence great for backpacking trips. It is equally easy to clean. However, aluminum is prone to scratches and dents, especially if not hard-anodized.
Stainless steel: Durable and affordable and equally easy to clean, this material is very popular with many backpacking items, especially cookware. However, it doesn't heat evenly and it's relatively heavier than aluminum.
Non-stick: The greatest advantage of this material is that food doesn't stick on the surface and clean-up is painless and quick. However, non-stick surfaces tend to scratch easier.
Cast iron: This material is known to cook food evenly and is equally long-lasting. It's naturally non-stick and great for cooking over the campfire. The only downside is that it is extremely heavy and may require re-seasoning to retain its non-stick surface.
Type of coating: Teflon and ceramic non-stick coatings are the two major coating surfaces for cookware. Teflon coating cleans somewhat faster but breaks down quickly once it gets scratched. On the other hand, ceramic coating is more durable but highly expensive.
The number of items in the set: The number of pieces you choose will obviously depend on your dining requirements. For solo camping, a pan and a pot might just be enough. However, if you are bringing along many people, more is better.
Lids or no lids: Pots featuring lids are a great option because they also double as frying pans or quick plates. What's more, lids limit the amount of heat lost through the top of the pot, allowing food to cook at a faster rate. They also prevent debris and other unwanted things from contacting your food while preparing it.
Portability: This is another critical factor you would want to consider. Your cookware should have a lightweight and compact design for enhanced portability.
Grippers: As an outdoor camping enthusiast, I have always ensured that I have some way of picking my pots and pans safely. Thankfully, the best camping cookware sets for wildfire usually include a gripper for all their pots.
A Few Helpful Tips To Make Cooking While Camping Easier
Cooking when camping can be straightforward – but only if you make it so. I have answered some important questions campers commonly ask when cooking on an open fire.
What Can You Cook Over An Open Fire?
You have a fireplace and you have a cooking set. You want to cook something, but what? What food is great for cooking over an open fire?
You'd be surprised at what you can cook in a situation like this. You can cook more or less anything you'd normally in your kitchen. The main difference is, the outdoors are your kitchen!
These are the dishes I enjoyed the most:
Roasted potatoes and steak
Hot dogs
Marshmallows
Corn on the cob
Pizza
Bacon
Kebab
Grilled cheese
Baked beans
You can cook much more, of course.
If you're in a hurry or just don't want to clean the dishes after you've eaten, you can fold aluminum foil into containers and use it over the fire.
What Is A Camping Mess Kit?
A Camping mess kit is a collection of all cookware and utensils needed for camping. Basically, it's a portable kitchen. It's quite often used by the military, and not only by recreational or pro campers.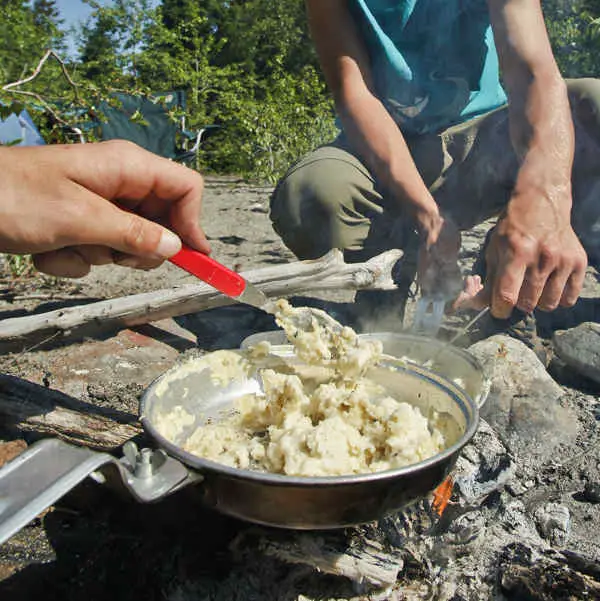 The kit most commonly comes in a backpack, a bag, or placed in a large container that doubles as a pot.
A Kit can be small enough for just 1 solo camper, or large enough to feed a group of 8.
Do Dishes Get Clean In Cold Water?
Generally speaking, heat helps quite a bit. Hot water increases the detergent's cleaning capabilities. It also causes fats to soften and melt permitting greater penetration of the water/detergent mix.
While in the wilderness, the chances of finding a source of hot water are quite slim. Heating the water yourself is quite time-consuming.
You can clean dishes in cold water just as well as with hot water – just apply some elbow grease.
Be careful and don't overdo it. Remember, you can scratch or even worse, irreparably damage the cookware's nonstick coating if you scrub too much.
Does Cold Water Rinse Soap Better?
Hot water is better for cleaning cookware and other dishes than cold water and the same goes for rinsing soap.
Viscosity increases with temperature. This means when rinsing with hot water, soap (and fat and grime residues) easier mix with water and, therefore, faster wash away.
Hot water also evaporates quicker than cold water – you'll spend less time drying the dishes this way.
Pave The Way For Cooking In The Wild
Outdoor camping offers you an opportunity to go out there and refresh, mediate and relieve stress, and benefit from improved mood and morale.
However, without the right tools and a few necessities, the chances are high that you may not enjoy your camping experience.
Camping cookware is no doubt a huge part of your outdoor camping life.
I have provided you with an honest and extensive review of the 6 best camping cookware sets for open fire. They are not only affordable, portable, and durable, but equally versatile, easy to use, and guarantee a high level of performance.
What's your favorite camping recipe? Tell me and the readers in the comments below.