Are you ready to smoke?
These bad boys here are perfect for any occasion and budget.
After rigorous testing, research, and barbecuing, I've compiled this list of the best pellet grills for the money and included only the best performing models.
If the table below doesn't convince you, the detailed reviews will. Prove me wrong.
What Is the Best Pellet Grill?
Best Pellet Grills for the Money
Traeger Grills Pro Series 575 Wood Pellet Grill and Smoker with Alexa and WiFIRE Smart Home Technology
Smoke out the competition with the Traeger Pro 575.
A Cooking Behemoth
Its cooking area has a total size of 575 square inches and consists of 2 racks, both of which are porcelain-coated grates.
The lower one is 421 square inches large and the upper one is 154 square inches.
It can accommodate up to:
24 burgers
5 racks of ribs
4 whole chickens
The hopper holds up to 18 lbs of pellets which roughly translates to 18 hours of uninterrupted cooking time.
Highly Versatile
With a temperature range of 165°F to 500°F, you can grill, smoke, bake, roast, and more.
Comes With Everything You Need
Besides the grill, in the box awaits you a grill cover and two 20 lb bags of Traeger's very own Signature blend pellets.
Smartphone and Alexa Compatible
Remotely control the grill with either your smartphone or Alexa.
The WiFire technology brings a whole new world of flavor right to your fingertips. Just download the Traeger app (which includes over 1,600 recipes BTW) and you can control the temperature and set the timer right from the couch.
If you have Alexa, you're in for a treat. With Alexa, you can do the same as you would with the phone without acuatlly using it.
This sure comes in handy when you're in the house prepping veggies, drinks, and other things and have both hands busy.
Set It and Forget It
The folks at Traeger made this grill as convenient as possible.
All you have to do is set the temperature and timer and the controller will take it from here.
No more checking the temperature and regulating air flow. Take that charcoal grillers.
What Bothers Me
I've noticed that I've lost the connection with my phone mid-cookout for no apparent reason. Once I couldn't even connect in the first place.
Don't bother searing steaks on it as the max temperature is too low.
The Cadillac of Pellet Grills
In terms of performance, nothing beats this model on this list. Its versatility, connectivity, and large cooking area are some of the reasons why I've chosen this one as the best pellet grill for the money.
Pros
Ample cooking area
Highly versatile and convenient
Reliable controller
Simple to assemble and clean
Durable and sturdy
Comes with pellets and a grill cover
Cons
Connectivity issues
Not suitable for searing
ASMOKE Wood Pellet Grill With Waterproof Cover, Meat Probe and More
The AS660N-1 by Asmoke delivers mouth-watering BBQ with consistency, tenderness, and juiciness.
Feed up to 12 People at Once
The enormous cooking surface and large-capacity hopper are ideal for large BBQ parties.
Just like the Traeger above, this one also features a two-story cook box. The lower rack is 484 square inches large and the upper one is 216 square inches. Both are porcelain-enameled steel grates that retain and distribute heat evenly, are easy to clean, and are nonstick.
Add both together, and you get a total cooking area of 700 square inches.
It's big enough to cook:
9 whole chickens
8 racks of ribs
6 pork butts
35 – 40 burgers
The 25.8 lb hopper can handle all of the above without a refill.
Go low and slow at 180°F or sear steaks at 500°F.
Plenty of Prep Space
It does not only include 2 side shelves (one in front and one at the side) but also 3 utensil hooks and a towel rack.
No Need to Babysit
Place the food on the grates, fill the hopper, set the temperature, and off it goes.
The controller is smart and reliable enough to do all of the monitoring for you.
Consistent and Precise Controller
It maintains a constant temperature within 10°F, heats up the whole grill up to 15% faster than usual, and uses 20% fewer pellets while cooking due to its efficiency.
Lots of Accessories Included
This grill includes all of accessories needed to pull off an epic cookout:
Heat-resistant gloves
Meat probe
Tongs
Meat claws
They even included a grill cover so it will stand the test of time.
Expect a Dent or at Least Some Scratches
The company has issues with quality control, ranging from defective parts, dents, bent shelves, missing pieces, etc.
Check thoroughly for missing or damaged parts and immediately report this to their customer service.
High Quality Pellet Grill at A Great Price Point
The Asmoke performed surprisingly well and exceeded all my expectations. Everything I cooked (chicken, burgers, steaks, ribs, and a turkey) came out juicy, moist, and tender. The controller did the job of cooking instead of me and the side shelves were more than spacious.
Pros
Spacious cooking and prep space
Many cooking utensils included
Simple and straightforward assembly
High-capacity hopper
Cleanup is a breeze
Camp Chef 24 in. WIFI Woodwind Pellet Grill & Smoker with Sear Box (PGSEAR) – WIFI & Bluetooth Connectivity
Now we're talking heat! This Camp Chef Woodwind pellet grill can sear even the toughest of steaks to perfection with steakhouse sear marks.
Turn Your Backyard Into a Steakhouse
Pellet grills usually struggle in reaching temperatures high enough to sear steaks (most have a max temperature of 450°F – 500°F).
This grill comes with its very own sear box capable of reaching 900°F for getting that perfect sear mark.
The sear box features 1 cast-aluminum burner that outputs 16,000 BTU of heat. The grates are 184 square inches large, cast iron enameled in porcelain, and the whole thing is built to last with its stainless steel construction.
When not in use, it still serves a purpose as a side shelf.
The only downside (if you can call it that) is you need a separate propane tank to operate it.
Ample Cooking Area
The Woodwind Wifi 24 boasts itself with a total cooking surface of 811 square inches.
It's made from 2 racks. The lower rack is 429 square inches large while the upper one is 382 square inches.
Cook Without Interruptions for Almost a Whole Day
You can cook for up to 22 hours without refueling as the hopper hold 22 lbs of pellets.
Camp Chef Connect App Compatible
Connect to the grill with your phone. Just download the app from either the Play store or the App store and after a few minutes, you can monitor and control the grill from the comfort of your own home.
The setup is super-easy and there's even a tutorial on YouTube.
Ash-Kickin' Cleanout
Ash cleaning is a breeze: flush the ashes from the grill with a simple pull of the knob.
Other Features
Control how much smoke do you want with Smart smoke technology. Set the dial between 1 and 10. Talk about micro-management.
Included are 4 meat probes.
The cooking chamber is higher is taller than most pellet grills have, resulting in a bigger cooking surface without increasing the overall weight.
Below the grill there's a utility shelf.
The whole grill is durable and sturdy including the legs.
Say Hello to Your New Outdoor Cooking Solution
If you enjoy steaks as much as I do, then you'll fall in love with this grill once you'll see the juicy sear marks.
Pros
Included sear box and 4 meat probes
Generous cooking area
Easy to assemble and operate
Amazing smokey taste
Simple to clean
Cons
You need a propane tank for the sear box
Z Grills ZPG-7002B Wood Pellet Grill & Smoker
The ZPG-7002B is a highly-advanced pellet grill that reminds me of a barrel-style charcoal grill.
Cook a Large Feast in No Time
Cook up to:
29 burgers
6 racks of ribs
5 whole chickens
on its combined cooking area of 700 square inches.
The main rack is 505 square inches and measures roughly 26 x 19.5 inches and the top rack is 195 square inches and measures roughly 27.5 x 7 inches. Both racks are porcelain-coated cast-iron grates.
The hopper holds 20 lbs of pellets which roughly translates to 20 hours of cooking times without the need to refill.
Super Versatile
With a wide temperature range from 180°F to 450°F, you can grill, smoke, BBQ, roast, braise, and roast.
You can do everything with it except high-heat searing.
Made to Last
The thing is made from durable stainless steel with a sleek and polished finish.
For increased lifespan, they added a rainproof cover.
Consistent Results Infused With Wood-Fired Flavor
The temperature controller is precise and consistent.
It holds the temperature within 10°F of the set temperature. The fan evenly distributes heat and smoke throughout the entire cooking area and the auger adds as much pellet as needed.
The Drawbacks of the ZPG-7002B
Ash cleaning is not as simple as on the Woodwind and you need to take a bit more time to fully clean it.
You can't connect the grill to your phone.
A Convenient Way to Get Smokey-Flavored Food
The 7002B is simple, yet remarkable pellet grill and smoker that delivers juicy and delicious food at an affordable price.
Pros
Simple, functional, and robust design
Enormous cooking area
Reliable controller
Simple to use and assemble
Cons
No Wifi connectivity
No easy ash dump mechanism
Traeger Grills Pro Series 780 Wood Pellet Grill and Smoker with Alexa and WiFIRE Smart Home Technology
The Traeger Pro 780 is a luxury to behold in any backyard.
575's Bigger and Improved Brother
The most notable difference between the two is the size.
Spec wise, they are pretty much the same with some minor differences. More of these below.
780 Square Inches of Total Cooking Space
On its impressively large cooking area you can cook:
40 burgers
7 racks of ribs
6 whole chickens
I even cooked a whole 20 lb turkey in it.
The cook box is comprised of 2 grilling racks both made from porcelain-coated grates. The lower rack is 570 square inches and the upper one is 210.
What Has in Common With the 575
D2 Direct Drive drivetrain
WiFire controller which connects to both your phone and Alexa
Durable design
Included meat probe
Variable-speed fan and auger
Precise temperature control (+/-5°F instead of the regular 15°F) – "Turbo Temp"
Max temperature of 450°F
18 lb hopper capacity
The Differences Between 575
The most notable difference between the two is the size: both overall and of the cooking area.
The 780 has a larger cooking area by about 35%. It's also wider by about 8 or 9 inches and weighs about 20 lbs more.
Being bigger, the 780 has a bit higher pellet consumption by about 15%. Although it sounds a lot, it's not if you compare how much larger it is.
The 575 doesn't have locking casters while the 780 does.
Known Issues
Being (nearly) identical to the 575, the 780 is plagued by the same issues:
High-heat searing is out of the question because of its low max temperature
Sometimes it has trouble connecting or staying connected to the phone or Alexa
The Next Best Thing Since Sliced Bread
If you want more bang for your buck or you just like to show off, then the Pro 780 is your go-to choice. It's an excellent grill smoker that produces mouth-watering results.
Pros
Ample cooking area
Simple to assemble and clean
Durable and sturdy
Highly versatile and convenient
Reliable controller
Cons
Not suitable for searing
Connectivity issues
Oklahoma Joe's Rider Deluxe Pellet Grill
The Rider Deluxe is one of the best-performing pellet grills you'll get for $600 or less.
Excels at Parties and Large Gatherings
If you think 800 square inches is lot for a cooking area, you're in for a surprise.
The Rider has the largest cooking area so far: a whooping 1,228 square inches! This translates to:
8 baby back ribs
12 whole chickens
8 pork shoulders
24 corn cobs
You'd expect a grill with so much space to be enormous but it's not.
Instead of having 2 racks in the cook box, this one has 3.
The lower rack is 578 square inches large and features porcelain-coated cast-iron grates while the adjustable mid and upper rack that are both 328 square inches large.
QuickDraw Hopper
The hopper holds 20 lbs of pellets. This makes for 20 hours of uninterrupted cooking time.
If you wish to swap the pellets during cooking or if you didn't use all of the pellets, simply place the supplied bucket under the hopper and drain the leftover pellets right into it.
Smoke Ribs, Sear Steaks, and Anything in Between
In the middle of the lower rack there's a circular plate that's especially made for searing.
Place the steaks on it, slide the lever in front from "smoke" to "sear" and sear them at 650°F.
Unlike the Camp Chef, you don't need propane gas. The heat comes directly from the pellets.
If you're a BBQ-kind of person, you can go as low as 175°F.
Virtually Unbreakable
The heavy-duty heavy-gauge steel construction and thick powder coating ensure protection from the elements and heavy use.
Even the wheels are durable.
2 Smokestacks for Double the Flavor
Instead of one, the Rider has 2 smokestacks that improve air flow, heat distribution, and enhance flavor.
Lots of Prep Space
This grill offers 2 shelves: one at the bottom and the other at the side.
In front is a towel rack with 4 utensil hooks.
What the Manufacturer Won't Tell You
Expect a dent or a scratch when this thing arrives at your doorstep.
Don't be surprised if the grill suddenly stops working after a few uses. In my case, the auger motor broke down. Luckily, the support responded immediately and sent me a new one. After this incident, I never had any more problems.
The Grill to End All Grills
If you're looking for size and durability, this is it.
Pros
Gigantic cooking area
Ample prep space
Can reach temperatures of 650°F
Spot-on instructions and simple assembly
Super-easy to use
Cons
Issues with quality control
Heavy
BIG HORN OUTDOORS Pellet Grill & Smoker
If you want great food at an affordable price, this pellet grill from Big Horn Outdoors is a sure bet!
A Total Cooking Area of 700 Square Inches
The cooking area is made from 2 racks.
The main grilling surface is 430 square inches large and measures 26 x 16.5 inches. The smoking/warming rack is 270 square inches and measures 22.5 x 12 inches.
In layman's terms, you can grill 25 burgers if you space them right.
Folding Prep Table
The table in front of the grill is made from heavy-duty steel and has enough space for utensils, spices, and everything else you need.
If you don't need it or if it's in your way, then simply fold it down.
Plenty of Storage Space
Besides the folding table, there is also a shelf underneath the grill and a handle on the side which you can use as a towel rack.
The towel rack comes with 2 utensil hooks.
About the Controls
The controller is remarkably simple to use: dial in the right temperature from 225°F to 450°F.
It's also reliable in terms of temperature control, pellet feeding, and durability.
Other Features That Deserve a Mention
The hopper holds 8 lbs of pellets, enough for a 8-hour BBQ session without the need to refuel.
The lid features a cool-touch handle.
It's made form durable heavy-duty steel.
The same goes for the wheels. What's more: they're larger than normal. This makes transportation a bit easier.
Model Specific Issues
For its size, the hopper is quite small. I expected at least twice the capacity.
During unboxing, I noticed a huge dent on the lid and on the front shelf. Also, a few nuts and bolts were missing.
A Great Value Grill at an Affordable Price
This pellet grill smoker may not have the latest bells and whistles but for this kind of money, it cooks amazingly well – better than some other more expensive models.
Pros
Amazing smoking and grilling performance
Durable and sturdy
Plenty of cooking and prep space
Great heat retention
Easy to assemble and clean
Cons
Small hopper capacity
May arrive damaged and/or with missing pieces
Weber 23510201 SmokeFire EX6 (2nd Gen) Wood Fired Pellet Grill
A list of best grills wouldn't be complete without a Weber.
1,008 Square Inches of Total Grilling Space
The SmokeFire features a whopping cooking surface of 1,008 square inches.
The bottom grate is 648 square inches and measures 18 x 36 inches. The top one is 360 square inches and measures 10 x 36 inches.
Both racks are plated steel cooking grates.
Flavorizer Bars
One distinct feature Weber grills have are the flavorizer bars.
As with gas grills, the flavorizer bars replace the traditional diffuser plate between the grates and the flame for more efficient heat distribution, improved direct cooking, and improved flavor.
Holds an Entire Bag of Pellets
What I like about this grill is that you can empty the whole 20 lb bag of pellets into the hopper.
Another bonus of a such large-capacity hopper is convenience. Smoke low and slow whole day completely uninterrupted, without the need to refill.
Exclusive Easy-Clean System
The guys at Weber have taken the convenience of cleaning to a whole new level with this genius yet simplistic cleaning system.
Both the ash and the leftover grease fall into a single removable drawer. The grease falls into its own container for even easier disposal.
If there's any residue left, just push it from the cookbox into the drawer with the provided scraper.
No more disassembly and vacuuming. Cleaning made fun (for once).
Withstands the Harshest of Elements
The porcelain-enamel finish not only greatly increases the durability of the grill but also increases heat retention. This means less preheating and cooking time, and better pellet-burning efficiency.
Even the control panel is weather-proof.
It's a Weber, of course.
Do Anything From Low and Slow Smoking to Searing at High Temperatures
The grill's 200-600°F temperature range enables you to cook virtually any grill recipe your heart contends. This includes reverse searing, too.
It's like the WD-40 of the grilling world.
Integrated Weber Connect Smart Grilling Technology
This grilling marvel is loaded with tons of connectivity features that turn your phone into a grilling remote.
The app doesn't just let you control the temperature, but also:
Shut down the grill
Adjust smoke flavor (SmokeBoost)
Notifies you when it's time to flip the food and when to serve it
Is packed full of recipes and grill ideas
The Low-Down of This Weber Grill
With all of these gadgets, features, and controls, you'll need some time to get a hang of it.
There's a chance you'll end up with a faulty fan, auger motor, or controller. I did. It was the motor and it died during the third cookout. The third time isn't the charm, I guess…
Be(a)st of a Grill
This grill is exactly what you'd expect from a Weber. Its amazing cooking performance, ample cooking space, durability, and connectivity capabilities are some of the reasons why I considered the SmokeFire as one of the best pellet grills for the money.
Pros
Large grilling surface
Amazing connectivity features
Straightforward assembly
Cleanup is a breeze
Improved smoking performance and flavor
It's a Weber
Cons
Quality control issues
Learning curve
PIT BOSS PB1230G Navigator Wood Pellet and Gas Combo Grill
Best Pellet Smoker Gas Grill Combo
Do you love grilling on gas but would like the authentic wood smoke flavor? Then get the best of both worlds with the Navigator.
2 Grill Types in One Unit
Gas grills usually struggle to infuse the food with smoke while pellet grills usually struggle to reach temperatures high enough for searing.
Instead of buying a separate gas grill and a pellet one, save both money and space with this pellet gas grill combo.
A Cooking Giant
The gas and the pellet cooking chambers are the same size and offer 542 square inches of cooking area. Both have a main surface (i.e. the grates) and the upper warming rack.
The racks are porcelain-coated cast iron grates.
About the Pellet Side
With a 16 lb hopper and the advanced digital controller, this grill will do the work for you without the need for constant monitoring and refilling of pellets.
It's designed mainly for smoking but if you lust for a juicy steak, sear it on direct flame at 500°F by using the Flame Broiler Lever™.
Included are 2 meat probes.
The shelf in front is modular, meaning you can fold it if you don't need it or if it's in the way. It also has 2 utensil hooks, one on each side.
About the Gas Side
The gas half of the grill features 3 burners and a side shelf that is bigger than the pellet one but isn't collapsable. It also has 3 utensil hooks.
Great for Cold Smoking
Cold smoking is especially great for cheese and some sorts of fish like salmon but not all pellet grills offer this feature.
This is thanks due to the pellet to gas damper.
Open Flame Searing
If 700°F isn't enough for you for searing steaks, then the Navigator is will surely meet your needs.
It can reach searing temperatures of up to 1,000°F!
Built to Last
A behemoth of this size and proportions should be made for punishment. And you're right.
It's made from durable and thick powder-coated heavy-gauge steel.
The same goes for the legs. Just look at them. Even from a distance, they look massive and heavy-duty. Also, to hold all this weight, Pit Boss decided to reinforce them for increased durability and stability.
To top all of this of, the thing comes with a cover to protect it from the elements.
And if you're still not satisfied, then the long 5-year warranty should.
Simple and Straightforward Assembly
Although it looks intimidating because of so many pieces and its sheer size, it's actually easy to put it together. I followed the video below and made my life pretty much easier.
Note that even though it's easy, it will take some time. In my case, it took me about 3 hours.
Get the Best of Both Worlds
Both the pellet and the gas half work like a champ. The sear marks are 100% steakhouse authentic and the smoked ribs are some of the juiciest I've ever tasted.
Pros
Gas and pellet grill all-in-one unit
Massive cooking and storage area
Simple to use and assemble
Made for punishment
Rust-resistant construction
Sturdy
Green Mountain Davy Crockett Sense Mate Electric Wi-Fi Control Foldable Portable Wood Pellet Tailgating Grill with Meat Probe
When it comes to tailgating and similar outdoor activities the Davy Crocket By Green Mountain is the ultimate grilling companion.
Perfect for on-the-Go
When it comes to convenience, the this one wins the race by a mile.
It's difficult to find a portable pellet grill that is durable, lightweight, compact, and has a decent size cooking area. The ones with phone connectivity are even harder to find.
Luckily, this particular model has all of these features, and more.
Packs Quite a Punch
Despite its compact size of 31.75" H x 34" W x 23" with the legs out, you can cook up to 10 burgers on its 219 square inches large cooking surface.
The hopper holds 9 lbs of pellets for 9 hours of uninterrupted cooking time.
Huge Temperature Range
Cook very low and very slow at 150°F or sear steaks at high temperatures of up to 550°F.
WiFi Capabilities
Many portable pellet grills don't have any sort of connectivity and the ones that do usually have connectivity issues (either you can't connect at all or the connection dies during cooking).
The Davy doesn't have either.
What's even more exciting is that the app is available for both Android and iOS devices.
You Don't Need a 12V Converter for This One
This grill included both a 12V and a 110V plug.
Many portable grills have just the regular 110V plug which means buying a separate 12V adapter which is an additional hidden expense.
Energy Efficient
Due to the efficient design of the firebox and damper placement, this baby burns fewer pellets than normally.
There Are Hot and Cold Spots
This is the only downside of this grill.
The Best Portable Pellet Grill for the Money
The Davy Crockett offers the best mix of convenience, size, weight, portability, and durability for this kind of money.
Pros
Comes with a 12V plug
Large hopper size
Ample cooking surface
WiFi control
Easy cleanup
Compact
Portable
Pellet Grill Buying Guide
If you want the best BBQ experience, you need the best grill. In order to get one, you not only need to know what you're buying but also what to look for.
Here, I'll list everything you need to consider and what to look for in a pellet grill if you want to get the best bang for your buck and get the tastiest and juiciest ribs.
Price Tag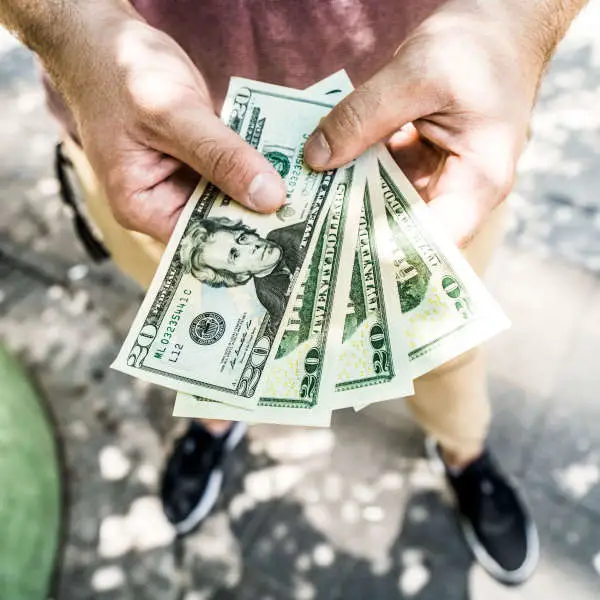 Obviously.
Grills are expensive and a decent pellet grill is going to cost you somewhere between $300 and $500.
There are cheaper models as well as more expensive ones.
I don't recommend playing less than $200 on a pellet grill (unless they're on sale) because cheaper pellet grills are usually made from cheap materials and don't last long.
Also, they tend to have pretty unreliable controllers that don't regulate heat and airflow, overfeed the auger, shut down for no apparent reason, and have other issues. Even if they do work in the beginning, they can die off sooner than later.
The same goes for other electronics, like the auger motor.
I also don't recommend spending a vast fortune (unless you have one). Yes, you'll be the envy of the block/neighborhood but is it really worth it?
Also keep in mind other related expenses like the pellets, food, covers, utensils, etc. you're going to need in order to cook.
Cooking Area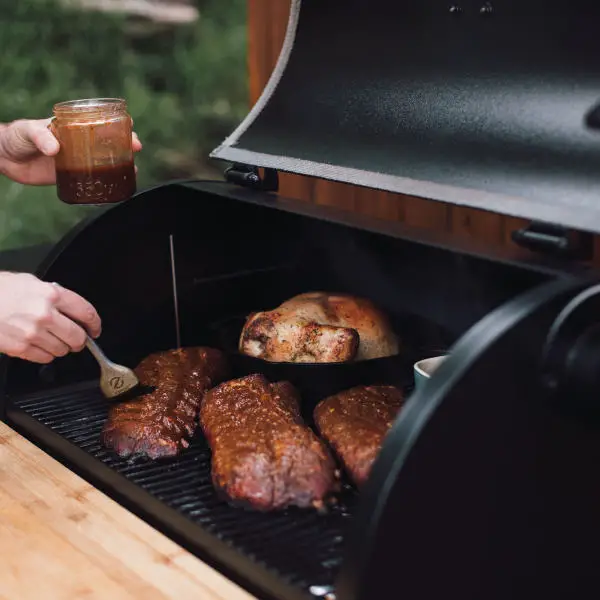 Consider how many people are you going to feed and entertain.
Is it just you and your significant other?
Do you have a family? How many kids do you have?
Do you often have guests coming over?
Do you and how many BBQ parties do organize in a given week/month?
These are just a few questions you should ask yourself before deciding on how much large of a cooking area you should need.
Pick a too-small one, and you're going to have plenty of hungry mouths. Pick a too-large one, and you'll be wasting space, cooking time, and fuel.
Temperature Range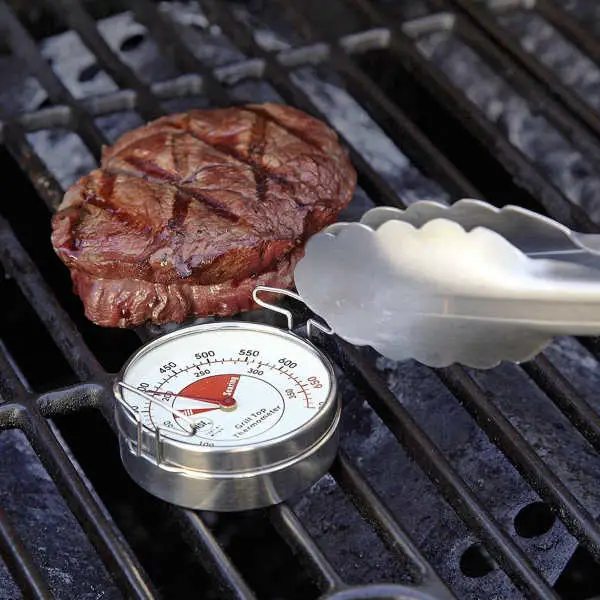 This depends completely on what you're going to cook.
Most pellet grills have a temperature range of 180°F – 500°F.
You can do most of the cooking in this range except searing which is usually done at cca. 700°F.
Pellet grills do a better job at smoking than actual grilling, so getting one that produces steakhouse sear marks will take some time and research.
Hopper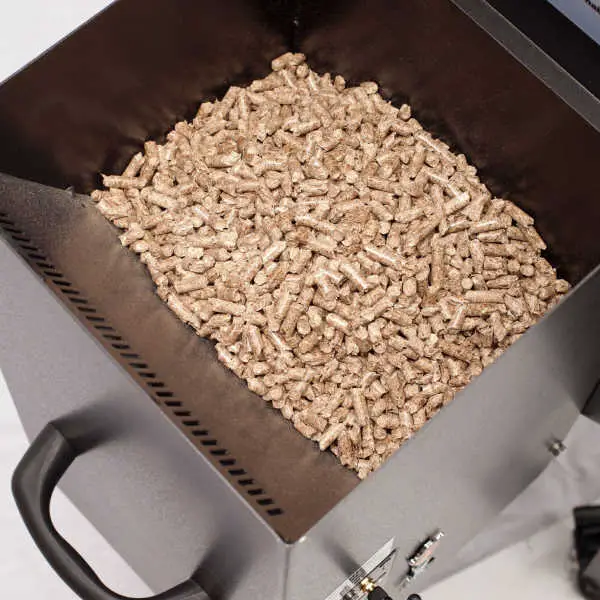 How big of a hopper you have determines how long can you cook without a refill.
A pound of pellets usually means an hour of cooking.
For barbecuing, I advise a larger-capacity hopper. If most of the time you're grilling burgers and hot dogs, then you don't need a big hopper.
Again, this comes down to the food you're planning to make. To be more precise, the cooking times of these meals.
The Controller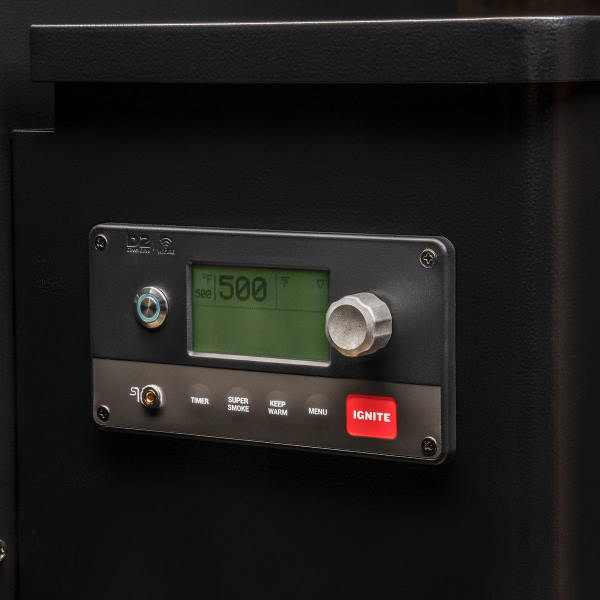 This is the brains of the grill and this determines whether those ribs will turn out moist and juicy or a BBQ disaster -something Gordon Ramsey would lose his mind and invent new swear words in the process.
Check what type is it, what features it has, how many meat probes can it support, and how reliable it actually is. This is best done by reading reviews of other customers.
Connectivity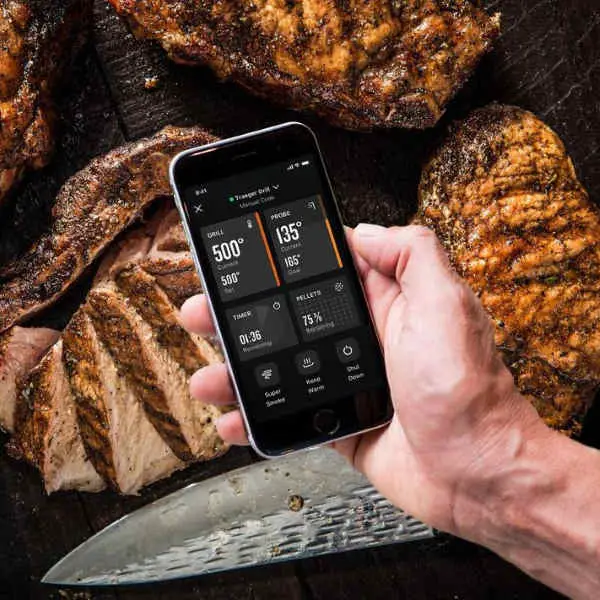 You can connect your phone and/or even Alexa with the grill.
This enables you to monitor the cooking process from the comfort of your own home.
Some apps offer recipes and similar grill ideas.
While this feature is highly convenient, it greatly contributes to the price tag.
Durability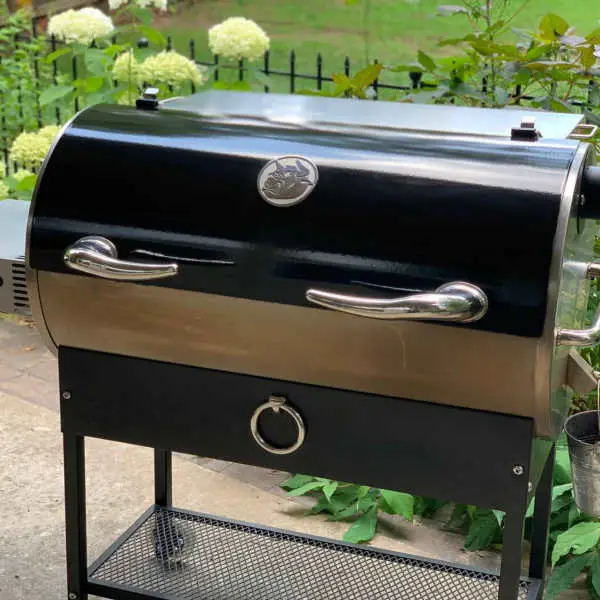 What is a $500 grill good to you if you see rust forming after a few cookouts?
When looking at the durability of a grill, check all of the components, including the wheels, legs, shelves, and controller.
Some brands, like Weber, additionally protect some of the parts (i.e. cook box) by coating them in porcelain which greatly increases their durability.
Pellet Grill Tips and Tricks
In order to get the most out of your new pellet grill and to use it for as long as possible, follow these tips and tricks.
Foil the Drip Tray
Drip trays collect all of the gunk and grime during cooking.
It's a mess to clean up and often takes a chunk of your free time – something so you don't have a lot.
To prevent this, just place a sheet of aluminum foil on top of the drip tray.
Note: if your drip tray has holes, make them on the foil as well with a knife.
Cook Over the Drip Tray
This one sounds obvious but it's a rookie and easy mistake to make. I know. I've fallen victim to it several times.
If you look carefully, you'll notice that the drip tray doesn't cover the whole grates. This is mainly because of air flow.
Dispose of the Ash Before Cooking
Leftover ash may interfere with the airflow and burning.
The grill might cook sluggishly and there's a chance your next meal will be covered in bits of old ash.
Use Bucket Liners for the Grease Bucket
Some grills come with bucket liners for your grease bucket. Alternatively, you can purchase them separately.
They look like buckets made from aluminum foil.
This makes cleaning the grease bucket and grease disposal much faster and more fun.
If you don't have the liners or you don't want to spend money on them, make your own from tin foil or just use a bottle with a large hole.
Move the Deflector Plate During Preheating
Some pellet grills come equipped with a deflector plate that lets you choose between direct and indirect grilling in a second (Camp Chef calls this "Slide & Grill Technology).
Before preheating the grill, switch to direct grilling (on a Camp Chef you just pull the slide) and preheat the sucker to about 350°F.
This not only kills the bacteria inside but also decreases preheating time.
Use the Provided Meat Probes
Most grills have at least one meat probe included.
This is intentional – so you don't spend extra money on additional thermometers. Also, monitoring the internal temperature prevents under- or overcooking.
Check the Grill Once in a While
Although some manufacturers advertise "set it and forget it", I don't recommend doing this.
I'm speaking from experience. Once, I placed ribs into my Traeger, connected my phone to it, and went inside to watch a ball game. During all of this time, everything looked fine.
To my surprise, once I opened the lid the thing was raw. Turns out, the controller shut itself off and the app froze.
FML.
Of course, there are worse things than can happen, like the grill going up in flames.
Note: This kind of things are rare but this doesn't mean it can't happen.
Take Advantage of the Wifi Connectivity
When you connect your phone to the grill, you can monitor the grill through it. It's like a remote control.
This feature makes you do other things while cooking (like preparing side dishes or setting up the table) instead of staring at the grill.
Clean It Regularly
A clean grill is a happy grill.
It's best to clean it after every BBQ session but in reality, this isn't possible due to time constraints.
Give it some tender loving care after 4 or 5 cookouts but try to clean grates more often – every time you fire up the grill.
Remember the foil from the first tip? This will make the job quicker and easier.
Experiment With Different Kinds Of Pellets
Different pellets give out different flavors.
Even pellets from the same type of wood vary from brand to brand.
Manufacturers recommend using their own brand of pellets for the best flavor but they say this because money.
Bulk Buy Pellets to Save Money
Get your friends together and buy a ton of pellets. Then split them between you.
There are some companies out there that give out discounts on bulk buys.
It's the Best You'll Ever Taste
Get one of these best pellet grills for the money, follow the guide, tips, and tricks below, and you'll experience a BBQ like you never did.
I've carefully and extensively researched pellets grills and decided on these 10 models as the best of the best.