Grilling may look expensive but that is not always the case. The reality is this: it's expensive only if spend money until you drop. With a little guidance and thinking you can have an unforgettable BBQ without plunging into debt.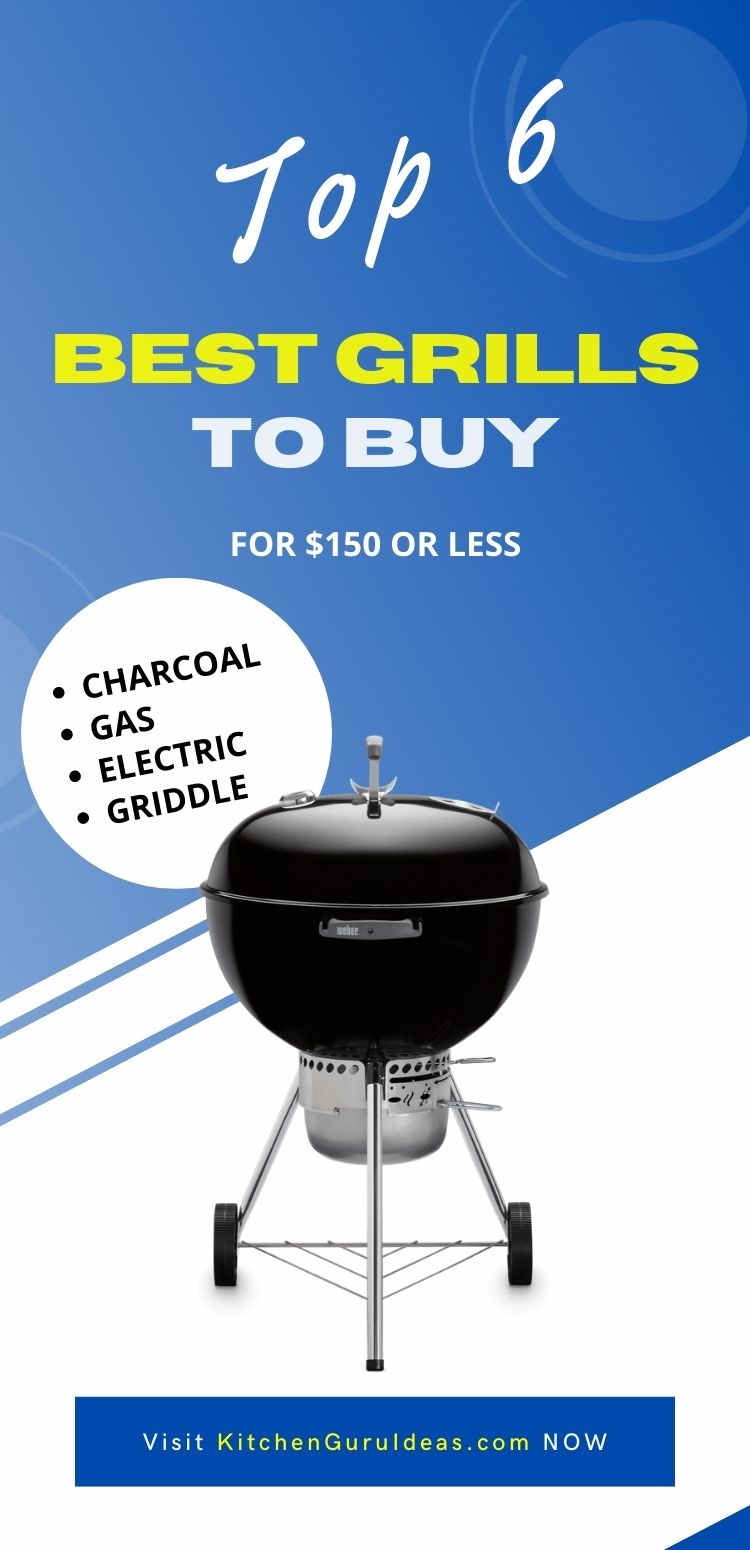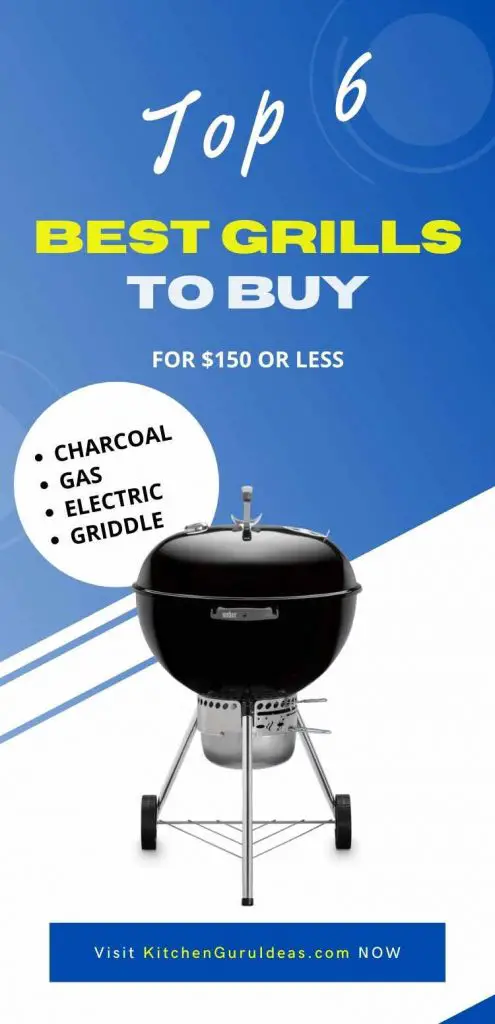 A word of caution: there are thousands of cheap grills on the market now you can get for this kind of cash (and even cheaper). But most of them are cheaply and poorly made and in reality only look good. And when you open the box, BOOM: rust, dents, missing pieces, defective parts, etc.
You need to be careful out there when picking out the best grill under 150 dollars.
In this regard, I've tried and tested many cheap grills and gathered these 6 winners. Take a look at them below.
Best Cheap Grills Under 150 Dollars
| Image | Title | Buy |
| --- | --- | --- |
| Top | Weber Original Kettle Premium Charcoal Grill | Check Price |
| | Char-Broil Classic 360 3-Burner Liquid Propane Gas Grill | Check Price |
| | Cuisinart Petit Gourmet Gas Grill with VersaStand | Check Price |
| | Royal Gourmet BBQ Charcoal Grill and Offset Smoker | Check Price |
| | Royal Gourmet Portable 3-Burner Propane Gas Grill Griddle | Check Price |
| | George Foreman Indoor/Outdoor Electric Grill | Check Price |
What Is the Best Cheap Grill?
Product Reviews
I recommend these 6 grills if you are looking for a decent grill for a low price. Take a look at the features so you will make sure which is the best for you.
Weber Original Kettle Premium Charcoal Grill
Weber Original Kettle Premium Charcoal Grill, 22-Inch, Black
Holds up to 13 burgers made with a Weber burger press; Built-in lid thermometer. Rust-resistant aluminum dampers

One-Touch cleaning system with high-capacity ash catcher provides hassle-free ash cleanup

Porcelain-enameled lid and bowl retain heat, and won't rust or peel

Use the lid hook to avoid placing the lid on the ground while grilling

Cooking grate is hinged for easily adding charcoal while grilling

3D interactive assembly instructions for this product are available through the free BILT app.
The Weber Original Kettle Premium Charcoal Grill (model 14401001) is a porcelain enameled black traditional bowl style charcoal grill with heat resistant handles. There's also a copper and a green model, but black is the most popular one.
Its Cooking Potential
The grill is 22 inches in diameter, so you can fit at least:
2 full racks of ribs, possibly 4
8 – 10 very large hamburger patties.
Additional Features
Unlike other traditional bowl style grills, this model has an ash catcher, so that you can simply empty the pan beneath the grill to clean it, rather than having to empty the whole thing out and sift through the charcoals, ash, and charcoal bits.
Heat is controlled through the metal disk at the top by turning the holes to either match or block the intake on the grill.
The edges of the metal grill grate have hinges so that you can turn them upwards to stir your coals and stoke your fire.
The edges of the side handles have little hooks attached, and the lid has a thermometer.
Does This Grill Have Any Problems?
This grill has one problem, and it's that assembly isn't a pleasant task. If parts are assembled in the wrong order, or if the grill is put together wrong, things won't go very well.
So, take your time and follow the instructions carefully. See this video of unboxing and assembling the grill:
Who Is This Grill For?
The Weber Original Kettle is a good fit for someone who likes the smokey flavor of charcoal or who wants to get started into all the different flavors of wood grilling. It's a grill for someone who just wants to keep things simple and focus on the food instead. It can cook for about 4 people, so it's best for a small group of people.
If you love the flavor of food that is grilled on charcoal, then you should take a look at my other charcoal grills.
Char-Broil Classic 360 3-Burner Liquid Propane Gas Grill
Char-Broil Classic 360 3-Burner Liquid Propane Gas Grill
360 square inches of cooking space over porcelain-coated grates. Convectional cooking system

170 square inch porcelain-coated swing-a-way rack for warming

Three stainless steel in-line burners for cooking performance

Porcelain-coated steel lid and firebox stand up to weather and the elements

Metal side shelves measure 12-inches w x 13-inches l providing extra storage and prep space
The Char-Broil Classic 360 follows Char-Broil's tradition of naming its grills after their size of grilling surface space in square inches. The cooking area is 26 inches long by 14 inches deep for 360 square inches of space. This liquid propane grill has 3 burners and a push-button to start the Piezo electronic ignition system.
As far as features go, this grill is endowed with a warming rack that can be adjusted and moved out of the way for unimpeded space when you want to grill something large.
It also has 2 side shelves – both can't be folded down, but it's still pretty great.
The area underneath the grill is a good size for the liquid propane container and the front is shielded.
Does This Grill Work Soundly?
The Char-Broil Classic does a pretty good job of grilling, but it has an issue with the regulator and Piezo ignition system.
The regulator, as well as the Piezo ignition system, are known for failing early on, but if they last a while, they'll last at least a few years.
So if you have any problems with them, simply contact Char-Broil with your warranty and they'll send you out some replacement parts to take care of the problem.
Who Is This Grill For?
Propane grills are great for someone who doesn't want to wait around for a charcoal grill to heat up to the right temperature, and who wants more control over the cooking speeds of the grill.
Because it's got multiple burners, they can be controlled individually to create different cooking speeds in different areas of the grill. It's a good choice for a family size of about 4 or less, and the side workstation tables are very handy.
Do you think gas grills would come handy for you? Then take a look at these budget-friendly gas grills and see what they have to offer.
Cuisinart Petit Gourmet Gas Grill with VersaStand
Cuisinart CGG180 CGG-180 Petit Gourmet Gas Grill with VersaStand, Red, 31.5″ H x 16.5″ W x 16″ L
160-SQUARE-INCH PORCELAIN ENAMELED COOKING GRATE: 160-square-inches of porcelain enameled grates give you a spacious cooking surface is able accommodate lots of food at one time while still distributing heat evenly and efficiently.

5, 500 BTU BURNER: Features a 5, 500 BTU burner, a twist to start electric ignition and precision temperature gauge to give you the ultimate temperature control.

COMPACT ENOUGH TO TAKE ANYWHERE: The grill measures 19 x 11. 5 x 10 inches and with stand. The grill weighs only 17 lbs. , making it easy for transport and ideal for decks, patios and balconies, camping, tailgating and more.

FREESTANDING GRILL: Design allows you to use the grill as a freestanding grill. Accommodates from 4 to 6 people at once; holds grill at ideal cooking height and telescoping stand.

FAST AND EASY SETUP AND BREAKDOWN: Stand sets up and packs away in seconds, and features an integrated lid lock and pronounced briefcase-style carrying handle for easy and secure transport.

INCLUDED FEATURES: Grill utilizes drip tray to collect grease and drippings for easy clean up. Gas regulator monitors the flow of gas from your propane tank to your grill while cooking. (propane not included)

WARRANTY: 3-year limited warranty
Cuisinart has a Petit Gourmet model CGG-180 that's quite good. It's a portable gas grill that can be expanded to be free-standing at a comfortable grilling height.
It has a single 5,500 BTU burner with a twist-to-start ignition system and folds up completely with a locking lid and a handle.
The grill surface is 145 square inches – that's 16 inches long by 9 inches wide. It is big enough to cook about 4 – 6 very large hamburger patties, and about the same number of chicken breasts or fish fillets.
For What Kind of Situation Is the Cuisinart Petit Best Suited Gourmet For?
This grill excels for someone who doesn't have a lot of space for a grill and needs to put it away in a small space, such as an RV, camping, or an apartment complex where balconies must be kept free from clutter. It's got enough space to cook for 1 or 2 people, so it's best for a single person or a couple.
Is This a Good Grill?
The Petit Gourmet is a pretty okay grill. It's very important not to leave this grill unattended when cooking on the highest heat setting as the plastic parts can catch fire or melt. The sparker will tend to last a long time or fail right away. Cooking larger items can take a while because the burner is about half as powerful as a traditional propane grill, but this model wasn't built for the purpose of competing with those grills. Save your warranty, and if you have any problems, just contact the company for help.
Royal Gourmet BBQ Charcoal Grill and Offset Smoker
Royal Gourmet 30″ BBQ Charcoal Grill and Offset Smoker | 800 Square Inch cooking surface, Outdoor for Camping | Black, CC1830S model
Your purchase includes One Gourmet 30" BBQ Charcoal Grill and Offset Smoker, CC1830S model | Cover is not included

Grill dimensions: 55.1 H x 48.4 W x 27.2 L | Cooking area – 800 square inches | Porcelain-coated steel wiring grates – 438 sq. in | Chrome-plated warming rack – 179 sq. in | Offset smoker – 183 sq. in | No ignition system

Removal charcoal, ashes pan allow users to tend charcoal and dump ashes easily

Traditional charcoal grill with offset smoker combination for dual style barbecue. The offset smoker can also be used as a small grill. Please fuel it using lump charcoal or briquet, with a small amount of wood chips added to help increase flavor

Includes smoke stack, temperature gauge, scald-proof handle, seamless connection, access door on side to tend charcoal, side air vent, and wheels to transport. New black coating process withstands temperature up to 400 and will not peel off easily
Smoking fans are going to love this one. The Royal Gourmet model CC1830S is a charcoal grill with an easy to tend smoker side box.
Control the Heat and Smoke With Ease
The grill has 2 adjustable dampers to control the airflow and an adjustable charcoal pan so you can control the distance between the food and the charcoal and make fine adjustments when needed.
Large Cooking Surface
The main cooking area is 438 square inches, the warming rack has 179 square inches, and the smoker box has 183 square inches. In total, the entire grill has 800 square inches, or 617 square inches if you don't intend to use the smoker side box.
The Grates
The cooking grates aren't anything special: your classic run-of-the-mill porcelain enamel which distribute even heating give your food these nice sear marks you know and love.
Ample Storage Space
This cooking behemoth doesn't only have a big cooking area but also ample storage space.
It has 3 racks: one in front, the other on the side, and the last one underneath the grill. The side shelf also has hooks for hanging utensils, cloths, and other grilling accessories.
All of this gives the griller (i.e. you) more than enough space to cook without jumping up and down. Just place the food on the grill, open that beer bottle, and enjoy the smell of cooking. Yum.
Other Features Worth Mentioning
Durable wheels
Thermometer built-in the lid
Easy to tend charcoal access door
Removable ash pan
Scald-Proof handle
It's Naughty Little Secret
The manufacturer recommends not exceeding 400°F to prolong the longevity of the grill. So, if you wanted to sear steaks or cook burgers on really high heat, I'm afraid you won't without damaging the grill.
Also, it's very, very prone to rust so getting yourself a grill cover is highly recommended.
Final Verdict
It's an amazing grill smoker combo, perfect for low & slow cooking and barbecuing. I recommend this one to any fan of smoking as it's very hard to get a decent smoker grill for this price.
Check out how to upgrade this grill to make it more efficient and turn it into a luxury cooking machine.
Royal Gourmet Portable 3-Burner Propane Gas Grill Griddle
Royal Gourmet PD1300 Portable 3-Burner Propane Gas Grill Griddle,Black
3 Separately Controlled burners with 9, 000 BTU each, up to 27, 000 BTU cooking power

24.1"L x 13.5"W, 325.9 sq.in. porcelain enamel griddle top, easy to clean by paper towel and warm soap water

Durable stainless Steel control panel with Piezo ignition system

Side grease cup to collect oil while cooking, also for convenient cleaning

Including regulator for 20 lb. tank, tabletop LP gas Griddle for camping, hiking, and other outdoors
Do you love making breakfast in the backyard instead of the kitchen? Then try this Royal Gourmet gas grill griddle PD1300.
It's Versatile
Any griddle owner will tell you that griddles are more versatile than grills because you can make breakfast, lunch, and dinner in just one unit.
Don't like burgers for breakfast? Then make eggs and sausages, or pancakes. Is a steak too much for you before going to bed? Then make some low-calorie quesadillas.
The possibilities with this grill griddle are endless.
It's Compact, Not Small
It doesn't look much but don't let its small size fool you. With its 3 independently controlled 9,000 BTU burners and 325.9 square inch cooking surface, you can make up to 15 pancakes at once.
It's small weight of 30 lbs and compact size of 25.2 x 18 x 9.5 inches makes this gas grill griddle a perfect travel companion.
Simple to Operate
It has a Piezo ignition system, meaning you fire this baby up with a push of a button. The porcelain enamel flat top griddle is non-stick, heats evenly, and helps to lock in the juices, which means you won't have any worries cooking.
Simple to Clean
All the access grease drips into the grease collecting tray below which is easily removable.
Insiders Scoop
Because of low-quality control, your griddle might be bent, warped, or have other deformities on arrival. Some bits and pieces may be missing or defective.
Carefully inspect every component, no matter how small it is when you get this griddle and contact support immediately.
The Best Portable Griddle You Can Get for $150 or Less
If you want to wake up your friends at the campsite or at home with the smell of eggs and pancakes in the morning, then do it with this griddle. Whether you're on the road or at home, this grill griddle will never let you down.
George Foreman Indoor/Outdoor Electric Grill
George Foreman GFO3320GM Indoor/Outdoor Gun Metal Electric Grill
15+ Servings - It's barbecue time! The 240 square inches of circular grilling surface lets you make over 15 servings for large groups of people

Apartment-Approved - Your landlord will love this grill just as much as you do. The fully electric system gives you high-quality grilling with no charcoal, no propane, and no flare-ups

Adjustable Temperature Control - Perfect heat is the secret ingredient. The temperature probe lets you choose from five heat settings to get the best results on any kind of food

Temperature Gauge - No more guessing games. The temperature gauge on the grill cover gives an accurate heat reading so you can guarantee awesome results

Premium Ceramic Coating - Time for an upgrade! Ceramic is the key to our improved nonstick coating. It's 5x more durable**, stain- and fade-resistant, and free of PTFE and PFOA

Fat-Removing Slope - It's the sure sign of a George Foreman Grill. The sloped grilling surface helps remove up to 42% of fat* from meats for lean, tasty meals

Drip Tray - The dishwasher-safe drip tray collects excess fat and grease so you don't have to. How nice is that?

Removable Stand - Don't let the weather keep you from the glory of grilling. The easy-to-remove stand takes you from patio to countertop in no time
Make grilling even more convenient with this George Foreman GFO3320GM Electric Grill.
The Most Convenient Way to Grill
We all know gas grills are more convenient than charcoal grills. But if you want even more convenience, then an electric grill is your answer.
Unlike propane tanks, you can't really run out of electricity (unless there's an outage, but that's another story).
Grilling Area
The circular grilling area is 240 square inches, big enough to feed 4 – 6 people at once.
Taste the Meat, Not the Fat
The whole grill, including the premium nonstick ceramic coated grill plate, is designed in such a way that excess fat drains away on the patented George Foreman slope.
The Only Indoor Grill on This List
All charcoal grills can't be used indoors. The same applies for most gas grills – either the law doesn't permit this or your landlord.
If you're also having regular problems with the weather, then this grill is worth your consideration. When grilling indoors, you just remove the stand and place it on your countertop. Easy!
The Bad Thing About This Grill
The stand is poorly made and you can feel the grill wobble from time to time.
The Best Electric Indoor Outdoor Grill
If you're looking for simplicity and convenience, then this grill might just be for you. Just plug in the cord and off you go grillin'.
A quick Word about Grills and Rusting
Remember that all grills will have rust issues if they're left exposed to the elements, no matter how much they cost or how durable they are. Protect your investment with a grill cover and move it out of the elements when you aren't using it to get the longest life out of your grill. Here is another tip for preventing rust on your grill:
Is Rust on a Grill Dangerous?
That depends on how rusty is the grill. If it's very rusty like the one in the video, then yes. But you can still use it, though. Just scrub away as much rust as you can with a wire brush or an angle grinder (if you have one) and blow any residue and debris with an air compressor.
It there's a little rust here and there, then don't worry about it. Even if you ingest a small piece, it won't actually hurt you. It might give you a little extra iron in your diet unless you're eating hot-dogs with ketchup, mustard, and rust flakes.
Get the Best Cheap Grill Out There
I found that the best picks of grills in this price range comprise of the Weber Original Kettle for traditional charcoal grill lovers, the Char-Broil Classic 360 for propane cooks, and the Cuisinart Petit Gourmet for the travel or space-minded folk.
Smokers should try out the Royal Gourmet BBQ Grill and Smoker, while griddle fans and pancake lovers need to consider PD1300 Portable 3-Burner Propane Gas Grill Griddle by Royal Gourmet. Last but not least is the George Foreman GFO3320GM Indoor/Outdoor Electric Grill: a perfect choice for anyone who wants to grill indoors.
Gas, charcoal, or electric? What's your favorite type of grill and why?