Interested in learning how to season a charcoal grill? It doesn't matter if your grill is brand new or made several successful barbeque parties, seasoning your grill will make it last longer and make your food not stick to the grates.
Like other grills, every charcoal grill has got some sort of coating on it hence it will require 2 to 3 hours to complete this process before cooking with it, and this depends on the user guidelines since they are all different. However, you should be careful to handle the interior surface of the grill not to scratch it. See the procedure of seasoning your grill below.
Another bonus to regular seasoning is the cleaning that you need to do before applying it. A clean grill is not just a happy grill but also the griller is happy as well because the food will taste much better.
Achieve this by reading my seasoning guide below.
Requirements
A bag of natural lump charcoal
A sheet of wax paper
Melted lard, shortening, or vegetable oil
Lit charcoal briquette
Seasoning A Charcoal Grill
Step 1
Wash your charcoal grill and get rid of the ash. Your first step is to empty the ash at the bottom of the grill as it makes it hard to control the temperatures of your grill.
Wipe down the interior surface of the grill. The internal covering includes the lid, grates and grilling chamber.
The method is done by using a damp sponge soaked in hot water. It can also be performed by using a stiff-bristled brush to get rid of accumulated food bits or rust on your grill grates; this helps in removing any manufactures residue and crusty debris that may have accumulated in your grill.
Allow your grill to air-dry or wipe it with a dry towel before proceeding to the next step.
Step 2
Coat your grill. Thoroughly cover the surface of your grill with a thin layer of vegetable oil, melted lard or vegetable shortening. For the shortening, use a sheet of wax to apply it on your grill.
Using a towel, wipe any excess oil to make sure the grill grates are coated with oil evenly.
Step 3
Fire up and heat your grill. After doing the cleaning and oiling it, spread lit charcoal briquette evenly on your grate, ignite your grill for about 1 hour as this will allow applied oil to season your grill. Bake it until the oil burns off and stops smoking resulting in a dark brown finish.
This helps to burn any residual contaminant on your grill, and the process can be repeated.
Step 4
Re-coat your grill. It's the final step of your grill seasoning after your grill has cooled, and it's very crucial to cover it with oil as this prevents rusting.
You can achieve this by soaking a towel in oil and using tongs to coat your grill grates. Now your charcoal grill is ready for grilling.
Not a fan of reading? Then check out this video:
How To Maintain The Seasoning?
After you are done with seasoning your grill, it's now ready to grill the steaks. However, it's essential to have some tips on how to maintain your seasoning exercise. Here are some nifty guidelines on how to do it:
After your grilling party, leave your grill to air-dry naturally: don't risk using cold water as it will cause cracks and shorten the lifespan of your grill
After it has cooled down, thoroughly wash your grill with a mild soapy solution as too much soap will get rid of the seasoning. Get rid of the ash on the bottom of your barbecue and empty it in the trash. Dry your grill by using a kitchen towel
Re-coat your grill after it has cooled using oil or shortening to prevent rusting. The best oil is a vegetable oil
Additional Tips
Cleaning your charcoal grill becomes a hard task when someone does not know how to season it. Apart from the above steps, you can apply the following techniques and have yours clean.
Use a wire brush, degreaser, and a decarbonizer
Use a boar bristle pastry brush to spread the unsalted vegetable oil which gets away the dirty cover
Put the coated grate on the grill and allow it to cook for an additional of 10-15 minutes
Seasoning will be over at the end of the 15th minute
Caution: A grill should be thoroughly washed after use. This helps to minimize the coat that may lead to rust or other unwanted effects.
Summary
Seasoning your charcoal grill before grilling your meals is a safe practice, it should also be done at the end and the start of every grilling season since it helps to get rid of oils, dust, and any other contaminants on your grill.
Sanitizing your grill also helps in preventing rust and easing the cleaning process of your grill. You should not assume your newly purchased barbecue is ready for grilling as it may contain dust or bacteria. That's why seasoning a new grill before first use is important.
Make your grill admirable by seasoning it at the right time. Do you want your grill to look like new? Now you know how to season a charcoal grill.
Apply these simple tips and you will be satisfied with the next grilling experience.
📌 Pin Me for Later Reading! 📌
I suggest you save this image below to Charcoal Gril 101 on Pinterest.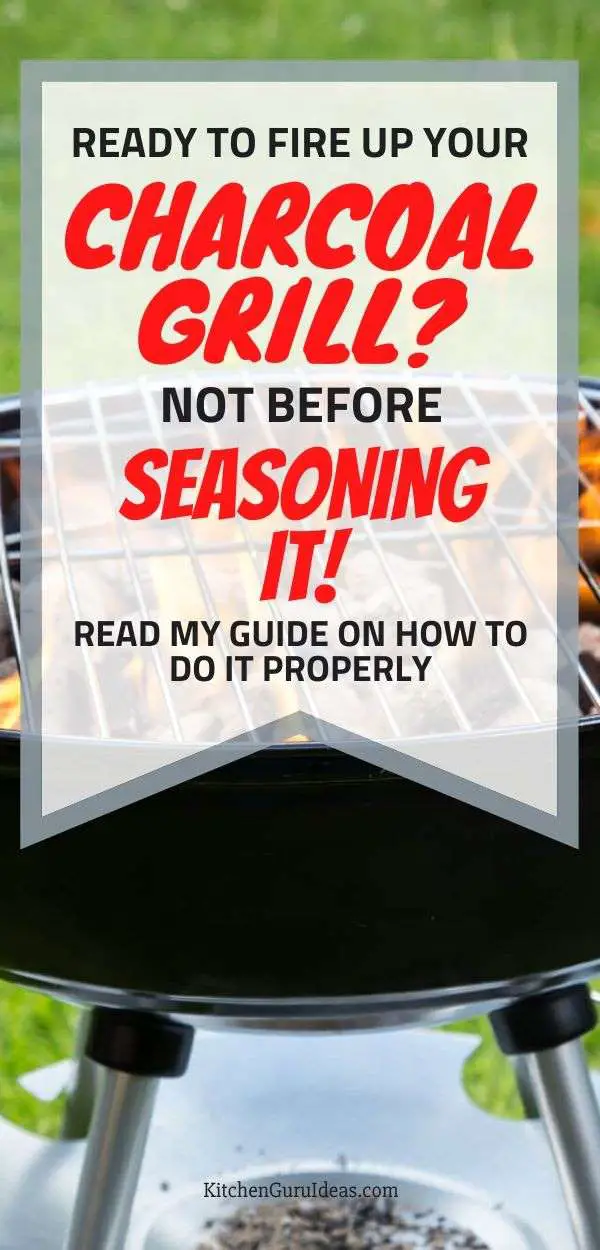 How often do you season your charcoal grill?