Have you tried to figure out how to cook the perfect pot of rice but just can't seem to get it right? I have personally tried and failed at it many times. Believe it or not, this is a common challenge for many people out there.
However, the best Aroma Professional Plus rice cookers are the answer to your rice cooking problems.
While the old-fashioned methods of cooking rice on top of the stove may seem to come easy to those from older generations, the task of tending to the stove to carefully watch your rice is just not feasible for today's busy people.
Now, your days of worrying are over because I have done all of the research for you and found some of the most fabulous rice cookers available on the market today.
I have summed them up for you here in my list of the 8 best rice cookers you can buy.
The Best of The Best Aroma Rice Cookers
What Is the Best Aroma Rice Cooker Currently on the Market?
These Aroma Professional Plus rice cookers have saved me a ton of trouble and transformed the art of cooking the perfect pot of rice into a simple task.
Not only do these top-quality machines make the best batch of rice every time, but they also free you from the hassle of having to watch over the stove so you can do other things while your rice cooker handles dinner for you.
Aroma Professional Plus Rice Cookers
Say goodbye to the days of having to throw out soggy, undercooked rice or dried out, overcooked grains.
These rice makers are so great that you will want to use them every day to prepare restaurant-quality meals for yourself and your family.
Aroma Professional MTC-8010 Rice Cooker/Multicooker
Being my absolute favorite rice cooker out there, the Aroma Professional MTC-8010 is a professional-grade, high-capacity rice cooker that doubles as a multi-cooking powerhouse.
Large Cooking Capacity
This beast has a 10-cup dry capacity (20 cups cooked), allowing you to easily prepare delicious meals for small groups or large parties.
Turbo Convection Technology
By using cutting-edge turbo convection technology, the MTC-8010 ensures evenly distributed heat for perfect cooking every time.
Induction Heating
Another great benefit of this rice-cooking powerhouse is the fact that it uses induction heating.
When compared to traditional direct heat, induction allows for more even cooking and also saves electricity.
This is the perfect solution to the problem of having a pot of rice that is crispy and dry on the bottom and soggy on top.
Instead, thanks to the induction heating feature, each grain of rice will cook perfectly every time.
Sear Meat Right in the Machine Itself
The MTC-8010 also features a "saute then simmer" setting which is great for preparing dishes that contain meat as the main ingredient.
You can use this function to perfectly sear chicken or steak before adding your other ingredients for expertly-prepared stews and sauces.
Unlike the case with most slow-cookers, your seared meats will have a beautiful golden-brown crust that helps to seal in all of the flavorful juices.
Versatile
Additionally, you can use this state-of-the-art rice cooker to prepare other creations.
I love the idea of being able to make a perfect pot of creamy macaroni and cheese in my rice cooker.
I have also successfully made delicious soups and stews with the MTC-8010.
Eye Candy
On top of that, the beautiful champagne color option and digital display make this rice cooker a lovely piece of hardware for showcasing on my countertop.
Pros
Large capacity which is perfect for large families and entertaining
Easy to use with a large digital display
Induction heating allows for perfect heat distribution and even cooking
Keeps food warm for hours
Cons
May be too large for single people and small families
Aroma Professional MTC-8008 Rice Cooker/Multicooker
Next up on my list is the Aroma Housewares MTC-8008, which is beautiful mid-capacity rice- and multi-cooker that is perfect for the average household.
Aesthetically Pleasing Design
This sleek cooking machine is designed to fit comfortably on any countertop while still being able to prepare up to 16 cups of cooked rice.
The brushed metal exterior allows it to maintain its allure for many years, helping to prevent any scratches while also allow it to be wiped clean with ease.
All Essentials Included
I really love the fact that the MTC-8008 includes all of the accessories I could have ever dreamed of like the bamboo rice paddle and soup ladle.
Not Just for Cooking Rice
This beauty retains the "saute then simmer" functionality of its larger family member while also including a steamer basket so you can cook the perfect vegetables to go along with your rice.
I am totally in love with this rice cooker!
No More Burned Fingers
If you happen to have children or pets in your home, you can rest assured as this phenomenal multi-cooker also features cool-touch technology so you do not have to worry about the outside creating any burn hazards.
Doubles as a Multicooker
Plus, since this rice cooker also doubles as a multi-purpose cooking appliance, you can have lots of fun exploring creative recipes when you are not making rice.
From soups and stews to cakes and cobblers, the MTC-8008 can really do it all.
Additional Features
The clear digital display makes this lovely machine easy to use and also has a feature that lets you auto-program your cooking based on your schedule.
This is excellent for those of you who work through the day and would like to have dinner ready and waiting for you when you get home.
Pros
Clear digital display
Programmable cooking functions save you time
Keeps food warm for hours
Perfect size and capacity for most homes
Cool-touch technology
Cons
Uses direct heat instead of induction heat
Aroma Professional ARC-6206C Digital Rice Cooker & Multi Cooker with Ceramic Inner Pot
This versatile rice cooker is unique in that it uses a ceramic inner pot coating for safer non-stick cooking.
Why Ceramic?
Ceramic is a natural material that does not contain the added chemicals that typical non-stick cookware may have.
Clean-up is also a breeze.
Now, you can prepare your favorite meals quickly and conveniently with peace of mind, knowing that you are not exposing your food to any unwanted additives or chemicals.
Notable Features
The ARC-6206C includes many of the features of my other 2 favorite rice cookers, but in a much smaller size.
In addition to cool touch technology, which keeps the outside of the appliance from getting hot, you can also count on being able to easily program this cooker for extra convenience.
You can also count a soup ladle and bamboo rice paddle as some of the bonuses included with this fabulous machine.
Compact Size
The smaller size of this multi-purpose cooker makes it perfect for singles, couples, and even makes it a great choice for college students living in dorms.
After all, this handy appliance will allow you to cook real, healthy food so that you will never have to depend on the microwave again.
I would also recommend the ARC-6206C as the essential complement to any workplace break room.
This way you and your coworkers can enjoy warm soups in the heart of winter.
Highly Versatile
You can enjoy more than just rice since this multi-purpose cooker allows you to:
Steam vegetables
Prepare your favorite soups and stew
Bake cakes and tarts
Make yogurt
I cannot think of a more useful and versatile addition to your apartment or dorm room.
B-E-A-utiful
The sleek design and brushed steel exterior also make this appliance easy on the eyes and enable it to blend perfectly with any kitchen decor.
This cooker is well worth taking a look at if you are in need of something that is convenient and packed full of useful features.
Pros
Small size is perfect for dorm rooms and offices
Cool touch feature keeps it safe to use
Ceramic coating for chemical-free cooking
Programmable for added convenience
Easy to clean
Cons
Too small for large families or groups
Aroma Professional ARC-6106 6 Cups Uncooked Rice Cooker
If you're low on counter space or you don't cook in large batches, then this model is the perfect choice.
6 Cups of Uncooked Rice Capacity
This one is one of the smallest rice cookers on this list regarding capacity.
Its small capacity makes it compact enough for places where space is at a premium. Also, it's a great option for loners, couples, roommates, and other small groups of people.
Cooks Even the Toughest Grains of Rice to Perfection
Some types of rice are notoriously difficult to cook. Brown rice is one example.
The engineers at Aroma have perfected and calibrated the ARC-6106 to cook every type of rice – including brown, long, medium, and short grain – to perfection with a simple push of a button.
Turn Kitchen Time Into Your Time
The Saute Then Simmer (STS) Function enables you to sear meat and veggies right in the machine itself. This saves you time and dishes.
If you're pressed for time, choose the "Quick Rice" option to speed up the cooking process.
Cool Touch Technology
One of the worst things that can happen to you during rice cooking is burning your hands while checking up on the rice during or after cooking.
Thankfully, the entire outer surface of the rice cooker is cool to the touch, so you don't to have to worry about it.
Make Tons of Different Dishes
Rice isn't the only dish you can make in this thing.
This model also serves as a multicooker, meaning you can make a variety of foods, including:
Cooking soups
Steaming vegetables
Porridge
Baking bread and tarts
What's Included in the Package?
Steam tray
Rice measuring cup
Soup ladle
Rice paddle
Pros
Compact
Versatile
Saute then simmer function
Fast cooking time
Eye-catching design
Cons
Minimum of 2 cups of uncooked rice
Water may spill from the lid after opening it
Aroma Housewares ARC-1020SB Rice Cooker & Food Steamer
With the ARC-1020SB at your disposal, you can feed the entire party or group in just one sitting.
Convenience at Its Finest
Measure the rice and water, put it in the rice cooker, and press the button.
It doesn't get simpler than this.
For making meat risottos, you can sear the meat right in the cooker itself before putting the rice and other ingredients in it. The machine automatically switches off sauteing function and turns on simmering once you add liquid.
You can the delay timer for up to 15 hours so once you get home from school, work, and other activities, a freshly-cooked meal will be awaiting you.
The detachable steam vent makes the job of cleaning your rice cooker machine even easier.
Even if you don't have time for this, you can still enjoy rice in a pinch with the "Quick rice" program. This greatly reduces cooking time.
Declutter Your Kitchen
This rice cooker/multi-cooker combo eliminates the need for having multiple cookers, pots, and pans because you can cook many dishes besides rice with it.
You'll save tons of money on kitchen equipment, you'll have more space in the kitchen, and you'll have fewer dishes to clean.
It's a win-win-win scenario.
Pros
Amazing performance
High capacity
Simple and elegant design
Easy to use and clean
15h delay timer
Cons
No pressure cooking option
Aroma Housewares ARC-5000SB Digital Rice, Food Steamer, Slow, Grain Cooker
When you want to steam veggies like a pro chef, nothing beats the ARC-5000SB.
A Cooking Behemoth
Having a capacity of 20 cups of cooked rice (that's 10 uncooked), you'll never again have to worry about running out of cooked food.
Your Meal Possibilities Extend as Far as Your Creativity
It not only looks likes an Instant Pot, it functions as one as well.
With a dozen functions and a steamer tray, the only thing holding you back from achieving culinary masterpieces is your imagination.
The programs include:
White rice
Brown rice
Sushi rice
Quick rice
Quinoa
Delay timer
Soup
Saute then simmer
Oatmeal
Keep warm
Steam cook
Slow cook
Although not listed on the control panel, you can even make fluffy cake.
Easy Cleanup
All included accessories and the cooking pot are dishwasher safe – fast, easy, and convenient.
Pros
Nice and even cooking
Versatile
Easy to clean
Simple design
Awesome steamer attachment
Cons
Bulky
The inner lid is not removable
Aroma Professional ARC-1126SBL Smart Carb Rice Cooker
If it's price you're worried about, consider the ARC-1126SBL.
Affordable
Its low price tag makes this model one of the most affordable rice cookers on this list.
Smart Carb Inner Pot
This cooker features a special stainless steel pot capable of reducing up to 30% of carbohydrates in rice.
It does this by elevating the rice above the bottom of the inner pot. Once the rice is cooked, the carbohydrate-rich starchy water drips down to the bottom instead of being absorbed by the rice.
When you're not in the mood for rice, this pot doubles as an additional steamer basket for larger pieces of meat and produce. Smart!
Simple and Elegant Design
This model screams the "less is more" mentality with its simplistic design and button layout.
It has fewer functions than most models in this list, but it's still capable of much more dishes than rice, including:
Oatmeal
Soup
Pasta
Steamed veggies
Pros
Cheap
Elegant design
Versatile
Compact
Easy to use and clean
Cons
Can only cook up to 3 cups of smart carb rice
Aroma Professional ARC-1230R Rice Cooker, Food Steamer, Slow Cooker, and Multicooker
Spice up your kitchen decor with the vibrant bright colors of the ARC-1230R!
Much More Than a Rice Cooker
Besides cooking rice, this particular rice cooker functions as a food steamer, slow cooker, and multi cooker all-in-one.
The saute-then-simmer function increases its versatility even more.
That's why it's a great option for campers, travelers, apartment dwellers, students, and others who are low on space and love both simplicity and convenience.
11 Cooking Functions
These options include:
Rice
Grains
Oatmeal
Slow cook
Steam
Saute-then-simmer
Cake
Soup
Yogurt
Keep warm
Delay timer
Clear-View Glass Lid
This is the only rice cooker on this list that has this feature.
Dishwasher Safe Parts
The nonstick inner pot, steam tray, rice measuring cup, and spatula are all dishwasher safe.
Pros
Clear lid
Easy to clean
Interesting color choice
Cooks fast and evenly
Quality materials
Cons
The inner pot is easily scratched
No pressure cooking option
Things You Should Consider When Buying A Rice Cooker
If you are in the market for a rice cooker, you should carefully consider all of your needs so that you can make the right choice from all of the options out there.
This way, you won't end up buying an appliance that is too advanced or too simple for how you plan to use it.
First and foremost, how many people do you plan to feed on a regular basis?
The answer to this question will help you choose the right size cooker for your home or workplace setting.
A larger capacity cooker will provide you with more versatility while a smaller device may be optimal for dorm room and office settings.
You may also wish to consider added features like programmability and the type of heat used when making your decision
Rice cookers are available in a multitude of variations, so you should be sure to check out all of the features so you can choose the one that works best for you.
About Aroma Housewares and Why Is It Considered the Best Rice Cooker Brand in the US
Aroma Housewares Company (also known by its lesser-known name as Mirama Enterprises, Inc) is a US-based brand and manufacturer of cookware and small kitchen appliances.
History
Established in 1977 in Southers California by Peter Chang, its first focus was on ovens. In a few years, the company expanded to other states and eventually started offering other products.
15 years after being established (1992), Aroma introduced its very own line of rice cookers and soon became a hit.
Where Are Aroma Rice Cookers Made?
In the United States.
How to Use an Aroma Rice Cooker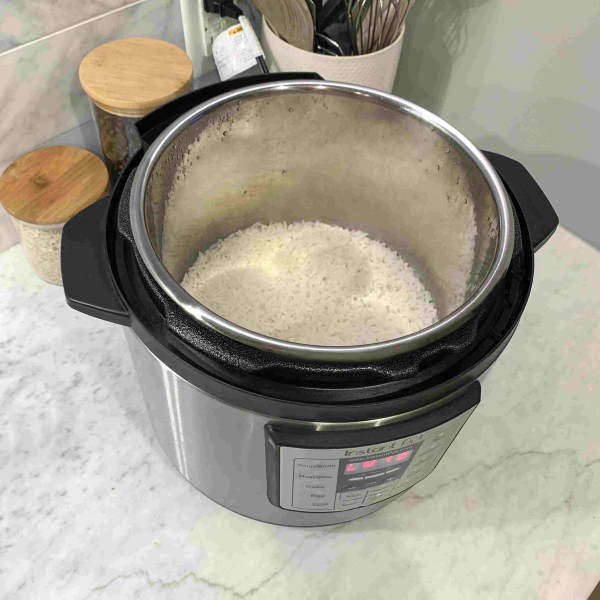 How to Make Rice
Measure rice and water

Usually, add 2 cups of water per 1 cup of rice

(Optional) Take out the bowl from the rice cooker and shake it slightly to level the rice
Close the lid
Start the machine and select the program
How to Use the "Saute Then Simmer" (or STS) Function
Press the "STS" button on the rice cooker
Add oil
Close the lid and wait about 5 minutes
Add chopped meat and sear it
Add rice, water, and other ingredients

The rice cooker automatically stops searing and switches to simmering once you add liquid

Close the lid
Leave it to cook for 30 – 45 minutes
How to Use Aroma Rice Cooker to Steam Vegetables
Wash and prepare your veggies
Add 2 cups of water to the inner pot
Place the veggies in the steamer tray
Put the tray in the cooker
Close the lid
Turn on the machine
Press the "Steam" button
Set the time
The steaming times should be included in the instruction manual.
If you don't have it, see these recommended times:
Asparagus – 20 minutes
Broccoli – 15 minutes
Cabbage – 25 minutes
Carrots – 25 minutes
Cauliflower – 25 minutes
Corn on the Cob – 25 minutes
Green Beans – 15 minutes
Peas – 20 minutes
Spinach – 20 minutes
Squash – 20 minutes
Zucchini – 20 minutes
Frequently Asked Questions Regarding Aroma Professional Plus Rice Cookers
How Long Does It Take To Cook Rice In The Aroma Rice Cooker?
Like many other amazing rice cookers out there, Aroma Professional Plus rice cookers take much less time to cook rice than cooking it on the stove.
From the official Aroma website:
Generally white rice takes around 10 minutes per uncooked cup of rice to cook in both cool touch and Pot Style rice Cookers. Brown rice will take around 20 minutes per uncooked cup of rice to cook in Pot Style Rice Cookers and 2 hours to cook in Cool Touch Rice Cookers due to the extra bran layers on the grain
Take a look at this cooking table for white rice: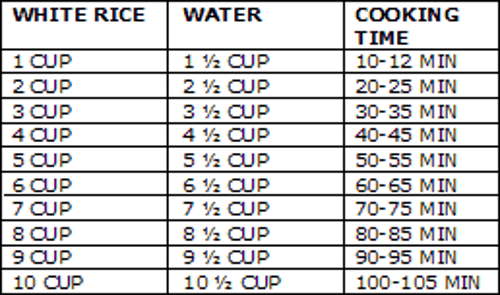 How Do I Clean My Aroma Rice Cooker?
Cleaning your rice cooker is simple and straightforward. It takes only about 10 minutes.
Unplug the machine and wait about 30 minutes to cool down
Remove the inner pot and wash it with warm soapy water and a sponge (don't use steel wool or similar abrasives!). Rinse and dry thoroughly
Detach the inner lid. Soak briefly and wash clean. After drying it with a soft dry cloth, install the lid back into the cooker
Wipe the heating plate with a warm, damp cloth. Dry it with a soft dry cloth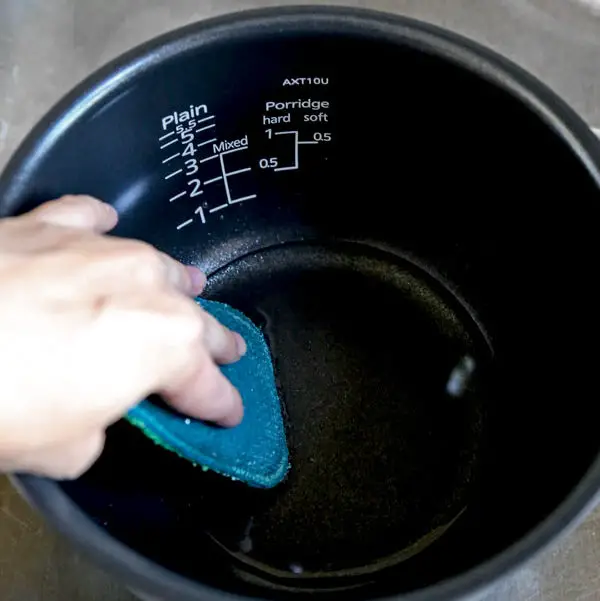 Tips
Never ever use abrasive cleaners or soak your rice cooker in water or any liquid.
If the inner pot is dishwasher safe, wash it there to simplify the cleaning process.
Does Aroma Rice Cooker Turn off Automatically?
Yes.
Once the rice is done, the cooker automatically switches to Keep warm.
Is Aroma Rice Cooker the Same as Instant Pot?
This depends entirely on the model. Specifically, what functions does it have.
Most models on this list can be used in the same style as an Instant pot.
This is because they can be used as a multi-cooker, pressure cooker, or both – which is what an Instant Pot is.
Can You Cook Meat in an Aroma Rice Cooker?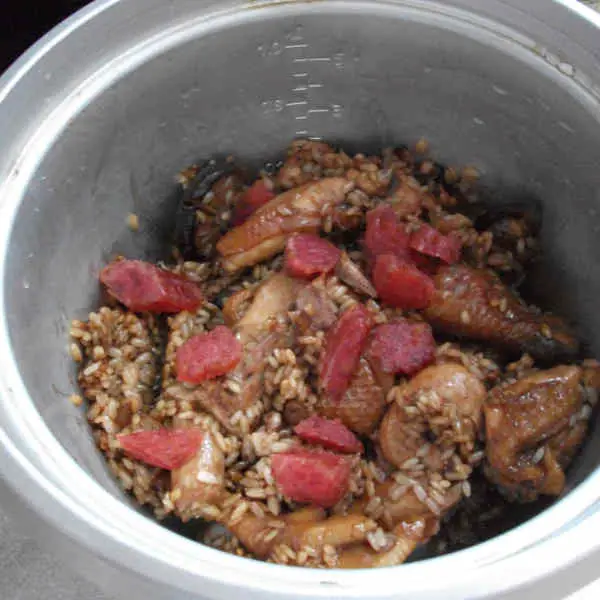 Not only do these Aroma Professional Plus rice cookers reviewed above cook restaurant-grade rice, but they are also ideal for not only meat but also vegetables – you can cook them all at the same time in the same pot.
The MTC-8008 comes with a steamer basket that makes cooking meat a little bit easier.
I love spicy cuisine, especially chicken. One of my favorite rice cooker recipes is chicken chili.
The meat softens up while cooking and soaks up all the juices and seasoning. When cooked the chicken dissolves in my mouth. Yummy!
Tip: If your model has the Saute-then-simmer function, you can also sear the meat.
Enjoy Your New Aroma Professional Plus Rice Cooker
Once you get your new rice cooker home, be sure to use it often and experiment with different recipes. Not only will you now be able to prepare the perfect pot of rice every time, but you can also create delicious soups, stews, cakes, steamed vegetables, and so many other tasty treats.
Hopefully, this buying guide has helped you to narrow down your search and save lots of time. You can find more info for each of my choices for the 8 best rice Aroma cookers just by clicking on the image of each model in the list above.
I know you are going to love any of these rice cookers just as much as I do!