Clean water and good health go hand in hand.
Despite all the filtration that happens before the water shows up at the kitchen or bathroom faucet, there can still be unwanted chemicals, compounds, and lingering concerns about what the water brings along with it.
Many consumers understand how important it is to clean tap water to a higher level than what is acceptable to the local health department.
A good water filter pitcher can help make clean and tasty water a reality glass after glass.
People with concerns about their health and those who want a great-tasting glass of water can find a simple, convenient, and affordable solution using a pitcher.
The Best Water Filter Pitcher Might Surprise You
What Is the Best Water Filter Pitcher?
The Pitcher Convenience Is Hard To Beat
What could be easier than filling the pitcher reservoir and waiting a few minutes for clean, purified water?
Water filter systems that go on top of or under the kitchen sink can be expensive to purchase, difficult to install, and hard to maintain.
Many homeowners and office managers don't have the money, time, or the ability to install a water filtration system but still want clean water for drinking, making hot beverages, and watering the plants.
The simplest solution is a water filter pitcher that can be easily filled and used over and over again.
Switching out used filters is easy to do and doesn't involve any plumbing tools or climbing under the sink.
The Best Water Filter Pitchers Available
The best water filter pitchers have common features and benefits, but what separates them from the rest of the pack is the higher levels of filtration they accomplish.
Compared to popular consumer brands, these models take filtration to a whole new level.
What I look for is a combination of product features and benefits, technology, convenience to use, and durability.
While there are dozens of products available for water filtration, I've found that these 7 I've included combine the best features and benefits with value and affordability.
ClearlyFilteredTM 10-cup Water Filter Pitcher
Best for Home
Independently tested to remove Fluoride, Lead, PFAS/PFOA, and over 365 unique contaminants commonly found in tap water
Capable of removing harmful chemicals while maintaining beneficial minerals and nutrients
American-built filters
Tested and certified to exceed NSF/ANSI standards
Made with 100% BPA-free Tritan that's approved for contact with water and will never leach chemicals
If your filtered pitcher ever breaks, we will replace it free of charge!
The engineers at ClearlyFiltered went after water filtration with a vengeance. I start with this filter pitcher because I think it does the best job right out of the box.
Advanced Filtration Technology
They developed what they call their Affinity Filtering Technology which does a superior job removing contaminants in water.
This product utilizes a two-stage filter that removes 99.7% of more than 230 different contaminants.
That's more than any other filtration pitcher on the market.
When compared to some of the more popular products out there, this water filter pitcher leaves them all way behind in the number of contaminants removed category.
BPA-Free Materials
In addition to filtering the bad stuff out of the water, the ClearlyFiltered pitcher doesn't put any contaminants back into it.
Contaminants like BPA and PFOAs can diffuse from plastic containers into the water and affect your health. When most other filters eliminate seven or eight contaminants, this one goes much further than purifying water.
The Best Of the Best
If you're looking for the top-of-the-line filter product, I think this one fills the bill quite nicely.
Pros
Tested and certified to exceed NSF/ANSI standards
Removes over 350 contaminants
Retains the water's natural minerals and nutrients
Made with 100% BPA-free Tritan
Cons
A little heavy for its size
Slower filter performance
AquaGearTM 10-cup Water Filter Pitcher
Best for Hard Water
Successfully removes 2000% more contaminants than the leading competitor, including harmful contaminants like lead, chlorine, microplastics, trace pharmaceuticals, PFOA/PFOS, PFAS, and more
Retains healthy minerals like calcium and magnesium
Filters can be recycled
Every time you purchase a filter or pitcher, or recycle a used filter, we help build biosand filters for families in Tanzania
Guaranteed For Life. For Real
When the designers and engineers at AquaGearTM developed their 10-cup water filter pitcher, they wanted to beat the competition by producing a filtration process that capitalized on new technology in filter materials.
Doesn't Remove Nutrients Like Some Filters Out There
The AquaGearTM water filter pitcher uses a 5-stage filter that eliminates unwanted contaminants like lead and Fluoride while retaining minerals like calcium and magnesium that help water taste better and which your body needs.
Other competitive products remove calcium and magnesium making the water taste funny and losing the nutritional benefits.
Their 2-micron pore filter does an excellent job removing contaminants while keeping the water tasting fresh.
This filtration system keeps beneficial components like calcium and magnesium in the water where Reverse Osmosis filtration systems remove them, leaving the water in need of flavor enhancement in many cases.
Other Features Worth Mentioning
I like this product because the company manufactures the filter pitcher with 100% US-made components.
The pitcher is 100% recyclable, and it's made from 100% FDA-approved food-grade materials.
Pros
Meets and exceeds NSF Standards
100% BPA-free
100% FDA-approved food-grade materials
100% recyclable
Uses a 2-micron filter to remove contaminants
Long-lasting filters save money
Alkanatur Alkaline 10-cup Water Filter Pitcher
Best BPA-Free
BPA free
CE, ROHS, and SGS approved
Certified by the INSTITUTION CERAMICO FROM GALICIA
DOES NOT use ION EXCHANGE RESIN
The only filter that purifies and alkalizes without adding sodium
Uses an active bioceramic filter
Ionizes the water molecules which become powerful antioxidants that eliminate free radicals up to -350 ORP
The filter should be replaced approximately every 1690 cups / 400 liters
Adds rich magnesium while retaining potassium
This water filter pitcher uses a unique ceramic filtration process to clean the water while infusing Alkaline to help balance the pH levels and improve the taste.
Unique and Efficient Filtration Process
The Alkanatur Alkaline filter pitcher also ionizes the water, making it taste better and helps the body's immune system perform at peak performance.
The Bioceramic filter system ionizes water as it passes through the filter making the water a powerful antioxidant and eliminating free radicals.
The Pitcher Itself Is as Healthy As the Water It Filters
The folks at Alkanatur also took the issue of contaminating the water after it's filtered seriously, manufacturing their water filter pitcher from BPA-free materials.
Pros
Antioxidant Alkaline Bio-ceramics produce a pH between 8.5 and 9.5
Ionized water produces immune system-boosting antioxidants
Certified by several certification agencies in the USA and Europe
Fast filter performance
Eliminates up to 99% of impurities
Cons
Small particles of Calcium in water
Invigorated Water Stainless Steel 8-cup Alkaline Water Filter Pitcher
Made with premium quality steel
Equipped with our unique on-the-go filter pouch
Filters out harmful materials such as lead & chlorine easily while letting vital minerals like calcium & magnesium through
Sleek steel design
Each filter can filter up to 8 cups / 1.9 liters of water making it ideal for home, office, and outdoor use
The on-the-go filter pouch can filter up to 1700 cups / 105 gallons / 400 liters
BPA-free food
TUV and SGS Tested with a backed brand membership of The Water Quality Association
Another great favorite on this list.
Say Goodbye to Plastic
The main reason being it's completely 100% non-plastic. Instead, it's made from stainless steel.
I was one of many people who asked the engineers at Invigorated Water for a plastic-free pitcher.
Another reason is that the thing just looks damn good. It's not only fancy-looking but super modern.
Having one at your office will make your co-workers envy.
Small Filters That Pack Quite a Punch
The look is not the only thing that makes this water filter pitcher stand out.
It has its own type of on-the-go filter bag. It removes:
Free radicals
Heavy metals
Bad taste & odors
Fluoride, chlorine, and chloramine
Without affecting the natural taste. Some filters also remove good minerals, like magnesium and iron but this one does not.
High-Capacity Filters
The filter bag is also quite resilient and is capable of filtering up to 1700 cups or 105 gallons of water.
A family of 5 can drink safe revitalizing water for about a month and a half.
What Bothers Me
It's strange that after all this time and energy they've put into designing this pitcher they could have put the same into the handle design.
Every now and then the screw comes loose and I have to retighten it with a screwdriver.
Pros
Made from stainless steel
100% free from plastic
Removes tons of contaminants without affecting the natural taste of the water
Stylish modern design
Long-lasting filter
Portable filter bag
Cons
The handle comes loose once in a while
BIO CERA Alkaline Antioxidant 6-cup Water Filter Pitcher
Best 6 Cup
Provides clear, clean safe water to be used for tea, coffee, cooking, and drinking
Ionizes tap water turning it into mineral-rich health-promoting water that is alkaline in pH with antioxidant properties
Made with Biocera Ceramic ball. Biocera Ceramic balls are certified by NSF International against NSF/ANSI Standard 42 for material requirements only
Reduces heavy metals, such as lead, copper, and zinc, as well as chlorine, water hardness, organic pollution, and pesticides
100% BPA free
This pitcher from BIO CERA caught my attention with its own type of filter technology – the Biocera balls.
About Biocera Balls
They are made from many sorts of crystals (sapphire and ruby are among them) which remove free radicals and bacteria.
Their side effects are increasing the water's pH level (up to 9.5) and enriching it with antioxidant properties.
This was tested and confirmed by NSF International.
These balls combined with the classically activated carbon filter, and PP and coarse pre-filters not only remove bacteria, dirt, water hardness, organic pollution and pesticides, chlorine, heavy metals such as lead, copper, and zinc, but also ionize your tap water turning it into mineral rich health promoting water.
As Safe as It Can Possibly Be
Because the engineers really put a lot of effort into our health and wellbeing, they excluded any BPA plastic compounds.
Super Easy Filter Replacement
Changing the filters is a breeze, taking you at most 5 minutes.
And because the pitcher informs you when you need to replace them, worrying if the filters are still doing their job is a thing of the past.
Bonus Filter Cartridges
You get to 2 additional cartridges with your pitcher so you'll drink clean healthy water for a very long time.
Overview
Pros
BPA free
NSF certified
2 additional filter cartridges
Removes a ton of contaminants
Increases pH
Provides clear, clean, and safe water
Cons
Short-lasting filters
Small capacity
LifeStraw Home 7-Cup Glass Water Filter Pitcher
Best for Lead
Protects against bacteria, parasites, microplastics, lead, mercury, and chemicals including PFAS, chlorine, organic chemical matter like pesticides and herbicides, dirt, sand, and cloudiness
Retains essential minerals like magnesium and potassium that are good for your health
Made from shatter-resistant glass
Another pitcher not made from plastic.
Made From Glass Instead of Plastic
It's not made from stainless steel like the one from Invigorated Water mentioned above but from glass.
Unlike most ordinary glass pitchers (which are brittle and therefore shatter on impact), this one is made from shatter-resistant glass.
This feature is a huge plus for my clumsy hands.
One of Few Pitchers Capable Of Removing Tons of Impurities
Now, the company claims that this pitcher is the only "water filtration pitcher that protects against bacteria, parasites, microplastics, heavy metals including lead, mercury, and chromium III, and organic chemical matter like pesticides and herbicides."
While this is not actually true, it's actually one of the few pitchers capable of filtering all of these contaminants.
Despite removing all these health hazards above it does not remove the good stuff like magnesium, potassium, carbon, and sodium that are essential to our health and proper mind and body functioning.
Every Purchase Saves Lives
Now surely you've become aware by now that LifeStraw is more than aware of how important pure water is in our lives.
And you're right – they actually are more than that.
Every time you, I, or someone else buys something from them, a school child in need receives safe water for an entire school year.
Talk about saving lives.
Pros
Removes A LOT of contaminants, including pesticides and herbicides
Made from shatter-resistant glass
Nice sleek design
Filters quickly
Doesn't filter out essential minerals and other beneficial nutrients
Cons
Small capacity of only 7 cups
OXA Alkaline 10-cup Water Filter Pitcher
Best for Fridge
Utilizes 7-stage cartridge of ion exchange resin, activated carbon, ion ceramic ball, far infrared ceramic ball, mineral balls, and PP pad
Removes chlorine, odors, heavy metals, 90% of zinc, copper, lead, and pollutants
Removes free radicals and eliminates toxins with powerful ANTIOXIDANTS
2400 cups / 153 gallons / 600 litres filter life
Simple and convenient easy-fill lid to allow you to fill the reservoir without removing the cover
Specially designed for refrigerators
Certified by well-known international certification SGS, TUV, RoHS, BSI, ISO 9001:2000
Refresh your tap water and body with this pitcher by OXA.
Multi-Stage Advanced Filtration Technology
You won't regret it as it uses its own patented advanced 7-stage filter technology made from ion exchange resin, activated carbon, ion ceramic ball, far infrared ceramic ball, mineral balls, and PP pad.
This removes the most common pollutants found in tap water, including chlorine, zinc, copper, lead, mercury, and cadmium.
Long-Lasting Filters
You get 2 long-lasting and cost-effective filters that are able to filter up to 2400 cups or 153 gallons of water. A family of 3 can use them for about 3 months and a half.
Because the filters also greatly decrease limescale in water, descaling your appliances like kettles or espresso machines will be much less frequent.
Comfy Grip
The handle isn't the only thing here that's ergonomic. The whole pitcher is. It's specially designed for the fridge so there is no need to worry if it will fit in or not.
Say goodbye to bottled water and hello to OXA water filter pitcher.
Pros
Very efficient and cost-effective filters
Elegant ergonomic design
Removes most common contaminants
BPA free
SGS certified
Cons
Sometimes the lid gets stuck and is difficult to remove
What To Look For In A Water Filter Pitcher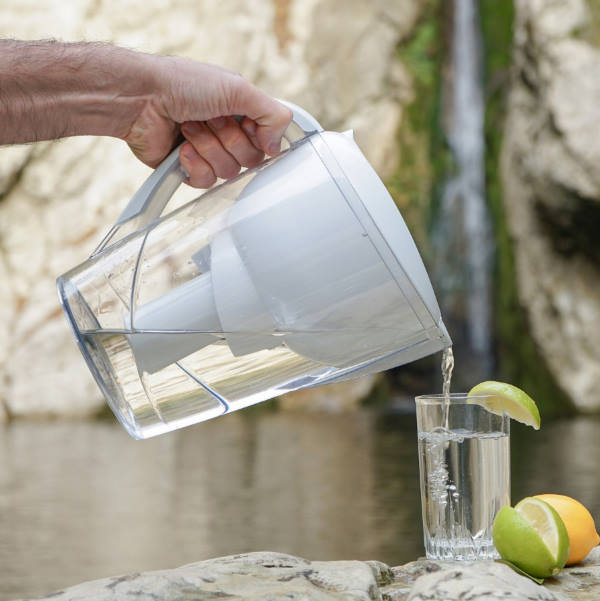 One of the most important features I look for in a water filter pitcher is capacity.
A 10-cup capacity means I have enough clean water to brew up some coffee or make dinner.
Smaller capacity water filter products aren't as convenient as it takes a little while for the filtered water to replenish after re-filling it.
On the other hand, too large of a pitcher and it won't fit easily into the refrigerator door or on the shelf.
Pure water is important, but I don't want to give up too much space and for smaller refrigerators, this can be a problem.
Another feature I look at is filtration purity.
The more contaminants a filter removes, the better the water will be.
Replacing Filters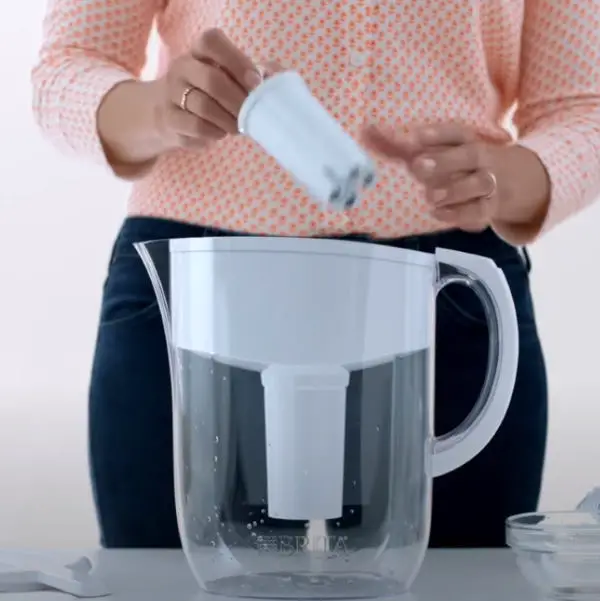 When investigating which filter pitcher will work best, I think it is important to understand how long the filters will last.
The filters themselves can be a little pricey in some cases and I don't want to spend my retirement savings to get clean water.
Filter duration depends upon the type of technology used for filtering the water.
Like all things in engineering, to get a benefit, you usually have to give a benefit up.
For water filter pitchers, this involves the filter's materials and processes.
The better a filter does removing contaminants, the more often it has to be changed.
The goal here is to find the balance between water purity and filter economics.
Technology Is Key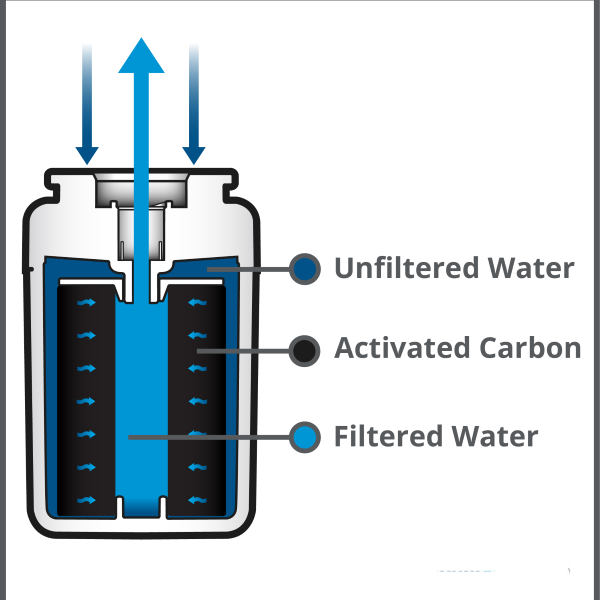 There are a lot of different ideas, designs, and engineering methods for purifying water.
The filter process is controlled by the materials used as well as the filter's flow capacity.
The finer the filter the better a job it will do eliminating unwanted contaminants, however, this will also affect the water flow through the filter.
In some cases, the higher the level of filtration slows the water flow through the filter requiring more time to fill the empty pitcher.
In other cases, the filtration process is augmented by the addition of compounds or materials that enhance the flavor of the water or its pH balance.
Every filter manufacturer has its own philosophy when it comes to creating a filtering process and each different method produces water with varying characteristics.
Don't Be Fooled By Marketing Campaigns
Many consumers watching TV or cruising around the internet find popular brands of water filter pitchers offered.
There are 2 or 3 major brands that seem to dominate the marketplace.
Upon investigation, the top-selling brands fail to purify many chemicals, compounds, and contagions, focusing only on removing the main worries of sand and silt as well as chlorine and lead.
The fact is that there are over 200 contaminants in most municipally supplied drinking water and even more in water that comes from wells.
In my opinion, it's more important to get the job cleaning the water than advertising with glitzy, Hollywood-produced commercials using catchy slogans and smiling housewives.
Commonly Asked Questions
Are Water Filter Pitchers Worth It?
If your water is contaminated and you need to filter it, then getting yourself any sort of filter is a huge investment.
Even though tap water is regulated in the US, it's not always completely pure. That's why 40% of Americans filter it.
Therefore, yes! Water filter pitchers are worth it.
Unlike under sink or countertop water filters that require a lot of time and fuss to be installed and properly set up, you just fill the pitcher up, put it in the fridge, and you're done. Easy.
You see, a lot of homeowners and offices don't have the luxury of time or money to install such a system. Another reason is that some people aren't DIY enthusiasts.
Also, hiring a plumber to do the job for you is another big expense.
Many people are also renting apartments, rooms, etc., and they don't want to work on something that isn't theirs and/or know very well that they won't be living there for long (like students in a dorm).
You don't order cable for a port-a-potty.

Charlie Harper, Two and a half men
Another advantage pitchers have is portability. You just pick one up and off you go.
That's why they're so popular amongst travelers, campers, students, and similar groups that tend to move a lot.
To Summerize:
YES, they are worth it, especially if:
You don't have the time nor money to install an under sink water filter or a similar water filtration system
You're renting and don't intend to stay there long
You're a camper, traveler, student, or a similar person who moves a lot
You can't shell out a couple of hundred bucks for a water filter
You like the convenience of using pitchers
Do Water Filter Pitchers Really Work?
Despite having tiny filters, they do more than a great job removing contaminants from the water.
This is more than true for all of these pitchers mentioned in this article.
I have mentioned several times on my site that bigger isn't always better.
Again, this is the case.
Pitcher filter cartridges aren't that much bigger than a grown man's fist but are very effective at not only removing debris and limescale but also far more dangerous contaminants like heavy metals and bacteria.
Because pitchers don't use reverse osmosis, they have a hard time removing some elements like viruses, and certain protozoa. This, of course, shouldn't concern you if your tap water comes from a pipeline and not from a well or a local pond.
Just like with all types of filters, having just one type won't make the water 100% pure. Some contaminants will always remain in the water. If you want to achieve this kind of purity, you need to combine several water filtration systems (like under sink reverse osmosis and pitcher).
The good news is that the body is capable of removing small amounts of contaminants by itself and if your tap water is already being filtered at the plant, doing something like this is overkill.
Are Water Filters Better Than Bottled Water?
Contrary to popular belief, bottled water is not always filtered (at least in the US).
Basically, you're buying bottled tap water, the same water that comes from your tap.
Also, most bottles are made from plastic because it's way cheaper and quicker to manufacture than glass.
They are mostly single-use: when you empty the bottle you throw it away.
This creates thousands of tons of garbage every year, polluting the environment.
Did you ever wonder why that "natural-spring water" bottle has an expiration date? The date is not for the water at all but for the bottle.
After some time, the plastic starts to deteriorate and begins leaching toxic chemicals into the water.
Now you know.
These are the reasons why water filters are better than bottled water.
They are expensive to buy but after the purchase, the cost of maintaining them doesn't come as close as buying several bottles of water every day.
Check the math and see for yourself.
Clean Water Matters Now More Than Ever
Given all the health concerns circulating through every culture on the planet, there's real value to having purified, clean water to consume.
A healthy body demands clean water to operate at peak performance levels.
Athletes know iodized water with lots of antioxidants helps them train better, perform better, and feel better after workouts.
Folks with allergies and people who drink water from wells must have consistent and safe filtering to avoid introducing things like pesticides and biological agents into their food and drinks.
Good health starts with clean, safe water and better health is achievable with filtered water.
📌 Pin Me for Later Reading! 📌
Pin this image to Best Pitcher Water Filters on Pinterest.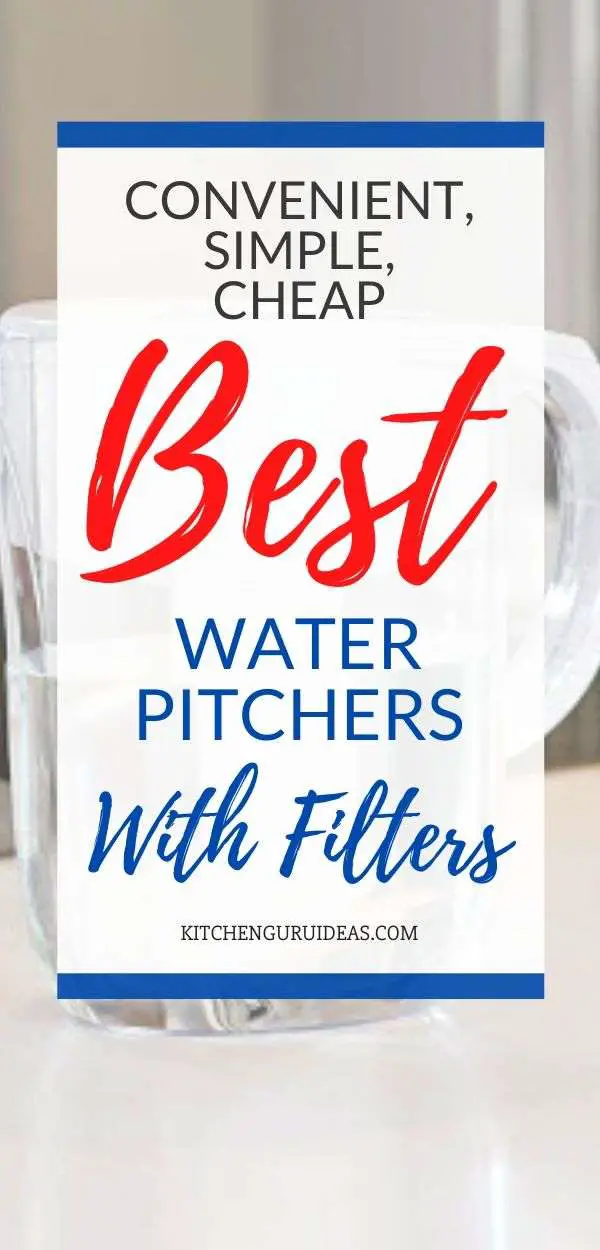 How much water do you drink per day?