Countertop water filters do a great job purifying water as well as making it taste better. Many areas have different levels of contaminants that affect the content of the water and how it smells and tastes.
These kinds of filters take all the mystery out of the water and replace it with pure, clean, and safe water.
I like cooking with purified water because the food ingredients and flavors aren't affected by weird tastes or smells.
Top 5 Best Countertop Water Filters
Propur Big Countertop Gravity Water Filter System
This Propur water filter that I really like works well for a family with up to 4 people.
Highly Advanced Filtration System
This water filter classifies as a water purification system as it removes up to 99.99% of contaminants, chemicals, suspended gases, heavy metals, and bacteria.
This design cleans up raw stream water, lake water, and even stagnant water so it's perfect for campers and RV enthusiasts.
Use It Anywhere and Everywhere
This is the perfect water filter for traveling, emergencies, and everyday use.
Other Notable Features That Make It the Best Countertop Water Filter
It has a 2.75-gallon capacity that is more than enough for most families or small college rooms.
So compact that it doesn't take up a lot of counter space, this water filter comes in a stainless steel container that is easy to clean and keeps looking great.
Pros
Dual filter design
Silver infused filters
Small footprint
Doesn't require electricity
Cons
Can't see the water level inside the tank
APEC Water Systems RO-CTOP-C Portable Countertop Reverse Osmosis Water Filter System with Case
This countertop water filtration system uses the same principle to purify water as the above one except it dispenses water.
Compact Design
It sits on the counter and is so slim you won't even notice it.
Specially Made for Chlorine
It's the only filter on this list to remove 96% of chlorine and chloramines.
Portable
This is a very portable and lightweight system so it works well for campers, travelers, college students, and anyone else who wants a simple filter system that lasts for years.
Other Features
Some excellent features include convenience and quick filtering.
I think this is a great home system but it needs electricity to function and can sometimes be loud.
Pros
Reverse osmosis
4-stage filter design
Long-life filters
Made in the USA
Filters are easy to change
Flow switch to bypass filters for hot water use
Cons
Slow water processing
1:1 Potable water to wastewater ratio
APEC Water Systems RO-CTOP-PHC Portable Countertop Reverse Osmosis Water Filter System With Case
The sister filtration system to APEC's RO-CTOP detailed above.
Specially Made for Chlorine
This product is designed specifically to filter out Alkaline impurities in water along with other contaminants.
Advanced Water Filter
This is also a Reverse Osmosis filtration process that utilizes a 4 stage filtering process.
Not Just for Households
For homeowners, offices, and other lower-usage locations, this is an ideal system because it puts out enough purified water to satisfy everyone's needs.
Other Features
I like the aluminum case the APEC system uses because it looks nice on the counter and it's easy to keep clean.
The filters are extremely easy to change.
About the Brand
APEC has been around for a long time making filters and filter systems for home and commercial applications.
With over 20 years of experience designing, engineering, and marketing water filtration products, APEC is one of the leading manufacturers in the United States.
Pros
WQA certified
Long-life filters
Lightweight
Flow switch to bypass filters for hot water use
Cons
Slow water processing
1:1 Potable water to wastewater ratio
APEX Quality Countertop Drinking Water Filter – 5 Stage Mineral Cartridge – Alkaline Filtration System
Lightweight
What I like about this system is how lightweight it is. It only weighs 4.85 lbs (2.2 kilos) and yet it does as good (or even better) as many larger capacity filtration products.
Compact
The other feature I think sets this system apart from its competitors is its very small footprint.
Only 4.5 inches by 4.5 inches, this is one of the most compact countertop filters available on the market today.
Additional Features
Another aspect I like about the APEX product is that it replaces minerals that the body needs and that enhances the flavor of the water after it is purified.
The pH-balanced water tastes great and makes perfectly clear ice cubes, unlike some other filter products.
Many customers report improved skin and hair as a result of using the purified water to wash with.
Pros
Easy to install
Strong water flow-through
Lightweight
Flow switch to bypass filters for hot water use
Stainless steel design
Cons
Single-stage filter system
Filter can be difficult to change
Brondell H630 H2O+ Cypress Countertop Water Filter System
The Brondell Cypress countertop water filter is, as far as I am concerned, one of the coolest-looking systems you can put on your kitchen counter.
Stylish Design
The design looks like it flew in from Venus or Jupiter with a stylish cabinet and tap.
Packs Quite a Punch
There's more to the Brondell filter than meets the eye.
This is a 3-stage system that utilizes a patented nano-trap filtration technology.
The result is water that tastes great.
Cost Efficient
Because this is not a Reverse Osmosis design, there is no wastewater to deal with or dispose of that can increase the cost of water.
Other Reasons Why This One Made It on the List
This Brondell product is a continuous-flow design that filters water while not diminishing the flow rate from the faucet.
Filling pots, pans, and, containers take much less time with this system than other filter products require.
Pros
WQA certified
Strong water flow-through
Push-button water tap
Patented nano-trap technology
Countertop Water Filter Considerations
Before purchasing a water filtration system, I think it's a good idea to think about the conditions, location, and expectations you have for owning one.
#1
The amount of water needed daily would be the first consideration.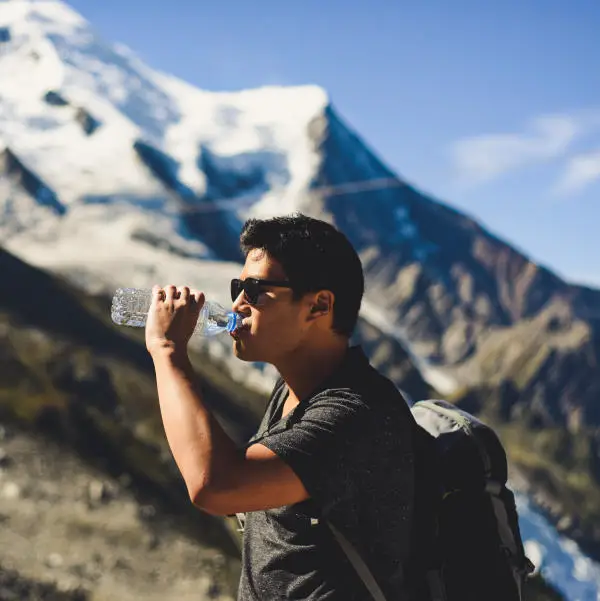 The number of people or the vessels being filled determines how much water volume you need your system to provide.
#2
Another concern is the time it takes to produce filtered water.
Some systems offer flow-through designs that don't inhibit water flow while others interrupt it and slow down the volume produced by the faucet.
#3
Another issue is where the unit will be located on the kitchen counter.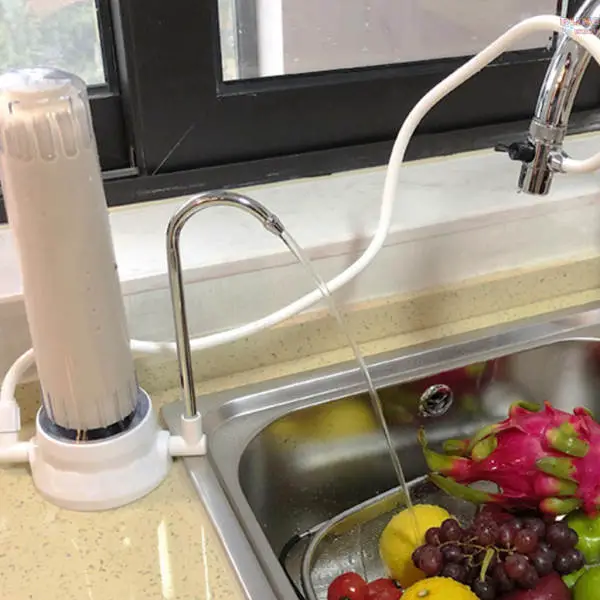 Some counters have sufficient space to allow for a filter system that sits horizontally on the counter.
Other times when counter space is much more limited and a vertically-standing design would probably be a much better choice.
#4
Then there is the technology used to process the water.
Reverse Osmosis designs tend to reduce the flow rate of water passing through the filters.
#5
Finally, there is the water itself to consider.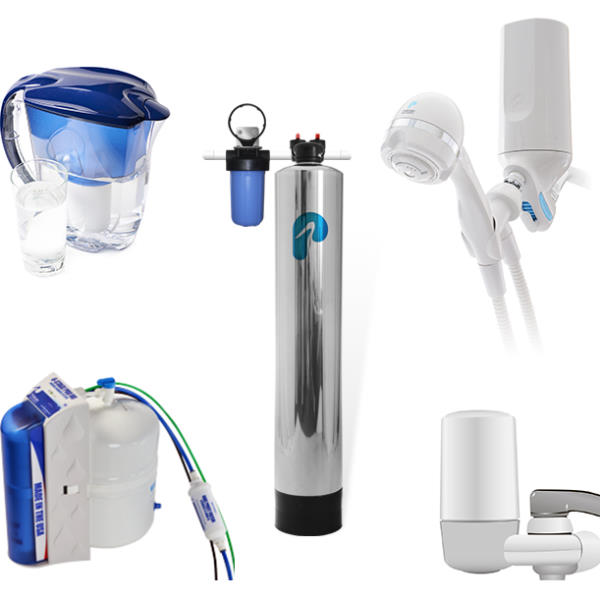 What type of contaminants does the water possess and what do you need to eliminate?
More importantly, how efficient is the filtration process and what are the residual amounts of contaminants at the end of the processing cycle?
Just Some Food for Thought
Families with allergies or sensitivities to chemicals, metals, or bacteria that are present in many water districts use countertop water filters to get healthy and stay that way.
Filtered water is also good for pets for the same reasons it's good for humans. Even household plants can benefit from pH-balanced purified water.
Families that want to filter out fluoride or other unwanted compounds use countertop water filters.
Main Features of Countertop Water Filters
The design and engineering of countertop water filters are basically the same – utilizing different types of filter media and micro-filtration processes to remove bacteria, metals, suspended chemicals, and other unwanted contaminants.
Each manufacturer uses a proprietary method to extract contaminants but they all provide safe, drinkable water that won't taste bad.
The filter material, level of filtration, and quantity of water cleaned vary from manufacturer to manufacturer, but I prefer the first unit on the list for several reasons.
FAQs
Do Countertop Water Filters Work?
Just like other types of water filters, countertop water filters are very effective at filtering water.
They are actually quite versatile.
All 5 filters mentioned above are just as effective at removing sediments, chlorine, pesticides, lead, debris, bacteria, and other harmful contaminants as their under sink counterparts (or any other filters of similar size for that matter).
Don't let the small size fool you.
The general consensus is "Bigger is better".
That's not true in this case.
In reality, they are made compact because a lot of homes and offices are just too small to accommodate giant under-sink water filters.
Do Water Filters Remove Pharmaceuticals?
Only partially.
Even Reverse osmosis filters that use membranes to filter water don't remove them completely.
Unfortunately, there is no water filtration system that can completely remove pharmaceuticals at this moment.
You can, however, combine several filtration methods to reduce this certain type of contamination.
Be wary of products that advertise this kind of function.
The thing here is that home water filters are not completely regulated or routinely tested, so companies more or less can write whatever they want.
How Do I Know If My Water Filter Is Working?
Most filters come with their own faucets, and you don't have to remove your original one.
You have 2 faucets for 1 sink.
The simplest way to test if your water filter is working by filling 2 glasses – 1 for each faucet and compare them:
Is the water clearer?
What about the taste? Is it different?
Take a whiff – some unfiltered tap water has a faint scent of chlorine
If the water from the filter's faucet is different from the sink's, then your filter's definitely working.
But if you want to be 100% sure that your filter's working to its full capacity, then make a simple test with a drinking water test kit (they usually cost about $10 – $15).
What Happens If I Don't Change My Water Filter?
Water filters need to be regularly replaced – just like the oil filter in your car. And for the same reason: they trap unwanted foreign objects.
The first thing you'll notice is the decline in water pressure.
The filters themselves will eventually get so gunked up with debris, lime, and other contaminants that the filter will eventually stop producing water.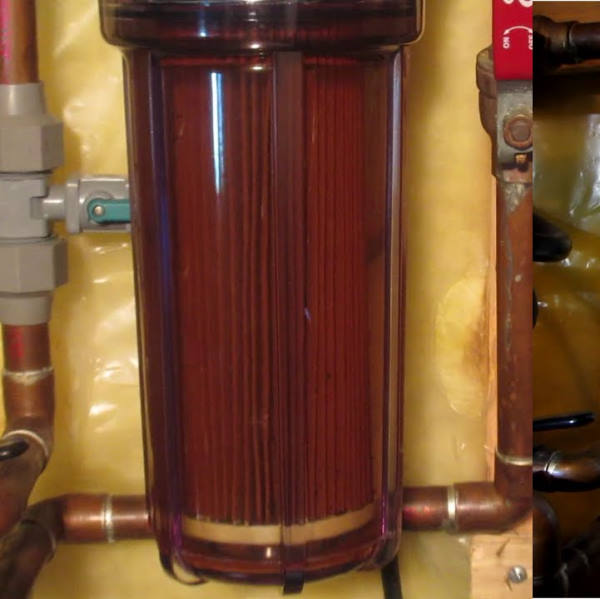 If the water is contaminated with microorganisms, mold can actually form inside the filter.
Yikes!
Some manufacturers recommend changing their filters every 6 months.
The truth is: you probably don't need to change them that often.
Depending on the quality of your local water source(s) you can change the filter every year, or maybe even 2 years.
Countertop Water Filters Make Life Better
Besides improving the quality of the water we consume, countertop water filters can be a big advantage over other resources for purified water.
The cost and convenience of delivered bottled water, and also the mess that can happen, make countertop filtered water much more preferable.
Storing large water bottles, installing a fresh bottle, and renting or buying a dispenser make ownership a hassle for bottled water.
Even using little bottles of water is not as convenient or as cost-effective as having filtered water.
And then there is the pollution problem the little plastic bottles can become.
I think you should avoid the high cost of bottled water as well as the environmental impact they cause by having a home water filtration system.
Besides, drinking water that you know is safe beats drinking water that may or may not meet your standards or filtration needs.
The water we drink is an important component in having a healthier diet and lifestyle.
For Quality, Clarity, And Convenience Nothing Beats A Countertop Water Filter
Homeowners, office managers, and many others know the value of providing and using filtered water.
Coffee, tea, and other drinks taste better and ice cubes come out clear as crystal.
Filtered water tells guests you care about them and their health.
In a world with so many health issues and unhealthy environments, it's important to know the water you, your family, friends, and associates are drinking is pure, clean, and healthy.
📌 Pin Me for Later Reading! 📌
I suggest you save this image to Best Countertop Water Filters on Pinterest.
How much space do you have in your kitchen/office?