Are you in the market for the best faucet water filter?
Then you are in the right place. I will show you the top 4 faucet water filters you can get on the market today.
I can understand how many options you have to pick from. Still, I have made it very easy for you by talking about the best faucet water filters.
Once you are done reading this article, I can assure you that you will have all the knowledge you need in regards to picking out your product.
| SiteStripe Image | Title | Buy |
| --- | --- | --- |
| Top | Clatterans Advanced Faucet Water Filter | Check Price |
| | Crystal Quest Faucet Water Filter Chrome | Check Price |
| | Crystal Quest Faucet Water Filter White Plastic | Check Price |
Image
Title
Buy

Top

Top

Top

Express Water Deionization Reverse Osmosis Water Filtration System
Check Price
Top 4 Water Filters For Faucet
Check out these top 4 kitchen water filters I've handpicked that most efficiently filter tap water.
Clatterans Advanced Faucet Water Filter
Clatterans
High-quality food grade 304 stainless steel housing, crack resistant, no-leak, durable and long lifetime

The most advanced Activated Carbon Fiber (ACF) filtration technology

Speedy filtered water flow

Only suitable for standard faucets

Easy to install, simple and quick, no extra tools needed
This faucet water filter by Clatterans truly deserves the rank of "Advanced".
Don't Let the Small Size Fool You
I've chosen this one as the winner of this list because it performs so well for its size.
It's just 4.72 x 2.56 x 2.56 inches yet it's capable of removing dirt, sand, rust, organics, and chlorine, for starters, and inhibits the growth of bacteria thanks to its advanced activated carbon filter.
Long-Lasting Filters
The filter itself is durable and long-lasting, capable of filtering 320 gallons of water.
A family of 3 can drink clean water for about 7 months without any worries.
Durable
The housing is made from high-quality food-grade SAE 304 stainless steel which is not only crack and leak-resistant but also durable.
The Company Reminds You When to Change the Filter
It doesn't have a "change filter" indicator but with a bit of simple math, you can choose how frequently Clatterans will ship you a new one.
If you need, for example, a new filter every half a year, you just select this option.
Talk about convenience.
The Installation Is Super Easy
You just unscrew the aerator, choose the right adapter, and there you go.
For Standard Faucets Only
Check carefully what kind of faucet you have as this filter is suitable only for standard faucets.
The Best Faucet Water Filter There Is
Say goodbye to bad taste and smell and hello to clean refreshing water.
Crystal Quest Faucet Water Filter Chrome
Crystal Quest Chrome
5 stages of filtration

Ingenious space-saving design for easy access to your sink.

Quick and easy to install and use, attractive and convenient.

Effectively removes many contaminants from water

Provides 2,000 gallons (6-12 months) of quality water
This is my second personal top pick: the Crystal Quest W2-Chrome. It provides you with the cleanest water you can get.
Multi-Stage Filter
It uses an advanced 5-stage filtration capable of removing chlorine, bad tastes, and odors.
This product also removes many other contaminants, including silt, sediment, cysts, and many other pollutants present in our water.
High Filter Life
The best part about Crystal Quest W2 is that it has a high filter life of 20.000 gallons.
Other Noteworthy Mentions
This system is high-speed, capable of filtering 0.3 gallons (or about 5 cups) each minute.
This filter works well and has all the technology I need to make my life more convenient.
Finally, this system is straightforward to install and didn't take me more than a couple of minutes.
Other Noteworthy Mentions
My second favorite filter, and one of the best faucet water filters you can get on the market today.
Crystal Quest Faucet Water Filter White Plastic
Crystal Quest Plastic
5 stages of filtration

Ingenious space-saving design

Quick and easy to install and use

Effectively removes many contaminants from water.

Provides 2,000 gallons (6-12 months) of quality water
I personally enjoy the taste of different waters, some say that they can't taste the difference between them. Still, if you ask me, I can definitely. When I drink water out of this filter, I noticed that the end result is cleaner.
Identical to the One Above, Except for the Housing
This filter system is the same as the one above except the housing is made from BPA-free white plastic instead of chrome.
It still cleans out many of the contaminants found in tap water.
An Ideal Budget Pick
If you're particularly health-conscious and are on a tight budget, then the system is highly recommended.
Additional Features
This filter cleans out a lot of contaminants, which include fluoride, lead, TDS, and heavy metals, just to name a few.
This filter is effortless to install, all you will need is a couple of minutes, and you should be good. If you need any help, then you can always get in touch with the filter company, and they will guide you through the process.
Express Water Deionization Reverse Osmosis Water Filtration System
Express Water RODI10D
Reverse Osmosis

Deionization

1-year warranty

Automatically fills your water tank

Includes an emergency leak stop detector

Fully upgradable and customizable with quick connecting fittings

On Demand Support
This water filter is an excellent option for you if you want a compact yet compelling water filtering system. This uses the reverse osmosis water filtration system, similar to the Water RO Reverse Osmosis.
The Most Efficient Filter on This List
You can expect this system to clean out 99.9% of any contaminants present in your tap water.
The company also claims that you can use this water for your fish aquarium, as the water from this filter will help your fish to live longer. I haven't tried this, so I can't vouch for it; however, clean water will provide a healthy environment for the fish regardless.
Easy and Quick Installation
This water filter is easy to install, and it only takes 30 to 40 minutes to get it completely set up.
You won't have to spend money on professional installation, which is a big plus.
Other Features
This water filter also comes with a one-year all express water system warranty, which shows this water filter can be trusted.
Buying Guide For Faucet Water Filters
You must get yourself a water filter if your home has contaminated or hard water.
Not only do they help us to clean out any contaminants present in our tap water but they also help us to reduce the risk of health issues.
Drinking tap water regularly can deteriorate our health, which is why it is crucial to invest in the best faucet water filter.
The filters I have recommended above work amazingly.
However, it is crucial that you understand how to buy one with the right information.
Pick the Right Size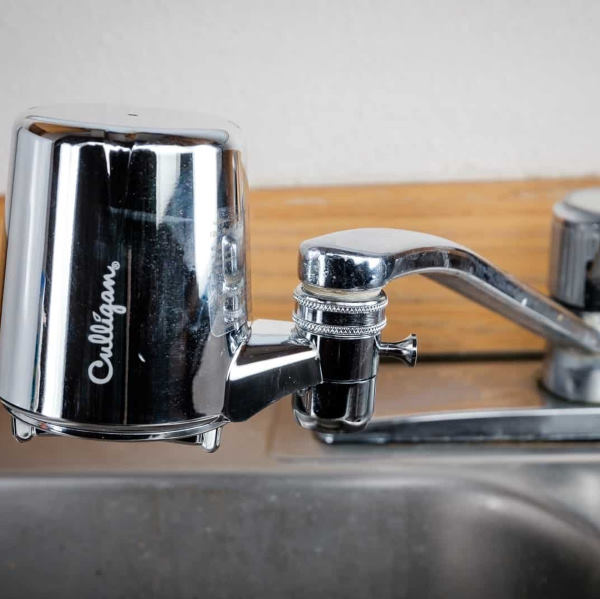 Before you make a purchase, make sure to pick a filter that fits in your kitchen.
Some filters will not fit in specific kitchens, it is best advised to look at them in person.
If you can't have a look at them in person, then make sure to read up on the dimensions.
I had this issue when I bought my first water filter, it did not fit my kitchen, and I learned from my mistakes.
Test Your Water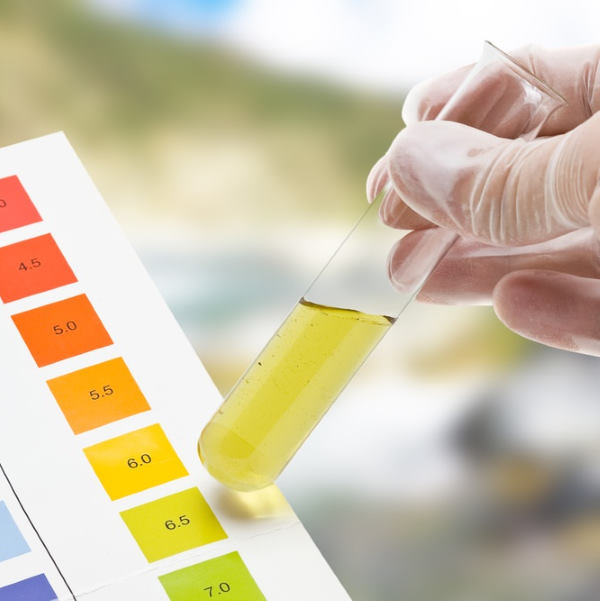 Once you get your water filter, make sure to test its purity.
Some filters claim that they will provide you with a pure glass of water, but the truth is they over-promise.
Make sure to test your water's purity as soon as you get your filter, and if it doesn't meet the standards, get a refund and pick out a better one.
Look For a Low Maintenance Water Filter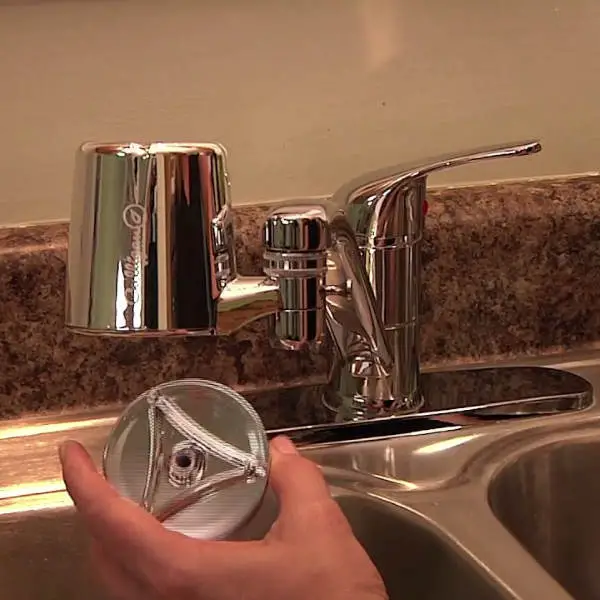 Make sure to get a water purifier that has low maintenance.
You don't want to be stressing about your water every day when you have to maintain your water filter regularly
It is also essential that your water filter has a filter change sensor that lets you know when you need to change it.
One of the most important things when it comes to low maintenance water filters is that it reminds you to change the filter when it gets dirty. The last thing you want to do is consume water that is not filtered correctly.
Longevity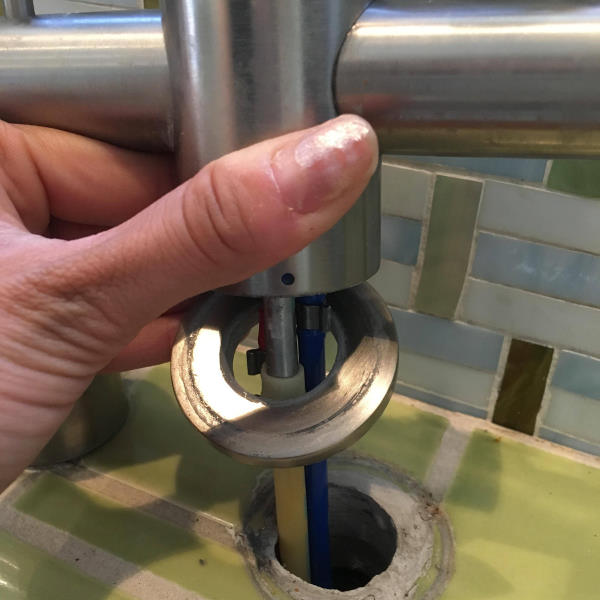 Another very important thing to consider is the longevity of your water filter, make sure to pick a filter that provides you with a warranty.
If it provides you with a warranty, then there's a high chance that it will last a long time, and even if it doesn't last long, you have the guarantee to get it fixed.
Make sure to look at all the reviews before you make the purchase, people will let you know if the product will last long.
You don't want to waste your investment, make sure to pick a very well-built filter.
Easy Installation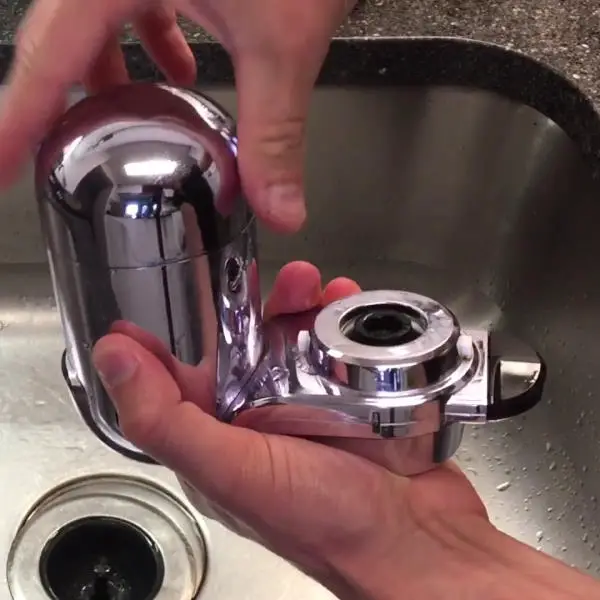 Not only is it essential that the water filter is easy to install, but it comes in very handy when something breaks.
You don't want to pay someone to install your new filter, as you will be losing money regularly. When a specific part breaks on the water filter, and you need help to replace it.
When a filter is easier to install, you will know the maintenance price is going to be much cheaper as you can fix the issues by yourself.
Make sure to always look for filters that require little to no assistance.
Look at the Construction Materials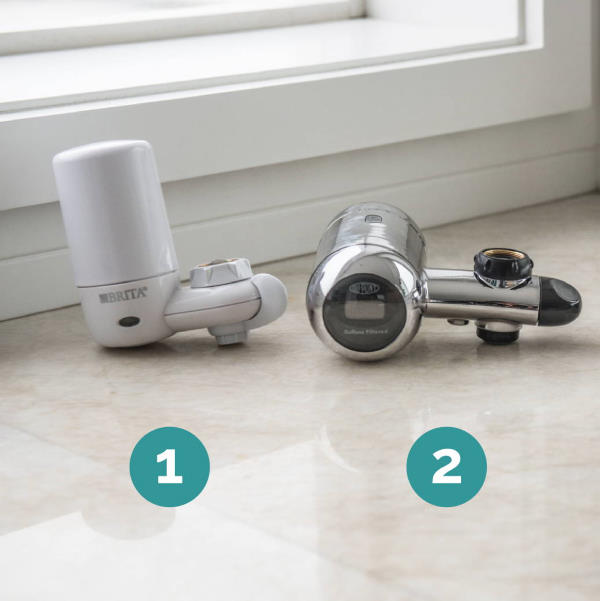 Make sure that the filter you pick is made from metal.
In most cases, the best faucet water filter is made from metal as other materials tend to break or leak.
I talked about longevity, and you must look for filters that are made from a good-quality material.
If you can't find a water filter that is primarily made from metal, then always look for reviews. The reviews will let you know about longevity, and in most cases, they are genuine.
Frequently Asked Questions Regarding Faucet Water Filters
Do Faucet Water Filters Really Work?
First I need to explain one important thing: there's a difference between filtering and purifying water.
A lot of people think they're the same thing but it's not true.
Water filters (faucet ones included) filter water but they don't purify it (like reverse osmosis filters do). Their objective is the same: remove foreign objects from the water.
What differs between them is the filter they use and how do they actually filter water.
To simplify: Filters take out larger contaminants, purifiers take out everything else.
To finally answer this question: yes, they do!
But because they don't purify water, many people think they are ineffective.
Because of the above-mentioned, I don't recommend installing a filter where the water is contaminated. This is because filters don't remove bacteria, viruses, and other pathogens.
How Do You Clean A Faucet Filter?
The first thing you should do is clean the faucet itself – importantly the Aerator.
Cleaning it is quite similar to descaling espresso machines or similar household appliances that use water.
Remove it from the faucet and soak it in vinegar for at least a couple of hours. I always leave it overnight.
Rinse and reinstall it onto the faucet.
Then clean the faucet itself with vinegar – the best way is with a spray bottle.
Onto the main part – the filter.
Before attempting any cleaning close the water valve to cut the water supply to the filters
As a safety precaution use gloves.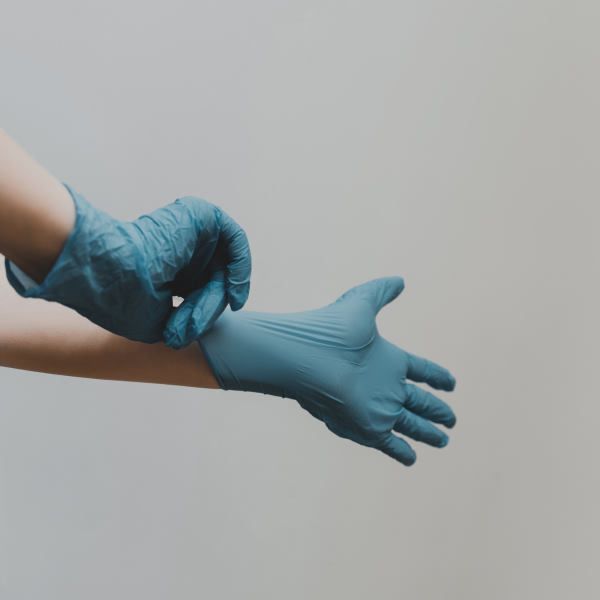 Cleaning Reverse Osmosis Water Filters
Close the faucet and drain the filter
Detach all filters and the membrane
Use chemical cleaners suggested by your manufacturer or bleach
Descale filter housing by pouring in the solution
Wash the membrane with the solution as well
Thoroughly rinse everything
Reassemble
Cleaning Activated Carbon/Charcoal Filters
Fill a bucket with a gallon of warm water
Slowly add 2 cups of muriatic acid. Stir constantly
Remove any visible debris from the filter with a hose and place it in the bucket. Let it soak for about a week
Remove the filter from the solution and soak it again – this time in plain water – for 15 to 30 minutes
Thoroughly rinse the filter
Reinstall
You're Only A Few Clicks Away From Clean Refreshing Water
Hope this article helped you to pick out a great water filter.
Our tap water is getting contaminated year by year, which is why we must drink clean water and filter it properly.
Some contaminants present in our tap water can deteriorate our health, so make sure to invest in a good water filter.
The water filters I recommended are the best faucet water filters you can get on the market. Always make sure to refer to this buying guide before you make the purchase.
One thing to remember is always to pick out a water filter that has been reviewed and comes with a warranty. If the water filter comes with a warranty and has excellent reviews, the chances are that it will last you a long time.
Think of a water filter as an investment in your health, so make sure you pick the right one.
📌 Pin Me for Later Reading! 📌
Save it to Best Kitchen Water Filters or Most Effective Water Filtration Systems.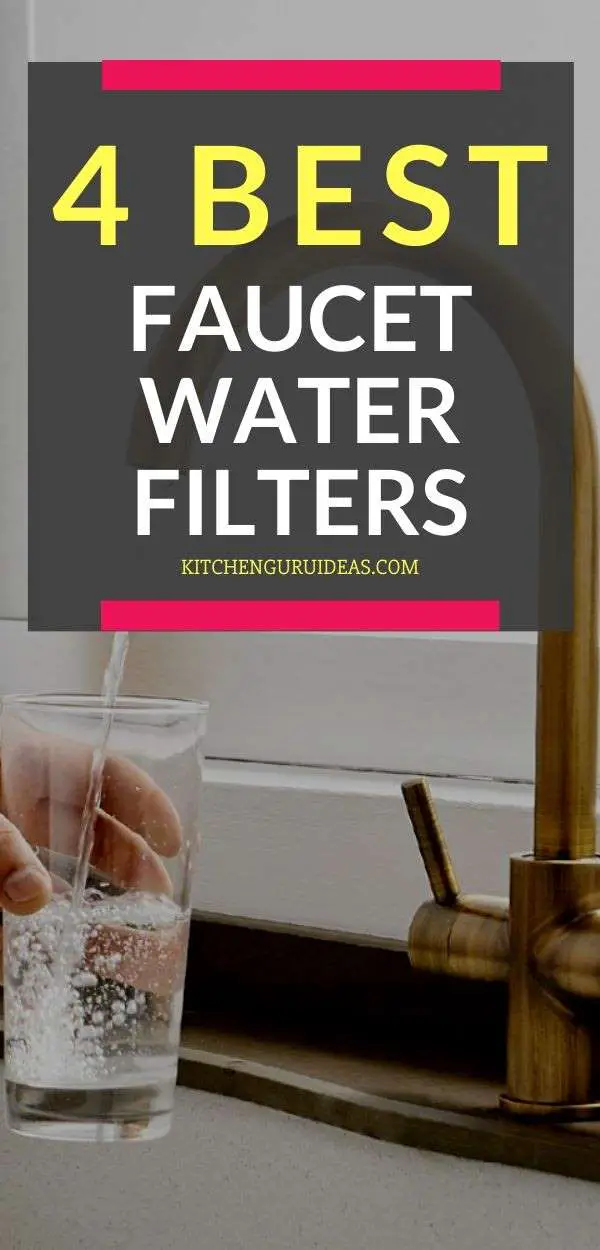 Is your tap water contaminated? Does it have a lot of mineral deposits? Write your answers in the comments below.