A countertop water filtration system helps keep the family healthier and makes the water taste better for drinking or cooking.
Not everyone has great tasting, pure water available and a quality countertop gravity water filter makes a big difference for a lot of folks.
There are so many choices available that it can be a difficult task to make your way through the forest of products, technologies, and manufacturers.
I thought it would be a good idea to focus on some of the best gravity water filter products and help people save some time and frustration.
Which Gravity Filter Is Best?
Gravity Keeps Things Simple
One of the greatest advantages of having a gravity system is there are no electricity, water lines, or wastewater lines to hook up.
Engineering and installing an under-sink filter system is not only costly and difficult, but it also increases the opportunities for mechanical failures in the process.
A gravity filter uses only gravity to move water through the filtration packs and that's about as simple as it gets.
Another benefit is their convenience – filling and getting water without getting into the refrigerator for a water jug.
There is also the added benefit of extra room inside the fridge and in small refrigerators, this can be a big deal.
Great For Home or Small Office
When one or two people need fresh, tasty water at home or in a small office, the gravity option becomes a real advantage.
The small footprint makes it easy to place in confined spaces and refilling the water reservoir is easily accomplished in a small sink.
Brewing coffee or making juice is enhanced with purified water as the main ingredient.
Eliminating toxins, bacteria, metals, and other harmful contaminants ensure a healthier and more revitalizing experience.
Best Of The Best Gravity Water Filters
When you consider all the manufacturers, products, designs, and uses for gravity water filters, the world can quickly become a confusing and confounding place.
Given all the possible variations and all the possible considerations, I've found these 4 water filtration products to be at the top of the class for 2023.
Big Berkey BK4X2 Countertop Water Filter System with 2 Black Berkey Elements and 2 Fluoride Filters
This is the best gravity filtration system I think hits on all cylinders.
Amazing Performance
It is a great-looking and great-performing filtration system that is perfect for a single person living alone, a couple, or a small office.
The folks at Berkey really hit the nail on the head with this design.
Other Features That Make It the Best Gravity Water Filter for the Money
With a reputation for over-the-top engineering combined with an eye on keeping the costs for filtered water as low as possible, the BK4X2 gravity water filter is the ideal choice. The features I like are:
Nothing is easier than pouring water in the top and getting purified water out of the spigot at the bottom. The engineers at Berkey didn't invent the design, they just took advantage of it to make their product user-friendly
With 2.25 gallons of storage, this system is great for a larger group of people (up to 16) to use throughout the day. Smaller, jug-style filters require refilling more often and can be inconvenient when more than one person needs water or when filling a coffee maker
Removes 99.9999% of contaminants like pathogenic bacteria which is extremely impressive. Their filters also remove unwanted materials like protozoa, heavy metals, pesticides, VOCs, petroleum products, pre-fluorinated chemicals, and even some radioactive contaminants
This system can purify up to 6,000 gallons of water before requiring a filter change. For most people, that is up to 5 year's worth of water consumption making this system extremely efficient and long-lasting
Pros
2.25 gallons of storage
Removes 99.9999% of contaminants
Long filter life of 6,000 gallons
2 Fluoride filters are included
Durable
Shiny
Cons
No window or gauge to indicate the amount of water in the reservoir
It does not come with a stand that makes it easier to fill a glass or mug
Travel Berkey Gravity-Fed Water Filter with 2 Black Berkey Purification Elements
Like all of Berkey's filter products, the 1.5-gallon Travel system employs the same features as its big brothers.
Compact Design
For larger homes or offices as well as for folks who like to travel or who might live where municipal water systems aren't available, this is a terrific product to clean and purify water easily and cheaply.
Filters Can Be Upgraded for Improved Purification
This system can also incorporate Berkey's patented PF-2TM Fluoride and Arsenic Reduction filter elements (sold separately) that can be installed on the purification element.
Additional Features
In addition to all of the features outlined previously, Berkey has some additional things to mention that apply to both models:
Berkey uses only the best AISI 304 Stainless Steel to construct its gravity water filter systems
All of Berkey's products are assembled in the USA from parts built in America and sourced from US-based manufacturers
1.5-gallon capacity serves 1 to 3 people in a home or a small office quite well
Being a gravity-fed filter system, this product doesn't require electricity, mounting on a wall, or special plumbing
With 99.9999% purification capability, this is the perfect system for rural water systems, water wells, or stream water
Pros
Made from AISI 304 Stainless Steel
Manufactured and assembled in the USA
Ideal gift for travelers
Long-lasting filters, capable of filtering 6,000 gallons of water
Cons
Doesn't come with a stand for countertop use
No window or gauge to indicate the amount of water in the reservoir
Purewell Gravity-Fed Water Filter, High Capacity 2.9 Gallon with 2 Purification Elements
The engineers at Purewell know what they're doing when it comes to water filtration. They offer a 2.9-gallon Gravity Water Filter system that can be used at home or on the road.
A Household Name in the Camping Business
They've been making camping water filter systems for many years and with great success.
Take It Anywhere and Everywhere
This water filtration system does a terrific job at filtering particles up to 0.01 microns large and it is durable enough to take camping or RV-ing without worries.
Other Great Features
The features I find most attractive are:
This gravity filter is constructed from Food Grade 304 Stainless Steel
It can store up to 2.9 gallons of purified water making it perfect for a family of 4 to 6 as well as useful in a small office
The Watens filter system purifies water removing up to 99.99% of contaminants like bacteria, chemicals, odors, metals, and other unwanted toxic materials
It has such a fast flow rate that it can fill a glass in 30 seconds
Pros
304 Stainless Steel construction
High capacity of 2.9 gallons
Removes up to 99.99% of contaminants
High filter life of 6,000 gallons
Cons
Doesn't come with a stand for countertop use
No window or gauge to indicate the amount of water in the reservoir
ProOne Traveler+ Stainless-Steel Gravity Water Filter System
The engineers at ProOne got it right when they came up with the Traveler+ gravity filter.
Great Choice for Either a Loner or a Larger Group
This gravity filter system is just right for use at home, in the office, or in the great outdoors.
Made for Punishment
What I like about this system is that it's built tough and rugged.
It can handle being used either indoors or outdoors.
Save Big Money in the Long Run
The design is simple and uses ProOne's all-in-one G2.0 filter cartridge.
I like that because it helps keep the costs for filter replacement under control.
Other Reasons That Got This One on This List
These are the features I like about the Traveler+:
This gravity filter is constructed from Food Grade 304 Stainless Steel. The engineers designed the unit with fewer parts making it structurally stronger and easier to service
It stores up to 2.25 gallons of purified water making it perfect for one or two people to use at home or the office
The ProOne G2.0 all-in-one filter element eliminates up to 99.99% of contaminants from municipal water systems as well as from rural systems, water wells, and water from streams and lakes
The filter also has built-in fluoride filtration capability, saving money on replacement filters
The folks at ProOne figured out how convenient it is to place the water filter onto a stand to make filling cups and glasses easier and more convenient
Pros
Stores up to 2.25 gallons of purified water
Eliminates up to 99.99% of contaminants
Built-in fluoride filtration capability
Comes with a stand
Great clean taste
Cons
No window or gauge to indicate the amount of water in the reservoir
What To Look For In A Gravity Water Filter
It seems pretty clear that the main ingredient to look for in a quality gravity system is the filter itself.
Acquiring a system is one thing but filtration technology is the heart of the design and knowing the characteristics and capabilities of the filter itself is key to understanding what to expect from the filtration system.
Filtration technology determines filter longevity and since new filters cost money, it's important to understand how often and how many filters you're going to be dealing with as time goes on.
There are many different filtration processes and filter materials used in gravity-based water filtration systems. Some systems use coconut fibers and others employ ceramics.
Be sure the filter materials won't cause any conflicts from allergies to the filtration medium.
Due to the differences in filtering mediums, the amount of time required to filter water will vary from system to system.
Here are 5 things to consider when looking at filter technology:
How much water the filter can clean over time is a key factor in determining replacement time frames and costs
The ability to filter water and remove contaminants depends upon the filter's design and engineering

Different filters use different materials as mediums for removing contaminants resulting in differing levels of clarity and cleanliness

Filters are intended to remove unwanted components and materials from water but they can also put ingredients back into the water to help it taste better and have improved pH balance
Where the water comes from is just as important as how it ends up. The level of contamination going into the filtration system is important to keep in mind before purchasing a filter system

Some filters work best with municipal water systems while others can handle water from sources like water wells and streams

Where the water filter will be used should be considered before purchasing a system

A filtration product used at home will have different conditions for purifying water than a system used in an RV or a school dormitory
Common Questions Related To Gravity Water Filters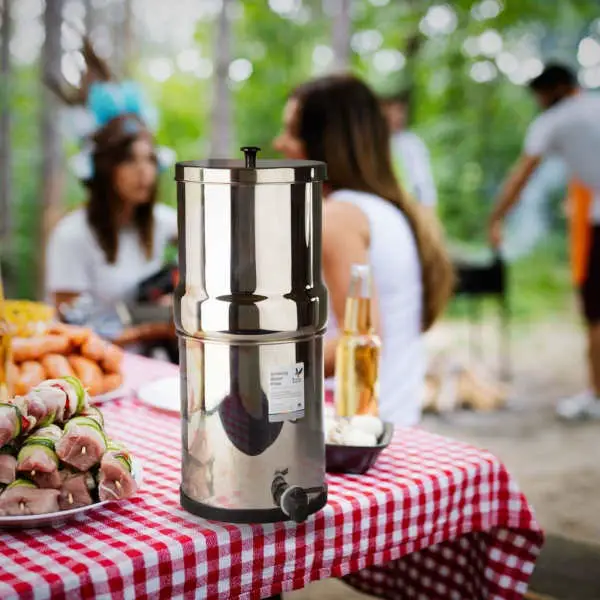 Are Gravity Water Filters Good?
Gravity-based water filtration is a highly effective method of filtrating water.
These types of water filters are a perfect choice for travelers because they don't need electricity to function, are portable, and don't need to be set up like their under sink counterparts.
They are highly convenient as the only thing you need to do is to fill the chamber with water. That's it. Wait a few moments for gravity to do its job and there you go! Clean refreshing water.
How Does A Gravity Water Filter Work?
As the name implies, it uses gravity to filter water.
Because of this, you don't need electricity to drink healthy water (as mentioned above).
You see, gravity filters are made from several vertically-stacked chambers.
When you pour water into it on the top, it passes through all these chambers, each of them having its own type of filter.
These filters capture the contaminants and this is how you get nothing but clean water.
Great Alternatives For Gravity Water Filter Systems
With all the choices in gravity water filter systems out there, I felt like it would be nice to help people focus on the best systems to save time and frustration.
The systems I've outlined above all do an excellent job of purifying water and improving its taste. Depending upon what your individual needs may be, any of these filter systems will do the job well for a long time without worry or hassle.
The variety of sizes, capabilities, and filtration methods are sure to satisfy even the most stringent buyer's specifications for quality, durability, and value.
📌 Pin Me for Later Reading! 📌
Pin this image to Best Gravity Water Filters or Best Water Purifiers on Pinterest.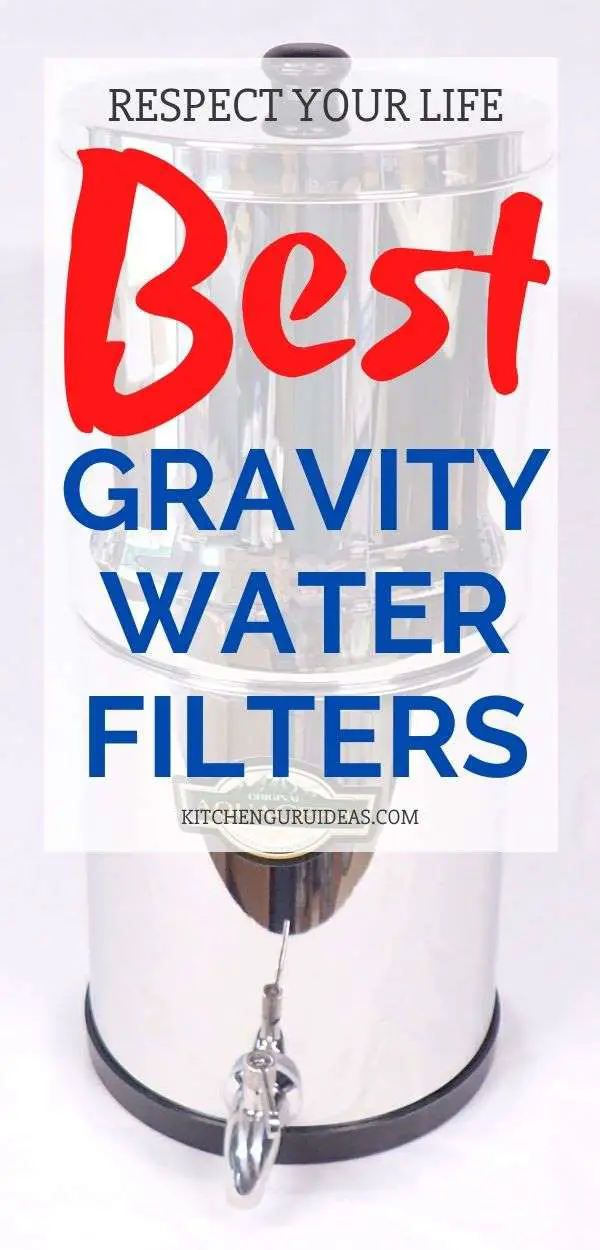 Do you filter water when camping or you just drink it right from the source?