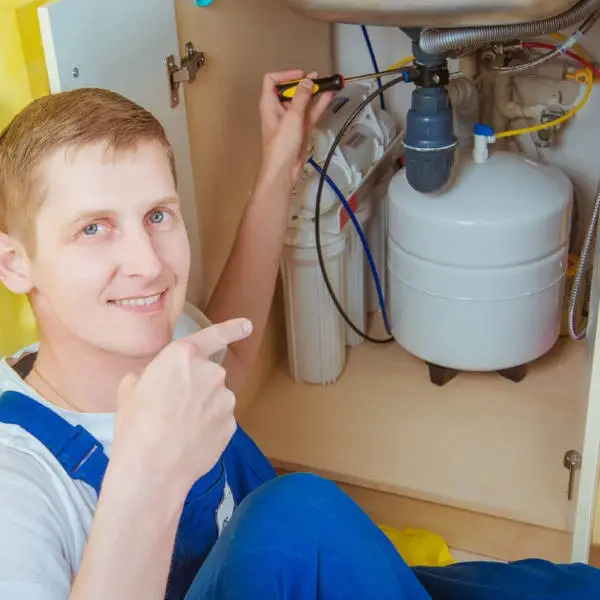 A lot of questions surround the quality of the water we drink every day.
Municipal water systems, rural networks, and even well water can have a lot of unknown and unhealthy contaminants.
That's where a quality water filtration system comes to the rescue.
I don't want the water I drink to taste bad or contain toxic chemicals so I took a look at installing an under sink water filter.
It was as much a matter of self-preservation as it was about peace of mind.
Under-sink water filter systems improve the condition and purity of the water we drink and it can provide a lot of benefits.
Video Installation Guide
See this video on how to install an under sink water filter if you're a visual learner.
I'd still advise you to read the whole article in full to completely get acquainted with this procedure.
Under Sink Water Filter Installation Guidelines
When it came time to install the filter equipment, I wanted to make sure the process went along as problem-free as possible.
Rather than strike out on my own and order a system, I decided to do some homework.
I discovered several resources online that helped me understand the depth and width of my upcoming project.
Most significantly, I found some basic guidelines that should be followed before attempting the installation.
Here are 4 simple steps to follow:
Step 1
Learn the differences in filters and the materials used to purify the water.
Some products add ingredients to the water while others take everything out of it
There are also differences in installation techniques and factors to consider concerning engineering and capacity.
The differing technologies and filter materials achieve a variety of results and determining which type of technology will work with your conditions is the first step.
Step 2
Once you've decided which type of system works best for your conditions, it's time to take a look at the different manufacturers.
Off-shore products are built to different standards than filter systems and filters built in the United States.
There are a few certifying bodies that endorse filter products for contamination removal.
It's also a good idea to take a look at installation instructions to determine the complexity of the process and whether or not you need a plumber to get the job done.
Step 3
The space under a kitchen sink is always extremely limited.
The depth of the sink affects the amount of available space to locate the filter equipment.
It's important to understand which water lines will need to be adapted to the system and how far the water lines included in the filter product kit will reach.
Many installations stop dead in their tracks due to a lack of installation materials or equipment.
Using the manufacturer's specifications to determine where to locate the equipment is vital as well.
Nobody wants to purchase a water filter system only to discover it won't fit in the space under the sink.
Step 4
Communicating with friends, family, neighbors, and anyone else who may have an under sink water filter system in their home will always shed light on the good, the bad, and the ugly.
Chances are if you're looking to install a system, your neighbors probably have already done it for the same reasons you want to do it.
Ask folks on social media about their experiences with filter systems and you'll be surprised how much feedback comes your way.
Take The Plunge
Once the decision concerning which water filter system to use has been made, it's time to make an important decision – who's going to install it?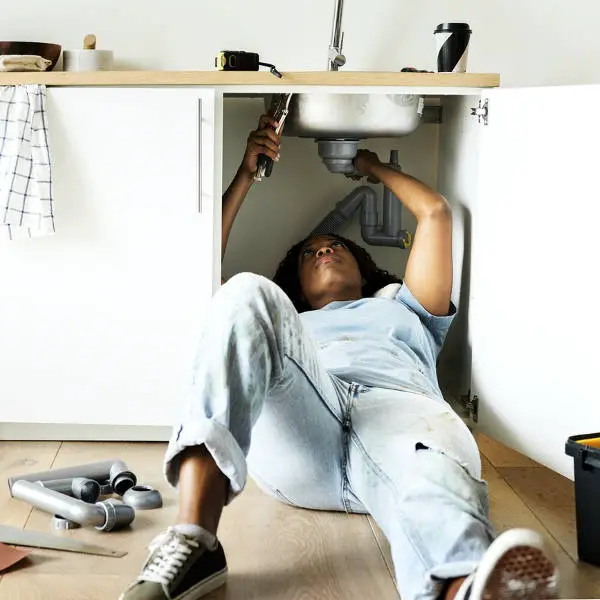 Some DIY folks can handle the installation because they've got the time, experience, and tools to do it.
Other folks may not be as mechanically inclined and require the assistance of a professional. In this case, I would recommend considering professional help for one reason – frustration.
Get Some Backup
Before attempting the installation, it would be a good idea to get some backup, in case anything doesn't go according to plan.
Many manufacturers have simplified the installation process by incorporating easy-installation fittings and couplings.
However, if you're still on the fence about doing the installation yourself, it might be a good idea to call a pro.
Make it Happen!
Like a surgeon preparing for an important operation, the installation of a water filtration system can be a delicate and detailed procedure.
Taking the proper steps at the proper time is critical as well as verifying all connections, valves, and components are installed correctly.
I think it's important to take your time and not rush through the installation process otherwise disaster may ensue.
Here are the 7 steps I think a homeowner or DIY installer might want to follow:
Before starting the installation, clear away any unnecessary impediments that may be under the sink as well as on the countertop and in the immediate area

A cleared-out workspace is going to be easier to deal with than a cluttered one

Read the installation instructions in detail before beginning the installation

Nobody likes surprises, especially when they're up to the elbows in water lines, valves, and filters
Take the time to read through the instructions and avoid potential frustration

Confirm the dimensions and measurements before beginning the installation to make sure everything will go where you want it to go

Don't forget to allow room for things like tools, mounting plates, and other equipment to fit in the space available to complete the installation

Installation of anything under a kitchen sink is going to be challenging because of the limited space and the ways a human body must contort to work inside its confines

Pillows, knee pads, and some kind of helmet are recommended. It's not a bad idea to wear gloves to avoid scrapes and cuts
Keeping the environment dry, warm, and well-ventilated is important to help the installer keep focused on the task at hand and not scrambling about

Manufacturers of water filter systems include a list of tools needed to complete the project. Be sure to have the recommended tools on hand and it's also a good idea to have a few other items available in case they're needed

Don't forget to stock up on plumber's tape, extra waterline, and replacement filters. It's better to have too many tools and too much installation material than too little of either
Wrenches, pliers, screwdrivers, and other equipment provide an extra layer of insurance to guarantee the job will be completed

It works better when an installer isn't interrupted while performing their task. Because you're working with pressurized water, there is always the possibility of a water leak somewhere

If you're not paying close attention, the chances of a leak occurring increase dramatically. Focusing and concentrating on the installation will result in a working system and not a leaking disaster

Even the most experienced plumbing professional can run into problems during the installation. Whenever possible, it's a good idea to have a little backup before attempting an installation

Many water filter equipment manufacturers provide helplines and chat rooms for support
Some manufacturers are more responsive than others and it's a good idea to check out the customer support for any filter product under consideration before installation
How To Install An iSpring Reverse Osmosis Under Sink Water Filtration System
A lot of homes have a water filter made by iSpring. See this video if you're one of them.
Prior Planning Prevents Poor Performance
It's a wonderful literation that completely applies to the situation.
Prior planning does help to prevent poor performance when it comes to installing an under-sink water filter.
Deciding to get a water filter system is only the first step in what should be a satisfying and health-improving project.
Pure, clean water not only helps everyone feel better, but it also helps pets and plants. Food tastes better, ice cubes are clearer, and the world is a nicer place.
Just like changing filters, installing an under-sink water filter isn't impossible; it just takes a little time, planning, and patience.
What under sink water filter do you have? Share your brands in the comments below.