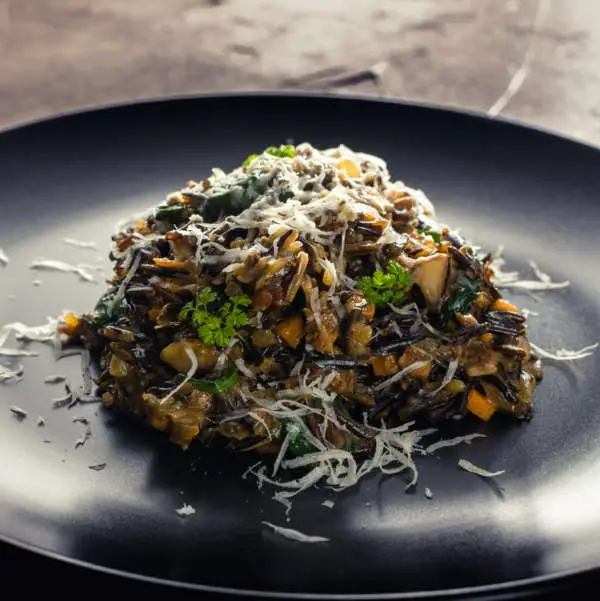 Wild rice is rich in fibers and nutrients.
Like most whole foods, it's recommended in diabetes diets, but it's also very appreciated for its amazing taste.
The difference with with rice is that it takes a little longer to cook than the white one.
I'll explain everything you need to know about cooking it here.
Is the rice cooker the best option to use to cook it? You'll find out exactly – keep reading…
Thinks to keep in mind:
Know the exact cooking time
Choose a cooking method (steamed, pilaf …)
If you're in a hurry or you're not interested in reading, take a shortcut and see the video below:
Before We Get Started
Prepare Rice Before Cooking
Before cooking wild rice (preferably organic), I strongly recommend rinsing it to remove the starch (which makes it stick) and all the impurities that may be on the grains.
Put the wild rice in a sift or colander and rinse it several times, rubbing it until the water is no longer cloudy.
About 1/3 to 1/2 cup is the regular portion per adult person depending on the appetite of the guests and the rest of the meal.
Wild Rice Cooking Time
Basmati and Thai rice cook in about 20-30 minutes.
Allow 45 minutes to an hour for other types, including Camargue or Italian rice or any other organic wild variety.
The whole rice is a little more firm than standard, so taste it to adjust the cooking time to your liking.
Wild Rice In A Rice Cooker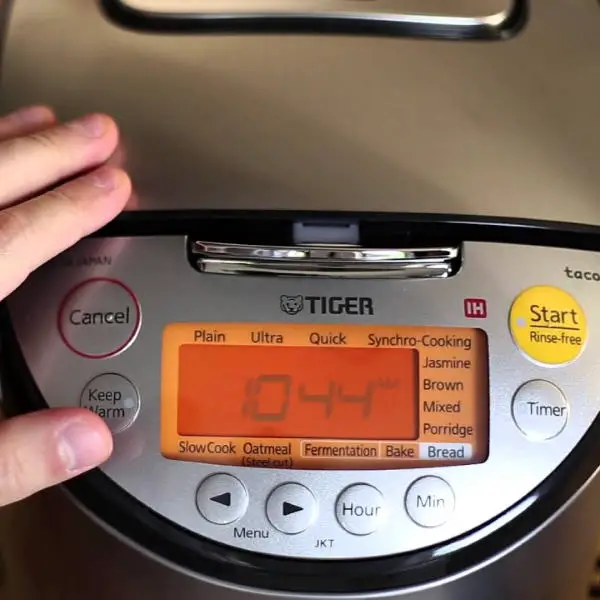 There are many ways to cook it, but what is the best one for wild rice varieties?
Cooking it simply means rehydrating the grain and heating it – you are spoiled for choice when it comes to cooking it.
It all depends on your equipment, if you're at home or camping, and the desired result.
Ok, I promised I'll answer the question I asked at the beginning of this guide so here it is:
Yes, using a rice cooker to cook wild rice is the best option, and you get the best possible taste out of it.
Why?
Because with a cooker, the wild rice absorbs the right quantity of water.
Popular in China, Japan, Europe, and North America, this appliance has the advantage of keeping the rice warm when cooked and can be programmed in advance.
I put in 2 cups of water for a cup of wild rice.
Do not overfill the cooker because the rice will swell and may overflow.
Spice and salt to taste after cooking.
How to Cook Wild Rice in a Rice Cooker
1. How To Dose It?
For 2 people you'll need a small bowl of raw rice.
However, it is possible to reheat it later in the day, so nothing prevents you from cooking a little more.
If you are preparing the meal for the full family, then 3 to 4 bowls should be enough.
2. Rinse It With Water
It's important to rinse the raw rice before cooking to remove the starch.
This step is very important because it prevents it from sticking.
You can use a larger bowl, pour a lot of water in and stir it, or use a sieve.
3. Dosing The Amount Of Water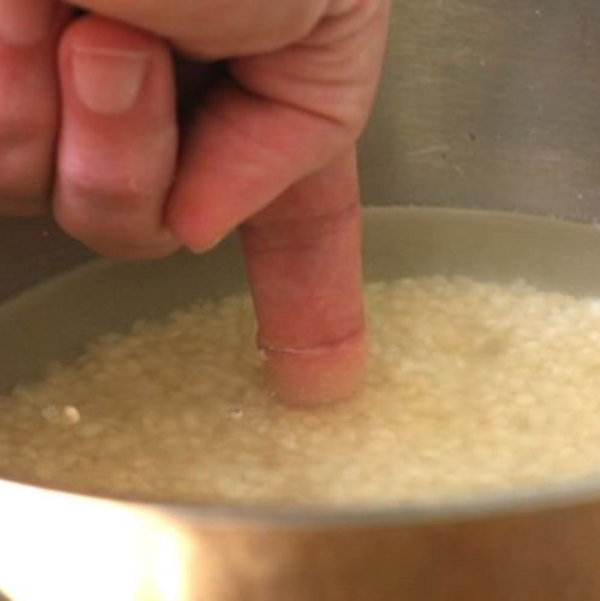 Once you rinsed the rice, add clear water.
Once the water is about 1/2 inch above the rice, stop pouring.
The amount of water needed depends on the rice used, so it will be necessary to put a little more or a little less of it.
For the wild type, you need to put 2 cups of water for 1 cup of rice.
Also, it's important to note that the older the rice, the more water it needs, so you may often find yourself pouring a little extra.
4. Cook The Rice
Simply put the lid on the cooker and turn it on.
Most basic rice cookers usually have 1 button:
On: rice is cooking
Keep warm: the rice is kept warm
Once cooked, I recommend stirring it with a wooden or plastic spoon (to avoid damaging the coating of the bowl) and put the lid on so that it stays warm.
The Secret To Speed Cooking? Soaking!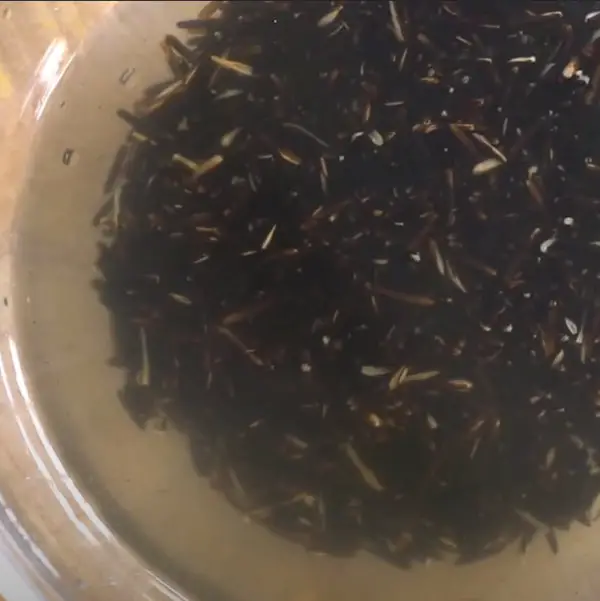 A simple way to cook wild rice quickly is to soak it in twice its volume of water (if possible unchlorinated) for at least 2 hours before putting it in the rice cooker.
The water will soften the grains.
You can leave it up to 24 hours or overnight in the fridge.
Rinse it before cooking.
This method reduces the cooking time in half.
Why Wild?
It has an interesting botanical origin that is different from other types of rice.
In fact, it's not exactly a rice variety, but rather an aquatic plant.
Found in particular in the United States and Canada, it has been feeding Amerindians for several centuries.
Its very dark color and flavor slightly reminiscent of hazelnut is an interesting food for a variety and originality to our plate.
Wild rice has been the subject of a few recent studies on its properties and potential active ingredients.
Some authors argue that the fact that certain grains have a very pronounced color (as is the case with wild rice) could be an indication of a phytonutrient-rich content. This is potentially beneficial to health.
Although there is still much to discover about wild rice, we know that some of its nutritional facts distinguish it from ordinary or white varieties.
Prepare Wild Rice Like A Pro
So, you see, there are many ways of cooking wild rice.
I mostly use my rice cooker to do it because it gives the best flavor and (to be completely frank here) it's also the easiest, most convenient way to do it.
I just prepare everything, push the right buttons, and bam – there you go – magic!
Perfect rice, perfect taste, and no effort on my part. The bonus is that the rice cooker also keeps it warm throughout the day so I get to eat the best possible meal on the spot.
Now, we've gone through the recipes, the process, and the reasons. What's left?
Just to enjoy it!
📌 Pin Me for Later Reading! 📌
I suggest you save this pin to Wild Rice Recipes or Rice Cooker Recipes.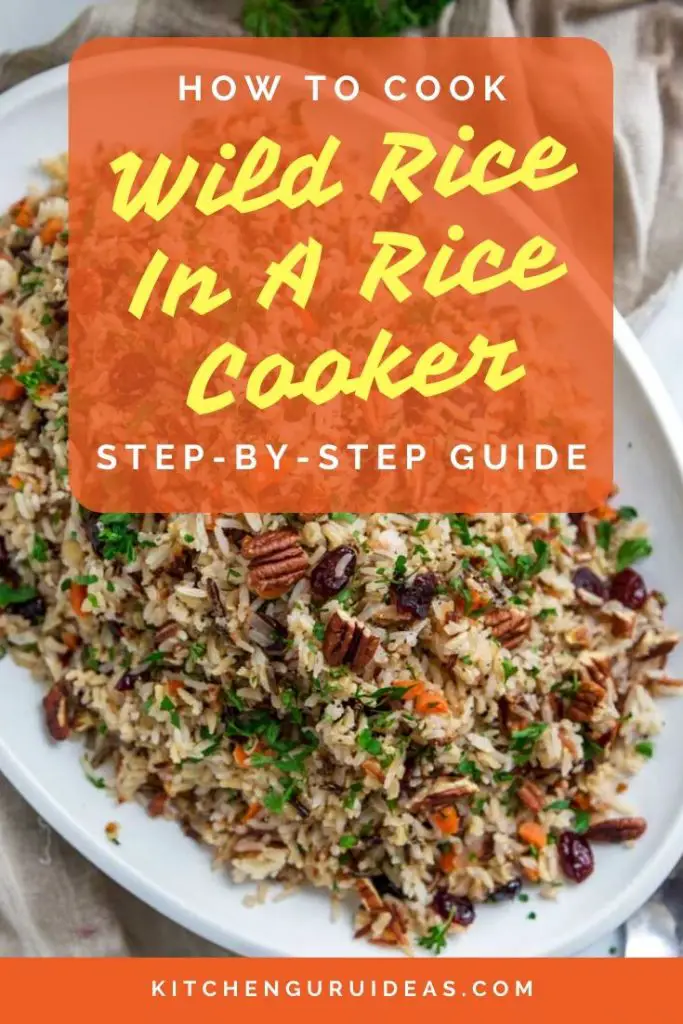 Do you soak wild rice before cooking it? Write your answer in the comment section below.