Rice cookers vary in capability, and some are better at making a style of rice than others. Sticky rice or glutenous rice needs a precise amount of heat and water to get them to perfection.
As a yardstick, the best Korean rice cooker is the one that makes the best sticky rice.
But the modern consumer wants flexibility, so why stop at one when you can have a machine that cooks all rice types?
Cuckoo is made in Korea, and I've made quite a few bowls of sticky rice to see which is the best in their range of Korean rice cookers.
Which Rice Cooker Is Best?
Best Korean Rice Cooker Reviews
Cuckoo CRP-P0609S
This cooker uses an aluminum pan that has an Xwall diamond coating to prevent rice from sticking and burning to its surface. Aluminum is a great conductor of heat, so the entire pan gets hot and not just the base. The diamond coating also helps the aluminum to spread heat more efficiently.
Features:
6 Cups
Diamond Coated Aluminum Pan
13 Functions
Self-Sterilizing
12 lb (5.4 kg)
1150W
Accessories:
Steamer Plate
Measuring Cup
Rice Spoon
You Don't Even Need to Clean It
The pan is removable for washing, but Cuckoo has added a function to save on cleaning time.
To sterilize the interior, the cooker has an Auto-Clean mode. Auto-Clean shoots jets of steam at the lid, which is also removable. The steam sterilizes the cooker throughout, even in the hard to get to places.
It's Got a Mind of Its Own
A secondary release valve activates, if the pressure in the vessel becomes excessive, or if for some reason the release valve gets clogged. If the machine needs to use the second release valve, an alarm will also sound.
This unit has 14 safety measures for correct lid locking, overheating, and short-circuiting.
It has 13 programs to get you up and running with ease. Functions include:
Auto-Steam
High-heat
Gluten-turbo
Compact but Not Small
This is a medium-sized rice cooker, and you can cook up to 6 cups of dry rice at a time, more than enough to feed 6 people.
It Understands You Like Alexa
Being a smart machine, this rice cooker has a voice mode; it can talk to you and inform you of what function it is performing.
Special Features
Inside the pot are guide marks to show how much water to add to whichever type of rice you plan to make, or porridge.
On top of the lid is the steam release valve that has 2-layers to condense and control the release of steam.
The controlled release makes for safer and quieter steam venting, as well as keeping the unit cleaner.
To prevent steam leakages from the lid, there is a double layer of seals between the pan and the lid to keep it safe. To reduce the amount of steam hitting your kitchen ceiling from the vent, Cuckoo has added a steam gatherer. This condenses the steam and collects it in a small cup, set on the side of the unit.
Pros
Steam Collection
Quiet
Auto-Clean
Diamond Coated Inner Pan
Cuckoo CR-0631F
The CR-0631F is a colorful (pink) economic rice cooker, suitable for making rice daily for a family of 6. It uses a Teflon-coated aluminum pan and comes with a variety of programs to cook many types of rice, including sticky and GABA.
Features:
6 Cups
Teflon Coated Aluminum Pan
13 Functions
Self-Sterilizing
10.8 lb (4.9 kg)
580W
Accessories:
Pinky Look
The first thing to mention is the styling: it is mostly a white round plastic casing, with a large front panel in metallic pink. This color scheme does not affect the taste of the rice, though it may clash with your kitchen.
Teflon Coated Inner Pan
The Teflon used to coat the inner pan is inert, but there are some people that notice the taste or dislike of the product on their cookware. Teflon does make the rice come out easier and makes it less hassle to clean.
Perfect for up to 6 People
The cooker will steam up to 6 cups of raw rice at a time, which is fine for most homes.
And it can cook fast; the turbo function cuts the time to cook rice by 8-10 minutes, from a half-hour. Great if you have small, hungry, and impatient mouths to feed.
This version of the cooker does not have the voice function, but that is no great loss, and it will still cook the rice without talking to you.
Great for Cooking Sticky Rice
There are only 5 functions on this unit and an extra turbo mode for glutenous rice.
Again, that is all you need if you only intend to cook rice and nothing else.
Remarkably Easy to Clean
There is also an Auto-Clean function to sterilize the inside of the unit between uses.
The lid will separate from the machine so that it is possible to wash it separately.
The inside of the pan has water line markings and comes out so that it can go in the dishwasher.
Additional Features
The front LCD panel shows what mode you are on and the cooking time remaining.
If you want to set it up before you go out, you just activate the timer.
It Takes a While to Cook Large Batches
The power is a bit low, so the timer is an important feature as it may be slow for a lot of rice.
Pros
Non-Stick
Simple
Small
Auto-Clean
Cuckoo CRP-P1009SW
This particular unit from Cuckoo is at the upper end of their line and comes in 2 kitchen matching colors of black or white, with a metallic finish around the rim.
Features:
10 Cups
Diamond Coated Aluminum Pan
13 functions
Self-Sterilizing
16 lb (7.3 kg)
1150W
Accessories:
Steamer Plate
Measuring Cup
Rice Spoon
Feed the Whole Bunch
A large 10-cup capacity makes it ideal for parties and family use alike.
10 cups of dry rice is more than most families will eat, but then it depends on the size of yours.
Diamond Coating Instead of Teflon
The pan is coated with Cuckoo's very own Xwall diamond material, to replace the more common Teflon coating found on most cooker pans.
Xwall is a ceramic-style solid coating; it lasts a lot longer than its spray-on counterparts. It also has superior heat conductivity, so the aluminum will dissipate heat through the whole chamber better.
Versatile
There are 13 preset rice cooking modes, which include the turbo function for sticky rice. You can also cook porridge and stews in the pan.
Extra Features Worth Mentioning
The top lid is fixed, but the internal stainless-steel lid does come out for washing.
It comes with several functions and safety features.
The Auto-Clean function will sterilize the whole unit with a push of a button.
Steam levels are checked and controlled by a soft-steam cap, to keep in the heat and pressure, and the noise levels down.
And if you are interested, the voice mode will tell you what the unit is doing. Languages include English, Chinese, and Korean.
There are 14 safety features to protect the unit from short circuits, overheating, and overpressure.
After closing and locking the lid, a magnetic safety sensor will tell the unit's computer that it can begin heating.
All this information is displayed on the LCD screen and alerts the users with an alarm.
Set a timer and clock to set the machine to run while you are out.
There is a warming mode to keep the rice at an edible temperature without burning it to the pan.
Pros
Many Safety Features
Accessories
Lid Lock
Styling
Cuckoo CMC-QSB501S
This particular model is a cooking marvel that's capable of many things not just cooking rice.
Features:
10 cups
X-wall nonstick coating
8 smart programs
304(18/10) Stainless Steel & Aluminum base inner pot
Auto steam cleaning mode
16.5 lb (7.5 kg)
1100W
Accessories:
Measuring cup
Rice spoon
Steam tray
Recipe book
Korean Version of the Instant Pot
Besides cooking rice, this Q5 series cooker also functions as a:
Pressure cooker
Slow cooker
Steamer
Frier
Food warmer
Yogurt maker
Soup maker
All of these functions make the CMC-QSB501S the most versatile rice cooker on this list.
Voice Activated
Pressing a button is so old-school.
Make it cook by speaking to it in either English or Chinese.
Safe Steam Release Mechanisms
The solenoid valve and the 2-layer soft steam cap are two of the many safety features that help direct steam for safer cooking and handling.
You Don't Need to Clean It
With a simple push of a button, this rice cooker cleans itself by releasing a strong jet of steam.
If you're still unsatisfied, take off the cover and clean it yourself either by hand or in the dishwasher.
Functions up the Wazoo
Besides the programs that let you choose what to cook, you can also set the temperature from anything from 95 °F (35 °C) to 257 °F (125 °C), the timer (from  1 minute to 12 hours), and from which direction the heat comes from (lid, bottom, or side).
It's Bulky
You can't have all these features and make 10 cups of rice and be small at the same time. More things also mean more weight. Living alone, it's not an ideal partner: it takes up a lot of space on the countertop. A smaller rice cooker might be a better option in this case.
Pros
Versatile
Easy to use
Self-cleaning
Interactive
Cuckoo CR-0351FG
If you aren't a fan of fancy features and you just want to cook rice without talking to it, then this one is a step in the right direction.
Features:
3 cups
Teflon pan
Fuzzy logic & intelligent cooking algorithm
7 lb (3.1 kg)
425W
Accessories:
Minimalistic
No self-cleaning, no steam release valves, no microphone so you can talk with… It's a pretty standard vanilla rice cooker with one exception: the fuzzy logic.
What Is a Fuzzy Logic Rice Cooker?
Long story short, fuzzy logic means that the rice cooker will not just turn off the heater once the water level reaches a critical point. Instead, it starts changing the temperature so that the rice will absorb the correct level of moisture.
This is the reason why this doesn't have a "GABA", "Jasmine", "wild" and other rice settings. It already knows which type you've put it by itself.
Teflon Coated Inner Pan
Most rice cookers here have their very own special diamond-based coating. This one has regular Teflon.
Love it or hate it, it does the job well.
Why the Heck Green?
Green is a bit of an unusual choice for a rice cooker. There's a chance it might clash with other parts of your kitchen.
Pros
Simple minimalistic design
Fuzzy logic
Compact
Easy to use and clean
Buying Guide or How to Get the Best Korean Rice Cooker Possible
The number of functions on a rice cooker does not dictate how good it is compared to other machines. Yet, the units with more functions have more that can go wrong with them, and it complicates an otherwise simple machine.
The coating is important, and Teflon is a product superseded by materials such as the Xwall diamond coating. Above 570°F (300°C), Teflon begins to disintegrate and mix with the food
Cleaning is another important aspect of a rice cooker.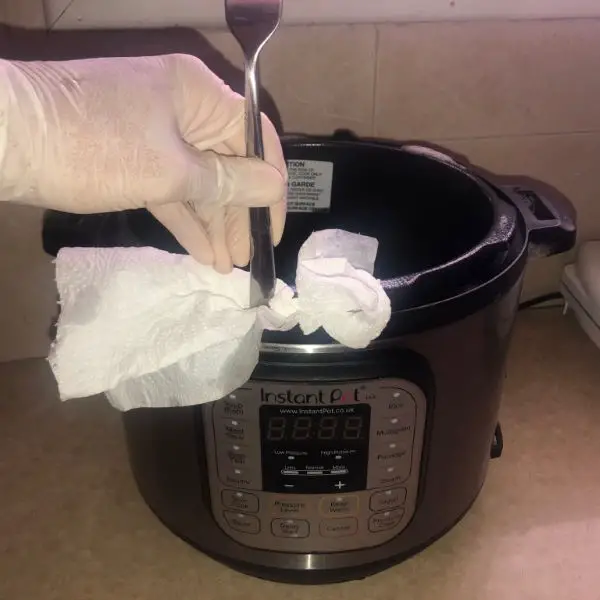 Rice mold or fungus is a dangerous food contaminant and will cause food poisoning if not removed. Mold from previously cooked rice can mix with fresh rice.
An Auto-Clean sterilizer is a great idea for a rice cooker that is in constant use, and it is not always possible to get into all the areas manually.
FAQs
What Is The Point Of A Rice Cooker?
The problem when making rice on the stove is you have to be there the whole time. You need to stir the rice constantly and make sure there's enough water when boiling.
Not enough – the rice burns. Too much – the rice becomes overcooked and mushy.
If you eat rice once or twice a month, this cooking method is fine but if you eat it regularly – like several times a week, this becomes a huge inconvenience.
On average, rice needs about a half-hour to be cooked. In this hectic era, 30 minutes is a lot of time.
Wouldn't you spend this time on something more fun and productive? This is where the rice cooker comes in. Your only job is to measure the rice and water – a less than a 5-minute job.
This isn't the only advantage over the traditional stovetop method. Another one, for example, is the timer: set the time when the rice cooker will start cooking. This function is great when you come home from work or school and are too tired to cook a meal.
How Long Do Rice Cookers Last?
Not all rice cookers are made equally.
Depending on the model, the materials used for construction, the quality of these materials, and the number of electronic components, most rice cookers generally last from 2 to 6 years.
Better quality ones, like Zojirushi, can last for 15 years or even more.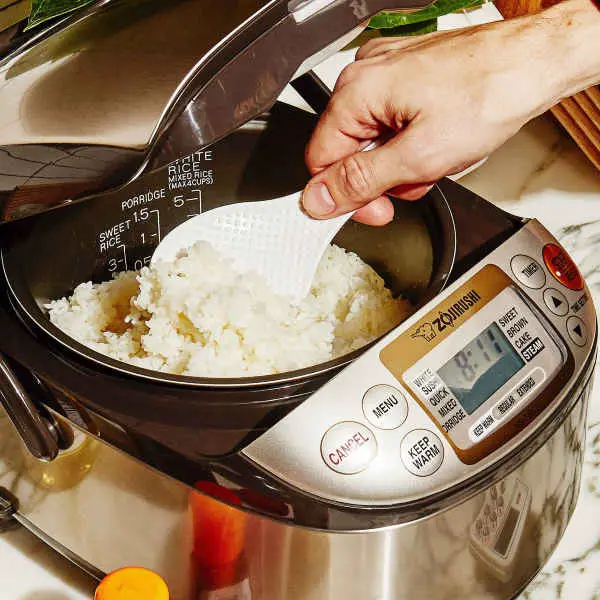 Is It Healthy To Cook Rice In An Electric Cooker?
Not only is cooking rice (or any dish, for that matter) in an electric rice cooker healthy but it's even more healthy than cooking it on the stove. This is because you don't throw the nutrient-rich rice water at the end.
Teflon haters will argue that inner pans that are coated with Teflon (or PTFE) are just as dangerous as Teflon-coated cookware. The main reason is that Teflon starts to disintegrate at high temperatures and leech into the food.
First of all, rice cookers aren't capable of producing that much heat. Second, if you know how to work with Teflon (for example, never using metal utensils or cleaning it with steel wool), you'll be completely safe.
Just like cleaning with bleach – if you know how to use it properly, you won't be in any danger.
What Is The Ratio Of Jasmine Rice To Water In A Rice Cooker?
For jasmine rice use a 1:1 ratio. This means for 1 cup of jasmine rice use 1 cup of water.
Different rice types absorb water at different rates. This is an important thing to know when cooking it. You need the correct amount of water to rice ratio. Adding too much water is just as bad as adding too little.
Do Rice Cookers Use A Lot Of Electricity?
Rice cookers have improved quite a lot of time since their first appearance in the 1940s. Energy consumption was one of the many things which were greatly improved.
They don't actually use quite a lot of power. Some more energy-efficient ones consume less energy than when cooking rice on a stove.
How much electricity a rice cooker uses, varies from country to county (in the USA, from state to state).
It's worth mentioning that rice cookers consume very little during actual cooking – almost nothing compared to keeping it warm using the keep warm function as people tend to warm their rice in the cooker for 12 hours or more.
I don't leave my rice cooker warming up my leftover rice for more than 2 hours. The reason is that heat and moisture are ideal spawning grounds for mold and bacteria.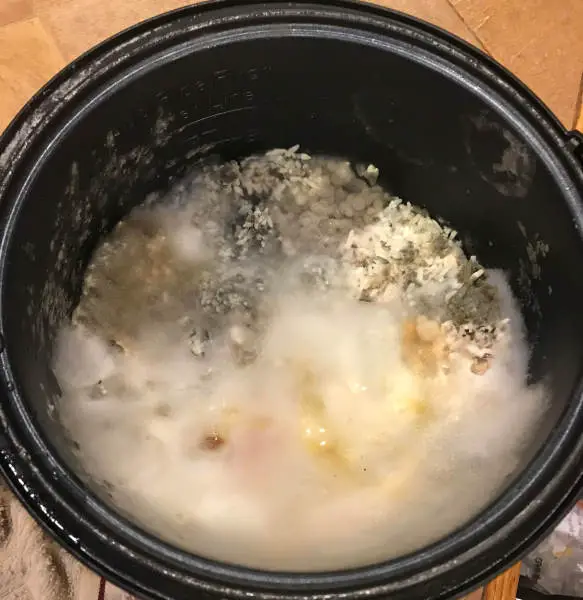 My advice is to put any leftover rice in the fridge and warm it up in the microwave for a few minutes before eating it.
How to Use a Korean Rice Cooker
Koreans Finest
The award for the most colorful rice cooker goes to the CR-0631F: it does what you would expect from a rice cooker. Though the inner coating is Teflon, which is not so good, and the lack of functions seems a wasted opportunity. It's a great rice cooker, but a few more functions would have added a great deal and more value.
The CRP-P1009SW offers all the functionality you could want in a Korean Rice cooker, with extra modes and safety to go with it. But it is quite big, unless you have a huge family, or hold many parties. The large size makes it more cumbersome to clean and store.
The CRP-P0609S Has good styling, all the buttons, and modes, and it has good safety measures. It is a good size for a regular family, and they have used the Xwall coating rather than Teflon. The water drainage is a nice feature, which will keep your kitchen from steaming up, and the Auto-Clean keeps the unit sterile. The size and functionality mean that it is the best Korean rice cooker on this list.
CMC-QSB501S is the most versatile cooker on this list. It's not just a rice cooker but offers a plethora of other functions like pressure and slow cooking.
Last but not least is the CR-0351FG. If you think a rice cooker is just for cooking rice, then this is it. Nothing fancy, no bells and whistles. It's just a normal minimalistic rice cooker. The only special feature is the fuzzy logic cooking algorithm which makes the rice even more delicious and fluffy.
What is your best Korean dish? Share your recipes in the comments below.