Copper is one of the greatest elements when it comes to heat distribution. When heated, it transmits heat effectively, making it a great material for making cookware. This is for this reason why copper cookware is popular with professional chefs and home cooks alike.
The adaptability of copper to rapid temperature changes and its effective heat distribution means that there will not be any hot or cold spots while cooking.
They also have a shiny brownish appearance which gives the kitchen a stylish look.
These are just some of the features that make copper cookware a great addition to any kitchen and in this article, I will share the 4 best models that you can opt for if you want to enhance the way you make meals in your home.
What Is the Best Copper Cookware?
Reviews of the Best Copper Cookware
Copper Chef 10 Piece Cookware Set – 9.5 Inches Deep Square Pan & Frying Pan, Includes Fry Basket, Steamer Rack, Utensil Set and Recipe BookCopper Chef 10-Piece Cookware Set
This 10-piece cooking set is what you need if you want to prepare luxurious meals for your family while at the same time adding decor to your kitchen.
This Set Includes
9.5 inch deep square pan
9.5 inch square fry pan
Tempered glass lid
Fry basket
Steamer rack
Cutlery set with a non-stick slotted spatula, pasta fork, sauce skimmer, and a stirring spoon
BONUS: cookbook from the culinary expert Eric Theiss.
Durable Construction
The set is built with heavy copper material which makes it quite durable and effective when it comes to distributing heat around the pot for even cooking.
The outer coating is made of non-stick ceramic-tech ceramic material that makes it easy to clean.
Comfy Handles
The handles are comfortable and cool to the touch.
Induction Ready
Both pans in this set feature an induction plate at the bottom that has been made of stainless steel.
Pros
Made from heavy-duty copper
Durable
Distributes heat evenly
Non-stick
Induction friendly
Comes with a lot of accessories
MICHELANGELO Copper Pots and Pans Set Nonstick 12 Piece, Ultra Nonstick Kitchen Cookware Sets with Ceramic Titanium Coating
The MICHELANGELO Copper Cookware Set has been designed to make it easy for professional and home chefs to make lovely meals.
About the Brand
MICHELANGELO Cookware is a well-known German brand and you can expect nothing but a seamless cooking experience when you opt for their cookware sets.
The Set Contains
5qt Large Stock Pot with lid & 8 inch steamer insert
1.5qt Saucepan with lid
3qt Saucepan with lid
3.5qt Saute Pan with lid
Small skillet
Medium skillet with lid
Completely Nonstick
The interior features a multi-layer non-stick material that allows you to prepare your meals with little oil for healthier cooking.
Super Easy to Clean
Cleaning the pots is easy as well since the non-stick surface ensures that food particles don't stick to the surface when cooking.
Superior Heat Distribution
The cookware tri-ply construction base ensures better heat distribution which prevents undercooking and overcooking.
Use It on Any Stovetop
The pots and pans can be used on different stovetops including gas, glass, and induction.
They aren't suited for cooking over open fire, though. If you want to cook over open fire, see these cookware picks.
Oven Safe
The pots can be used safely in an oven up to 450°F.
Pros
Oven and dishwasher safe
Ergonomic handles
Tri-ply construction
Versatile set
Distributes heat evenly
Cons
Knobs on the lids get hot
Gotham Steel Nonstick 10 Piece Square Cookware Set, Large, Copper
This titanium infused cookware set has been designed to be extra durable and to make meal preparation easy.
What You Get
1.5 quart sauce pan with lid
2.5 quart sauce pan with lid
9.5 inch deep square pan with lid
8 inch fry pan
10 inch fry pan with lid
Stainless steel steamer insert
Even Heat Distribution
The induction plate at the base improves heat distribution and conductivity.
Non-Stick
The interior is coated with a non-stick ceramic gel that ensures food particles don't stick to the surface when you are cooking.
Cleaning the pots is, therefore, easy and fast.
Pros
Can be used with metal utensils
Dishwasher and oven safe
Easy to clean
Even heat distribution
14 In 1 Multi-Use Copper Chef Wonder Cooker with roasting pan and lid, Multi-Use Grill pan (12.5 QT 3 Piece Set)
This simple cooking set will make it easy to prepare some of the meals that you love such as casseroles and brownies.
What Do You Get In This Set
It comes with a shallow and deep roaster and a frying basket.
Induction Safe
Stainless steel induction plates at the base of the pans ensure even heat transfer for a better cooking experience.
Nothing Sticks to the Pan
Both roasters are coated with non-stick ceramic which prevents food particles from sticking to the surface when you are cooking.
Pros
Stainless steel induction plates
Durable
Your meals cook evenly
Perfect for indoor barbecues
4 Features Of The Best Copper Cookware
Here are 4 features that you can expect when you buy copper cooking sets.
1. Excellent Heat Conductivity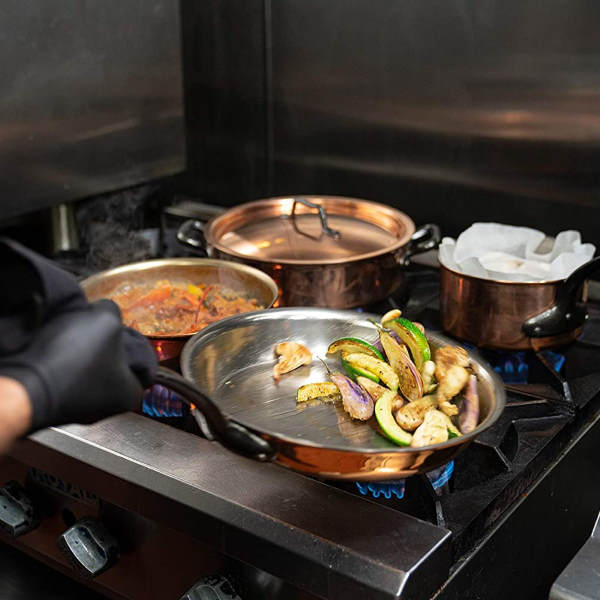 This kind of cookware distributes heat evenly.
The risk of overcooking or undercooking some parts of your meals is eliminated and you can prepare your favorite dishes to perfection.
2. Durable Build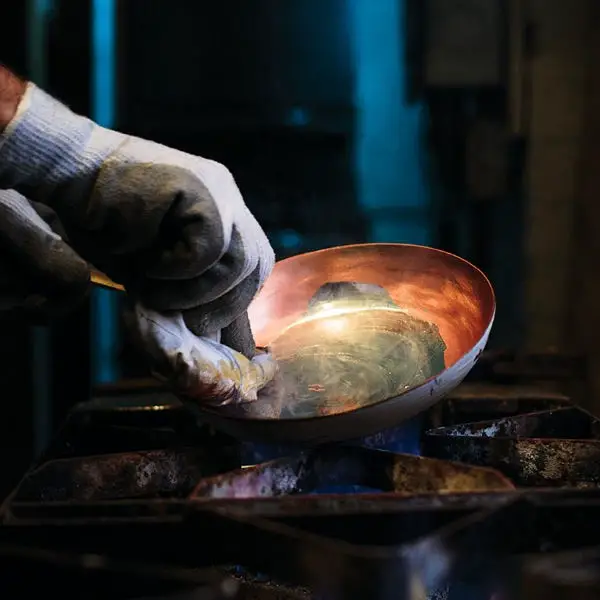 Most copper cookware are thick and this makes them extremely durable.
You, therefore, will not have to replace the set every now and then and this makes a lot of economic sense.
The thickness also allows to respond to rapid temperature changes effectively and this will greatly enhance your cooking.
3. Smooth Finish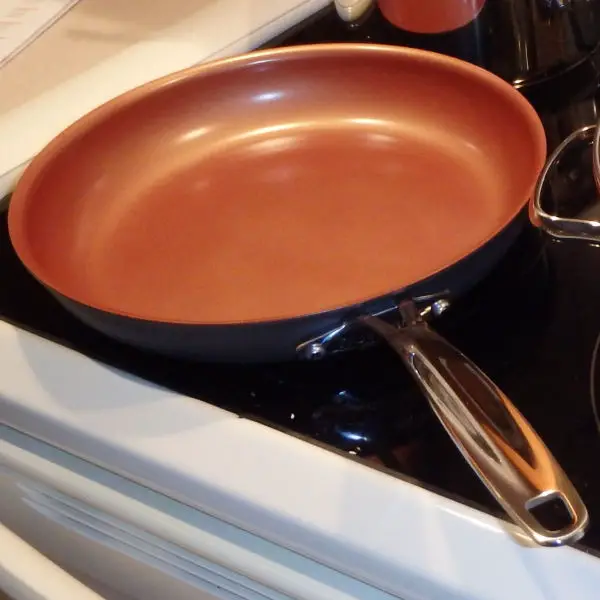 Copper cookware sets have a smooth and shiny finish that gives them a unique appearance.
This enhances the appearance of your kitchen and this is another reason why you should upgrade to copper.
Some sets have a hammered finish.
I like how elegant they are and the effect they have on the appearance of my kitchen.
4. Bare, Tin, or Stainless Steel Lining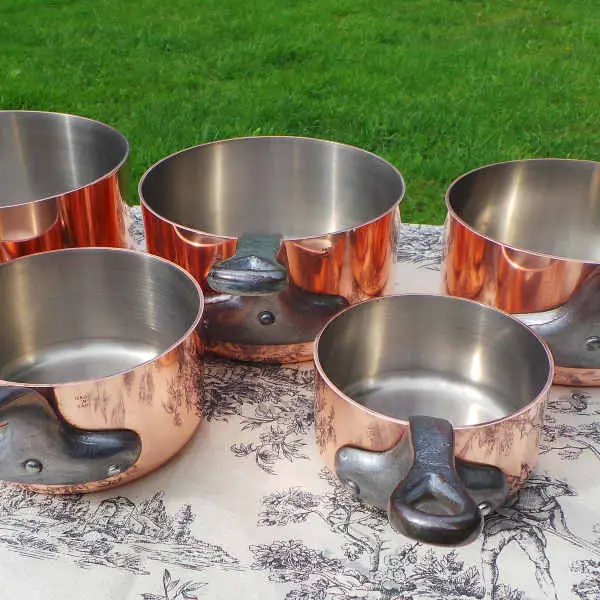 Copper cookware sets can have 3 types of lining.
They could be bare (without any lining) or possess a tin or stainless steel lining.
Bare copper cookware sets are less ideal as pieces of copper could get into the meal you are cooking and this is quite unhealthy.
Tin and stainless steel linings are preferred as they improve heat transfer which makes cooking seamless.
Copper Is An Excellent Heat Conductor
Copper cookware is preferred by professional and home chefs alike because of its impressive performance and stylish design.
In this article, I have shared some of the best copper cookware that you can buy if you want to enhance your cooking experience.
📌 Pin Me for Later Reading! 📌
Save it to Best Copper Cookware or Best Affordable Cookware.
Pancakes are best made in copper pans. Disagree? Tell me why in the comments.